If you haven't already seen the savory-salty version of the Savory Whipped Ricotta Toast, you're seriously behind! It's an easy appetizer that's quick to prep beforehand and the return on investment is sooo high. Now I'm offering whipped ricotta toast two ways!! I'm the type of person where if I make something really good, I become obsessed and keep making it. So here we are! This whipped ricotta toast is a sweet version that works with most fruits.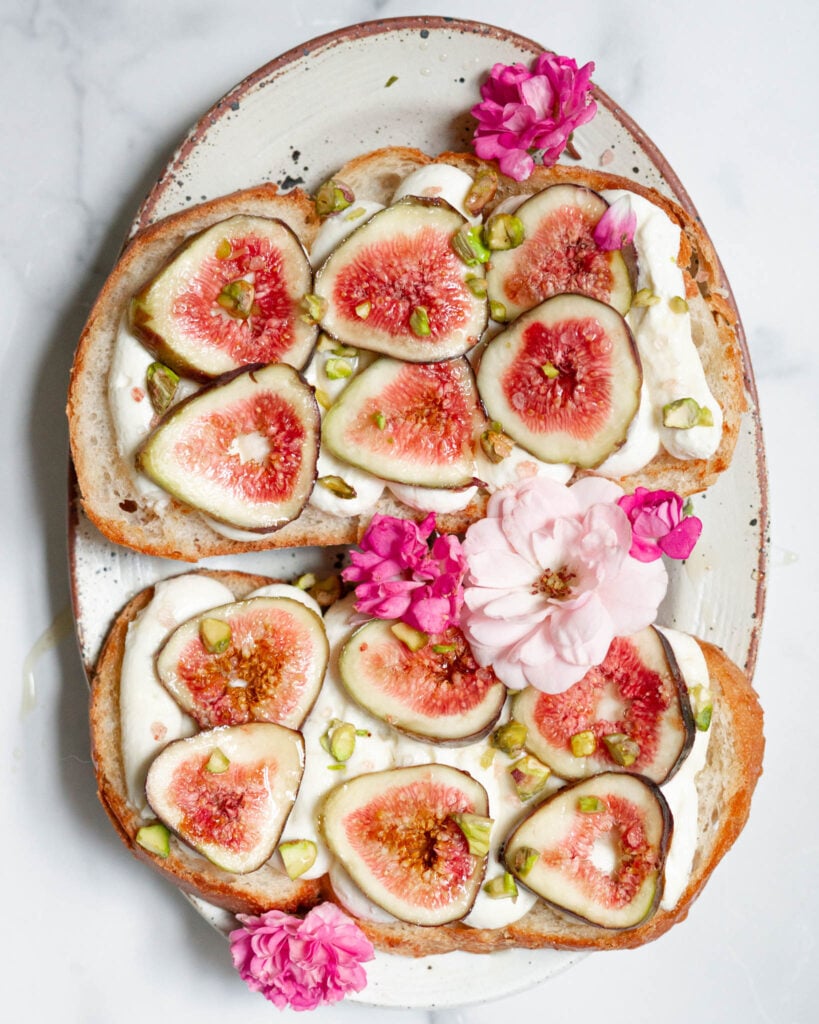 It's inspired by my first (and so far, only) time that I ate at Misi in Williamsburg. If you're in NYC, you know Williamsburg is a pain to get to from Manhattan with terrible L train service. It can take me over an hour even though I live in the Financial District!
When I posted the olive oil flaky sea salt version, I had so many DMs suggesting a sweeter ricotta toast with fruits or jam. I kept thinking about the Sqirl LA debacle and would get turned off at the thought of their ricotta toast with moldy jam.
But I was at Union Square Greenmarket on Saturday when I spotted fresh paneer from Tonjes Farm Dairy and gravitated towards them. I knew I could make my own paneer, so I randomly went with their fresh whole milk ricotta.
Typically when you buy ricotta at a store (the only way I've bought ricotta tbh), it's loose and grainy. I had made it a goal to make ricotta fresh at home, but making fresh mozzarella traumatized me so I decided to hold off on those ambitions. The fresh ricotta I got was firm and rich in taste, but came in thicker curds.
Jump to:
Ingredients for your Masterpiece
Here's what you'll want to add to your farmers market haul:
A sweet fruit in season
Rustic bread
Fresh ricotta
Edible flowers
Local honey
Pink Himalayan salt
The fruits you choose to use are completely dependent on you! I'm obsessed with all the summer fruits, and I'm especially loving figs right now. Pick something in season! I'm eagerly awaiting persimmon season to make this again! Also drooling thinking about using grilled peaches.
Grab some edible flowers while you're at it. If you go to Union Square on Saturday, you can find edible flowers at Windfall Farms. Also, get a local honey instead of the generic honey you've been buying packaged in a plastic bear bottle.
Last but not least, visit the spices booth for some pink Himalayan salt. You're also going to want nuts or something crunchy. I love pistachios paired with figs, but coconut flakes or roasted almond slivers would be amazing!
How to make Ricotta Toast
Whip the ricotta. All you have to do is aerate the ricotta with the honey mixed in until it's smooth and fluffy. You can do this with a rubber spatula, a whisk, a blender, or preferably whip the ricotta in a food processor for up to 5 minutes. The food processor gives the fluffiest, smoothest texture that's ideal. Toast your Italian bread while you're whipping the ricotta.
Pipe the ricotta. Spoon the ricotta into a Ziploc bag or decorating bag. Be sure to push the ricotta towards the tip you're going to cut to prevent air bubbles. Cut a dime sized tip, and pipe it on toast in a snake motion.
Serve. Serve with fresh cut fruit or jams.
Tips for the Perfect Whipped Ricotta
If you're buying your ricotta from the store - Be careful with the amount of heavy cream that you use. Using too much will result in a runny ricotta that will be difficult to pipe. If this happens, add more ricotta or take the L on aesthetics and use a spatula to spread evenly on toast.
If you're buying your ricotta fresh from a farmers market - Chances are the ricotta will come as firm curds. Depending on how firm it is, you may need to add more heavy cream than the recipe calls for. Keep checking on the ricotta as you whip it and add more as needed.
If you're making fresh ricotta at home - Allow the ricotta to sit for 30 minutes to an hour before whipping.
Whole milk ricotta gives an amazing texture to your ricotta, so don't try to cut the calories here. You're going to want the full fat option. If your ricotta doesn't already use heavy cream in the recipe, this is a great addition! If you're able to get a fluffy ricotta without adding heavy cream, definitely go for it!
The key to getting the perfect piping is to make sure you remove any air bubbles from the bag. Air bubbles will ruin the flow and cause you to backtrack on your piping. Do not backtrack!! You can see where I backtracked to the right and it's uggo.
Also, I love keeping whipped ricotta prepped in my fridge for quick lunches! If you want to follow suit, I use a a little less than ½ cup of heavy cream for 12 oz of ricotta.
More Appetizers to try
Recipe
Whipped Honey Ricotta Toast with Figs and Pistachios
Brighten your day with this gorgeous rich, fluffy whipped honey ricotta on Italian bread with figs, pistachios, and honey. This works for a quick breakfast, lunch, or appetizer. Swap out your fruit for any sweet fruit in season!
Print
Rate
Ingredients
4

slices

Italian bread

1

cup

whole milk ricotta

¼

cup

heavy cream

1

tablespoon

honey

4

figs

10

pistachios

pinch

of pink Himalayan salt
Text Ingredients
Instructions
Lightly toast the sliced Italian bread on both sides in unsalted butter.

Pour the ricotta, heavy cream, and ½ tbs of honey into a food processor and turn on to the low setting for about a minute or until the ricotta is smooth and fluffy. Scoop the ricotta mixture into a ziploc bag using a rubber spatula. Cut a dime sized hole and set aside.

Shell the pistachios and chop them into several pieces.

Chop the figs vertically into 5 slices each.

Assemble the toast - Pipe the ricotta in a back and forth motion along the bread. Layer the slices of figs, drizzle the rest of the honey, and sprinkle with pistachios and pink Himalayan salt.
Nutrition
Calories:
315
kcal
|
Carbohydrates:
29
g
|
Protein:
10
g
|
Fat:
19
g
|
Saturated Fat:
10
g
|
Cholesterol:
39
mg
|
Sodium:
157
mg
|
Potassium:
273
mg
|
Fiber:
2
g
|
Sugar:
19
g
|
Vitamin A:
526
IU
|
Vitamin C:
1
mg
|
Calcium:
197
mg
|
Iron:
1
mg