Thandai is the perfect drink for a cool summer! This popular drink in India especially makes an appearance during Holi for its vibrancy and cooling effect.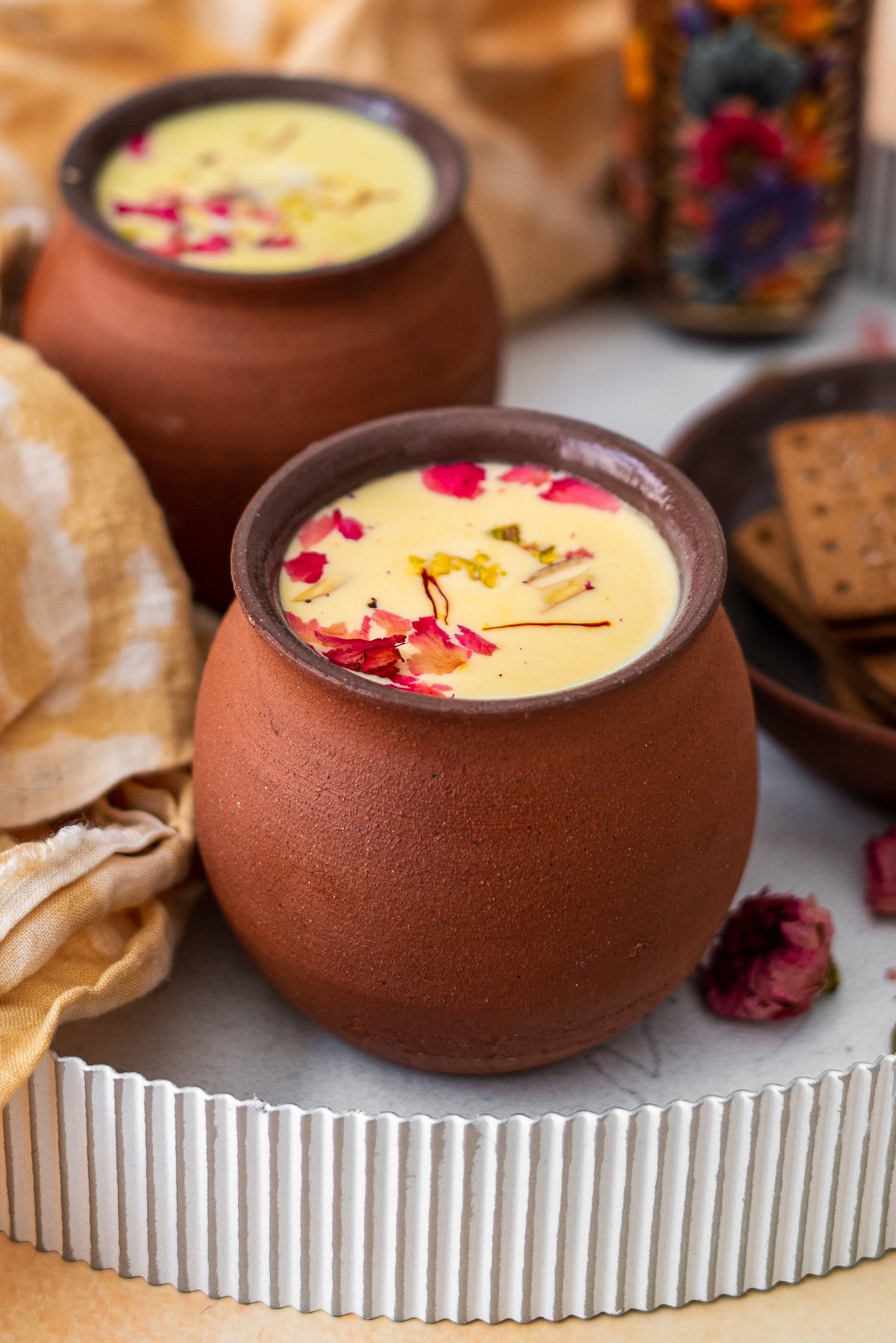 WHAT IS THANDAI? WHY DO PEOPLE DRINK IT?
Thandai, meaning "cooling", is a popular summer drink in India. It's especially popular during Holi, the Festival of Colors, and Mahashivratri! It's possible that you've attend Holi events in your city or did something like the Color Run in the U.S., but there's really nothing like celebrating Holi in India.
Indians love Thandai for several reasons… 1) It's usually laced with bhang (a paste made with cannibis) for adults only, 2) it's cooling especially during the hot season in India, 3) the ingredients consist of nuts, seeds, and spices simmered with milk to boost your immunity, making it an all around enjoyable drink.
Funnily enough, I was asking my mother why the heck people are lacing Thandai with bhang. She said it is tradition in some places where ladies are allowed to trap their male family members in a corner and smack the crap out of him. The bhang helps lessen the blows apparently haha.
HOW TO MAKE THANDAI MASALA
INGREDIENTS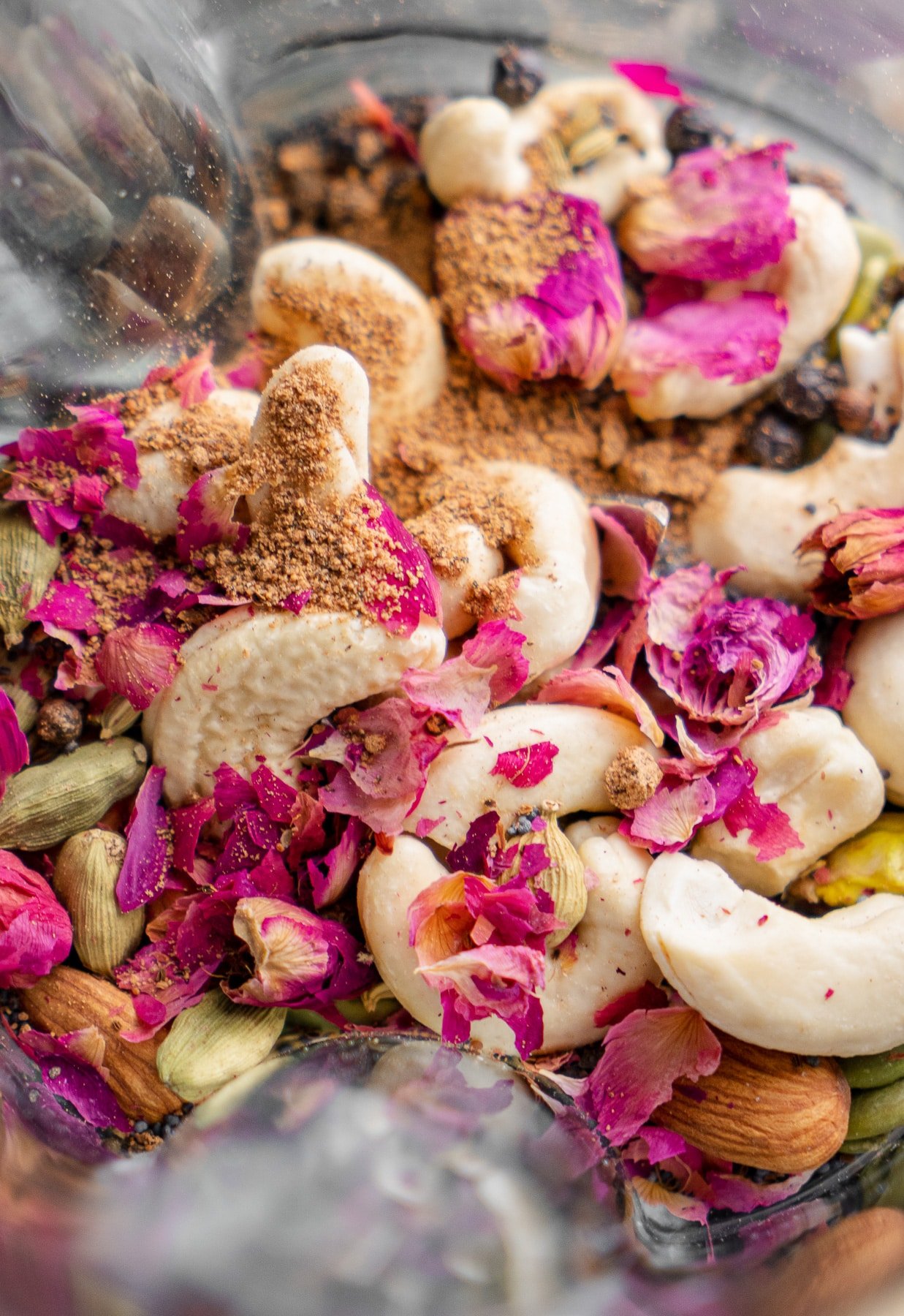 Thandai masala is made of three groupings of ingredients:
Nuts. Almonds are the main ingredient in terms of nuts for this drink. You can play around with the amount of nuts you use for the others, but the almonds are essential. I personally would not make substitutions with pecans, walnuts, or peanuts – I would just omit the nuts and stick to almonds entirely – but you can certainly try it and see if you like it.
Seeds. Thandai is usually made of four different types of seeds. To stay truly authentic to the recipe, I would substitute out the pumpkin seeds for melon seeds (cantaloupe or watermelon). Unfortunately, melon seeds are very difficult to come by in the U.S. as compared to India unless you are actively saving and drying the seeds when purchasing fresh melon. Depending on the type of grinder you're using, cardamom pods can be difficult to break down. If the blades are not sharp, I'd recommend using about a teaspoon of cardamom powder.
Aromatics. The aromatics adds layers of fragrance and flavor to this cold drink!

Roses. The florals are important in Thandai! There's a few ways to add it – edible dried roses, gulkand (rose jam), and rose water. I like to add dried roses in the masala, and then rosewater while the milk steeps. You can also skip these two in favor of gulkand depending on the ingredients you have available.
It's best to use whole ingredients for the ultimate freshness and flavor. You'll need something to grind your ingredients for the masala together. Traditionally, a mortar and pestle is used but it can be time consuming. You can use a blender, food processor, or a coffee grinder to break everything down into a powder.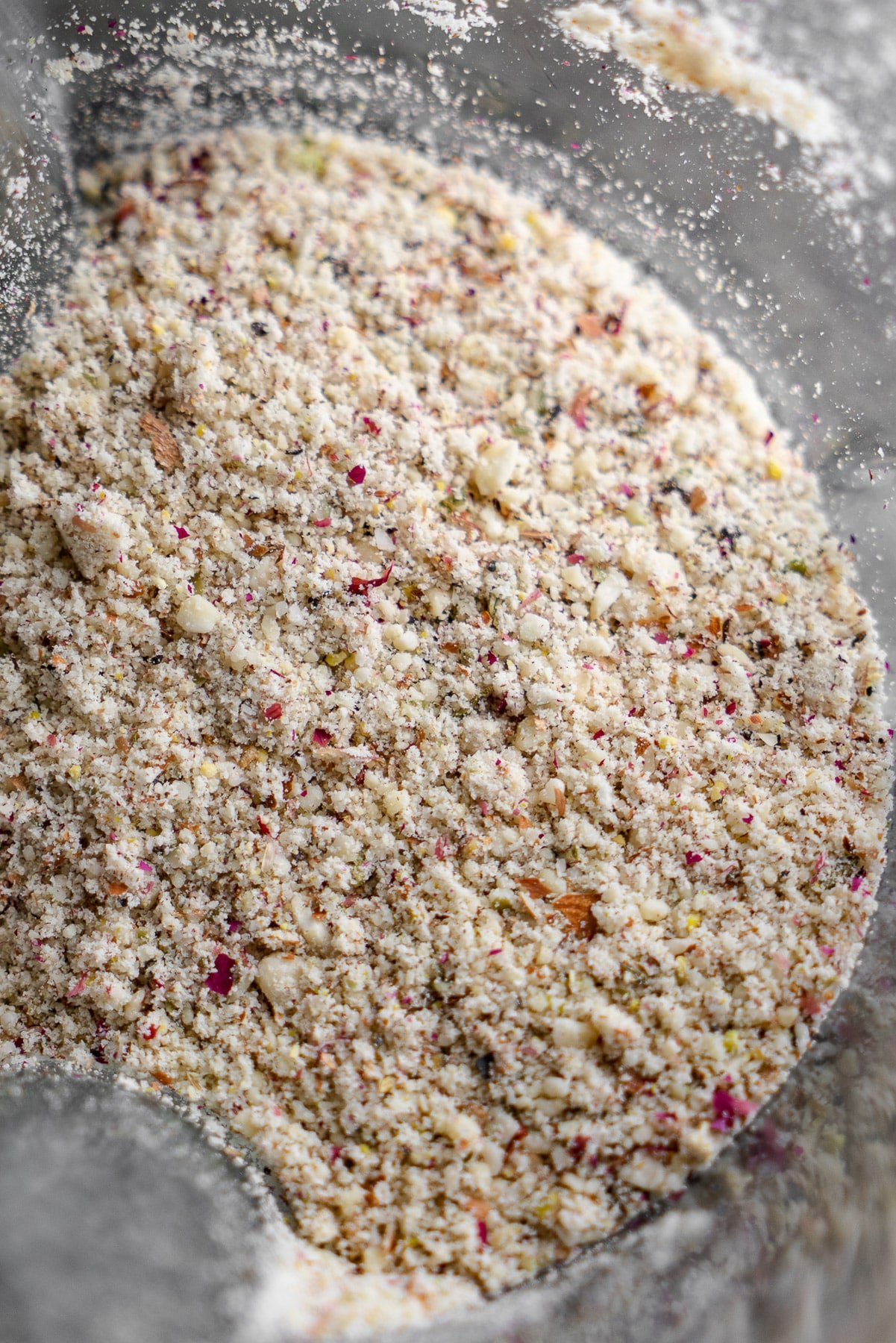 Add all the masala ingredients to a blender and pulse it several times until the ingredients start to break down. Run the blender for several minutes until you start to see a fine powder, stopping every now and then to scrape down the sides. If there are a few chunks, that's totally fine. You just want the nuts to begin releasing their oils, stopping before it starts turning into a paste.
HOW TO MAKE THE DRINK
You can make Thandai a few days in advance of Holi!
Bring the milk to a simmer. Once the masala is ready, pour the whole milk into a large saucepan on low to medium heat.
Bloom the saffron. Before the milk comes to a boil, take out about half a cup of milk and pour it into a small bowl. Crush a few strands of saffron between your fingers and allow it to steep in the milk for 10 – 15 minutes.
Steep the milk with the masala. While the saffron is blooming, add the sugar and thandai masala into the milk. Bring the milk to a low simmer for 10 minutes. Remove the saucepan from heat and add the saffron milk back in. Pour in the rosewater. Cover the saucepan with a lid, let it steep for a minimum of an hour.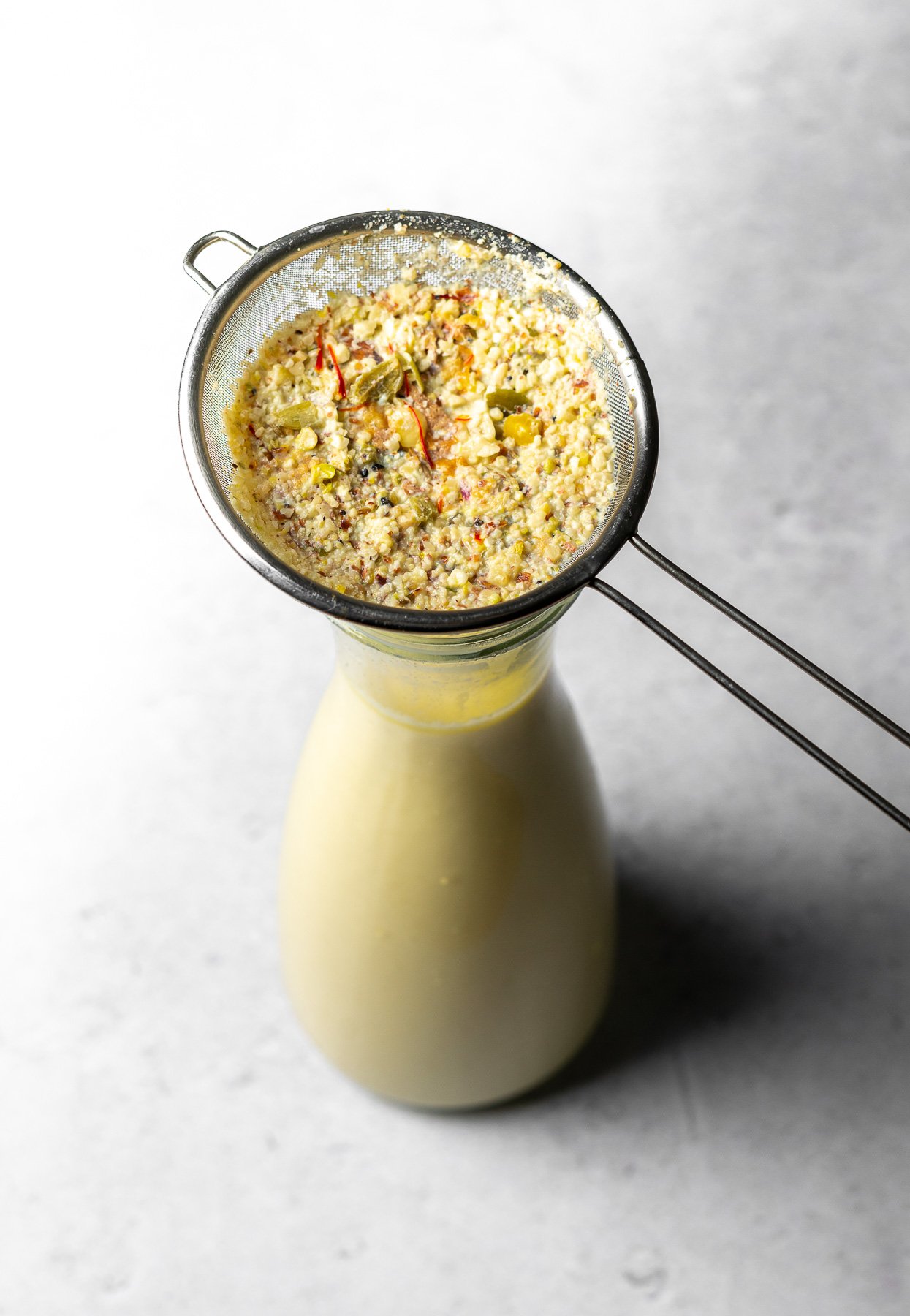 Strain and chill. Once the milk has steeped, strain the mixture into a jug and chill for at least two hours, or ideally overnight to let the flavors develop.
Serve.
HOW TO SERVE THANDAI
My mother says Thandai is an afternoon drink only, because that's when it's perfect for cooling down during India's heat waves.
Serve the Thandai chilled over crushed ice. It's not even half as good if served warm, so chilled is definitely the way to go. Garnish with chopped almonds, pistachios, dried rose petals, and if you especially love the person – some extra strands of saffron.
SPIKING THANDAI WITH ALCOHOL
My boyfriend mentioned one of his friends spiked Thandai at a party with vodka and it was an absolute hit! I tested this and I agree. A smooth, creamy vodka mixes really really well with Thandai! I would recommend about 0.5 – 1oz of vodka to each cup of Thandai.
FREQUENTLY ASKED QUESTIONS
How do I store Thandai?
To store the thandai masala – Use an airtight mason jar to store the masala for up to a week in a cupboard, or for up to a month in the fridge. While all the ingredients are generally shelf stable, they are grinded into a fine powder so all the oils release. You'll be able to smell if the masala has gone bad. If you want it to keep longer – don't grind all of the ingredients at once.
To store the thandai – Note down when your milk expires on the pitcher you store it in. Depending on your milk, the thandai can be good for up to two weeks.
Can I use any milk?
Yes, you can absolutely make this recipe vegan and use any alternatve milk. But whole milk is the go-to and makes the best Thandai. Some people also use half and half as well!
Can I add bhang to this recipe?
Absolutely! Please do your research beforehand and be safe. I've also included an alcohol "substitute".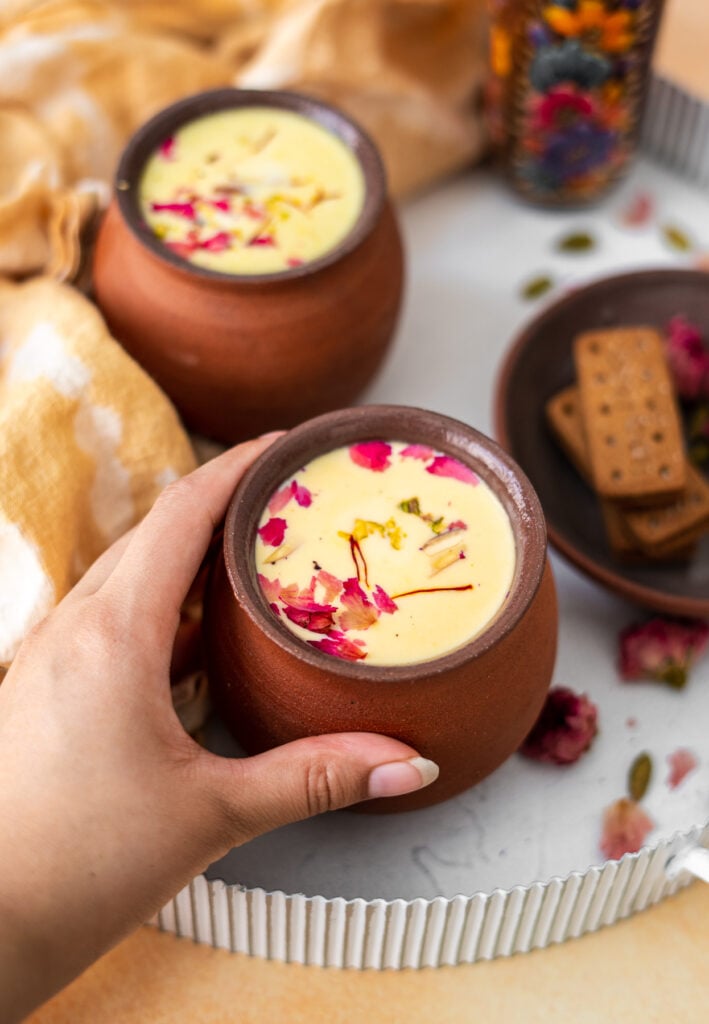 MORE DRINK RECIPES TO TRY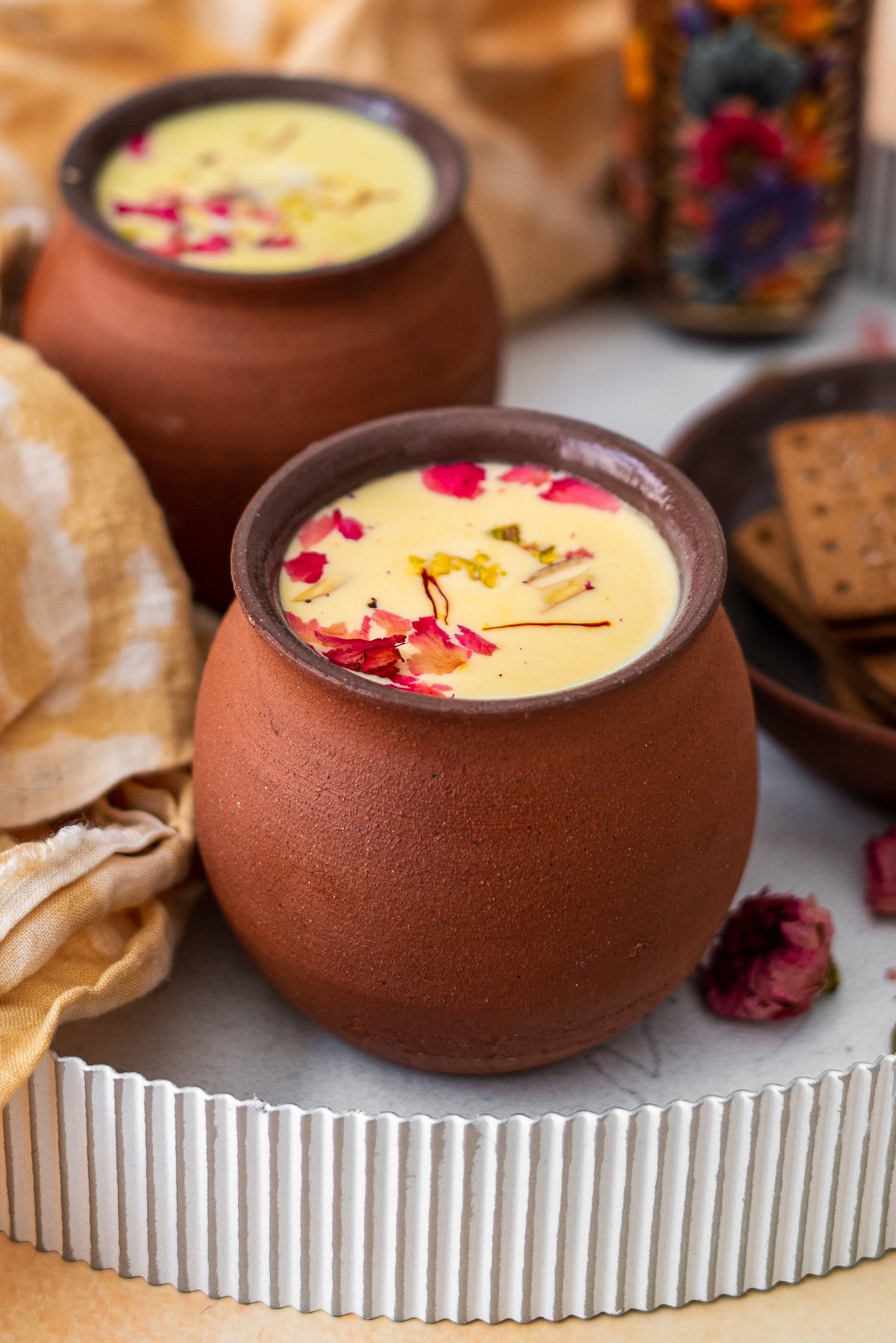 Print Recipe
Thandai
Thandai is the perfect drink for a cool summer! This popular drink in India makes an appearance during Holi for its vibrancy and cooling effect.
Ingredients
Thandai Masala (Serves 12)
½

cup

almonds

10

pistachios

¼

cup

cashews

1

tbsp

pumpkin seeds

8

cardamom pods

1

tsp

fennel seeds

1

tsp

poppy seeds

½

tsp

black peppercorns

1

tbsp

dried rose petals

¼

tsp

nutmeg
Thandai (Serves 4)
3

cups

whole milk

¼

tsp

saffron

¼

cup

sugar

1

cup

thandai masala

¼

cup

rose water

pistachio slivers and rose petals

for garnish
Instructions
Thandai Masala
Add the almonds, pistachios, cashews, pumpkin seeds, cardamom pods, fennel seeds, poppy seeds, black peppercorns, dried rose petals, and nutmeg to a blender or spice grinder. Pulse several times to break down some of the larger pieces, and then run the blender until everything is a fine powder. Do not over-grind the spices into a paste.
Thandai
Pour the milk into a large saucepan. Turn the heat to a medium low flame. Once the milk comes to a simmer, remove about half a cup. Transfer the half cup of milk to a small bowl. Crush the saffron strands between your fingers and into the bowl. Allow the saffron to bloom for 10-15 minutes.

Add the sugar and a third of the thandai masala into the saucepan with the rest of the milk. Simmer the milk for 10-15 minutes, stirring frequently to prevent the milk from scalding.

Remove the milk from heat and add the saffron milk back in. Pour in the rosewater. Cover the saucepan with a lid and allow the thandai to steep for a minimum of an hour.

After an hour, strain the thandai into a pitcher and store it in the fridge for two hours, but preferably overnight.

Serve thandai chilled with slivers of almonds or pistachios, and additional dried rose petals.
Video
Notes
Store the thandai masala in an airtight container for up to a week at room temperature or a month in the fridge.
Store the thandai in the fridge in a pitcher for up to a week.
NUTRITION
Nutrition Facts
Thandai
Amount per Serving
% Daily Value*
* Percent Daily Values are based on a 2000 calorie diet.
Did you make this recipe?
Tag @masalaandchai in your post and stories on Instagram!
I'd love to know what you thought of this recipe! Leave a comment and rating below! You can also find me on Pinterest and Facebook, or stay in touch with me via my Newsletter!