Meet Shweta
Hi! I'm Shweta, the recipe developer, photographer, videographer, and writer behind Masala and Chai - a food blog showcasing accessible and comprehensive Indian recipes for home cooks. I'm also a full-time cloud consultant at a large consulting firm.
Along the way, I'll teach you about Indian techniques, ingredients, and the culture I've grown up with as part of the Indian diaspora in the U.S.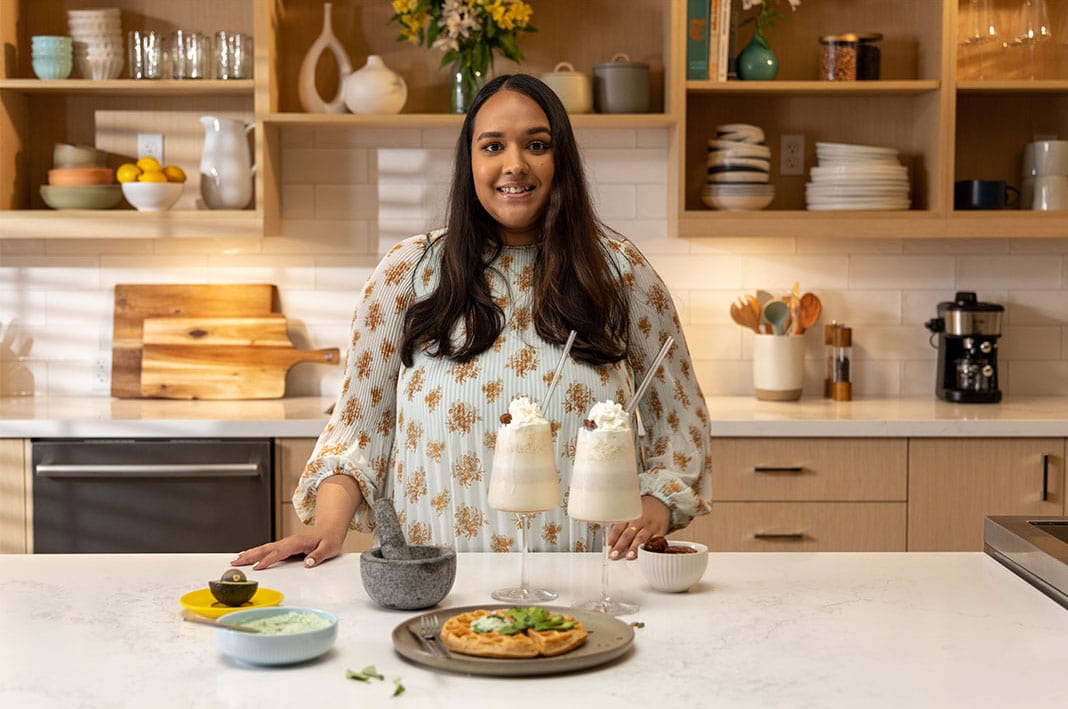 I moved to Arizona in the U.S. from Alberta, Canada when I was 5 years old. Like most immigrants, I struggled to identify with my culture but grew up watching my mom cook authentic Indian food while assimilating us with with funky fusion foods like adding Chole to our pasta.
My mother, Abha, grew up in the city of Aligarh in India and was raised by her single mother with her four older siblings. She learned how to cook from the matriarchs in her family, starting with her great-grandmother teaching her the basics to her grandmother hammering in the precise techniques. My Nani (mother's mother), taught her the classics like samosas, ladoos, achaars, papadums, etc.
Eventually, she moved to Canada as a 20-something year old with her eldest brother and started her own family. She passed down everything she learned to me as I grew up in Arizona and figured out how to feed myself in college. I seriously loved being her little helper! From frying bhaturas, to making rotis, to stuffing my face with homemade pani puri on hot summer nights.
Now that I'm 20-something and living in New York City, I feel more connected to my culture through food and, of course, Bollywood movies. It brings me so much joy to show people the amazing Indian food that's out there past Butter Chicken, Garlic Naan, and Mango Lassi.
About Masala and Chai
Masala and Chai is full of recipes that are meticulously developed and tested by Shweta Garg. Several recipes are passed down by her mother, aunts, and grandmother who grew up in the state of Uttar Pradesh in India.
Shweta is a published photographer and has been featured in publications such as Eater, AM NY, Food & Wine, Buzzfeed, Parade, the Kitchn, The Feed Feed, and Food Network.
Each recipe - whether it's Indian or Indo-American fusion - introduces a traditional Indian dish, technique, or ingredient along with the culture and significance behind it. You'll find classics like restaurant-style Mango Lassi, homemade Dahi made the traditional way, and fusion like Butter Masala Pasta.
Some recipes are simply a reflection of Shweta's upbringing in the U.S. as she assimilated into American culture, such as the classic Lofthouse-Style Frosted Sugar Cookie Bars or Strawberry Cream Cheese Turnovers with a little twist of cardamom.
Either way, you'll leave Masala and Chai learning something new about Indian cuisine which makes it easier and more approachable for the next time you make a recipe.
xo, Shweta
---
FAQs
What camera equipment do you use?
I shoot on a Sony a7r ii. My main lenses are a 90mm and 24-70mm. I shoot with a mix of artificial and natural light. All of my photos are individually edited using Adobe Lightroom. I use a Manfrotto tripod for my videos and overhead shots. Check out my Amazon shop to see what I use.
Where do you live?
I currently reside in the Financial District of Manhattan.
What are your favorite places to eat in NYC?
My favorites are Thai Diner, RubiRosa, Phayul, Harlem Shake, Clinton St Baking Company, Dell'anima, Los Tacos No.1, Brad's Burger and BBQ, and Old Xi'an.

In terms of Indian food - I love Benares, GupShup, and Gazab.

For dessert, I'm obsessed with New Territories, Malai Ice Cream, Eileen's Cheesecake, Grace St, and Dough Doughnuts.
Where do you get your recipe ideas?
A lot of them are random food cravings inspired by my mom - an amazing cook - who would do weird things in the kitchen like sneak leftover curry in our pasta. Growing up, she was always learning new dishes so my brother and I weren't made fun of for our ~stinky~ Indian food at school! We always ended up with a fun fusion meal.
Can we work together? What services do you offer?
Of course! I'm happy to work with brands that align with my values. Here are a few ways we can work together:
- Sponsored IG Posts/Stories
- Food and Product Photography
- Restaurant Menu Photography
- Recipe Development
- Dedicated Blogs
- Sponsored Travel
- Instagram Giveaways/Takeovers
For a full list, a media kit is available upon request.
Feel free to contact me if you have any recipe/post suggestions, questions, or want to work with me.