Salty, spicy, tangy, crunchy and ridiculously quick to put together... This Peanut Chaat is the easiest cold appetizer that comes together in 10 minutes or less with very little prep. It pairs perfectly with a cup of chai or a cold beer!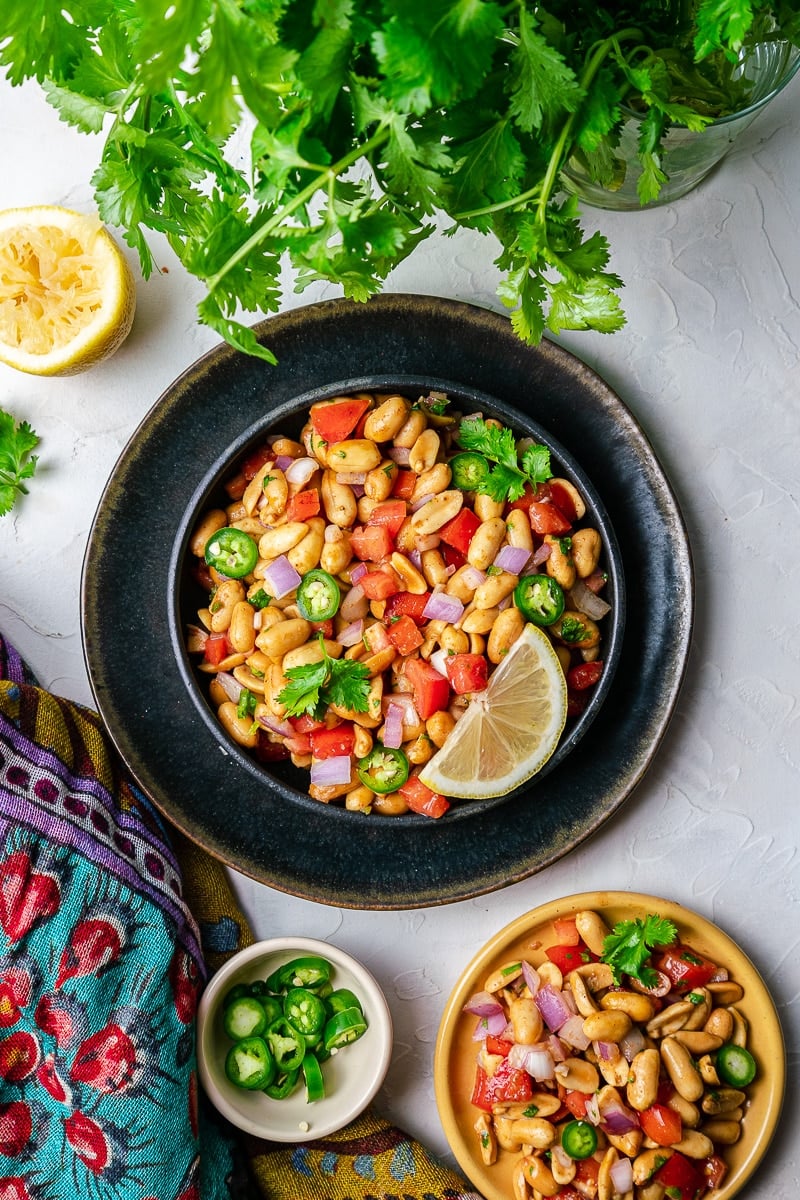 This is one of my favorite chaats! It takes regular 'ol peanuts and adds spicy, tangy Indian flavors to it for a quick snack. It's the easiest one to put together and only requires a little bit of dicing prep with the vegetables and it's ready to go!
Some people even call it a peanut chaat salad, because it's generally healthy and sometimes even a great snack for weight loss. The fat from the peanuts keep you feeling full and satisfied.
There's no frying, making chutneys, or using processed foods with this. Peanut Chaat is simple and flavorful and great for throwing together for a gathering as a snack or appetizer.
This bright, colorful appetizer comes together in 10-15 minutes! Peanut chaat is sometimes served as a snack in bars in India, commonly referred to as chakna.
Jump to:
Peanuts contain 19 vitamins and minerals, many of which keep the heart healthy. One ounce of peanuts contains 8 grams of protein! In my household, we never use other nuts for chaat since peanuts are so nutritious. For example, you would never add pistachios or walnuts to chaat.
Peanut chaat is a simple mixture of unsalted, raw peanuts mixed with diced vegetables, a few spices, and lemon juice in its most basic form. There are several versions that are served street-style in India.
What is Indian Chaat?
A popular street food in South Asia, "chaat" describes an entire category of Indian snacks! They're the preferred vegetarian starter at any desi restaurant. It hits every flavor profile and texture that makes it craveable - sweet, spicy, tangy, salty, crunchy.
Chaat is essentially a quick snack you can make at any time with things that are already in your pantry. Usually, family and friends sit over a tablescape of different chaats with a cup of freshly brewed chai to gossip. A popular pun is, "let's chat over chaat."
A few staples are Samosa Chaat, Papdi Chaat, Sev Puri Chaat, Fruit Chaat, Peanut Chaat, Aloo Tikki Chaat, Gol Gappa or Pani Puri, Raj Kachori, Bhel Puri, Dahi Vada... the list goes on and on.
A Formula to all Chaats
There is a basic formula to all chaat, consisting of five layers to make any type of snack. There are so many regional variations in India with different names, but most combinations stay more or less the same.
THE BASE. Usually the base of chaat is something crispy or crunchy, or focuses on one ingredient like peanuts, fruits, or fried potatoes. Anything like samosa, gol gappa, matri, crispy rice puffs, thicker sevs, papdi, etc works as a carb-heavy base.
THE SAUCES. The best part of chaat is when all the sweet, spicy, and tangy chutneys and sauces blend together at the bottom! Common sauces are tangy imli (tamarind) chutney, cilantro-mint chutney, dahi, and lemon juice.
THE SPICES. A few aromatic masalas are always added to chaat to accentuate the flavors. Chaat masala is without a doubt the most important blend of masalas for every chaat dish giving a healthy douse of umami. Other notables are roasted cumin, kala namak, and red chili pepper.
THE CRUNCHY. To offset the sauces, a crunch is absolute necessary. Some common crunchies are sev (deep-fried noodles made of chickpea flour), potato chips, peanuts, roasted chana (chickpeas), and namkeens (savory snacks).
THE TOPPINGS. The toppings are usually a mix of raw fruits and vegetables that can be mixed and matched based off of what you have available. Common toppings are red onions, tomatoes, chilis, cilantro, mint, pomegranates, roasted potatoes, chickpeas, and avocado. Fruits like watermelon or apples don't make the cut here, unless specifically making fruit chaat.
This formula works for any chaat! The more you try, the easier it'll get to know which ones mix and match super well.
Ingredients - Notes and Substitutions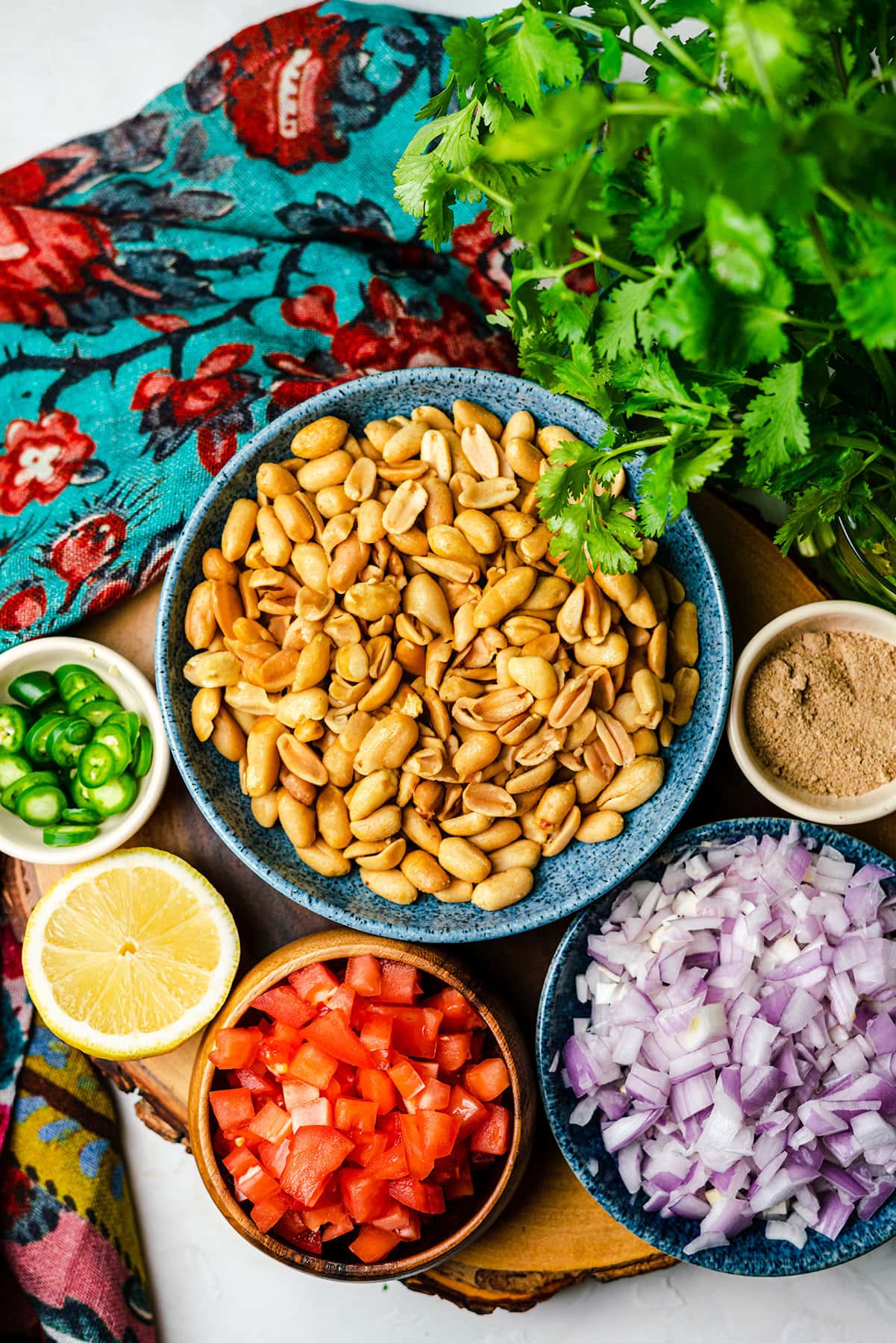 Peanuts - In my household, we love the peanuts roasted and lightly salted. However, fried or boiled peanuts are just as delicious.
Red Onion - Raw red onion adds a bite to the chaat. To take out that raw flavor, rinse the diced onion under cold water and drain the water as best as possible.
Tomato - Any type of tomato diced up will work. Plum, roma, or cherry tomatoes that don't have too much pulp work best.
Hot pepper - Use a mild green chili like serrano pepper or jalapeños. Remove the seeds to reduce the spice level.
Spices - This is kept super simple with chaat masala, a must for most chaats, and chili powder.
Recommended Kitchen Equipment
How to make Peanut Chaat
The first thing for making Peanut Chaat is to prep all of your fresh ingredients.
Finely dice your tomatoes and red onion and set it aside. Slice the serrano pepper into rings. Chop the cilantro. If you're using fresh pomegranate, remove the arils.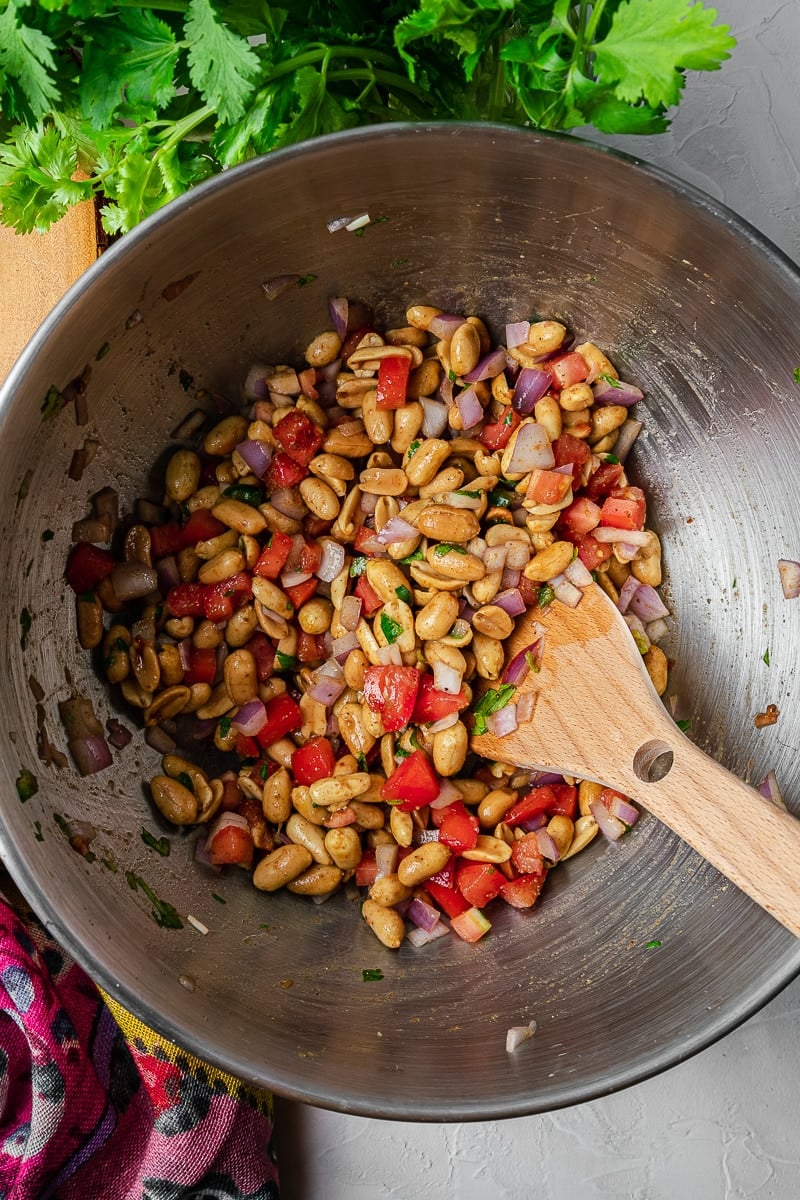 Then, add the red onions, tomatoes, peanuts, serrano peppers, chaat masala, chili powder, salt, and cilantro into a large mixing bowl. Squeeze the lemon juice over everything. Toss contents of the bowl until well combined.
That's it! You're ready to serve in small bowls or plates. About a ⅓ - ½ cup per person is more than enough.
Variations of Peanut Chaat
Other delicious toppings for peanut chaat include:
Pomegranate seeds
Sautéed potatoes
Imli chutney
The peanuts can be boiled, roasted, or even fried! They don't have to be served raw.
Storage Instructions
Chaat is meant for day of consumption. It should be made and served as fresh as possible.
Peanut chaat also doesn't do well stored overnight. If you want to prep ahead, I'd suggest dicing the onion and tomato and slicing the jalapeño for storage in the refrigerator until you're ready to toss everything together.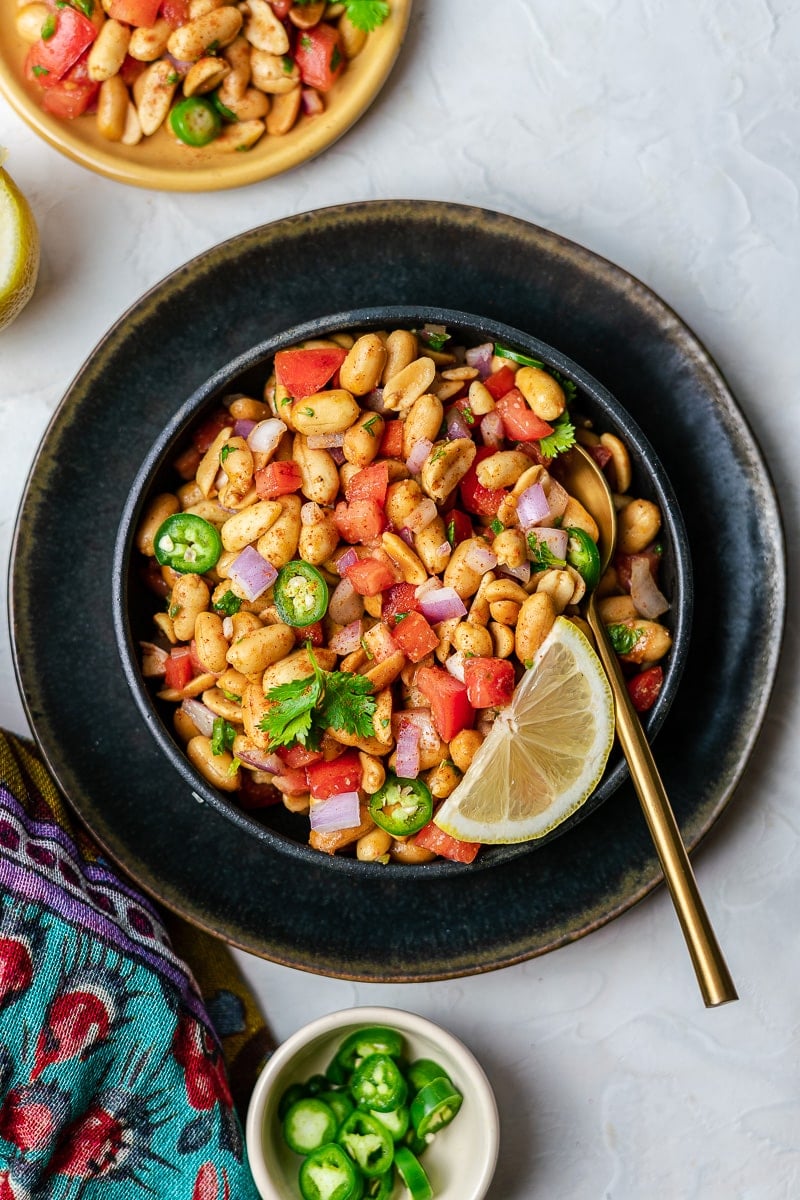 More Indian Snacks to try
Recipe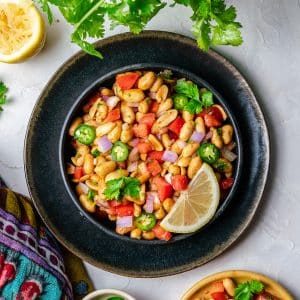 Peanut Chaat
Salty, spicy, tangy, crunchy and ridiculously quick to put together… This Street-Style Peanut Chaat is the easiest Indian snack that comes together in 10 minutes or less. It pairs perfectly with a cup of chai or a cold beer!
Print
Rate
Ingredients
6

oz

peanuts

,

roasted and salted

½

red onion

,

diced

1

plum tomato

,

diced

1

serrano pepper

,

diced

½

lemon

,

juiced

2

teaspoon

chaat masala

1

teaspoon

chili powder

salt

,

to taste

handful

cilantro

,

chopped
Instructions
Dice the onion, tomato, and chili pepper. Finely chop the cilantro.

In a bowl, toss the peanuts, onion, tomato, chili pepper, cilantro, lemon juice, chaat masala, salt, and chili powder.

Serve immediately with additional chilis and lemon wedges.
Nutrition
Calories:
256
kcal
|
Carbohydrates:
10
g
|
Protein:
12
g
|
Fat:
21
g
|
Saturated Fat:
3
g
|
Sodium:
19
mg
|
Potassium:
402
mg
|
Fiber:
5
g
|
Sugar:
1
g
|
Vitamin A:
291
IU
|
Vitamin C:
11
mg
|
Calcium:
52
mg
|
Iron:
2
mg