Make Dahi (curd), a creamy, luscious Indian yogurt the traditional way in the comfort of your own home with only two ingredients - whole milk and a yogurt starter!! The recipe and technique was passed down by my great-great grandmother. Use dahi to make dishes like Mango Lassi or serve it as a side along with dal and roti.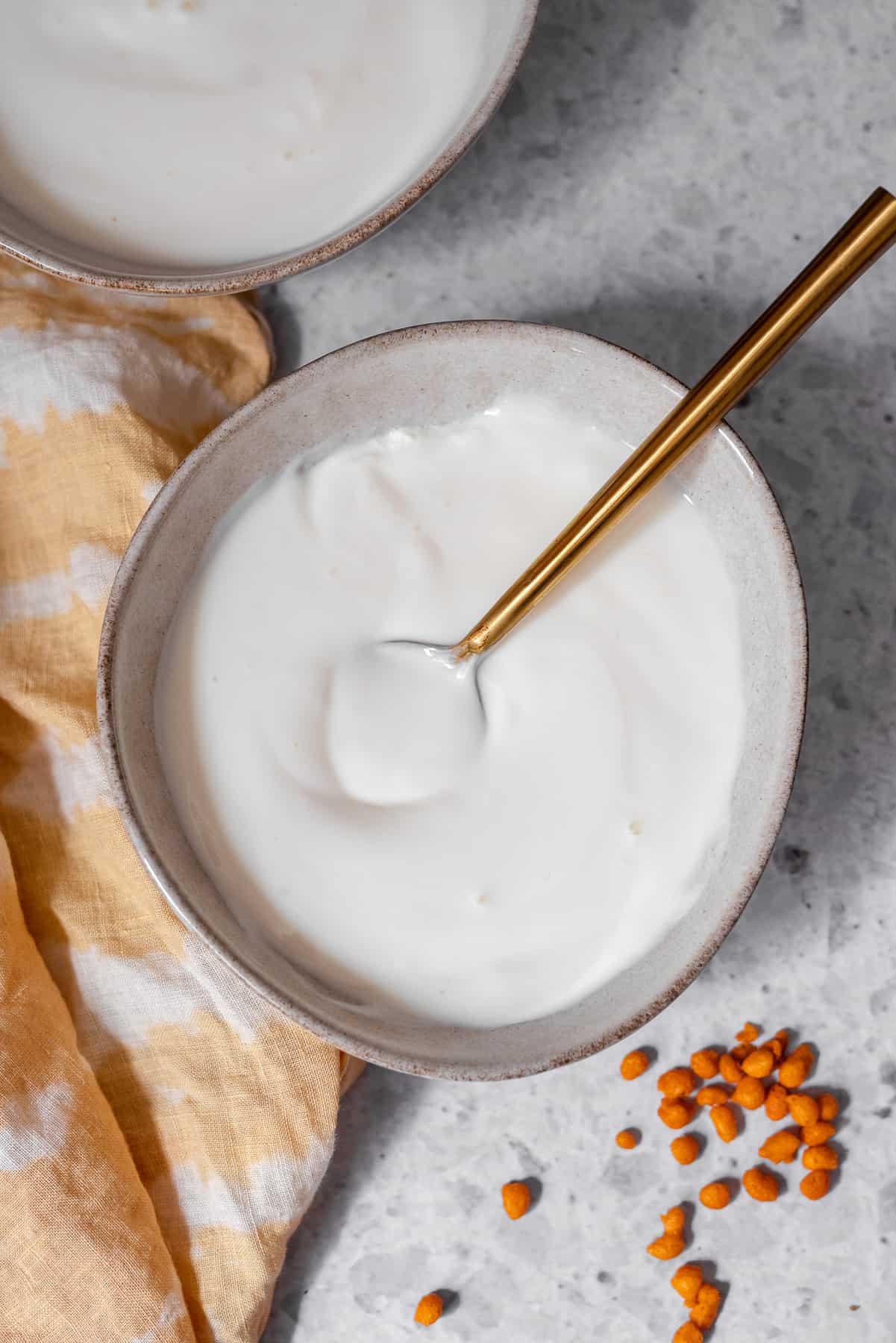 I am so dang lucky to have a mom that's super crafty! She's always preferred to make homemade chutneys, achaars, yogurt, freshly dried herbs, and would dry out spices and grind them herself.
I have to say, I'm extremely grateful for Masala and Chai. If I didn't have this space, I'm not sure I would take the time to learn these recipes I grew up watching my mom do on a daily basis. I was always her little helper - watching for when the pressure cooker went off, prepping vegetables, making the dough for rotis. Now I'm super excited that I'll get to pass off these traditions to my kids, and of course to all my readers!
Jump to:
My mom learned how to make dahi where she grew up in Uttar Pradesh in India. She actually learned how to make raita (yogurt side dish) from her great-grandmother in clay pots with fresh buffalo milk.
No Instant Pot required for "instant yogurt"!! There's some charm in doing things the old school way with Indian traditions and techniques passed down from generation to generation.
Making dahi at home really only takes about 10-15 minutes of being involved. At the end, you have thick, creamy luscious homemade curd at a fraction of the price in-store. The ingredients are also super accessible - just whole milk and a yogurt starter!
What is Dahi?
Ma'am, this is just yogurt.
Okay, it's NOT though!!
Dahi, translated to curd, is cultured milk that is boiled, frothed, and mixed with a starter to make an Indian-style yogurt in the Indian subcontinent.
Most Indian households make their own homemade yogurt on a weekly basis. We use it to serve as a side with dal (lentils) and roti, lassi, added into curry for a bit of creaminess, or even to marinate meat or paneer. Once we reach the end of the dahi, we save a spoonful as a starter to make more for the next week.
It's also used as a base for a ton of side dishes, such as raitas like Boondi Raita and Dahi Vada.
What is a Yogurt Starter?
The yogurt starter is a bacteria culture which helps the milk solidify into a creamy yogurt. It's just a scoop of dahi.
The best way to get the culture is by starting with someone else's - whether you ask in your local town's Facebook group, steal some from a family friend, visit your local Indian restaurant, or buy a container of dahi from the Indian grocery store to start with. You can also use plain Greek full-fat yogurt, but this will result in a slimy texture with most brands.
In our family and friends circles, all the aunties borrow a bit of each other's dahi for a new starter.
The Three Components to the Best Yogurt
Your quality of dahi will depend on three things:
The milk. The best milk to use is farm fresh buffalo or cow milk with full-fat. Otherwise, use whole milk from the grocery store.
The starter. The best dahi is really dependent on the starter. The dahi shouldn't be too sour.
The weather. Dahi can be made year-round, however, the amount of starter used and the resting time is dependent upon the weather. The starter thrives at a warmer temperature and the yogurt sets faster when warm. It can take more starter and time to solidify in cooler weather.
How to make Dahi or Curd at home
No one:
My mom: Why is this post so long? Making dahi is easier than all this.
It really be your own mom, huh?
Okay, yes this is true! Making dahi is so easy that a lot of people even do it daily. If you're making it for the first time, then you'll come to see really how accessible dahi is and how simple it is to troubleshoot.
Boiling the Milk
Rinse a heavy bottom pot really well. You can lightly oil or brush butter around the bottom and sides to prevent the milk solids from sticking and burning. Pour in the milk and bring it to a boil on low to medium heat.
Keep stirring the milk to prevent the milk from burning. The milk will start to form a layer of malai (cream) at the top. You can choose to mix this in to the milk or allow the cream to develop.
Once the milk comes to a boil, you'll see a ton of tiny air bubbles. Reduce the heat to a low flame and let the air bubbles envelop the milk at the top so the milk is bubbly all around. This gives a stronger flavor and results in a thicker curd.
Cool and Froth the Milk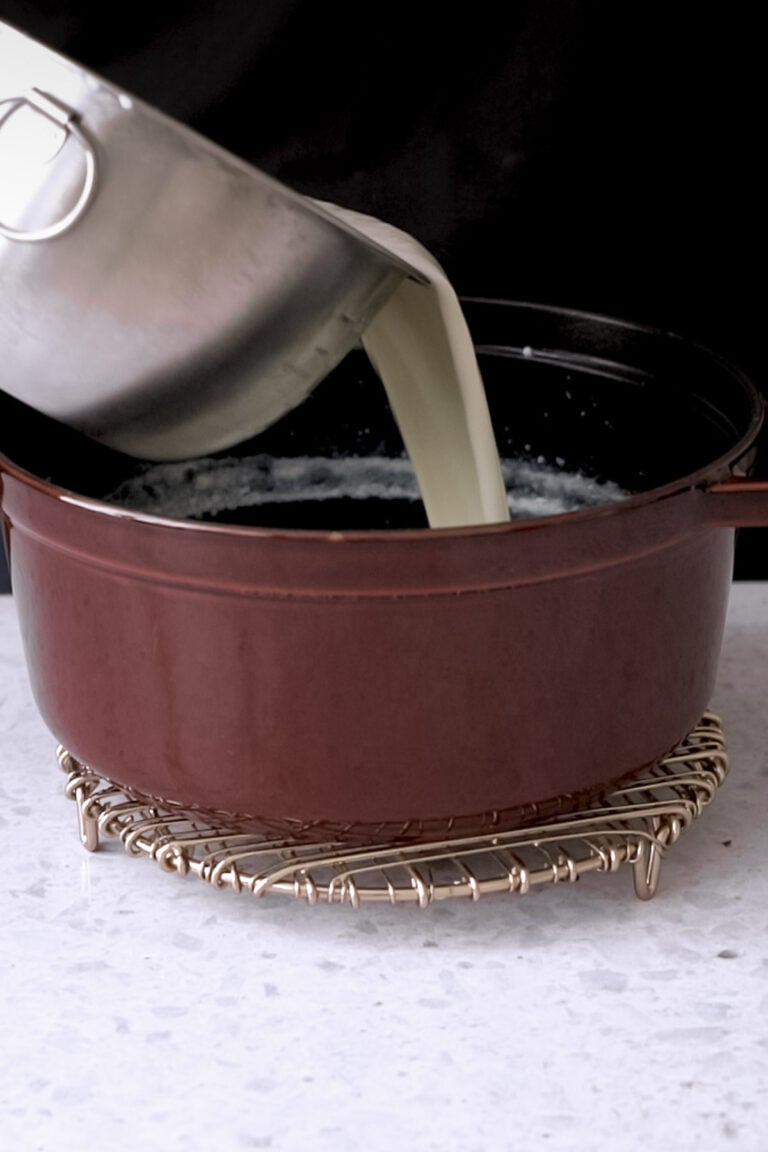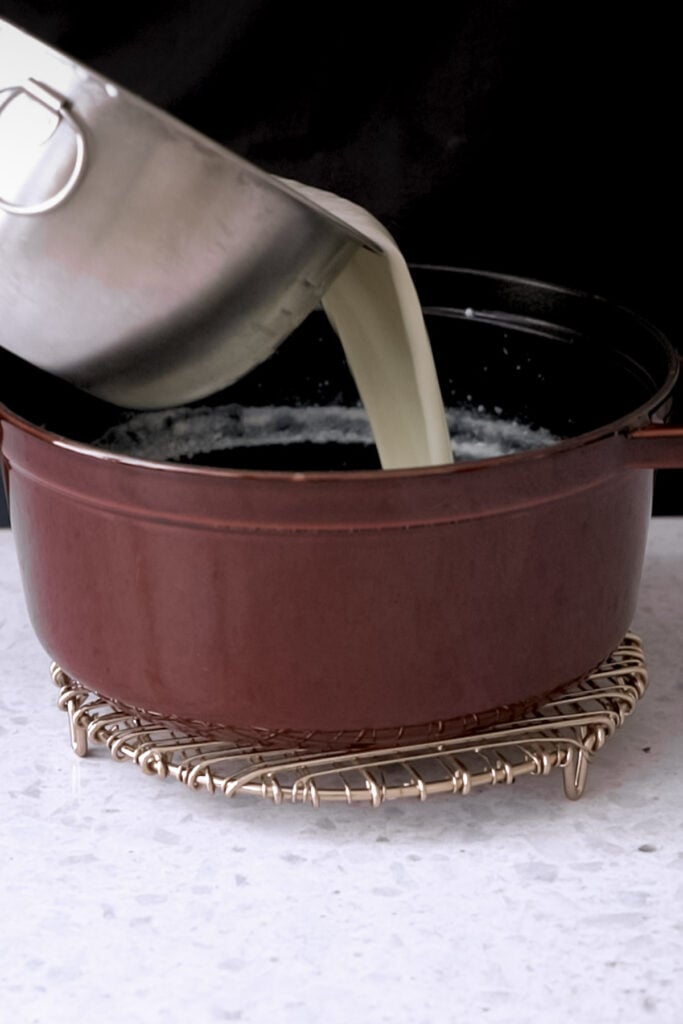 Remove the heavy bottom pot from heat and allow the milk to cool to about 135°F, or just until you're able to comfortably touch the hot milk
Pour the milk from the heavy bottom pot into a clay pot or a bowl that you'll store the dahi in. Start with the pot as close to the bowl as possible, and continuously pour the milk while moving the pot higher and higher. This is called pulling the milk. It may be a bit messy so have a towel on hand.
Do this one more time, transferring the milk from the bowl back to the heavy bottom pot.
Mix in the Starter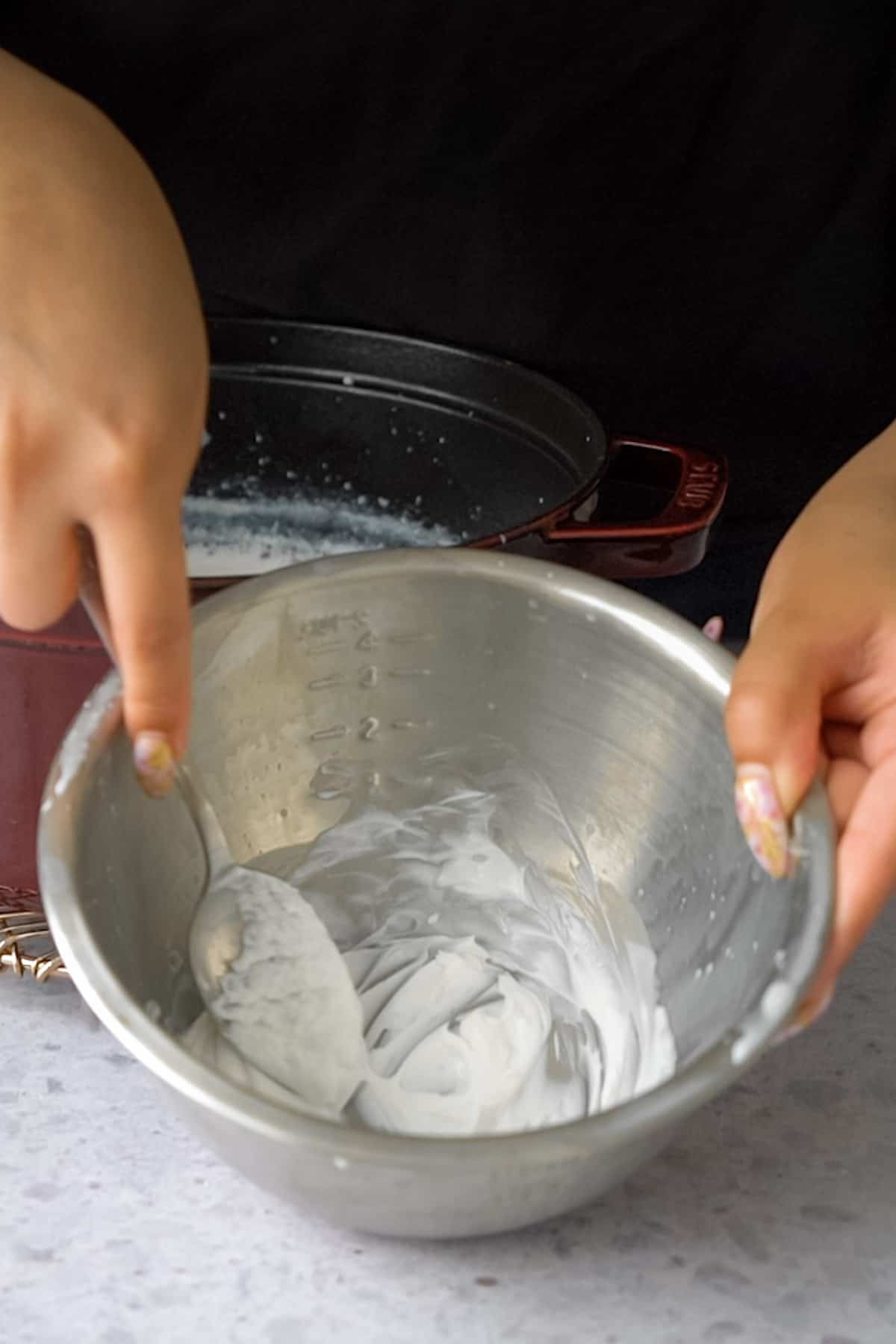 Add a teaspoon to a tablespoon of starter into the clay pot or bowl that you'll store the yogurt in. Mix the starter super well with a spoon so it's smooth and covers the bottom of the bowl.
Pour the milk back into the bowl from the heavy bottom pot, using the same pulling technique.
Give the milk a quick stir to ensure the starter is mixed throughout.
Cover and set
Cover the yogurt with a lid and wrap it tightly in a towel to allow it to set for 6-10 hours. If it's warm, the dahi will only need about 6 hours to set. If it's cooler, it will need about 10 hours to set and should be kept in a warm place like the oven. Avoid moving or disturbing the bowl until the yogurt has set.
After the curd has set, refrigerate it.
Serve
Dahi is used as an ingredient in recipes, to marinate meat, or served as a cool side along with lentils like Masoor Dal.
Heating and Frothing the Milk
The milk should be brought to a temperature of at least 180°F or the boiling point at ~200°F before fermenting the milk. The act of boiling the milk improves the texture and richness of the yogurt. The "good" bacteria will consume the lactose, turning the lactose sugars into lactic acid, which traps the fat into a thick, creamy yogurt that's a bit tart in taste. Heating the milk also kills any bad bacteria in the milk.
The purpose of frothing the milk is to disperse the bacteria with the fats throughout the milk instead of letting the cream layer form at the top so it's rich and smooth throughout the curd.
Expert Tips and Tricks
It's not uncommon to make smaller, individual bowls of yogurt. If you're working out of a large bowl all week, the whey tends to separate leaving large puddles of it.
Use full fat milk or whole milk only. This will work with 1% or 2% milk, but it won't be as rich and may be too sour. This won't work with plant-based milk.
Temperature is very important when mixing the culture. It should feel hot to the touch.
Once the culture has been mixed, put a lid on it and wrap it in a towel and leave it alone. Do not disturb the milk. Leave it in the oven to conserve the heat.
Sour dahi can still be used in lassi or Kadhi. Once it becomes slimy, it should be thrown away.
Frequently Asked Questions
Why is the yogurt sticky and slimy?
Using Greek yogurt as a starter may result in sticky or slimy curd. It ultimately depends on what you're using as a starter. I highly recommend asking someone else for a bit of dahi as a starter, whether it's a family friend, a local Indian restaurant, or purchasing a container of dahi from an Indian store to make your first ever batch.

It's almost like sourdough starter - you either make your own which you nurture for years, or you borrow someone else's.
How do I know if my starter has gone bad?
Yes, the bacteria can become slimy and will need to be discarded. The yogurt will be slimy and smell bad. The fresh starter should be no older than 1 week old.
How much starter do I use?
In the hotter months, you only need about a teaspoon of starter because the bacteria prefers warmth. In the cooler months, use at least a tablespoon.
Why didn't my milk thicken up and set?
This can happen for a few reasons. The milk temperature was either too low or there wasn't enough culture.

If it doesn't set, you can put the milk in the microwave for 3-4 minutes or reheat to 135°F, add more culture, and wrap it in a towel and keep in a warm place. This won't yield the best dahi, but you can still use it as a starter for another batch, use it as a marinade, or mix into Kadhi.
Why use dahi instead of Greek yogurt?
Dahi doesn't have any additives from processing it. It's simply whole milk with a culture that's boiled and solidified. The textures are almost the same, except dahi is smoother and tangy.
How long can I keep using a starter from the previous batch of dahi?
You can continue saving a tablespoon of starter from the previous batch of dahi indefinitely if maintained well and used within a week of making the most recent batch.
How long can I keep the culture from the previous batch before it goes bad?
Dahi will start souring after 5 days. The culture should be used within 7 days of making a fresh batch of dahi. If you don't plan on making another batch within the week, freeze a tablespoon in an airtight container for up to two months. Typically you should never freeze yogurt and thaw it out again, but this is such a small amount it's usually okay.
I've had my dahi for a few days. Why is there so much liquid?
This is completely normal. The liquid in the dahi is whey, which is incredibly nutritious but very tangy. You can drain a bit of the whey and add it into smoothies or mix it into some of your cooking.

My mom also recommends mixing it into doughs because it will result in fluffier and softer breads.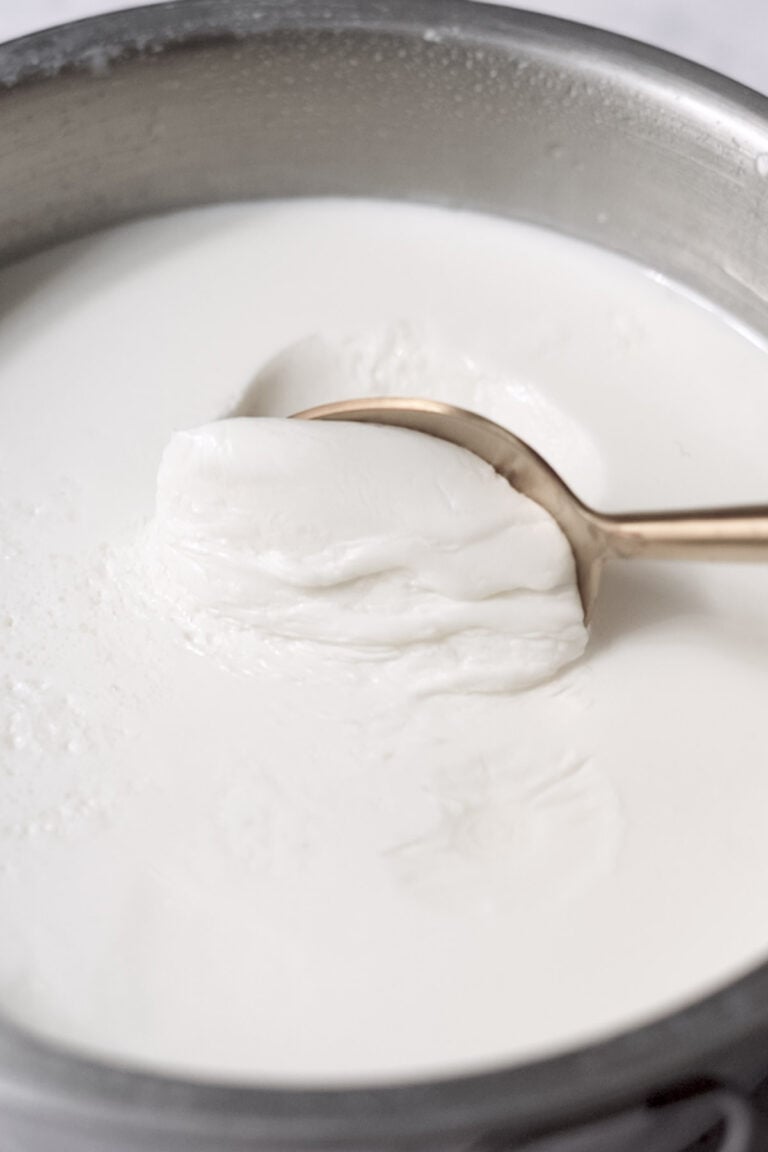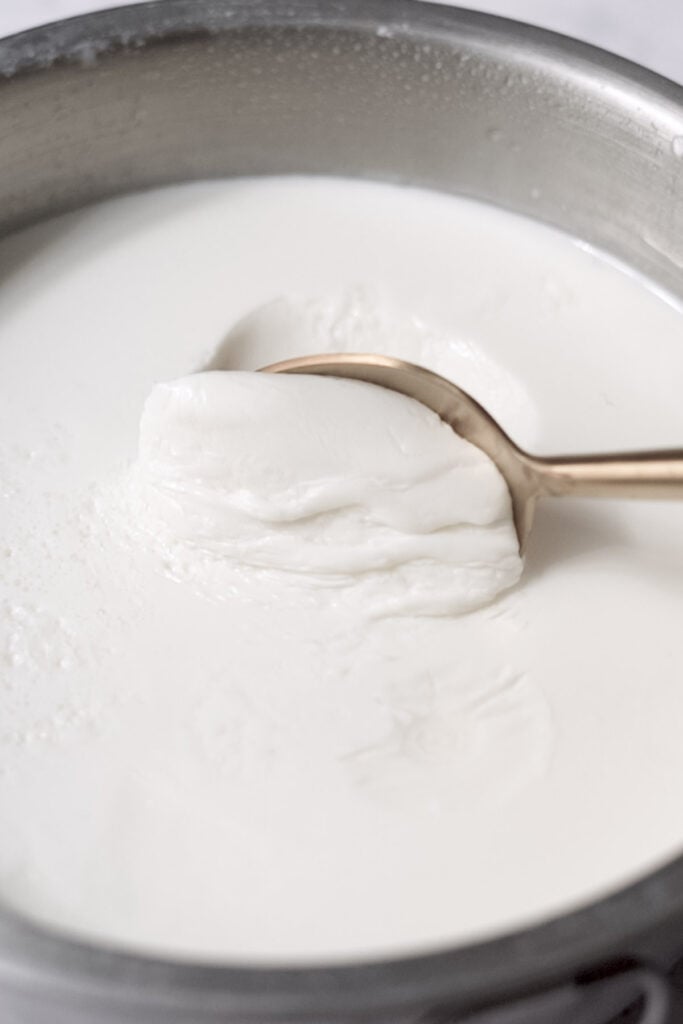 Recipes to try with Dahi
Recipe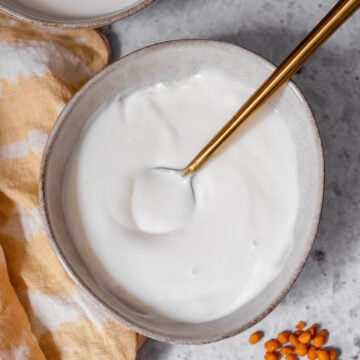 Dahi | Indian Curd Yogurt
Make dahi (curd), a creamy, luscious Indian yogurt the traditional way in the comfort of your own home with only two ingredients - whole milk and a yogurt starter!! The recipe and technique was passed down by my great-great grandmother. Use dahi to make dishes like Mango Lassi or serve it as a side along with dal and roti.
Print
Rate
Ingredients
4

cups

whole milk

1

tablespoon

yogurt starter
Text Ingredients
Instructions
Heat a heavy bottom pot on medium heat. Pour in the milk and bring to a boil while stirring in intervals and scraping the sides to avoid burnt milk. You're looking for a lot of air bubbles.

Remove the pot from heat and cool to about 135°F, or when you can comfortably touch the warm milk.

Once the milk is at 125 - 135°F, slowly pour the milk into a medium sized bowl. Start as close to the medium sized bowl as possible, and slowly pour in the milk as you raise the heavy bottom pot higher and higher while continuously pouring the milk. This is the first pull.

Repeat. Pour the milk from the medium sized bowl back into the heavy bottom pot, starting as low as possible and continuously pouring the milk while raising the bowl higher and higher.

In the bowl, adding a tablespoon of yogurt starter and mix it until smooth and coating the bottom.

For a third time, pour the milk from the heavy bottom pot back into the bowl in the same fashion, starting from low and moving higher and higher. This should create a ton of air bubbles.

Stir the milk to fully combine the yogurt with the milk.

Cover the bowl with a plate. Wrap the bowl with the plate on it with a towel and store at room temperature (~73°F) or in a warm place like the oven for up to six hours undisturbed.

After the sixth hour, carefully unwrap the towel and uncover the lid. Check for a thick, jiggly consistency by gently shaking the container to see if the dahi has set.

Once the dahi has set, transfer the bowl to the fridge and chill for a minimum of an hour before serving.
Notes
Yogurt starter refers to a scoop of dahi from a previous batch or from someone else's dahi. A scoop of plain, full-fat Greek yogurt also works but may result in slightly slimy dahi.
Store the dahi in the fridge for up to 5-7 days with a lid.
Save a tablespoon of the dahi as a starter for the next batch.
Nutrition
Serving:
0.5
cup
|
Calories:
76
kcal
|
Carbohydrates:
6
g
|
Protein:
4
g
|
Fat:
4
g
|
Saturated Fat:
2
g
|
Polyunsaturated Fat:
1
g
|
Monounsaturated Fat:
1
g
|
Cholesterol:
12
mg
|
Sodium:
53
mg
|
Potassium:
164
mg
|
Sugar:
6
g
|
Vitamin A:
198
IU
|
Calcium:
140
mg
|
Iron:
1
mg
Subscribe to the Masala and Chai Newsletter Community to receive exclusive recipes and updates straight to your inbox.
I love seeing when you share my recipes! Tag me on Instagram @masalaandchai so I can enjoy them virtually with you! You can also find me on Pinterest, Facebook, Tik Tok, YouTube, and Twitter.
I'd love to know what you thought of this recipe! Don't forget to leave a comment and ⭐️ star rating below!