Serve up this Boondi Raita as a side dish for your next party. It's a simple and quick to put together as vibrant, cooling dish to accompany your main courses and goes really well with spicy food. Raita is made with tangy creamy dahi and mixed with crispy boondi, spices, and a fresh cilantro for garnish.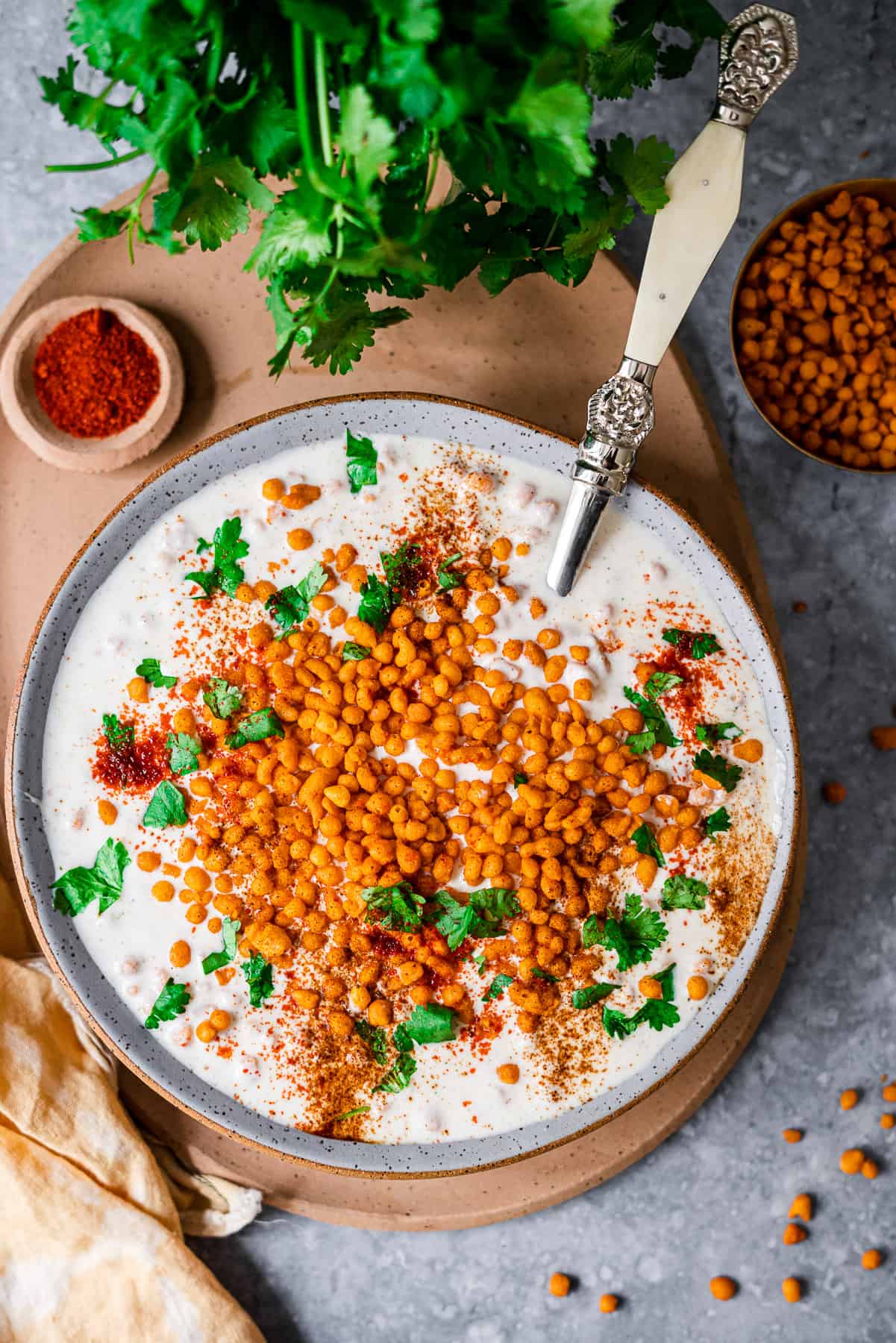 The ever so slightly crispy boondi with the creamy dreamy dahi make the perfect pairing! I especially loved it growing up because my mom tends to cook food on the spicy side, but honestly I could barely ever tell since we always had a side of raita.
Whether you're attending a small desi dinner party, visiting the Hindu temple, or hitting up a hole in the wall Indian restaurant, there's almost guaranteed to be a small bowl with Boondi Raita served as a side with the main course.
This simple Boondi ka Raita can be served with a plain bowl of rice for a quick meal or served with a tablescape of other sides and mains at a desi dinner party.
Jump to:
What is Boondi?
Boondi are tiny fried crispy balls made of chickpea flour (besan) and spices. They can easily be made at home or bought at an Indian store. I recommend the Haldirams boondi for raita.
What is Raita?
Raita is a side dish made using dahi, Indian yogurt, as a base. The yogurt is whisked until smooth and creamy and then flavored with spices, vegetables, and other various ingredients. It acts as a light and refreshing accompaniment to Indian breads, such as paratha, and other spicy main dishes like biryani across the Indian subcontinent.
There are several varieties of raita, such as Kheera Raita (cucumber raita) and Boondi Raita. Boondi ka Raita consists of smooth, creamy dahi mixed with fried crispy balls made from besan that are soaked in water until they soften and a variety of spices. It's then topped with fresh cilantro and an extra sprinkle of spices.
It's served almost every other night in most households, which is why there are several types of raita.
Ingredients - Notes and Substitutions
The ingredients are fairly straightforward for most desi households - but it may require a bit of prep if you're making fresh dahi or don't have some spices.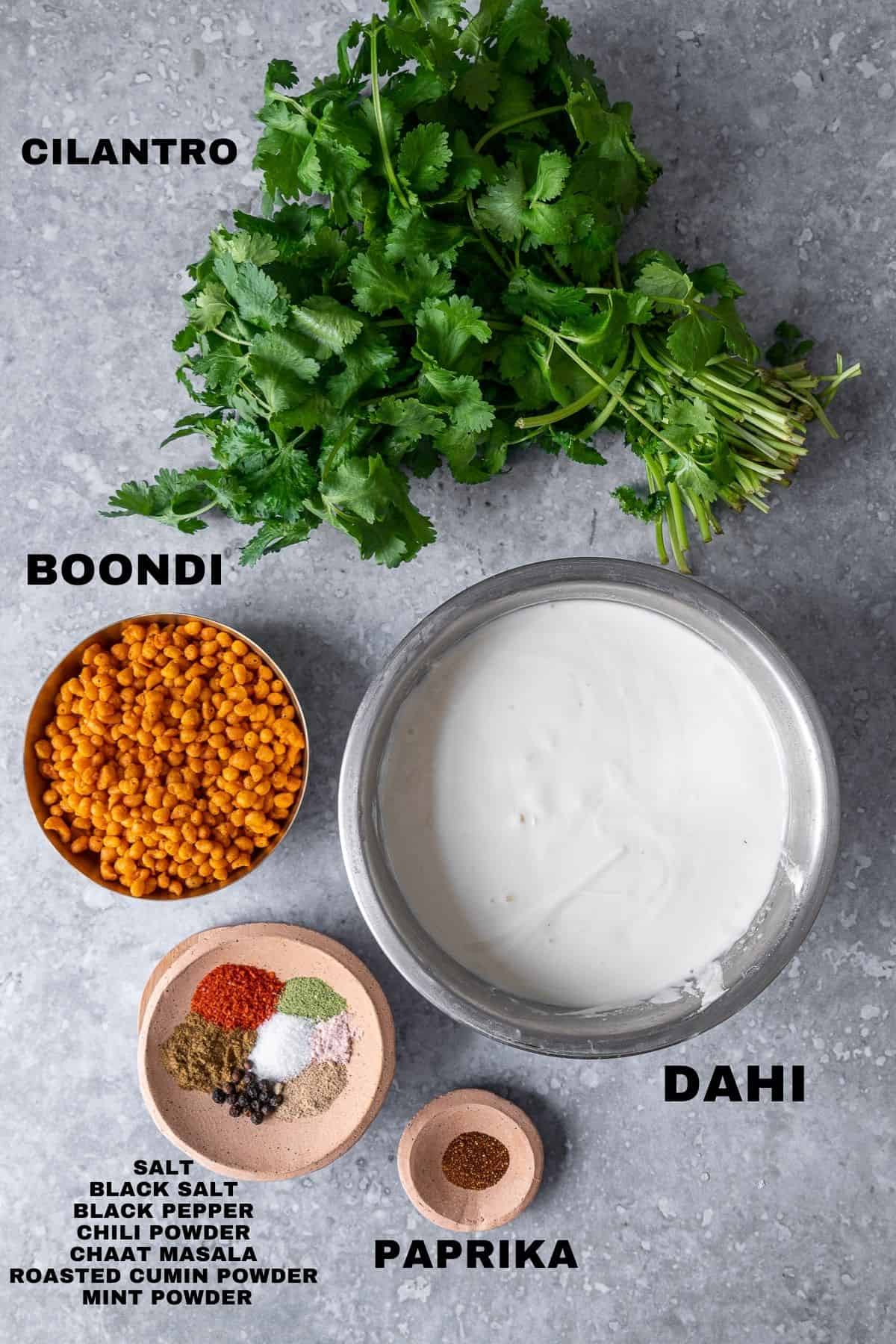 Dahi - Homemade dahi is the best to use for boondi raita! However, you can also purchase it from an Indian grocer. If dahi isn't accessible to you, plain full-fat Greek yogurt is the closest substitute.
Boondi - May Indian households make their own boondi as well. It involves mixing besan (chickpea flour) with spices, water, and leavening and then deep frying it by using a slotted spoon to make the droplets. Otherwise, I recommend Haldirams boondi for raita which can be found at any local Indian grocer or online.
I've denoted the spices which may require a trip to the Indian grocer with an asterisk* and included substitutions if you can't find them.
Black salt* - Otherwise referred to as kala namak. Himalayan black salt carries a lot of umami and is incredibly tangy. A good substitute is pink salt or plain salt.
Black pepper - Freshly cracked black pepper is classic for dahi.
Chili powder - Adds a bit of spice. Dial back or add more per taste.
Paprika - Smoked paprika adds a bit of color for garnishing.
Chaat masala* - A blend of ground spices with a distinct tangy flavor that's used to make chaat, fruit salads, etc. Substitute with ¼ teaspoon of aamchur, kala namak (black salt), or pomegranate seed powder.
Roasted cumin powder - This is nitpicky, but it should be roasted cumin powder. If the cumin powder isn't roasted, you can use whole cumin seeds and roast them in a pan and then grind them.
Dried mint leaves - Adds a bit of freshness to the dahi. Purchased dried mint at any grocery store or you can sun dry fresh herbs and crush them between your hands.
How to make Dahi
While you can purchase dahi at the Indian grocers or even use Greek yogurt, making homemade dahi is always the best way to go. Especially if you are planning on serving this as a side dish at a dinner party. It shows how much extra love and care you gave into making it.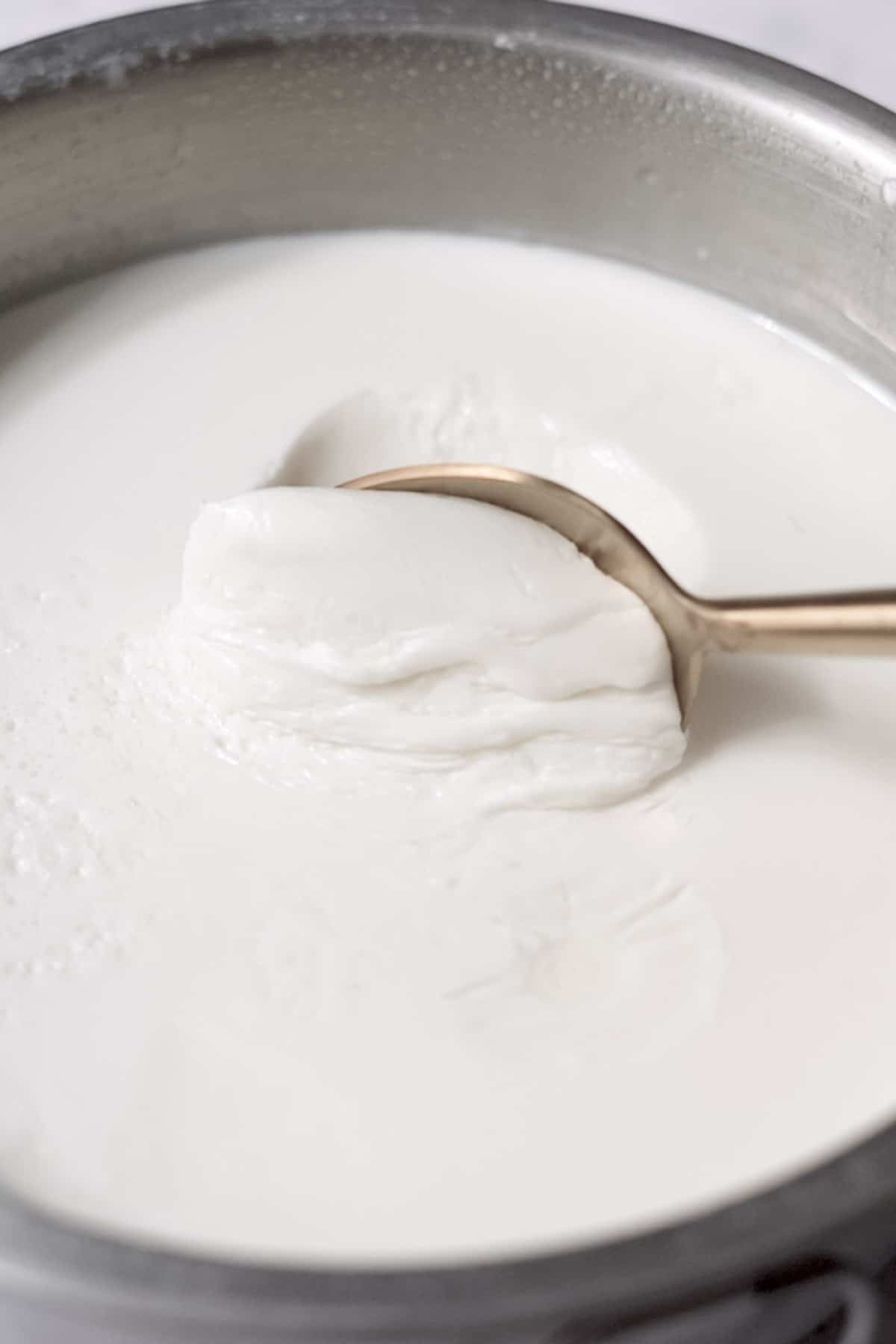 Homemade dahi is seriously so easy and results in a luscious, creamy curd. Essentially, you heat up milk to it's boiling point, and then bring it back down to about 135°F. Pull the milk twice (pouring it from one bowl to another to create air bubbles), and then add your yogurt starter into the bowl you plan on storing the dahi in. Pull the milk again into the bowl with the starter. Cover the dahi with a lid and wrap it in a towel. Keep it in a warm place undisturbed for 4-10 hours, depending on how warm it is.
Once the dahi has set, chill it in the fridge for up to 7 days.
How to make Boondi Raita
The hardest thing you'll have to do for this recipe is heat up water.
Yep, you read that right. You'll want warm to hot water to soften the boondi, and how much you use depends on how soft you want them. If you thoroughly coat them with water, rather soak them almost, the boondi will become completely soft and you may need to squeeze out excess water.
If you want crispy boondi, which I think add great texture to the dahi, then use about 2 tablespoons of hot water per 1 cup of boondi. Give it a little mix so they all get a bit of water. Let it sit for a minute while you whisk the dahi until smooth. Then, transfer it to the bowl of dahi. Keep in mind the curd will continue to soften the boondi.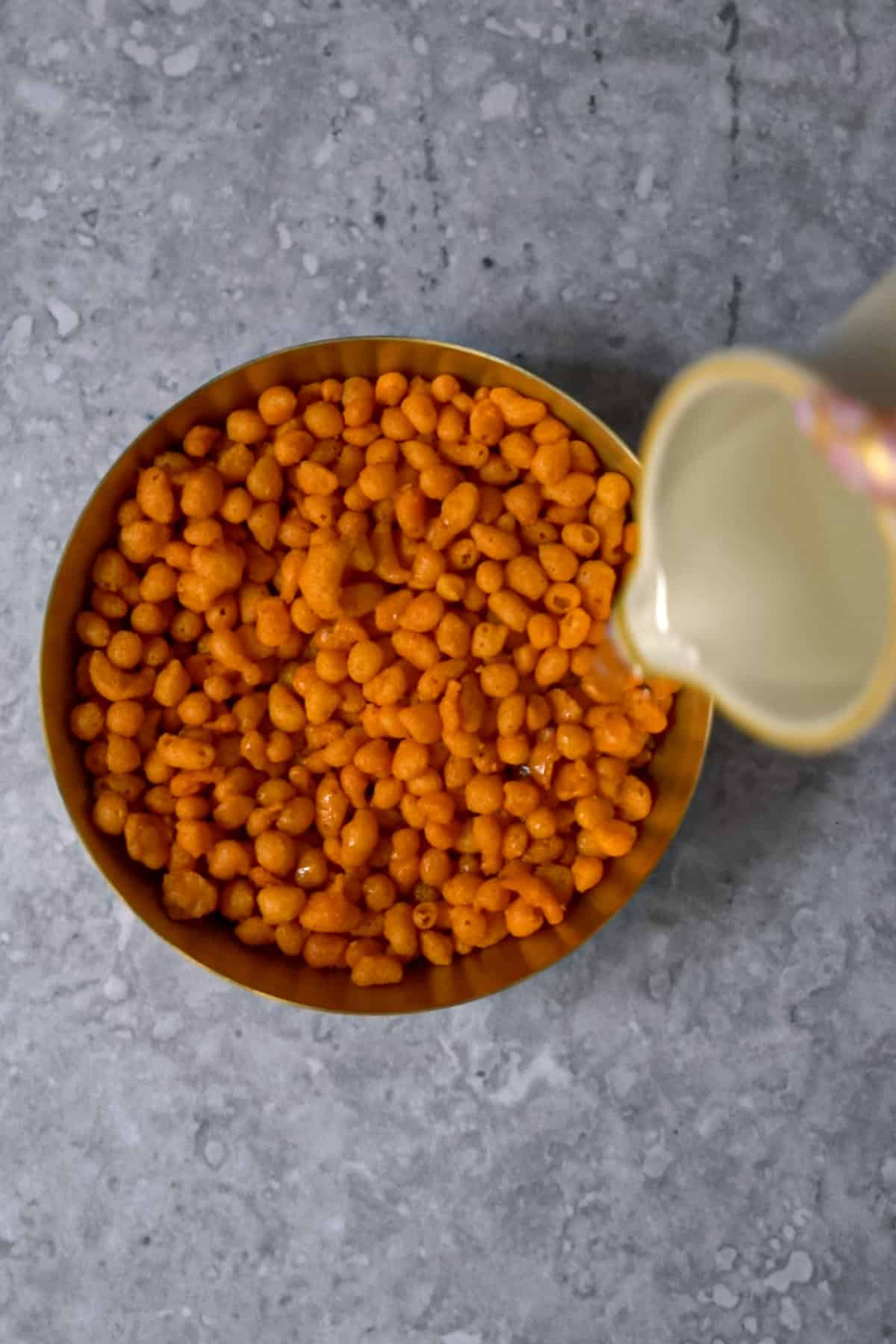 Then, add in the spices and mix everything together.
You can get as complicated or simple as you'd like with the spices. You can go by the recipe or even as simple as salt and pepper. Control the level of heat with the chili powder by adding more or less.
You can also make a sweet boondi raita as a finisher after the main course! Just add a tablespoon of sugar per 2 cups of dahi.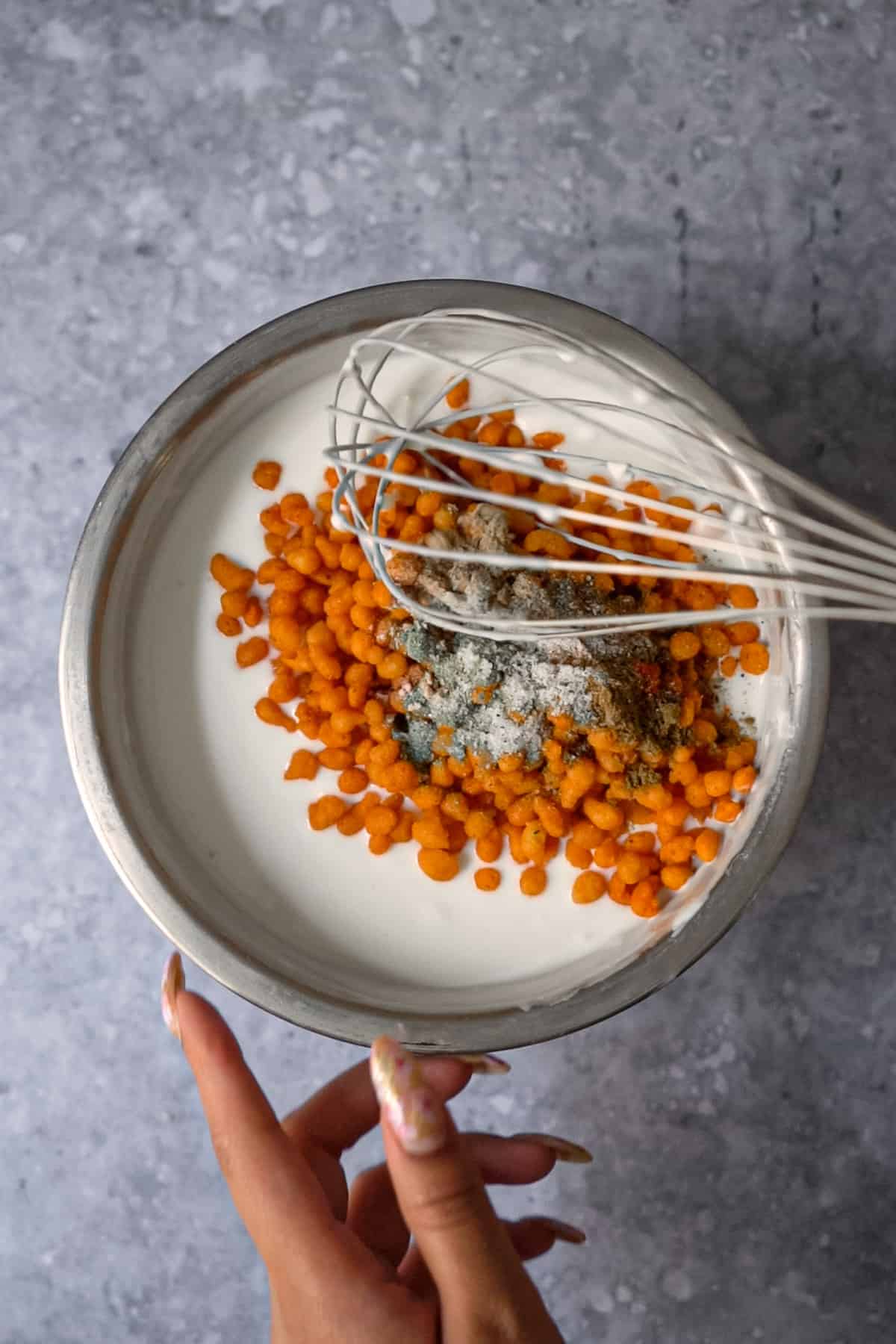 To serve for dinner parties, transfer the raita to a large serving bowl. Garnish with some unsoaked boondi, additional chili powder, and chopped cilantro.
Expert Tips
Boondi Raita is super straightforward but here are a few additional tips:
Use ¼ cup of boondi for every 1 cup of dahi
Boondi can expire and go rancid, so check the freshness before use
Roasted cumin powder brings incredible flavor and warmth to this otherwise cooling raita, so try not to skimp on it
Frequently Asked Questions
How do I store Boondi Raita?
Store boondi raita in an airtight container for up to a day or two. Keep in mind the boondi will soften completely so if you prefer a crunchy texture, the boondi should be added when ready to serve.
Is Boondi Raita good for weight loss?
Small servings of boondi raita every other day doesn't hurt, however boondi is fried and excess dairy consumption is not recommended daily. Otherwise, this raita doesn't have any added sugar and is fairly low in calories for a ½ cup serving.
Can this be made ahead?
Yes! You can make the dahi up to 3 days in advance and mix in the spices. I recommend adding the boondi 10 minutes prior to serving. You only need to soak the boondi in hot water for 1 minute before adding it into the raita. You can also add the boondi into the dahi and let it soften over time.
Does boondi go bad?
Yes, the oil can go rancid. Please adhere to the packaging expiration date. You'll be able to smell when the boondi should be tossed.
Can I freeze Boondi Raita?
No, Boondi Raita cannot be frozen and does not thaw well.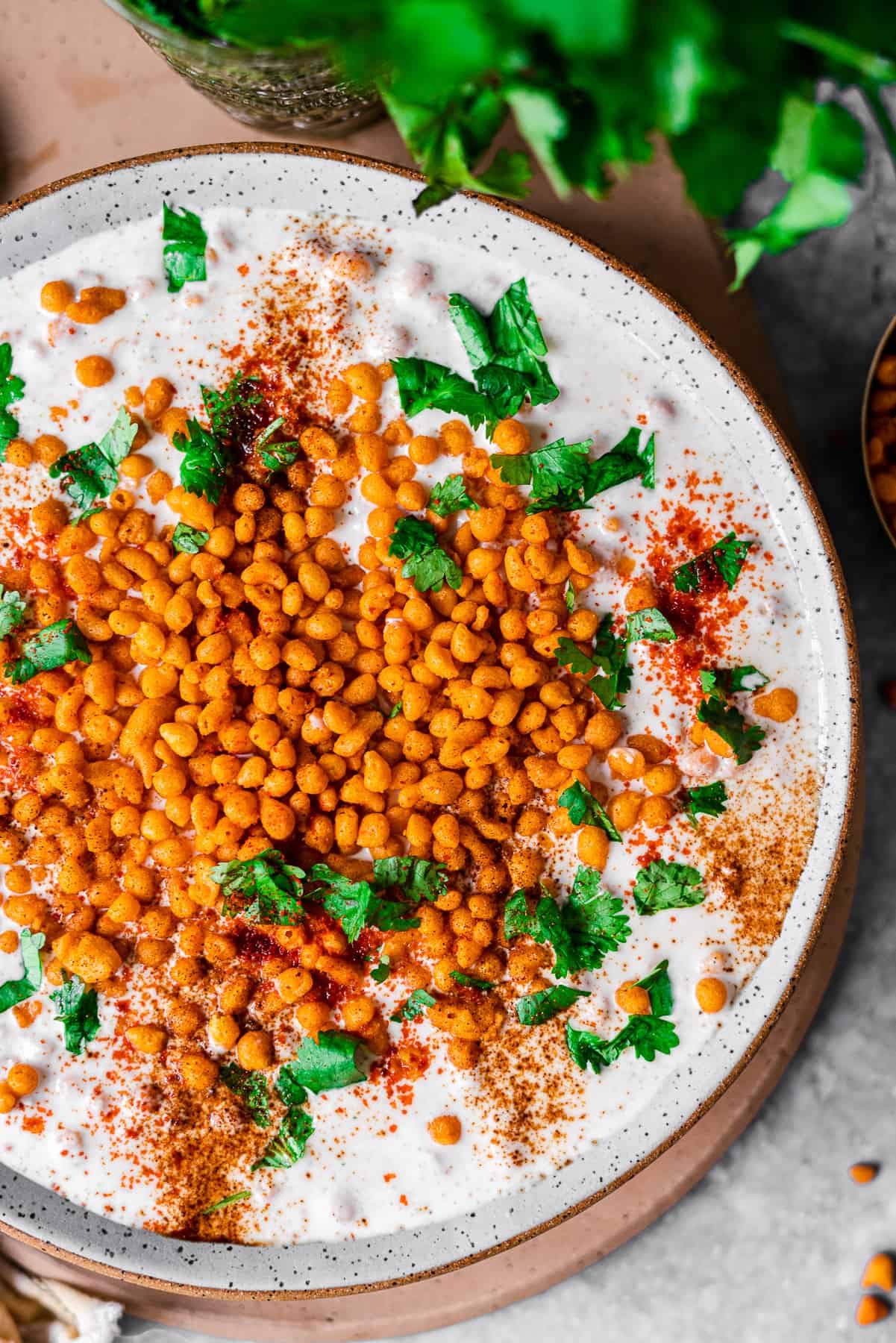 More Side Dishes to try
Recipe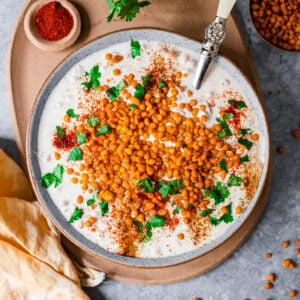 Boondi Raita
Serve up this Boondi Raita as a side dish for your next party. It's a simple and quick to put together as colorful dish to accompany your main courses and goes really well with spicy food. Raita is made with tangy creamy dahi and mixed with crispy boondi, spices, and a fresh cilantro for garnish.
Print
Pin
Rate
Instructions
In a bowl with the boondi, pour in the hot water. Give it a mix so all the boondi is coated with hot water and it softens up a bit.

Whisk the dahi until it's completely smooth in the texture. Pour in the softened boondi.

Add all of the spices. Whisk together the yogurt with the boondi and spices.

Transfer to a serving bowl. Garnish with extra crunchy boondi, additional chili powder, and chopped cilantro.
Notes
To store - Store the boondi separately from the dahi if possible. The boondi will soften significantly in dahi. Keep in the refrigerator for up to two days.
Nutrition
Serving:
0.5
cup
|
Calories:
134
kcal
|
Carbohydrates:
15
g
|
Protein:
8
g
|
Fat:
5
g
|
Saturated Fat:
3
g
|
Polyunsaturated Fat:
1
g
|
Monounsaturated Fat:
1
g
|
Cholesterol:
16
mg
|
Sodium:
250
mg
|
Potassium:
323
mg
|
Fiber:
2
g
|
Sugar:
7
g
|
Vitamin A:
203
IU
|
Vitamin C:
1
mg
|
Calcium:
156
mg
|
Iron:
1
mg