Enjoy a quick cup of masala chai or a chai latte using homemade Chai Concentrate. The black tea is brewed in small batches and infused with fragrant chai spices.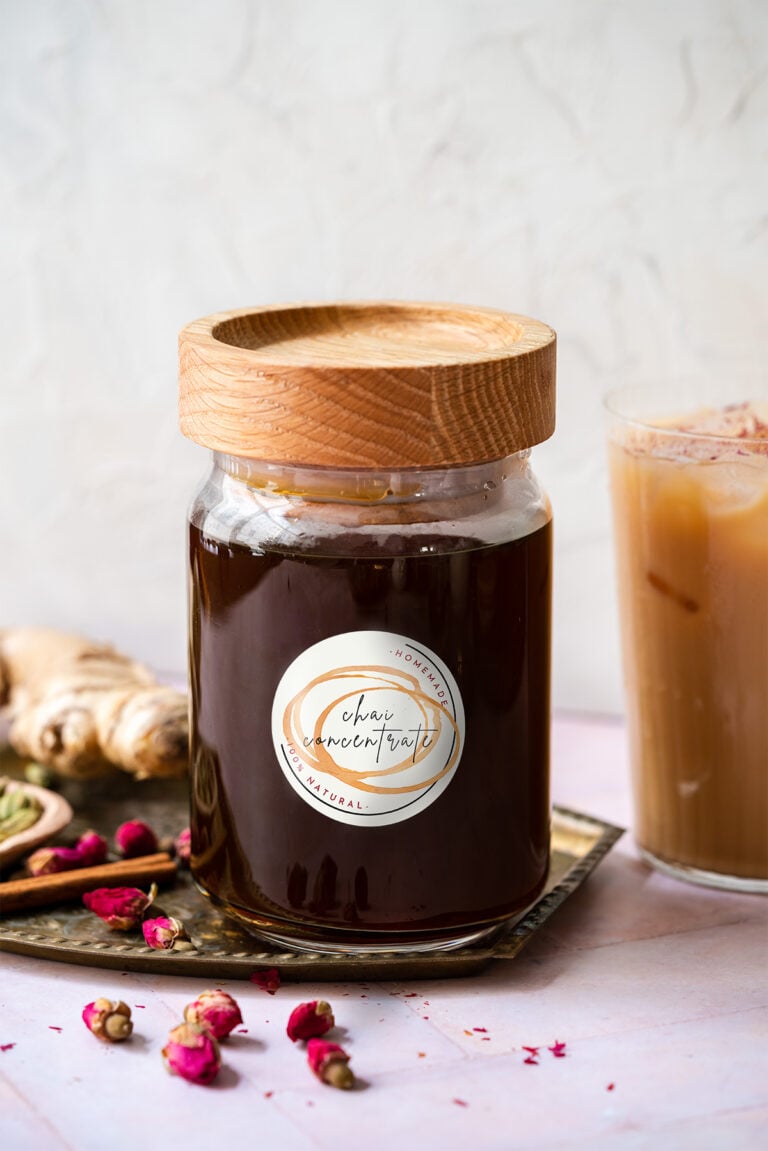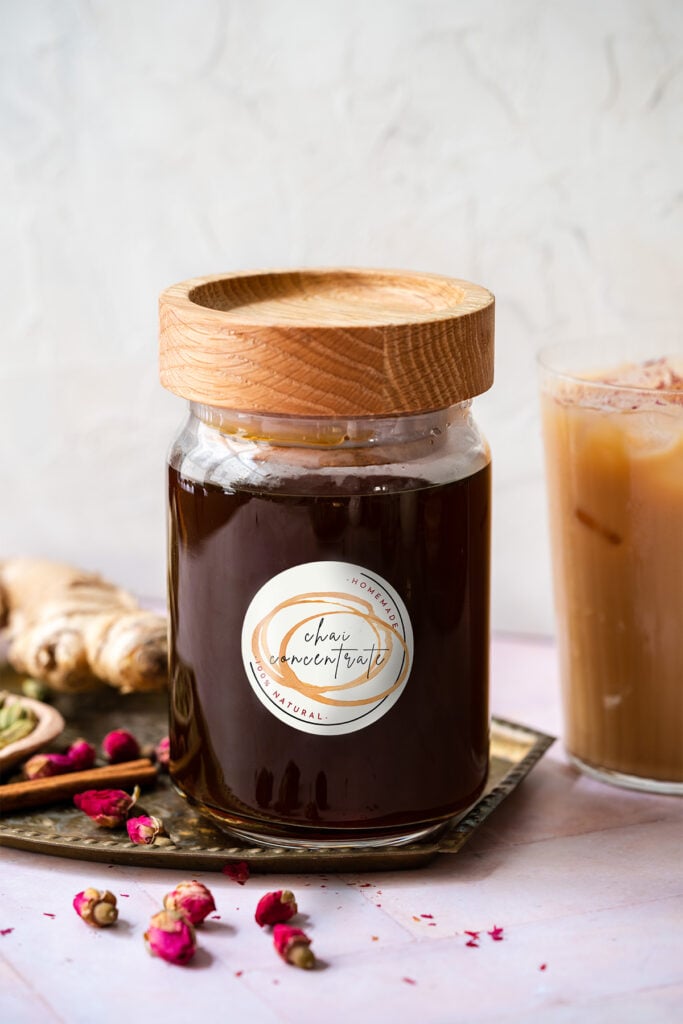 For some people, making masala chai on a daily basis is calming and familiar. There's a lot of comfort in the process, and the rush of adrenaline as the chai almost boils over the pot.
But for some, it's a mundane, time consuming process which requires too many dishes. And that's understandable! It's super convenient to have chai ready in a snap instead of standing over a pot. That's where a great chai concentrate comes in!
Jump to:
The problem I've had with a lot of concentrates is that some of them have so much cinnamon that it drowns out the other spices or it's overly sweet. It's never quite right for me. Masala chai is very personal to each person that makes it!
It's all about personal preferences with which spices to use, how strong the black tea is, the amount of sugar, the milkiness. That's why I've grown to love having homemade chai concentrate on hand for chai lattes!
Making your own masala chai concentrate means that you get to control the spices and the sweetness. Not to mention, you have a hot or iced cup of chai ready within minutes and it'll last you the week.
What is Chai Concentrate?
Chai concentrate is black tea brewed in small batches with spices. It's a quick way to make an inexpensive chai latte without leaving your home. Just add your choice of milk!
It's not quite the same as a masala chai in terms of texture, but the flavors are certainly there.
Concentrate is not commonly found in the Indian subcontinent, but became popularized in the U.S. in the recent years. It can be found at most grocery stores near the bottled coffees and in the form of syrups to add to drinks.
Pre-Bottled Chai Concentrates
Not only are most pre-bottled chai concentrates severely overpriced, you also have no control over the flavor, sugar, and not to mention the preservatives. Half of the labels are unclear with their ingredients, too. A lot of chai concentrates put you at around $2 a cup, whereas mine is less than a $1 per cup.
Starbucks uses a Chai Tea Concentrate for their famous Chai Tea Latte, which I find to be unpalatable. The ingredients their website lists are water, black tea, cardamom, black pepper, ginger, cinnamon, cloves, natural flavors, and star anise for the base. They also add sugar, honey, ginger juice, more natural flavors (what is that???), vanilla, and citric acid (a preservative).
I've also seen a million Tik Tokers use the chai concentrate from Trader Joe's. There's also Tazo Classic Chai Latte Concentrate, Oregon Chai Tea Latte Concentrate (gonna have to fight them for naming their product Chai Tea), Dona Chai, and several more that have popped up on the market!
Two concentrates that I do enjoy are South Asian-owned companies, the Chai Box and One Stripe Chai Co.
Ingredients - Notes and Substitutions
The ingredients for chai concentrate is very similar to a cup of masala chai, there's just no milk since that's added separately.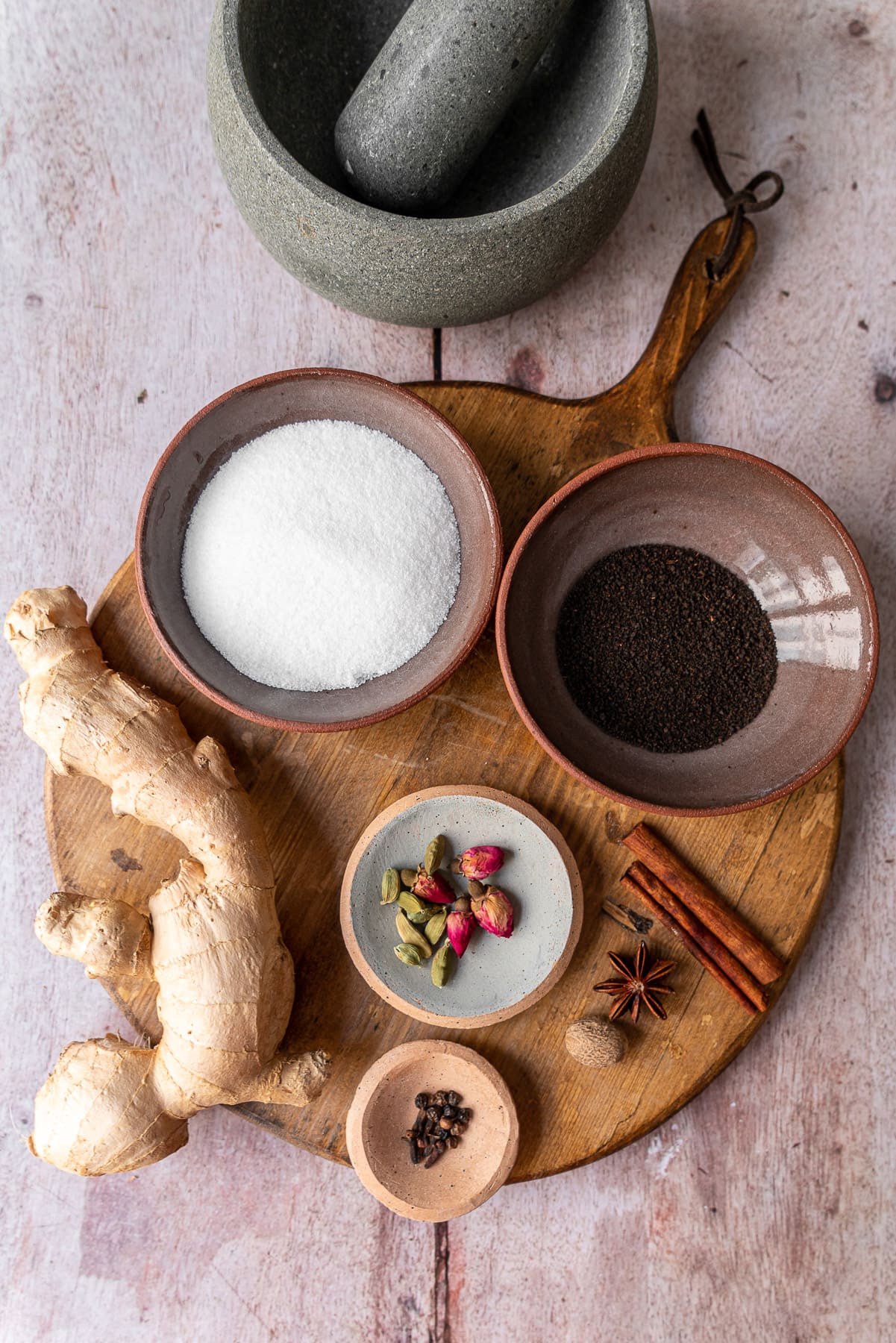 Black tea - Assam tea work best for masala chai, and English breakfast is a good runner up. My favorite loose leaf black tea is Danedar and my favorite tea bags are Tetley British Blend. I do not recommend earl grey. You can use high quality green tea but it will be a much different flavor profile and adds earthiness.
Sweetener - Granulated sugar is the most typical sweetener, but brown sugar, stevia, honey, and even maple syrup will work. You can also omit the sweetener and add it in later when using the concentrate or use vanilla syrup.
Spices - My chai concentrate spice blend includes cloves, black peppercorns, nutmeg (freshly grated), star anise, cinnamon sticks, green cardamom pods, dried rose buds, and ginger. Spices can be added - like fennel and tulsi - or omitted based off of personal preference. Use whole spices for the best, robust flavor.
You do not need to use all the spices I did! The main spices to use would be:
black pepper - spice and warmth
cardamom - fragrance and sweetness
cinnamon - spice and sweetness
cloves - warming and bitter flavor to counteract sweetness
Honestly, you could get away with not using cloves as well but I think a small amount elevates chai.
How to make Masala Chai Concentrate
Making chai concentrate is incredibly similar to making a cup of masala chai. However, there are a few extra steps that ensure that there is plenty of flavor from the spices and the tea is strong but not over steeped until bitter.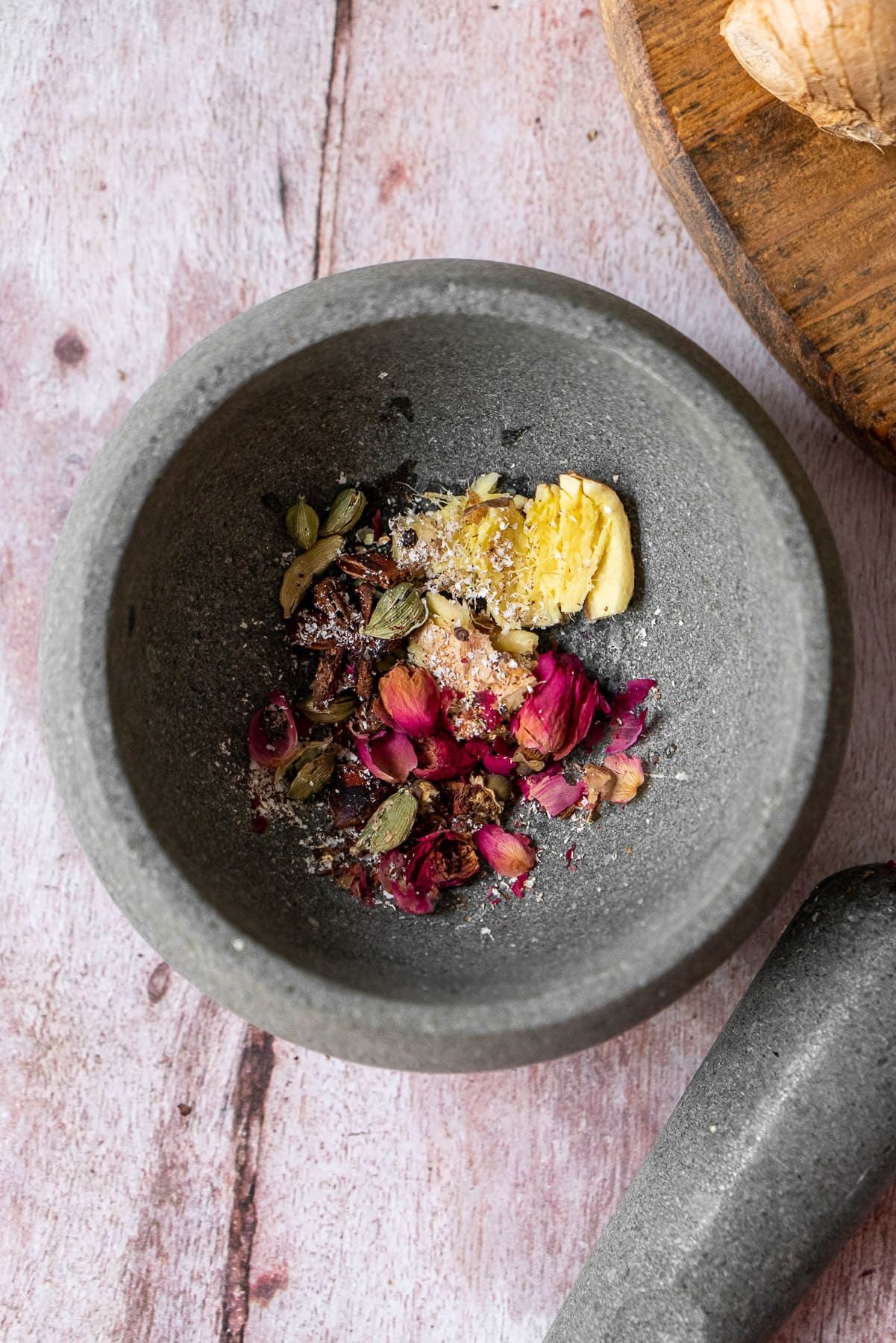 Crush the spices. Use a mortar and pestle to lightly crush the spices to release their oils. Use the flat edge of a knife to smash them instead of a mortar and pestle.
Dry roast the spices and extract flavor. To really bloom the spices, add them to the pot on low to medium heat and dry roast them for about a minute until they're fragrant. Continuously mix them around so they don't burn. Then, add the water and bring it a rolling boil to allow the spices to infuse with the water.
Steep the tea. This recipe makes chai concentrate from loose leaf, but you can use tea bags as well. Add the tea into the spice-infused water and boil it for about 5 minutes, giving it a stir every once in a while. Then, remove the pot from heat and let the tea and spices steep for a minimum of 15 minutes. Add the sugar and stir until it's dissolved.
Bottle the concentrate. Sanitize the bottle and its lid in boiling water before use. Once the chai concentrate has cooled, use a fine mesh sieve to transfer it to the bottle. Refrigerate for up to 5 days.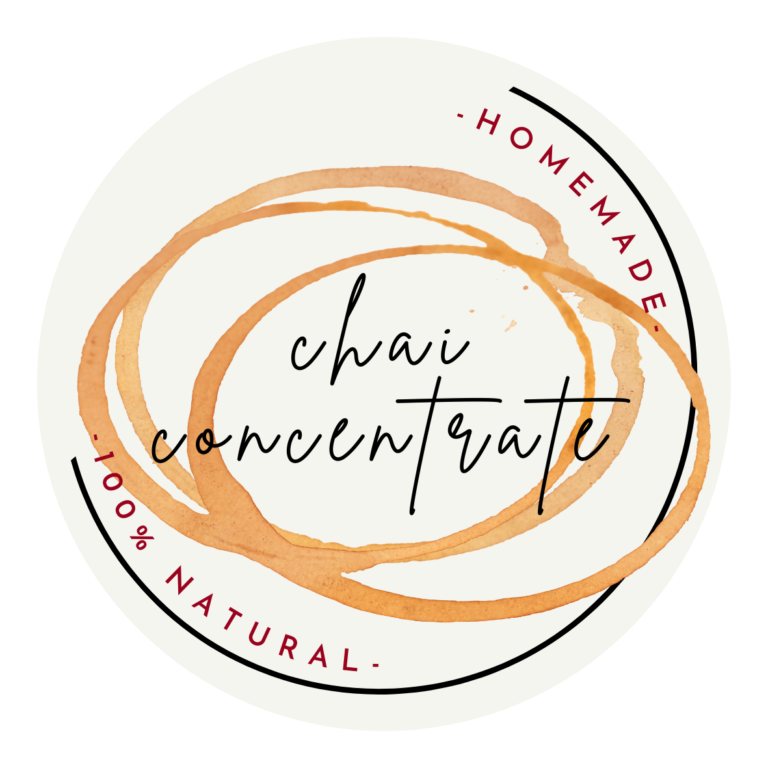 I made Chai Concentrate labels for you for easy labeling!! Download them and print them on Avery Round Labels (22856).
If cinnamon is your most prominent flavor, reduce that amount of cinnamon the next time you make it or add more cardamom, black pepper, and ginger. They should be your three most prominent spices. If the concentrate is too bitter, the black tea has been steeped for too long.
How to use Tea Concentrate
Give the bottle a good shake before use. To use the concentrate, use a 1:1 ratio of concentrate to the milk of your choice. If the tea steeps for too long and is really strong, dilute it with a tablespoon of water at a time if you're making hot tea. Ice cubes will dilute strong concentrate as the ice melts.
The concentrate can be heated, steamed, or poured over ice with milk to make hot or an iced chai latte.
Tips and Tricks
If you don't have a mortar and pestle, chop the ginger into slices and lightly smash the spices under the flat edge of a knife.
To scale the recipe, follow the instructions on your tea, i.e. 1 tea bag is usually equivalent to 1 serving of tea, and 1 teaspoon of loose leaf is equivalent to 1 serving of tea for most brands.
Make unsweetened chai concentrate by omitting the sweetener and adding it later or using a syrup.
Use your favorite milk or plant-based milk. Oat milk is the best vegan option for a chai latte. Sweetened condensed milk is also a great option for unsweetened chai concentrate.
Storage Instructions
Store the chai concentrate in a pitcher with a lid in the refrigerator for up to five days. To extend its shelf life, use 1 teaspoon of citric acid per quart of water.
It can can also be frozen for up to three months. To do this, pour the concentrate into ice cube molds and freeze for 5 hours. Once frozen, transfer to a freezer bag. When you're ready to use it, you can melt the cubes in a microwave and add hot milk for a hot chai, or pour hot milk over the ice cubes for an iced chai.
The tea may become cloudy after refrigeration. This is due to the caffeine and tannins that are released from the tea leaves at temperatures over 100°F. They eventually bond with each other when chilled. Water boils at 212°F, so this is pretty much unavoidable.
Not only that, but black tea has the highest amount of tannins. Historically, masala chai is made with low quality tea leaves (read more), which have high levels of tannin. The longer the tea is steeped, the higher the concentration of tannins which results in bitter, unpalatable tea.
The cloudy tea is completely fine to consume. But if you have time on your hands or like to prep things overnight, you can also steep 10 black tea bags in 5 cups of room temperature water for up to 8 hours. You can also keep it in the sun for a partial day to have especially strong tea. This will result in clear black tea that is ready to be refrigerated or served over ice.
More Chai Recipes to try
Subscribe to the Masala and Chai Newsletter Community to receive exclusive recipes and updates straight to your inbox.
I love seeing when you share my recipes! Tag me on Instagram @masalaandchai so I can enjoy them virtually with you! You can also find me on Pinterest, Facebook, Tik Tok, YouTube, and Twitter.
I'd love to know what you thought of this recipe! Don't forget to leave a comment and ⭐️ star rating below!
Recipe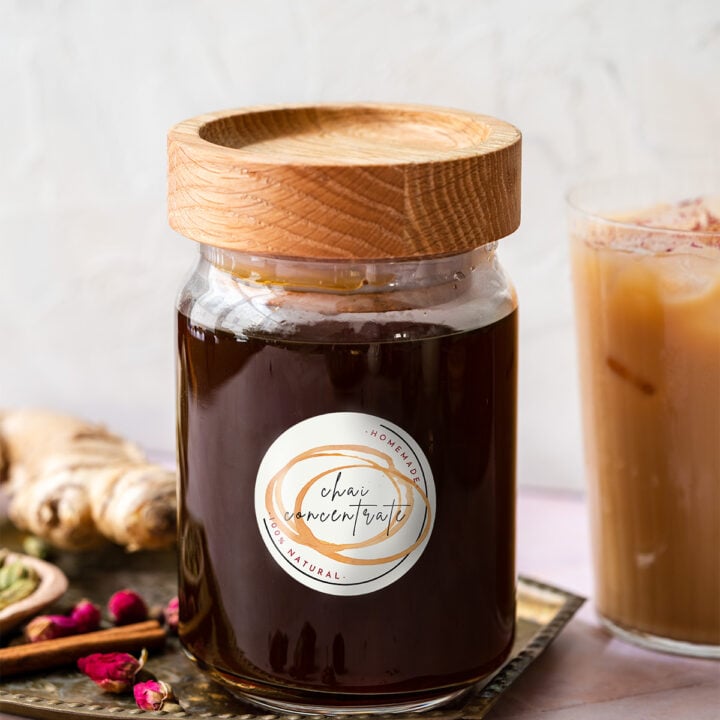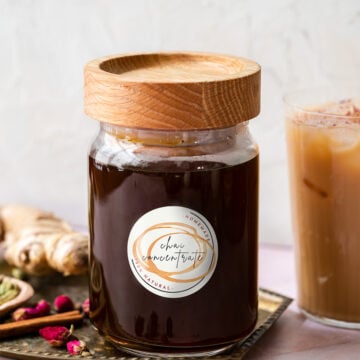 Chai Concentrate
Enjoy a quick cup of masala chai or a chai latte using homemade Chai Concentrate. The tea is brewed in small batches and infused with fragrant chai spices.
Print
Rate
Ingredients
1-inch

knob

ginger

1-2

cinnamon sticks

5

cloves

4

dried edible roses

10

black peppercorns

¼

teaspoon

nutmeg

,

freshly grated

5

cups

water

5

teaspoon

black tea leaves

⅓

cup

granulated sugar
Text Ingredients
Instructions
In a mortar and pestle, crush the knob of ginger into chunks to release the juices and expose more surface area. Add the cinnamon sticks, star anise, cloves, roses, cardamom pods, black peppercorns, and ginger into the mortar and pestle and lightly crush them so they release their oils. Lastly, use a microplane to grate a bit of nutmeg.

Transfer all of the spices from the mortar and pestle to a medium sized pot. On medium heat, dry roast the spices for a minute, or until they're fragrant.

Pour the water in with the spices and bring it to a light rolling boil for 3-5 minutes, or until fragrant.

At this point, add in the black tea leaves and mix really well. Simmer the spices with the black tea for 5 minutes. Be careful not to boil it for too long, otherwise it will be very bitter.

Remove the pot from heat and pour in the sugar. Stir until the sugar has fully dissolved.

Allow the spices and tea to steep in the hot water for at least 15 minutes. Then, strain the chai concentrate into a sanitized pitcher with a lid. Store in the fridge for up to five days.

Use a 1:1 ratio of concentrate to milk. The concentrate can be served steamed, heated, or chilled.
Notes
Substitute honey or brown sugar as a sweetener
Use 5 tea bags in lieu of the loose leaf tea leaves.
The amount of spices for cardamom, black peppercorns, cloves, and nutmeg are based on high quality single-origin spices. They are especially potent and flavorful. Adjust the amount based on the quality of spices and personal preference.
Nutrition
Serving:
1
chai
|
Calories:
64
kcal
|
Carbohydrates:
16
g
|
Protein:
1
g
|
Fat:
1
g
|
Saturated Fat:
1
g
|
Polyunsaturated Fat:
1
g
|
Monounsaturated Fat:
1
g
|
Sodium:
13
mg
|
Potassium:
43
mg
|
Fiber:
1
g
|
Sugar:
13
g
|
Vitamin A:
4
IU
|
Vitamin C:
1
mg
|
Calcium:
29
mg
|
Iron:
1
mg