This small batch homemade chai spice is the perfect blend of green cardamom, black peppercorn, ginger, cinnamon, cloves, mace, nutmeg, and star anise. Add it to black tea for a fragrant cup of masala chai or to your fall baked goods.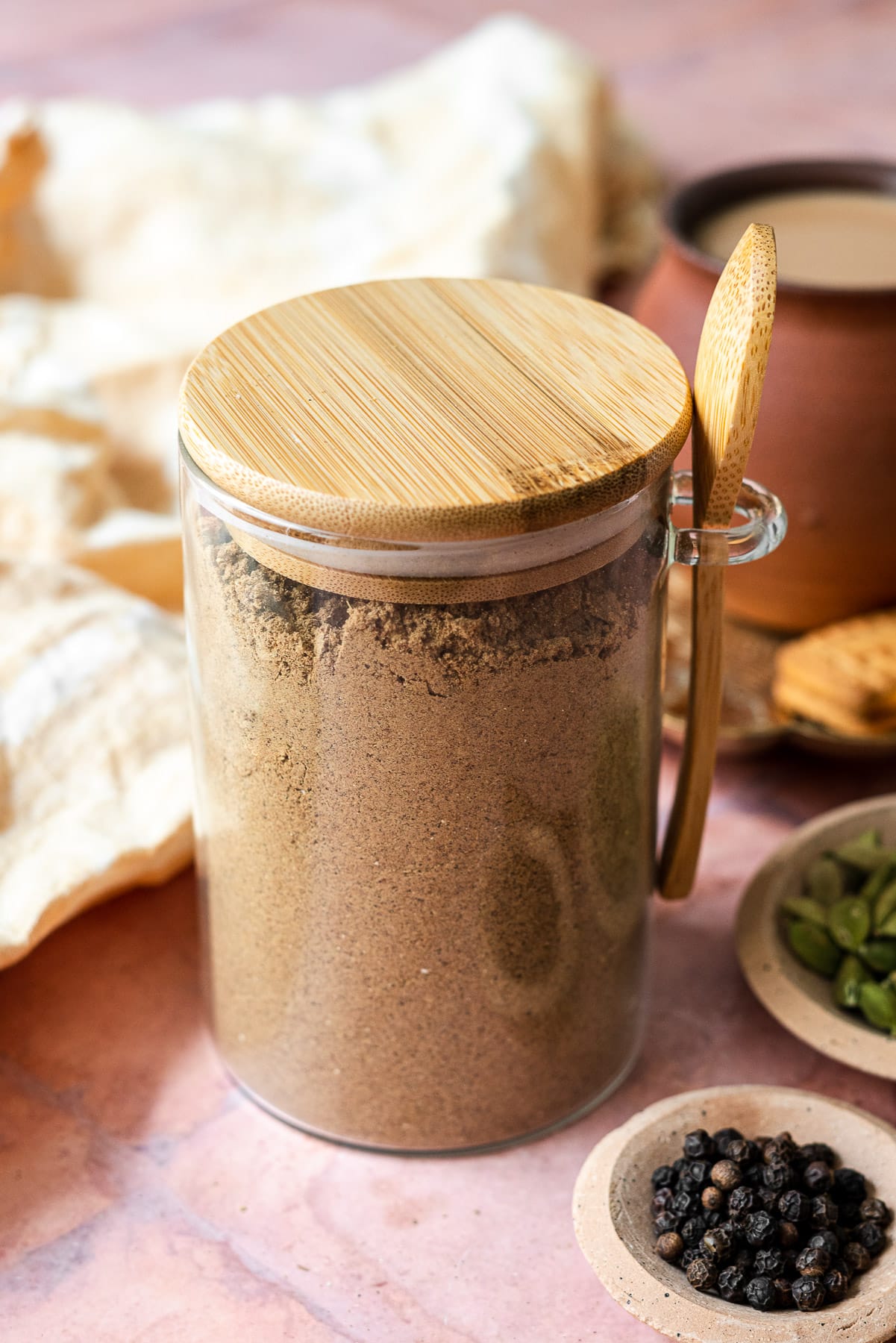 As someone who makes masala chai just about twice everyday, having a good chai masala (tea spices) on hand is incredibly important to me! This homemade, small batch chai spice blend is my favorite thing in my kitchen for a quick cup.
If you love chai flavored desserts or breakfast items, chai spice is great to have on hand! It's definitely handy to keep in the the kitchen cabinet, especially when fall rolls around and the cravings set in on rainy or cold days. You can add a small scoop to drinks, overnight oats, or baked items for a little sweet and spicy kick!
I personally love it in homemade Chai Spice Chocolate Chip Cookies, Chai Hot Chocolate, and overnight oats!
Jump to:
The Spices
All the spices are readily available at any grocery store, but seriously consider treating yourself to some high quality whole spices for the best results!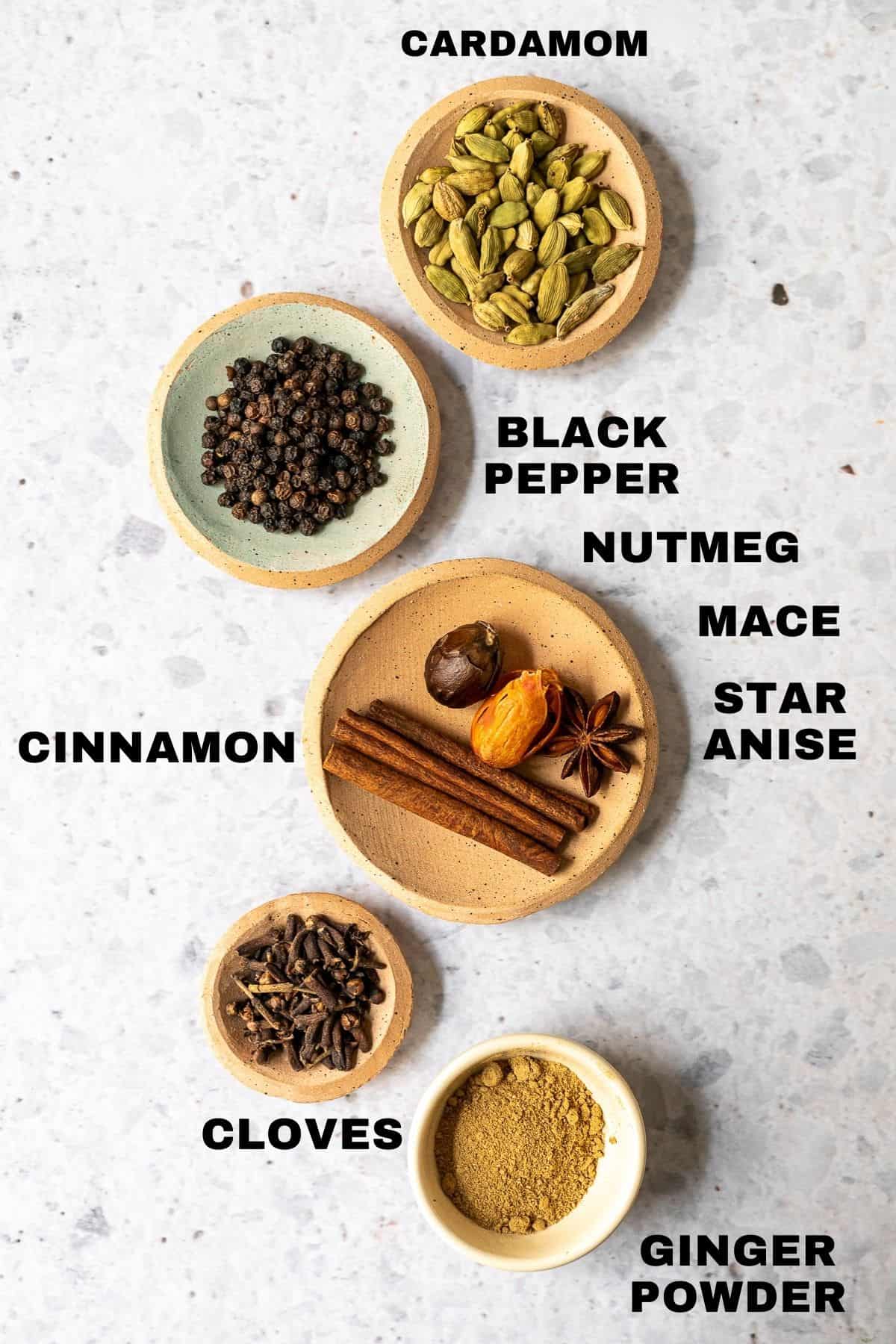 The main spices for tea offer the best balance of fragrance, warmth, and spice.
Cardamom - Use the entire whole green pod, and please don't buy McCormick! Cardamom is the main ingredient for masala chai and especially adds so much to the fragrance, so it's important to use the best quality you can find.
Black pepper - Black peppercorns add the bit of spice and fruitiness to masala chai which gives it that zing
Ginger - Pre-ground ginger is the only spice that isn't grinded from fresh ginger, because it'll turn into a paste.
Cinnamon - Adds spice and sweetness. Don't use too much cinnamon, it shouldn't overpower the rest of your spices
Cloves - Warming spices that's a bit bitter, which counteracts all the sweet spices
Nutmeg - Use fresh nutmeg, which may need to be microplaned before adding it to the spice grinder with the rest of the spices. Good quality nutmeg will still have the shell on it to preserve the oils, so if yours does then be sure to peel off the shell first.
Other spices that are a great addition are mace, star anise, and tulsi but some people don't care for the flavor it imparts. Dried rose petals would also be a great addition but it's better to add them as necessary.
A lot of chai spice blends have allspice. This isn't something we use in Indian cuisine.
Recommended Kitchen Equipment
This recipe is measured in grams, so it does require a kitchen scale. The strength and quality of spices are incredibly different depending on where you source them and this may require some adjustments to get a chai masala blend you love.
Chai spice is completely customizable to your preference! The closest you can get to mine is by weight, instead of volume.
If you're using pre-ground spices, I recommend following the recipe by weight as well although it may require adjustments. I recommend this Epicurious article for the closest conversion from ground to pre-ground.
How to Grind the Whole Spices
You'll need a Spice Grinder or a coffee bean grinder for finely ground spices. If you don't have one, you can also use a food processor or even a blender. The last option is grinding the spices one by one with a mortar and pestle, which may result in coarsely ground spices.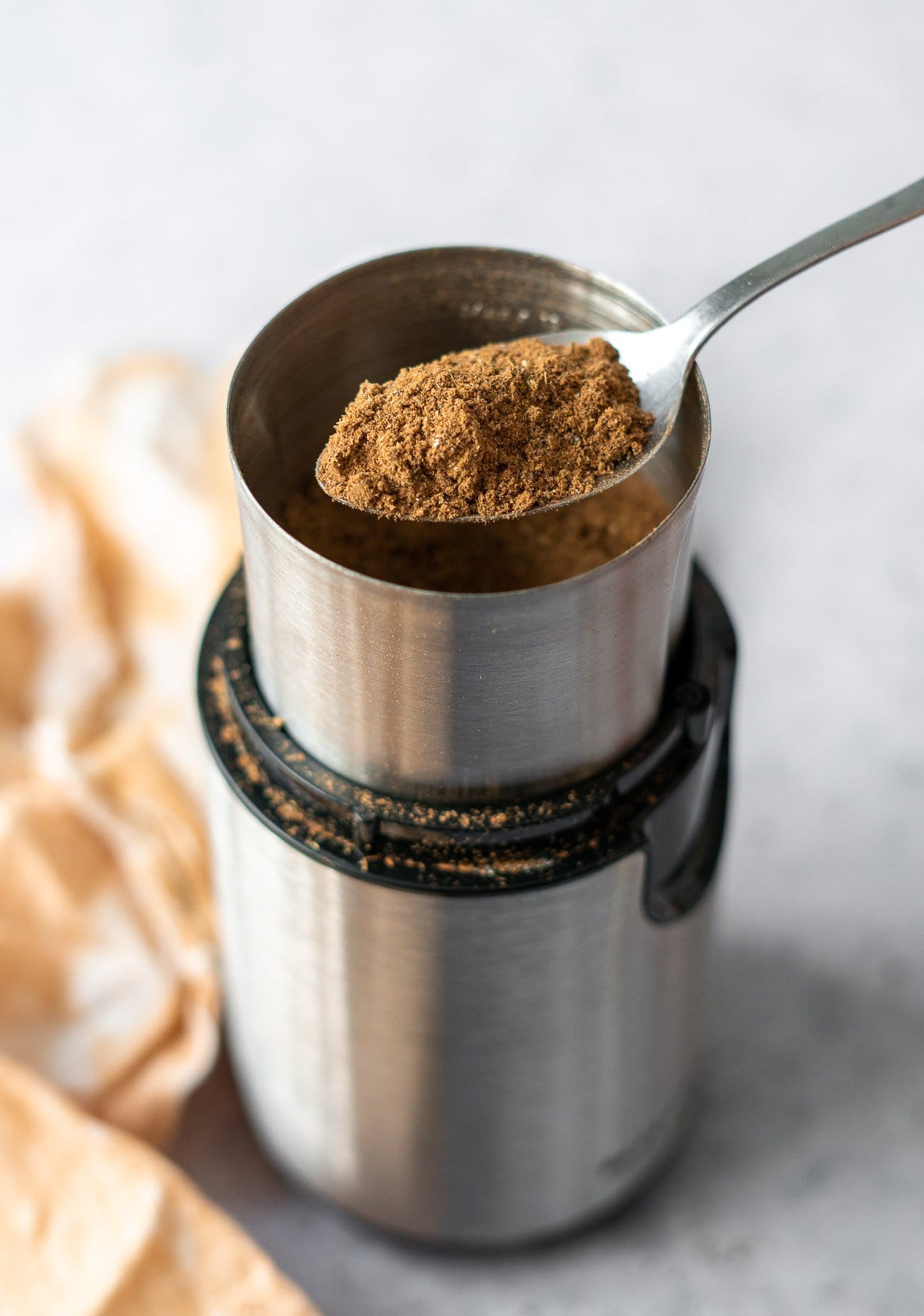 Another note is that my spice grinder would not grind a whole piece of nutmeg. I ended up using a microplane to shave it into smaller pieces into my spice grinder so it combined with the other spices.
If using an electric spice grinder, the spices do not need to be dry roasted in a hot pan beforehand. The heat from the blades will suffice.
The Perfect Chai Spice Blend
Just about every desi home has their own perfect blend of spices for masala chai. It's never the same across households. Even in my own household, I'm not the biggest fan of my dads chai because it's heavy on the ginger. I prefer my mom's by far!
Ultimately, the blend comes down to you. Do you like more cinnamon? Add another cinnamon stick!! Don't like cloves? You don't have to add it. It's up to your own preference.
Personally, I really love cardamom and black pepper and want it to stand out. I also found that the ratios I've used is perfect for fall baking! The hints of cardamom and cinnamon really stand out in the best way.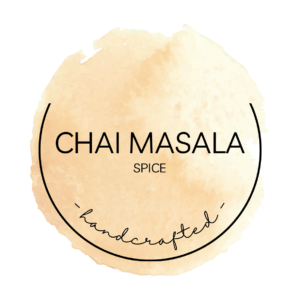 I made Chai Masala labels for you for easy labeling!! Download them and print them on Avery Round Labels (22856).
It's hard to know if you love the spice blend until you've tried it. I highly recommend giving it a try by making a cup of masala chai. If you aren't a fan, you can always re-blend by adding more of the spices that you think will balance it out.
For example, my spice blend was initially too bitter and warm, so I knew it had too much clove. I added more cardamom and cinnamon to offset it.
How to make Masala Chai with Chai Spice
I love using chai masala for masala chai instead of whole spices because it's so quick and extends the spices. I frequently feel like I'm wasting precious cardamom pods on a single cup of chai or that one clove is too strong for me.
Boil the water with tea and spices. Once the water comes to a boil, add the tea bags or loose tea leaves and a teaspoon of the chai masala. Let the tea steep with the spices and then add the milk.
Double Boil or Chaiwala Pull - There's two main ways of aerating chai to develop flavor. One is the double boil, which is notorious for causing the biggest mess. Bring the chai to a boil until it's almost to the top, and then lift the pot off the heat until it comes back down or immediately lower the heat if you have a gas stove. This is the first boil. Repeat it for a double boil. Be sure to watch the chai closely otherwise you'll have a spill on your hands. Another hack is to put a wooden spoon over the top of the pot so that once the tea hits the spoon, it won't boil over. The second way is to pull the chai which is used by chaiwalas in India. Use a small cup with a handle to take some chai and pour it back into the pot from a height to create bubbles.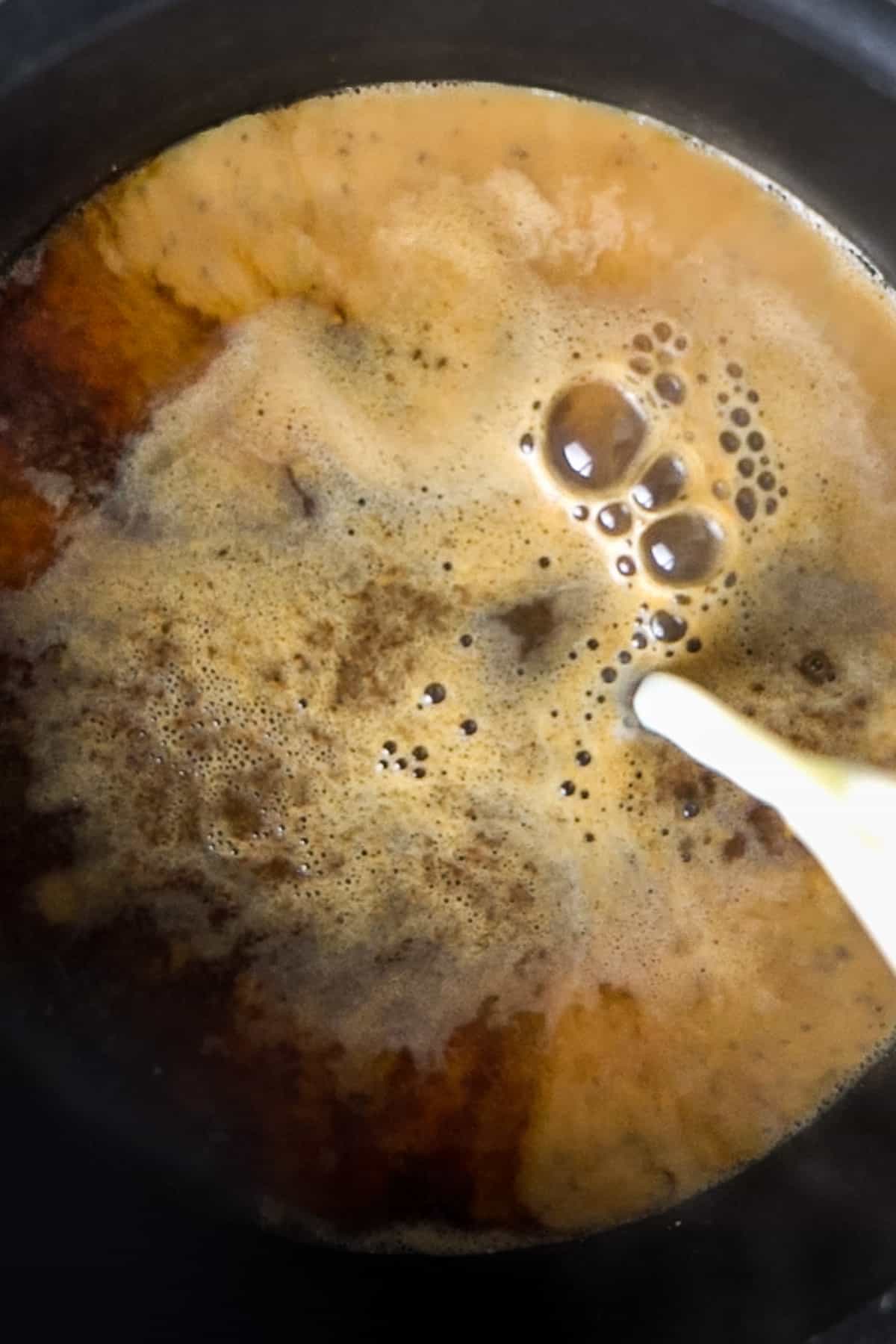 Simmer. Yep, just simmer. Continue to simmer the chai until it's smooth and creamy, and the consistency and color that you want the tea.
Strain and serve. Strain the tea with a sieve when pouring it into a cups or a pot for serving. Spoon in the sugar into the individual cups according to preference and mix until combined.
Other uses for Chai Masala
Chai spice doesn't have to be for a cup of masala chai! It's also super popular for fall baking. It can be added to cookies, used in cinnamon rolls, mixed in with buttercream, etc. It's a delicious addition to just about anything for a warmth, flavor, and fragrance.
It can also be used for savory cooking as well. It is, after all, a spice blend.
Chai masala spice blend will last in an airtight container for up to two years.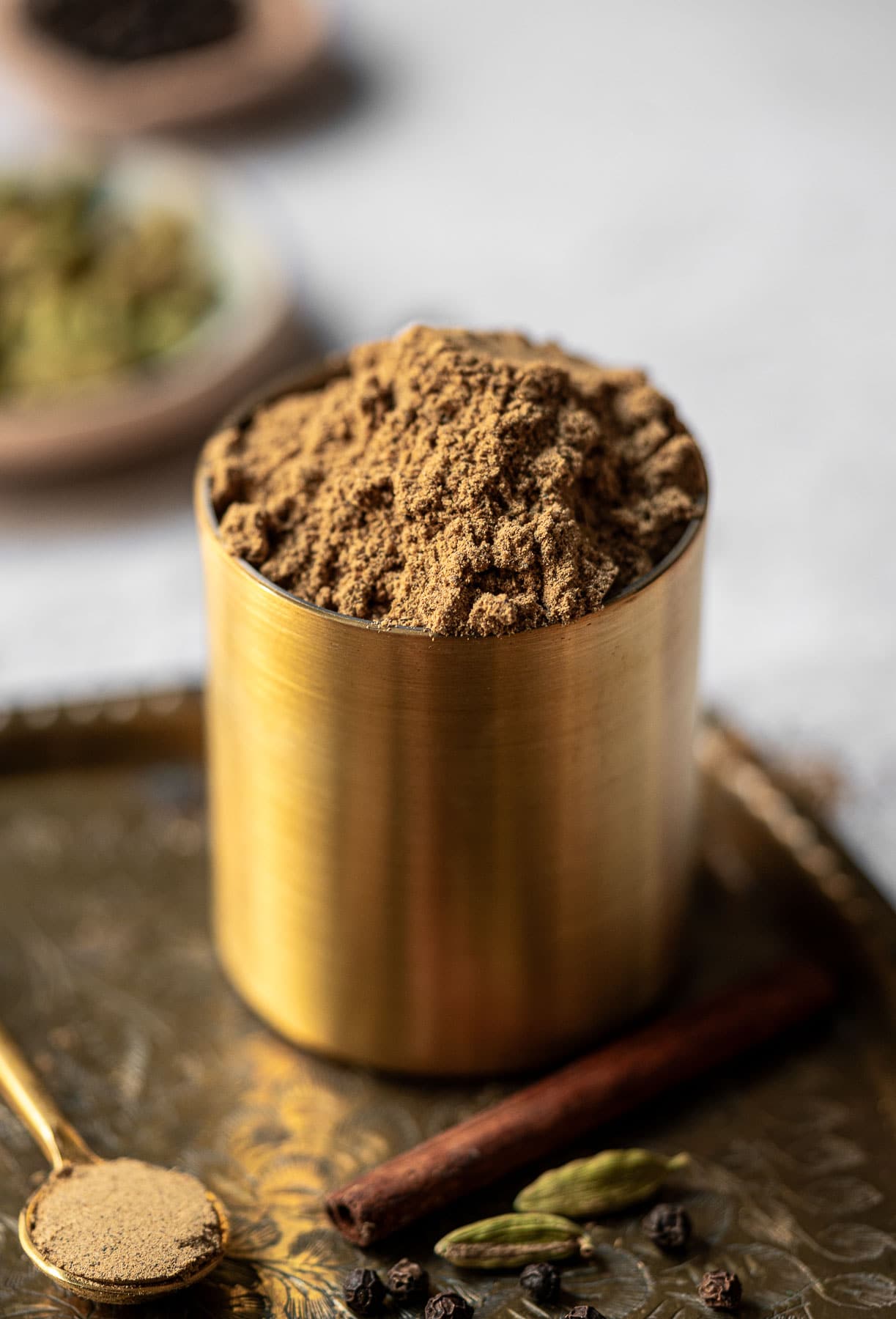 More Recipes with Chai to try
Recipe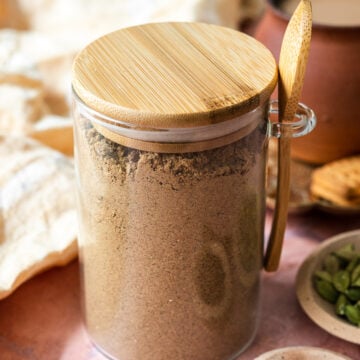 Chai Masala (Chai Spice Mix)
This small batch homemade chai spice is the perfect blend of green cardamom, black peppercorn, ginger, cinnamon, cloves, mace, nutmeg, and star anise. Add it to black tea for a fragrant cup of masala chai or to your fall baked goods.
Print
Rate
Instructions
Add all of the spices to a spice grinder machine and run the machine. Stop it every minute or two and mix it well with a spoon.

Grind the spices until it's a smooth powder, resulting in about 100g of chai masala. Transfer it to an airtight jar and store at room temperature in a dark place.

For 2 cups of masala chai, add 1 teaspoon of chai masala to boiling water along with black tea allow to simmer until the spices release their flavor, then add milk. Be sure to strain!
Notes
Single origin whole spices give the best result for chai masala
For conversion from whole spices to pre-ground, see this article.
Chai masala spice blend will last in an airtight container for up to two years.
Nutrition
Serving:
0.5
teaspoon
|
Calories:
5
kcal
|
Carbohydrates:
1
g
|
Protein:
1
g
|
Fat:
1
g
|
Saturated Fat:
1
g
|
Polyunsaturated Fat:
1
g
|
Monounsaturated Fat:
1
g
|
Trans Fat:
1
g
|
Sodium:
1
mg
|
Potassium:
19
mg
|
Fiber:
1
g
|
Sugar:
1
g
|
Vitamin A:
4
IU
|
Vitamin C:
1
mg
|
Calcium:
9
mg
|
Iron:
1
mg