Add a kick to your classic Chai Latte with a shot of espresso and make it a Dirty Chai Latte! Learn how to customize homemade Chai Concentrate to your preference and you'll be ready with a batch of lattes to last you a week.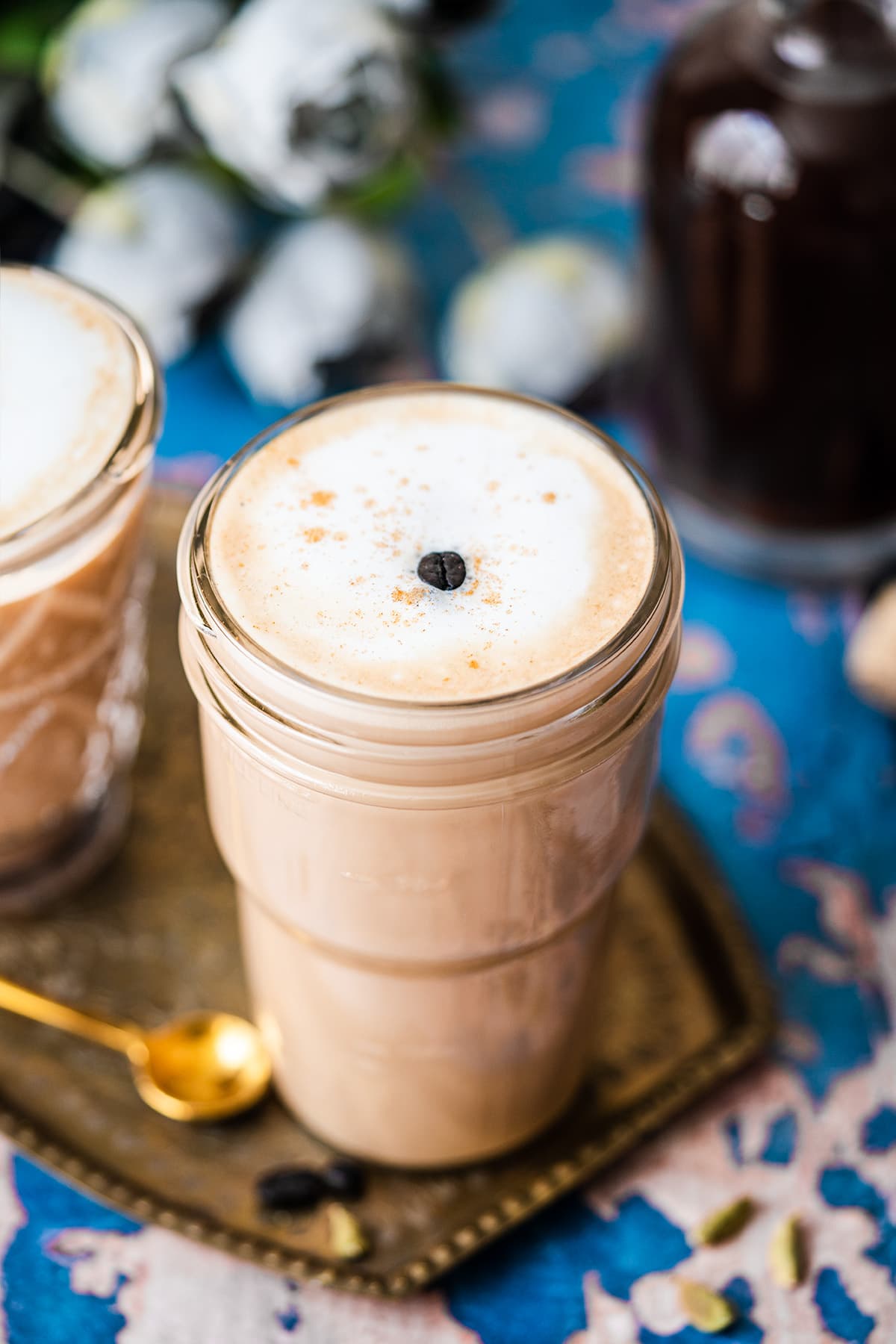 Take the classic coffeehouse Chai Latte and add a shot of espresso to make a Dirty Chai Latte! The origins date back to the 1990s when an English barista accidentally added a shot of espresso to a Chai Latte. It's also known as a Java Chai or Red Eye Chai.
Honestly, it's the perfect balance of spiced milky tea and the acidity from the shot of espresso. If you're craving the flavor of a Chai Latte but need the placebo of a morning coffee, then this is about to become your go-to!
It's got enough caffeine to give me heart palpitations, whew. But hey, make her absolutelyyyy filfthy with a second shot and you'll hit over 200mg of caffeine in one drink.
It can be served iced or hot, so it's friendly as a summertime drink in your hand as you adventure about or a cozy drink in the winter with an extra kick.
Jump to:
What is a Dirty Chai?
Let's start with the fact that chai means "tea" in Hindi. So yes, if you hear the words "chai tea" paired together, it means "tea tea".
Now that we have that established, the Chai Tea Latte was introduced at Starbucks in the United States by Teavana's Oprah Chai Tea at Starbucks in 2014 as a way of "elevating the tea experience," drawing inspiration from Masala Chai. Masala Chai requires a bit of technique when simmering the spices, evaporating the milk, and aerating the chai, so it's not exactly friendly to the coffee-to-go culture in the U.S.
A Chai Tea Latte has spun itself into its own drink in the U.S. While it began as an attempt of introducing Masala Chai to Americans, I now think of it as a rendition of the original. Now, a Chai Latte typically refers to a drink with frothy steamed milk and a black tea concentrate simmered with sharp fragrant spices like ginger and cinnamon.
Starbucks popularized the dirty chai as a "secret" menu item. Order it by asking to add a shot of espresso to their Chai Tea Latte and you have a Dirty Chai.
Ingredients - Notes and Substitutions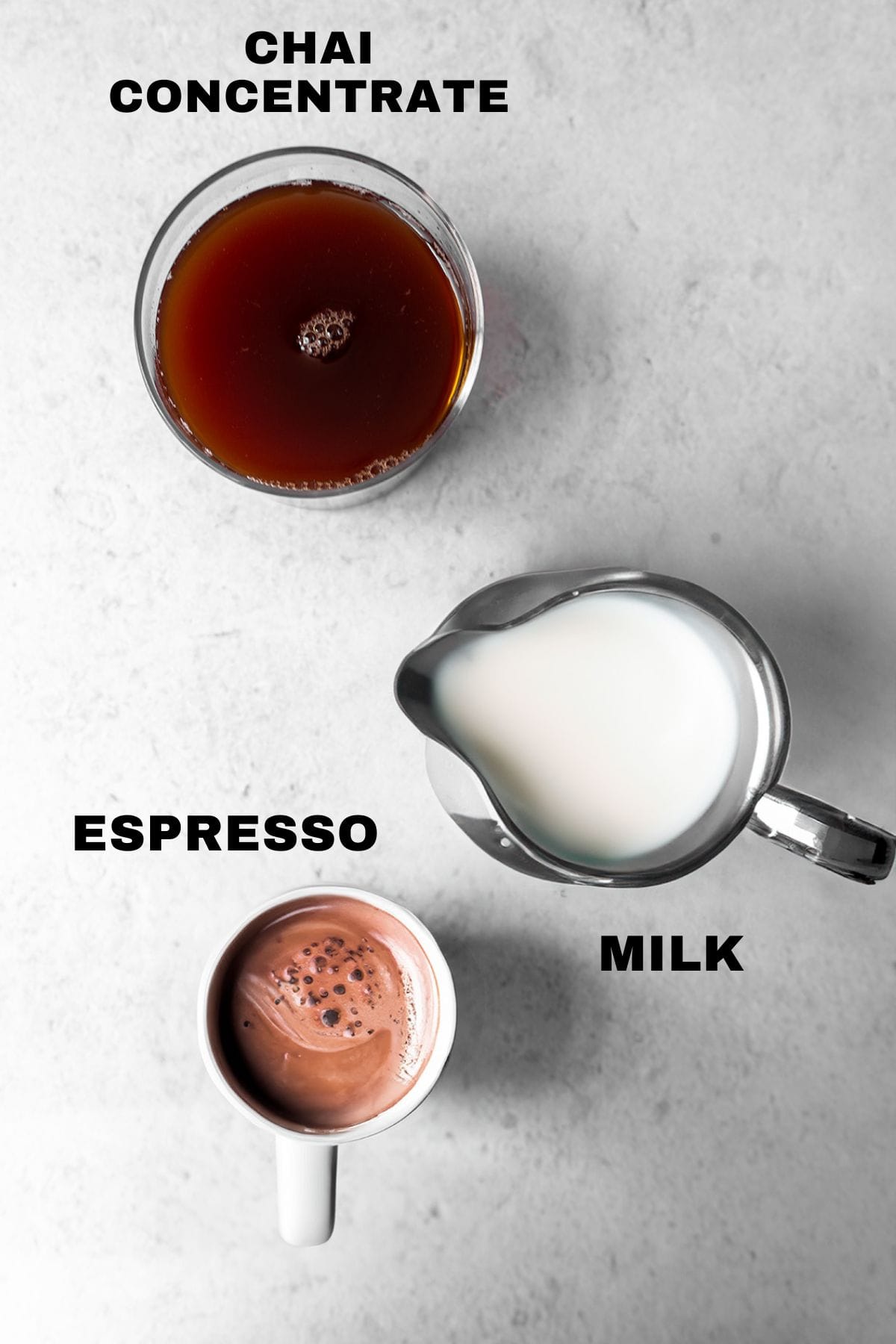 For the Chai Concentrate, you can easily make it at home with my homemade Chai Concentrate recipe which can be used at a 1 to 1 ratio of concentrate to milk. Some benefits to making it at home are:
control over flavor
control the amount of sugar (easier for "skinny" or "sugar free" chai lattes)
make large batches
it's cheaper
no preservatives
Or you can purchase a pre-made concentrate like from Tazo, which is what Starbucks uses. One thing to pay attention to is the ratio of concentrate to milk that is specified on the bottled concentrate. Most pre-made chai concentrates are a 1:1 of chai to milk, but it's worth checking the instructions.
I will note that the pre-made concentrates are far more expensive that making it at home. You can also brew "chai tea" bags that already have spices in it but the flavor profiles are so wildly different from making at home according to your preference.
In terms of milk, Starbucks uses 2% milk that is steamed hot to create milk foam. You can use any milk you want, including plant-based milks. For plant-based milks, you'll want to consider purchasing the "barista edition" so that it foams as you'd expect it to.
Lastly, for the espresso I use the Capriccio Nespresso pods because it's rich but not super acidic so it pairs well with the spices in chai. If you don't have an espresso machine, instant espresso works great in a pinch.
How to make Chai Concentrate
If you're not buying a pre-bottled chai concentrate, here's a brief walkthrough on how to make your own chai concentrate. I have a much more detailed homemade Chai Concentrate recipe that helps you customize it and make a small or large batch!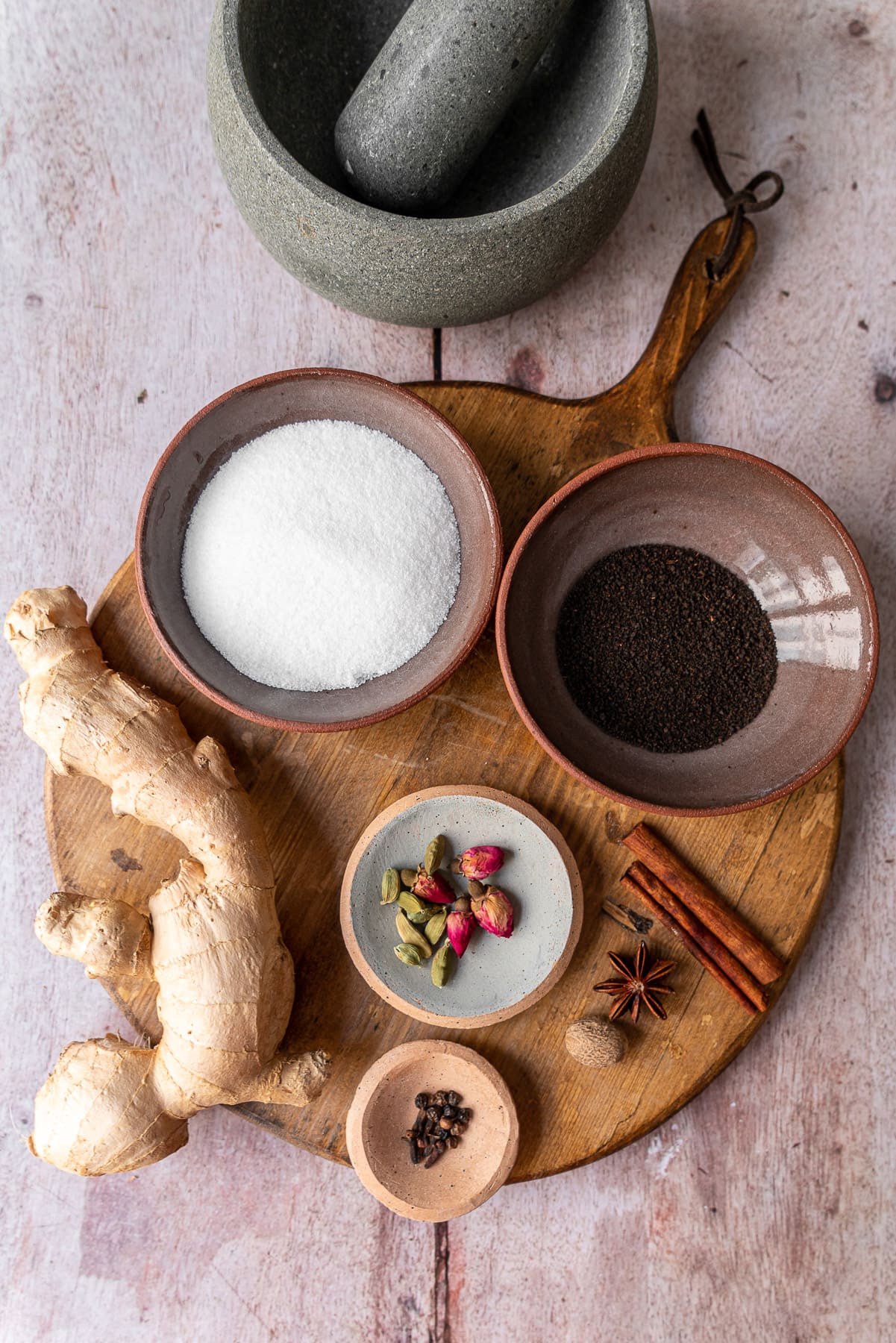 Crush the spices. Use a mortar and pestle to lightly crush the spices to release their oils. Use the flat edge of a knife to smash them instead of a mortar and pestle. You can also use Chai Masala instead of whole spices.
Dry roast the spices and extract flavor. To really bloom the spices, add them to the pot on low to medium heat and dry roast them for about a minute until they're fragrant.
Continuously mix them around so they don't burn. Then, add the water and bring it a rolling boil to allow the spices to infuse with the water.
If you're using Chai Masala, skip the dry roast and add the spices directly into the boiling water.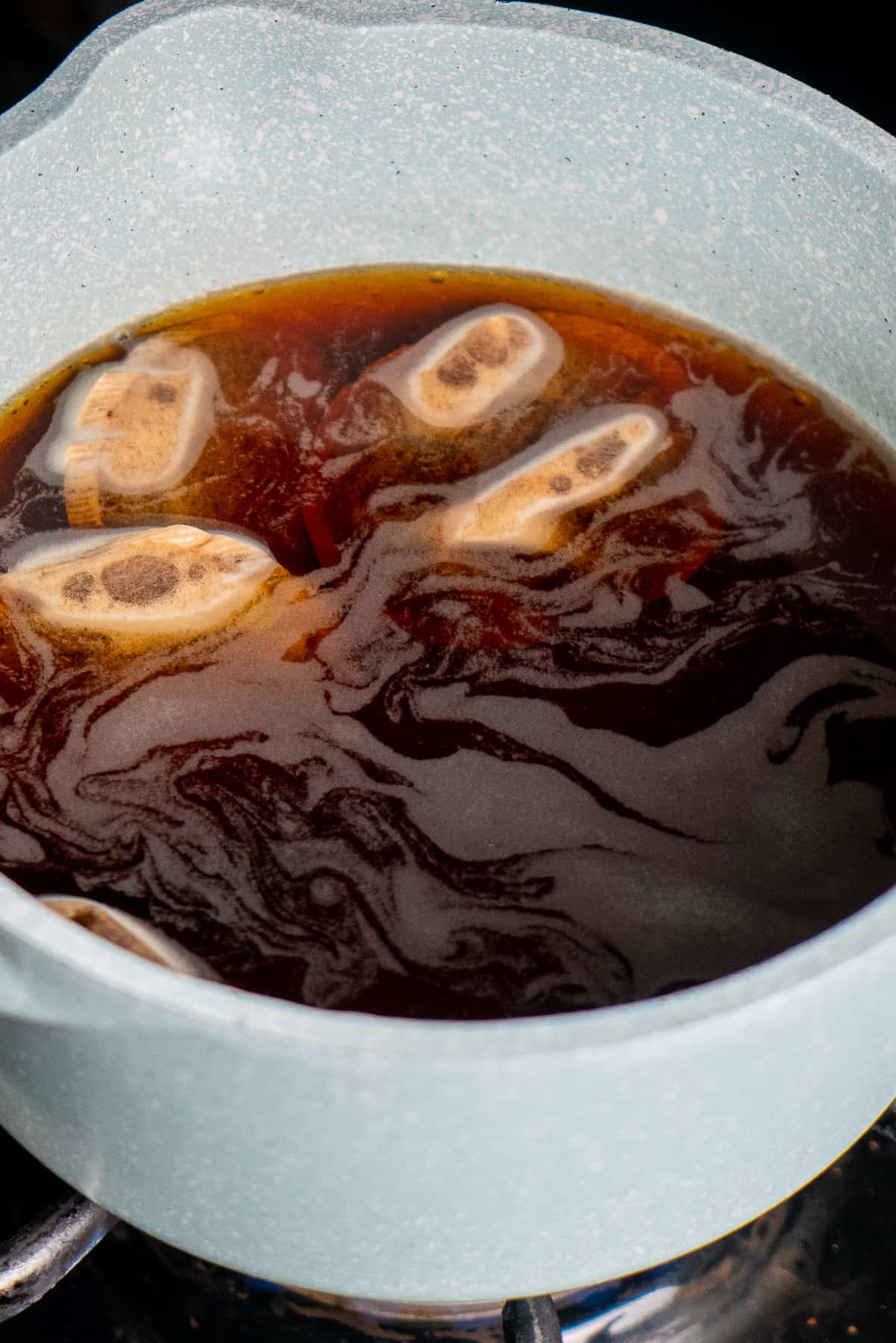 Steep the tea. Add black tea leaves or tea bags into the spice-infused water and boil it for about 5 minutes, giving it a stir every once in a while.
Then, remove the pot from heat and let the tea and spices steep for a minimum of 15 minutes. Add the sugar and stir until it's dissolved.
Pro Tip: You can substitute the sugar for an artificial sweetener, honey, or maple syrup.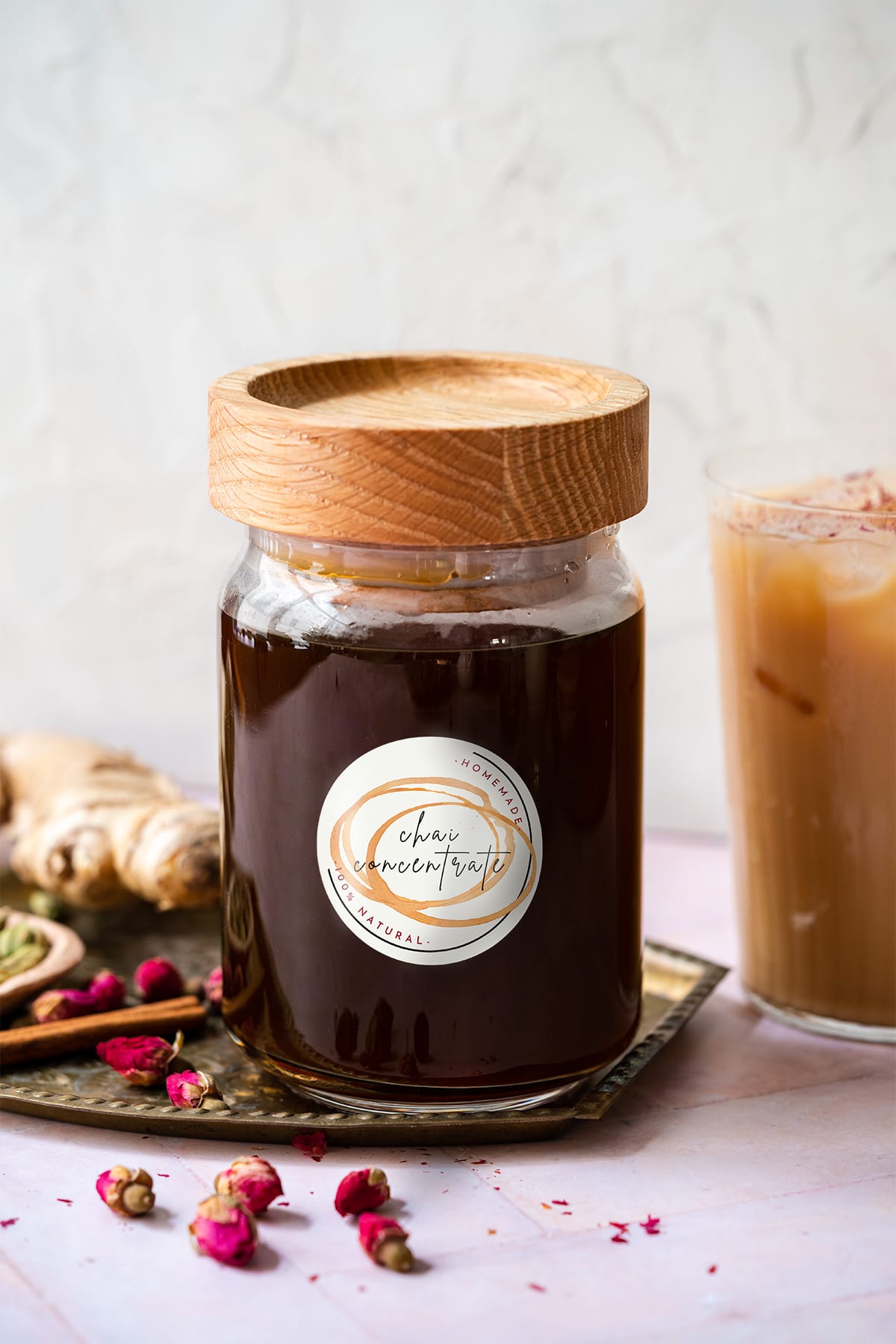 Bottle the concentrate. Sanitize the bottle and its lid in boiling water before use. Once the chai concentrate has cooled, use a fine mesh sieve to transfer it to the bottle. Refrigerate for up to 5 days.
How to make a Homemade Dirty Chai Latte
With the chai concentrate either prepared at home or purchased, the only thing to do here is to steam or froth the milk and brew a shot of espresso. Use a 1:1 ratio of milk to chai concentrate to make the initial Chai Latte.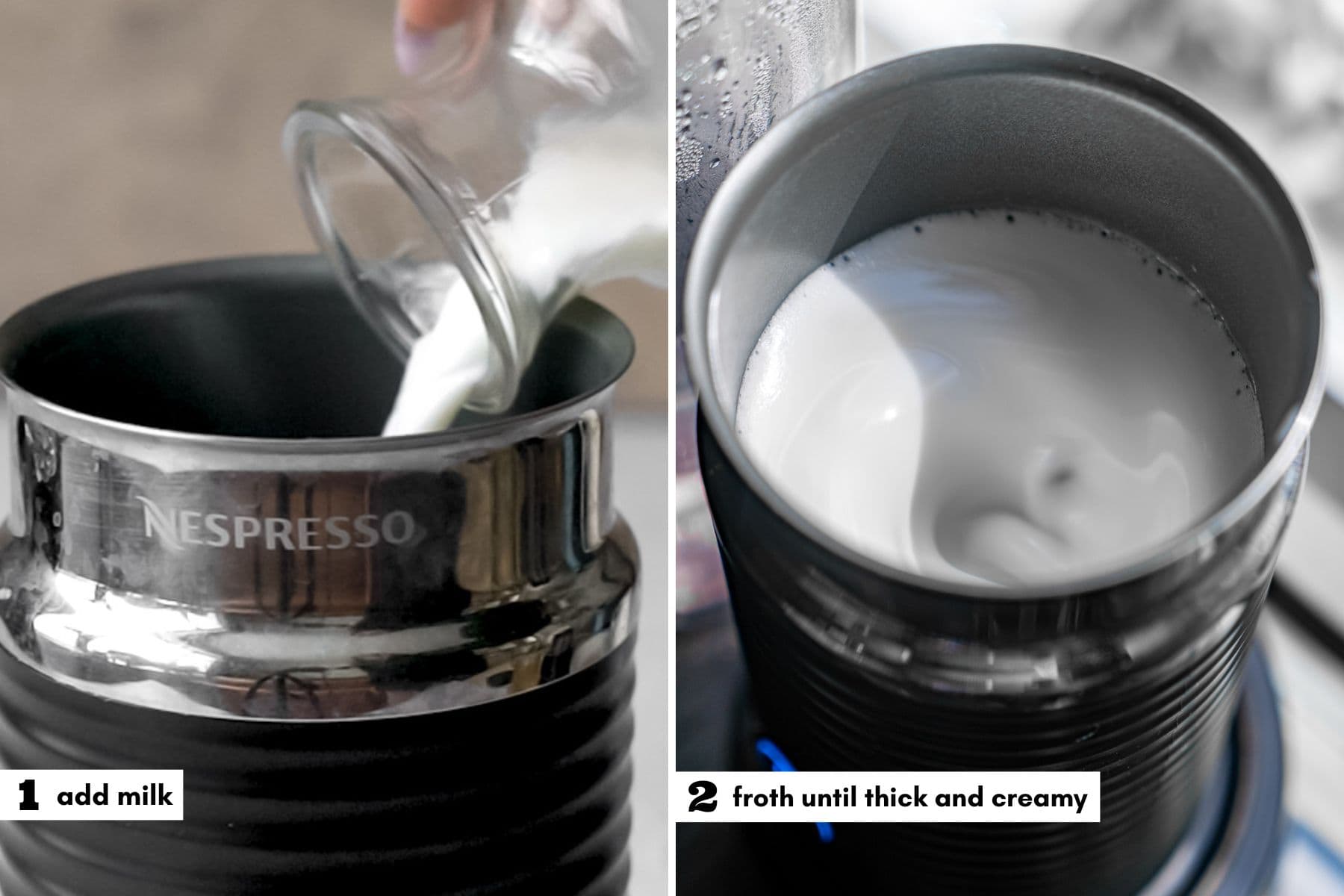 If you're making an Iced Dirty Chai Latte, use the cold foam setting on the Aeroccino or use an electric frother until the chilled milk is frothy and foamy.
If it's a hot Dirty Chai Latte, there are three options:
Warm up the milk in a saucepan on the stove or in the microwave to 170°F.
Use an electric frother or immersion blender until the milk is frothy and foamy.
Alternatively, use the hot setting on the Aeroccino.
Once you have all 3 ingredients prepped, simply add them into a tall glass to make your latte.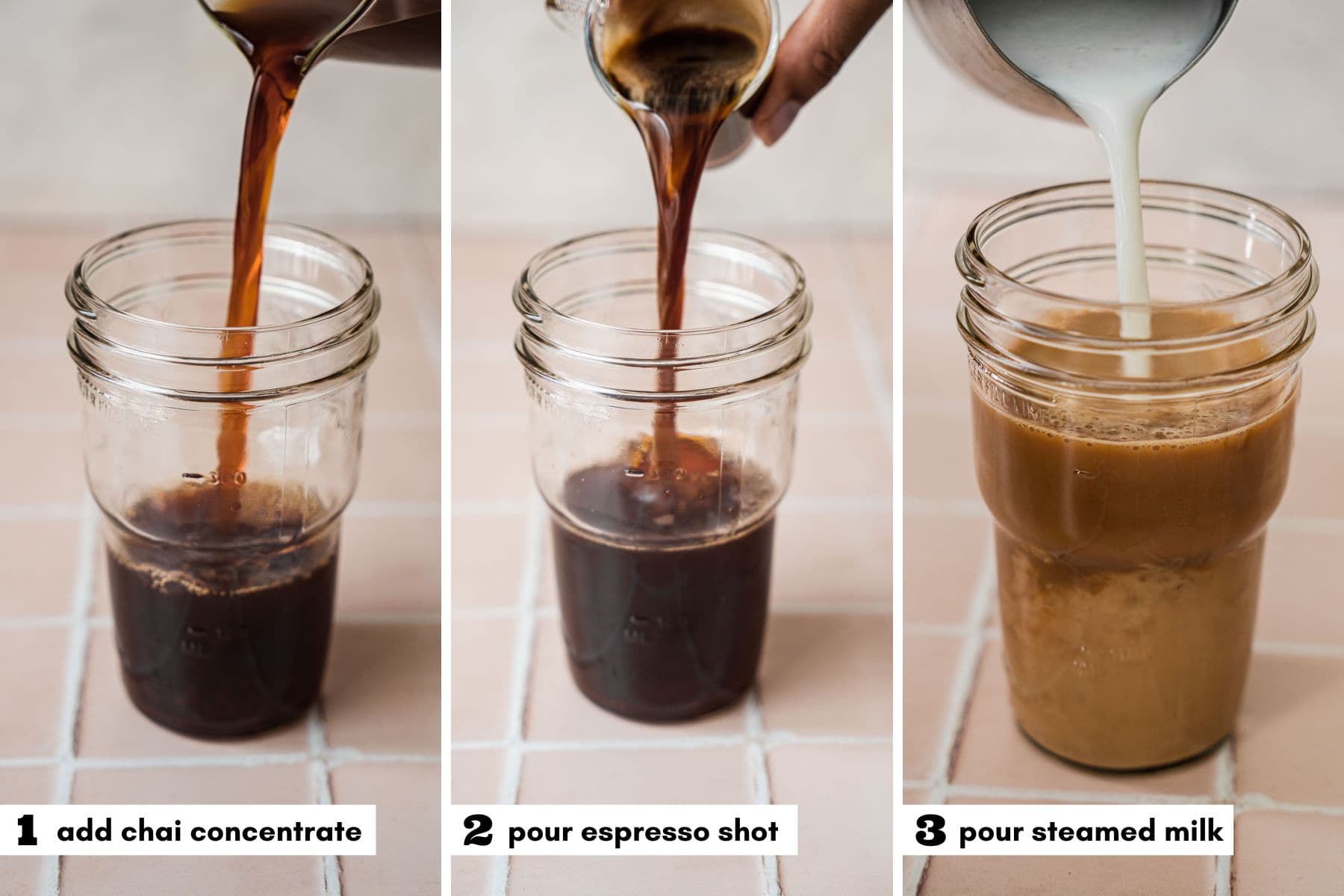 If you'd like an iced latte, fill the cup with ice and make sure the chai concentrate has chilled so the cubes don't melt too fast and dilute the concentrate.
I like to add a light cinnamon dusting on top of mine and a coffee bean if I'm serving it to a friend.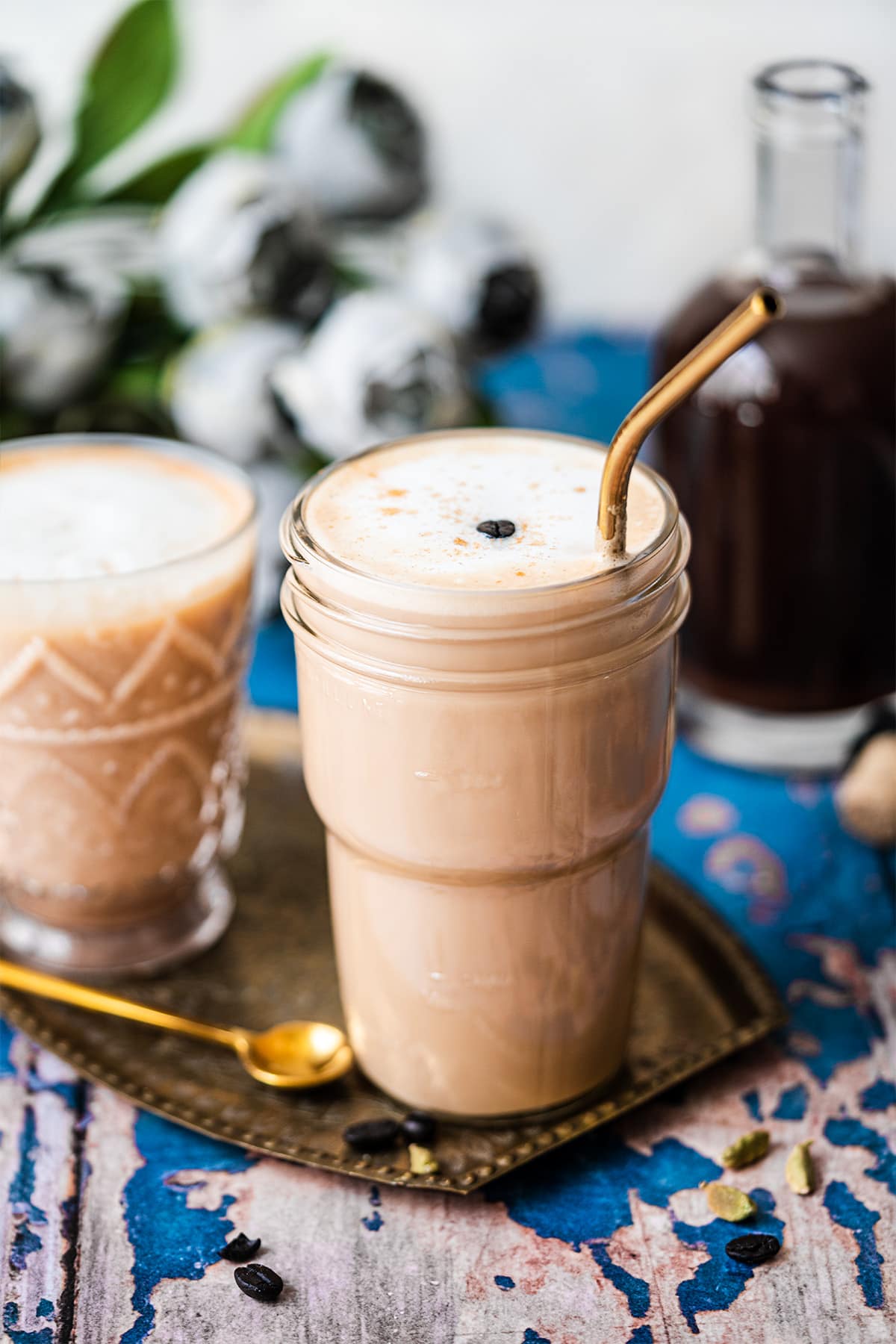 More Coffee and Tea Drinks to try
Recipe
Dirty Chai Latte
Add a kick to your classic Chai Latte with a shot of espresso and make it a Dirty Chai Latte! Learn how to customize homemade Chai Concentrate to your preference and you'll be ready with a batch of lattes to last you a week.
Print
Pin
Rate
Instructions
Steam the milk using a frother.

Pour warm chai concentrate and espresso into a tall glass. Pour the milk over it. Sprinkle cinnamon over the milk foam.

For an iced latte - Pour chilled chai concentrate, espresso, and lastly steamed milk over a tall glass filled with ice. Sprinkle cinnamon over the milk foam.
Notes
If you're using a plant-based milk, be sure to grab the "barista edition" so that it foams as expected.
My homemade chai concentrate already has sugar added. If you're following that recipe, no need to add more sugar. Check your pre-bottled concentrate to see if it already has sugar and adjust accordingly. If you're brewing "chai tea" bags, you'll need to add sweetener of your preference.
Nutrition
Serving:
9.5
oz latte
|
Calories:
72
kcal
|
Carbohydrates:
6
g
|
Protein:
4
g
|
Fat:
4
g
|
Saturated Fat:
2
g
|
Polyunsaturated Fat:
0.1
g
|
Monounsaturated Fat:
1
g
|
Cholesterol:
14
mg
|
Sodium:
51
mg
|
Potassium:
247
mg
|
Sugar:
5
g
|
Vitamin A:
184
IU
|
Vitamin C:
0.1
mg
|
Calcium:
140
mg
|
Iron:
0.1
mg