Enjoy this thick and creamy homemade Chai Hot Chocolate made with real chocolate and simmered with chai spice for a cozy holiday drink! Top it with torched marshmallows and sip on this rich chocolatey winter drink by the fire.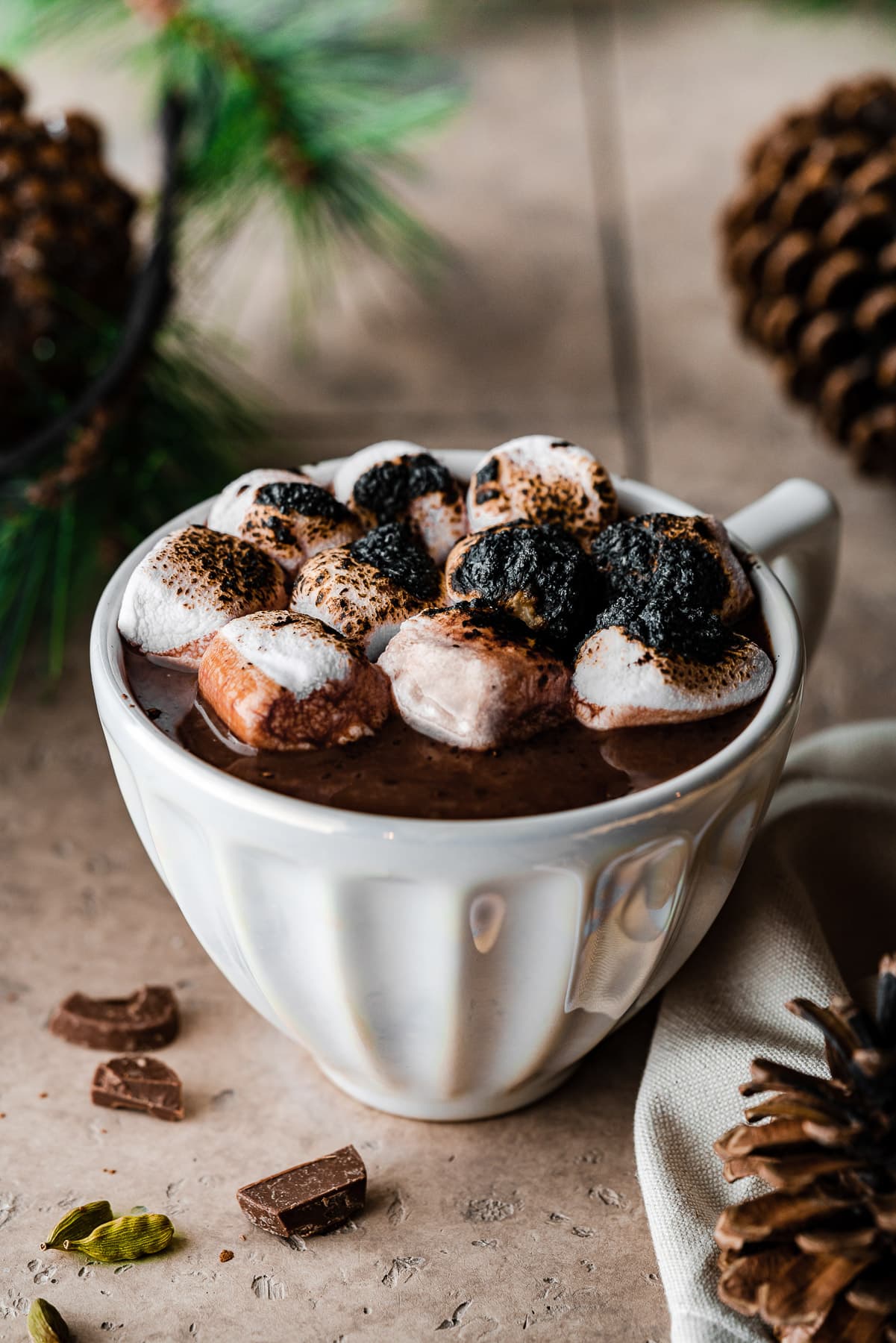 Who else has hot chocolate just about every other night during the winters?! Sometimes, it's all I look forward to especially living on the East Coast when it's rainy or snowy during the evening.
I really couldn't imagine a better day spent cozying up by a fire with a sherpa throw, getting snuggled up and turning on a movie with a thick hot chocolate in hand!
Jump to:
Why this Recipe?
I tried making this Chai Hot Chocolate three ways - one was with a base of masala chai and cocoa powder mixed in, another was chai concentrate with creamy hot chocolate, and the last was hot chocolate with chai spice. To be honest, I really hated the first two. I don't think the masala chai or chai concentrate meshed well with the hot chocolate at all.
Ultimately, I settled on thick and creamy hot chocolate with chai spice thanks to the help of my Instagram followers who voted via stories! This hot chocolate is made with real chocolate and Dutch process cocoa powder instead of just hot chocolate powder and milk, so it's really luscious and indulgent.
A little bit of cream and corn starch makes it thick, rich, incredibly creamy. The type that will coat the back of a spoon.
And don't even get me started on the chai spice + chocolate combo. We've already discovered we're huge fans of the pair from the Chai Spice Chocolate Chip Cookies.
What is Chai Spice?
The word chai means tea in Hindi, and usually refers to a black tea with milk. So if you're say chai tea, you're essentially saying " tea tea". The word masala means spices. Masala chai therefore refers to black milk tea steeped with spices.
Chai masala translates to tea spices. It's a blend of sweet and warming spices - green cardamom, black peppercorn, ginger, cinnamon, cloves, mace, nutmeg, and star anise - used for making masala chai.
The history of adding spices to black tea traces back to the British colonization of India. Spices were added to chai to mask the taste of low quality black tea leaves.
The blend is also really popular for fall baking due to the fragrance, flavor, and warmth that it lends to anything from cinnamon rolls to muffins to buttercream frostings. It's also a great addition to oatmeal!
The cardamom, cinnamon, and cloves especially stand out in my homemade chai masala blend when exposed to heat and offers the best balance of spices.
Ingredients - Notes and Substitutions
Let's get into the ingredients of what makes this thick, luscious hot chocolate!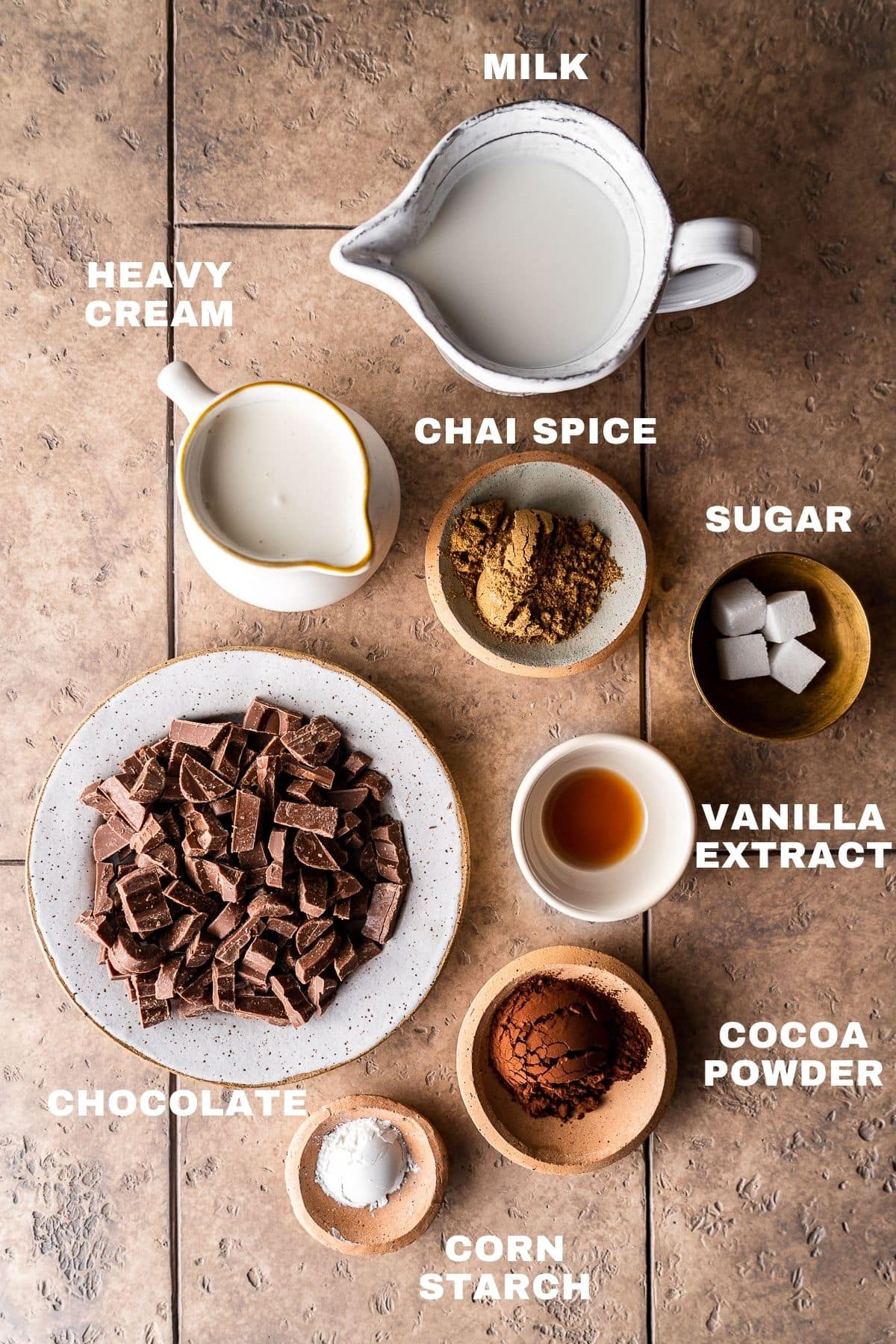 Milk - Whole milk is the best for creamy hot chocolate!
Heavy Cream - Adding cream is what sets this apart from water or milk-based hot chocolate that uses packets. Heavy cream gets this hot chocolate thick and creamy! Substitute with light cream or coconut cream.
Corn Starch - The starch helps the hot chocolate thicken up.
Dutch Process Cocoa Powder - Dutch-process cocoa powder is alkalized, meaning it has been neutralized of its acidity so it's less bitter. It's much darker in color (this is how Oreos are so dark!) and not as concentrated as natural cocoa powder. The dutched cocoa gives the hot chocolate a deep chocolate flavor. Substitute with unsweetened cocoa powder.
Chai Spice - Use a high quality, preferably homemade chai spice from freshly ground spices. I also really love Pur Spices.
Chocolate - Chocolate chunks are superior, period. They melt better than chocolate chips, which have stabilizers, so your hot chocolate is smooth and creamy. I use Guittard dark chocolate baking bars or Valrhona feves and roughly chopped them into my desired size
Vanilla Extract - Provides flavor, but only enough to compliment the chai spice.
Sugar - Add sugar or sugar substitutes based off of your sweetness preference! I added about two cubes of sugar since I was using 70% dark chocolate and wanted it to be a tiny bit sweeter.
How to make Thick, Creamy Hot Chocolate
Chai Hot Chocolate comes together in less than 20 minutes! Let's get started with making it.
Pour the milk into a sauce pan. Then, add in the corn starch and give it a good whisk until there aren't any lumps of corn starch.
Note: For two servings, you won't need two cups of milk because we're also adding heavy cream and chocolate which will add more volume. Too much milk and it won't be thick without adding even more chocolate. Too little milk and you'll be eating the hot chocolate with a spoon.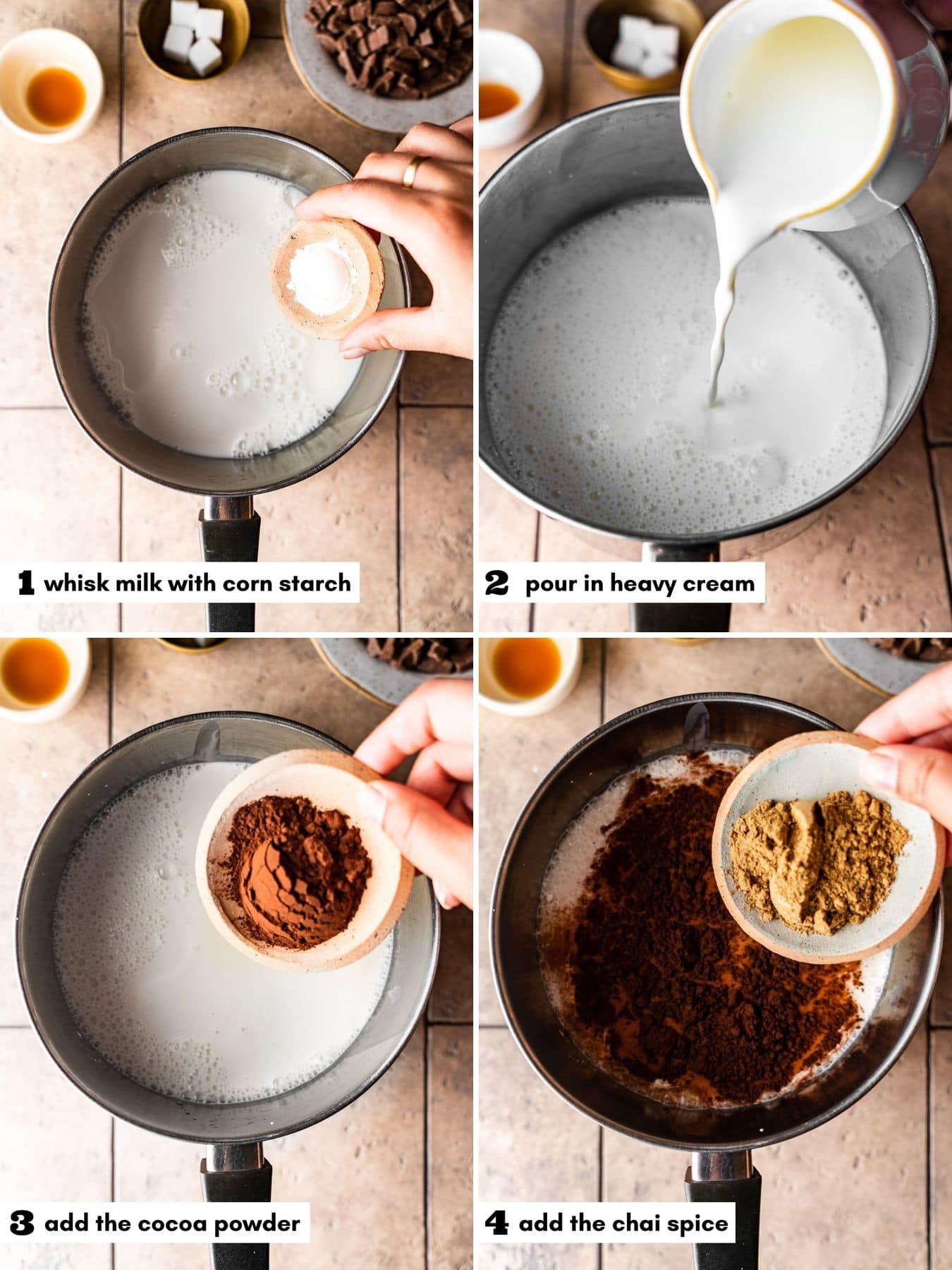 Then, pour the heavy cream into the sauce pan. Start heating the milk at a low to medium heat, being sure to whisk every now and then to ensure the milk doesn't get scorched.
Next, add the Dutch process cocoa powder. Preferably sift this in, because it can be clumpy. Then, add the chai spice.
Whisk everything together incredibly well. There ideally shouldn't be any lumps of chai spice or cocoa powder. Once it's been whisked, we're slowly going to bring the temperature of the milk up to about 200°F, or about a simmer.
We don't need to bring it to a boil! Keep it simmering for a few minutes so that the spices release their flavor and the milk has a chance to start thickening up a bit.
Pro Tip: Don't simmer the milk for too long otherwise the hot chocolate will be so thick that you'll have to eat it with a spoon!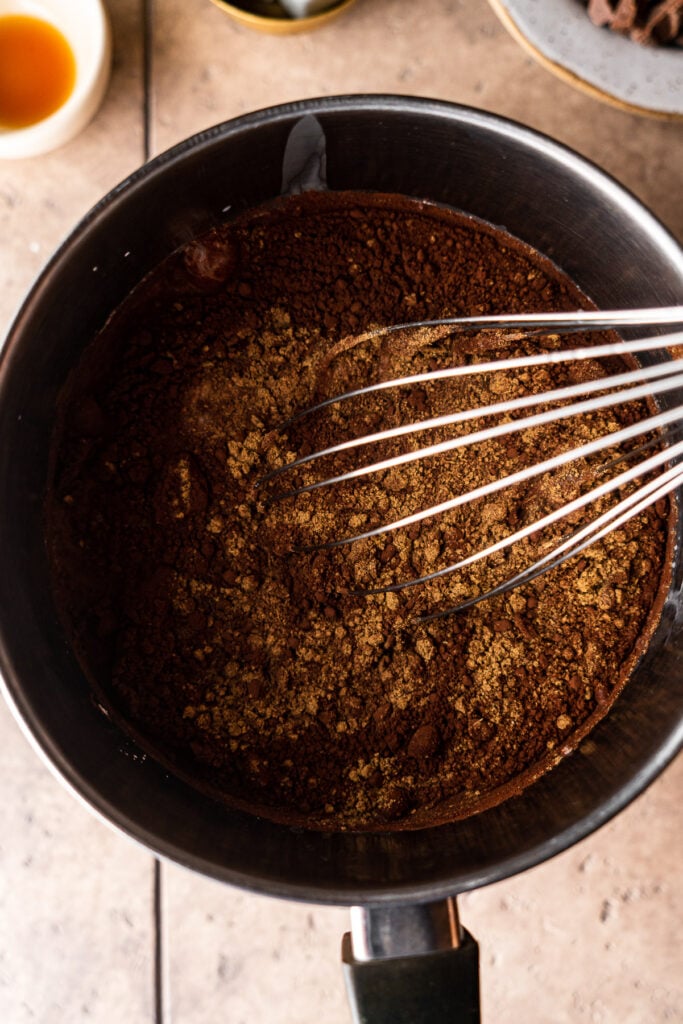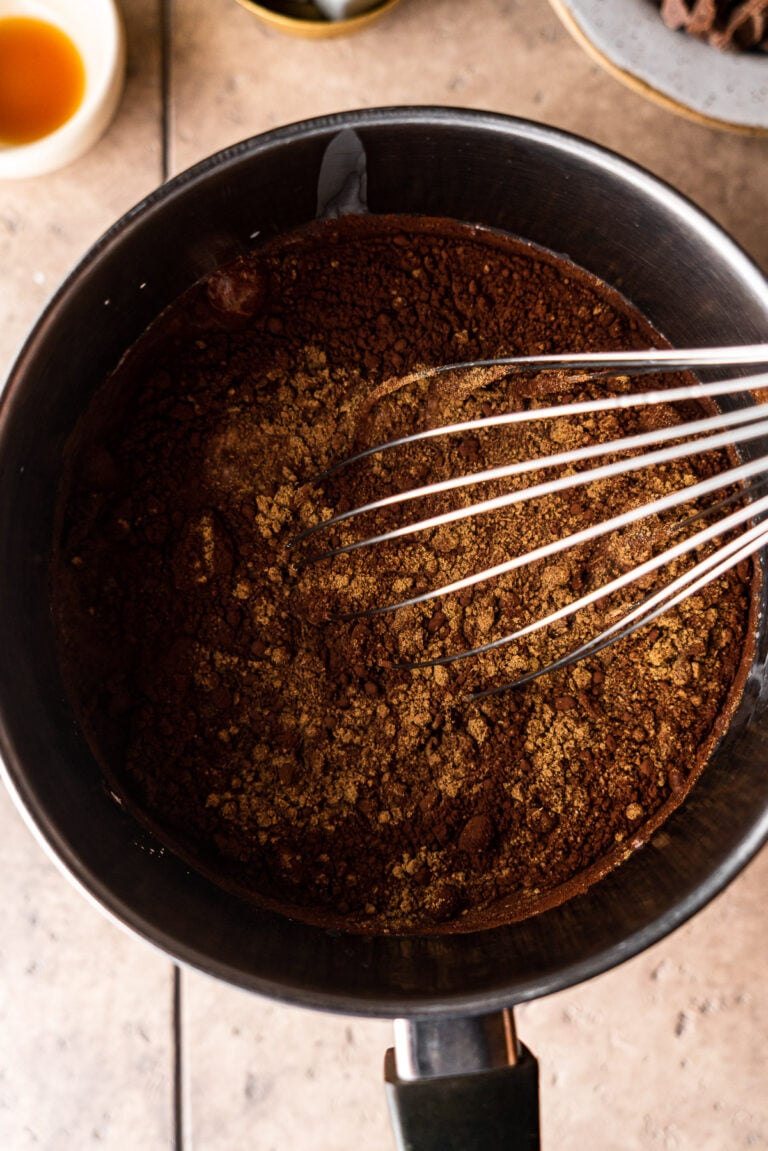 Once the milk has been simmering for a few minutes, remove it from heat and add the chocolate into the sauce pan. Keep whisking the chocolate so it doesn't stick to the bottom and fully melts into the milk without clumping up. This will also cool down the hot chocolate to an ideal temperature of about 160°F - 170°F for drinking.
Add the vanilla extract and stir again. Give the hot chocolate a taste for sweetness. If it's not sweet enough, add a bit of sugar or sugar substitute to taste. Then, pour the hot chocolate into mugs and they're ready to serve with whichever toppings you want!
Serving Suggestions
My favorite way to have hot chocolate is with some fresh homemade whipped cream! Lately, I've been loving large marshmallows so I can torch them and watch as they melt into a thick layer on top of the hot chocolate. That way, every sip is filled with a bit of melty charred marshmallows.
Here are some other serving suggestions:
Mini marshmallows with a cocoa powder dusting
Fresh homemade whipped cream
Torched marshmallows with a drizzle of chocolate syrup or chocolate shavings
A candy cane
Chocolate fudge Pirouettes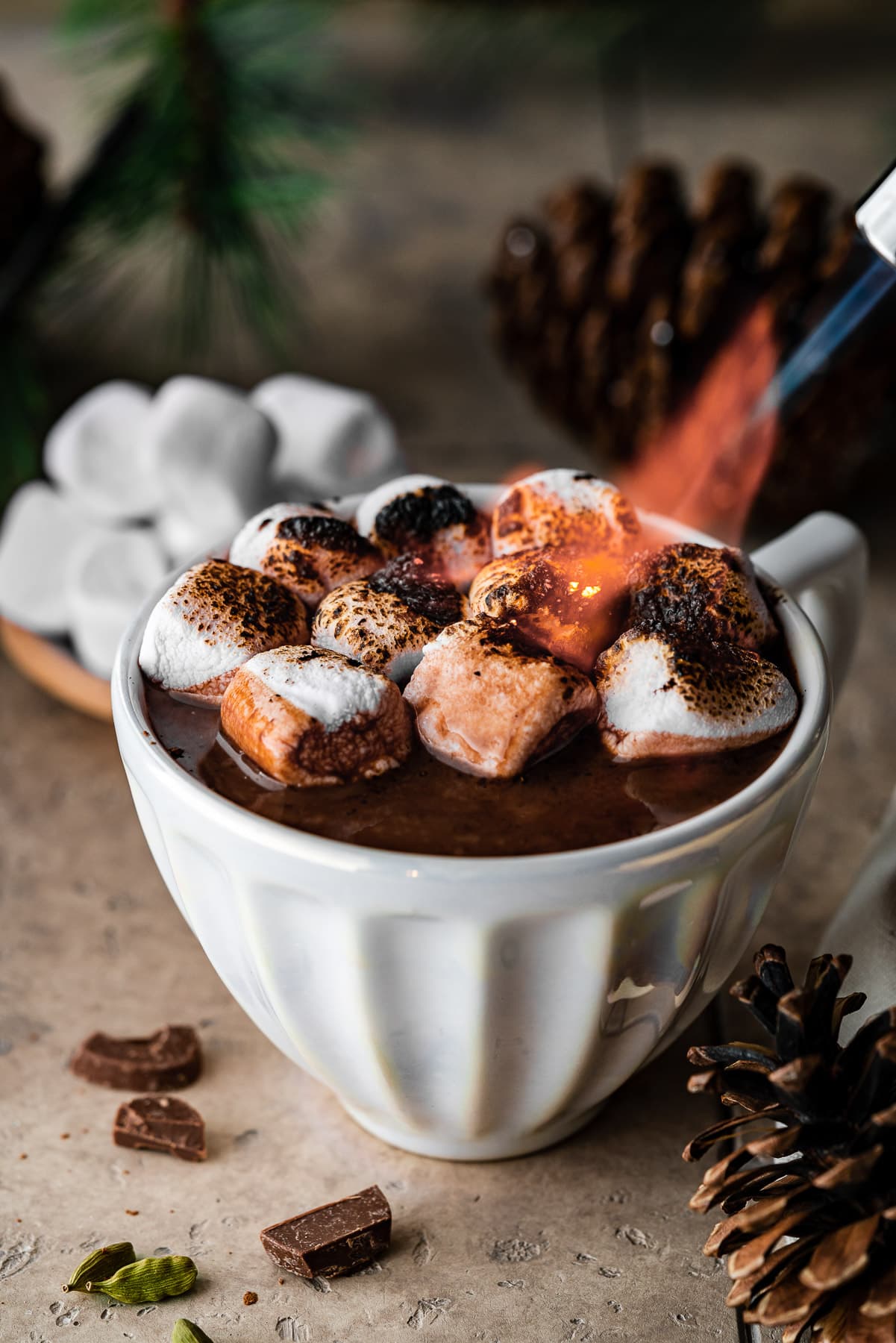 More Tea Recipes to try
Recipe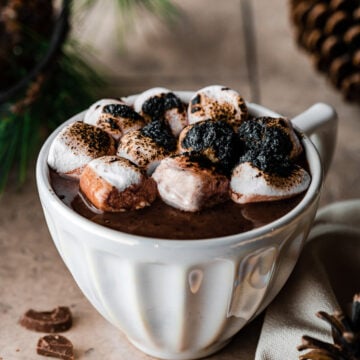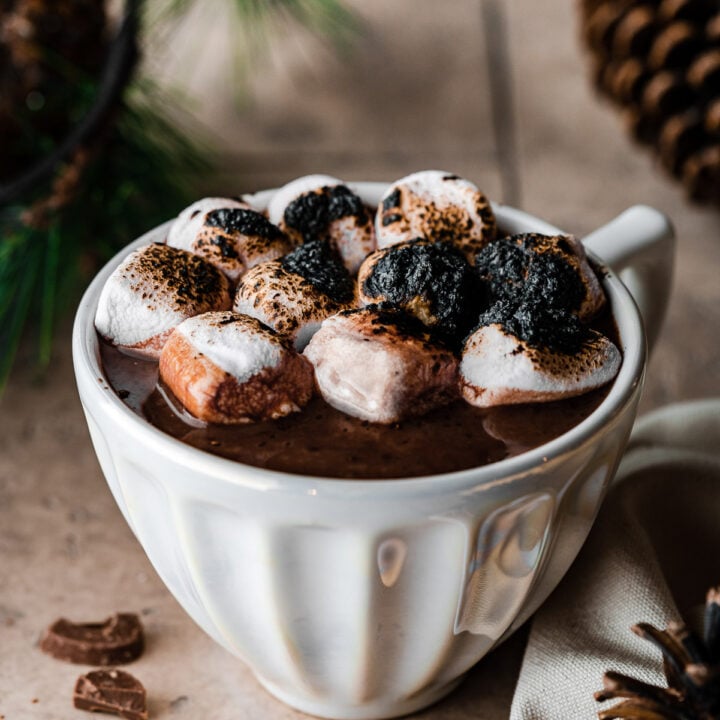 Chai Hot Chocolate
Enjoy this thick and creamy Chai Hot Chocolate made with real chocolate and simmered with chai spice for a cozy holiday drink! Top it with torched marshmallows and sip on it by the fire.
Print
Pin
Rate
Ingredients
Toppings
whipped cream

shaved chocolate

chocolate syrup
Instructions
Pour the milk into a sauce pan and stir in the corn starch until there aren't any lumps. Put the sauce pan on low to medium heat.

Add the heavy cream into the sauce pan and stir. Next, sift the dutch process cocoa powder and chai spice into the pot. Whisk until everything is fully combined and there are no lumps.

Allow the milk to come up to a rolling simmer for 3-4 minutes, never fully coming to a boil, so that the spices can bloom. Whisk every minute or two so the milk doesn't scorch. Once it's around 200°F, remove the sauce pan from heat and stir in the chocolate.

Keep whisking until the chocolate fully melts. Stir in the vanilla extract. Taste and adjust for sugar and add a very small pinch of salt.

Split the hot chocolate into two mugs. Top with marshmallows and whipped cream. Serve hot. (Optional) Torch the marshmallows!
Nutrition
Serving:
1
drink
|
Calories:
535
kcal
|
Carbohydrates:
52
g
|
Protein:
9
g
|
Fat:
37
g
|
Saturated Fat:
22
g
|
Polyunsaturated Fat:
1
g
|
Monounsaturated Fat:
11
g
|
Cholesterol:
59
mg
|
Sodium:
101
mg
|
Potassium:
481
mg
|
Fiber:
4
g
|
Sugar:
43
g
|
Vitamin A:
739
IU
|
Vitamin C:
1
mg
|
Calcium:
257
mg
|
Iron:
2
mg