Summer calls for light, refreshing horchata with a twist of chai. This recipe stays true to the method of making authentic horchata while combining the flavors of Masala Chai by soaking rice in chai spiced black tea. Chai Horchata is truly quite the treat!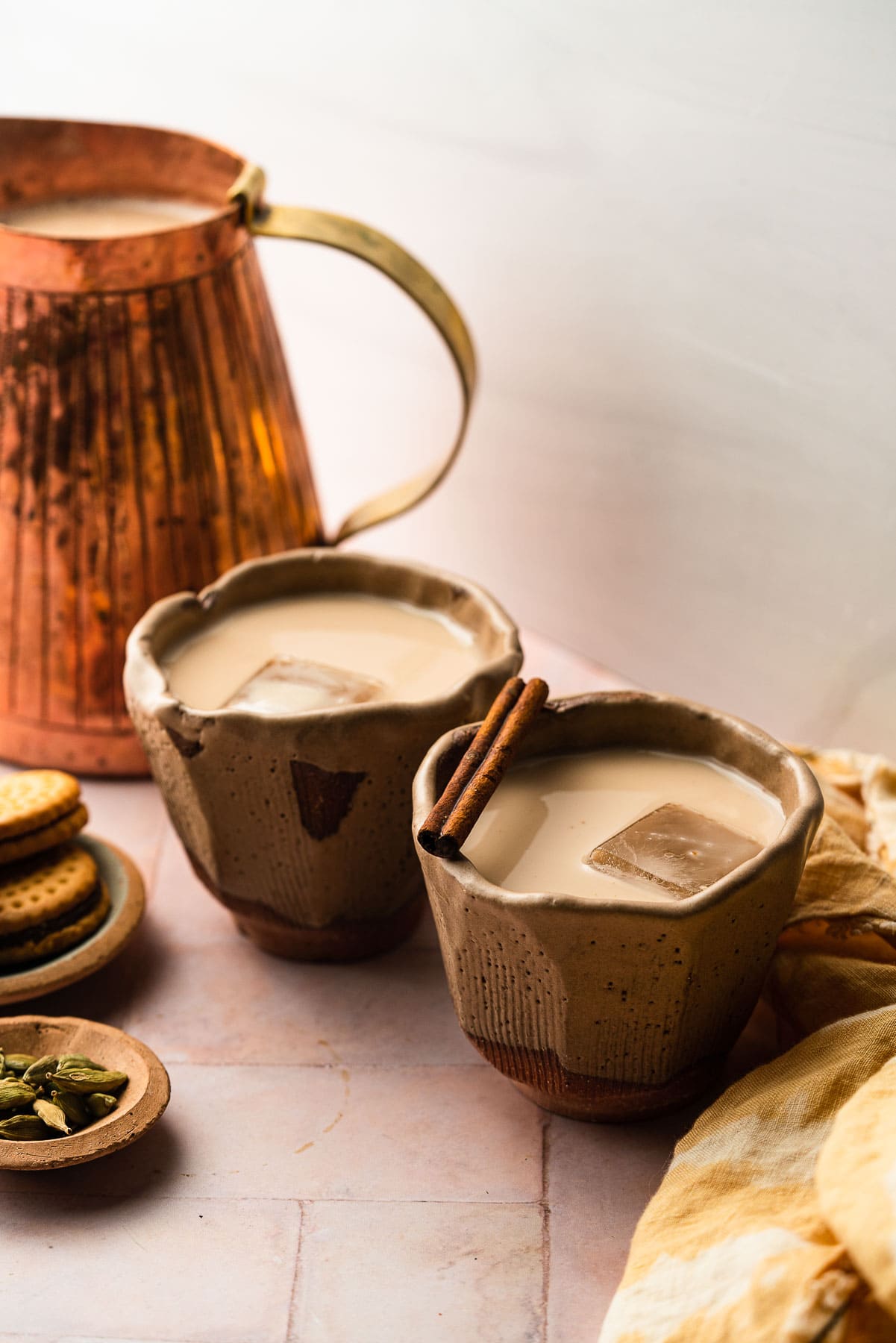 There's nothing more that I gravitate towards more in the summer than horchata. If I see it on the menu, I'm walking out with an iced horchata. And I especially love when a restaurant can toss in some matcha or a shot of espresso for a morning wake up.
So why not a lil' bit of chai?! My recipe uses the traditional method of making horchata, but instead of soaking the rice in plain water with a cinnamon stick... we soak it in brewed black tea and a few additional complimentary spices!
And if you're a Dutch Bros fan on the west coast, you'll be elated to know that this tastes... so. much. better. than the Horchata Chai. Respectfully.
Jump to:
Why you'll love this Recipe
I can't tell you how many times I've heard Mexicans and Indians are kindred spirits, especially when it comes to food. Here's why you'll love chai in your horchata -
Horchata starts with a cinnamon stick as a spice to pair with the rice milk, and it's dang delicious. The few spices common to chai that I chose - nutmeg, cardamom, black pepper, and cloves - are fragrant and subtle in addition to the cinnamon. The rice soaks up all the delicious spiced black tea but it's not overpowering.
The black tea adds the caffeine you need to keep you awake during a party or after a hearty meal without covering the flavor of a true, authentic horchata
Masala Chai is wonderfully creamy from evaporating the milk during the boiling and aeration process. The process of making horchata is very similar to making a creamy nut milk, so the texture totally works.
Chai Horchata will be sooo cozy during the holiday season, not just summer time!
What is Horchata?
Horchata is a popular Mexican drink that's made by blending soaked rice with cinnamon and lightly sweetening it. This is a cold drink served over ice and makes the perfect, refreshing drink during the summer. It's reminiscent of the flavors in arroz con leche, or rice pudding.
It has several variations, with some being completely dairy-free or containing nuts like almonds. Horchata can be lightly sweet or for something a little richer, many use sweetened condensed milk as well.
It can be found in the drink sections of almost every Mexican restaurant and at Latino grocers serve various agua frescas.
Ingredients - Notes and Substitutions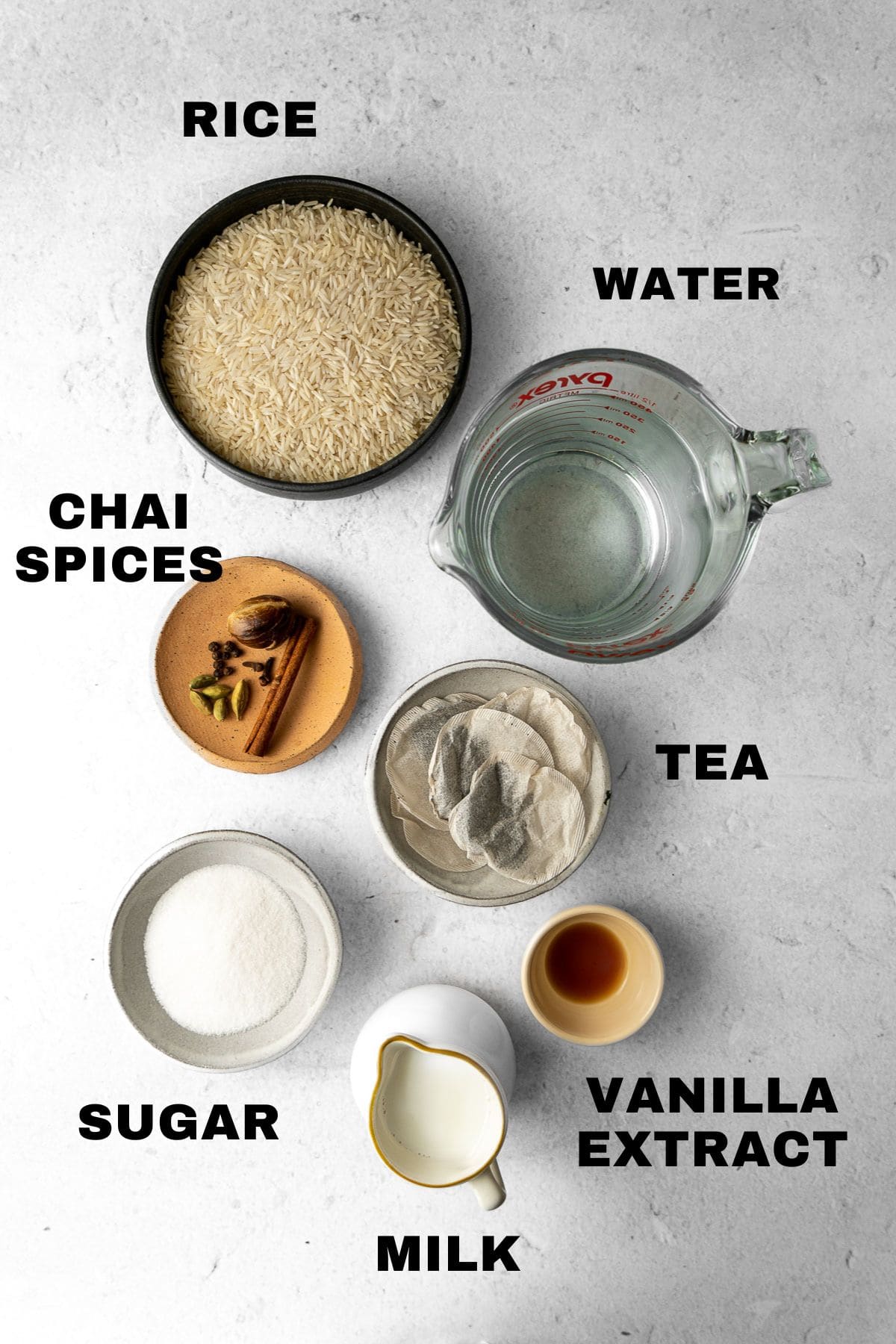 Rice - Use uncooked long grain, white rice. I use Royal Basmati Rice, which I keep in my kitchen to make plain ol' regular rice and other dessert dishes like Kheer.
Chai Spices - In addition to the cinnamon that's typical to horchata, this recipe also uses cardamom, cloves, nutmeg, and peppercorns that are common to masala chai or a chai spice blend. They're all fragrant spices that have flavor profiles that balance really well together.
Tea - Search for Indian brands of black tea that use the CTC method. For tea bags I love Tetley British Blend. Taj Mahal and Wagh Bakri are other great options. They can readily be found online or in South Asian grocery stores. Avoid using loose leaf otherwise you'll need to strain the tea to get the leaves out but fish out the whole spices to add into the bowl with the rice for soaking.
Vanilla Extract - For a lovely vanilla flavor that's common to add to homemade rice or nut milks
Sugar - Adjust the amount of sugar to taste in this recipe! You can also use any sweetener substitutes you prefer. Alternatively, sweetened condensed milk is a great option. Start with half a can and then continue to taste and add according to preference.
Milk - Substitute with a can of evaporated milk for an especially rich horchata. To make it dairy-free, use your favorite plant-based milk like oat milk, almond milk, or cashew milk.
Recommended Kitchen Equipment
A really good blender makes a huge difference in getting that really pasty rice mixture you want.
Blender - I love my Vitamix! It does a quick, thorough blend of the rice and spices until it's completely smooth.
Strainer - You can't be playing with the strainer you use. The fine mesh strainers get all the small grits of the grain and spices out so you have a smooth, tasty horchata. Don't use something you use to strain pasta. Alternatively, use a reusable nut milk bag and you most likely won't need so strain more than once.
Pitcher - A 60oz pitcher with a lid is perfect for storing a large amount of horchata in the refrigerator with room for ice if serving immediately.
How to make Chai Horchata
If you've ever made nut milk, then the process of making horchata is very similar. You'll start with a soak, then blend, a strain, and end by adding sweeteners or flavors.
1. Brew the Tea
First, start by brewing black tea with some spices.
Bring 2 cups of water to a boil in a saucepan and add the spices. Once the spices infuse in the water after about a minute or two, the color of the water changes and you'll also be able to smell the fragrant spices.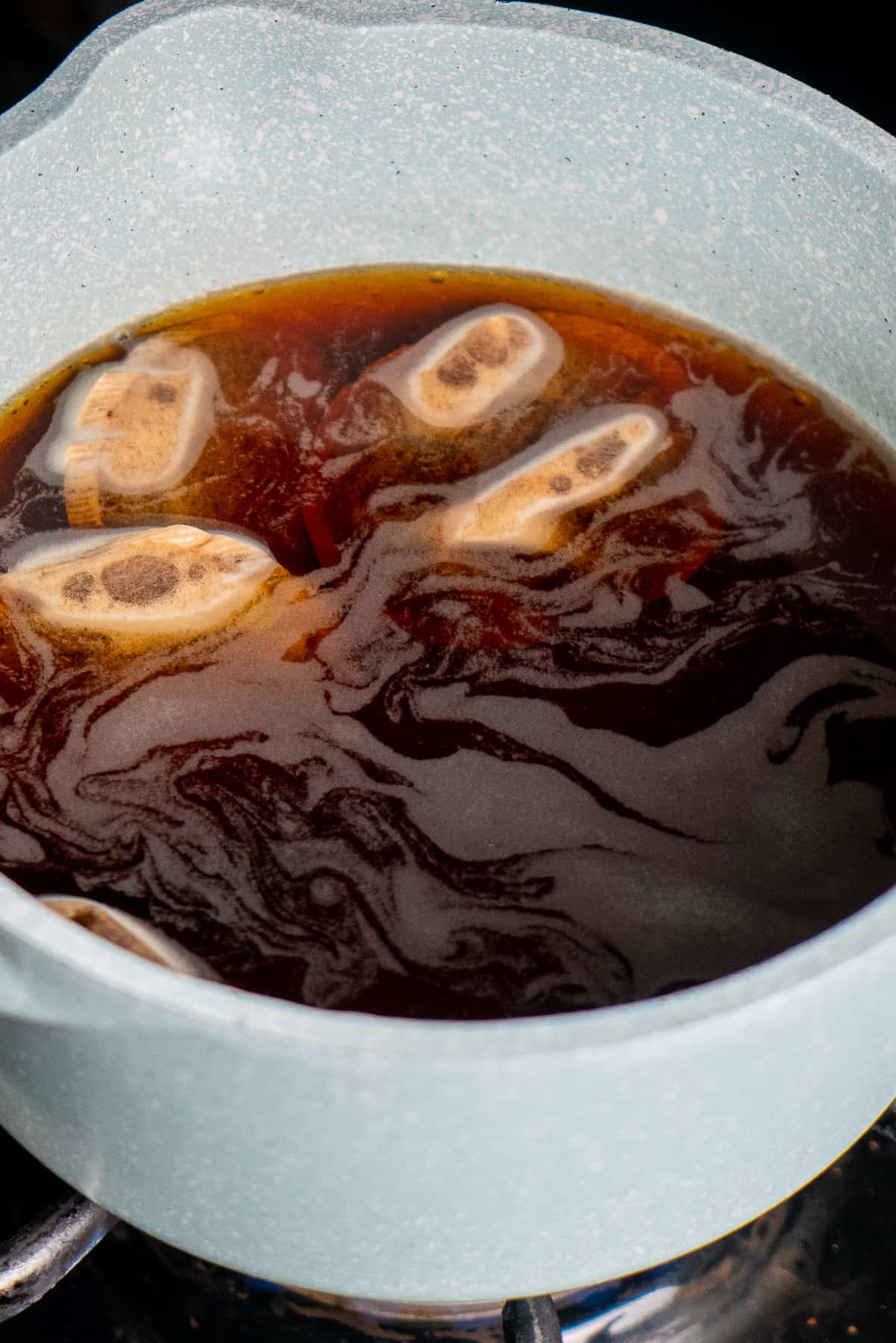 At this point, add the tea into the spice-infused water and boil it for about 5 minutes, giving it a stir every once in a while. Then, remove the pot from heat and let the tea and spices steep for a minimum of 10 minutes.
After 10 minutes, remove the tea bags.
2. Soak the Rice
Add the rice to a heat safe mixing bowl. It should be uncooked. It also doesn't need to be washed.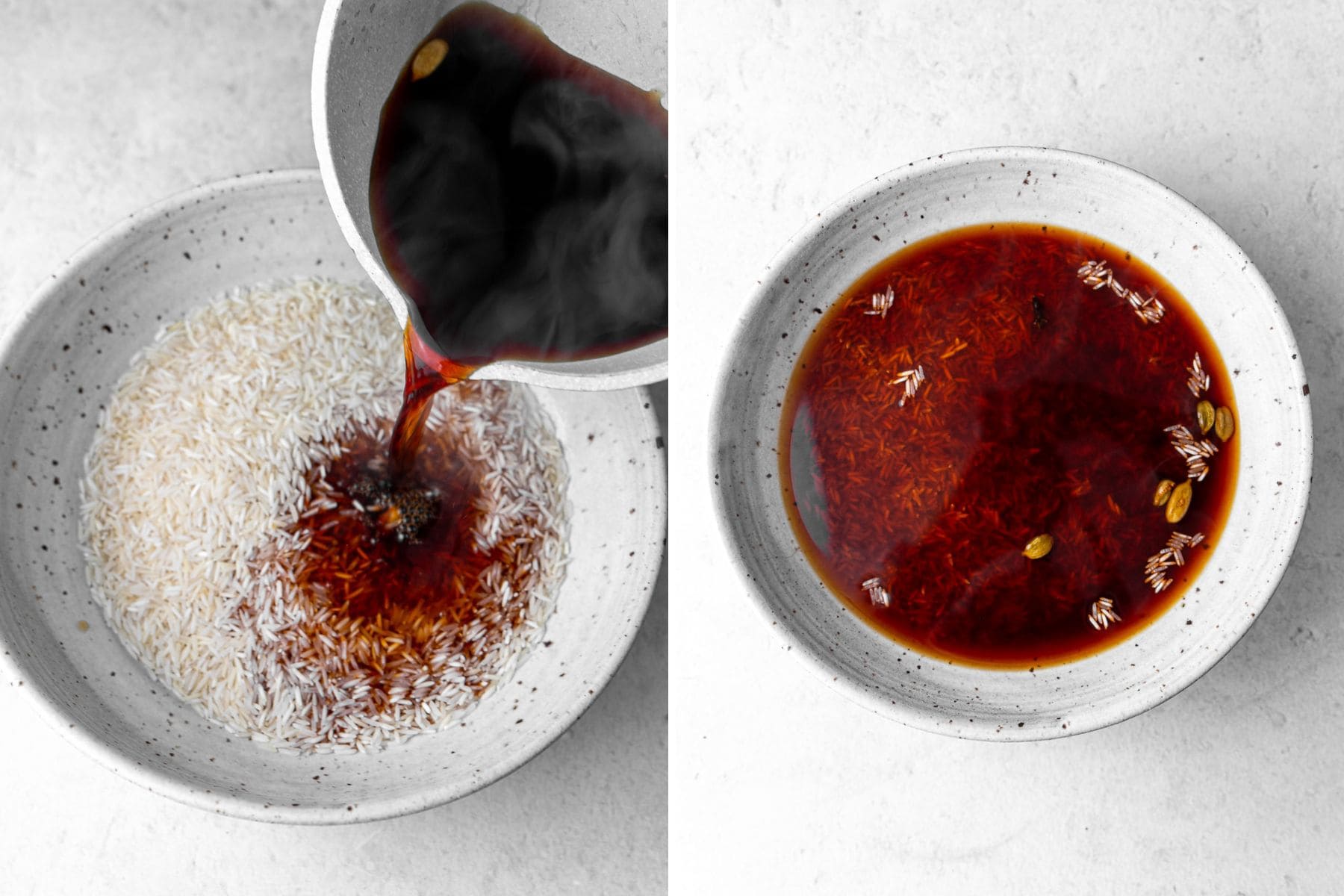 Pour the hot tea with all of the spices over the rice. Give everything a solid stir. Let the rice soak up all that flavor for a minimum of four hours, or overnight.
3. Blend the Rice
Once the rice has soaked for at least four hours, toss everything into a blender. Spices included.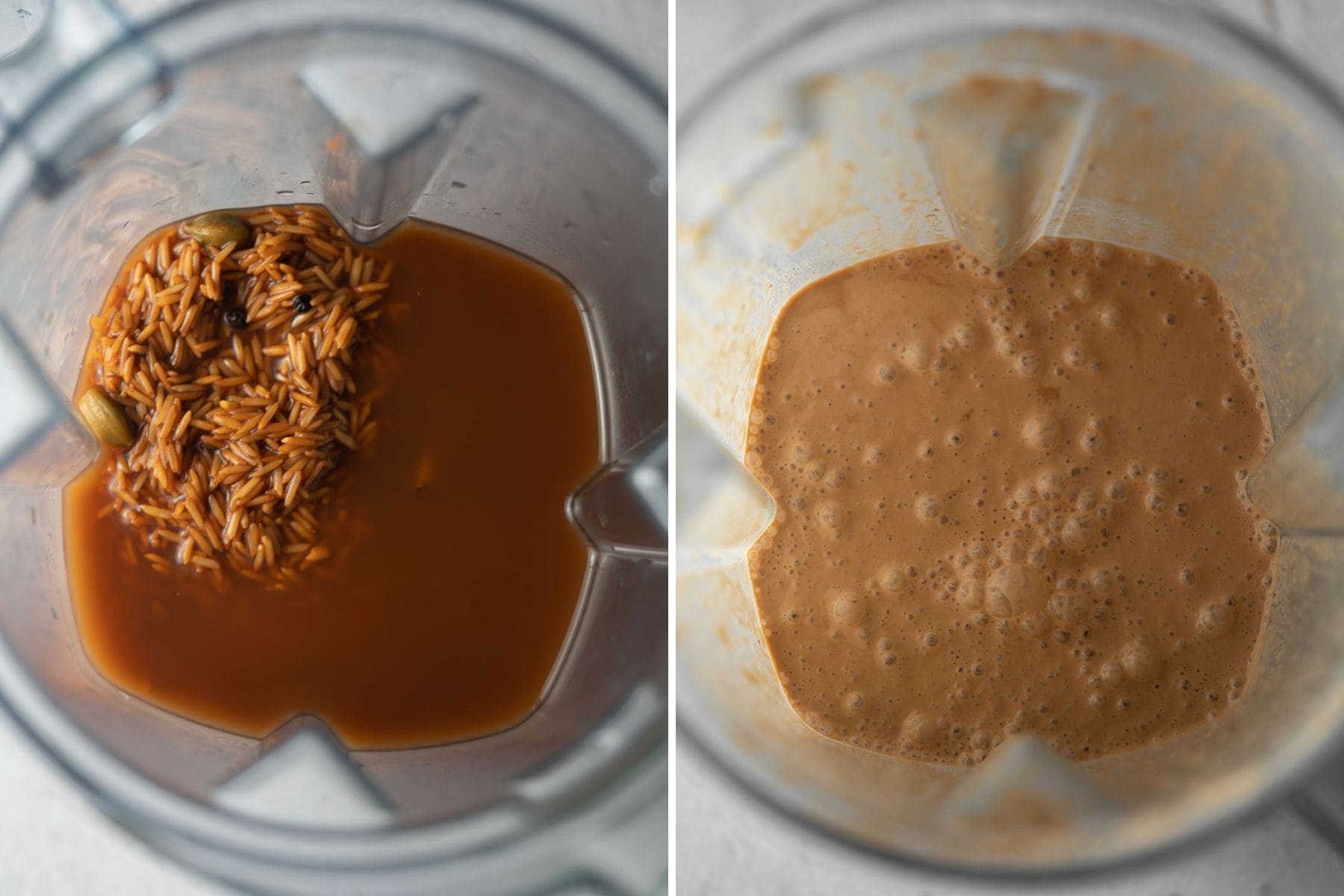 Blend everything for 1 - 3 minutes, depending on the power of your blender, until you have a smooth paste-like liquid.
Pro Tip: If you have a strong blender like a Vitamix, it'll only take a minute for everything to turn into a loose paste. If you have a crusty dusty blender, you may have to do it in batches or add a bit more water to get the blender going.
Also, if you don't trust your blender to get the spices fully blended, then you'll want to fish those out and discard or be prepared to strain them out.
4. Strain
Once the blended rice is a loosey goosey paste-like texture, we're ready to strain. Place a fine mesh strainer over a pitcher that's 60oz or more.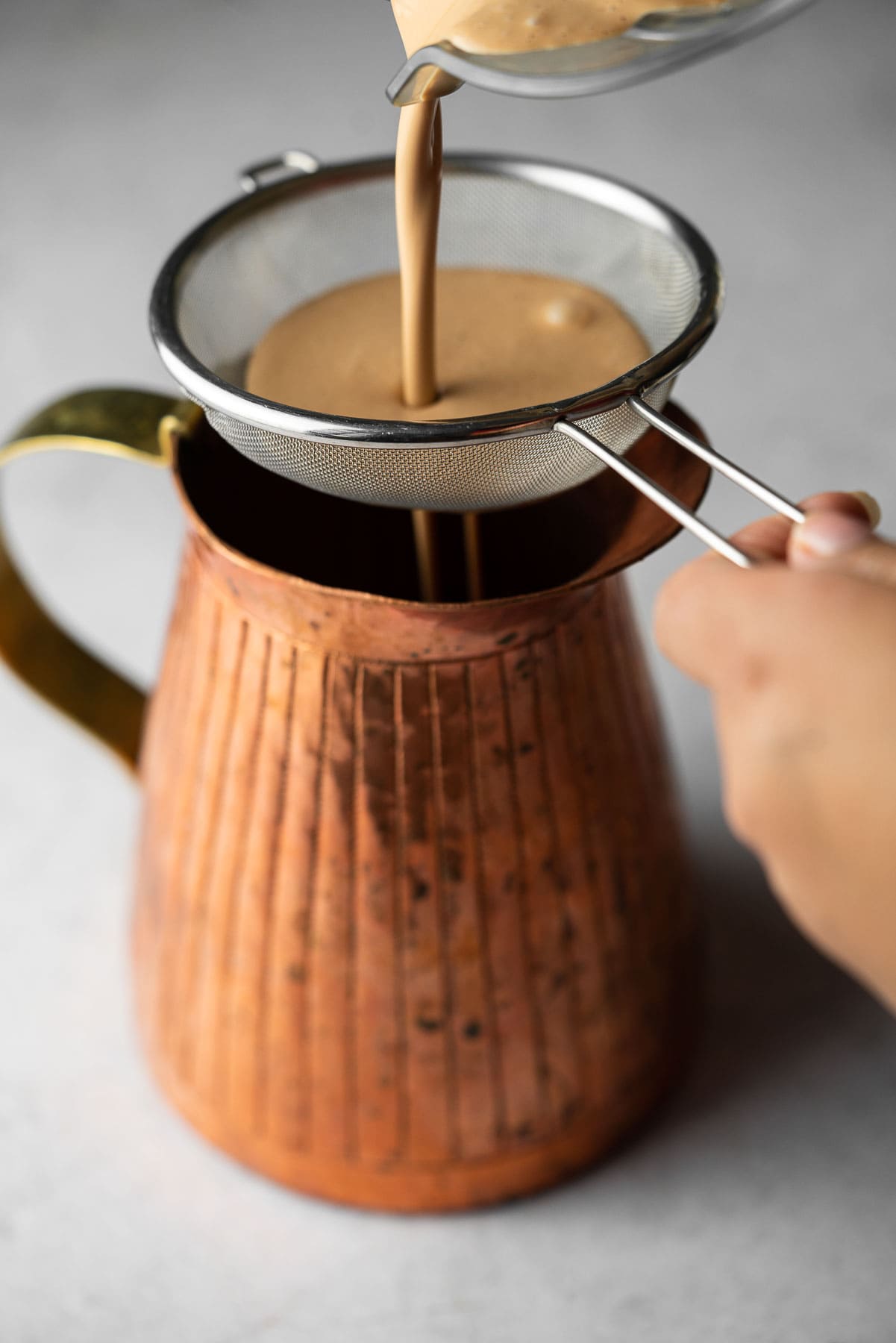 Pour the entirety of the mixture through the strainer. You may have to strain several times until you get rid of all the thick grit.
Pro Tip: You may have to use a larger strainer than the one pictured. I like to have a spoon on hand to stir the contents in the strainer to get the liquid moving through. I also discard the thick paste in intervals when there's too much.
5. Add Sweeteners and Mix ins
Once you've strained the mixture, you'll have all the good good flavor waiting for you.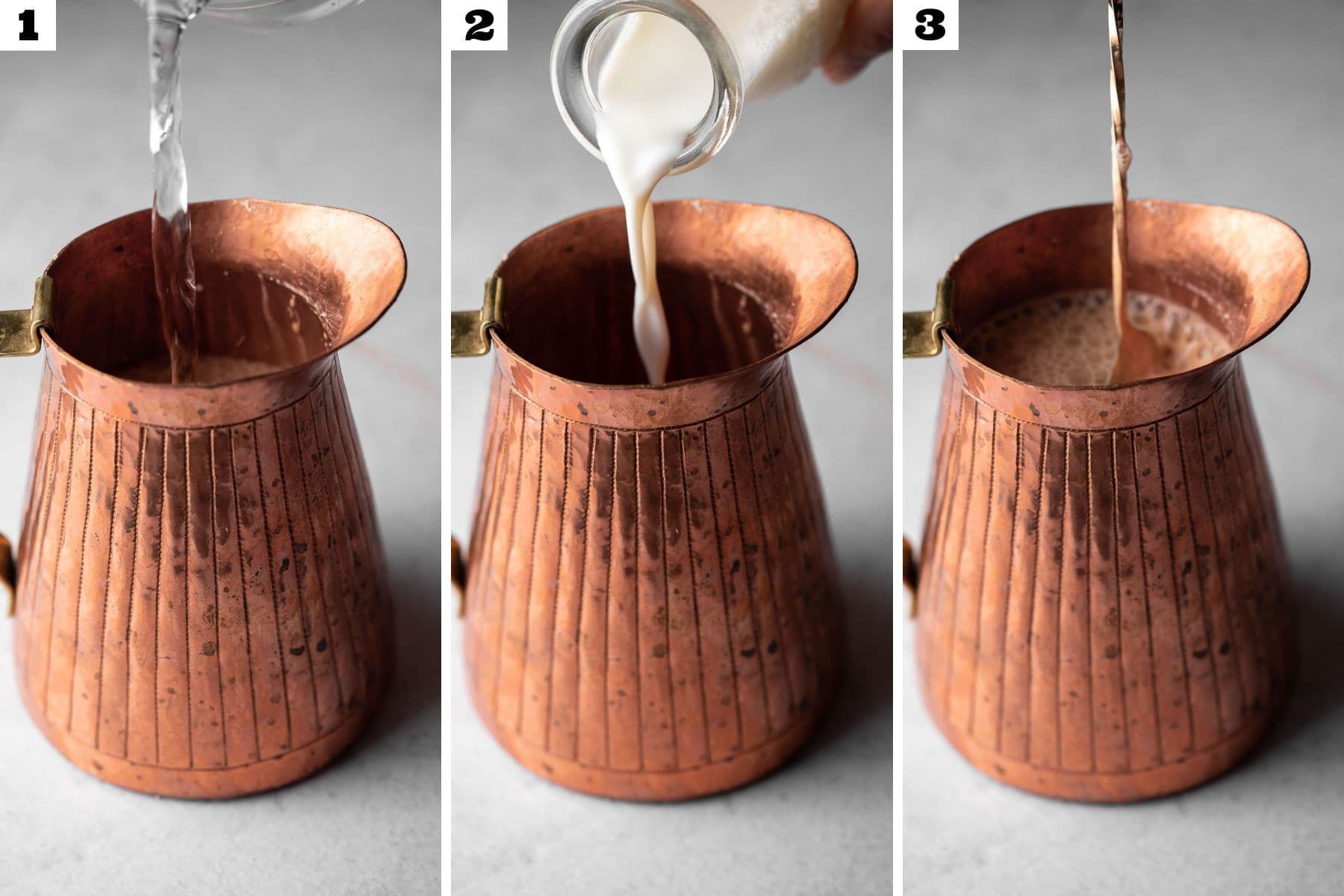 Stir in the additional 4 cups of water, milk, vanilla extract, and sugar. Give it a taste, and adjust as needed.
Instead of the water and milk, you can use a can of evaporated milk and half a can to a whole can of sweetened condensed milk according to preferred sweetness. It'll be super rich and creamy, but heavy on the calories. If you go with this method, you can thin it out with 1 - 2 cups of water.
Variations
There are a few ways to make chai horchata to accommodate a plant-based based diet, make it nut free, or reduce the sugar.
Milk - While the process is similar to make nut milk, adding milk makes it even better. Substitute with a can of evaporated milk for a richer flavor. To make it dairy-free, use your favorite plant-based milk like oat milk, almond milk, or cashew milk.
Sugar - This recipe only calls for a minor amount of sugar to balance out the tea and spices, so be sure to taste and adjust. Substitute it with a half to full can of sweetened condensed milk according to preference. Use any sugar alternative like maple syrup, stevia, honey, etc.
Nuts - For a little dimension of flavor, you can also soak almonds or cashews along with the rice.
Chai - If you want to make a chai free horchata, simply skip the tea bags and spices besides the cinnamon. Soak the rice in 2 cups of water and a cinnamon stick.
Dirty Chai Horchata / Dirty Horchata - Love a Dirty Chai Latte? Simple! Add a shot of espresso to the Chai Horchata or Horchata.
Storage
Store the horchata in a sealed pitcher in a refrigerator for up to 5 days.
You may notice the pasty mixture and the water start to separate after an hour or two. This is completely normal, so no need to worry. Simply shake or stir it back together.
If you don't strain it well enough, you'll see a congealed chunk of paste at the bottom of your pitcher. Be sure to strain well!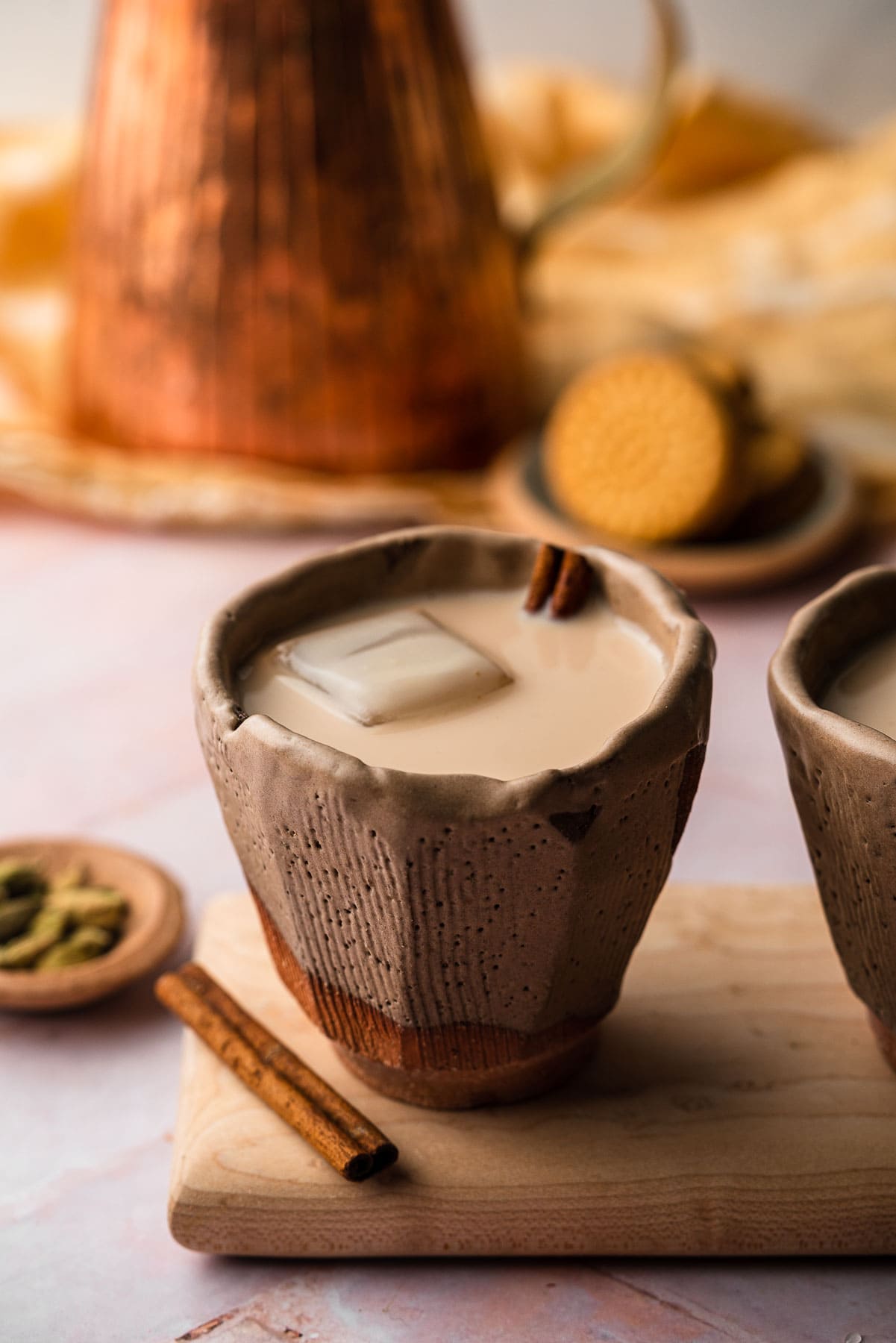 More Chai Recipes to try
Looking for more chai? Give these a try!
Recipe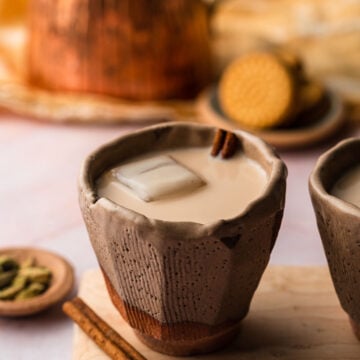 Chai Horchata
Summer calls for light, refreshing horchata with a twist of chai. This recipe stays true to the method of making authentic horchata while combining the flavors of Masala Chai by soaking rice in chai spiced black tea.
Print
Pin
Rate
Instructions
Bring 2 cups of water to a boil in a saucepan. Add the black tea bags, green cardamom, cloves, black peppercorns, nutmeg, and cinnamon stick into the water.

Boil for 5 minutes, or until the aroma of spices becomes prevalent. Switch the heat off and allow the tea to brew for an additional 10 minutes. Remove and discard the tea bags.

Add the uncooked white rice into a large, heat safe bowl. Pour the tea over the rice. Stir everything together and then allow the rice to soak for a minimum of four hours, or overnight.

Transfer the rice and tea mixture to a blender. Blend for 1-3 minutes until the mixture is a completely smooth paste.

Strain the rice paste through a fine mesh sieve into a large pitcher. Repeat as many times as needed.

Add the remaining 4 cups of water, milk, and vanilla extract into the pitcher. Pour in the sugar and stir everything together. Adjust sugar for taste.

Serve the Chai Horchata in tall glasses over ice with a sprinkle of ground cinnamon.
Notes
* Instead of adding milk and sugar, you can add 1 whole can of evaporated milk and ½ - 1 can of sweetened condensed milk to taste.
The rice and water may separate over time, this is completely normal. Simply stir everything back together.
Make horchata dairy free by using any plant-based milk alternative you prefer, such as oat milk, almond milk, or cashew milk.
Nutrition
Serving:
1
glass
|
Calories:
176
kcal
|
Carbohydrates:
38
g
|
Protein:
3
g
|
Fat:
1
g
|
Saturated Fat:
0.5
g
|
Polyunsaturated Fat:
0.1
g
|
Monounsaturated Fat:
0.2
g
|
Cholesterol:
2
mg
|
Sodium:
22
mg
|
Potassium:
87
mg
|
Fiber:
1
g
|
Sugar:
12
g
|
Vitamin A:
35
IU
|
Vitamin C:
0.3
mg
|
Calcium:
53
mg
|
Iron:
1
mg