Learn how to make the perfect fluffy Basmati Rice, every single time! Basmati Rice is an aromatic, long-grain rice from the Himalayas that is perfect for accompanying a variety of dishes in many cultures. This is the simplest way you can make it in a pot, no Instant Pot or rice cooker needed, with just a few easy techniques and 20 minutes.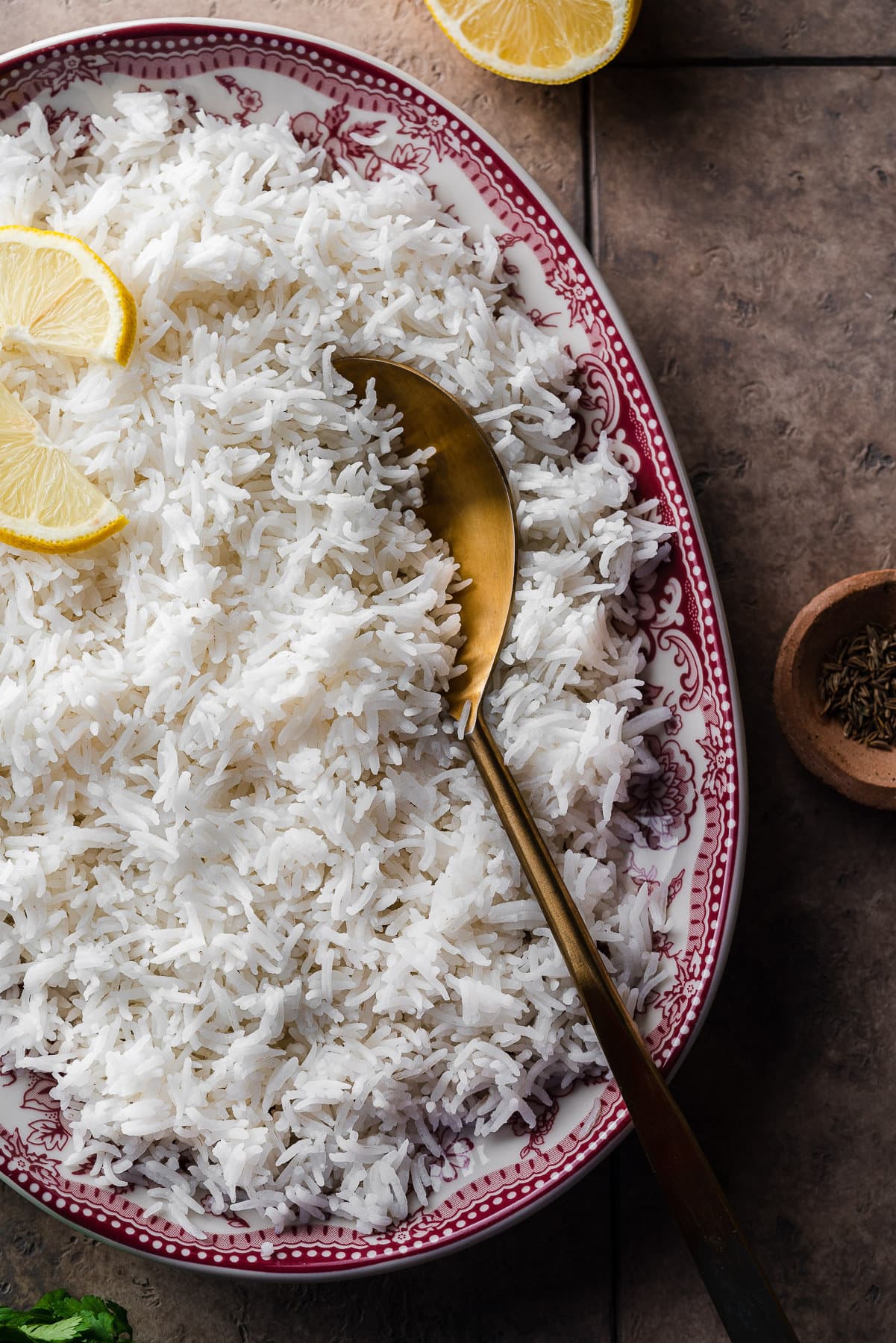 As someone who grew up basically inhaling rice, I'm always shocked to hear that my non-desi friends struggle to make a really dang good bowl of rice. It's one of the first things my mother taught me how to cook and have ready by the time she came home from work or running errands.
I was literally taught how to measure out rice and water using my finger. Fill the pot with as much rice as you want, level it out, then touch the surface of the rice with the tip of your index finger. Then fill the pot with enough water to hit your first knuckle, or the first crease on your finger. Anyone else do this growing up? Not sure how it always comes out perfect, but I swear it does!
Anyway - basmati rice is undoubtedly the most commonly used grain in desi households. You can serve it plain, sweeten it with saffron or coconut milk, or add cumin seeds for a savory side to serve with curry. It's also the base of several Indian dishes, such as biryani and pulao.
After cooking basmati rice, you'll find that it has a nutty aroma and the texture of the rice is light and fluffy. The grain significantly expands and elongates as it absorbs water, making it the perfect rice to capture flavor.
Jump to:
Why this Recipe?
Burning rice, crunchy stale grains, or just "okay" rice is a very possible outcome. Here are some perks to using this recipe:
Achieve the perfect rice to water ratio. This is probably the hardest part to get right because it changes from brand to brand, the region it was grown, and the type of grain. The most important thing you can do is read the instructions on the packaging to ensure you're using the right amount. This also makes the recipe easy to scale!
You can make this in a pot or sauce pan without burning the bottom - no rice cooker or Instant Pot necessary.
Use just water and rice or spiff it up with other enhancers like butter, salt, bay leaves, lemons, etc. You can also make restaurant-style Saffron Rice with basmati rice.
Walk away with an understanding of the techniques that will help you get the perfect fluffy, airy basmati rice every single time!
What is Basmati Rice, and what makes it different from other Rices?
Basmati rice is an aromatic, long-grain rice that was originally cultivated in the Indian subcontinent. About 70% of the production of Basmati rice still comes from India, although the variety is now grown domestically in several countries.
This type of rice is widely consumed in India and pairs well as an accompaniment for curries such as Butter Chicken and Saag Paneer, or used in rice-based dishes like Rice Kheer.
There are three types of rice with a variety of uses in different cuisines around the world:
Long grain - There's a few different types of long-grain rice, such as plain white or brown long-grain rice, basmati rice, and jasmine rice. Long-grain rice tends to be less starchy so it results in a fluffy rice that doesn't stick together. Basmati rice is fluffier, lighter, and more aromatic than plain white rice.
Medium grain - The most popular medium-grain rice is arborio, but there's also valencia and a few others. Medium-grain is a bit more starchy and cooks up moist and tender which makes it great for risotto and paella.
Short grain - Also referred to as glutinous rice (although all rice is gluten-free), short-grain rice has the highest starch content of all the grains. It's short, round, and wide. You'll often see sushi rice or sticky rice in Asian cuisine.
Ingredients - Notes and Substitutions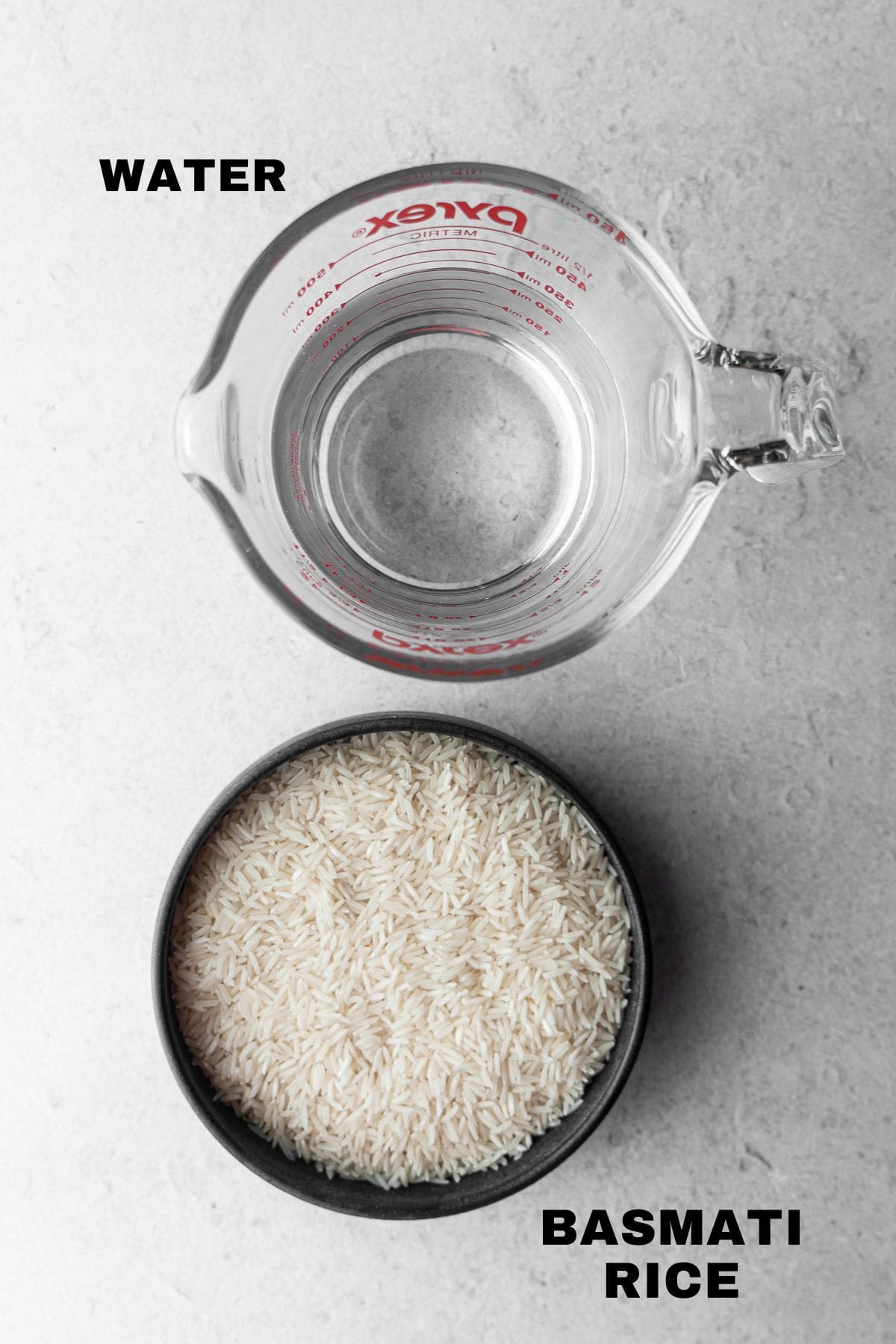 All you need for this recipe is basmati rice and tap water!
For the basmati rice, you'll want an aged, long-grain white rice. My absolute favorite brand is Royal Basmati Rice. You can find it in 10lbs or 20lbs sacks at ethnic grocery stores and even Costco.
Most aged, long-grain basmati rice that are grown in the Himalayas require more water than other types of long-grain rice and even basmati rice grown in other countries. You want to use just enough water to have airy, fluffy rice that holds its structure but squishes easily between your fingers.
You can also add a pinch of salt, bay leaves, and or bloomed saffron water to your rice for more flavor.
How to make Perfect, Fluffy Basmati Rice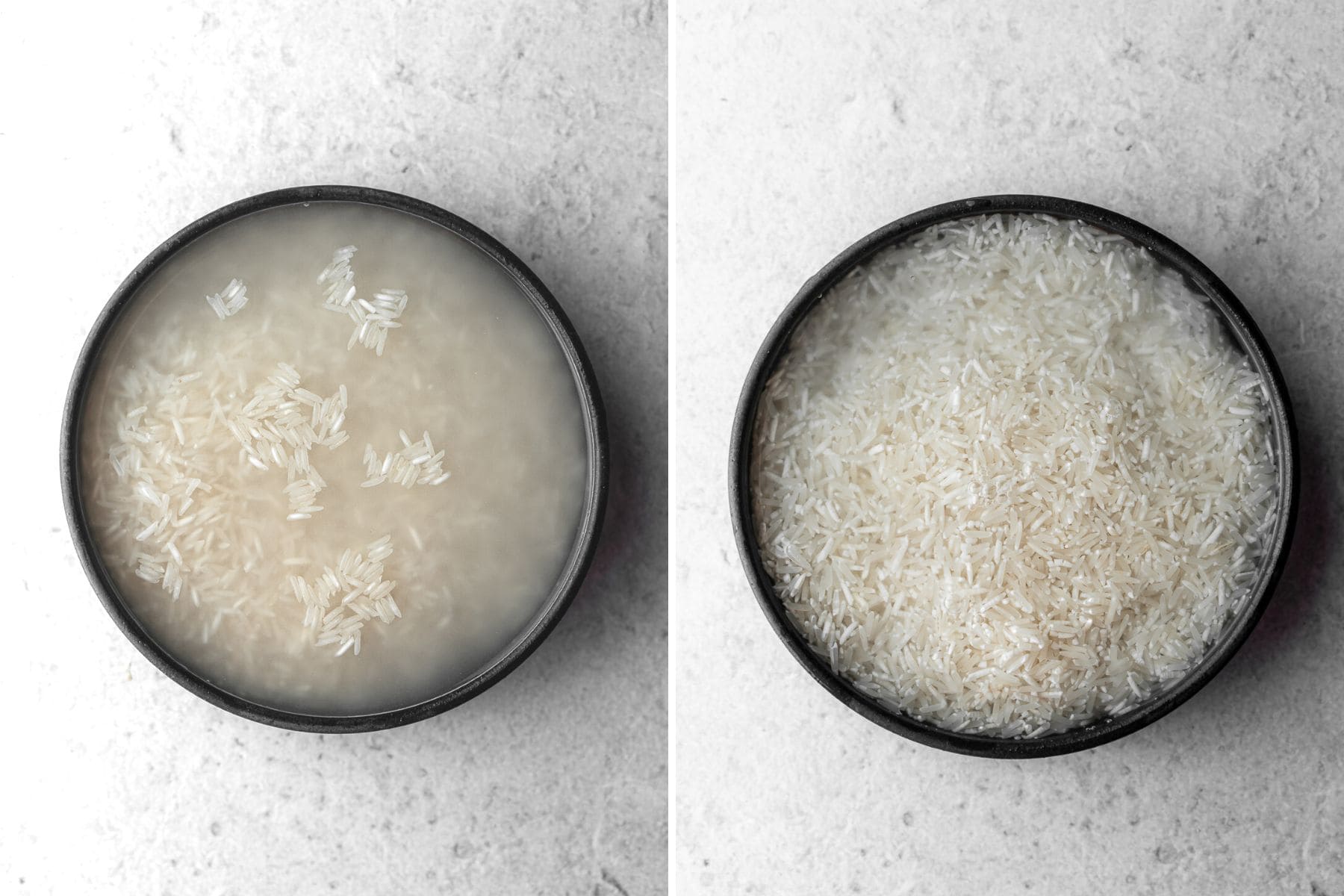 Start by washing the rice. This is mandatory, always! Washing the rice removes excess starches, resulting in perfectly fluffy rice with separate grains.
Rinse the rice in a fine mesh strainer, or add the rice to a large bowl and fill it with cold water. Swish it around with your hands, gently rubbing the grains together with your fingers.
You'll see the water will be a murky white. Continue rinsing and draining the rice a few times until it starts to run clear. Drain it thoroughly to avoid excess water that may lead to mushy rice.
Pro Tip: Optionally, you can soak the rice for up to 30 minutes. The rice will be softer, but the difference in texture is not entirely noticeable or worth the extra time if you're on a time crunch.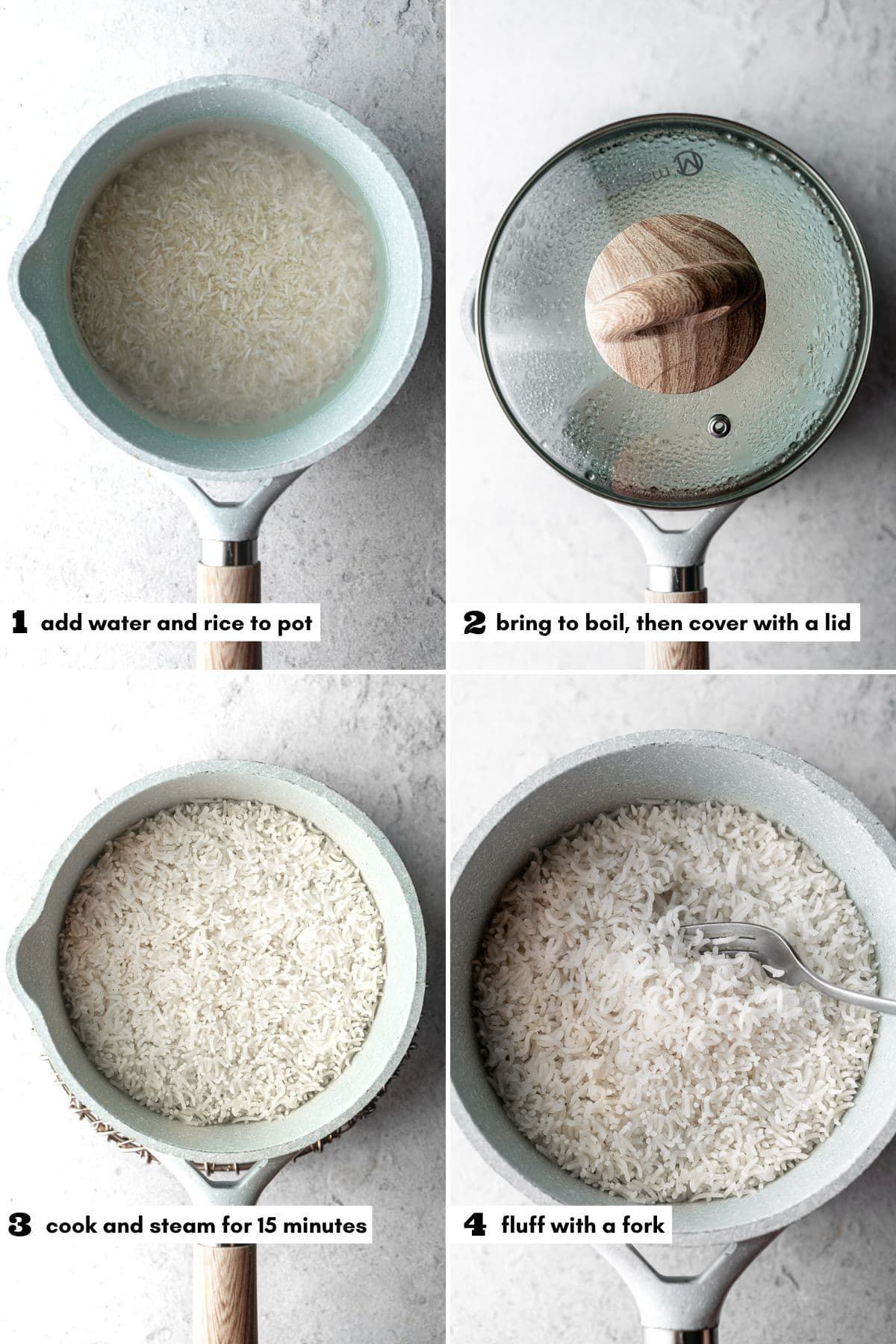 The next four steps are ridiculously easy to make rice, you really cannot go wrong here.
Start with the heat on medium to high, and add the rice and water into a pot or sauce pan.
Bring the water to a boil. Once it's at a boil, turn the heat down to low and cover the pot with a lid. Let it simmer undisturbed. Do not stir. If you want to add salt or a bay leaf, do it before covering the pot.
Let the rice cook for 8-10 minutes. The key to fluffy rice is covering it with a lid to produce steam. So seriously, leave it alone for this duration. I listen for the water bubbling in the pot while I do other things in the kitchen. Once it sounds dry and the water is fully absorbed, turn off the stove. Allow the rice to sit and finish steaming for another 5 minutes.
Remove the lid. Fluff the rice with a fork. Keep it covered with a lid until it's ready to serve.
The rice is ready to serve warm! You can add bloomed saffron, lemon or lime juice, cilantro, or finish it with a dollop of ghee after cooking.
Adding a bit of butter, neutral oil, or ghee keeps the rice separated and fluffy.
How to make Basmati Rice in a Rice Cooker
Use an appliance like the Zojirushi Micom Rice Cooker.
Rinse the rice until the water is clear and thoroughly drain it using a fine mesh strainer or colander.
Add the rice and water into the rice cooker and give it a stir. Choose the correct setting on your rice cooker, i.e. long grain white, brown rice etc. Once the rice is finished cooking, carefully open the rice cooker.
Fluff the rice with a wooden spatula or fork immediately. Keep the rice cooker covered until the rice is ready to serve.
Expert Tips and Tricks
Water to rice ratio. Use a ratio of 1 cup of basmati rice to 2 cups of water if using aged, long-grain basmati rice grown in India or Pakistan. Some American-grown brands require 1 cup of rice to 1.75 cups of water or even less, so be sure to check the instructions on the back.
Wash the rice! If you want fluffy rice where the grains don't stick together, washing the rice goes a long way in removing the starches. This step can especially make an impact if you're making a larger batch of rice, because the starch content can start to add up. If you're making a cup or less of rice, it'll hardly be noticeable.
Washing the rice is what makes basmati rice the perfect accompaniment in Indian food. If you're making something like Khichdi, you can leave a bit of the starch for a creamy result.
Leave the rice alone to cook. Steaming the rice is truly the key to getting fluffy, airy rice. Leave it undisturbed while it's cooking so the grains don't break apart, and for five minutes after it's done cooking.
Dry rice after cooking. Keep the rice covered after cooking it and until it's ready to serve. Rice quickly loses it's moisture.
Dishes to Use and Serve with Basmati Rice
Serve basmati rice as a side to the following dishes:
Use basmati rice to make the following dishes:
Storage Instructions
Uncooked Basmati Rice has an indefinite shelf life when free of contaminants. Be sure to store it according to instructions on the packaging.
Store cooked basmati rice in an airtight container in the fridge for up to 5 days or 6 months in the freezer. If it starts to get stale, add a splash of water to the container (enough to cover the bottom of the container in a layer of water) and microwave it for 1-2 minutes with the lid on.
1-2 day old basmati rice makes great fried rice!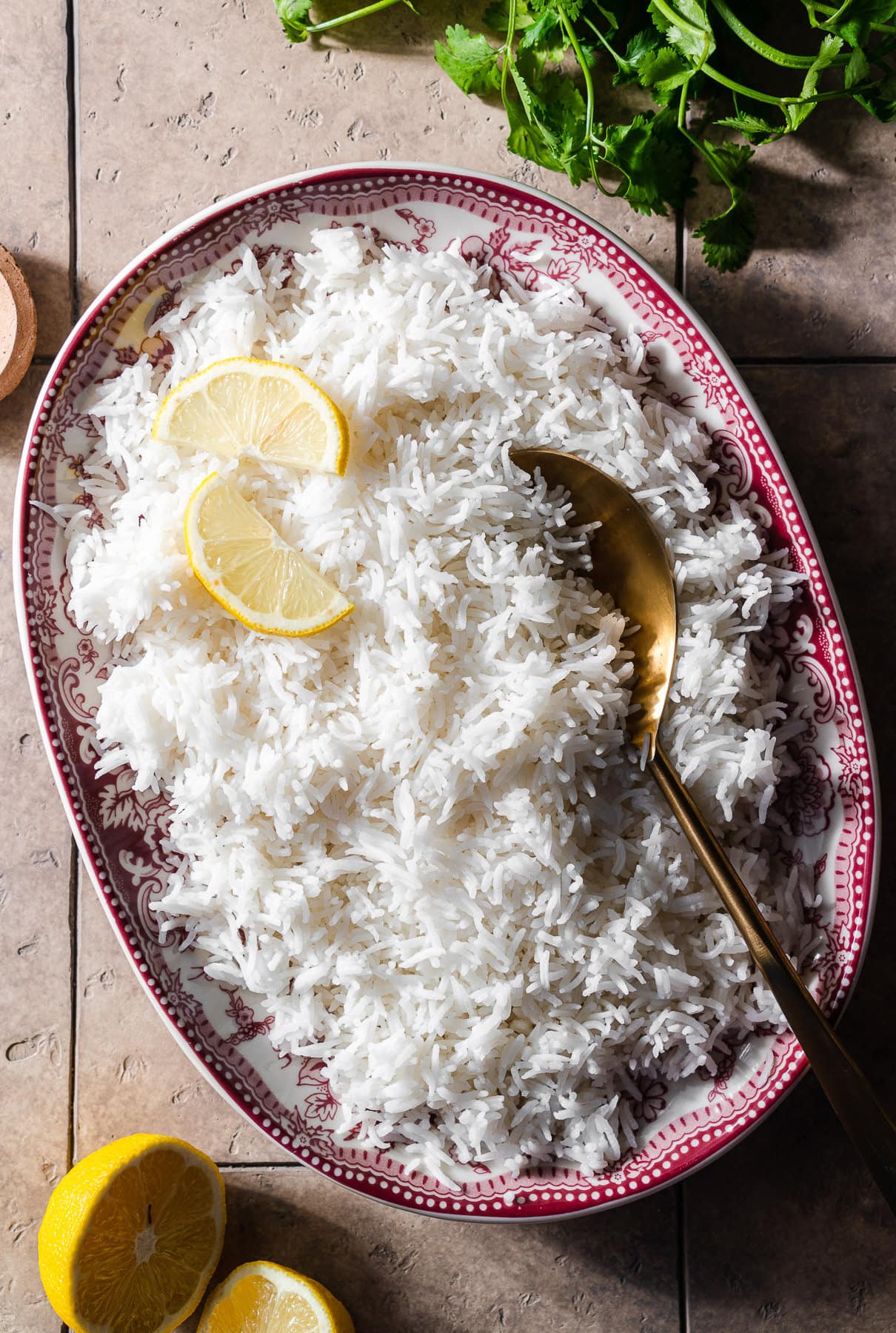 More Indian Basics to try
Recipe