Lentils are an incredible way of eating a high fiber and protein diet! Whole Masoor Dal, or brown lentils, is one of the easiest, most flavorful dump-and-go vegan lentil recipes that can be made stove top or in an Instant Pot. It pairs well with rice, naan, paratha, or by itself with vegetables.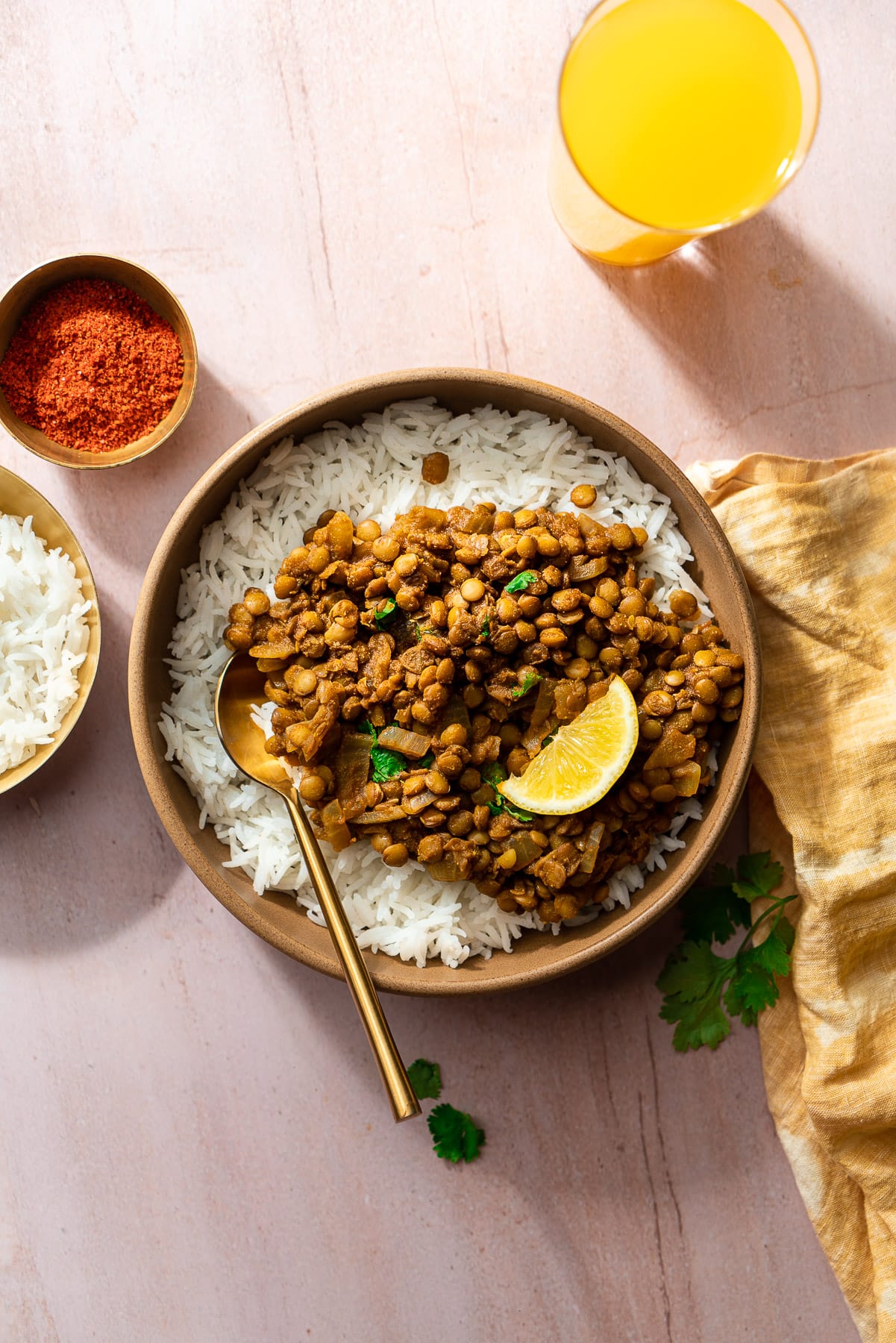 Dals (lentils) are one of the most common proteins in several places in India. Just about everyday, my mom would have a new dal in front of us for lunch or dinner... ready in half an hour to an hour in a pressure cooker or stovetop depending on the type of lentil.
But I always looked forward to lunchtime every Saturday when mom would make this dish for us. We'd have it over rice with achaar or homemade dahi.
Jump to:
Ingredients - Notes and Substitutions
I tend to look for this dal according to price, at about a dollar or two per pound at grocery stores. Please keep in mind that every type of lentil is different in terms of flavor profile, cook time, and method of cooking. This recipe will not turn out the same for other lentils.
How to make Whole Masoor Dal
Masoor dal tends to be on the thicker side and gets creamier as it cooks, no dairy involved! You can be a bit fancier and roast spices in a tadka and add it at the end, but this tends to be a dump-and-go recipe besides frying the onions. You can also use ghee at the end for added richness.
It's even easier in an Instant Pot, but this masoor dal recipe can be made without a manual or pressure cooker. I personally don't own either, so I make mine in a Dutch Oven which is great for regulating heat.
Pro Tip: Dal does not need a ton of spices to be flavorful. This is a common mistake with several recipes I see using lentils. If you're using even decent quality spices, you should never need more than ½ teaspoon of a single spice per one cup of lentils.
Stove Top Instructions
Soak the lentils for up to half an hour. It'll be twice the size after soaked. Some of the lentils will be split open or the peel will have come off - which is completely fine. Rinse and drain the dal and set it aside while getting the aromatics started.
Sauté the onions and cumin seeds in oil until the onions begin to brown. Add in all the spices, and then the tomato and continue to cook until it softens. Pour the dal into the pot with 3 to 4 cups of water. Give everything a really good stir.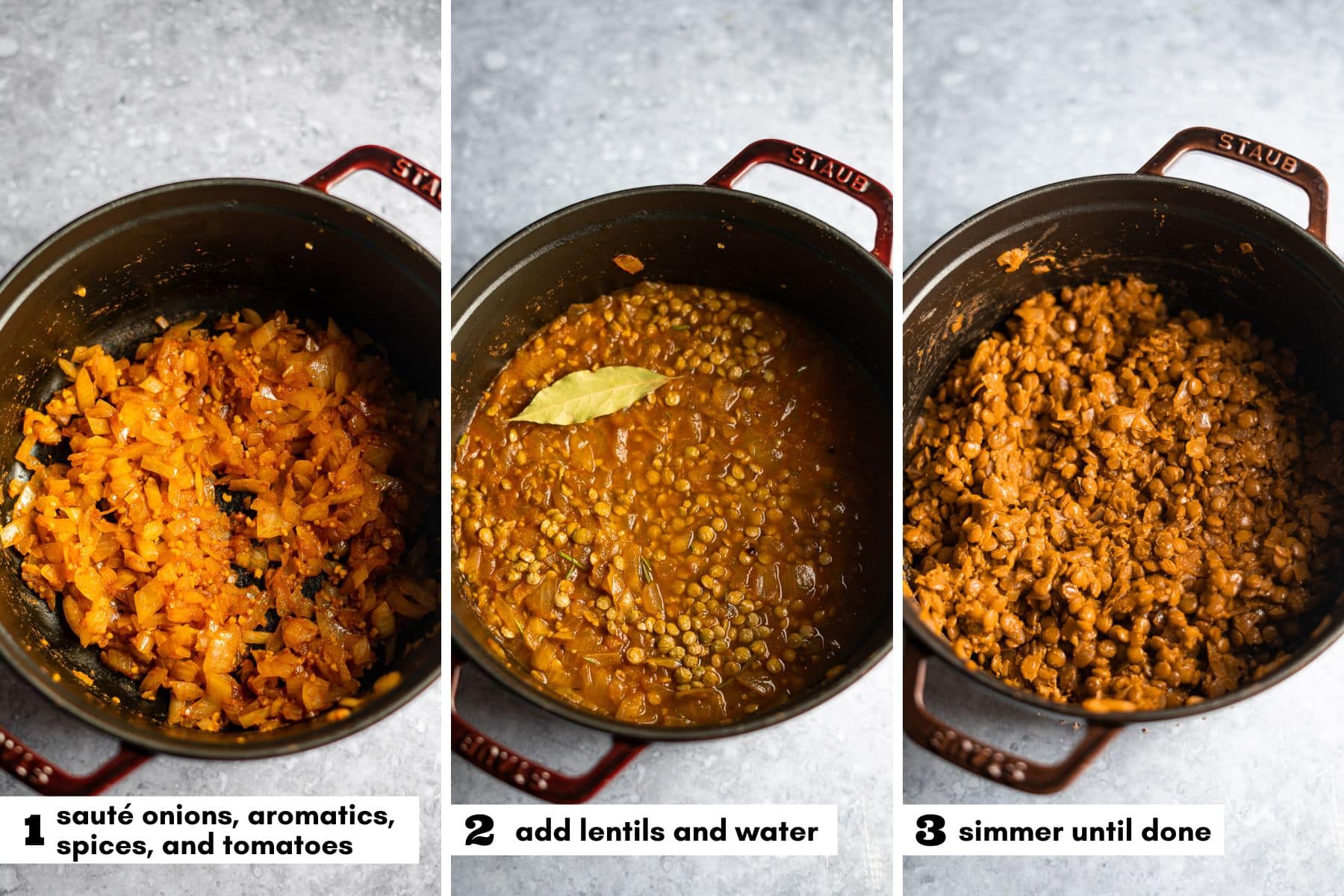 Cover the pot with a lid and let it simmer for half an hour, stirring every now and then and checking the water level. The dal will not stick to the bottom unless there is absolutely no water left.
Pro Tip: Simmering the dal over some time is actually the best way to get creamy dal without adding any cream! Just don't simmer it for too long, otherwise the dal's structure will break down and you'll be making Khichdi.
However, if you'd like it to be creamier, you can add a ¼ cup of coconut milk and it'll be mild enough not to overtake the dal. This isn't really traditional, but a lot of people enjoy dal this way these days.
Once the dal has softened, take it off heat and stir in chopped cilantro.
Instant Pot Instructions
Soak the lentils for half an hour and rinse thoroughly. A pressure cooker can be ideal for cooking lentils because it retains heat and steam, making it quick to cook with less soak time. Sauté the onions and cumin seeds in oil until the onions begin to brown.
Then dump everything else into the Instant Pot with about 2 cups of water (or accordingly to how soupy you would like it) and turn it on for 30 minutes using the Bean mode. Remove the lid and allow the steam to dissipate. Add in a handful of chopped cilantro and serve.
Mix ins to Masoor Dal
Meal Prepping and Storing Dal
While dal is cheap and easy to make for a family of four or more, it is also ideal to meal prep for the week. Simply add cooked rice and the finished whole masoor dal to a container along with a lemon wedge and any additional vegetables you'd like. It'll keep in the fridge for up to 5 days.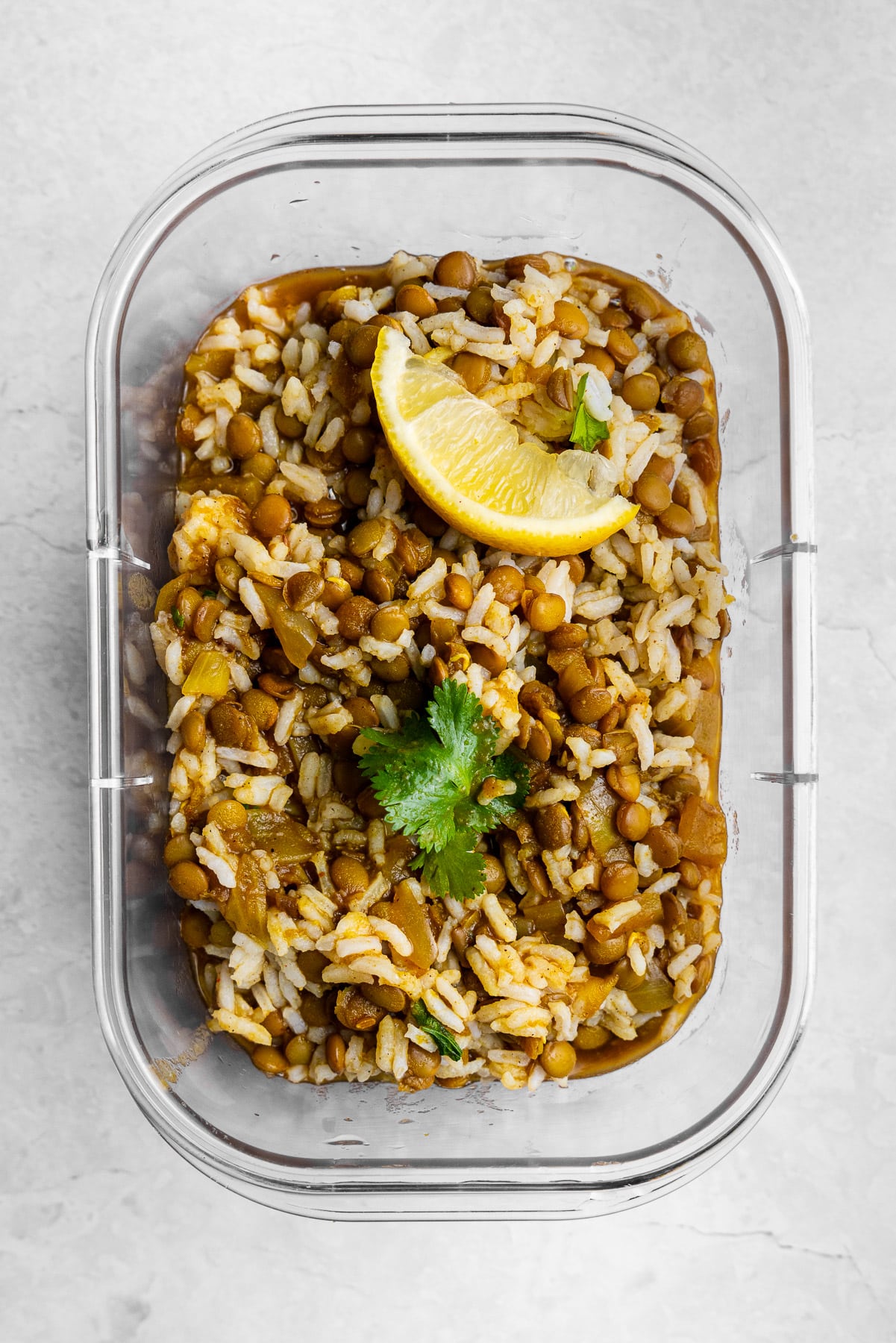 This dal is high in protein and very fibrous. To add more protein, serve it with a side of dahi or plain Greek yogurt. It goes great with rice or frozen paratha/roti.
How to Serve Dal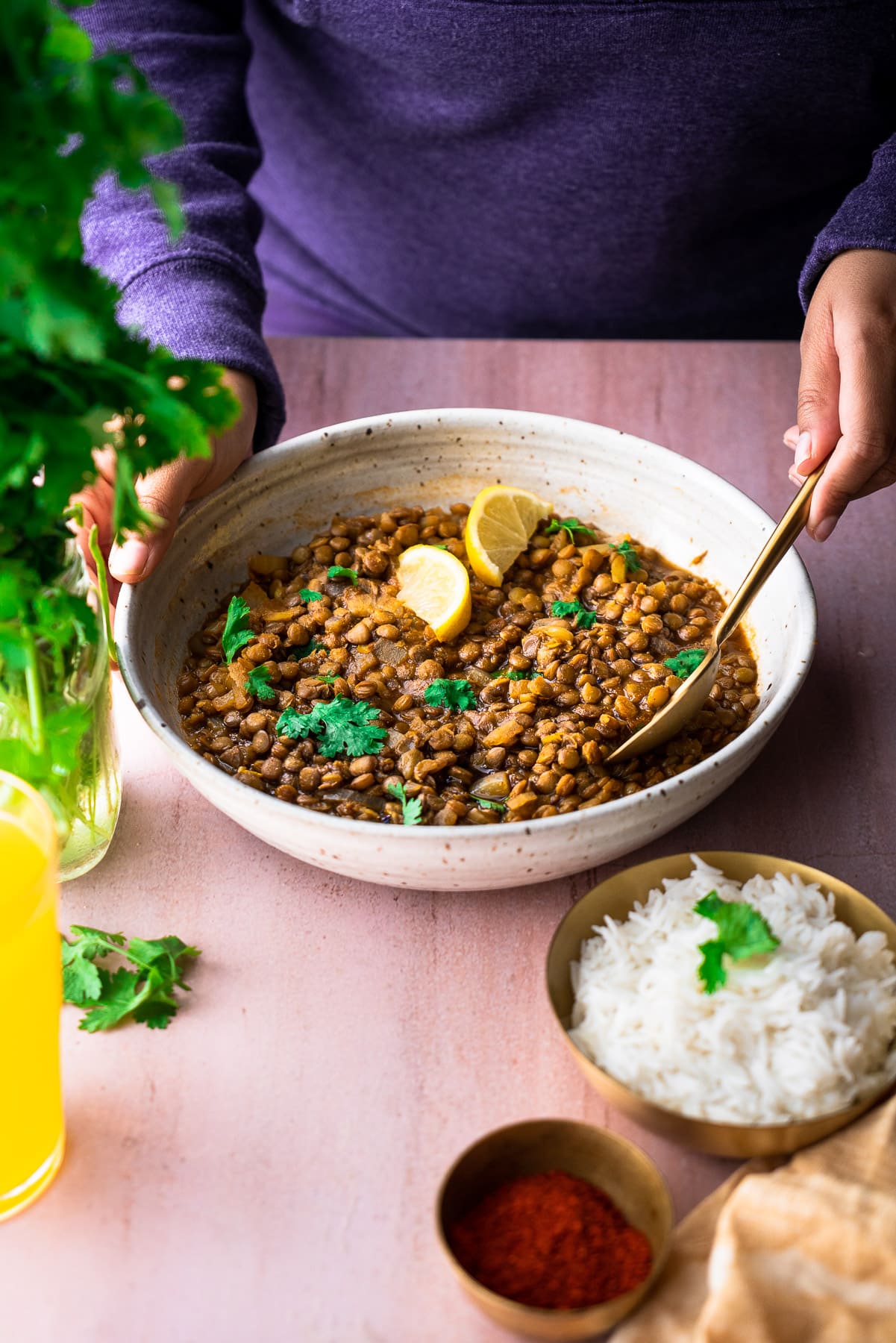 More Recipes with Lentils to try
Recipe