A two decade old recipe by my mother that yields a spicy, lemony Indian cilantro-mint chutney. This chutney is incredibly versatile and works with sandwiches, meat, marinades, sides, etc.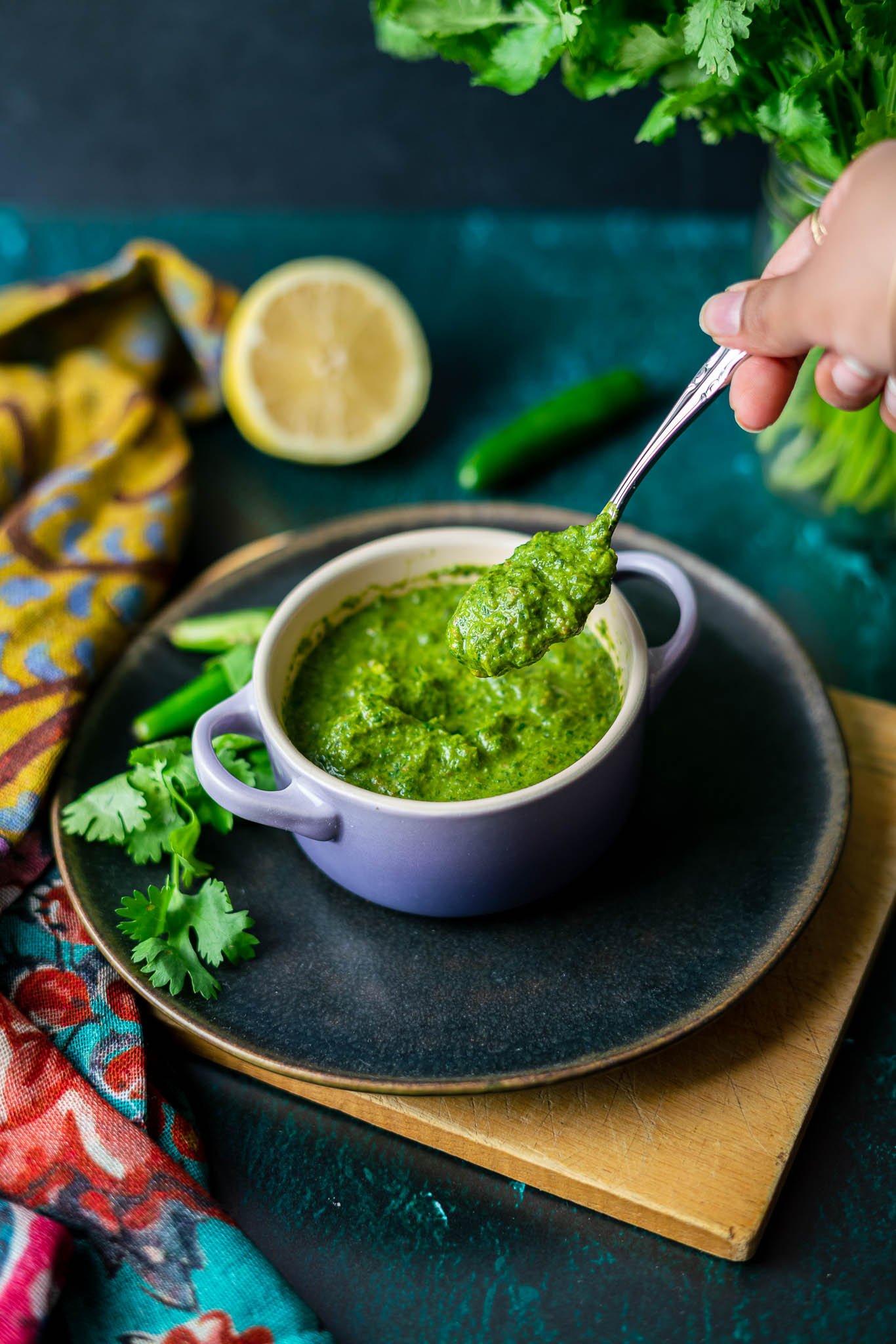 There's nothing quite like mom's cooking!
Jump to:
I'm so excited to start sharing the first of the series of mom's cooking which shares some of her authentic Indian recipes. Honestly, sometimes I prefer her home Indian cooking versus restaurants. I said what I said. I'm starting with her "green" chutney because it's always been one of the constants in our household for decades. She makes it fresh just about every two weeks since it's usually demolished within days.
This cilantro-mint chutney goes with absolutely everything! I'm sure you've seen it served with your food at an Indian restaurant like samosas, kati rolls, or dosas. It also goes well with any protein, sandwiches, buddha bowls, etc. I mean, you can really put it on anything.
The Ingredients
Every Indian household probably has their own recipe for some chutney with an herby base. The reason I say "green" chutney is because traditionally most recipes just use cilantro and mint.
My mom's secret is she adds a bit of avocado instead of yogurt for extra creaminess. Traditionally, my mom uses a salt called "kala namak" which translates to "black salt". Himalayan black salt isn't something that everyone readily has available in their pantries, so Himalayan pink salt is the best substitute.
Herbs: The two main ingredients here are the cilantro and mint at about a 1:2 ratio. It's really important to clean your cilantro in case there are any other random mix ins and to cut off excess stems so the chutney isn't overly fibrous.
Spices: I love making the chutney with just a tinge of spice, I think it's a necessary layer to the flavor! If you don't like it spicy, you can omit or reduce the amount of cayenne and scrape out the seeds of the serranos. You can also use powdered cumin instead of cumin seeds. If you don't have Himalayan salt, use regular salt to taste.
Ginger garlic paste: This is a common bottled ingredient that you can get at grocery stores but you can use freshly grated ginger and garlic or even the powder.
Citrus: Lemon or lime juice helps brighten the herbs and keep it fresh.
Avocado: The avocado makes the chutney incredibly creamy but you can substitute this with a bit of yogurt.
Step-by-step Instructions
This chutney is so simple, everything just goes into a blender and there's nothing more complicated than that.
Prep the herbs. Remove all the mint leaves from the stems and toss the stems. The stems are incredibly bitter and fibrous and will ruin the chutney. The cilantro stems are okay to use, but if it's really stem heavy then cut some off.
Toss all the ingredients into a blender. Blend, blend, blend! Use a high quality blender, like a Vitamix.
Serve with food!
What to Serve with Cilantro-Mint Chutney
You can find several recipes right here on Masala and Chai to pair this chutney with! I'm not joking when I say this chutney is ridiculously versatile.
Tips for making the best Chutney
Making the chutney could not be any easier, but here's a few tips to make it the best it can be!
The right consistency. The key is making sure the chutney is not too watery so that it's thick enough to spread. I recommend adding all the lemon juice first and only add as much water as you need to break it down.
Blending a thick mixture. It's best to pulse the herbs a few times so that they start to blend. Open up the blender every now and then to scrape down the sides. Then leave the blender going for a few minutes until it's smooth.
Taste as you go. Keep tasting the chutney and adjust per your liking.
Do not strain. Do not for any reason strain your chutney. If the chutney doesn't come out right, use it as a marinade for protein.
Once you get the recipe down, you'll know the exact measurements you need to keep making this over and over!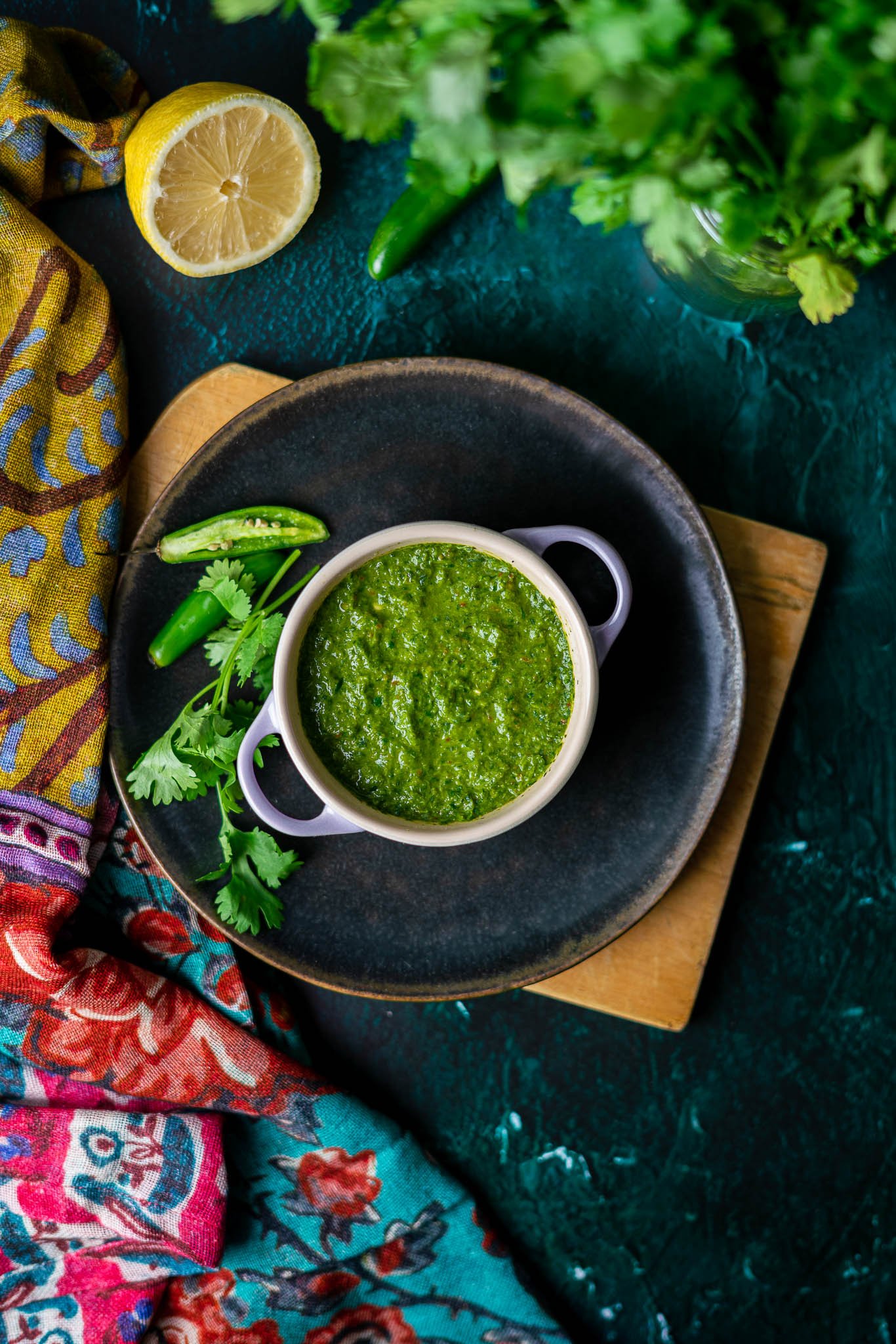 More Indian Recipes to try
Looking for more Indian dishes? Try these out!
Recipe
Mom's Green Chutney
A two decade old recipe by my mother that yields a spicy, lemony Indian chutney made with a base of mint leaves and cilantro. This chutney is incredibly versatile and works with sandwiches, meat, marinades, sides, etc
Print
Rate
Ingredients
100

grams

cilantro

,

(including stems)

50

grams

mint leaves

2-3

serrano chili peppers

¼

teaspoon

cayenne pepper

2

teaspoon

ginger garlic paste

½

teaspoon

salt

¼

teaspoon

black Himalayan salt

,

(kala namak)

⅓

cup

freshly squeezed lemon juice

½

teaspoon

cumin seeds

¼

avocado

⅓

cup

water
Text Ingredients
Instructions
Prep the cilantro and mint. If working with bunches of cilantro from a grocery store, cut ½ inch off of the end of the stems but leave the rest intact. Remove any dead leaves/sticks, thicker sticks, or other plants that may have grown in with the cilantro. For the mint, remove all leaves from the stems. Wash the herbs and strain out any water.

Add all the ingredients to a high powered blender except for the water. Pulse several times while slowly adding water until the herbs starts to break down. Be sure to pause a few times to scrape down the sides and push the herbs down towards the blades. Blend for 5-7 minutes with the lid on until the mixture is smooth and thick. At this point, taste and adjust it for salt, lemon, and spice levels.

Set a 16oz mason jar onto a plate to catch any chutney that falls out of the blender. Pour the mixture into the mason jar. Add about a tablespoon of water to the blender to rinse out any chutney and pour into the mason jar. Close the mason jar tightly and give it a few shakes.
Notes
Spice Level: This chutney is meant to have a bit of a kick to it, but it should be very tolerable. Be careful with how much spice you're adding, add it slowly and taste it at each interval.
Serrano Peppers: You can substitute serrano peppers for Thai chili peppers. If you don't have whole peppers, double the amount of cayenne and don't omit the avocado.
Avocado: If you find yourself without a ripe avocado, substitute for 1tbsp of plain Greek yogurt.
Salt: The amount of salt may seem like a lot, but this is what I tracked until I got the taste right for myself. If you're not sure, add it in slowly and keep tasting it until you like it.
Mint: Remove all mint stems. They will make your chutney bitter and won't blend well.
Nutrition
Calories:
15
kcal
|
Carbohydrates:
2
g
|
Protein:
1
g
|
Fat:
1
g
|
Saturated Fat:
1
g
|
Sodium:
124
mg
|
Potassium:
109
mg
|
Fiber:
1
g
|
Sugar:
1
g
|
Vitamin A:
927
IU
|
Vitamin C:
5
mg
|
Calcium:
19
mg
|
Iron:
1
mg
Subscribe to the Masala and Chai Newsletter Community to receive exclusive recipes and updates straight to your inbox.
I love seeing when you share my recipes! Tag me on Instagram @masalaandchai so I can enjoy them virtually with you! You can also find me on Pinterest, Facebook, Tik Tok, YouTube, and Twitter.
I'd love to know what you thought of this recipe! Don't forget to leave a comment and ⭐️ star rating below!