Make these ooey gooey Chutney Grilled Cheese Sandwiches two ways - with cilantro-mint chutney and mango chutney! The chutneys adds an additional burst of flavor to the grilled cheese. They're great for kids and adults and ideal for dipping in tomato soup!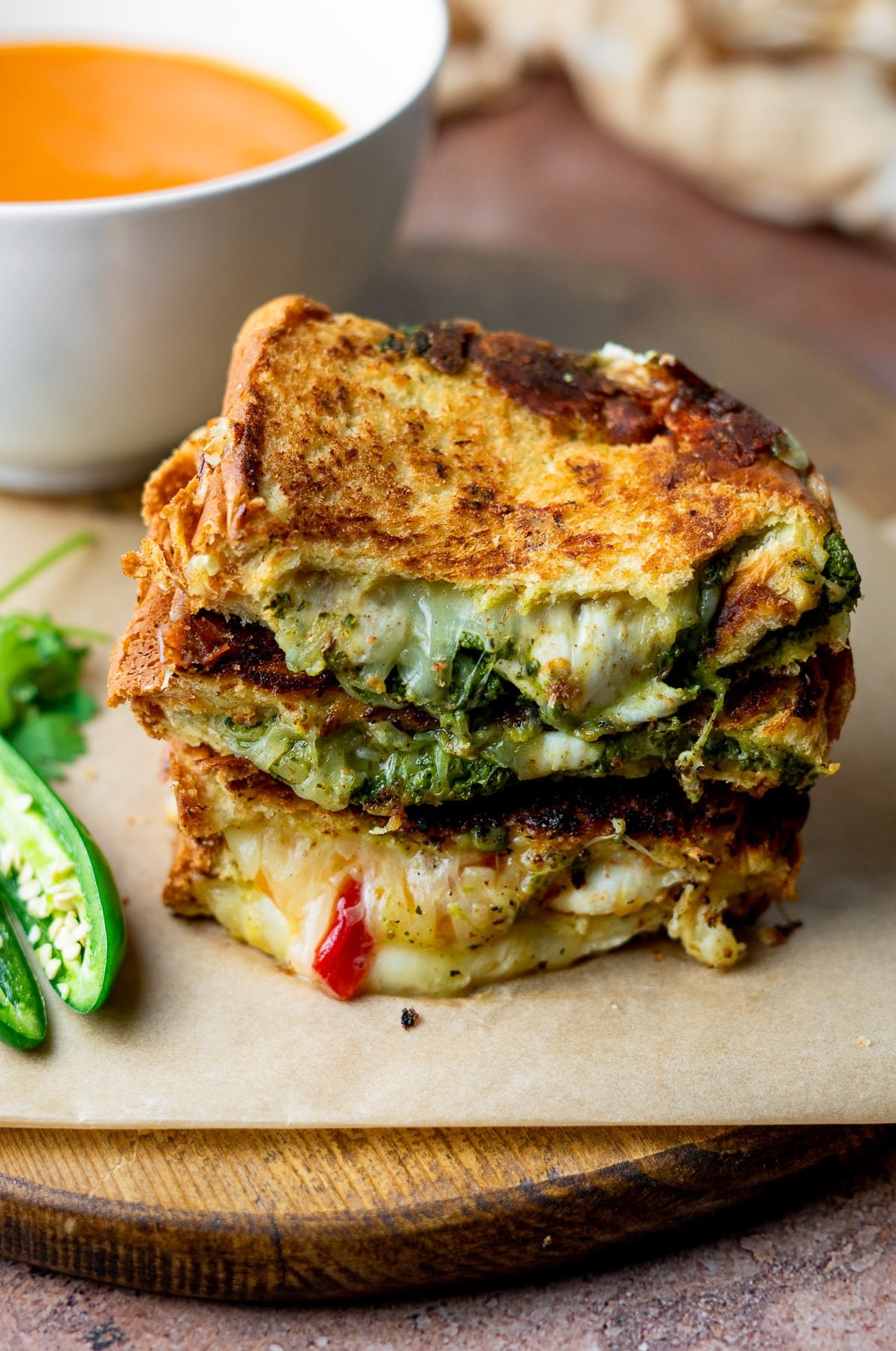 A fat, ooey gooey grilled cheese sandwich was (and tbh, still is) one of my favorite meals growing up! My mom always made my with plain white bread and Kraft singles cheese and I freaking loved it. She'd also do it with crossaints!
Jump to:
As I got older, she began putting her cilantro-mint chutney in it, or if we were out for the week then a healthy sprinkle of chaat masala and holyyyyy smokes it was LIFE. CHANGING.
This is the only way I will accept a grilled cheese from now on.
In this recipe, I detail how I make my grilled cheese sandwiches in a cast iron pan with brioche bread. But, everyone has their own way of making it. Maybe you toast all the bread first, maybe you use mayo. Whatever it is, change it up to your liking.
I really think of this as more of a general guide to an incredible grilled cheese, because when it comes to grilled cheeses you follow your heart.
Which Cheese to use
I really enjoy mozzarella because I think it pairs super well with both the mango and cilantro-mint chutney. It lets the chutneys do their thang and gives them their space to shine! Feel free to use your own combo of cheeses. To be more specific, I use both shredded mozzarella and fresh balls of mozzarella, or really whatever I have on hand. If you use mozzarella, don't get low moisture mozz because it takes a while to melt.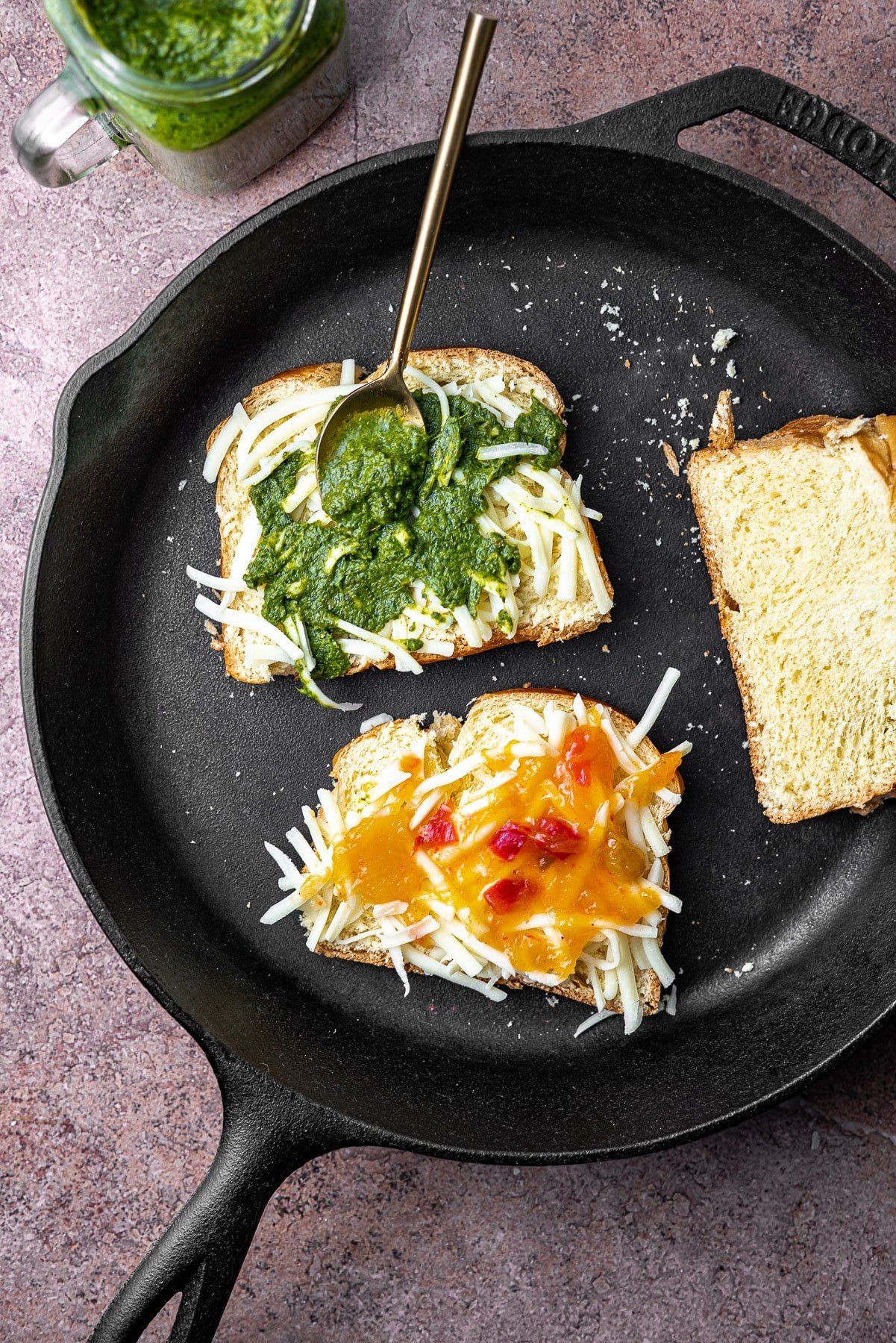 If you have other cheeses you think will pair well with the chutneys you use, do what will make it the most enjoyable for you! Cheddar will be just as good, if not better.
Which Chutneys to use
Chutneys are condiments in India that use herbs, spices, fruit, vegetables, etc to serve alongside food for a burst of flavor. There are many types of chutneys with countless variations according to region, even per household.
You can buy chutneys in bottles off of Amazon, at your local Indian grocery store, even at Trader Joe's. For the mango chutney, I used the mango ginger chutney that you can get at Trader Joe's. It makes for a bit of a sweeter grilled cheese which is lovely. There's also a great small business you can support, Bleaf, who make authentic Indian chutneys. Another great option is to go to a local Indian restaurant and ask to purchase their chutney!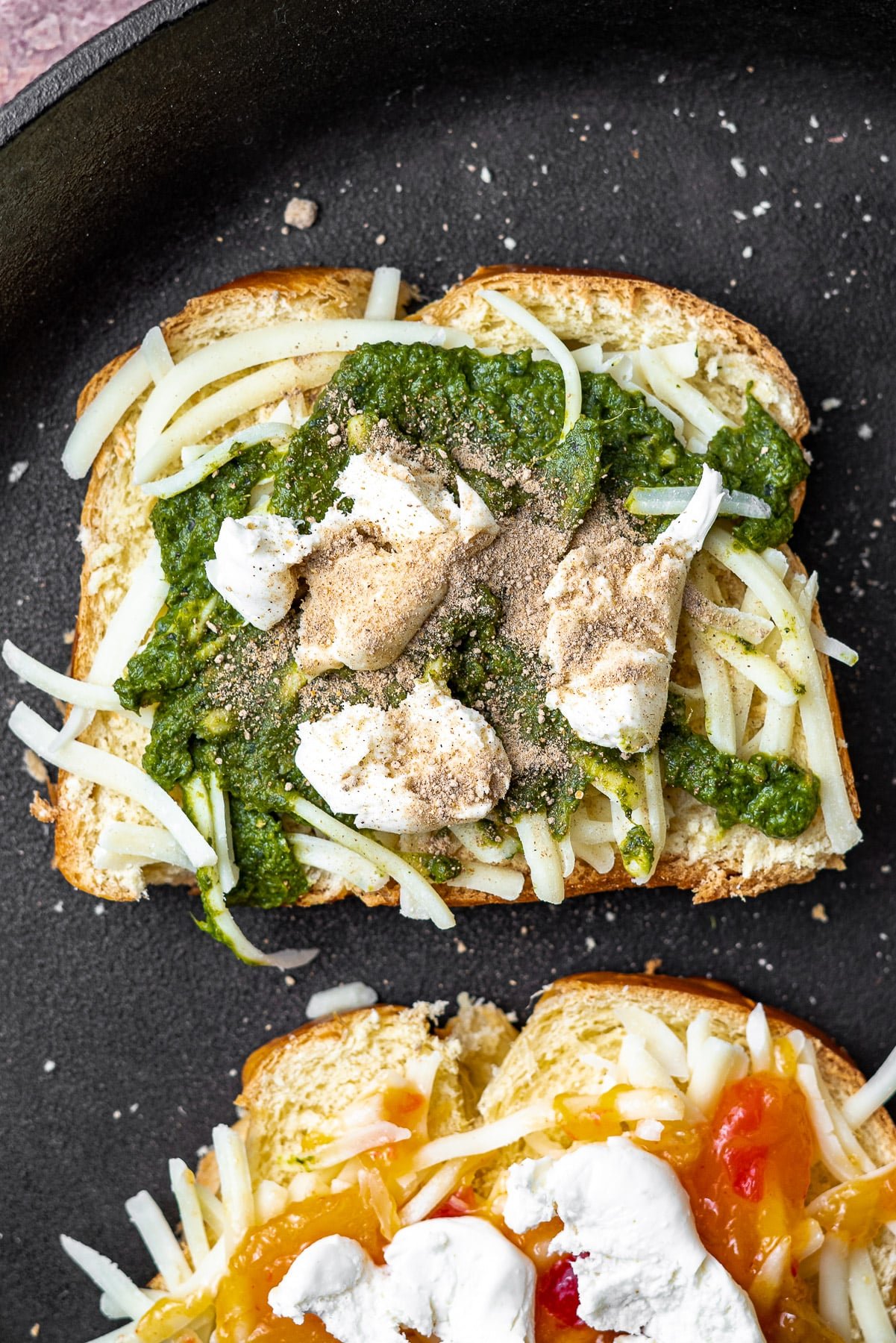 It's crazy easy to make the cilantro-mint chutney at home, too. You can check out my mom's recipe, which I use for mine and results for a slightly spicy, herby grilled cheese. A healthy sprinkle of chaat masala adds tons of umami. It's truly unreal. I could probably eat this for every meal!
There are a ton of chutneys out there, but I think these two make for the best grilled cheeses. It would also be so yummy to smash both of the mint-cilantro and mango chutney slices together and enjoy that with creamy tomato soup!
Let me know if you decide to use different chutneys!
Tips for Making Grilled Cheese Sandwiches with Chutney
Layer the cheese on top of the bread first, then chutney, and then more cheese. This prevents the bread from getting soggy.
Toast both slices of bread. Layer one of the slices with the cheese and chutney, and then put the other slice on top of it, grilled side down. Yes, the grilled side will be facing inwards! It's amazing. Then flip it on to the other side and grill again.
Use a cast iron for an even golden crisp on the bread.
Frequently Asked Questions
What is the best cheese for a grilled cheese sandwich?
The best cheese is up for debate for a grilled cheese, but for these particular sandwiches with chutney I think mozzarella is the best.
Why isn't the cheese melting?
The cheese doesn't melt on grilled cheese if it's cooked at too high of a heat. The bread will toast before the cheese gets a chance to start melting. Start in a warm pan, and add the bread as soon as the ghee melts.

Use a cheese that melts well, not feta or paneer, etc.
Can I use mayonnaise?
Yes, you can use mayonnaise to make grilled cheese. Mayo is just another fat, and some people prefer it because it spreads really well out the jar. It also has a higher smoke point than butter, so the toast won't blacken as easily.
What's the best bread to use?
I LOVE brioche because it's so buttery, or white bread. But it's best to use breads that have a tight crumb, meaning no holes like sourdough, otherwise the cheese will spill out and burn.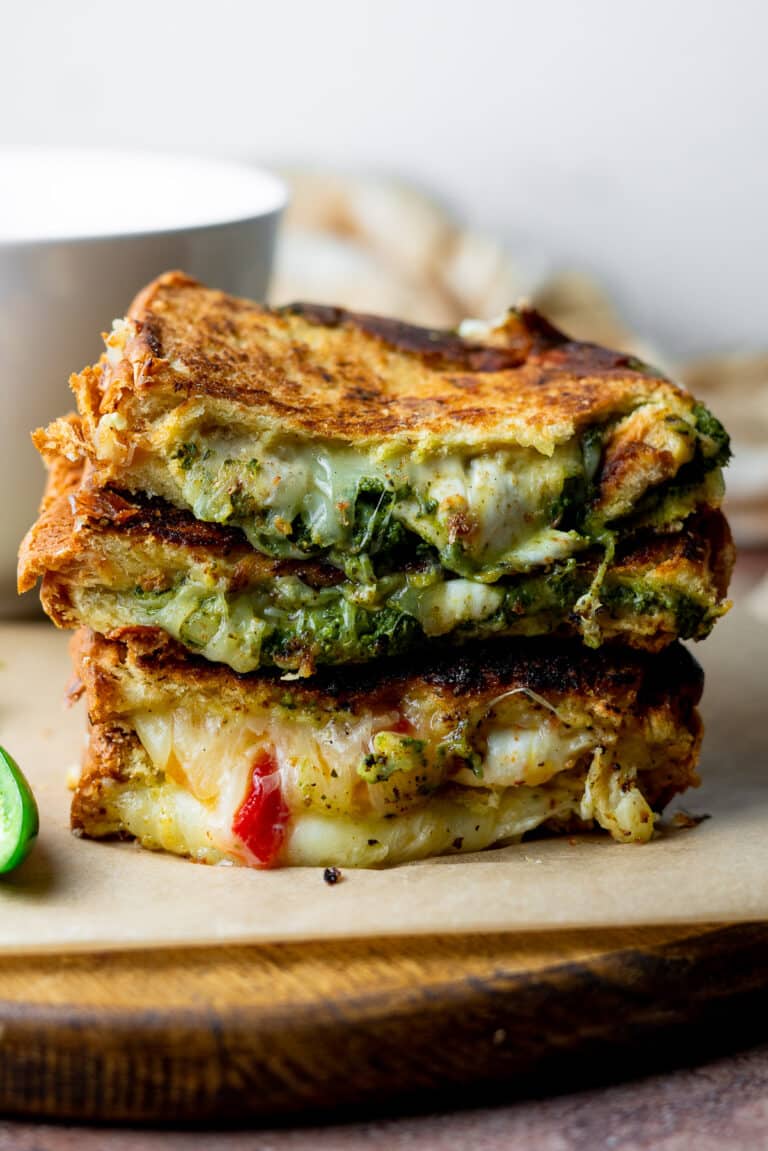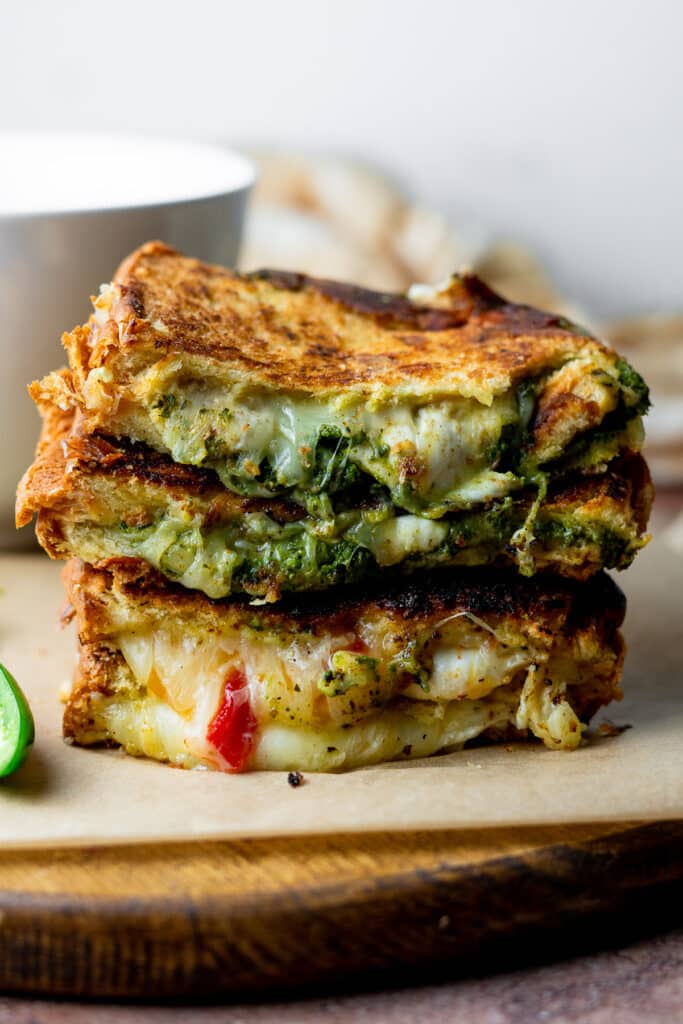 More Indian Dinner Recipes to try
Recipe
Chutney Grilled Cheese Sandwiches
Chutney Grilled Cheese Sandwiches made two ways - with cilantro-mint chutney and mango chutney! They're great for kids and dipping in creamy tomato soup.
Print
Rate
Text Ingredients
Instructions
Melt a tablespoon of butter in a cast iron pan. Add two slices of bread (depending on size of skillet) and begin toasting on one side.

While the slice is toasting, work quickly to layer mozzarella cheese on the bread. Spread 2 tablespoons of mint-cilantro chutney on two slices of bread. Sprinkle a bit of chaat masala on the slices. Layer more cheese. Add the two other slices on top of the chutney and flip the sandwich. Cover with a lid and steam for a minute to allow the cheese to get melty. Remove from the pan.

For the mango chutney, add additional butter in the cast iron. Repeat the above steps but skip adding the chaat masala. Serve immediately with tomato soup.
Notes
Layer the cheese on top of the bread first, then chutney, and then more cheese. This prevents the bread from getting soggy.
Use a cast iron with plenty of ghee for a even golden brown crisp.
Nutrition
Serving:
1
sandwich
|
Calories:
344
kcal
|
Carbohydrates:
43
g
|
Protein:
12
g
|
Fat:
14
g
|
Saturated Fat:
8
g
|
Trans Fat:
1
g
|
Cholesterol:
37
mg
|
Sodium:
474
mg
|
Potassium:
141
mg
|
Fiber:
3
g
|
Sugar:
14
g
|
Vitamin A:
365
IU
|
Vitamin C:
2
mg
|
Calcium:
225
mg
|
Iron:
2
mg
Subscribe to the Masala and Chai Newsletter Community to receive exclusive recipes and updates straight to your inbox.
I love seeing when you share my recipes! Tag me on Instagram @masalaandchai so I can enjoy them virtually with you! You can also find me on Pinterest, Facebook, Tik Tok, YouTube, and Twitter.
I'd love to know what you thought of this recipe! Don't forget to leave a comment and ⭐️ star rating below!