My mother's North Indian-Style Nimbu ka Achar is a decades old recipe relying on a traditional method of pickling lemons - leaving it out in the sun to ferment. This recipe uses only 5 basic ingredients and results in tangy, spicy pickled lemons that lasts for years in your pantry.
It doesn't require any oil, vinegar, or special canning equipment.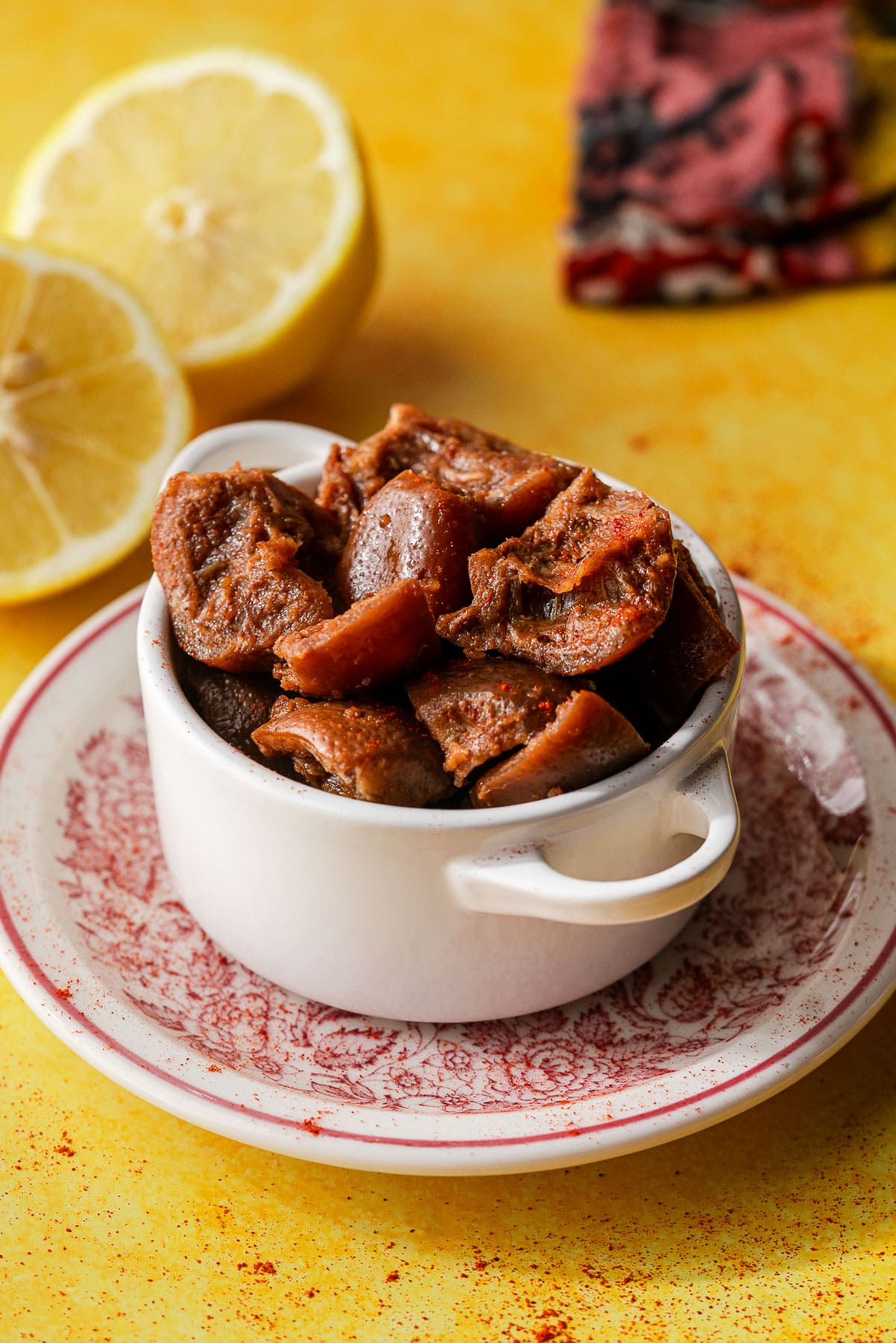 My household loves fresh, traditional methods of making Indian food. We make our own dahi, grow and grind our own spices, and make our own chutneys and pickles! There's so much power to preserving and passing on these recipes.
I especially love my mother's Nimbu ka Achar. We get lemons from our own citrus trees or from family and friends. I mean, what can you do with pounds and pounds of fresh lemon but pickle them?
She'll frequently have jars of achar in different stages of the pickling process. Some of them freshly coming in from days of sunning, some of them 1-2 years old, and some that are 6 months old. It's fascinating to see her experiment on a recipe she's been making for decades.
Her recipe uses minimal ingredients and doesn't require any oil. The lemons are tangy and lightly spiced.
Jump to:
Why you'll love this Recipe
There are a ton of different ways to make Nimbu Achar. It varies considerably between regions in India and even between households. None of them are wrong, but here's why I love the one by my mother -
It relies on a few ingredients, only 5 total! The flavor of fermented lemon stands out. Garam masala is a blend of spices, so it doesn't require a trip to the grocery store to find a bunch of Indian spices or roasting and grinding whole spices.
The method is traditional, even though it takes a while. The Instant Pot can make the lemons mushy instead of soft, and instant pickling sacrifices a lot of flavor development.
This recipe uses no oil and no vinegar.
With proper sanitization and handling, the achar can last in the pantry for literally years. The flavor will just keep getting better and better.
Unlike most achars, it's low calorie due to having no oil. It's also vegan!
What is Nimbu ka Achar?
Nimbu ka Achar is fresh lemons pickled with Indian spices. Nimbu translates to lemon and achar refers to fruits or vegetables that have been pickled using various methods.
It is traditionally mixed with spices and salt and left in the sun for up to 3 weeks until it ferments. It's the perfect project for the summertime. The flavor is lightly spicy, sour, and tangy while the texture of the lemon becomes soft.
Every recipe differs between households across India. Some of them use more spices or seeds, some of them use a pressure cooker or hot oil to instantly pickle the lemons, and some go for a sweet and sour taste by adding jaggery.
Achars are almost like side dishes in Indian cuisine. It's common to roll up a paratha with achar and eat it plain. I especially love Nimbu Achar with something on the blander side, like Khichdi, since it's so tangy and strong.
Sun Fermented Pickling in India
When you hear the word "pickle," you're most likely thinking of a fruit or vegetable pickled in a perfectly measured brine. Maybe you're thinking of red onions that need a certain amount of vinegar, salt, and sugar.
Well, sun fermentation is extremely common in India as a method of pickling or fermenting vegetables and fruit into an achar. Some recipes use oil, and some recipes are completely oil-less. All the better when you have an addicting achar you can eat right out of the jar!
We prefer sun fermentation because it keeps vegetables like chili peppers crisp compared to methods that use hot oil or an Instant Pot. The summer heat allows the spices to slowly release flavor when the heat in the jar builds up during the day.
That being said, it's best to pickle during the summers when hot sunny days can be anticipated. It's harder during the summer when there's less sun or cloudy days.
Ingredients - Notes and Substitutions
With only five total ingredients, this recipe couldn't be easier. However, the lemons you use make a huge difference in the result.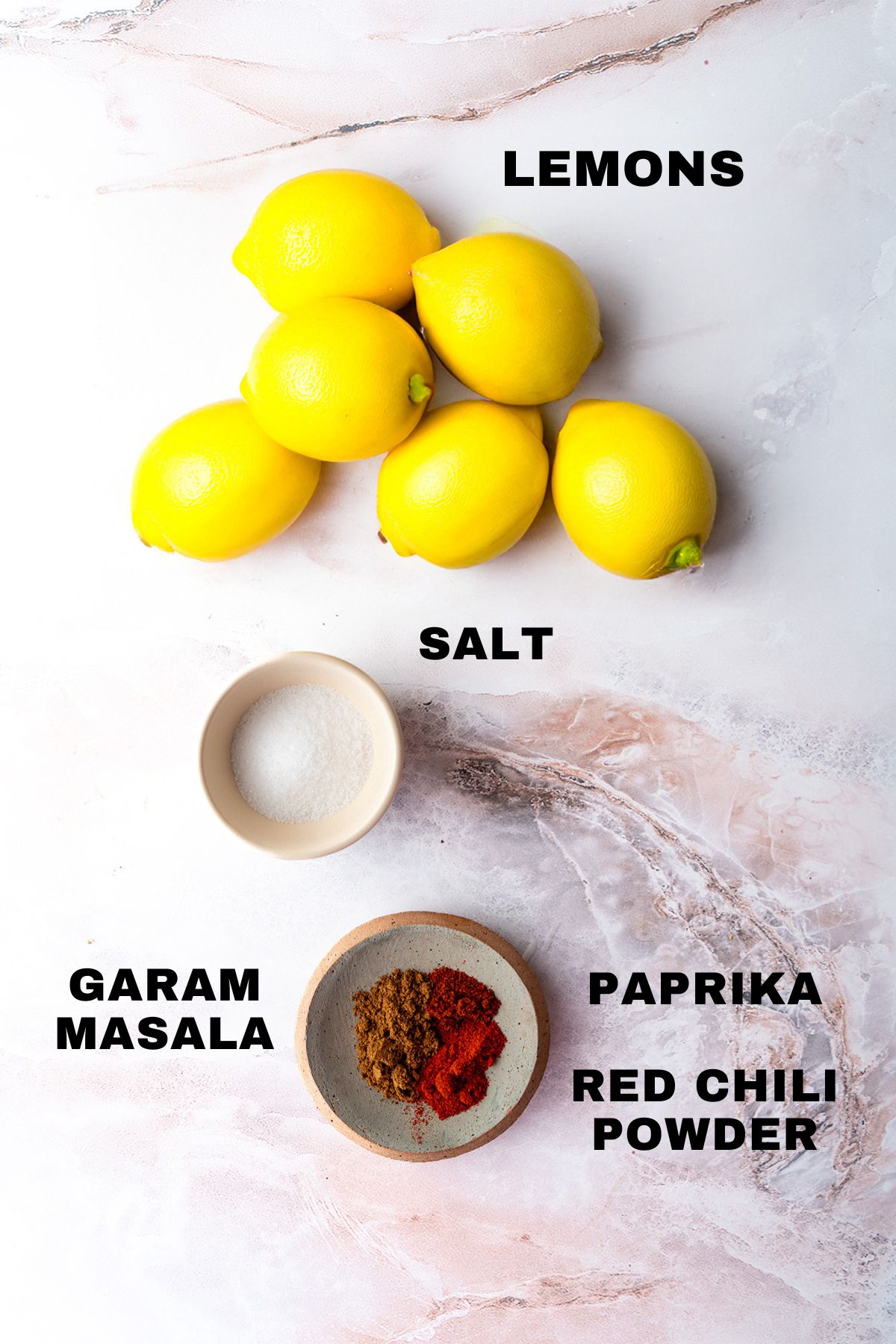 The lemons you choose to use matter! If you choose old or pithy lemons, the resulting achar will be extremely bitter.
The lemon should be fresh, ripe, and juicy. You'll know it's okay for use if it's firm when gently squeezed but not rock hard. A lemon that is past its peak will be bitter, it'll visually start to brown and be mushy in your hands. Don't be afraid to give a wedge a taste before using it.
Lastly, feel for thin-skinned lemons with less of the white pith that can contribute to bitterness. In my experience, it doesn't matter too much if you use regular lemons or Meyer lemons.
Limes are also a great substitute since they have thinner skins.
Salt will balance out the bitterness from the rind of the lemon as well as bring out flavor. It also lets favorable bacteria grow while inhibiting the bad ones. Be sure to use canning and pickling salt, or kosher salt without an anti-caking agent for the best results.
Garam masala is a blend of spices so we don't have to use single spices like coriander and cumin. A little bit of red chili powder adds the teeniest bit of heat if you go with kashmiri chili powder. Lastly, paprika is great for adding a deep red-orange tone to the browned lemons.
How to make Nimbu Achar
First, wash and scrub the lemons thoroughly. Remove any stickers. Dry the lemons off completely.
Next, chop all of the lemons into 8 pieces each to form wedges. Quarter the lemons if they're on the smaller side. Transfer the wedges to a mixing bowl.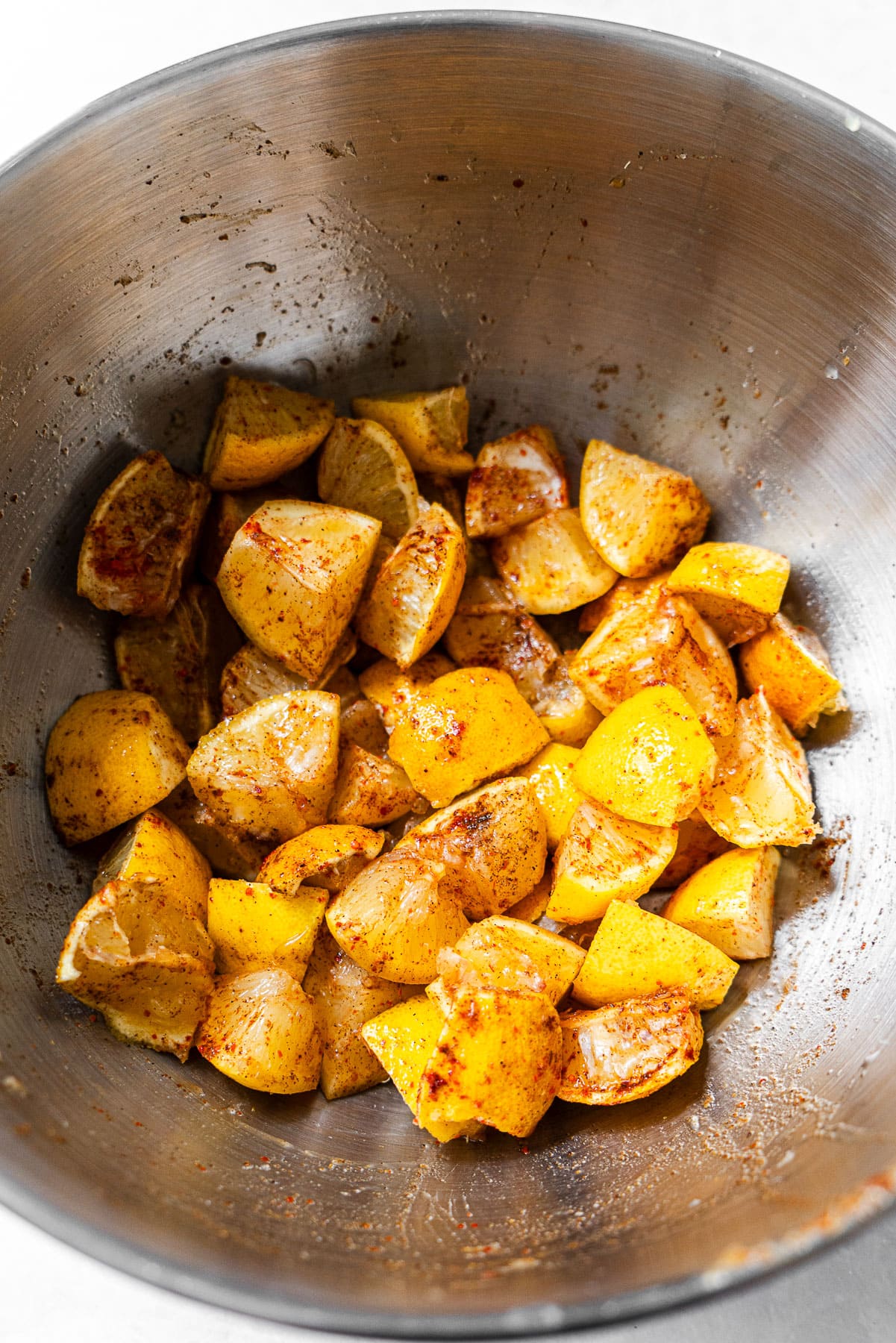 Add the salt, garam masala, red chili powder, and paprika into the mixing bowl. Toss the lemons and spices together until everything is evenly coated.
Next, sanitize a 32oz mason jar by submerging the jar and its lid into boiling hot water. After ten minutes, remove it with tongs and set it to the side. Allow it to fully air dry or dry with a clean towel before use.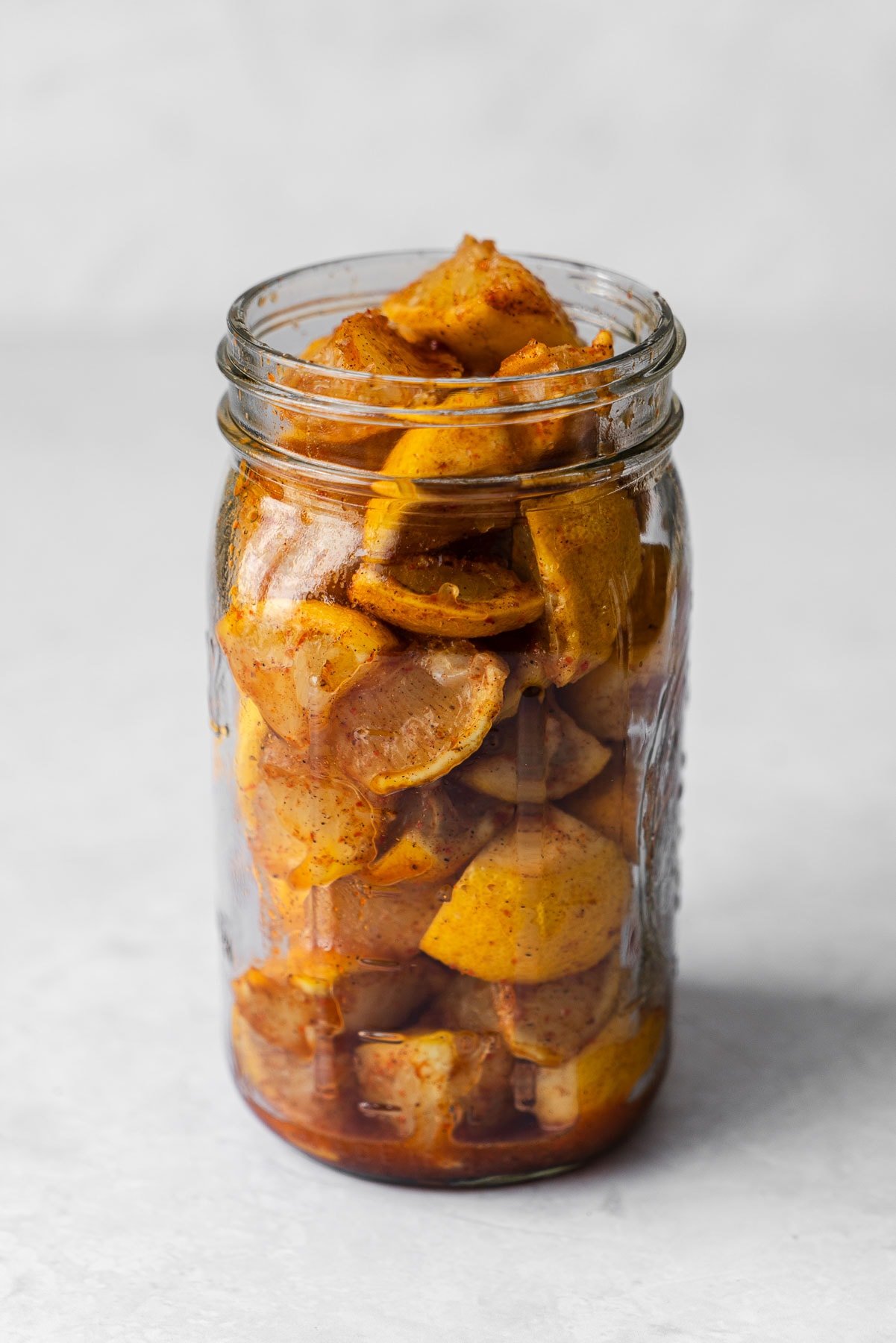 Carefully transfer the lemons to the sterilized mason jar. You'll notice that the salt already started drawing out the moisture from the lemons.
Pro Tip: Be sure not to stuff the jar to allow plenty of space for air flow and fermentation. The lemon wedges should just hit the top of the jar.
Screw the lid back on to the mason jar, making sure to do it just hand tight. If it's too tight, the heat from the sun will make it extremely difficult to open the pressure seal.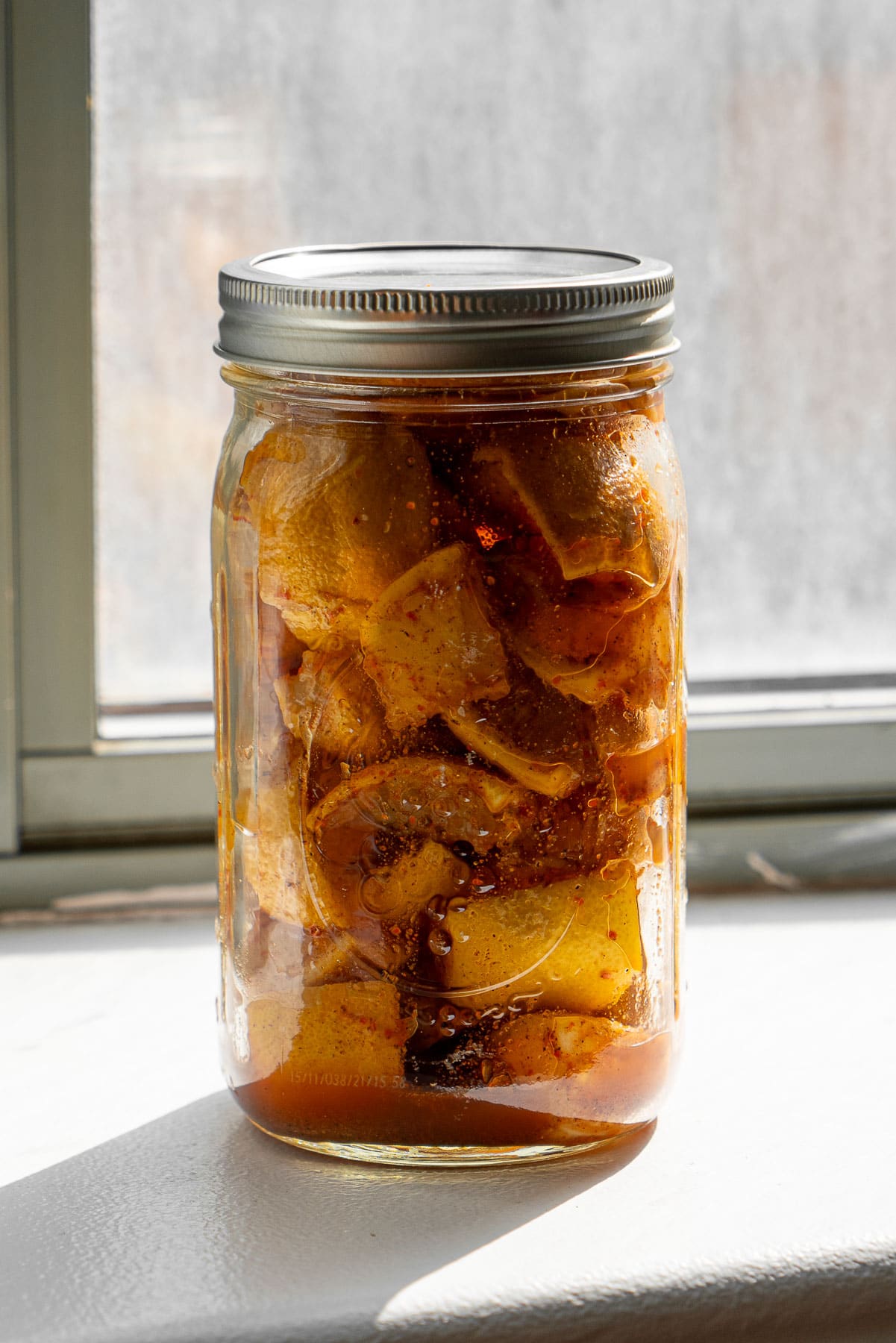 Now, it's time to let the sun do its thing. Yes, it takes a while but all good things come with time! This is the traditional way of making nimbu ka achar without an Instant Pot or oil.
Let the jar sit in the sunniest windowsill for 10-20 days. It'll entirely depend on what the weather is like in your area. If it's hot and constantly sunny, they may only need 10 days. If it's cloudy or rainy, it may take up to 20 days.
Shake the jar everyday so that the juices and spices coat the lemons evenly. If the lid buckles, be sure to also open the seal on the jar to let the pressure out.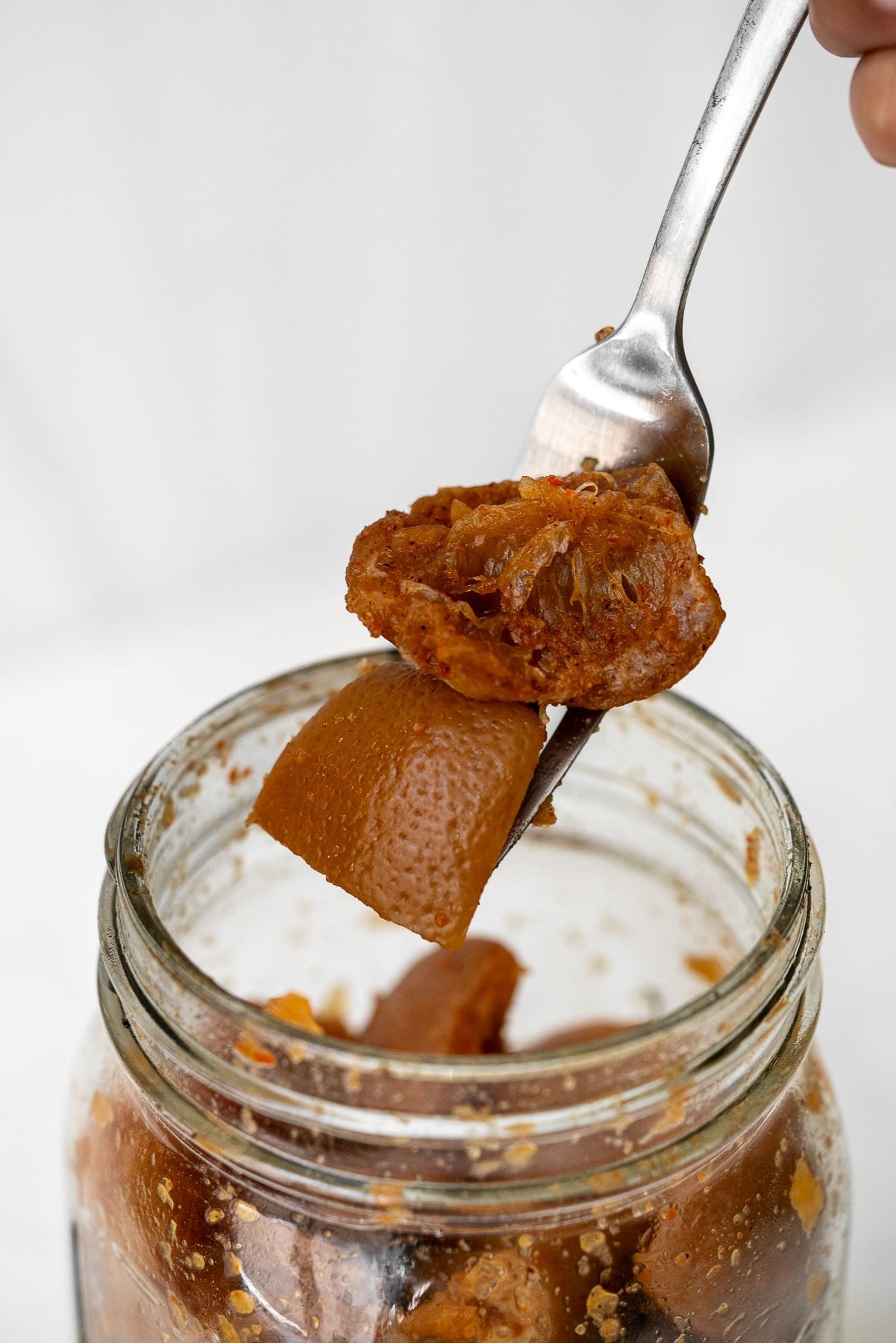 Once the lemon peels have softened and turned browed, the achar is ready to enjoy with recipes like khichdi, paratha, and more. Give it a taste and adjust with additional spices, salt, or sugar if it's bitter or bland.
Equipment
This recipe is fantastic because it doesn't require many ingredients or equipment. You'll mainly just need a 32oz or quart Mason Jar for storing the achar.
Variations
This is one of those recipes where every household makes it differently. My mother is always the type of woman to keep it extremely simple and stick to traditional methods that yield tasty results. For this reason, she only uses lemons, salt, and three spices.
Here are some other popular variations:
Add more spices - Some versions add more spices like turmeric, asafoetida, cumin, or coriander.
Seeds - Mustard seeds, fenugreek seeds, ajwain, and fennel seeds are dry pan-roasted, ground finely or coarsely, and mixed in with the other spices.
Instant pickling - There's a version of this achar that "instantly" pickles the lemons by using oil. This method involves boiling the whole lemons to soften the skin. Then, heat 1 cup of mustard oil or a neutral oil until hot (not to its smoke point) and pour it over the lemon wedges that are tossed in spices.
Lime - Lemons tend to have thick skin except for some varieties, so sometimes limes can be used.
Sugar - Nimbu ka Achaar is sour and pungent! Some households will sauté the lemons in melted jaggery along with all the spices to mellow out the sourness. Alternatively, just add 2 tablespoons of sugar to the sun method.
Overall, go with the instant pickle method if using more spices and seeds so the hot oil brings out the flavor of the spices.
Storage
Store nimbu ka achar in a pre-sterilized mason jar. Keep the mason jar in a dark part of your pantry for up to two years. The longer it sits, the better the flavor!
Be sure to only use clean spoons or forks to retrieve wedges.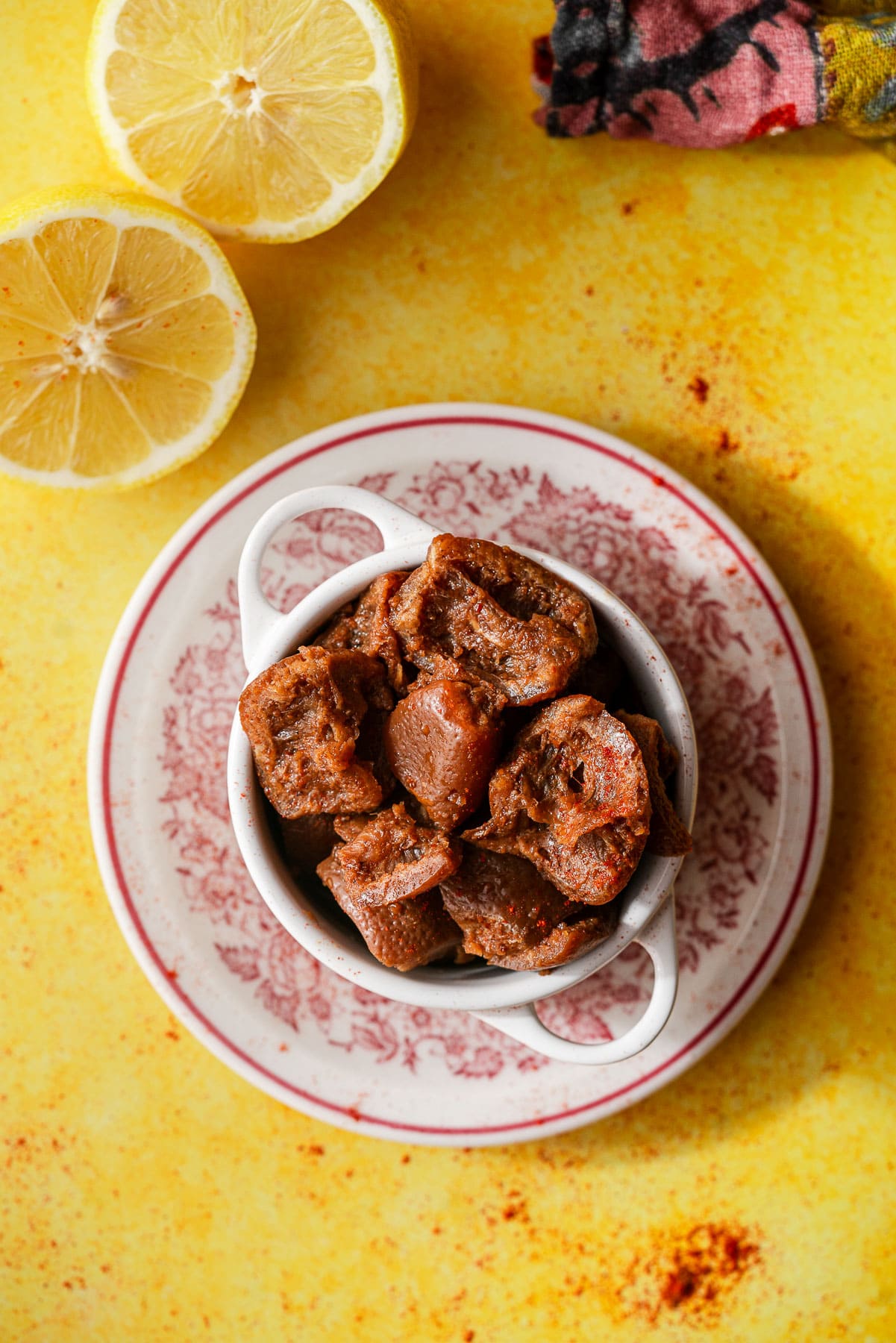 More Indian Chutneys and Achars to try
Recipe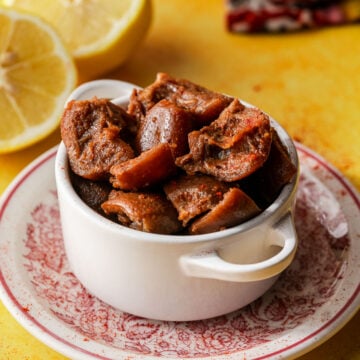 Nimbu ka Achar (Pickled Lemon)
My mother's Nimbu ka Achar is a decades old recipe relying on a traditional method of pickling lemons - leaving it out in the sun to ferment. This recipe uses only 5 basic ingredients and results in tangy, spicy pickled lemons that lasts for years in your pantry.
Print
Pin
Rate
Ingredients
10

large

lemons

2

teaspoon

kosher salt

¾

teaspoon

garam masala

½

teaspoon

red chili powder

¼

teaspoon

paprika
Instructions
Wash and scrub the lemons in warm water to remove any dirt or bacteria. Sanitize the mason jar in boiling water for 10 minutes and dry it with a clean towel.

Chop each lemon into 8 pieces each and add the wedges into a mixing bowl.

Add the salt, garam masala, red chili powder, and paprika into the mixing bowl and toss the lemons until they're evenly coated in the spices.

Transfer the lemons into the sterilized mason jar and cover it with the lid. You'll see that the salt starts to draw out the moisture in the lemons already.

Put the mason jar in a sunny spot on a windowsill for 15-20 todays. Be sure to shake the jar everyday or two. After this timeframe, the peels will have softened and the lemons browned.

Store the pickled lemons in a dark space in your pantry. Enjoy a wedge with paratha, khichdi, and more.
Notes
The lid may buckle due to heat from the sunlight. Be sure to pop the lid every now and the to release the pressure.
To speed up the process, add the spiced lemons into a pot on low to medium heat with ½ teaspoon of turmeric and 1 tablespoon of oil. Sauté in the oil until the skin becomes translucent. Allow the lemons to fully cool, then store in a sterile jar in the sun until they brown.
If the achar is bitter, add salt or sugar to balance it out. You can also store it in the fridge for a few days and it'll begin to mellow.
Nutrition
Serving:
2
wedges
|
Calories:
8
kcal
|
Carbohydrates:
3
g
|
Protein:
0.3
g
|
Fat:
0.1
g
|
Saturated Fat:
0.01
g
|
Polyunsaturated Fat:
0.03
g
|
Monounsaturated Fat:
0.004
g
|
Sodium:
117
mg
|
Potassium:
38
mg
|
Fiber:
1
g
|
Sugar:
1
g
|
Vitamin A:
14
IU
|
Vitamin C:
14
mg
|
Calcium:
7
mg
|
Iron:
0.2
mg