For all the crust-hating sandwich lovers, you'll love these finger foods that are packed with different chutneys and flavor from Indian cuisine. These three different varieties of Indian-style tea sandwiches are inspired by British afternoon tea time and best served with friends and family over a glass of champagne or a hot cup of tea.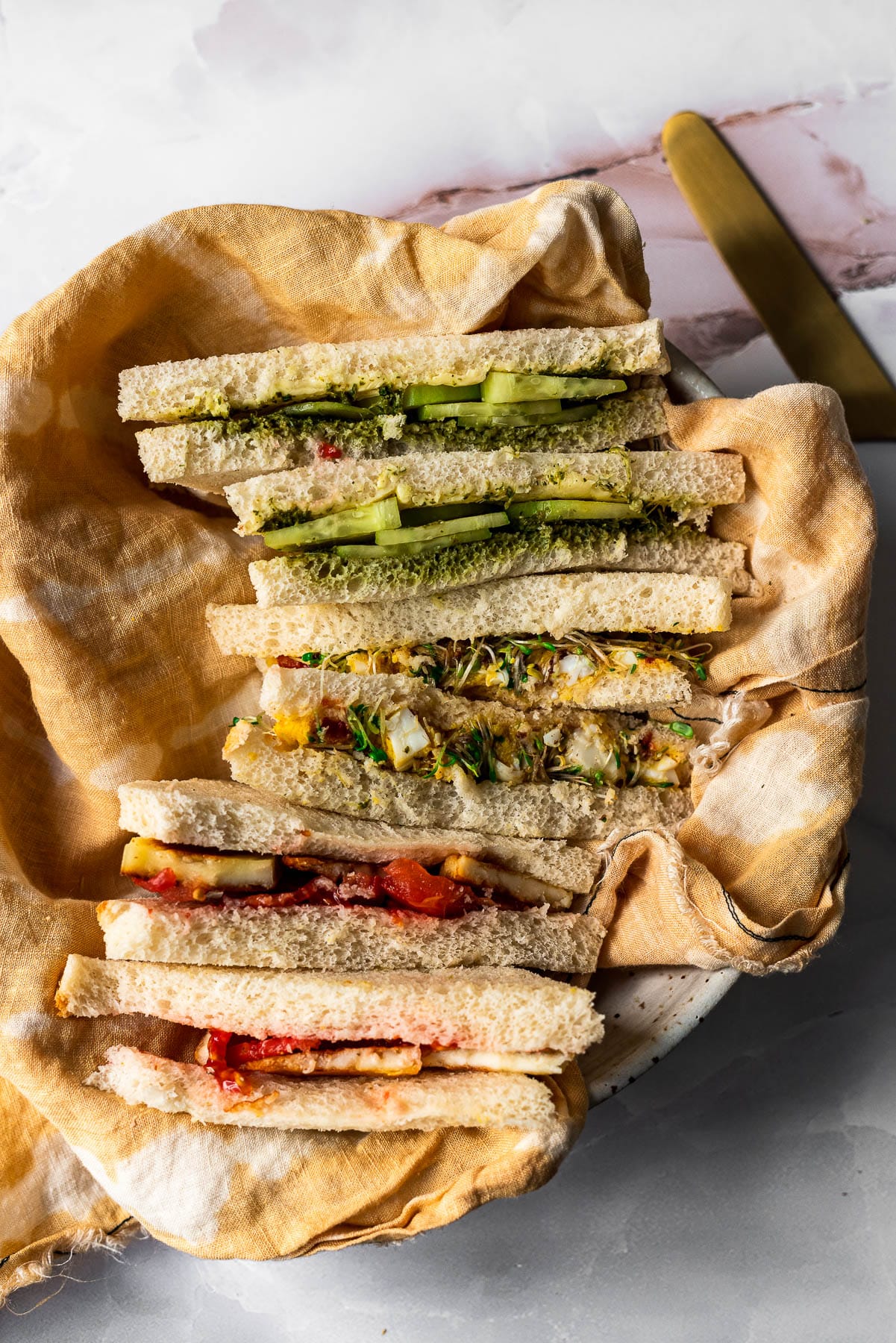 If you haven't had a tea sandwich before, I'm shedding a single tear for you.
We're about to change that with these refreshing, bite-sized tea sandwiches that use spices, paneer, and chutneys to make three varieties that will spice up your next Indian afternoon tea session.
Pair them with a cup of Masala Chai and you have a lovely afternoon on your hands.
Jump to:
🍞 What is a Tea Sandwich?
Also known as lil' finger sandwiches, tea sandwiches are bite size sandwiches that are usually consumed in the afternoon with some ~ afternoon tea ~ (surprise surprise!) in the UK.
It's almost like a snack, or a brunch, until dinner is ready to be served. They're usually fairly simple in terms of ingredients and are meant to be petite enough to finish in a few nibbles.
Some common versions I've inhaled are curried chicken, cucumber with cream cheese and dill, and egg salad. I've also seen slices of roast beef or ham with mustard, tuna with capers and cheese, smoked salmon and cream cheese, etc etc. I'm sure you can get the picture.
They're so smol yet so enjoyable. It's a wonderful finger food to share with a few special ladies over a glass of champagne or a hot cup of tea.
The Three Desi-Flavor Inspired Sandwiches - Ingredients and Instructions
I've chosen three different vegetarian-based sandwiches and kept the ingredients super simple. Feel free to dress it up as you'd like to - but keep in mind that they're supposed to be very light and simple.
Which Bread to use for tea sandwiches
Most assorted tea sandwiches have mild fillings and therefore pair well with white bread, while stronger fillings like mustard are well-suited for pumpernickel or brown breads. It's ultimately a personal choice. The thing to note is you want a soft, fresh loaf of bread. Nothing like baguettes or sourdough loaves.
Personally, 1) I have a terrible palate for breads and refuse to enjoy brown or multi-wheat or sprouted or whatever is out there and 2) I live alone and don't need several loaves of bread.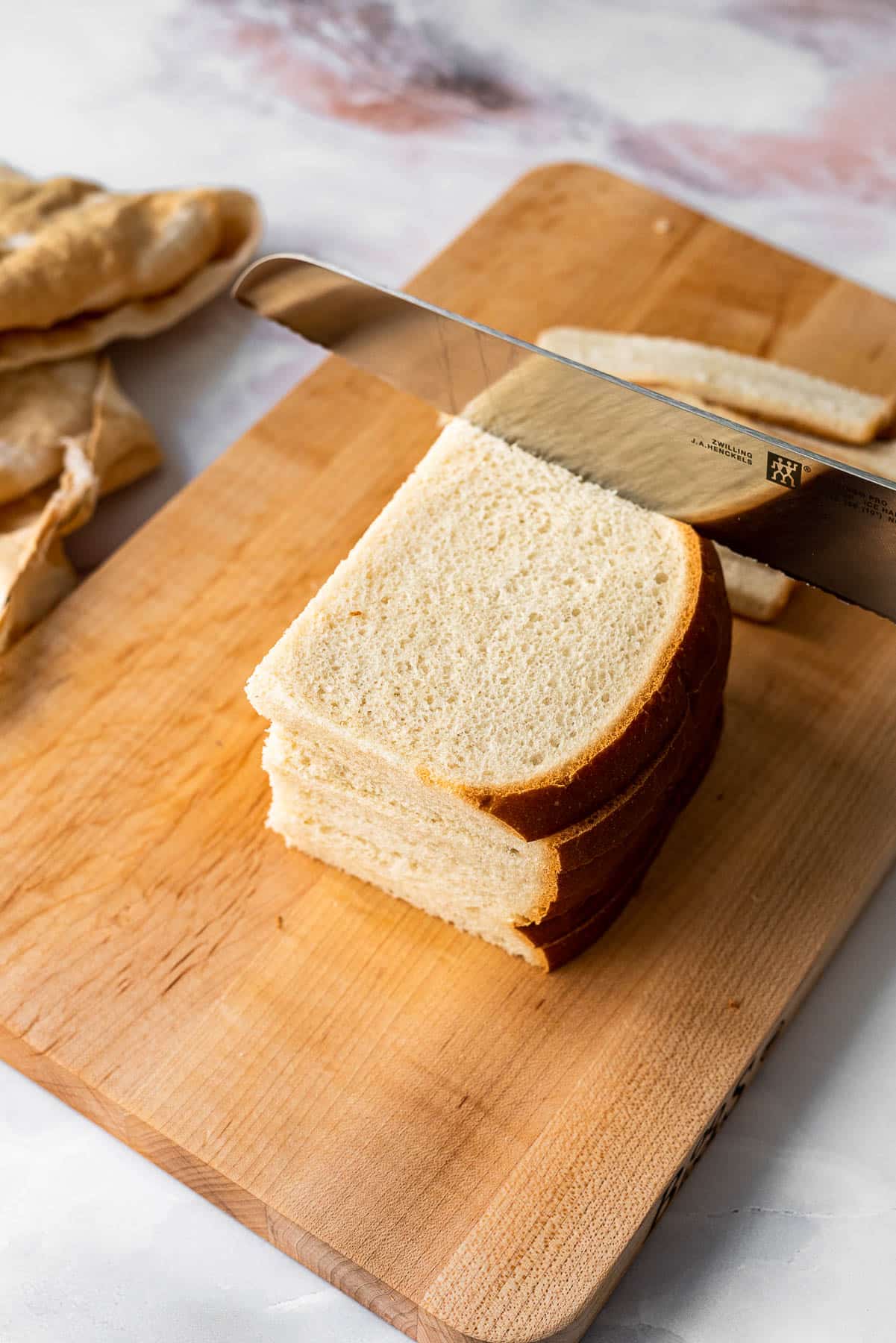 The only thing you'll need to prep is the bread. I don't care if you like crust - you need to slice it off. Stack an even number pieces of bread and slice off the crust with a bread knife - getting as close to the edge as possible. I say even number of slices so that you have at least two slices that match in size. You don't need to toast the slices, but you can if you prefer.
Not to be dramatic, but there's nothing more annoying than two slices of bread that aren't perfect for each other.
Chutney Egg Salad
The chutney egg salad tea sandwich is a twist on the curried egg salad sandwich. It's protein-packed, tossed with a fruity sweet chutney, and topped off with crunchy microgreens.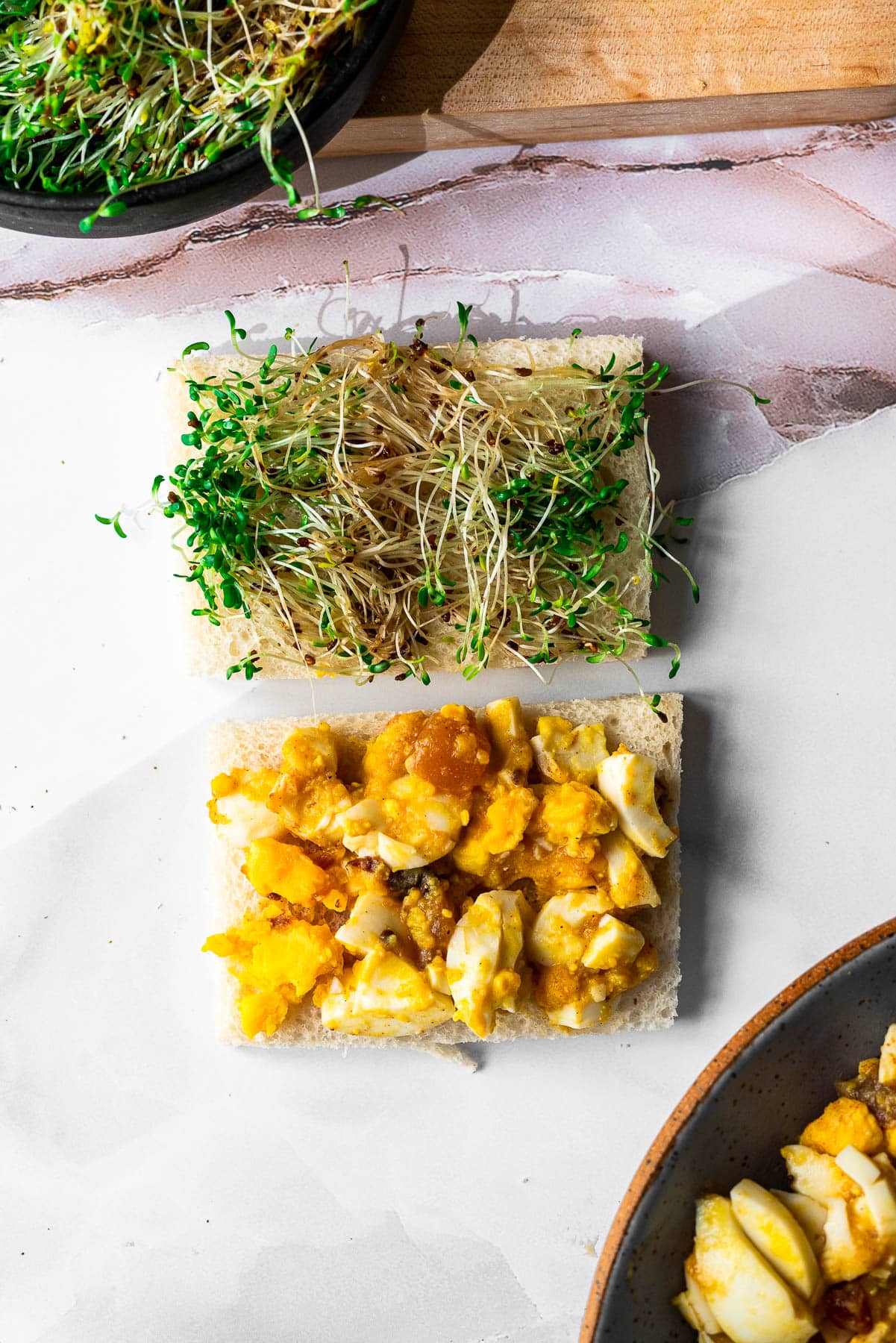 For the egg salad tea sandwiches you'll need the following ingredients:
Eggs
Chutney: Use a sweet fruit based chutney that's kind of like a jam, like mango chutney. I really like the one from Trader Joe's which is a mango-ginger chutney. I also love the Saffron Pear Chutney from Bleaf.
Microgreens: I used sprouts for this but baby arugula or watercress would be amazing as well!
Chili powder: Adds a little bit of spice to balance out a sweeter chutney. A few other spices would be good - such as ground cumin or a bit of garam masala.
Boil the eggs for 7-8 minutes. Peel the shell off and chop the eggs into smaller pieces. Toss the eggs with the chutney and whichever spices you choose in a bowl. Make sure you add a bit of salt to your eggs! You can slather the slices of bread with a bit more chutney if you'd like. Otherwise, you can spoon the egg salad onto a slice and top with microgreens.
Paneer and Tomato
The paneer and tomato tea sandwich seems so simple but packs in a ton of flavor! Paneer is generally a mild firm cheese, but then it's fried to a glorious crispy golden brown. Think fried halloumi cheese. It's then topped with plain tomato slices and a healthy sprinkle of chaat masala for a kick!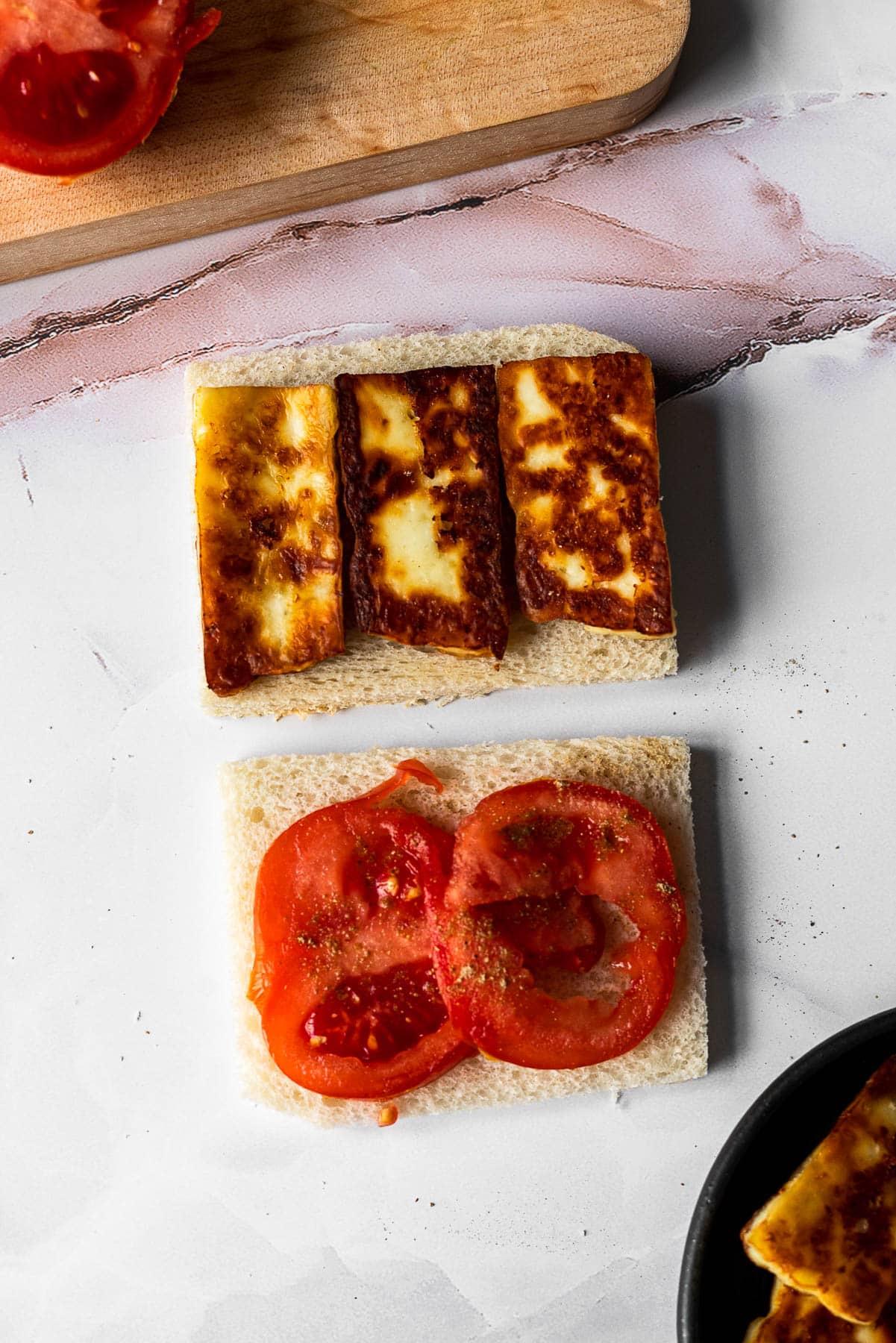 You can try this recipe for making your own homemade paneer - but if not then I highly recommend Sach Foods, which you can order online or find at most Whole Foods across the U.S. You'll also need a small tomato and chaat masala. If you don't already have chaat masala then uuufff you are missing out on this insane umami-packed spice blend that goes with just about anything.
Fry thin slices of paneer in ghee until it's golden brown and crispy. I like to dip the slices of bread in the remaining ghee on one side and then layer the paneer, tomato, and top with a healthy sprinkle of chaat masala. If your paneer is too dry, add a bit of mango or cilantro-mint chutney to this sandwich.
Cilantro-Mint Chutney with Cucumber and Butter
Level up the classic cucumber cream cheese tea sandwich. The cilantro-mint chutney is herby, spicy, tangy and everything good in this world. It's paired with mild cucumbers and a solid dose of butter.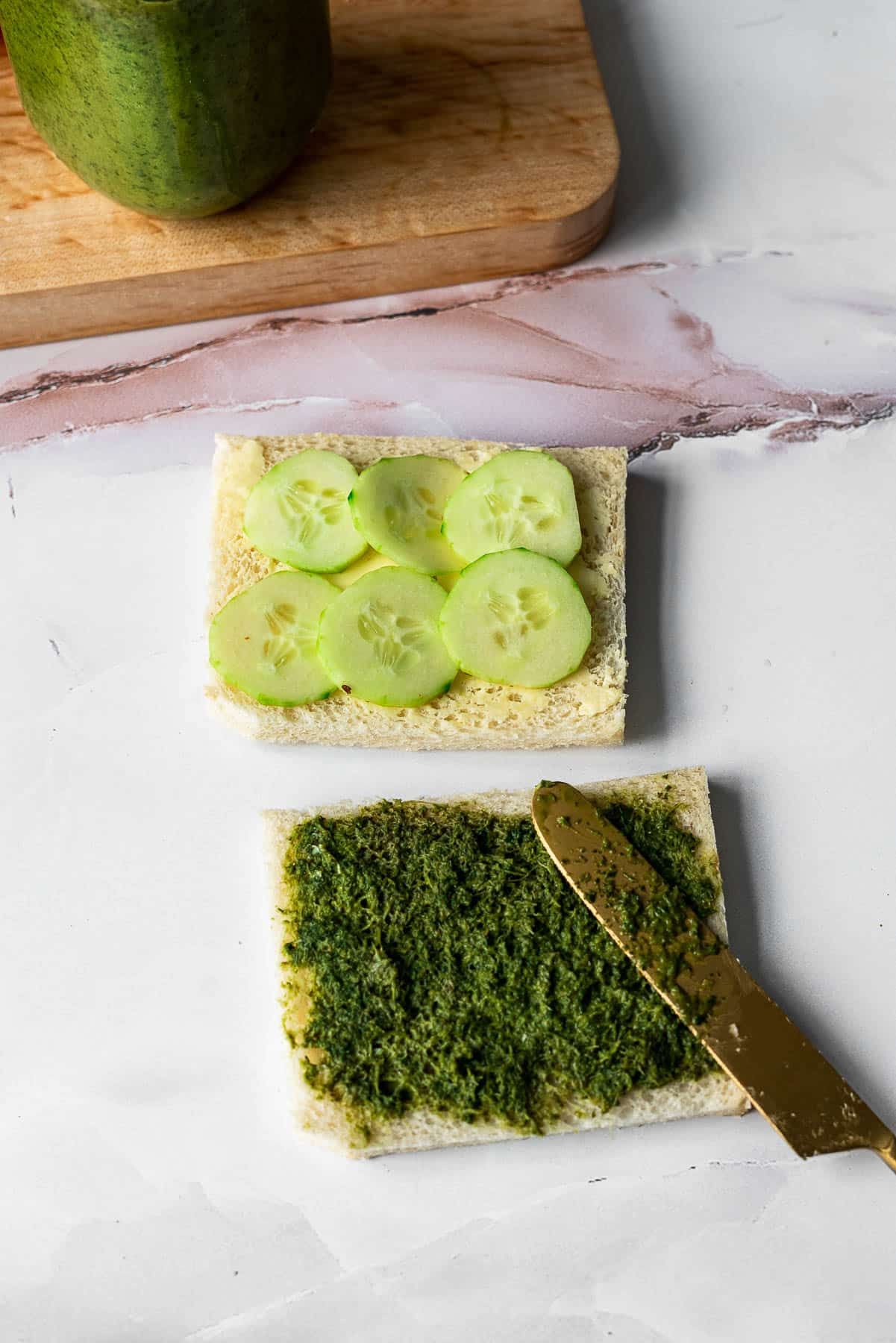 My favorite tea sandwich, hands down, is cucumber with cream cheese and dill. It's so basic but SO good. This is a spin on that.
You can use this recipe to make cilantro-mint chutney, use the leftover from your Indian takeout from the other night, or grab some from an Indian store. Spread the chutney on one slice, and some butter on the other slice. Layer in slices of cucumber.
How to Serve Tea Sandwiches
Slice each sandwich on a diagonal. This is mandatory for tea sandwiches, I don't make the rules here. Serve it on a platter with any additional toppings and several cups of chai or Mango Iced Tea.
Other Combinations
I'd say an easy formula for making your own combos is keeping it very simple and limited to three ingredients: a chutney / achaar (spicy pickle) / spice, a vegetable, and ideally a protein. Other considerations is making sure the sandwich isn't dry - but the tea should help with that. A combination of sweet, savory, and spicy makes it a well-rounded platter of sandwiches, too!
Off the top of my head three more -
I really do hope you give these a try! Otherwise that's fine, more for me!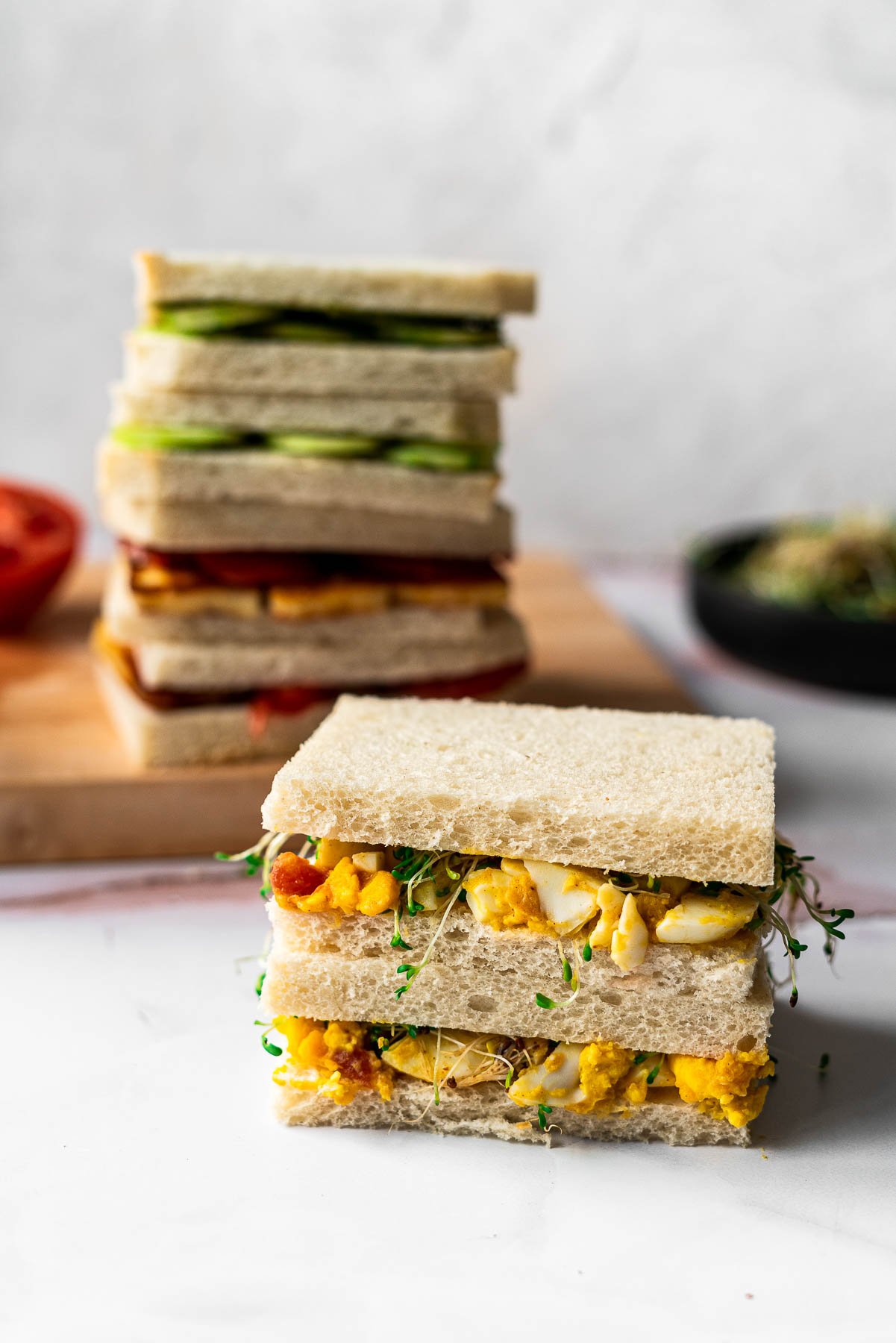 More Indian Snack-time Recipes to try
Recipe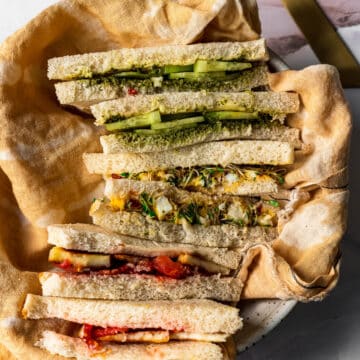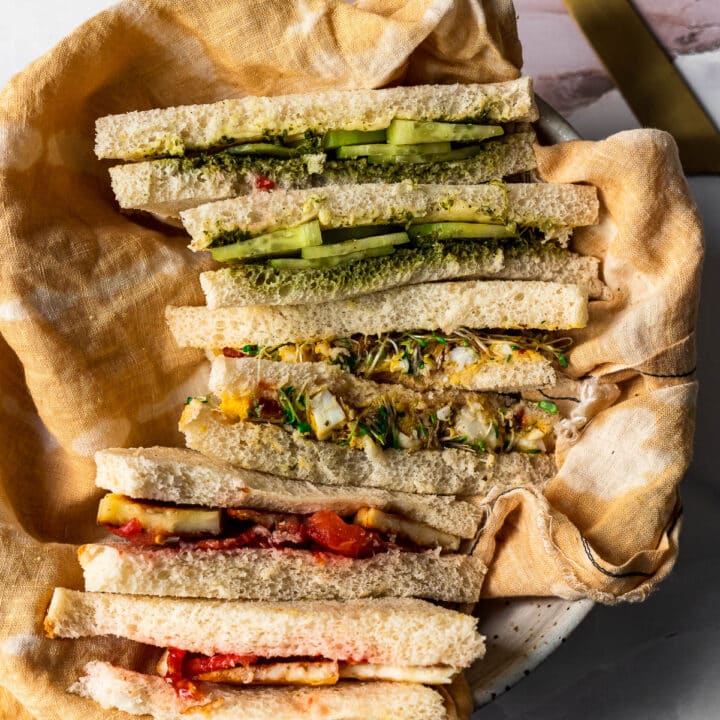 Indian-Style Tea Sandwiches
For all the crust-hating sandwich lovers, you'll love these finger foods that are packed with different chutneys and flavor from Indian cuisine. These Indian-style tea sandwiches are inspired by British afternoon tea time and best served with friends and family over a glass of champagne or a hot cup of tea.
Print
Pin
Rate
Ingredients
Instructions
Slice off the crust of the bread as close to the crust line as possible.

Bring a small pot to boil. Add in the eggs and boil for 7-8 minutes. Remove the eggs from the hot water and peel off the shell. Chop up the eggs into bite-sized pieces and put them in a bowl. Add in the mango chutney, chili powder, and salt to taste. Give everything a toss until completely combined.

To assemble: Spread the eggs and chutney on one side of the bread. Spread out the microgreens on another slice and combine the slices.

To assemble: On one slice, spread out the softened butter. Top it with 8-12 slices of cucumber. On the other slice, spread about a tablespoon of the cilantro-mint chutney. Combine the slices.

Thinly slices the paneer into rectangles. In a frying pan, melt the ghee. Carefully place the paneer into the ghee and fry for 2-3 minutes on both sides until golden. Remove the paneer from the pan. Slice the tomato.

To assemble: Dip the slice of bread in any remaining ghee from the pan. Layer one slice of bread with 3 slices of paneer. Add 2-3 slices of tomatoes to the other side. Sprinkle about ½ teaspoon of chaat masala over the tomatoes. Combine the slices.

Cut each sandwich into half diagonally and serve with a cup of chai.
Notes
Use baby arugula, sprouts, watercress, or any of your favorite microgreens.
If you don't have chaat masala, use garam masala or salt and pepper.
Substitute the mango chutney with any sweet fruit based chutney, i.e. pear, apple.
Nutrition
Serving:
3
halves
|
Calories:
436
kcal
|
Carbohydrates:
47
g
|
Protein:
18
g
|
Fat:
19
g
|
Saturated Fat:
10
g
|
Trans Fat:
1
g
|
Cholesterol:
158
mg
|
Sodium:
436
mg
|
Potassium:
301
mg
|
Fiber:
3
g
|
Sugar:
10
g
|
Vitamin A:
584
IU
|
Vitamin C:
6
mg
|
Calcium:
434
mg
|
Iron:
4
mg