Paneer has got to be one of the easiest cheeses to make at home with two simple ingredients - milk and lemon! This mild Indian no-melt cheese stays firm and creamy which makes it incredible for absorbing flavor in curries, grilling, or even making into desserts!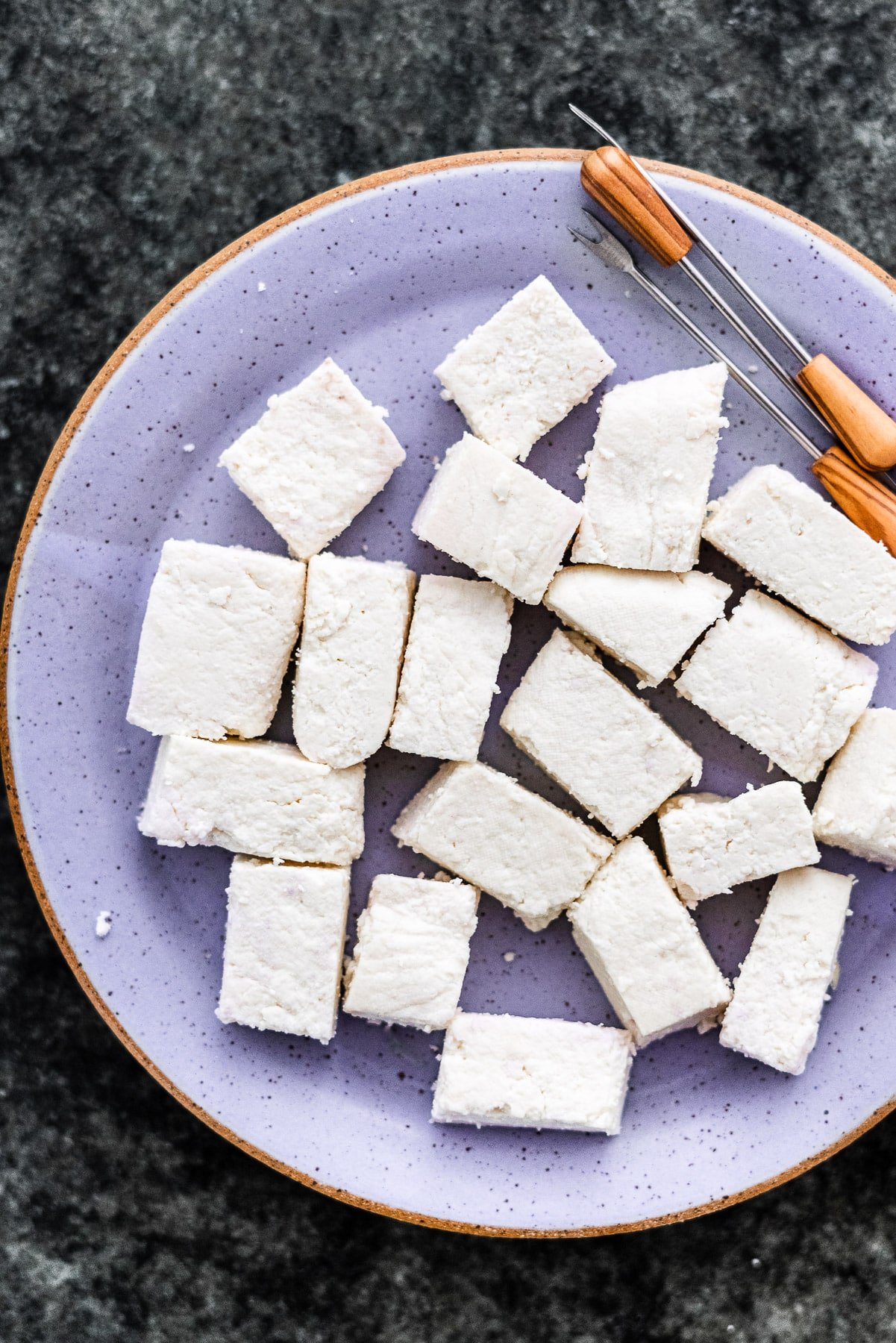 WHAT IS PANEER?
Paneer is a fresh mild Indian cheese typically formed into a firm block. It's a soft cheese with a pleasant texture - unlike tofu. Because it's fresh, you can eat it immediately without any aging! It's an excellent source of protein for those that follow vegetarian diets. The best part about paneer is that it is very absorbent, making it ideal for Indian curries.
Paneer is frequently described as "Indian cottage cheese." Same same, but different? Cottage cheese is drained and salted. The curds are loosey goosey with a strong tinge of whey. I can't imagine ever putting cottage cheese in curry. Paneer is unsalted and pressed until all the whey is removed. It is a very mild cheese that does not melt, which is why it's ideal to mix with spices and curry or grill.
THE INGREDIENTS
I've once had a brand tell me that paneer is an inaccessible ingredient for a recipe I pitched. It blew my mind. Paneer is made of TWO ingredients that are available in every single grocery store year-round. It may not be ideal to make it, but it's definitely accessible. All you need to make paneer is: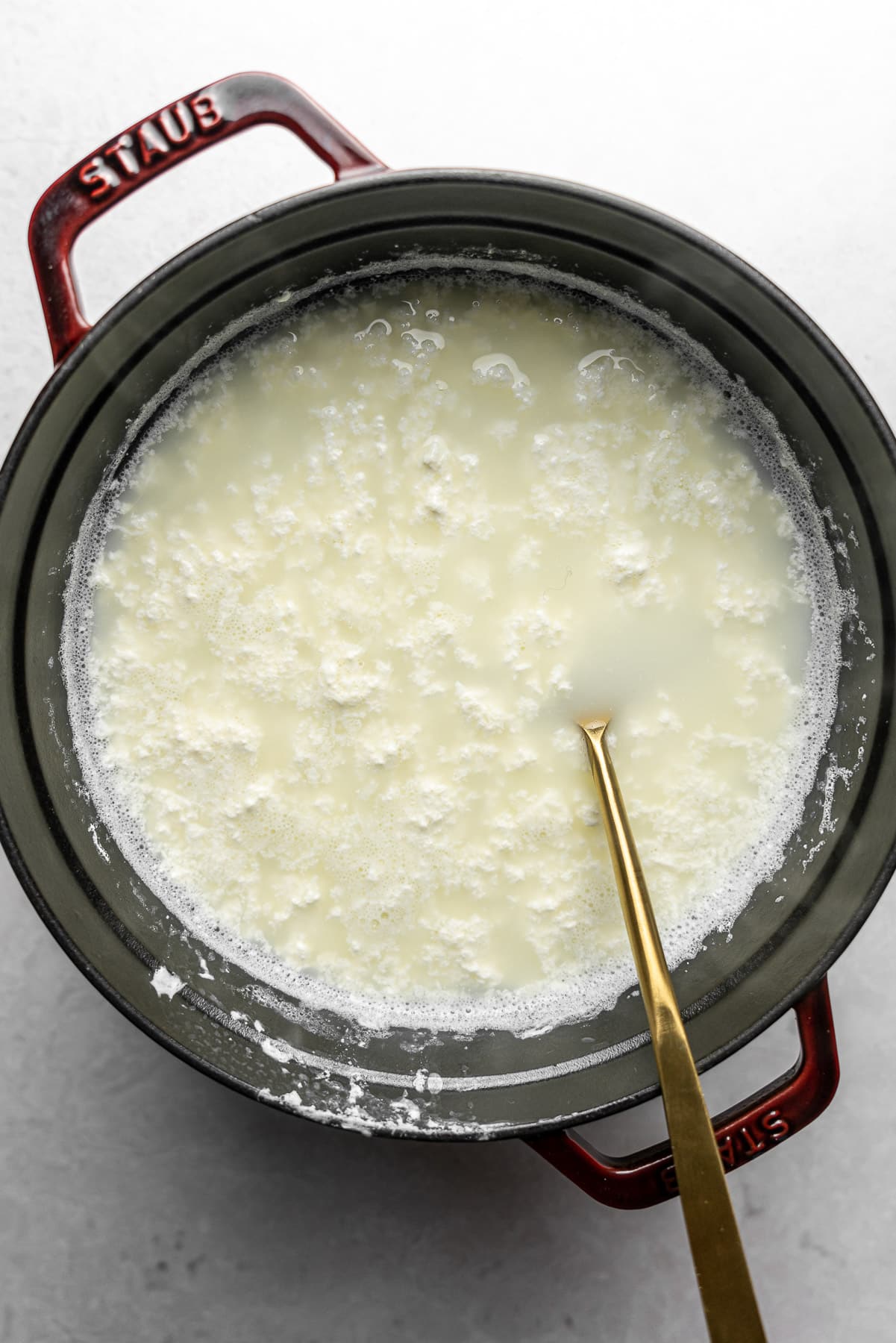 Other notes are that instead of lemon juice, you can substitute with vinegar. If you do use vinegar, you'll want to rinse the milk curds before draining and pressing. While the milk is boiling, you can also add spices or even finely diced veggies into your paneer!
THE EQUIPMENT YOU'LL NEED
For making paneer you'll need the following equipment:
HOW TO MAKE HOMEMADE PANEER
I've attempted to make a lot of cheese before, and paneer is by far one of the easiest cheeses to make. There's three main steps - 1) getting the milk curds, 2) draining and straining out the whey, and 3) pressing the paneer.
Make the milk curds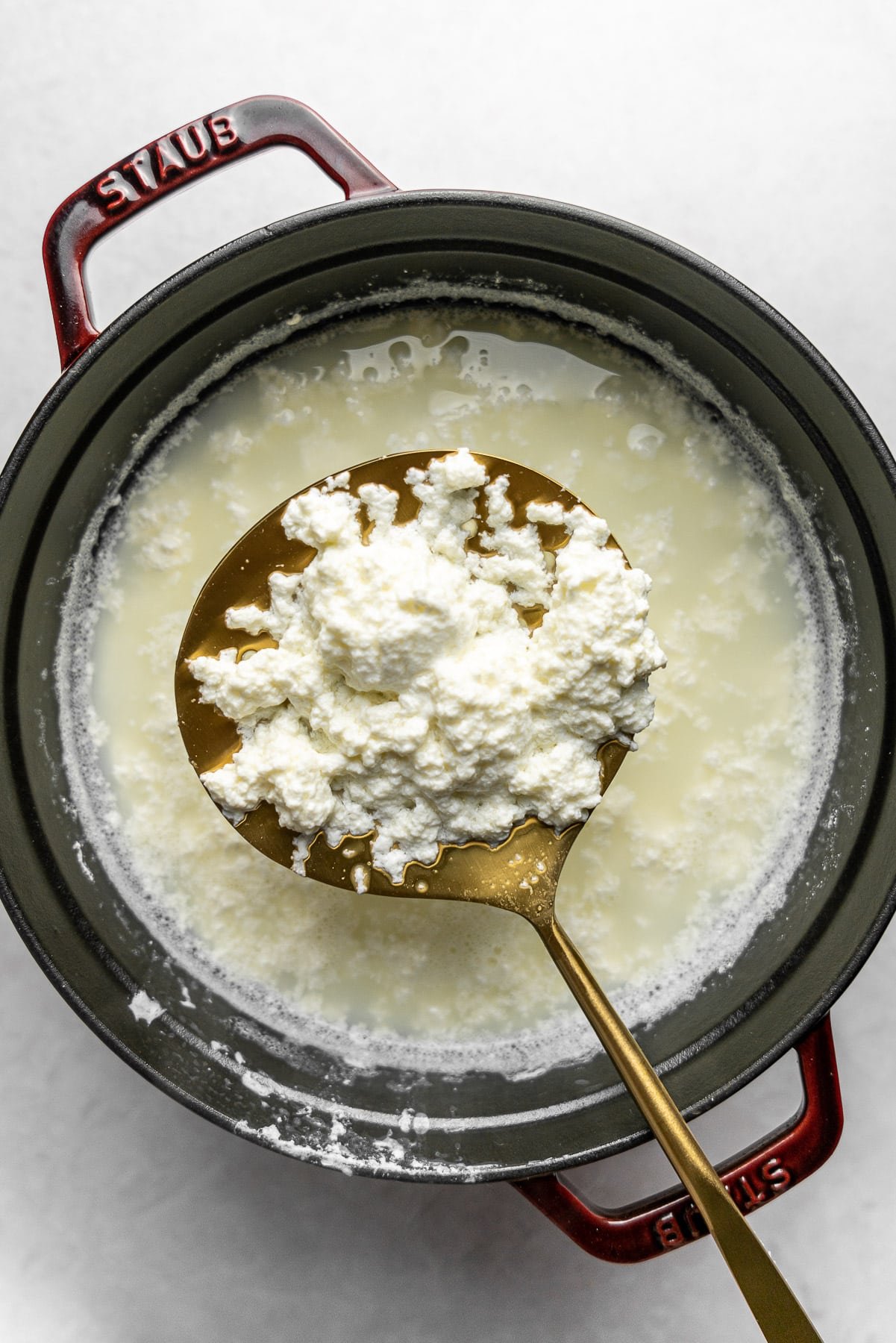 Pour the milk into a heavy bottom pot that holds at least 4 quarts of liquid. Using a food thermometer, bring the temperature up to a boil (ideally around ~203°F) on medium heat, stirring occasionally to prevent the milk from burning. If you're going to add any spices or finely diced veggies, this would be the time.
Once the milk just reaches a boil, turn off the heat and disperse the lemon juice all over. Use a slotted spoon to give the milk a good stir. Let the milk sit for ten minutes without touching it. After 10 minutes, there will be signs that the curds have started separating from the whey when you see a yellow liquid. Use the slotted spoon to stir again to separate the curds.
Strain and drain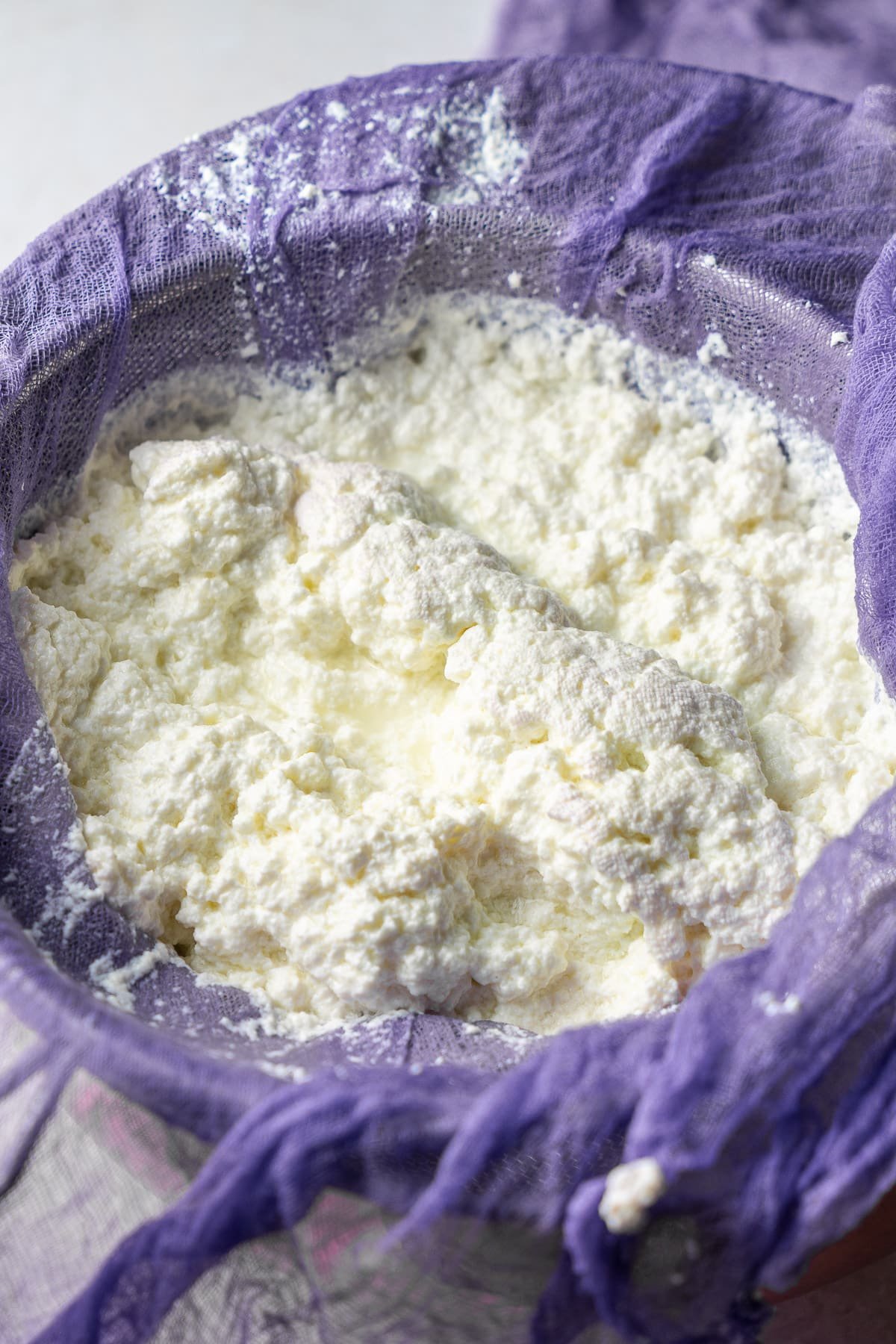 Prep the draining station by placing a large mesh strainer over a large bowl. Place a cheese cloth over the strainer. Slowly pour the milk curds and whey over the cheese cloth. Use a spoon to press the whey out. If you used vinegar, this is when you would rinse it out using warm water. Tightly wrap the milk curds in the cheese cloth. Begin twisting and pressing the cheese to get as much whey out as possible. Some people even hang the ball of cheese in the cheese cloth off of their kitchen sink faucet for half an hour to allow gravity to bring the whey to the bottom.
Save the whey!! It's great to add in smoothies or curries.
Press, shape, and chill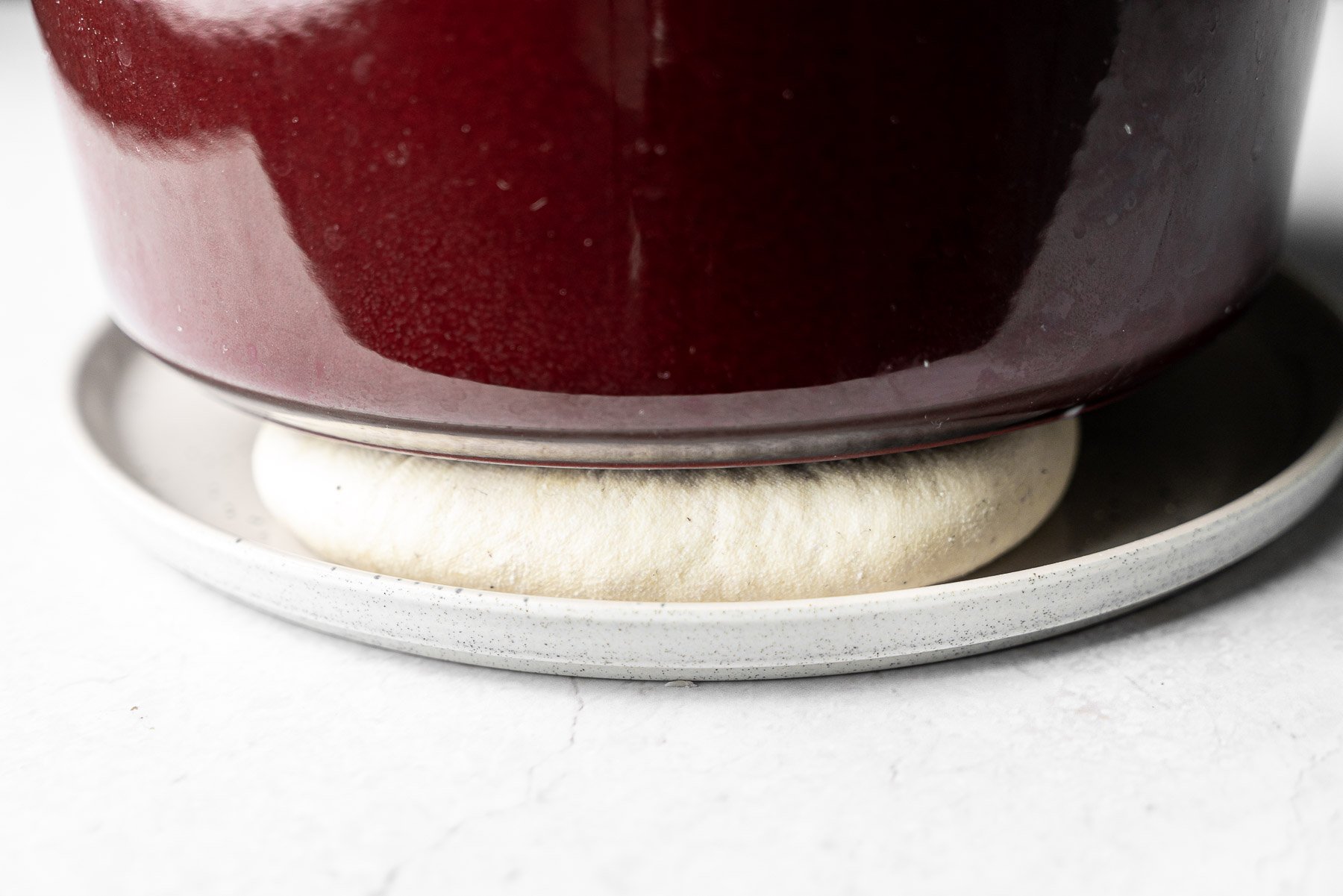 Place the ball of paneer, still wrapped in the cheesecloth, in plate or large bowl. Before pressing the cheese, release the knot and twists from the cheesecloth, open it up, and fold it over the curds. This prevents a large indentation on the top of the cheese from the knot.
Carefully lower a heavy object on to it to press it down until it's about 1.5 - 2 inches thick, or desired thickness. I opted to use my cast iron cocotte and placed a bag of rice in it and let it sit for about half an hour. This allows the milk curds to firm up and press into each other.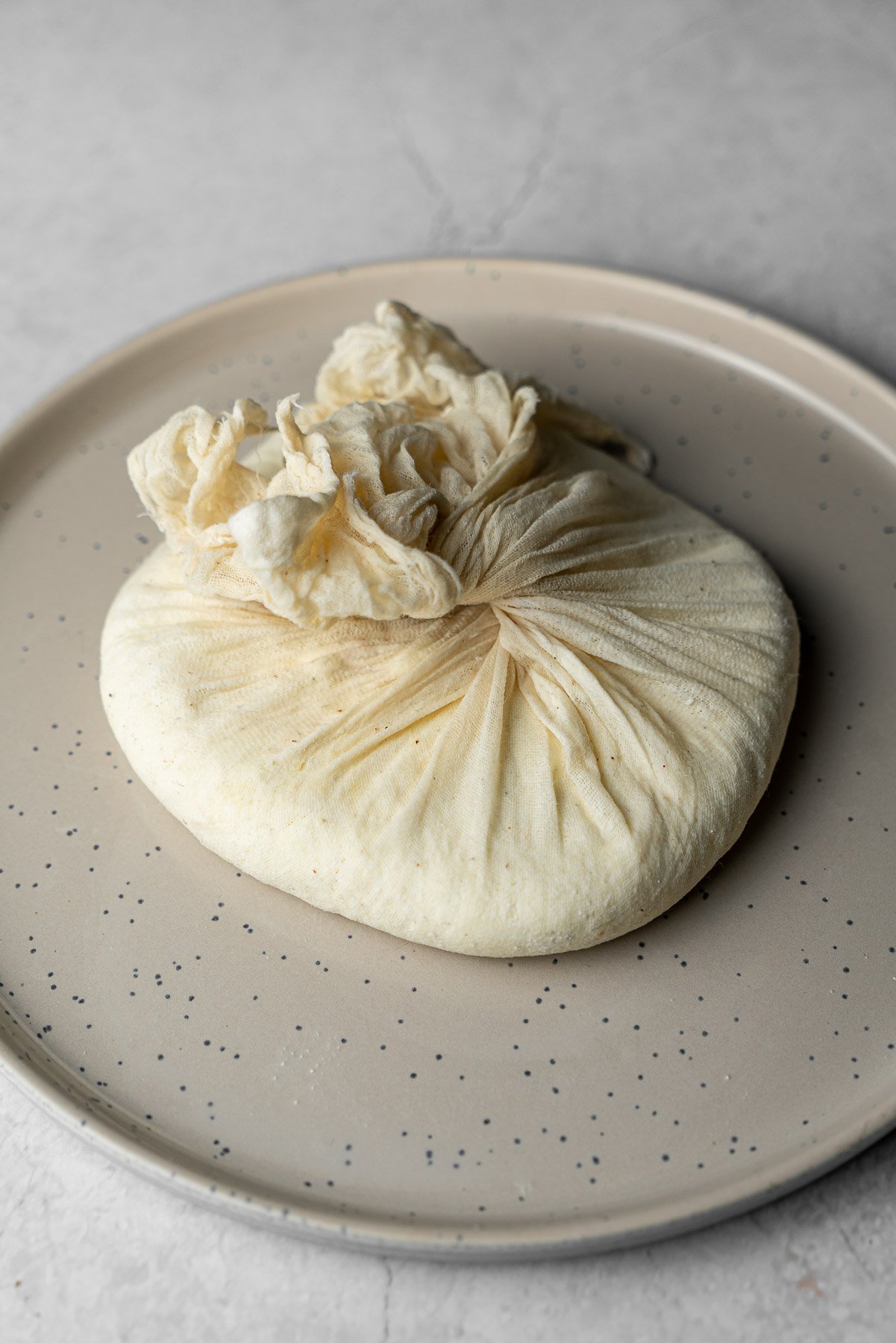 After pressing the paneer, you will get your chance to shape it a bit into a square or a perfect circle if you'd like to. Remove any excess whey that may have been pressed out, and chill the paneer for at least an hour. If you cut the paneer immediately, you'll end up with crumbs everywhere. After it's chilled, cut the block of cheese into the desired shape and it's ready for use!
THE DIFFERENCE BETWEEN STORE-BOUGHT AND HOMEMADE
Store-bought paneer tends to be a lot smoother and tightly compressed. Because of this, you may also feel and hear small squeaks when you bite into a piece of paneer (this is also my hack to find out if an Indian restaurant most likely makes their paneer fresh). Some people find it satisfying, some people find it incredibly irritating. It can also last much longer in the fridge. This makes it ideal for grilling or searing.
Homemade paneer is a bit crumblier (really not THAT crumbly if you chill). You can definitely see a difference in texture when comparing to a store-bought paneer. Because it's fresh, I also find that it's a bit softer and creamier but the con to that is the shelf-life is very short. You should plan to use it within a couple of days of making it.
RECIPES USING PANEER
Paneer can be used to make sandwiches, curries, desserts, etc. It can be eaten "raw' or you can give it a quick sear and use it as a protein in most dishes. I almost think of it as an unsalty halloumi.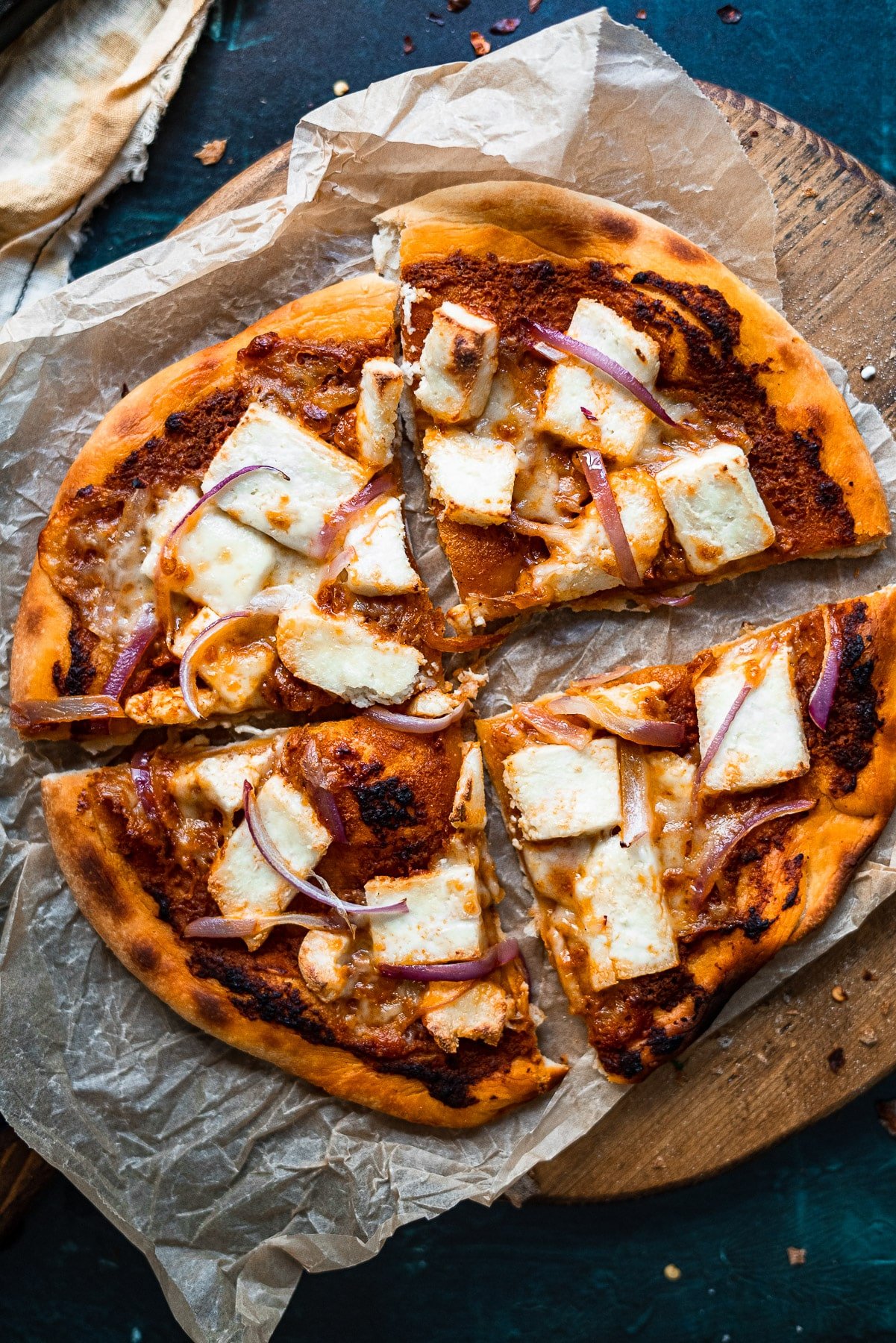 You can make Paneer Masala Cheesesteaks, Paneer Makhani Pizza, or Indian-Style Tea Sandwiches. One of the simplest ways to eat paneer is slicing it thinly, frying it in butter until golden brown, and then hitting it with a sprinkle of salt and chaat masala. You can also put those thin slices into a sandwich with tomatoes and cucumber for a quick lunch!
WHERE TO BUY PANEER
Fresh paneer is an absolute game changer compared to the pre-packaged stuff you find at the grocery store. If you're not in the mood to make paneer, here are a few other options to purchase this glorious cheese!
HOW TO STORE PANEER
Store paneer in an airtight container in the fridge for up to a week. Because paneer has a higher water content and is a soft cheese, it is more likely to go bad in under two weeks. Even faster outside. You'll know when paneer has spoiled when it becomes yellow-ish, develops brown spots, becomes watery, or smells bad.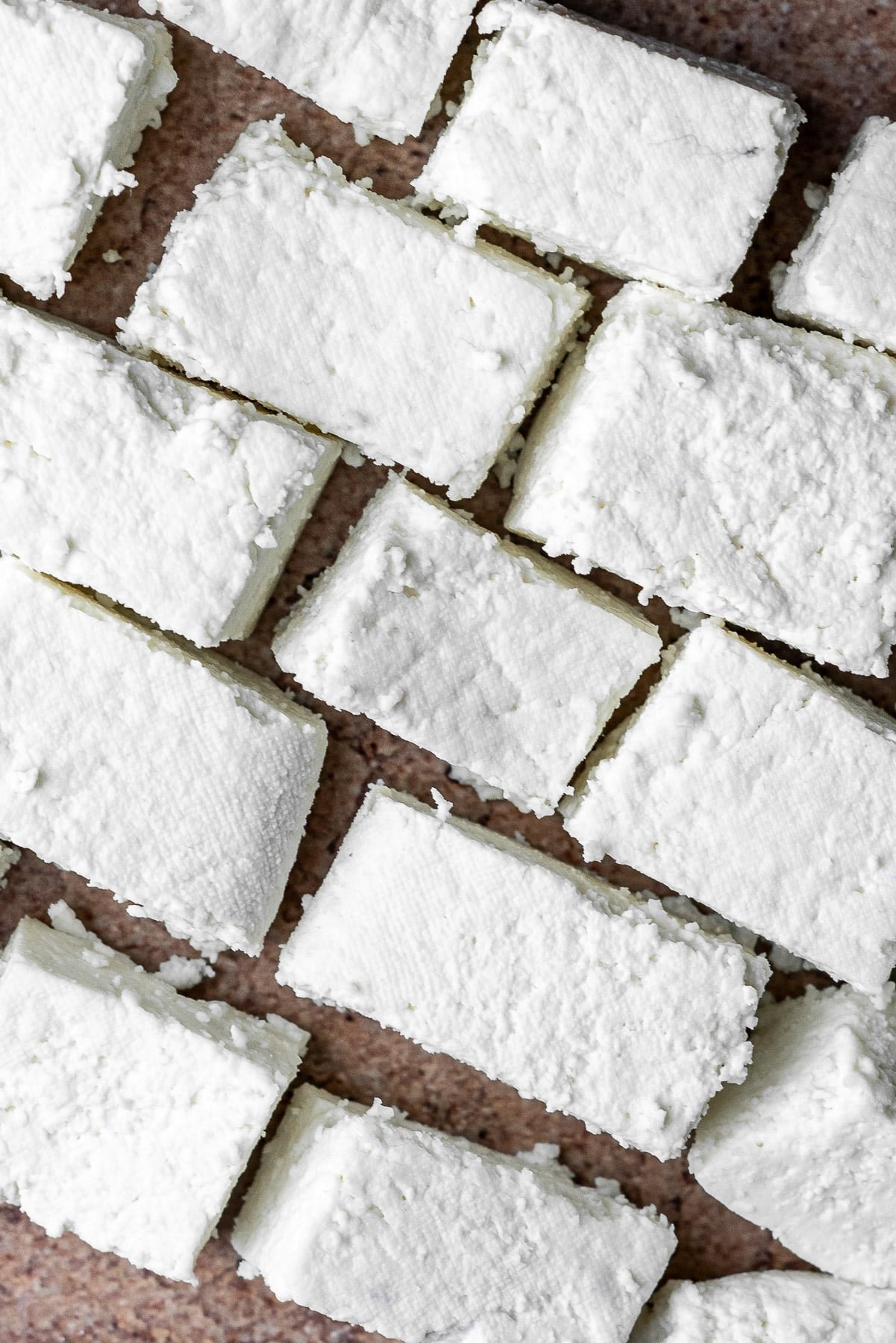 MORE INDIAN DINNER RECIPES TO TRY
Homemade Paneer
Paneer has got to be one of the easiest cheeses to make at home! This mild Indian no-melt cheese is incredible for absorbing flavor in curries, grilling, or even making into desserts!
Print
Rate
Ingredients
½

gallon

whole milk

3

tablespoon

lemon juice
Text Ingredients
Instructions
In a large heavy bottom pot, pour in all the milk. Turn the heat on low to medium. Turn on the thermometer and rest it in the milk. Bring the milk to a boil (~203°F), stirring occasionally. Once it's at a boil, pour in the lemon juice and stir with a slotted spoon. Turn off the heat and allow the milk to sit for 10 minutes as the milk curdles. After 10 minutes, gently stir the milk with a slotted spoon to separate the curds from the whey.

Place a strainer over a large bowl, and line the strainer with a cheesecloth. Carefully pour the curdled milk over the cheesecloth. Gather the cheesecloth to the middle, and twist the cloth to strain out as much whey as possible.

Transfer the block of paneer (still in the cheesecloth) on a plate. Fold the cheesecloth over the paneer so that it's flat. Place a heavy object on the paneer to flatten it out to about 2-inches thick and remove excess whey.

After a minimum of 20 minutes, remove the heavy object and refrigerate for a minimum of an hour. Carefully remove the cheesecloth and flip the paneer over on the smooth side. Cut into desired shape.
Notes
Use whole milk that has not been through UHT (ultra high temperature pasteurization). Non-fat or skim milk will not result in enough milk fat.
Nutrition
Serving:
113
g
|
Calories:
291
kcal
|
Carbohydrates:
23
g
|
Protein:
15
g
|
Fat:
15
g
|
Saturated Fat:
9
g
|
Cholesterol:
47
mg
|
Sodium:
204
mg
|
Potassium:
636
mg
|
Fiber:
1
g
|
Sugar:
24
g
|
Vitamin A:
767
IU
|
Vitamin C:
4
mg
|
Calcium:
535
mg
|
Iron:
1
mg
Subscribe to the Masala and Chai Newsletter Community to receive exclusive recipes and updates straight to your inbox.
I love seeing when you share my recipes! Tag me on Instagram @masalaandchai so I can enjoy them virtually with you! You can also find me on Pinterest, Facebook, Tik Tok, YouTube, and Twitter.
I'd love to know what you thought of this recipe! Don't forget to leave a comment and ⭐️ star rating below!