Low on yeast, or just don't want to use it? This homemade pizza dough recipe without yeast makes the crispiest, fluffiest crust! You won't want to pass any on to your designated crust person!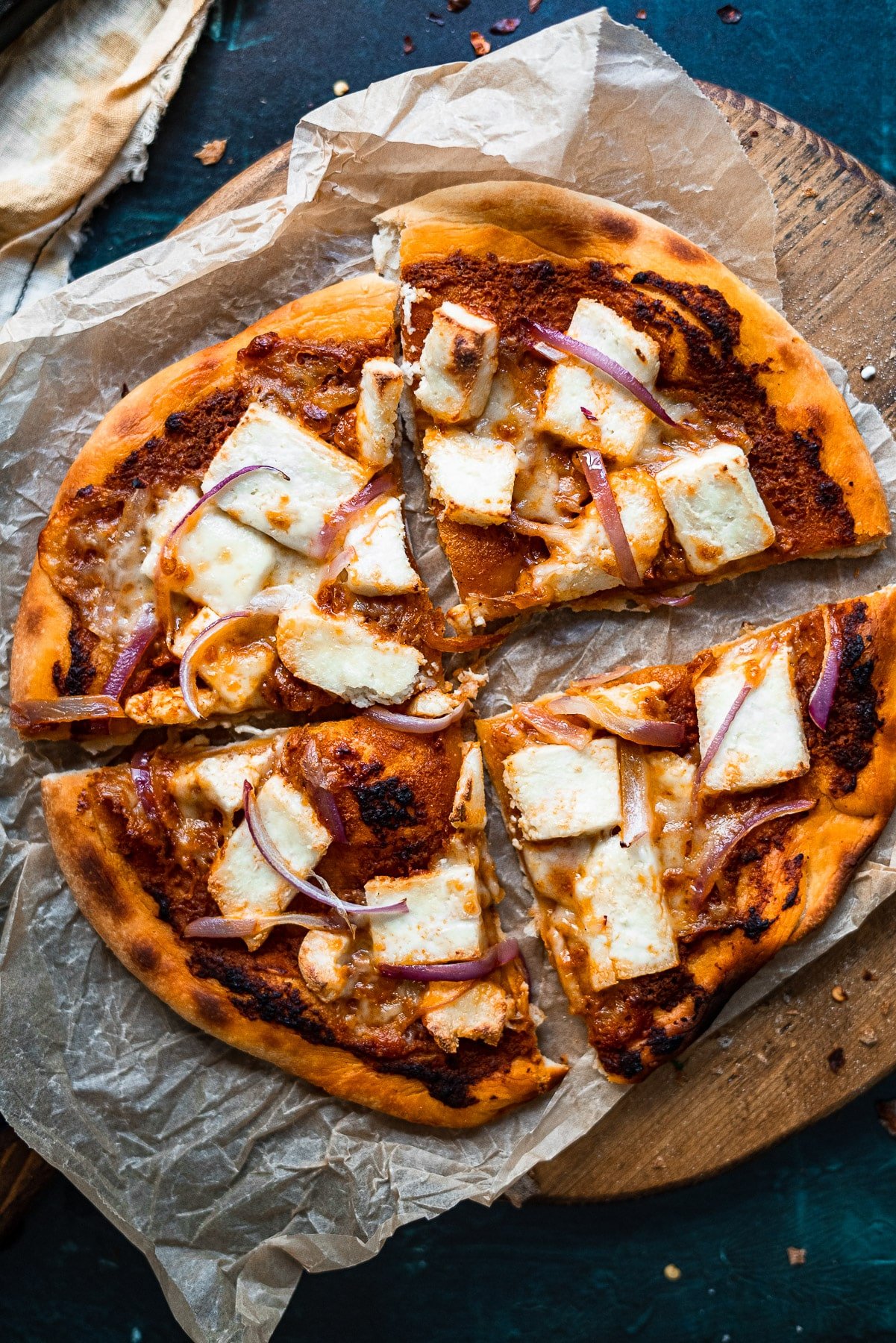 Yeast Free Pizza Crust Recipe
This is for those of you that simply cannot be bothered with yeast!! If you're like me, you shy away from using yeast because making and baking bread is like an art form that takes time and research to truly understand. But pizza dough? Pizza dough should be easy and accessible to anyone!
Jump to:
This recipe uses different methods of leavening to get the perfect, fluffy yet crispy pizza dough! This is ideal for making Neapolitan-ish pizza crust.
Why this Recipe Works
I am all about reusing leftover dough to make pizzas! I've used leftover naan dough to make a naan pizza, but it never hits the same as pizza dough. The texture is still different, so you know you're eating something same same but different.
Well, I took a virtual Zoom class with Roberta's Pizza, based out of Bushwick, Brooklyn. I thought it would be fun for tips and tricks on pizza making on a snowy Tuesday evening. I meant to prepare traditional pizza dough earlier in the day, but got so caught up with work and FaceTiming my mom... Boom, I completely forgot! I resigned to watching the class from bed, until I realized I had leftover Bhatura dough from recipe testing! At the last minute, I decided to give it a shot using Rao's Tomato Basil sauce and mozzarella. Ultimately, I was blown away for several reasons:
The dough actually bubbled while baking, which makes sense considering bhature are fried puffy bread.
Bhatura dough is soft and fluffy, so the texture of the pizza crust had the ideal floof while hitting the right crispyness.
A girl didn't have to use any yeast!!!
The actual taste of the crust was on point! None of it went in the trash, which is saying a lot as a no crust person.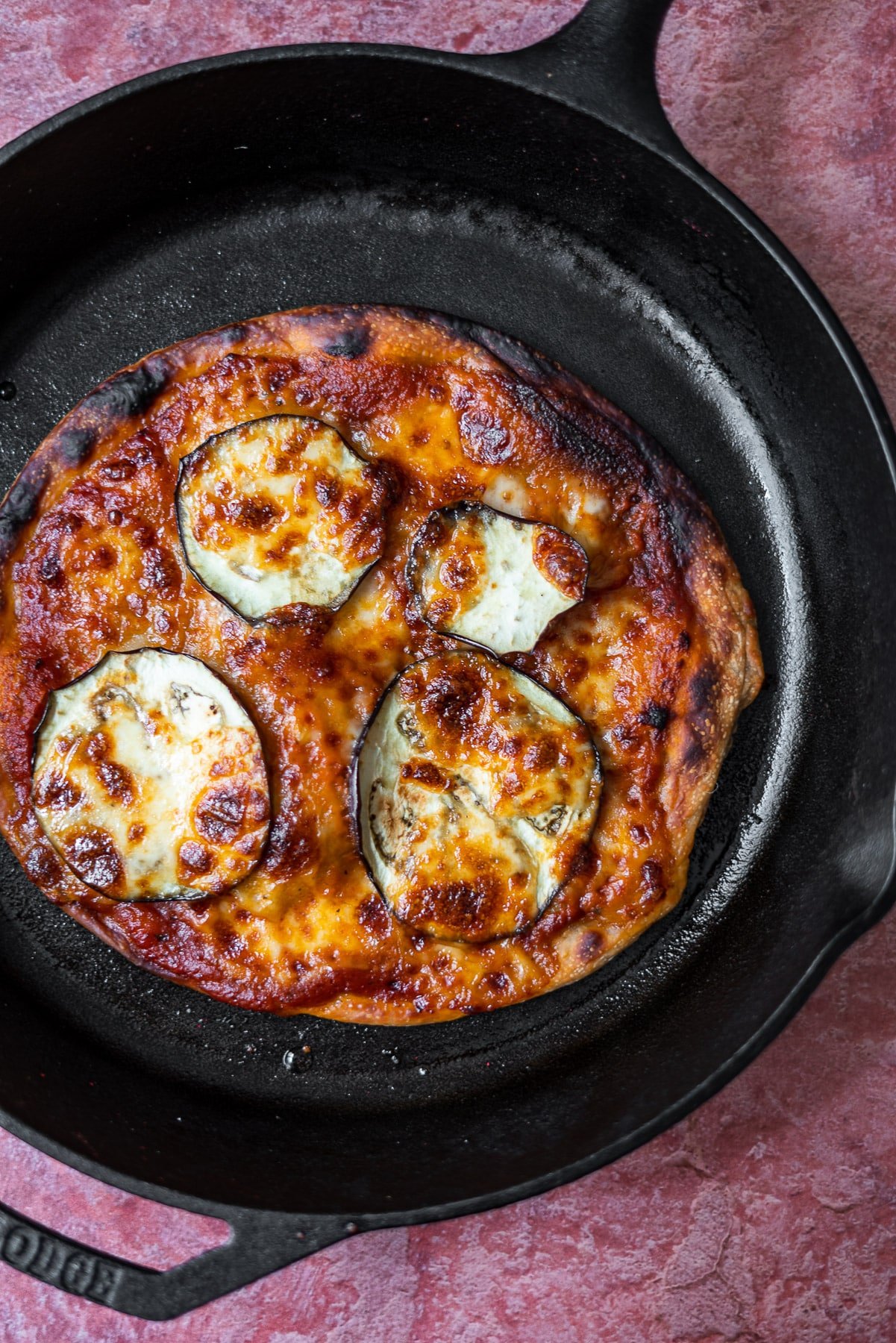 So, not only can you make delicious fried bread for sopping up curry, you can also make pizza with the same exact dough.
Why use Yogurt
I'm sure you've seen other fermented leavening agents, such as beer or buttermilk that work!
Yogurt is acidic. It helps with leavening the dough when mixed with baking powder.
It's also slightly tangy, which lends flavor to the crust.
You most likely already have yogurt in your fridge.
If you're vegan, you can substitute whole milk plain yogurt with coconut yogurt. It must be plain yogurt and fermented.
Last but not least, it makes the dough soft and fluffy! This isn't crunchy thin crust pizza.
Win-win-win-win! SO much winning!
(Technically... you can omit the yogurt. But you'll break my heart if you do.)
How to make Fluffy and Crispy Pizza Crust with no yeast
Making the dough could not be easier!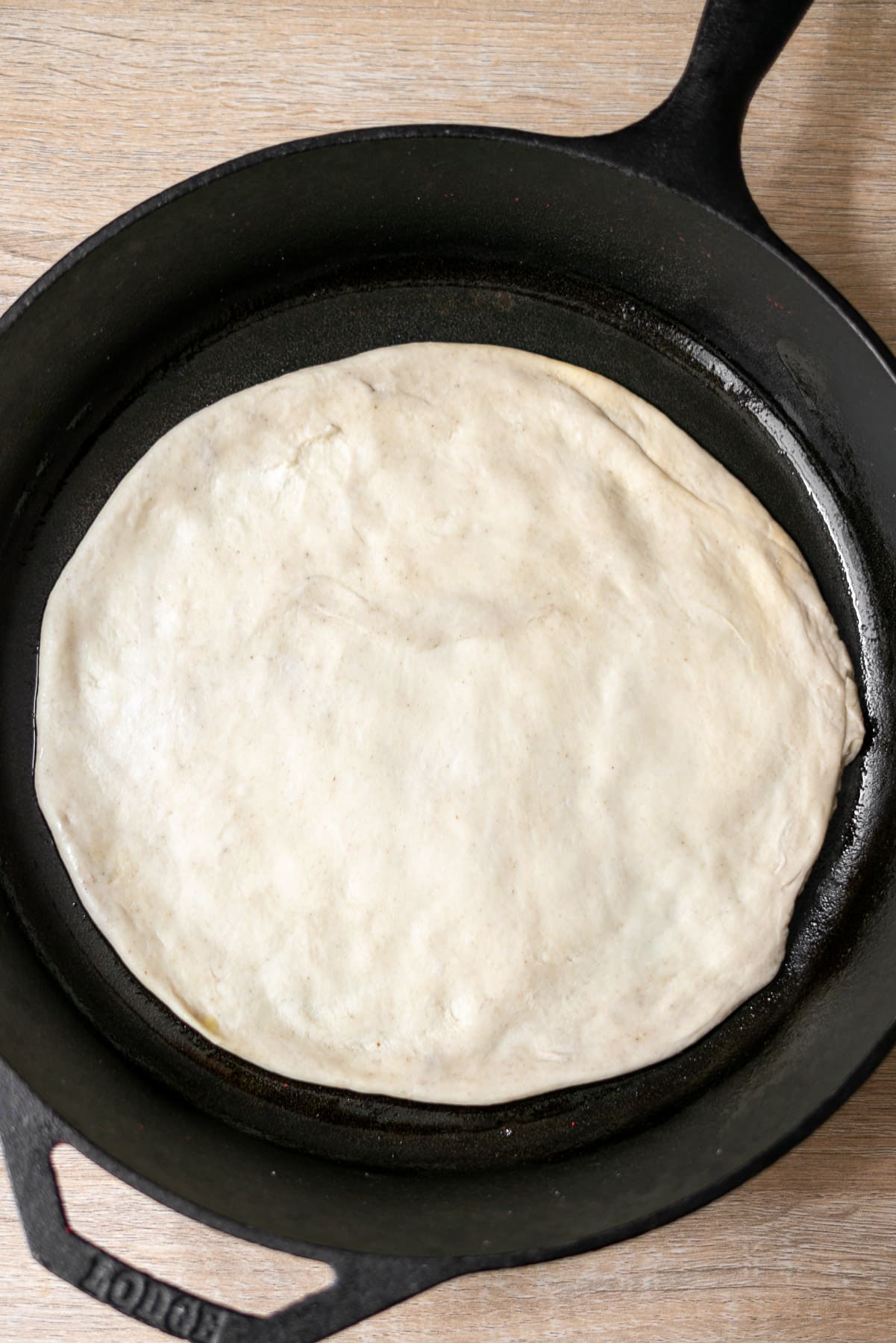 In a large bowl, mix together the dry ingredients first. Make a well in the middle of the bowl and add in the yogurt and olive oil. Mix together the dry and wet ingredients into a shaggy dough. Then, slowly begin adding in the lukewarm water, which should be at about 105°F, as you continue to knead the dough with your hands. Knead the dough until it's mostly smooth, and then leave it to rest for about an hour. You can also leave it in the fridge overnight in an airtight container with a damp paper towel to prevent the dough from drying. Allow it to come to room temperature if you store it overnight.
When you're ready to bake the pizza dough, stretch the dough on your knuckles or shape it in a pan with your fingertips. There should be very little to no bounce back in the dough if it's been rested and is at room temperature. The crust only needs about 10-13 minutes to bake, depending on how high your oven temperature goes, to get the crispy bottom and fluffy inside. I also reserve a minute or two to put pizza under the broiler to get the beautiful, browned melty cheese.
Personally, my favorite way to bake the pizza was using the pizza stones with my oven at the highest temperature that it could go. It's an absolute game changer if you love making pizza at home!
Topping Ideas
Use any of your favorite toppings for pizza and have fun with it! The dough makes two 8-10in thin crust pizzas so it's a great date night recipe.
For one pizza, I used a homemade makhani sauce (use the sauce recipe from my Butter Masala Pasta to make your own), homemade paneer, and red onions. For the other pizza, I did an eggplant parm. I've also done a plain margherita. I'd love to see your creations, so be sure to tag me on Instagram so I can share them!
How to Store Pizza Dough
You can store the unbaked pizza dough in an airtight container with a damp paper towel in the fridge for up to 5 days. This will also allow the flavor in the dough to develop a lot more over time.
When ready to use the pizza dough, allow it to come to room temperature before baking according to instructions.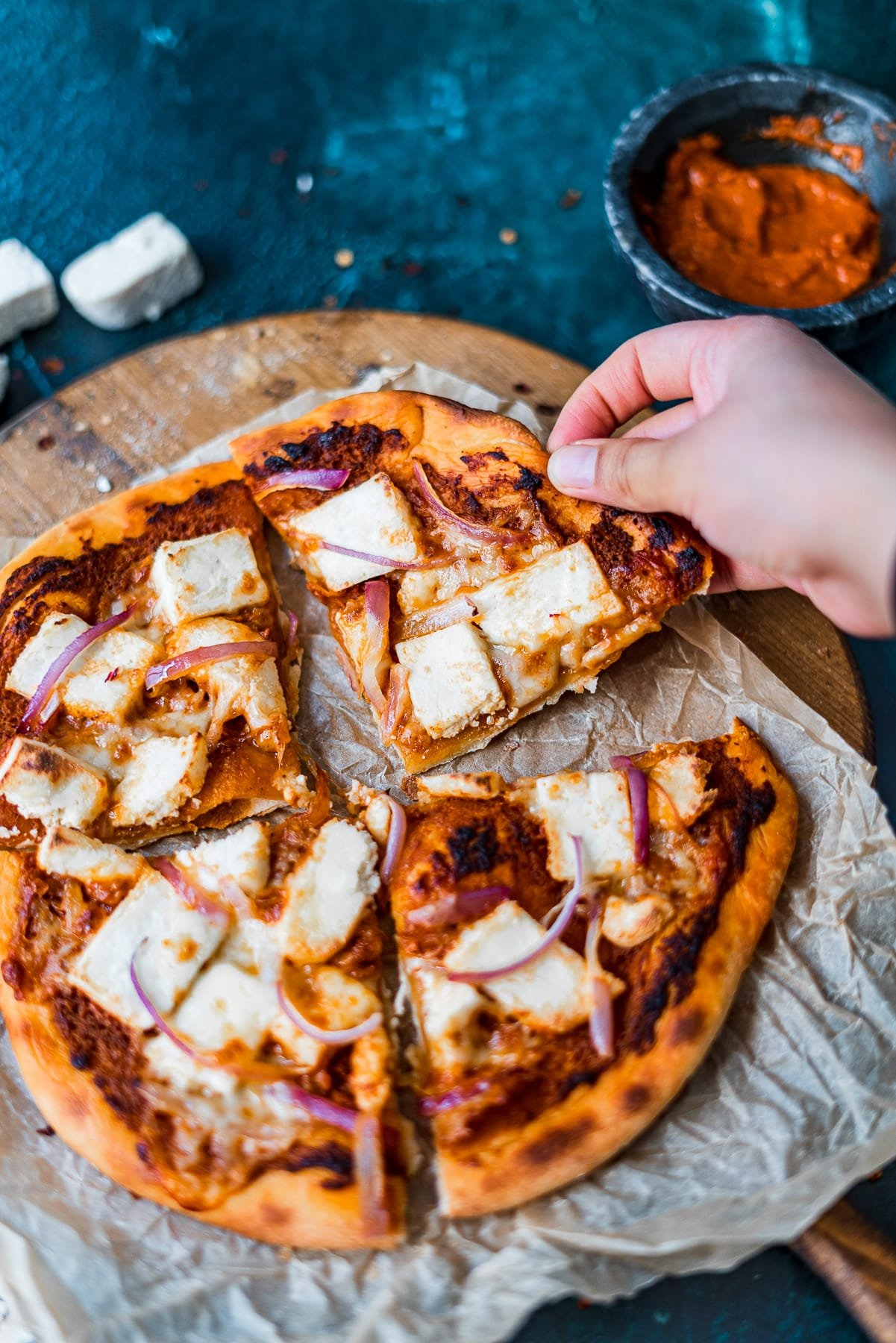 More Bread and Bun Recipes to try
Recipe
No-Yeast Pizza Dough
Low on yeast, or just don't know how to use it? This no yeast pizza dough recipe makes the crispiest, fluffiest crust that you won't want to pass on to your designated crust person!
Servings:
2
9-in pizza crusts
Print
Pin
Rate
Ingredients
1½

cup

all-purpose flour

¼

cup

'00 flour'

¼

teaspoon

baking powder

½

teaspoon

salt

2

tablespoon

whole milk plain yogurt

2

teaspoon

olive oil

½

cup

lukewarm water

semolina,

for dusting
Instructions
In a large bowl, whisk the all purpose flour, 00 flour, baking powder, and salt. Make a well in the middle and pour in the olive oil and yogurt. Use your hands to mix in the dry ingredients until a shaggy dough forms. Slowly begin to pour in the lukewarm water and knead the dough. Knead for 4-7 minutes until the dough is smooth.

Lightly oil the bowl and cover the dough. Allow it to rest for one hour. After the dough rests split it in half and form a ball with the dough.
Baking with Pizza Stones
Place the pizza stones into the middle rack of your oven. Preheat the oven to 500°F+, or as hot as your oven can go. Lightly flour a smooth surface and dip your fingertips in olive oil. Begin to spread the dough out with your fingertips from the middle outwards. Once it gets to about 5 inches wide, slip your knuckles under the edge of the crust and hold the pizza dough in the air. Move your knuckles along the pizza, allowing gravity to stretch out the dough until it forms a 9-in circle.

Dust a pizza peel with semolina. Place the dough on the pizza peel and ensure the bottom gets a full coating to prevent sticking. Try shimmying the pizza peel to see if the dough is sticking anywhere.

Build your pizza with the desired toppings. Once the oven is thoroughly heated, shimmy the pizza on to the pizza stones. Bake for 13 minutes, or until the crust is golden. Use the peel, or alternatively a spatula, to remove the pizza. Serve immediately.
Baking in a Cast Iron Pan
Preheat the oven to 500°F+, or as hot as your oven can go with the rack in the middle. Use a paper towel to generously oil a 9-10in cast iron pan. Put the pizza dough in the center and begin to spread out the dough all the way to the edges with your fingertips.

Build your pizza with the desired toppings. Once the oven is thoroughly heated, place the cast iron pan into the oven and bake for 13 minutes, or until the crust is golden brown. Remove from the oven and serve immediately.
Notes
If you don't have pizza stones, shape the pizza and build it on the back on a baking sheet. Once the pizza is built and the oven is preheated, place the baking sheet with the pizza on it in the oven and bake for 13-15 minutes.
As a vegan substitute, use coconut yogurt.
Nutrition
Serving:
1
pizza
|
Calories:
470
kcal
|
Carbohydrates:
90
g
|
Protein:
14
g
|
Fat:
6
g
|
Saturated Fat:
1
g
|
Cholesterol:
3
mg
|
Sodium:
646
mg
|
Potassium:
235
mg
|
Fiber:
3
g
|
Sugar:
1
g
|
Vitamin A:
20
IU
|
Vitamin C:
1
mg
|
Calcium:
76
mg
|
Iron:
5
mg