In love with butter chicken? Butter Masala Pasta is undoubtedly about to be a new addition to the dinner menu rotation! The makhani sauce is creamy, slightly spicy, and everything we all love in a great pasta dish! Add chicken to make a Butter Chicken Pasta!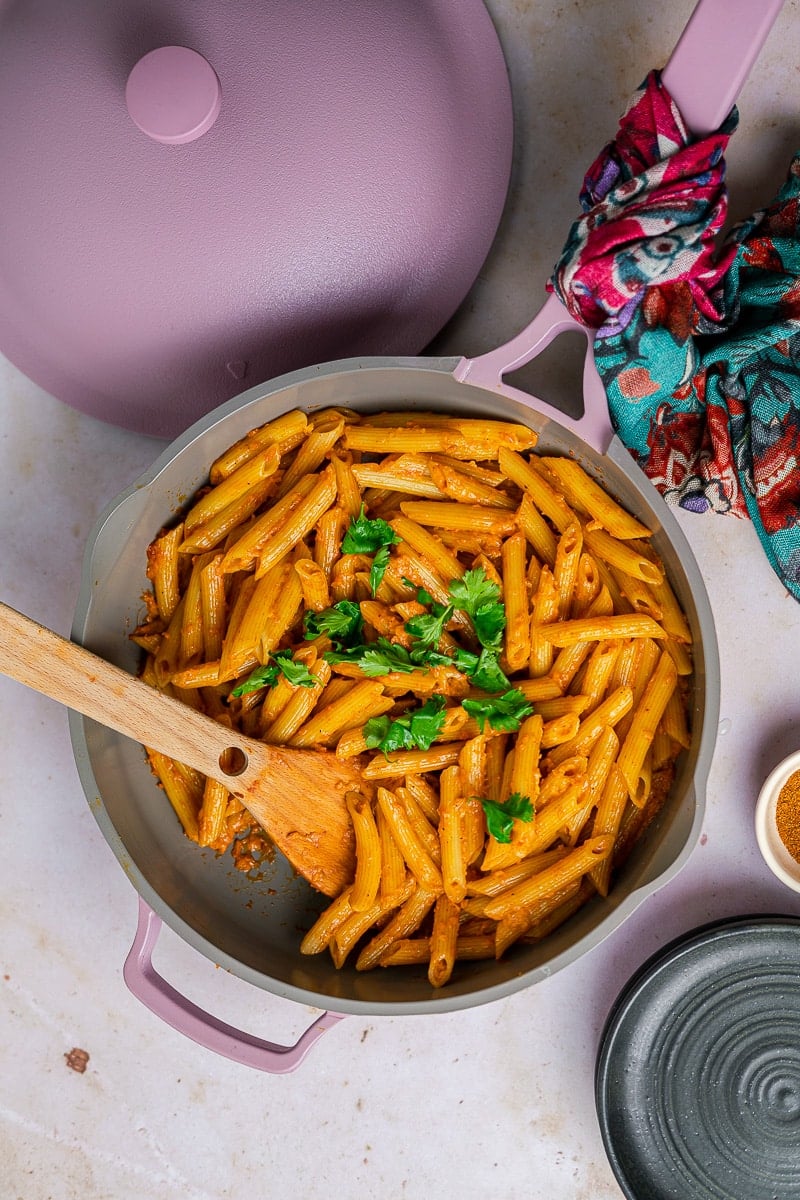 If you're a child of immigrants in the U.S., you were probaaaably made fun of for what was in your lunch box that day. Maybe you were one of the ~unlucky~ ones that convinced your mom to allow you to take a gross Lunchables. I always complained about being made fun of for my Indian food and I would get caught throwing out my untouched lunch. Fresh Off the Boat on Hulu even had an episode on this exact same thing!
Thanks to my stanky lunch, my mom learned how to adapt in the best way ever - fusion Indian food! She wasn't about to let me eat the school's icky $1 cheese pizza. Instead, she did things like mix our leftover curry from the night before with regular marinara pasta.
Enter: Butter Masala Pasta. Now, I'm sure there are a few desi people whose parents made a variation of this but it's truly something I never thought of before. Don't @ me.
One day, I was stuck in meetings and boiled pasta before I realized I had no sauce. I grabbed the butter chicken I made the night before and threw some of the curry onto the pasta and called it a day. It just made sense! The tomato base with cream is very similar to Italian pastas and butter masala requires just a few extra ingredients.
Jump to: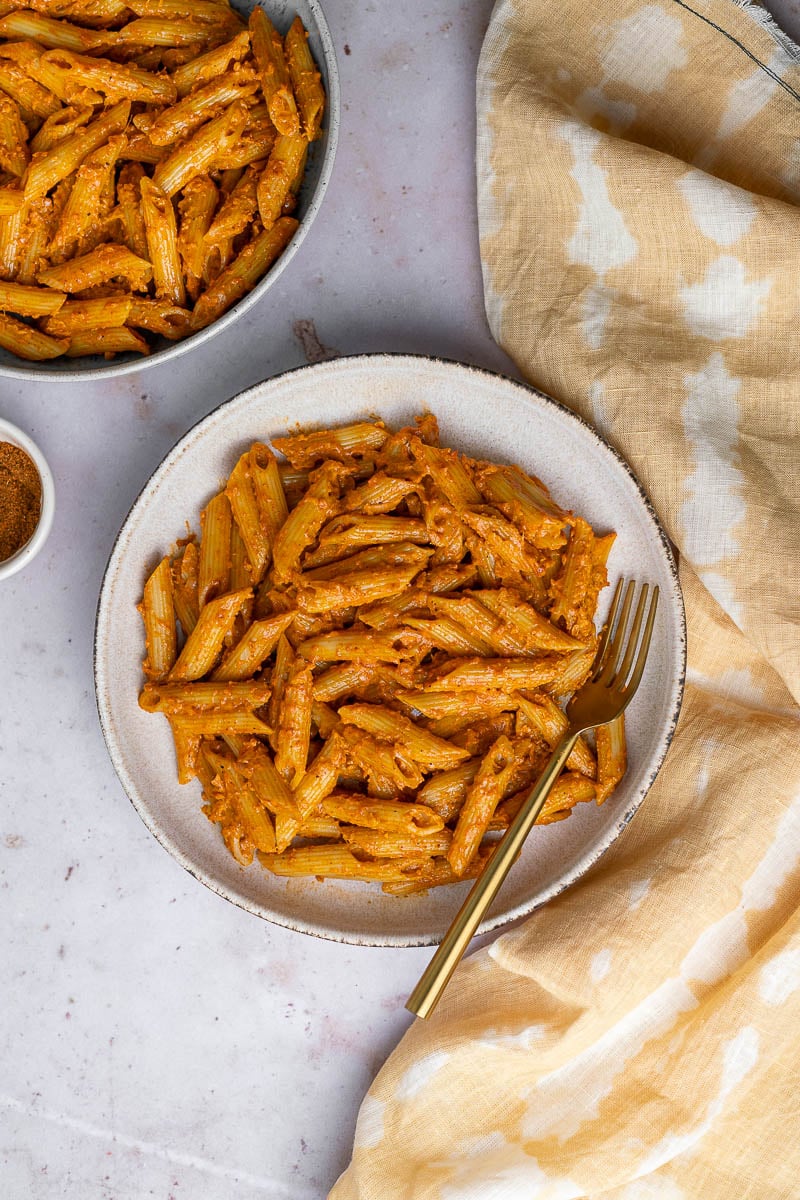 The Masalas and Ingredients
I realize that Indian cooking is very new territory to some people, myself included. The ingredients for making Butter Masala are almost the same as a creamy tomato-based pasta. You'll just need a total of four masalas, all in equal parts, that you're more than likely to already have in your pantry.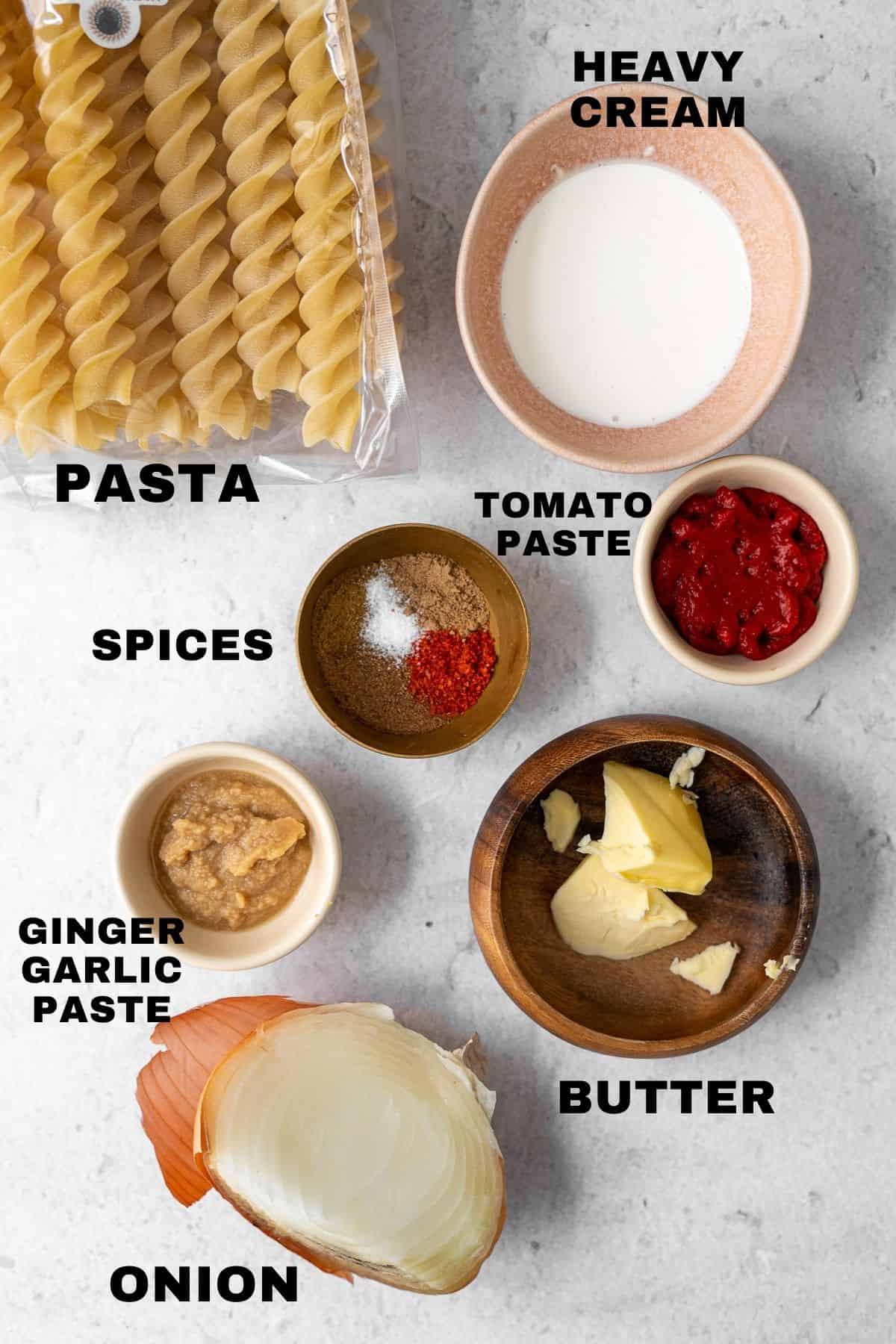 The one that may be the most difficult to find or the one you're unfamiliar with is garam masala. This is not to be confused with curry powder or all spice. Garam masala is used in a majority of Indian recipes and a pantry staple for most Indian households.
Garam masala, translating to "warming spices," is a blend of ground fragrant spices usually including cumin, coriander, cardamom, cinnamon, peppercorn, cloves, and bay leaves. Some variants include nutmeg, cayenne, star anise, etc.
You can find garam masala on Amazon, but at this point it's also widely available at most grocery stores. As a substitute, use about a tablespoon of butter chicken or chicken tikka spice blends.
You can use any dry or fresh pasta for this recipe! I used a protein-heavy pasta. You can also marinate and cook chicken according to a butter chicken recipe if you choose not to use a protein pasta. I've also had readers report back saying they used shrimp, lobster, sausage, and tofu!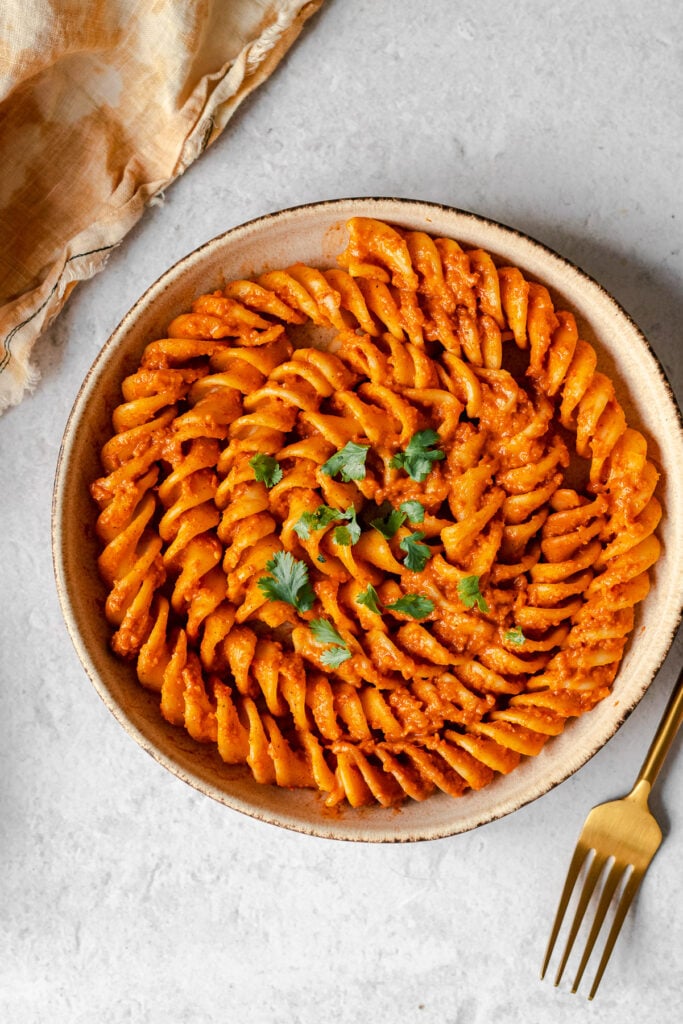 Step-by-step Instructions
Making the makhani sauce is super similar to making a vodka sauce. Just axe the vodka, and add spices!
Boil the pasta. Bring a large pot with salted water to a boil. Add the pasta and cook according to instructions. Save some of the pasta water.
Fry the onions and blend. In a pan on medium heat, melt a tablespoon of butter and add in diced onions. Fry the onions until they're golden brown, not just transparent. Transfer the onions to a food processor and slowly add in water until you get a paste. Add the onions back into the pan.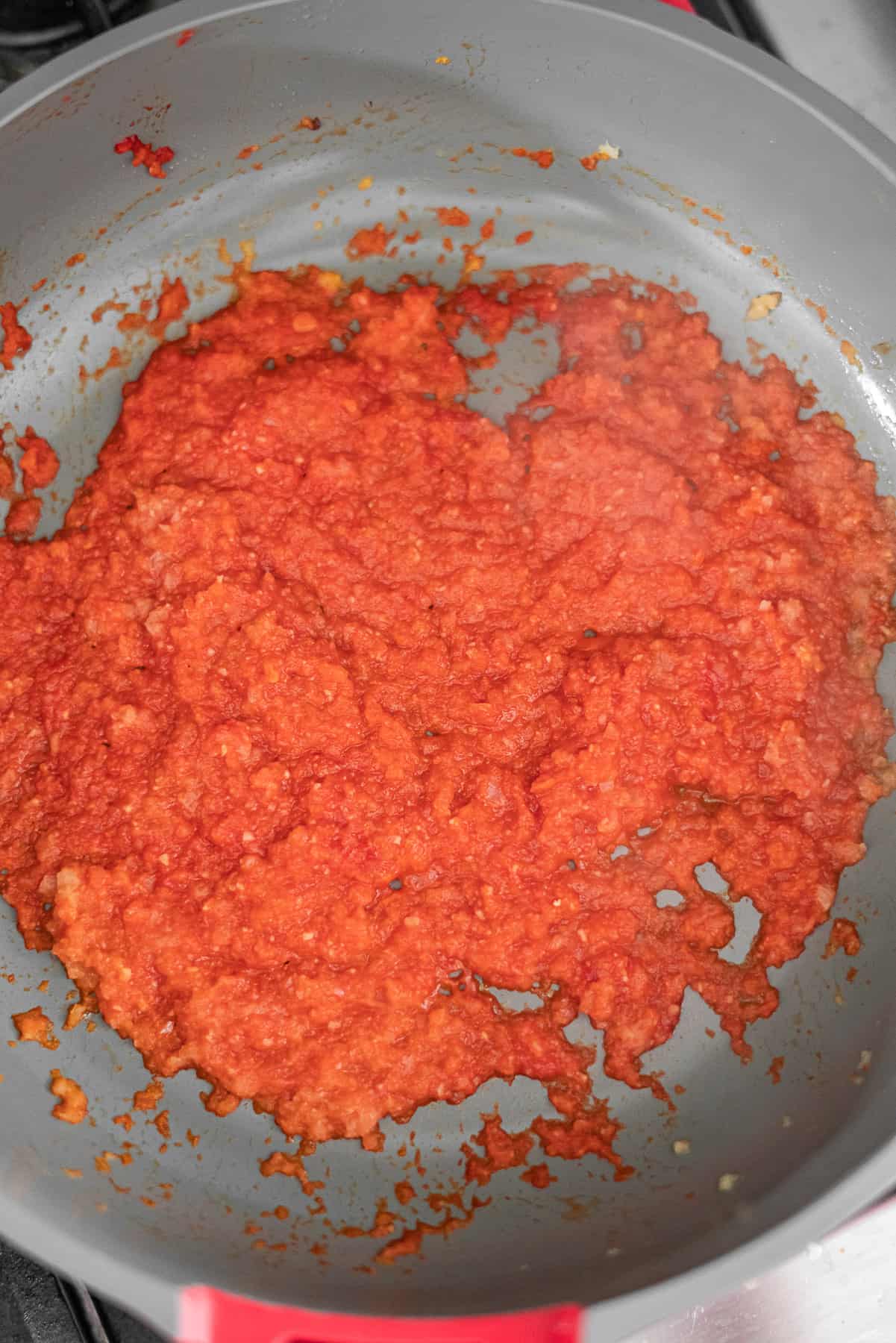 Sauté aromatics and tomato. Add in the ginger garlic paste and tomato paste. If you don't have ginger garlic paste, use freshly grated ginger and garlic, or even powdered spices. Add in the tomato paste and stir it together really well. Allow it to simmer until the tomato darkens in color and the water evaporates leaving a thick paste.
Add the spices. Stir the ground garam masala, chili powder, coriander powder, and cumin into the paste. If you want it less spicy then adjust the amount of chili powder.
Pour in the liquids. Add the heavy cream and add the pasta water based on the sauce consistency you'd like.
Transfer the pasta to the sauce and toss it well.
Serve with cilantro.
Expert Tips for the Best Makhani Sauce
This butter masala sauce is inspired by chicken makhani, known as Butter Chicken. Makhani means butter in Hindi. Butter chicken gets a lot of the bold red color that's so visually striking from the marinated chicken cooked in a tandoor before adding it to the orangey-red curry. Most people say "you know it's good butter chicken when the color is a beautiful red" and it's so true!
If you're a fan of makhani sauce, you should also definitely check out these Butter Chicken Wings!
Here are a few tips to achieving the beautiful bold sauce:
Fry half a cup of a white onion in unsalted butter to a golden brown before putting it through the food processor. It's key to getting the perfect flavor (trust me, I tried without). Add only as much water into the food processor as you need to turn the onion into a paste.
The sauce is ready for spices when the butter starts separating from the tomato paste and the color has darkened.
The sauce will be dry and darken even more after adding in the spices and allowing the sauce to simmer. When you add the heavy cream it'll retain a nice orangey-red color.
The butter masala is done simmering when there are streaks of butter in the sauce. I like to add a dollop of ghee at the very end and let it melt into the pasta.
Add more hot water if the sauce is too thick to evenly coat the pasta. If you like it super saucy like I do, simmer the sauce until it thickens up to your preferred consistency.
Frequently Asked Questions
Can I use fresh tomatoes instead of tomato paste?
You can use a fresh tomato instead of tomato paste in makhani sauce. Blend the tomato first and then add it in when you would add in the tomato paste and let it simmer down. I've even had a friend use ketchup and say it was just a bit sweet.
What can I use instead of heavy cream?
You can use a handful of cashews and blend them with the sauce to make it super creamy. You can also use coconut milk.
Can I use the makhani sauce for other recipes?
100%! It won't be as robust as a regular makhani sauce but I've definitely used this as a simplified version for pizzas like in this No-Yeast Pizza Crust recipe where I made a paneer makhani pizza.
Can I add protein?
I'd recommend adding paneer or chicken to make a Butter Chicken Pasta. You can also add sausage or lobster. You'll want to marinate the protein in a tablespoon of the spice mixture, ½ cup of yogurt, and 1 tablespoon of lemon juice for a minimum of 30 minutes. Sear the protein and undercook it by 2-3 minutes, and then add it into the sauce a few minutes before adding the pasta.
For a video, check out the Story on how to make the butter masala sauce.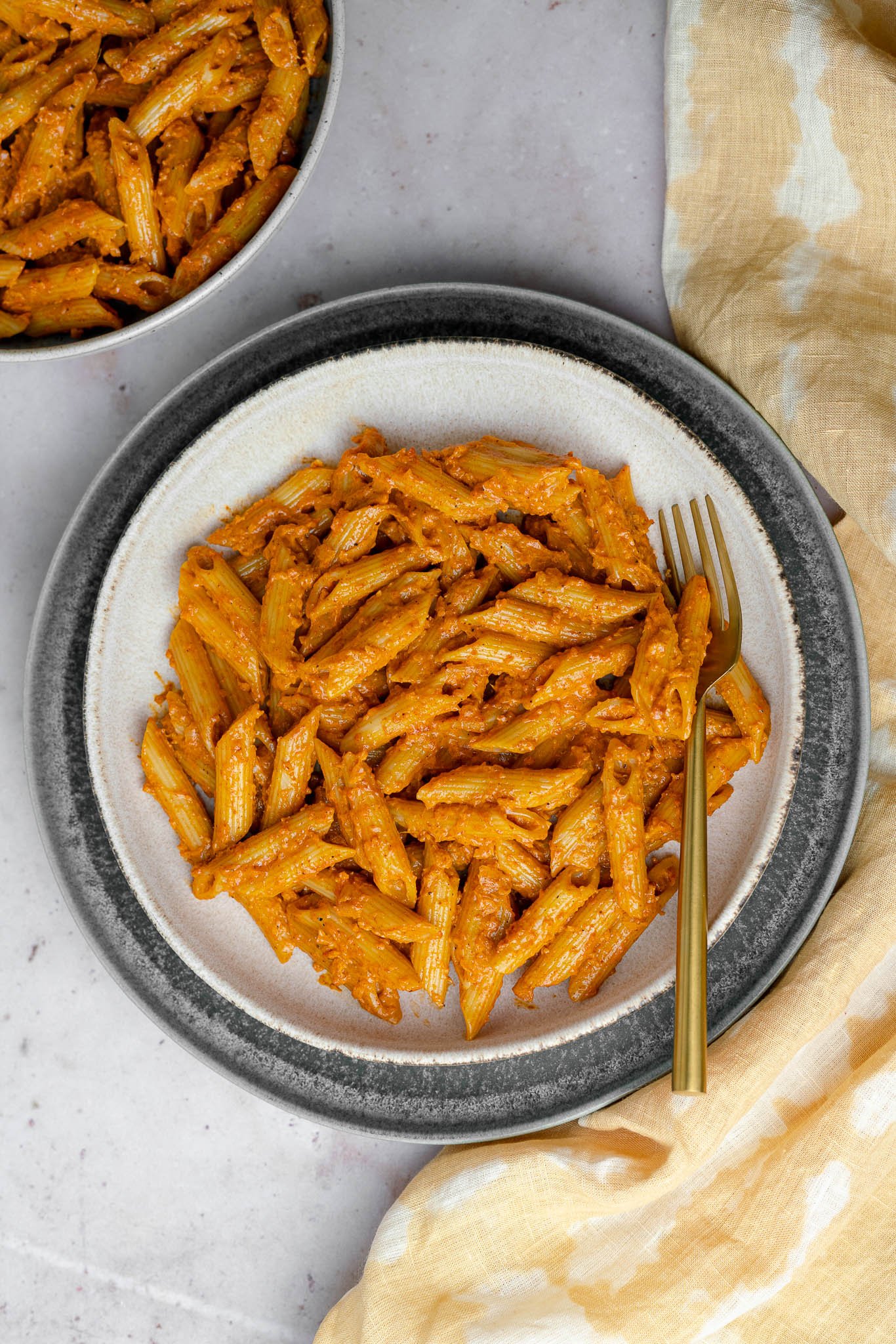 In my Instagram stories a while back I asked if anyone's parents did random fusion foods and I got a lot of really fun answers! Let me know what fusion foods your family or you make in the comments!
More Indian Recipes to try
If you love Butter Chicken, be sure to check out these Butter Chicken and Butter Chicken Wings recipes!
Recipe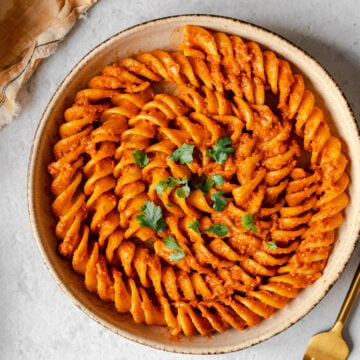 Butter Masala Pasta
An Indian-style pasta with a slightly spicy, creamy tomato-based butter masala sauce. It's based on everyone's favorite Indian dish - butter chicken!
Print
Rate
Instructions
In a medium sized pan, melt 1 tablespoon of butter on medium heat. Add chopped onion and pan fry until golden brown. Remove from heat and transfer the onions to a food processor. Blend the onions while slowly adding about a tablespoon of water until smooth. Transfer the onions back to the pan on low to medium heat.

While the onions are blending, add the pasta to a pot of salted boiling water and cook to instruction. Reserve a ½ cup of pasta water

Stir in the ginger garlic paste, tomato paste, and salt to taste into the onion paste. Cover the sauce pan with a lid until the butter starts separating a little on the sides and the tomato turns a darker color. Be sure to stir it every now and then. The sauce should be very thick at this point.

Add all the spices and mix together well. Stir in the cream, and then the ½ cup of hot pasta water. Simmer until butter starts to separate and the sauce thickens. Pour in your pasta. Once the sauce is incorporated, mix in 1 tablespoon of melted butter before plating the pasta and garnishing with cilantro.
Notes
A great alternative to using the spices is buying a readymade spice mixture of butter chicken or tikka masala from your local Indian grocery store.
If you don't have ginger garlic paste available, you can toss fresh garlic and ginger into a food processor with some water and blend until a paste forms. Ground ginger and garlic are also acceptable substitutes, but not preferred over fresh ginger and garlic.
Nutrition
Calories:
211
kcal
|
Carbohydrates:
12
g
|
Protein:
3
g
|
Fat:
18
g
|
Saturated Fat:
11
g
|
Cholesterol:
51
mg
|
Sodium:
453
mg
|
Potassium:
461
mg
|
Fiber:
3
g
|
Sugar:
6
g
|
Vitamin A:
1361
IU
|
Vitamin C:
10
mg
|
Calcium:
49
mg
|
Iron:
3
mg
This recipe was updated on May 26th, 2020 to include more process photos and additional details.