Indulge in a fusion of flavors with Butter Chicken Garlic Naan Pizza, a desi twist on traditional pizza. This recipe combines all the best things in life - rich and creamy butter chicken as the sauce, aromatic garlic naan as the crust, and melty mozzarella cheese. This pizza is about to become a family favorite.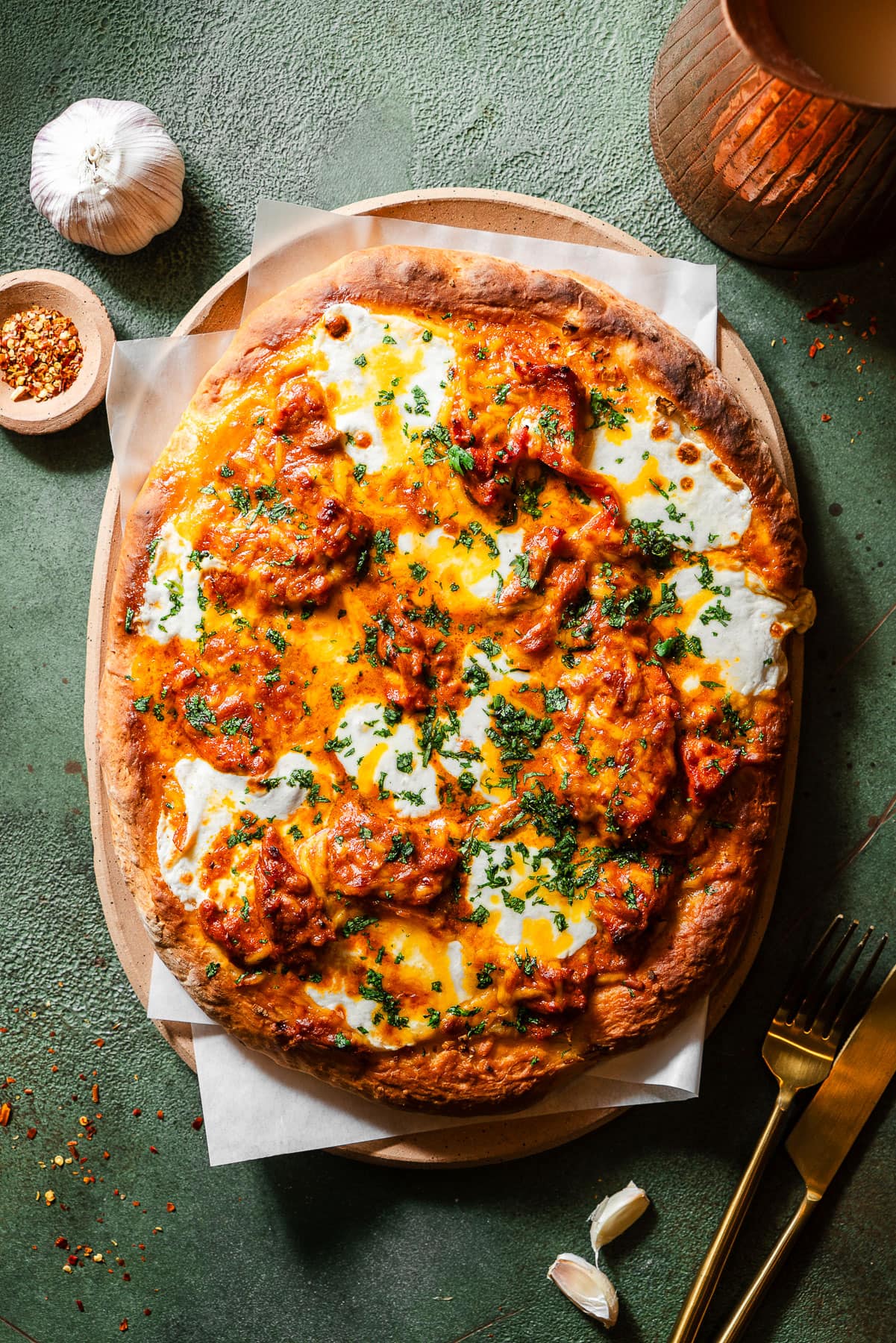 During college, I studied abroad at NYU Abu Dhabi and I swear the thing I remember the most was ordering Chicken Tikka or Murgh Makhani Pizzas late at night from the dining hall. It was absolutely divine, and it's now the favorite thing I make at home.
It's not terribly uncommon for desi households to repurpose leftovers in wacky ways. My mom puts Chole in pasta, and it's actually scary delicious. If you have leftover butter chicken from an Indian restaurant or homemade from the night before, then you need to try this recipe.
The butter chicken acts as a pizza sauce plus a chicken topping. The naan is the pizza crust that's slathered in garlic butter. Then the mozzarella cheese gets bubbly and browns a little under the broiler. It's absolutely divine with so many delicious things combined into one glorious pizza.
Jump to:
Why you'll love this Recipe
I cannot say enough good things about this recipe. At this point, I make it at least once a month.
It's great for using butter chicken leftovers! Although leftovers are probably even more delicious the next night, it's even better on a pizza. With lots of garlic and cheese. Yum!
This recipe makes a giant naan for the pizza crust. It's delicious, fluffy, and not a fussy bread to make.
Ingredients - Notes and Subsitutions
Naan is an Indian bread that originated in Iran. It's typically cooked in a tandoor, a clay oven. It uses a unique ingredient, dahi, or yogurt that adds a bit of tanginess. The naan forms the crust of this pizza.
It's fluffy and sooo good with the garlic butter.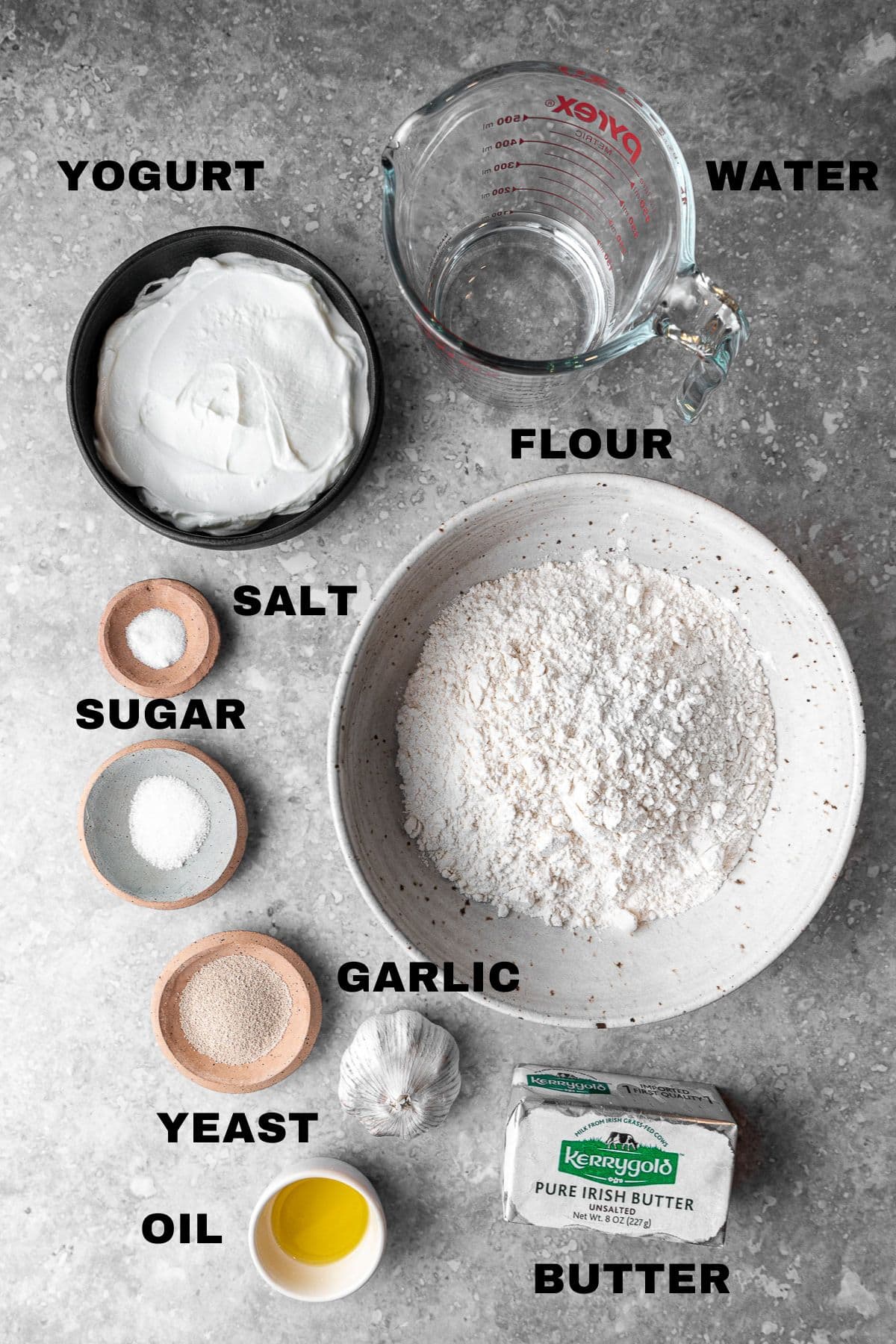 Flour - Use all-purpose flour. I like King Arthur's unbleached all-purpose flour (Amazon).
Yogurt - Dahi is authentic to naan recipes. However, plain whole milk yogurt or plain Greek yogurt have not presented any issues for me.
Yeast - I use Instant Dry Yeast (Amazon) for this recipe. Regular yeast should be activated with sugar and warm water first.
Garlic - Use fresh garlic, not garlic powder or bottled minced garlic for the best flavor.
Butter - Unsalted butter is infused with the garlic to brush on the naan.
If you don't want to make naan from scratch, you can also purchase it fresh from an Indian restaurant or in the frozen aisle of an Indian grocery store. One frozen naan per person should be sufficient.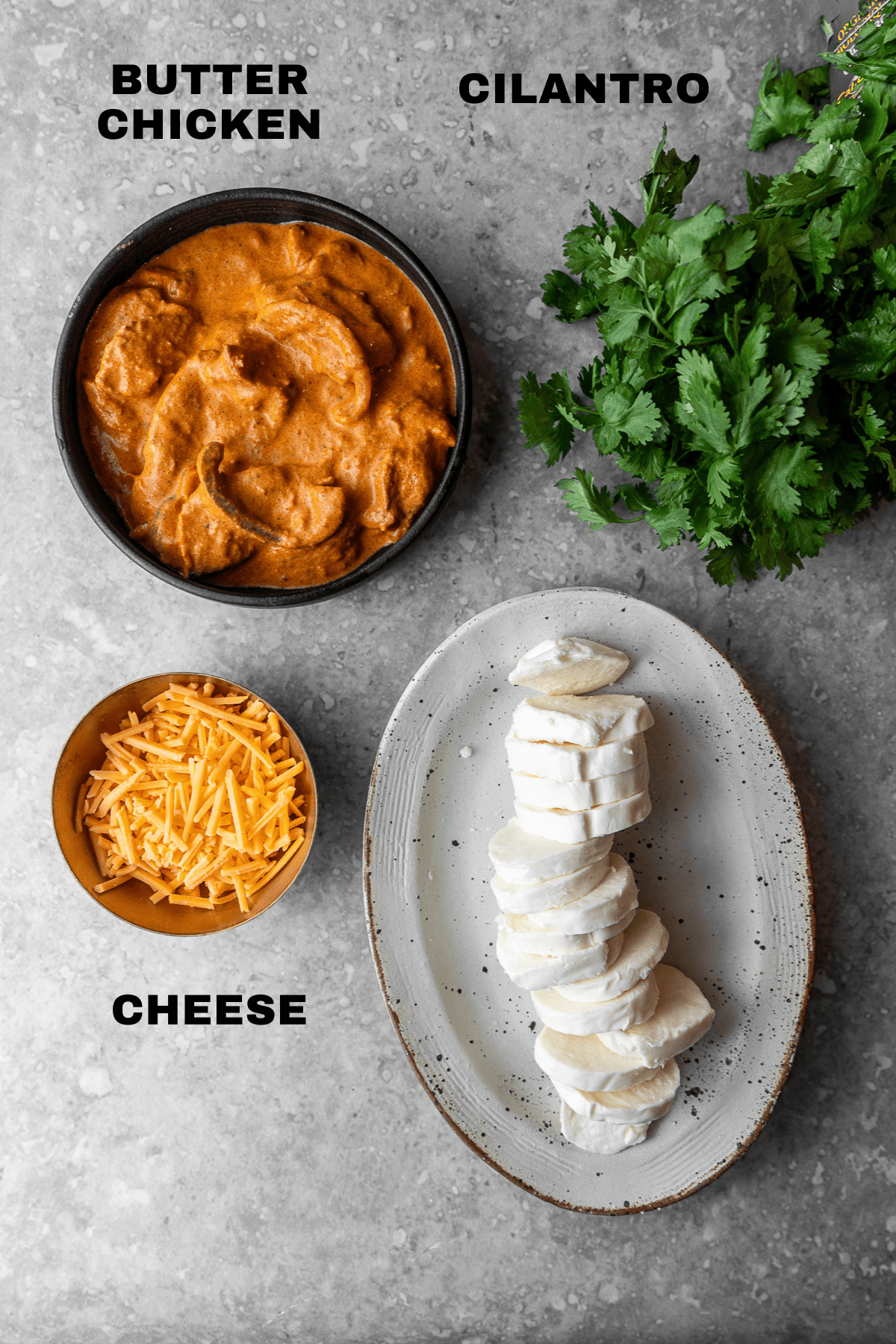 Butter Chicken - Leftover butter chicken from an Indian restaurant or homemade butter chicken are equally delicious.
Cheese - Fresh mozzarella with a bit of cheddar cheese has the best flavor on this pizza when paired with butter chicken.
Cilantro - For garnish.
Recommended Kitchen Equipment
How to make Butter Chicken Garlic Naan Pizza
Let's break this down into a few parts:
A high-level explanation on how to make butter chicken at home.
How to make the garlic naan pizza crust.
Assembling the pizza and baking it off to perfection.
1. How to make Butter Chicken
Try my highly-rated authentic butter chicken recipe! You'll start off by marinating the chicken in dahi, ginger garlic paste, lemon juice, and spices.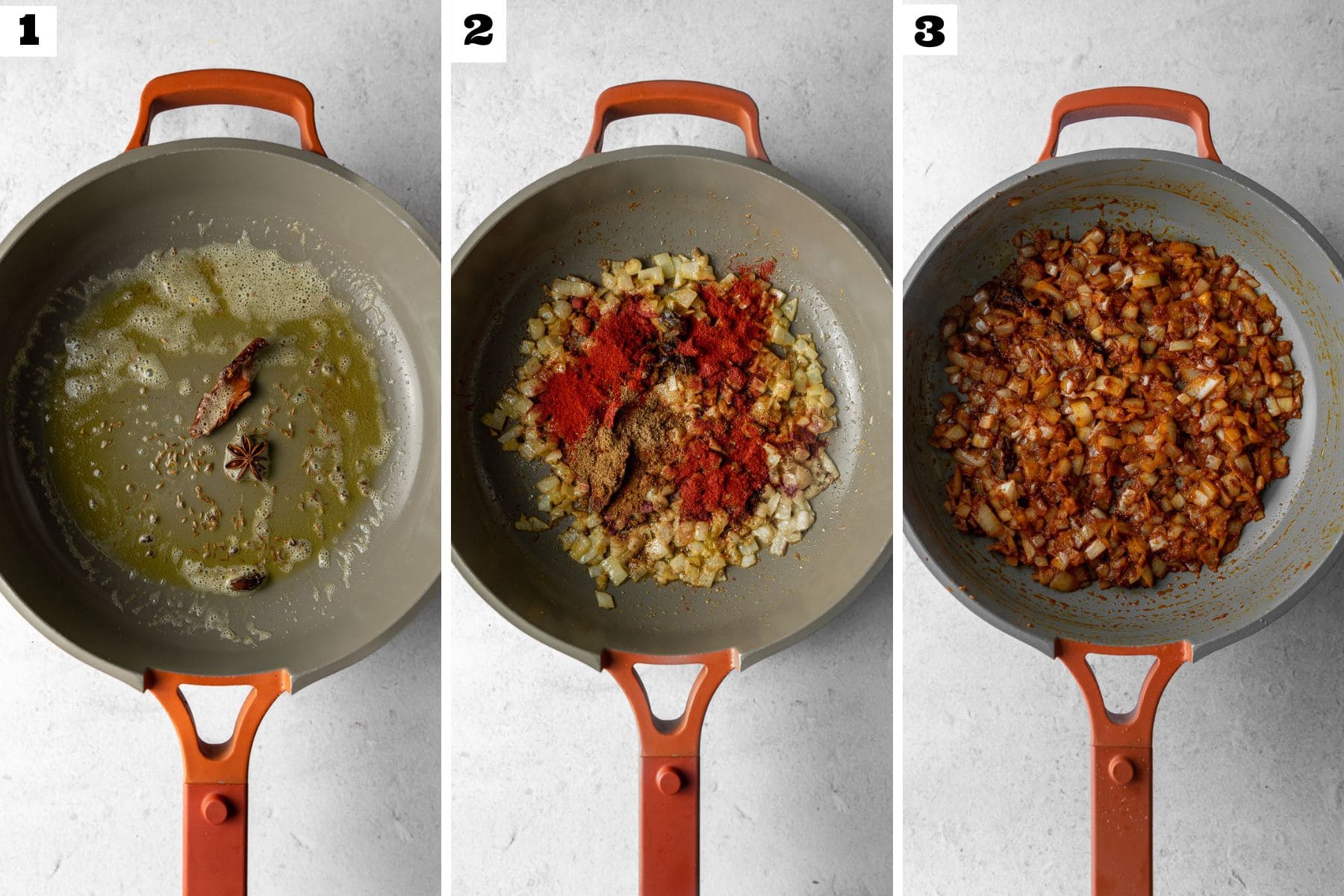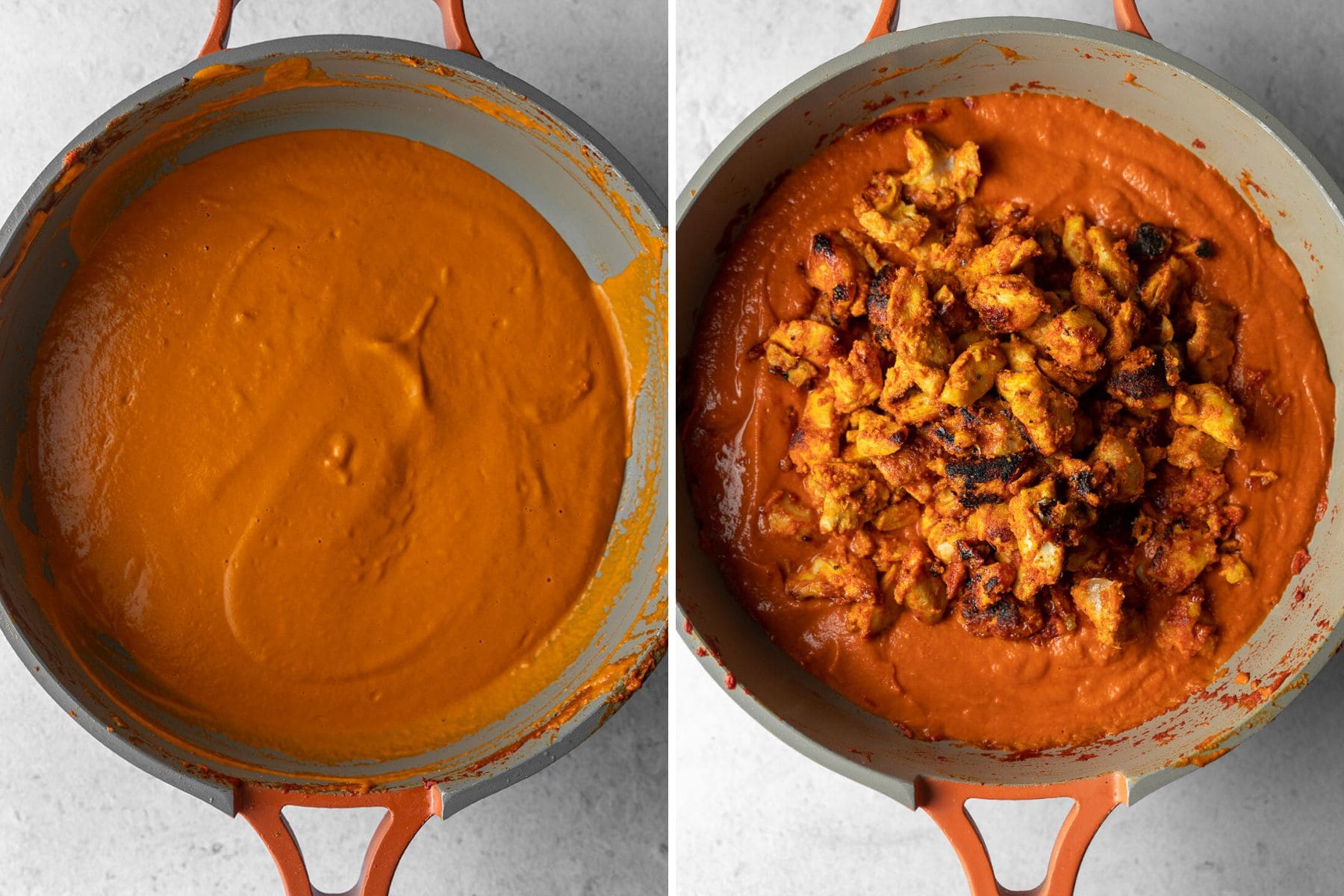 While the chicken marinates, you'll sautè the spices, aromatics, and tomatoes in lots of butter. Once the tomato-base gets thick and dark, everything will go into the blender resulting in a silky smooth makhani sauce.
The chicken is pan-fried and tossed in with the makhani. Lastly, It's topped with heavy cream, and then it's ready to enjoy.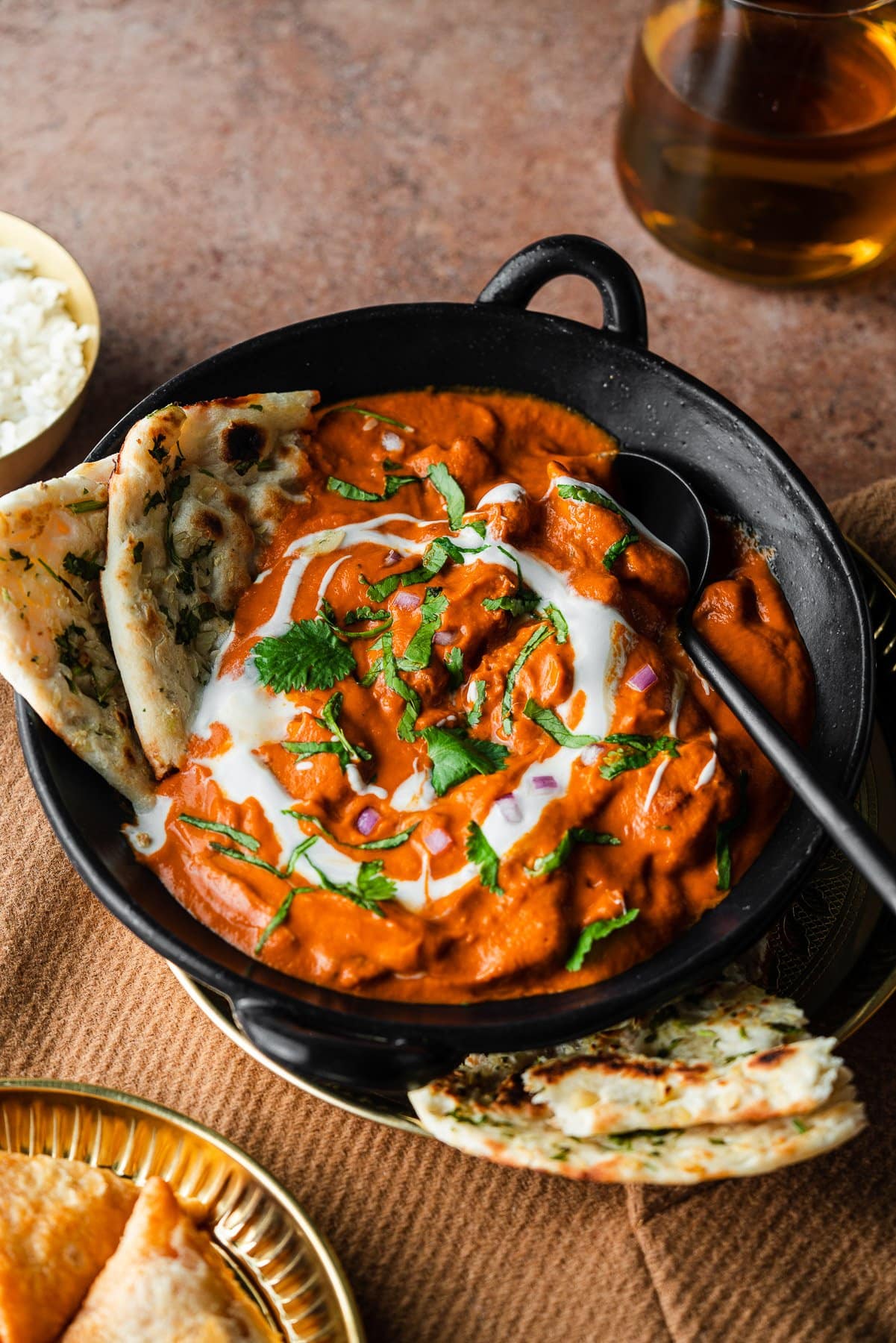 I promise it's easier than you think, and better than at an Indian restaurant. I love repurposing leftovers for butter chicken pizza or mac and cheese.
2. How to make a Garlic Naan Pizza
Making the dough for naan is easy and very forgiving. You can make it by hand, but a stand mixer takes under 10 minutes.
If you're using a stand mixer, fit it with the dough hook. Then, add the dry ingredients - the flour, yeast, salt, and sugar. Give it a stir so that the ingredients are evenly mixed together.
Then, add the yogurt and oil in. Start the mixer at a low speed. While it's mixing, slowly add in the warm water. Keep mixing for about 5 minutes, using a small spatula to scrape all the edges.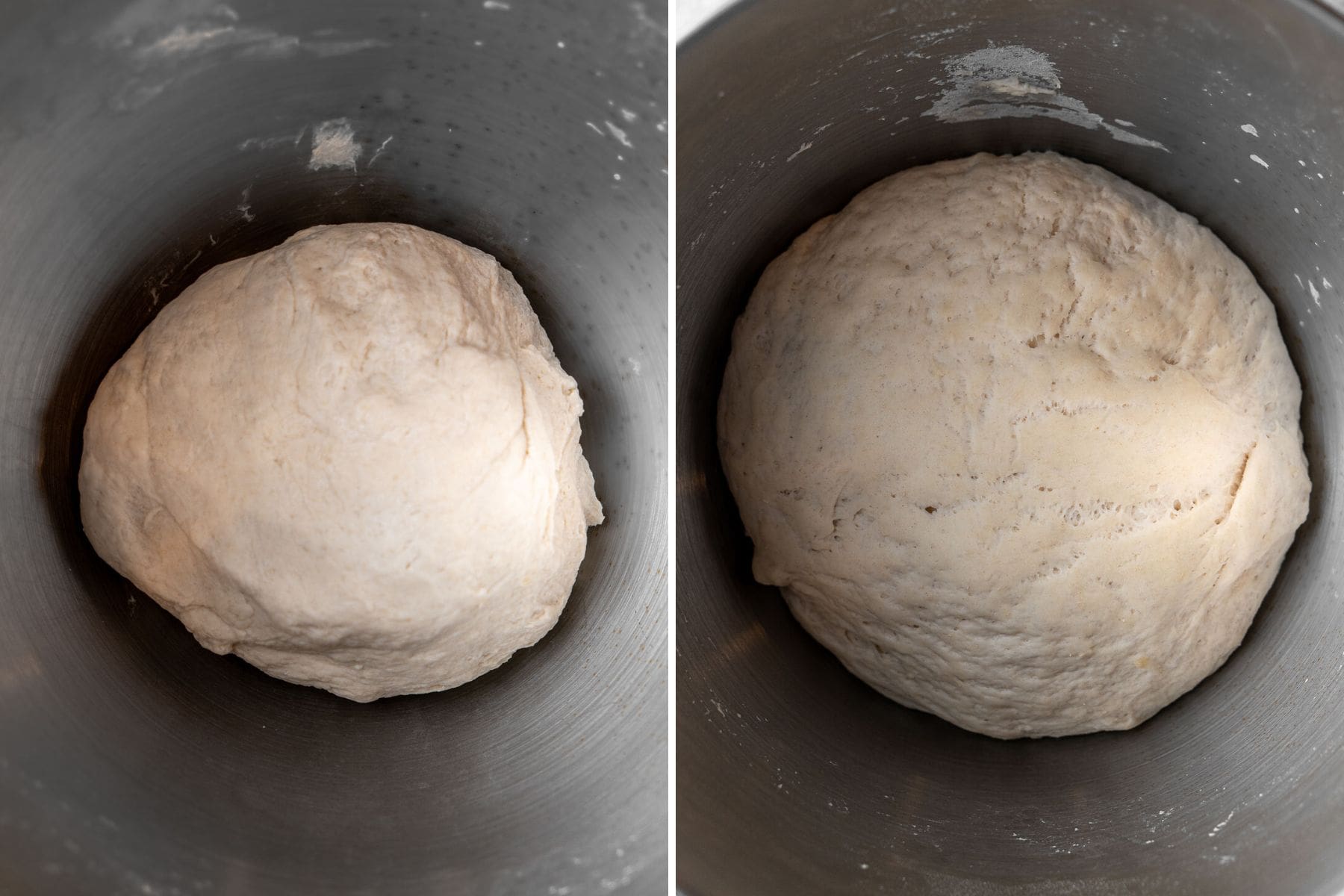 The dough is ready when it's smooth and pulls away from the edges. If it's too sticky where it gets all of over your fingers, add more flour. If it's just a little sticky, it'll be okay after it rises.
Cover the mixing bowl with a kitchen towel and let the dough rise in a warm place for 30 minutes until it doubles in size. After the half hour, punch the dough down and knead it a few times.
Note: This naan recipe also works for individual regular-sized naan, but has been tested specifically to work as a large piece of bread to hold up the saucy butter chicken.
3. Assembling the Pizza
Preheat the oven to 425℉ and spray a half sheet pan with cooking oil.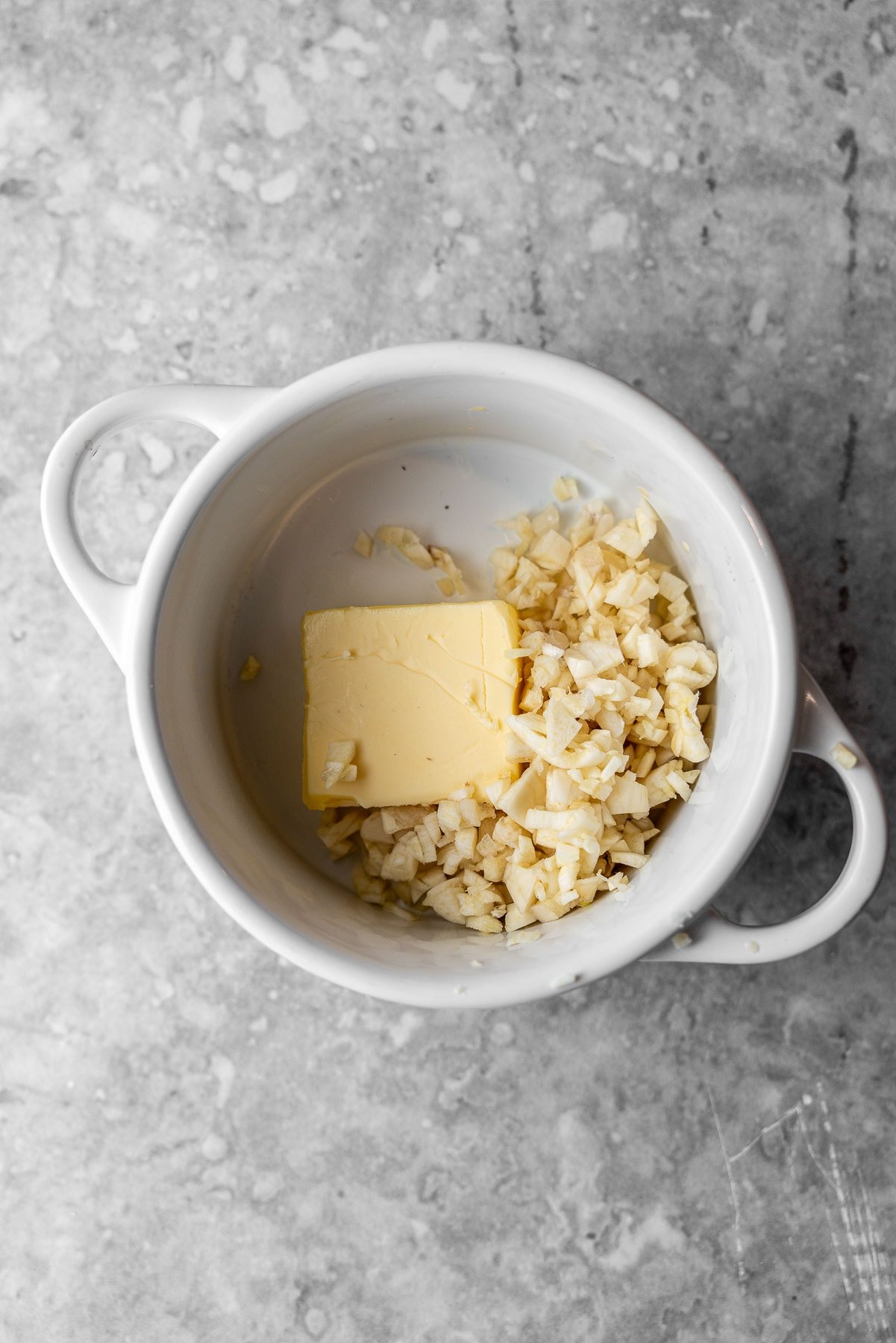 Place the butter and garlic in a tadka spoon, small saucepan, or mini cocotte and then over a low flame on the stove. Allow the garlic to simmer in the butter on low for 5 minutes, until fragrant.
Note: This is great to do while the naan goes through it's first 10 minute bake.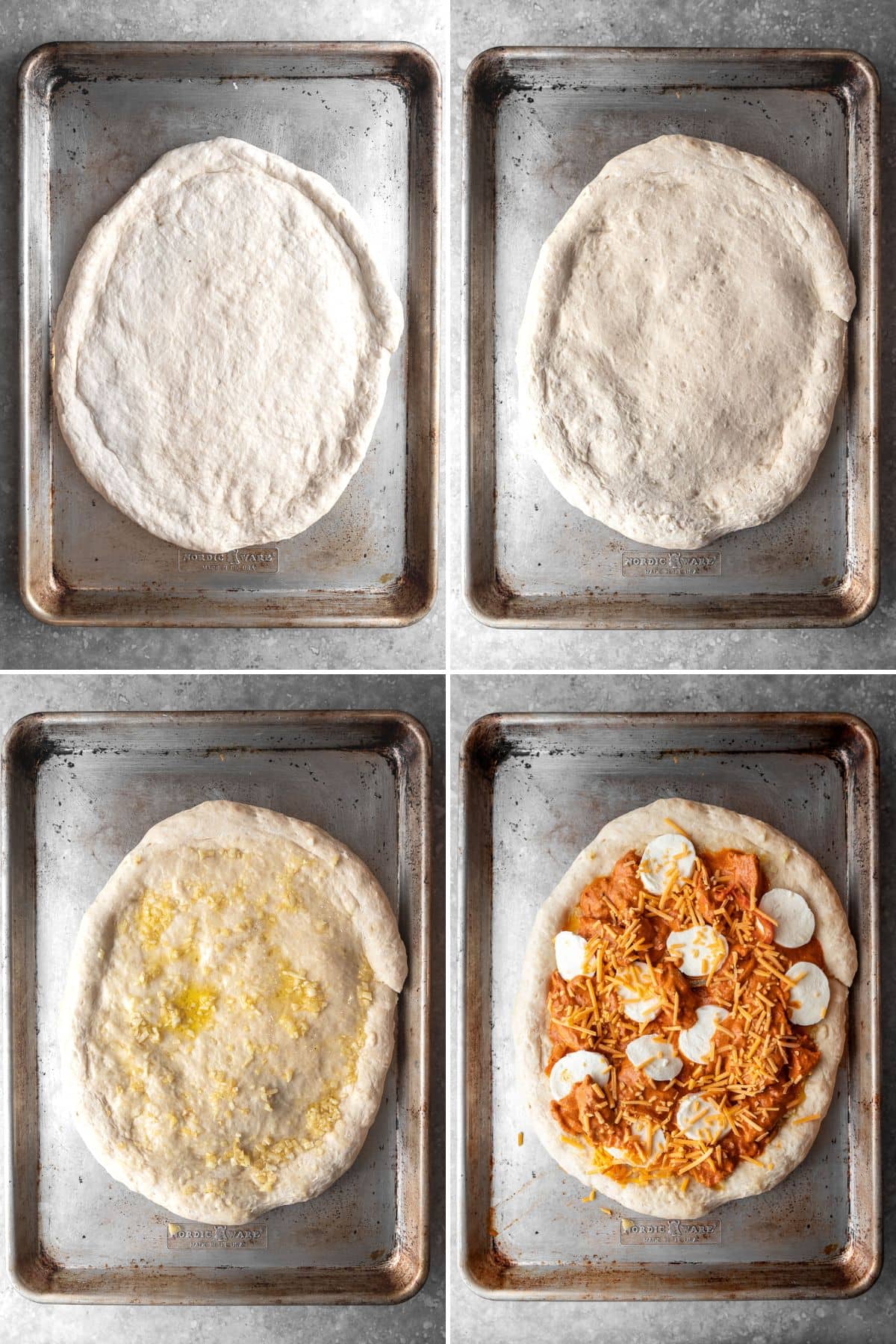 Thinly roll out the naan dough with a rolling pin until it's about 15 inches long and as wide as a half sheet pan. Pinch in the edges so that it forms a crust.
Once the oven has pre-heated, pop the naan into the oven for 10 minutes, or until it's halfway baked through. Pull it out of the oven.
Spread the garlic butter all over the naan pizza crust, being careful of the really hot pan.
Dollop spoons of butter chicken all over the pizza. Cover the blank spots with fresh mozzarella. Add a little bit more butter chicken over the cheese, and then top it off with shredded cheddar cheese.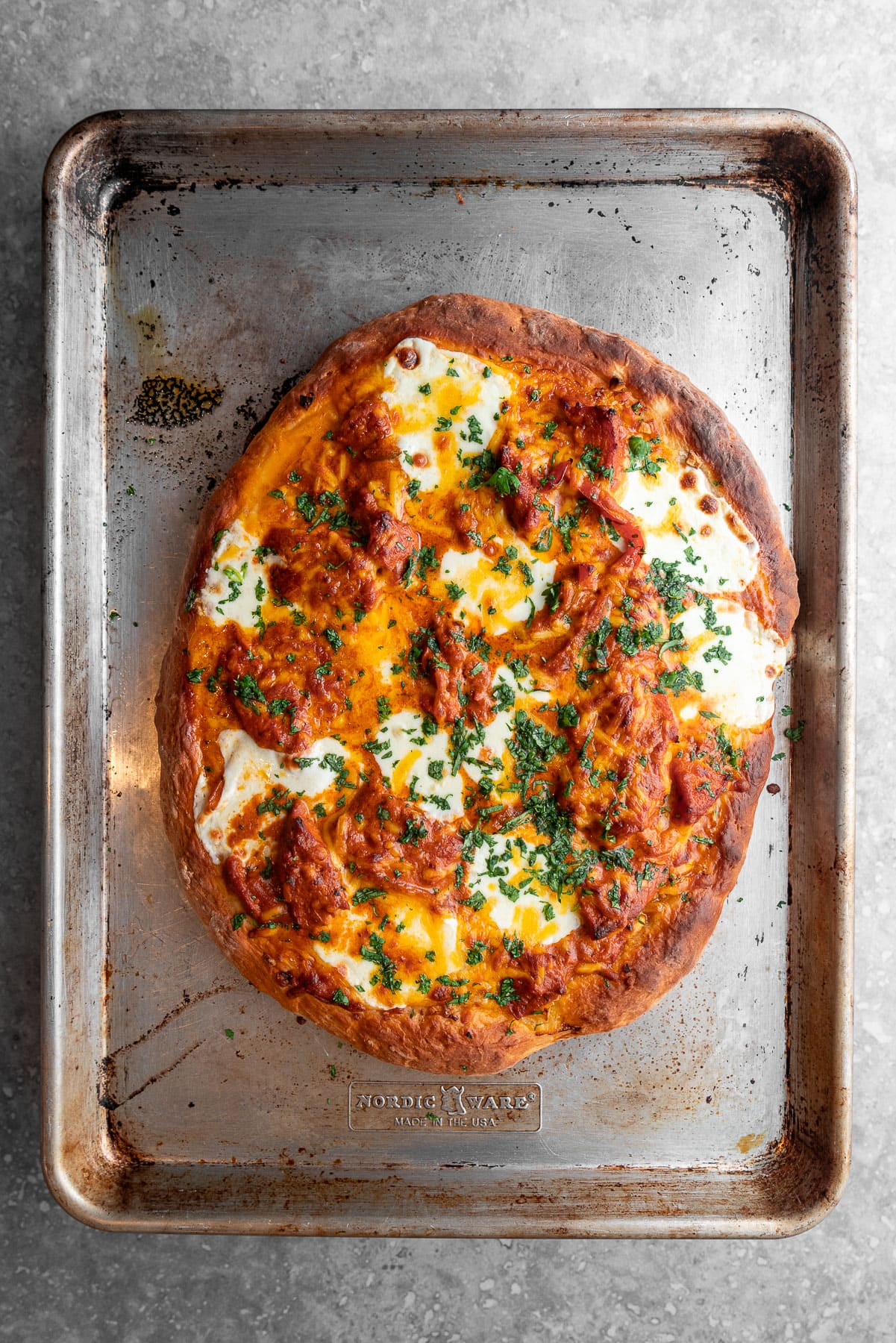 Put the pizza back into the oven on the lower rack for another 10 minutes, still at 425℉. At the end of the 10 minutes, switch on the broiler for 5 minutes. The crust will turn a gorgeous golden brown and the mozzarella will bubble and brown as well.
Pull the pizza out of the oven.
Serving Instructions
Garnish the pizza with chopped cilantro. Using a pizza cutter, cut the pizza into either 4 large slices or 8 smaller slices. For a little spice, add chili flakes.
Butter Chicken Naan Pizza pairs really well with Mango Lassi.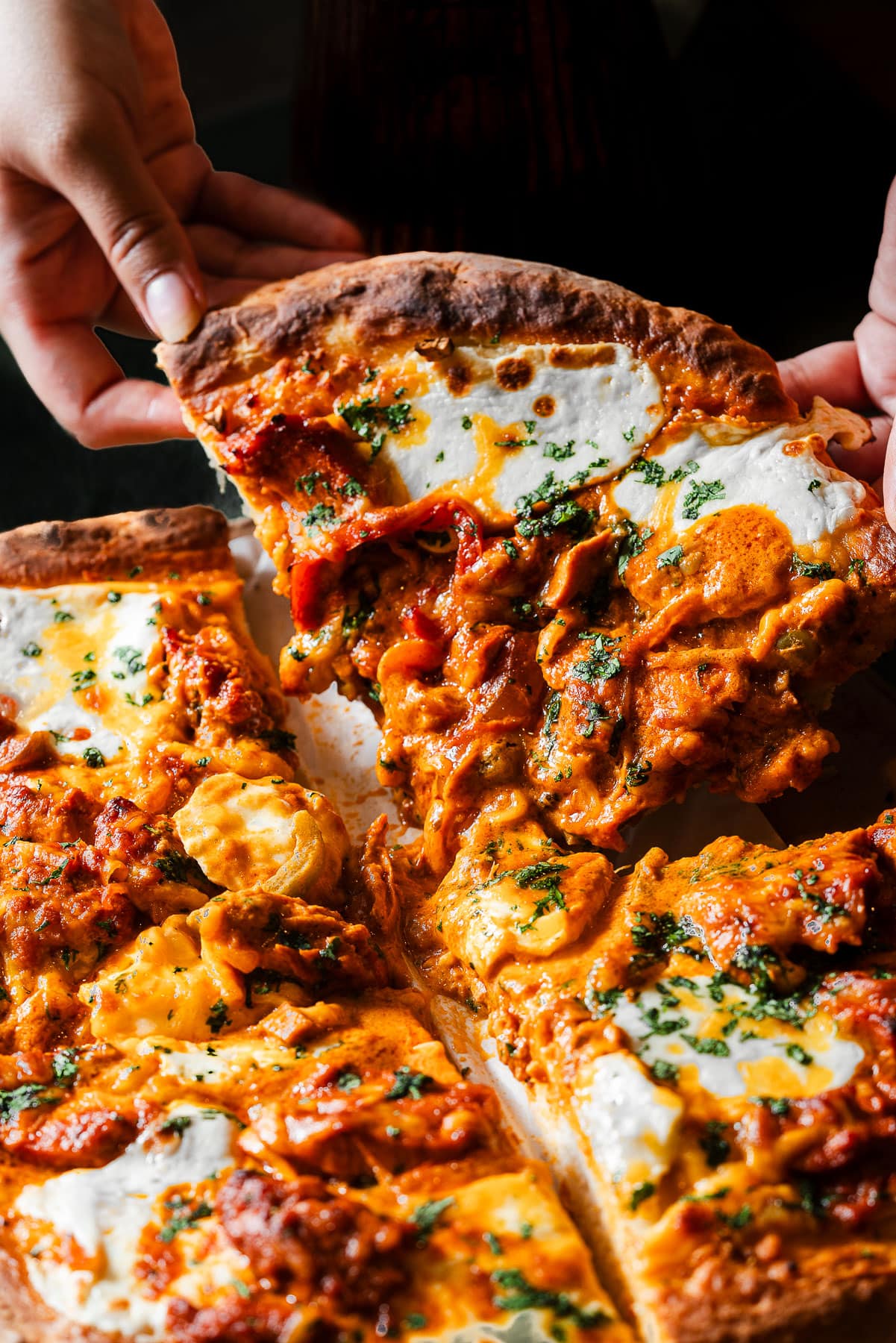 Storage Recommendations
Store leftover pizza in the refrigerator in an airtight container for up to 3 days. Reheat in the microwave for a minute and 30 seconds. Alternatively, bake in the oven at 350℉ for 5 minutes or until warmed through.
Tips and Tricks
Roll out the dough. Thinly roll the dough, otherwise you'll end up with thick, raw dough in the middle.
Use leftover butter chicken. Leftover butter chicken is best for this recipe. It thickens significantly in the fridge, so it's not likely to make your pizza soggy or runny. If it's fresh butter chicken and the gravy is watery, put it in a pan and let it simmer for a few minutes until the gravy thickens. Spread it thin on the naan crust as you typically would when making a pizza.
Don't skip the par-bake or broil. Baking the dough halfway makes the crust sturdy enough to hold the makhani and ensure the dough cooks all the way through. The broil is what gets the signature gorgeous golden crust and bubbly mozzarella.
Add more toppings. This pizza is genuinely so good with just butter chicken, garlic butter, and cheese. But feel free to add sliced red onion, bell peppers, and anything else you can think of.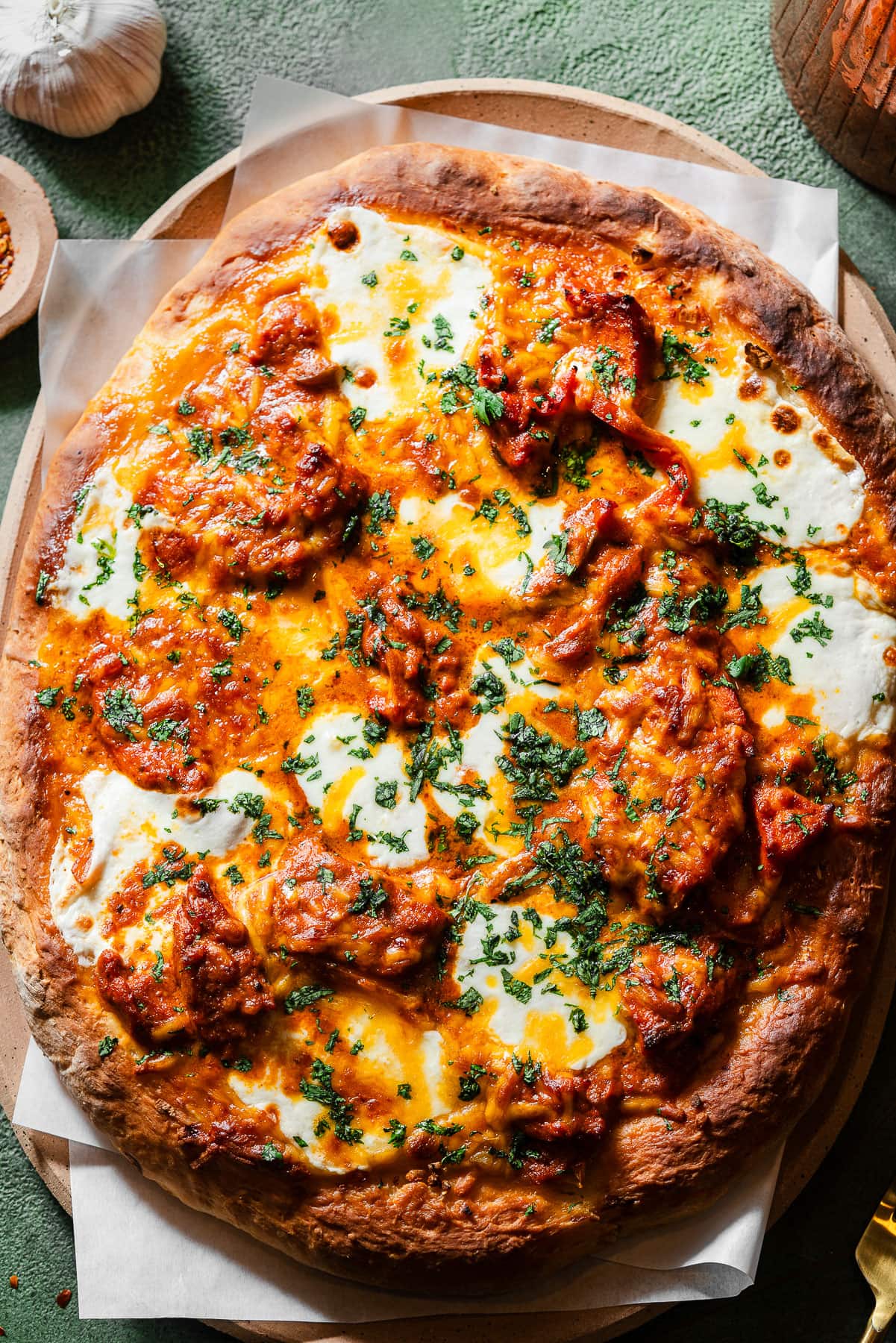 More Indian Main Dishes to try
Try this Butter Masala Pasta and Butter Chicken Wings!
Recipe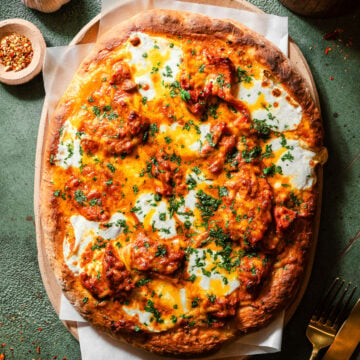 Butter Chicken Garlic Naan Pizza
Indulge in a fusion of flavors with Butter Chicken Garlic Naan Pizza, a desi twist on traditional pizza. This recipe combines all the best things in life - rich and creamy butter chicken as the sauce, aromatic garlic naan as the crust, and melty mozzarella cheese.
Print
Pin
Rate
Ingredients
Garlic Naan Pizza
2 ¼

cup

all-purpose flour

1

teaspoon

sugar

1

teaspoon

salt

2 ¼

teaspoon

instant yeast

½

cup

whole milk yogurt

,

plain

1

tablespoon

neutral oil

¾

cup

warm water

2

tablespoon

unsalted butter

3

large

garlic cloves

,

minced
Toppings
1.5

cups

butter chicken

8

oz

fresh mozzarella cheese

½

cup

cheddar cheese

,

shredded

red onion, green pepper (optional)

,

sliced

cilantro

,

for garnish
Instructions
Preheat the oven to 425℉.

Fit a stand mixer with a dough hook. Add the all-purpose flour, yeast, salt, and sugar and give it dry stir. Now, add the yogurt and oil into the bowl with the dry ingredients and continue to mix at a slow speed. Slowly pour in the warm water.

Continue to mix for 5 minutes. It's done when the dough starts pulling away from the sides and the dough is smooth. Cover the dough with a kitchen towel and let the dough rise in a warm place for a minimum of 30 minutes. It's done when it has doubled in size.

Punch the inflated dough down and knead it a few times. Spray the half sheet tray with cooking oil. Transfer the dough to the sheet. Use a rolling pin to thinly roll out the dough into an oval. Pinch the edges together to form a crust.

Transfer the baking sheet to the oven. Bake for 10 minutes.

While the naan pizza crust is baking, melt the butter in a tadka pan (or a small sauce pan) and add the minced garlic. Let the butter simmer for 3-4 minutes, until it's fragrant.

Remove the par-baked naan crust from the oven. Brush the garlic butter over the crust (be careful of the hot pan!). Then, add spoons of butter chicken everywhere. Top with with the mozzarella cheese and cheddar cheese. (Optional) Add sliced peppers, red onion, and any other toppings you'd like.

Transfer the baking sheet back into the oven at 425℉ on the bottom rack. Bake for another 10 minutes. Then, broil for 5 minutes until the mozzarella starts to bubble and brown.

Remove the pizza from the oven. Garnish with cilantro. Cut the pizza into 8 slices and serve hot.
Nutrition
Serving:
1
slice
|
Calories:
369
kcal
|
Carbohydrates:
32
g
|
Protein:
17
g
|
Fat:
19
g
|
Saturated Fat:
9
g
|
Polyunsaturated Fat:
2
g
|
Monounsaturated Fat:
6
g
|
Trans Fat:
0.3
g
|
Cholesterol:
62
mg
|
Sodium:
612
mg
|
Potassium:
214
mg
|
Fiber:
2
g
|
Sugar:
3
g
|
Vitamin A:
553
IU
|
Vitamin C:
3
mg
|
Calcium:
233
mg
|
Iron:
2
mg