Chole, or better known as chana masala, is a delicious vegetarian and vegan-friendy Indian curry made with chickpeas. The curry is rich and deeply flavorful, making it wonderfully comforting for special occasions. It can be made in under an hour in an Instant Pot and meal prepped for the week! Serve it street-style with bhatura or rice.
My mom has been making this Chole recipe for over two decades! She makes it same exact way, every dang time. The only difference is that she used to make it in a manual pressure cooker, and now she makes it in her handy dandy Instant Pot, which is an electric pressure cooker so the move makes sense. No more having mom leave the house in the middle of making chole and panicking when being asked to open the pressure cooker after the second seethe (the hissing noise)!
Jump to:
I asked her, "Mom, what makes your Chole so special?" while my entire family was together for Christmas. From the kitchen, I heard my sister-in-law say, "well, it tastes better than anyone else's." Sorry uncles and aunties!! Her Chole is always in the highest demand at get togethers.
What is Chole?
Chole is a North Indian curry made out of chickpeas, onion, tomato, and spices. It's plant-based and packed with protein, making it a popular recipe. The chickpeas are slow-cooked in a pressure cooker so the curry is incredibly flavorful and hearty.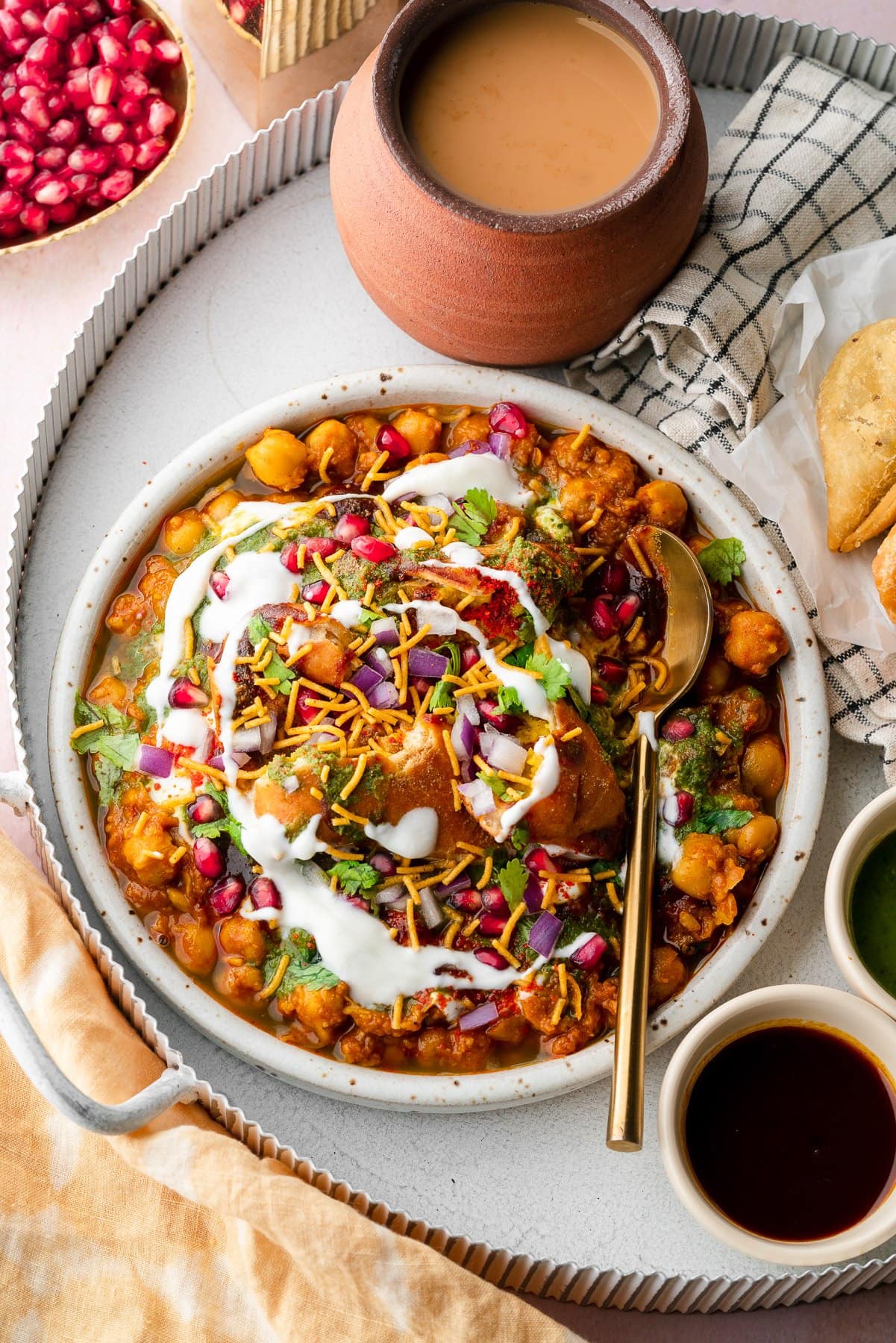 It's traditionally served on it's own with giant bhatures (puffed fried bread), known as Chole Bhature. You can also find it served as a street food around Punjab and New Delhi! I've also seen it on top of aloo tikki chaat and Samosa Chaat. Sometimes my mom adds leftovers to pasta with marinara sauce and that ish is so good, too! Chole is one of my favorite dishes ever, and it's made for special occasions in my household or when we're in a good mood.
What's the difference between Chole and Chana Masala?
They are admittedly incredibly similar and frequently confused. Some consider it interchangeable, but that's not the case.
Chana masala is drier and tangy. It's made with dry spices and very little water. It's easily served with roti or naan.
Chole is a thick curry made with several aromatics and an onion-tomato based gravy. It's typically served with bhatura or rice.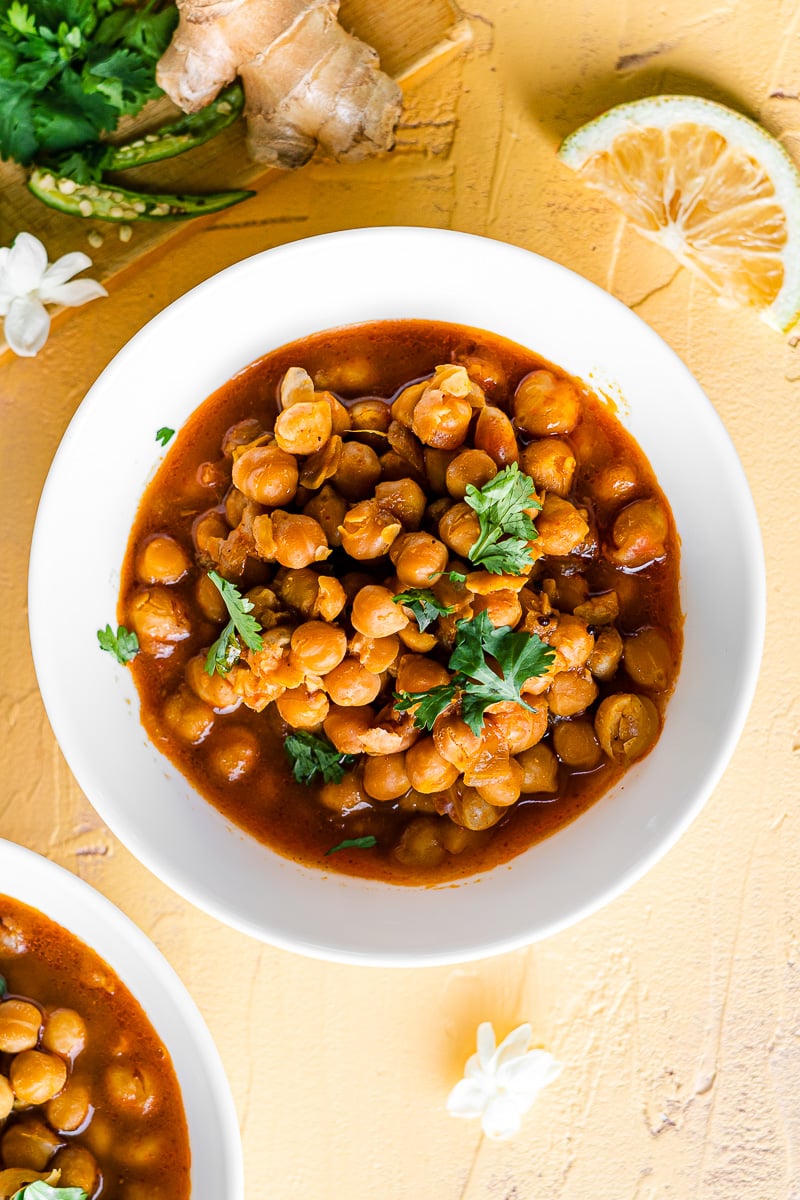 Benefits to Soaking Dried Chickpeas
You may ask, why bother using dried chickpeas and waiting for them to soak when I can just use canned chickpeas? Valid question! Here are a few reasons we stick to dried chickpeas:
They're cheaper than the canned variety.
Canned chickpeas are often mushy and high in sodium. Dried chickpeas reportedly also have a stronger flavor, since the canned version soaks in preservatives.
Soaking the dried chickpeas means a quicker cook time.
Chickpeas release phytic acid - an anti-nutrient that prevents our bodies from benefitting from the nutrients of the bean - when soaked in water. Soaking the beans helps our bodies reap the benefits of the nutrients.
It reduces the risk of gas and bloating after soaking the chickpeas.
When you soak the chickpeas, make sure they're in a large enough bowl because they retain a lot of water and expand.
Step-by Step Instructions for Chole in an Instant Pot
To let you in on a little secret, no desi these days uses just their spices to make curries. We rely heavily on pre-made mixes from brands like MDH, Shan, and Git. Before you make this recipe, grab the MDH Chana Masala mix. It's the one my mom uses and it completely enhances the curry, and so easily!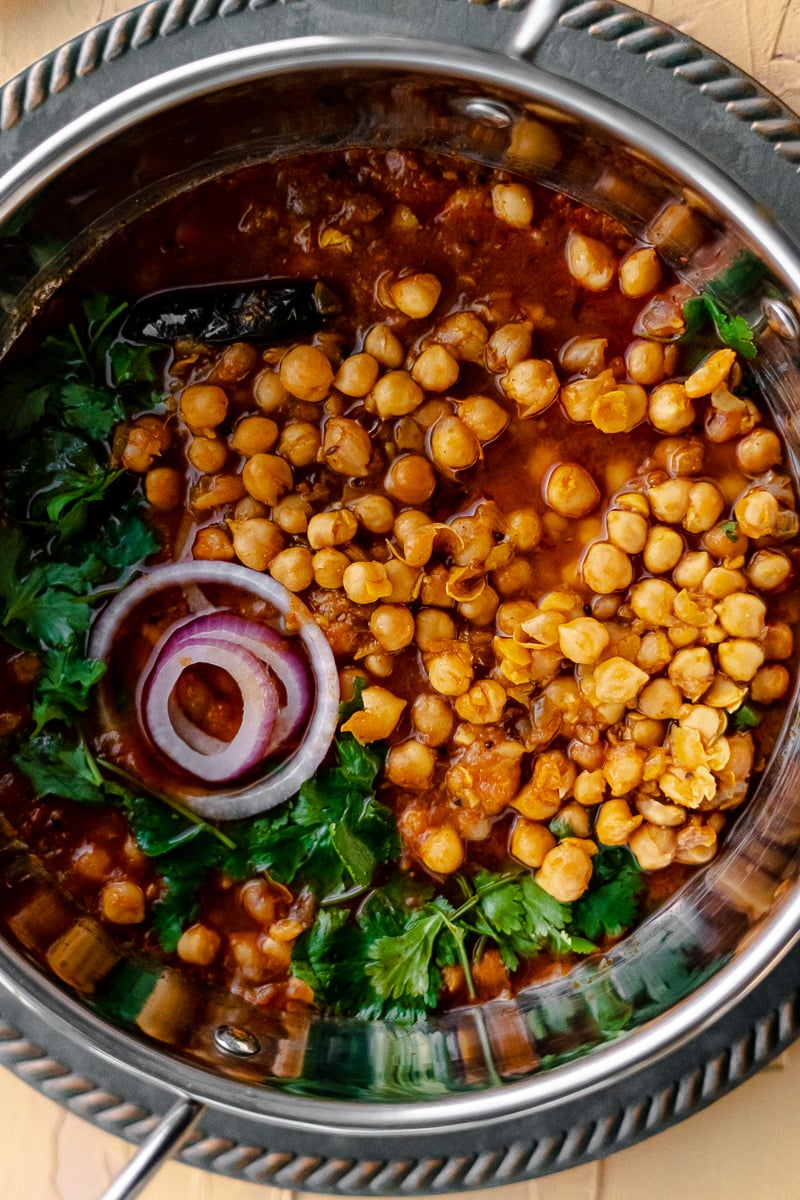 Soak the chickpeas. Start with dried chickpeas (remove any stones). If you're making it for lunch the next day, soak it overnight. Otherwise, soak it for 4-6 hours before dinner. My mother says over soaking them will make them hard. You can also used canned chickpeas. Wash them several times before adding them to the curry.
Toast the aromatics. Set the Instant Pot on sauté. Pour the oil and ghee (optional) into the Instant Pot and then each aromatic starting with the seeds - cumin seeds, fenugreek seeds, and mustard seeds. Once they begin popping, add the dried whole chili peppers, minced garlic, ginger, and diced onion. Sauté until golden brown, and then add the masalas - turmeric, coriander powder, garam masala, chili powder, and chana masala.
Add the rest of the ingredients. Add the tomato paste with about 2 tablespoons of water and mix it really well into the spices. You're looking for the oil to start separating to know when it's done.
Cook. Wash the chickpeas a few times and pour them into the Instant Pot. Mix them well into the gravy, and then pour 3 cups of water into the pot. Stir it really well. Put the lid on the Instant Pot and set it to bean/chili mode for 45 minutes.
Serve. After 45 minutes, remove the lid from the Instant Pot. Use a potato masher to mash the chickpeas a few times. This helps thicken up the curry. Allow the curry to rest for about 10 minutes. Toss in cilantro and serve with bhature or rice with aachar, red onion slices, and lemon wedges.
Many recipes suggest adding two tea bags to the curry to make it darker. While this is a great trick, it's ultimately unnecessary.
Expert Tips
My mom has made Chole at least once a month my entire life. It's a family favorite!!
For a dark, deeper curry color you can add decaf black tea bags. It won't change the flavor of the curry.
Use dried chickpeas instead of canned chickpeas.
Once you remove the lid, remove the curry from heat and let it rest for at least 10 minutes before serving.
Use a potato masher or fork to mash up the chickpeas a bit which thickens the curry.
Frequently Asked Questions
How can I store Chole?
Store the Chole in an airtight container in the refrigerator for up to a week. Chole can also be frozen for up to a year.
What is the difference between chana and chole?
Chana masala and chole are both made with chickpeas. Chana masala is tangy and a drier mix of spices while chole is a slow-cooked curry.
Can I make Chole stovetop?
Yes, it may just take a longer time. I make mine in a dutch oven following the exact instructions for an Instant Pot, except I cover it with a lid and let it simmer for about an hour or until the chickpeas have fully cooked through and the curry has started to thicken.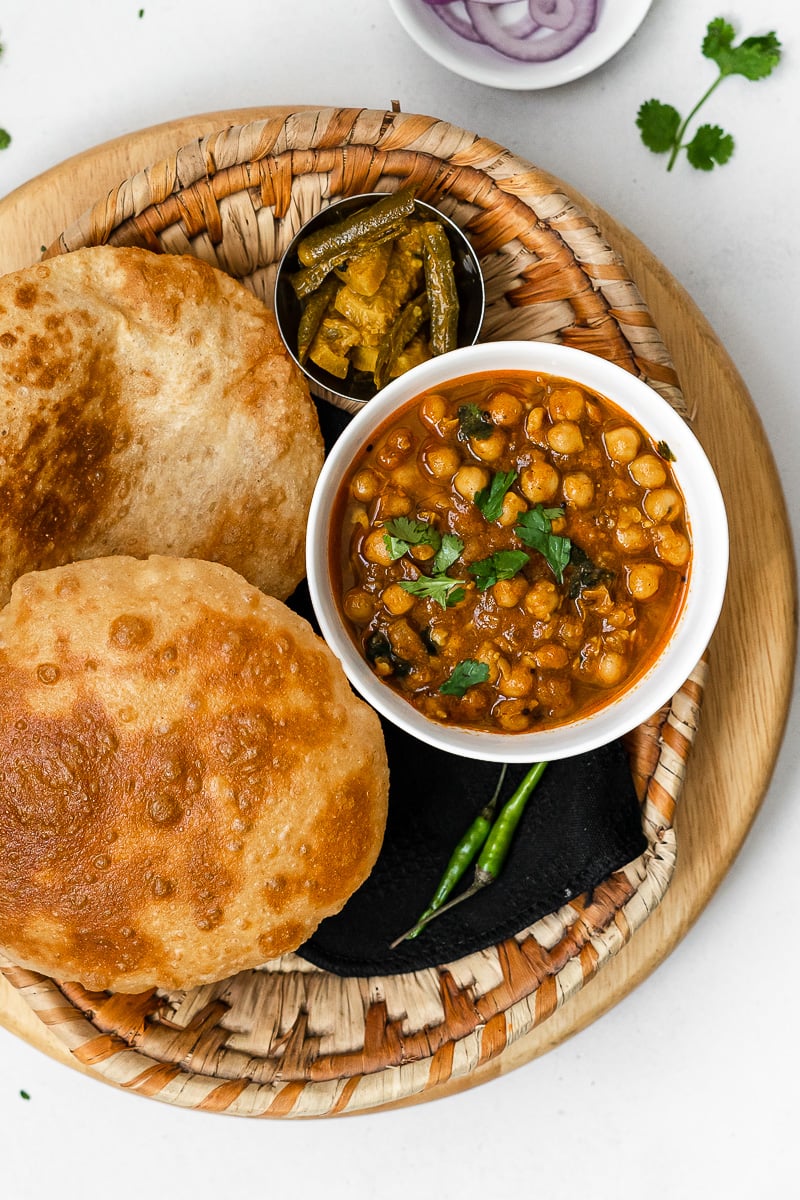 More Indian Recipes to try
Looking to try out more Indian recipes? I gotchu!
Recipe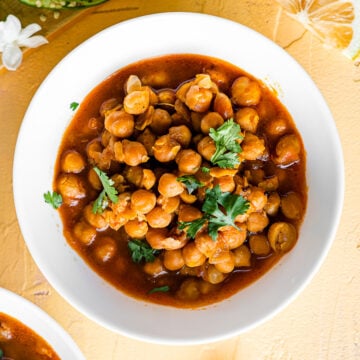 Instant Pot Chole
Chole, or better known as chana masala, is a delicious vegetarian Indian curry made with chickpeas. It can be made in under an hour in an Instant Pot and meal prepped for the week! Serve it alongside bhatura or rice.
Print
Rate
Text Ingredients
Instructions
Soak the chickpeas in twice the amount of water for 4-6 hours maximum or overnight.

Turn the Instant Pot on the sauté mode and heat neutral oil. Once hot, add the cumin seeds, fenugreek seeds, and mustard seeds. Once the cumin and mustard seeds begin popping, add the diced onion and whole chili peppers and fry until the onions turn light brown. Mix the turmeric, coriander powder, garam masala, chili powder, chana masala, salt to taste, ginger, and garlic well into the mixture. Add the tomato paste in last and simmer until the oil separates on the sides and the mixture has darkened in color.

Slowly add the 2 tablespoon of water into the mixture until a gravy forms. Continue to mix the gravy until the oil starts to separate on the sides.

Wash the chickpeas a few times and drain it. Pour the chickpeas into the gravy and toss it until the chickpeas are well coated. Pour in the 3 cups of water.

Cover the chole with the Instant Pot lid and set it to the bean/chili mode. Cook for 45 minutes.

Uncover the Instant Pot. With a potato masher, mash the chickpeas 5-6 times to thicken up the gravy. Allow the chickpeas to rest with the lid slightly uncovered for 5-10 minutes. Serve with cilantro and a bit of ghee over rice or with bhature.
Notes
Skip the ghee or use vegan butter to make this recipe vegan.
Used canned chickpeas instead of soaking dried chickpeas overnight and cut down on cook time.
Chole can also be made on the stovetop. Complete the same steps above in a large pot, and simmer the chole for one hour covered. Be sure to stir to stir every now and then and check for a thickened curry and soft chickpeas.
Nutrition
Calories:
192
kcal
|
Carbohydrates:
29
g
|
Protein:
8
g
|
Fat:
6
g
|
Saturated Fat:
3
g
|
Cholesterol:
2
mg
|
Sodium:
131
mg
|
Potassium:
511
mg
|
Fiber:
8
g
|
Sugar:
7
g
|
Vitamin A:
340
IU
|
Vitamin C:
6
mg
|
Calcium:
56
mg
|
Iron:
3
mg