Forget garlic naan and enjoy Bhature, puffy deep fried Indian bread! There's nothing more impressive than a perfectly fluffy bhatura served with chole. And then deflating it? YES!
It's so fluffy I'm gonna die!!!
Jump to:
Listen, bhature? SO FUN! I love giving them a poke and watching them deflate!
In my home, Chole Bhature is a delicacy. Even though making the meal is relatively easy, between resting the dough, frying the bhature, and soaking the chickpeas - it takes some planning. We have it on special occasions or when someone is in a good mood. My mom makes it absurdly well and I'm so excited to learn her recipe and be able to pass it along for others to try.
This is a tried and true recipe, you're gonna love it!
What is a Bhatura
Bhature (the plural of bhatura) are puffed leavened bread that are deep fried in oil. It's typically served with Chole, a chickpeas curry, in India as a pairing called Chole Bhature which originated in Delhi. It's a classic comfort food dish and so hearty which makes it one of the most popular dishes in North India.
Instructions for Making the Dough and Frying
Bhatura dough is made with flour (maida), leavening, and oil. This bhature recipe also uses semolina and plain yogurt. You'll need a rolling pin, or a bottle of wine to roll out the dough.
Make the dough.
The dough is super simple to bring together! In a large bowl, toss in all the dry ingredients first and give it a whisk. Here's where you'll start using your hands to get a good feel of the dough.
Make a well in the middle of the dry ingredients and add the yogurt (preferably dahi) and oil. Use your hands to mix the wet ingredients into the dough until you get a shaggy dough, as seen below.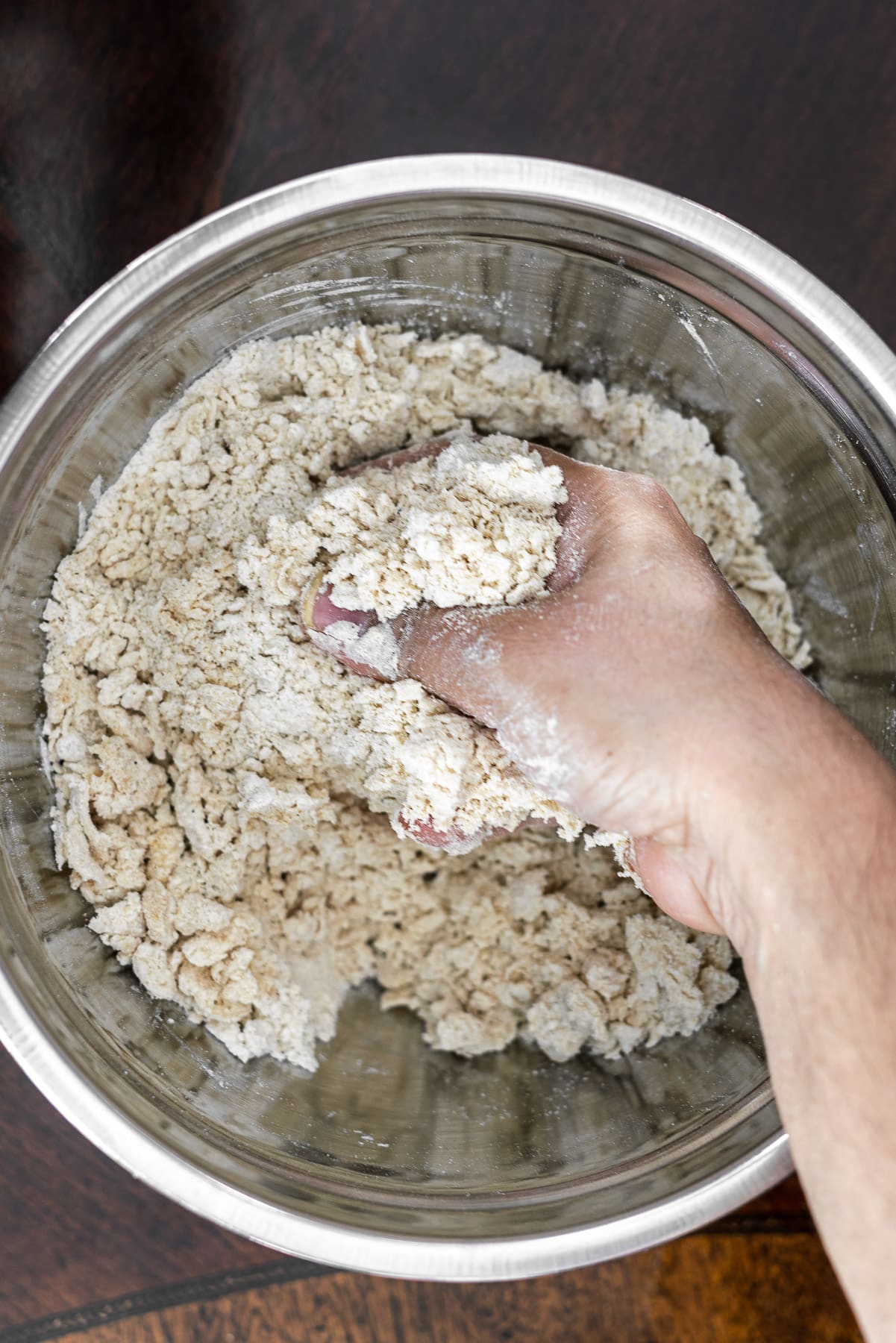 Slowly pour in the lukewarm water as you knead, only adding as much as you need to hydrate the dough. You'll only need to knead it for 5-7 minutes until it comes together into a smooth ball.
Lightly oil the bowl. Cover the dough and let it rest for about an hour at room temperature.
Roll out the bhature.
After an hour, uncover the dough and transfer it to a lightly oiled surface. Knead the dough for two minutes. Roll the dough out into a log, as seen below. Note, the dough isn't smooth in the photo because my mom added a bit of wheat flour for health. I was scared to ask her to make it look nice for a photo while she was on a roll! Divide the dough into 8 pieces.
Pour the oil into a pot that has plenty of space for frying. Begin heating the oil as you roll out the first bhatura. My mom starts out with rolling the piece of dough in between her hands to form a ball. She then tosses it on the surface and presses it down with her fingers. She then rolls it back and forth a few times, and then rotates it 90 degrees every few rolls to create the perfect circle. Towards the end, she'll roll one last side out and into an oval shape. You're looking to get it as thin as possible before the dough starts to rip.
If the dough is tough to roll out and keeps springing back, let it rest for another half hour to allow it to relax. I suggest rolling out one bhatura and placing it in oil before continuing to roll out the rest. Test your multitasking skills!!! You can also drape the ready rolled bhature out on the edges of the bowl when they're ready for frying.
Fry the bhature.
This is probably the hardest part! Getting the perfect puffy bhatura that's the right texture is not always easy. The first one is usually a dud, but an edible dud. You'll want to make sure the oil is evenly heated so if you think the oil is ready for frying, wait just a couple of more minutes for it to be really ready. In the meantime, continue rolling out the bhature and line a plate with a paper towel.
Carefully slip the bhatura in via the side of the pot. Use a slotted spoon to gently hold it under the oil for a few seconds, making small circles to ensure the length of the bhatura stays under the oil. It should slowly start to resist the slotted spoon and begin puffing up on one side. Continue to gently press down on the side that hasn't quite puffed, so that the air is forced to spread in the bhatura.
Notice how the oil is bubbling vigorously while this happens! It'll be ready to flip over to the other side when the bubbles are gentler and its golden brown.
Flip the bhatura on to the other side. Continue to gently hold the bhatura down into the oil so the bottom half is completely submerged in the oil. Monitor the bubbles again to know when it's done and golden brown. Carefully remove the bhatura from the oil, holding it against the side of the pot to let the excess oil drip off. Place it on the plate with a paper towel. Ideally serve it as soon as possible, but it should maintain the puffiness for a few minutes.
How to Serve
As soon as the bhatura is fried, it's common to pass it to the youngest person or hangry husband to begin eating first. It's commonly served with Chole, which is another recipe of my mother's that I'm linking! It's a vegan/vegetarian chickpeas curry and makes for a heavy meal when paired with bhatura. Serve it with red onion, achaar, and chilis!
Expert Tips Gathered over Decades
Making bhature is relatively straightforward but can easily become frustrating if they aren't puffing, are too crispy, or too thick. Here's a few tips I have accumulated after over a decade of being the designated fryer:
Knead the dough until it is completely smooth. You can knead it by hand for 4-6 minutes, or in a stand mixer.
Rest the dough for at least an hour to allow the dough to relax before rolling. If it's hard to roll, continue to let it rest until you can roll it into a thin oval.
Wait until the oil is sufficiently hot before frying. If it's too low, the bhatura will soak up a lot of the oil. If it's too high, the bhatura will burn. The first bhatura is usually imperfect. I like to test a small amount of dough, and then wait another few minutes before I begin frying.
I like to suffocate the bhature when I first place it in the oil, and hold it gently under the surface with a slotted spoon in small circular motions until it begins rising and puffing up.
Fry one bhatura at a time. These are big boys and need their space.
Use a pot that's wide enough to allow for flipping the bhatura while frying.
Monitor the little bubbles that come out when frying. When there's only a small amount of bubbles, it's ready to flip to the other side.
Frequently Asked Questions
What is the difference between puri and bhatura?
The difference is that puri are smaller in size and made with wheat flour, whereas bhature are larger ovals and made with all-purpose flour. Bhature also requires a leavening ingredient and curd whereas puri are made without any fermentation or leavening. They are both fried in oils and pair well with curries.
Is Chole Bhature healthy?
Bhature are deep fried so generally, no, they're not healthy. However, it is a well-rounded meal in terms of fat, protein, and carbs.
Why use curd in the bhatura dough?
The curd in bhatura dough helps the dough rise when fried and gives it a soft texture.
When is chole bhature eaten?
Chole Bhature is popular across India and great for comfort food. It's a common breakfast food, though quite heavy due to frying. It's also eaten for lunch and dinner. So basically appropriate for every meal. It's a beloved street food in India as well.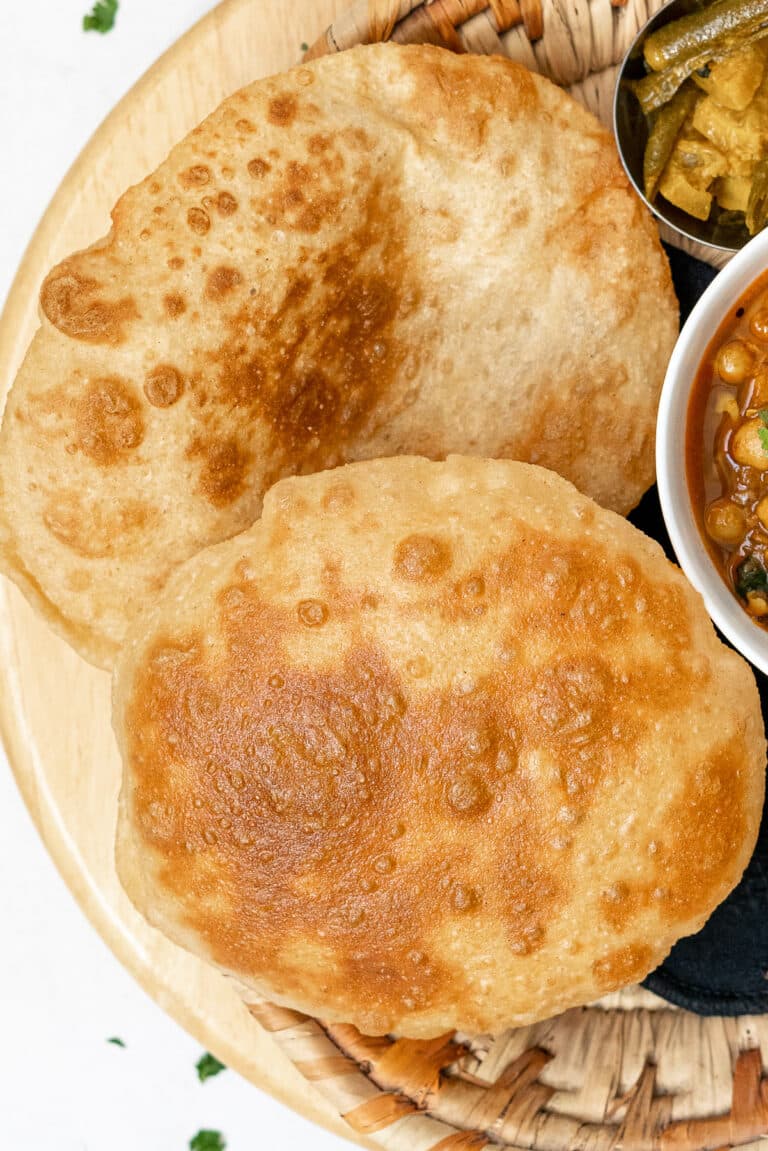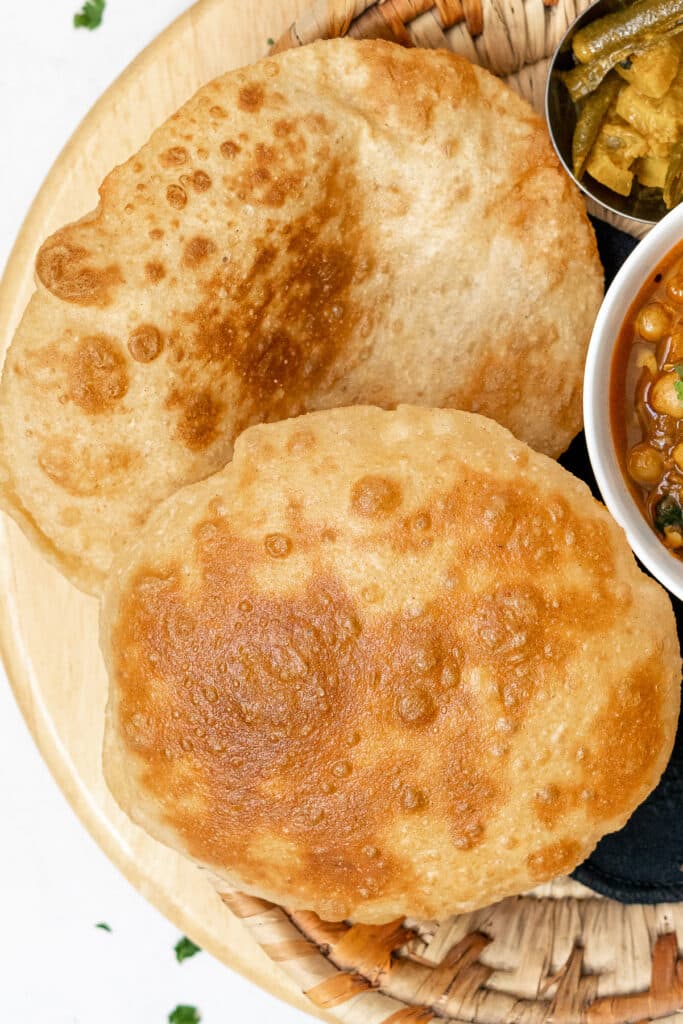 More Bread & Bun Recipes to try
Recipe
Bhature (Fried Bread)
Forget garlic naan and enjoy this puffy deep fried Indian bread! There's nothing more impressive than puffy bhature and amusing than deflating it. Serve this with chole or chana masala.
Print
Rate
Ingredients
1½

cups

all purpose flour

¼

cup

semolina

¼

teaspoon

baking powder

2

tablespoon

whole milk plain yogurt

2

teaspoon

olive oil

½

teaspoon

salt

pinch

of black pepper

½

cup

lukewarm water

1½

cup

neutral oil

,

for frying
Text Ingredients
Instructions
Whisk together the all purpose flour, semolina, salt, black pepper, and baking powder in a mixing bowl.

Add in the yogurt and olive oil and mix together with your hands until a shaggy dough forms. Slowly add in lukewarm water and knead until the dough is smooth, about 4-7 minutes. Cover and rest the dough for an hour.

After resting the dough, prep a smooth surface with a tiny bit of olive oil. Transfer the dough to the surface and knead it for another two minutes. Measure out 8 equal sized balls. Roll each piece of dough into circles in between your hands.

In a deep pan for frying, heat a neutral oil for deep frying. Work with one dough ball at a time. Roll the dough out into an oval as large as possible without tearing it. Carefully transfer the dough to the oil, slipping it in from the edge of the pan. With a slotted spoon, gently hold the dough under the oil until it begins to puff. Fry until golden, about 1 minute total, and flip on the other side. Gently push the bhatura under the oil again for about 10 seconds and then fry until golden brown. Transfer the bhatura to a plate lined with paper towels. Serve immediately.
Notes
Rest the dough for at least an hour to allow the dough to relax before rolling. If it's hard to roll, continue to let it rest until you can roll it into a thin oval.
Wait until the oil is sufficiently hot before frying. If it's too low, the bhatura will soak up a lot of the oil. If it's too high, the bhatura will burn. 
Nutrition
Calories:
116
kcal
|
Carbohydrates:
22
g
|
Protein:
3
g
|
Fat:
1
g
|
Saturated Fat:
1
g
|
Cholesterol:
1
mg
|
Sodium:
161
mg
|
Potassium:
43
mg
|
Fiber:
1
g
|
Sugar:
1
g
|
Vitamin A:
5
IU
|
Vitamin C:
1
mg
|
Calcium:
18
mg
|
Iron:
1
mg
Subscribe to the Masala and Chai Newsletter Community to receive exclusive recipes and updates straight to your inbox.
I love seeing when you share my recipes! Tag me on Instagram @masalaandchai so I can enjoy them virtually with you! You can also find me on Pinterest, Facebook, Tik Tok, YouTube, and Twitter.
I'd love to know what you thought of this recipe! Don't forget to leave a comment and ⭐️ star rating below!