These Indian-style chicken seekh kebabs in pretzel rolls with chutney and pickled onions are great for a family event, a barbecue, or a fun meal prep for the week!
It's Labor Day weekend and I couldn't be more excited!
Jump to:
I always love to spend the three day weekend visiting friends or family before gearing up for cold weather. Labor Day personally marks the end of summer for me. It's a new fiscal year at my company which means I'm trying to set myself up for a successful year ahead. Kids are going back to school. It feels like Halloween decor and candy went up even earlier than usual this year?! But anyway... These Seekh Kebab Rolls on pretzel buns are perfect to prep ahead for any barbecues or a comforting meal prep for the week.
It requires a few recipes that are already up on Masala and Chai, namely Mom's Green Chutney and the Cheese-Stuffed Chicken Seekh Kebabs.
Making Cilantro-Mint Chutney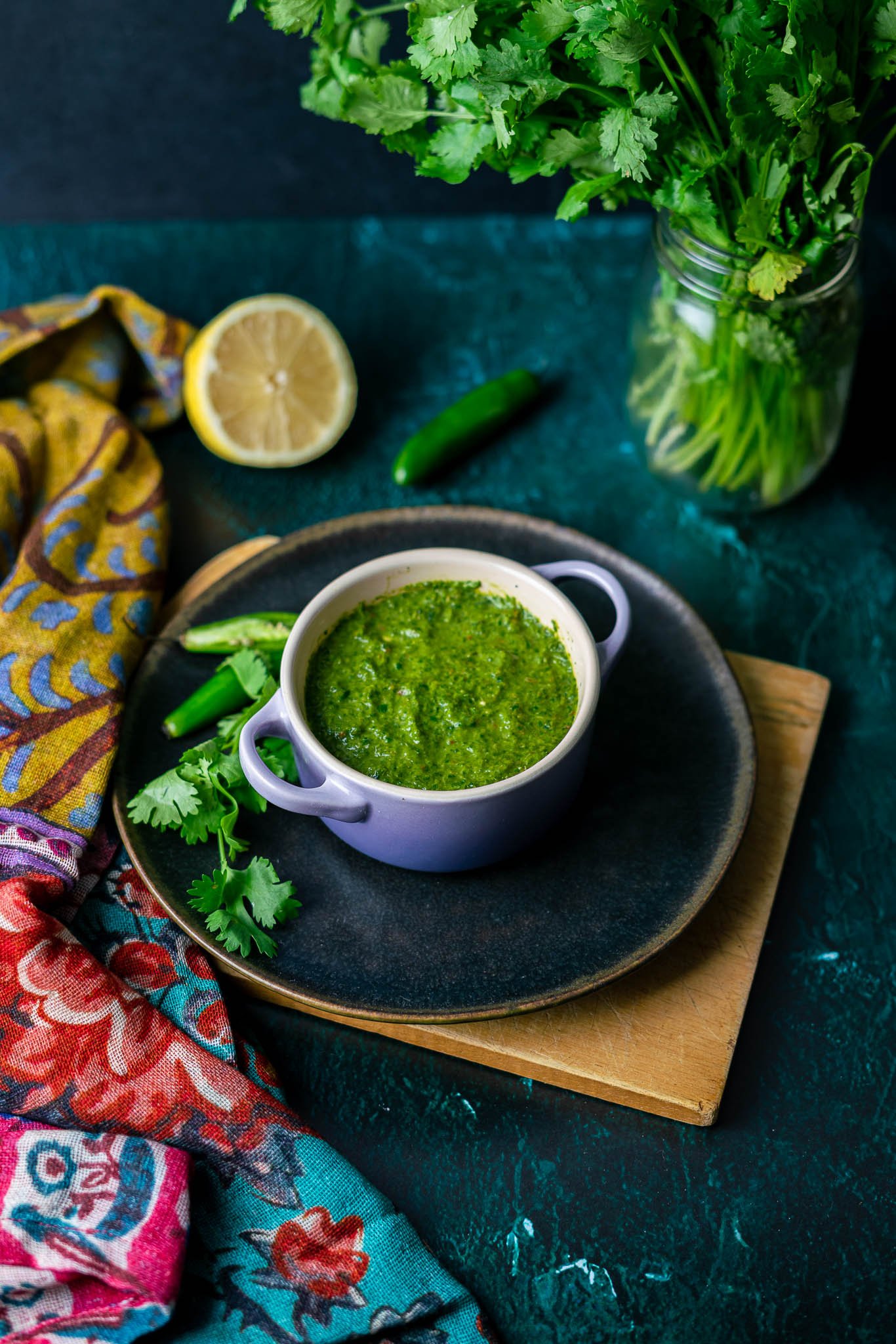 The cilantro-mint chutney is the perfect topping to these rolls! It's citrusy, herby, and ever so slightly spicy. Ketchup and mustard just won't cut it. I drown my rolls in chutney, there's just never enough! For the chutney, you'll need the following ingredients:
Herbs: The base of the chutney uses cilantro (including stems) and mint leaves. It's important to remove the stems of the mint leaves because they're very bitter and fibrous.
Spices: This recipe uses both serrano chili peppers and cayenne pepper for added spice and flavor. Change this according to your tolerance and preference. I personally think the chutney doesn't taste good without a tinge of heat. It also uses cumin seeds, but ground cumin is also great.
Sodium: The chutney needs salt to really bring out all the flavor. This uses both salt and black Himalayan salt (kala namak). This is because kala namak tends to be a bit strong and full of umami, so using too much isn't ideal.
Aromatics: Ginger garlic paste is common in Indian cooking. You can also use freshly minced ginger and garlic or even the powdered forms.
Citrus: Freshly squeezed lemon juice brightens the chutney and adds a bit of tang
Avocado: This is not common to other cilantro-mint chutneys, but it makes the chutney super creamy! You can also substitute for a bit of yogurt.
Instructions: Simply put everything into a blender and blend until it's mostly smooth! The key here is to avoid using mint stems because it'll completely ruin the chutney.
Cheese-Stuffed Chicken Seekh Kebabs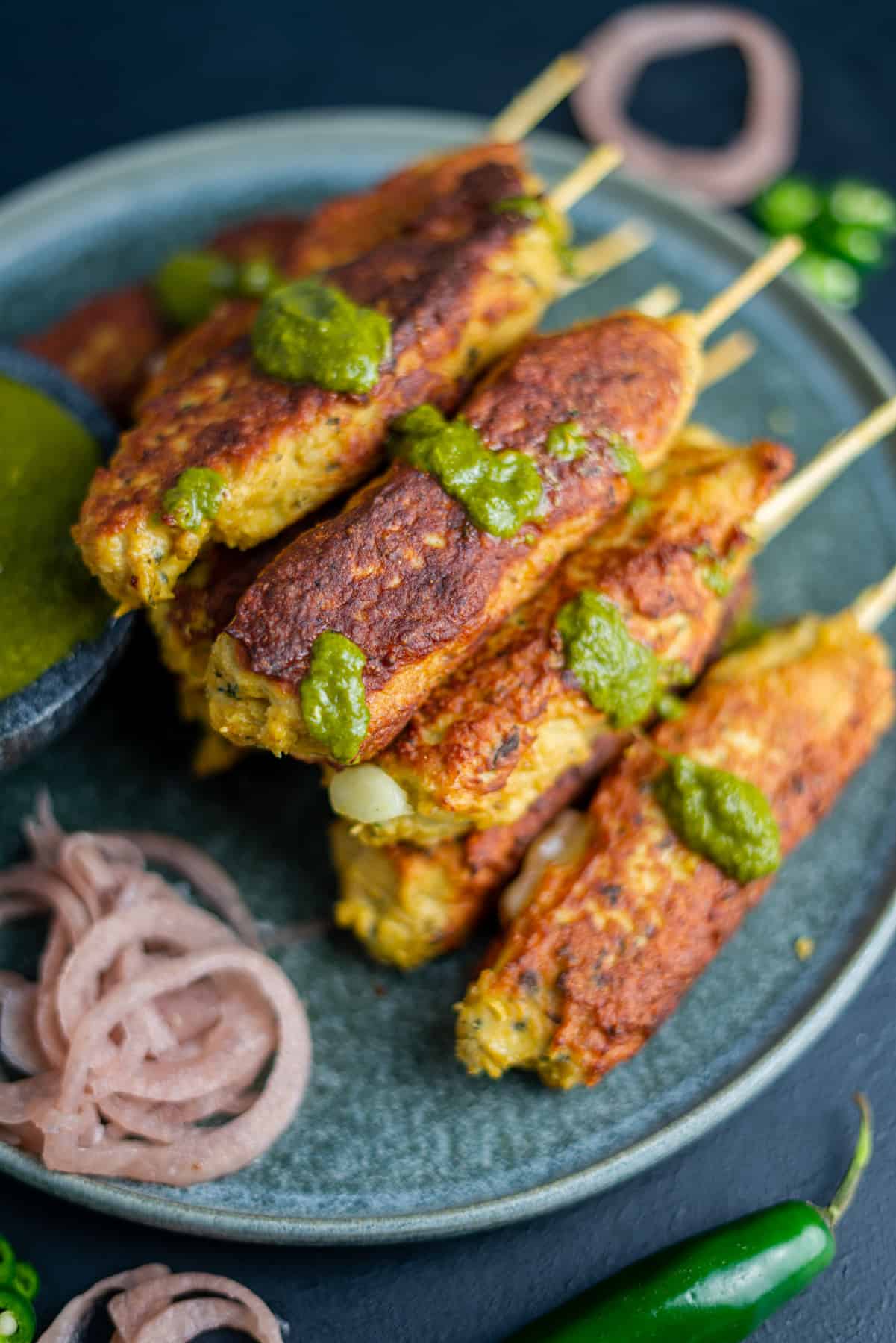 I don't eat hot dogs/sausage so it's only natural I fill that void with seekh kebabs!
Seekh kebabs log-shaped kebabs made with a mix of spices including earthy coriander powder to the deep warm smokey taste of garam masala. The unique ingredient here is the besan (chickpea flour) which adds a layer of nuttiness to the kebabs. And then of course you can't go wrong with stuffing the kebabs with mozzarella!
To make ~10 5-inch kebabs:
Step 1. Put the onion, spices, ginger garlic paste, cilantro, besan, lemon juice, and egg in a food processor and blend until a paste forms. Dump out the paste into a medium sized bowl.
Step 2. Add the ground chicken to the bowl with the paste. Knead the ingredients together until fully combined and allow it to sit in the fridge for 30 mins.
Step 3. Prep the skewers by stringing thin log slices of mozzarella on to them. Freeze them for 10-15 minutes.
Step 4. Grease the grill and begin to heat it up. Take the chicken out of the fridge and spread equal amounts on each skewer over the mozzarella. Immediately place on the grill and cook for 2-3 mins on each side until browned.
Note: These Seekh Kebab Rolls can use any minced meat, like lamb, beef, or a vegan substitute.
Assemble the Seekh Kebab Rolls
Once the chutney and seekh kebabs are ready, it's as simple as toasting the pretzel buns and assembling the rolls! I like to start with chutney as my base and then whichever toppings I have in my fridge of! I kept it simple and used pickled sweet onions from The Pickle Guys, which is local to NYC. Anything you'd throw on a regular hot dog, you can put on these rolls too! I'm thinking pickles, onions, relish, diced tomatoes, chopped peanuts, shredded paneer, etc.
If you're making this recipe past grilling season, then I love this Staub Cast Iron Grill Pan for grilling throughout the year!
Storing the Kebabs
If you're meal prepping, store the kebabs in the fridge in an airtight container separately from the buns and toppings to prevent it from getting soggy. Assemble the roll the day you're eating it.
The kebabs can be frozen if properly sealed for up to two months. Allow it to defrost in the fridge before use as you would any other meat. To reheat, lightly pan fry the kebabs for 2-3 mins on each side. Make the chutney the day you plan to eat the kebabs. The chutneys' shelf life is about 10 days in the fridge.
More Indian Dinner Recipes to try
Recipe
Seekh Kebab Rolls
These Indian-style chicken seekh kebabs in pretzel rolls with chutney and pickled onions are great for a family event, or a fun meal prep for the week!
Print
Rate
Text Ingredients
Nutrition
Calories:
226
kcal
|
Carbohydrates:
21
g
|
Protein:
17
g
|
Fat:
8
g
|
Saturated Fat:
2
g
|
Cholesterol:
65
mg
|
Sodium:
260
mg
|
Potassium:
449
mg
|
Fiber:
1
g
|
Sugar:
3
g
|
Vitamin C:
1
mg
|
Calcium:
78
mg
|
Iron:
2
mg
I'd love to know what you thought of this recipe! Leave a comment and rating below! You can also find me on Pinterest and Facebook, or stay in touch with me via my Newsletter!