These Chicken Seekh Kebabs are spiced Indian-style and stuffed with ooey gooey cheese! They're grilled on skewers and served with chutney and pickled red onion, making for an amazing night of grilling!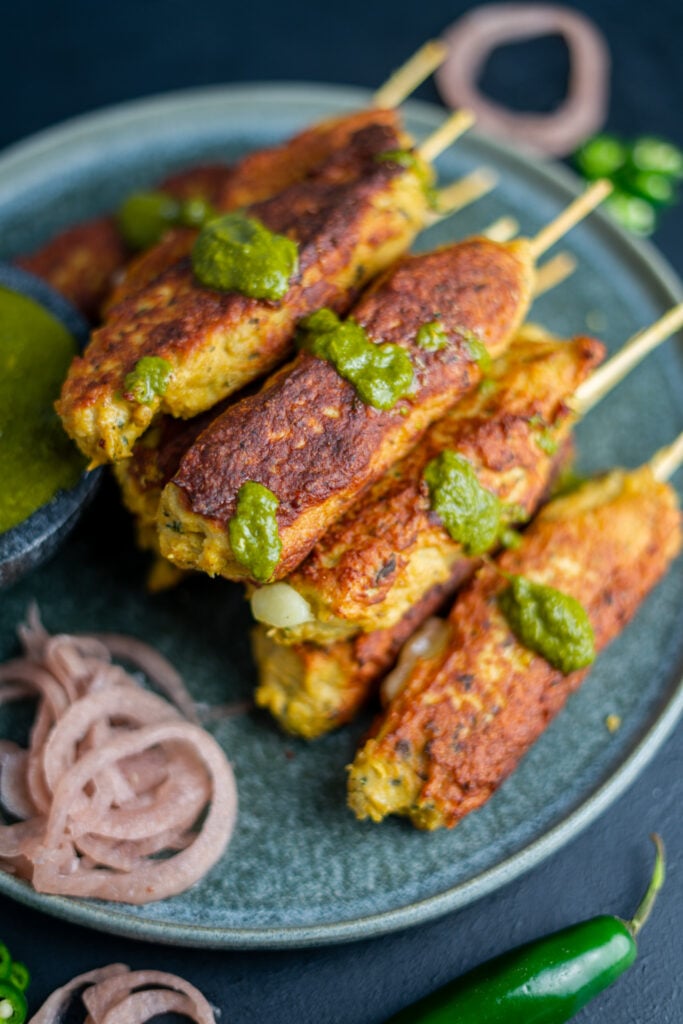 Sadly, the first time I can remember having chicken seekh kebabs was my senior year in college with my best friend, Resham.
Jump to:
Since my mom is vegetarian and hates the smell of chicken cooking at home, I don't think it's something we ever really had. Thankfully, Resham basically inhales kebabs for every meal and is the sole reason I love them so much! We would go to Dera in Curry Hill (location now closed) for chai and inevitably end up ordering food when people met up with us there.
What are Seekh Kebabs?
While I was testing this recipe, I was gushing about how excited I was to my coworker, Mina. Turns out, he's a huge foodie and ex-professional chef that worked in Michelin starred restaurants in New York (how cool!?!?). He informed me "seekh" in Arabic means "skewer." I guess those two years of taking Arabic in college weren't useful after all... Seekh kebabs are shaped like long logs instead of the skewered pieces of chicken breast or ground chicken with ridges we see with Greek, Persian, etc cuisine. Indian-style seekh kebabs also add several spices into the mixture like garam masala and besan unlike most Middle Eastern kebabs that we typically see.
From what I've seen, seekh kebabs are usually made with lamb or beef at Indian/Pakistani restaurants. I could never get my hands on some chicken kebabs and it was giving me major FOMO! Of course I had to make my own but give it a little twist by stuffing it with cheese. I chose mozzarella for this, but I'm sure any melty white cheese will work.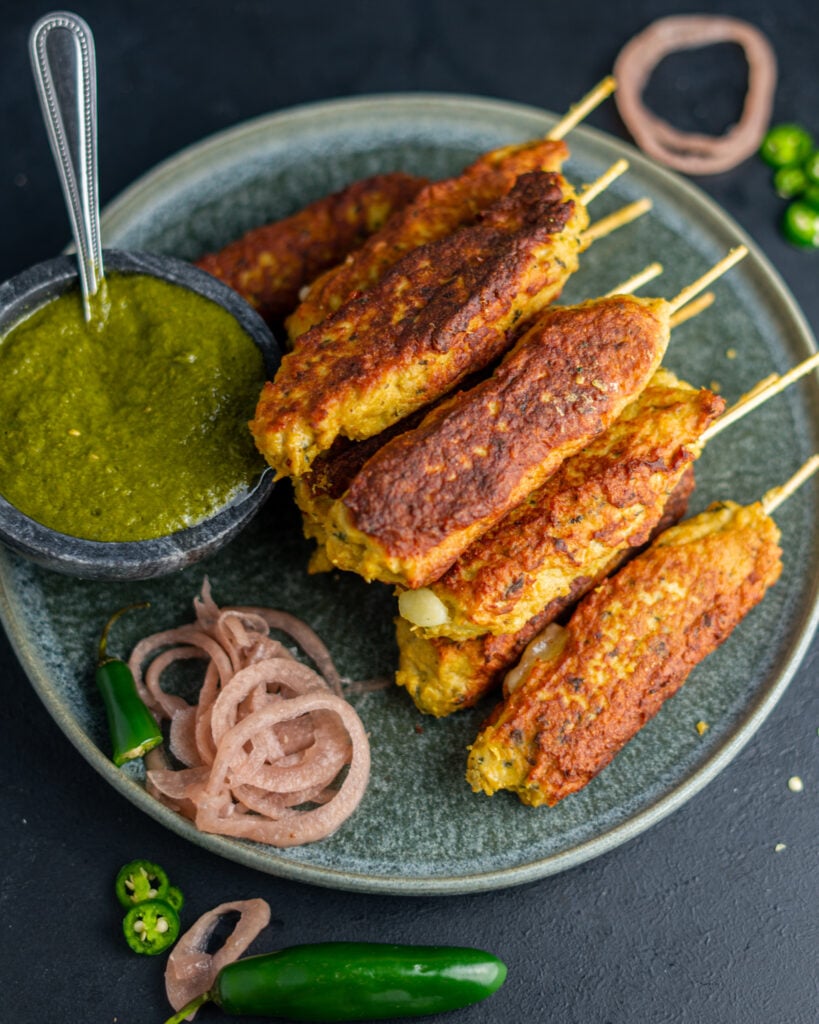 These kebabs go amazingly well served on a bed of rice with raita, my Mom's Green Chutney, onion slices, and lemon wedges. The spices give the kebabs a ton of flavor so you can eat them alone with chutney and lemon if you're looking for a high protein meal.
Which type of Cheese to use
I love mozzarella to stuff these kebabs because it's mild and melts really well. I recommend using a mild white cheese that melts.
I also suggest using blocks of cheese that you can cut to even sizes that can be skewered onto the stick.
Tips for making the Chicken Kebabs on Skewers
Making skewers for the first time is not the easiest thing to get a handle on. Here are a few tips to getting them close to perfect:
Working with a sticky mixture. Don't worry too much if your ground chicken mixture is sticky. The chickpea flour will soak up most of the moisture. Try and refrain from adding more chickpea flour or breadcrumbs like some other recipes may say. A good trick is to dip your hands in water and then work with the chicken.
Uniform skewers. Measure and divide the chicken so you get uniform results. I just used about a handful and was able to peel off any excess. This also helps with getting similar cook times to ensure the chicken is cooked through.
Oozey cheese. It's totally fine if a bit of cheese oozes out and gets crispy while cooking. Freeze the cheese on the skewers for 15-30 minutes if the cheese oozes out a little too much.
Tightly pack the chicken on the skewers. Tightly press the chicken on to the skewer and close it on both sides. This way the mozzarella doesn't ooze out of crevices.
Kebabs that don't fall apart. If the kebab is for some reason falling apart, make sure you added the egg. If it keeps falling apart, add breadcrumbs as a last resort.
Work fast! The faster you work with putting the chicken on the skewers, the better. After each one is ready, add it to the pan immediately so it doesn't melt off the skewer.
Also, just remember they don't have to be perfectly shaped! They are homemade after all 🙂
How to Serve
These chicken seekh kebabs is the perfect recipe to grill up for large gatherings during the summer season!
You can serve them on skewers so guests can easily grab one. Serve with a side of cilantro-mint chutney, raita, and some pickled onions.
Check out More Indian Recipes
Looking for more Indian dishes? Try these out!
Recipe
Cheese-Stuffed Chicken Seekh Kebabs
Indian style "log shaped" kebabs that is marinated with plenty of spices and chickpea flour. The best part is that it's stuffed with mozzarella cheese!
Print
Rate
Instructions
Add the onion, chili powder, ground cumin, garam masala, turmeric powder, ginger garlic paste, ground coriander, chickpea flour, lemon juice, and salt into a food processor and pulse on low until a paste forms.

In a bowl, add the ground chicken and everything from the food processor. Knead the ground chicken and mixture together until well combined. Add in the egg at the end and knead together. Let the chicken rest in the fridge for half an hour.

While the chicken rests, prepare the skewers. Cut the block of mozzarella into 10 thin rectangles that are about an inch wide and 3 inches long. String each piece of mozzarella through the skewer until it's in the middle.

Remove the chicken from the fridge. In a grill pan (or regular pan/outdoor bbq), add in enough of the ghee to create a layer over the bottom and heat it on low-medium heat. Have a plate set to the side with a paper towel to soak in excess ghee from the chicken.

Grab about a fist full of chicken and spread it on the kebab, creating a uniform log shape around the mozzarella and leaving a little less than an inch of the skewer showing on either side. Repeat this for all the kebabs.

Add the kebabs to the hot pan and cook on all four sides for 1-3 minutes each until golden brown. Remove chicken from skewer and serve warm and garnish with lemon, cilantro, red onions, chilis, and chutney!
Nutrition
Calories:
135
kcal
|
Carbohydrates:
3
g
|
Protein:
12
g
|
Fat:
8
g
|
Saturated Fat:
4
g
|
Cholesterol:
68
mg
|
Sodium:
110
mg
|
Potassium:
287
mg
|
Fiber:
1
g
|
Sugar:
1
g
|
Vitamin A:
167
IU
|
Vitamin C:
2
mg
|
Calcium:
67
mg
|
Iron:
1
mg