Make fluffy Indian-Style Saffron Rice in just 20 minutes! This aromatic basmati rice has an easy technique to getting perfectly cooked yellow rice with bloomed saffron. It's a great side dish to serve with kebabs, butter chicken, and so much more.
You're here because you want to learn how to make the vibrant yellow Saffron Rice you've probably had at a restaurant or at your aunties house. It's a staple in many cuisines and cultures around the world, and definitely makes it way into Indian food.
Saffron Rice is typically made with basmati rice, a long-grain aromatic rice that comes from the Himalayas. It's nutty and fragrant, making it the perfect vessel to add floral and fragrant bloomed saffron.
It adds a vibrant component when served with hearty dishes, like kebabs and curries. It's definitely a little more luxurious than serving plain rice and worthy of your precious expensive saffron!
Jump to:
Why you'll love this Recipe
This recipe is a little different than some other Saffron Rice recipes you may see! This is an Indian-Style recipe, so it doesn't use chicken stock or chicken bouillon. It also doesn't use onion or garlic.
This recipe does use spices that are common to Indian cooking, like green cardamom and cloves. It also uses ghee, so the rice is especially rich with subtle flavors from the whole spices that compliment the saffron.
This type of Saffron Rice will be the perfect side dish for Indian food, like vegetable curries and meat-based dishes. It's elevated from basic Basmati Rice and looks gorgeous from the pop of golden yellowy orange color of saffron.
Ingredients - Notes and Substitutions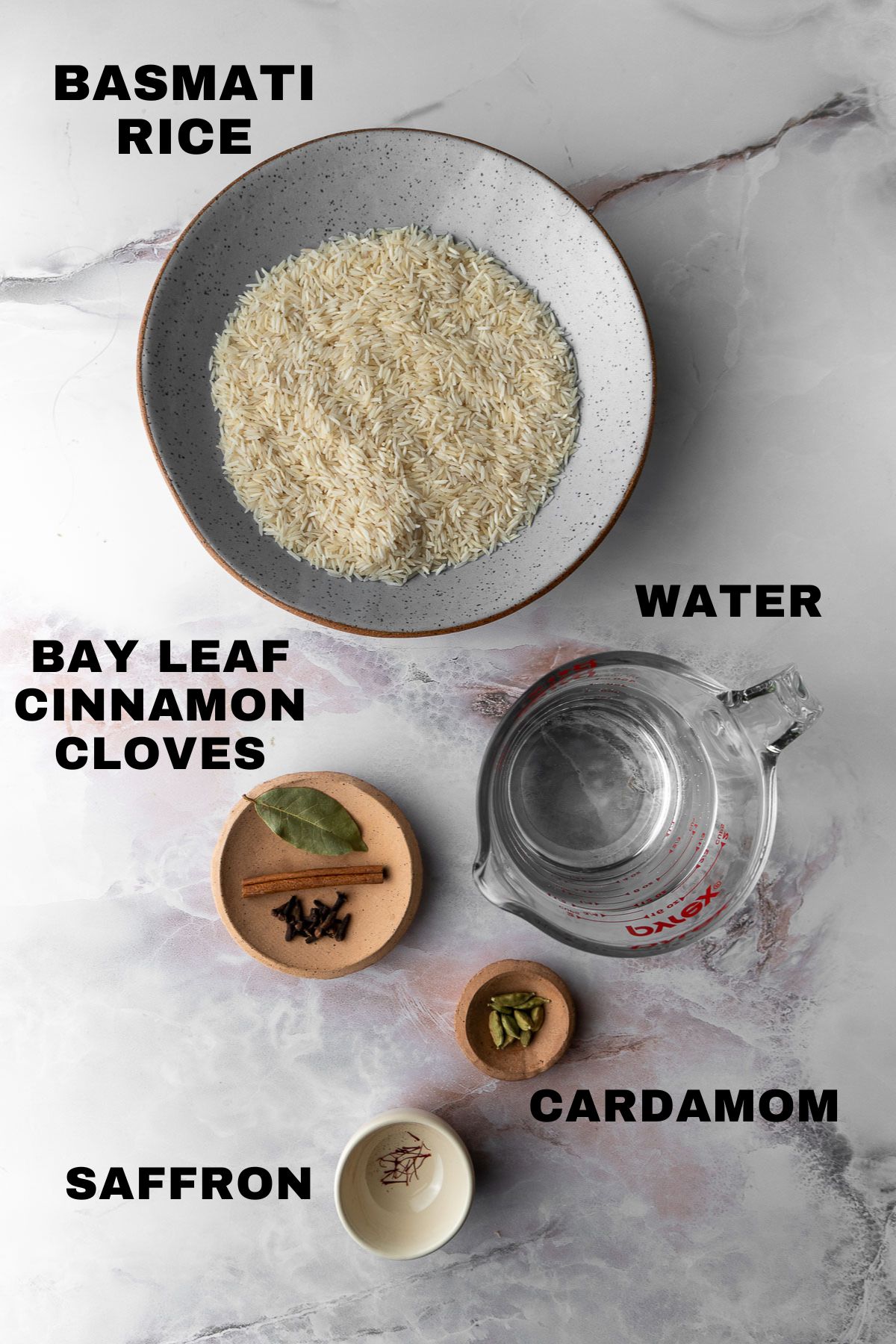 For the basmati rice, you'll want an aged, long-grain white rice. My absolute favorite brand is Royal Basmati Rice. You can find it in 10lbs or 20lbs sacks at ethnic grocery stores and even Costco.
Most aged, long-grain basmati rice that are grown in the Himalayas require more water than other types of long-grain rice and even basmati rice grown in other countries. You want to use just enough water to have airy, fluffy rice that holds its structure but squishes easily between your fingers.
In terms of spices, you'll need cardamom, cinnamon, cloves, a bay leaf, and saffron. Cardamom, cinnamon, and cloves are extremely fragrant spices and add depth of flavor to the rice. If you don't like bay leaf, you can omit it but I think it adds a little something something to rice.
And of course, saffron. I get mine from Diaspora Co but there are plenty of other great brands. Ground saffron in particular works really well for this recipe, or even food-grade saffron oil.
Turmeric is also a commonly used spice to give it more of that yellow rice look. You can also use orange food coloring.
Lastly, you'll need ghee or a neutral oil to bloom the spices.
How to Make Saffron Rice
Start by washing the rice. Washing the rice removes excess starches, resulting in perfectly fluffy rice with separate grains.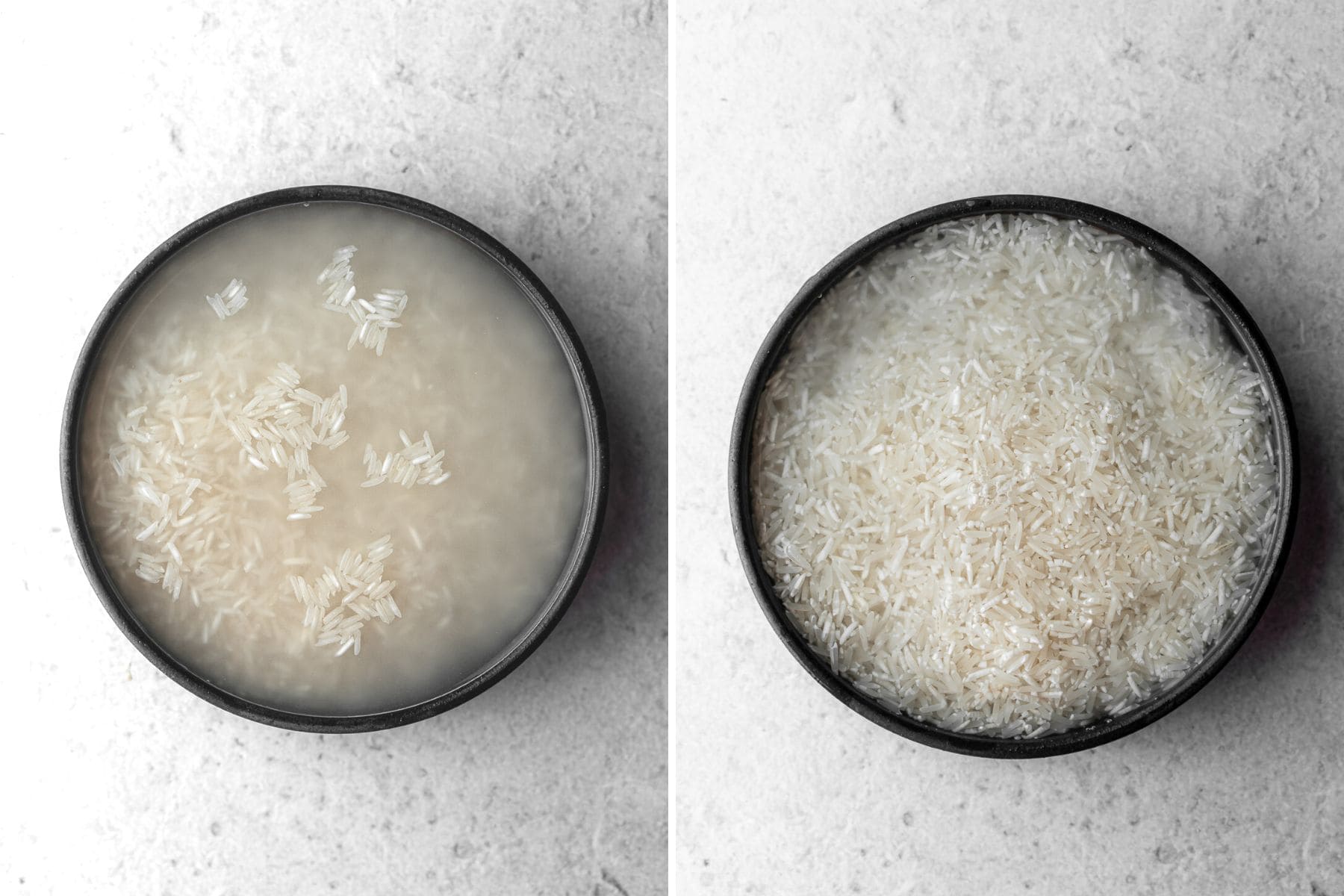 Rinse the rice in a fine mesh strainer, or add the rice to a large bowl and fill it with cold water. Swish it around with your hands, gently rubbing the grains together with your fingers.
You'll see the water will be a murky white. Continue rinsing and draining the rice a few times until it starts to run clear. Drain it thoroughly to avoid excess water that may lead to mushy rice.
Pro Tip: Optionally, you can soak the rice for up to 30 minutes. The rice will be softer, but the difference in texture is not entirely noticeable or worth the extra time if you're on a time crunch.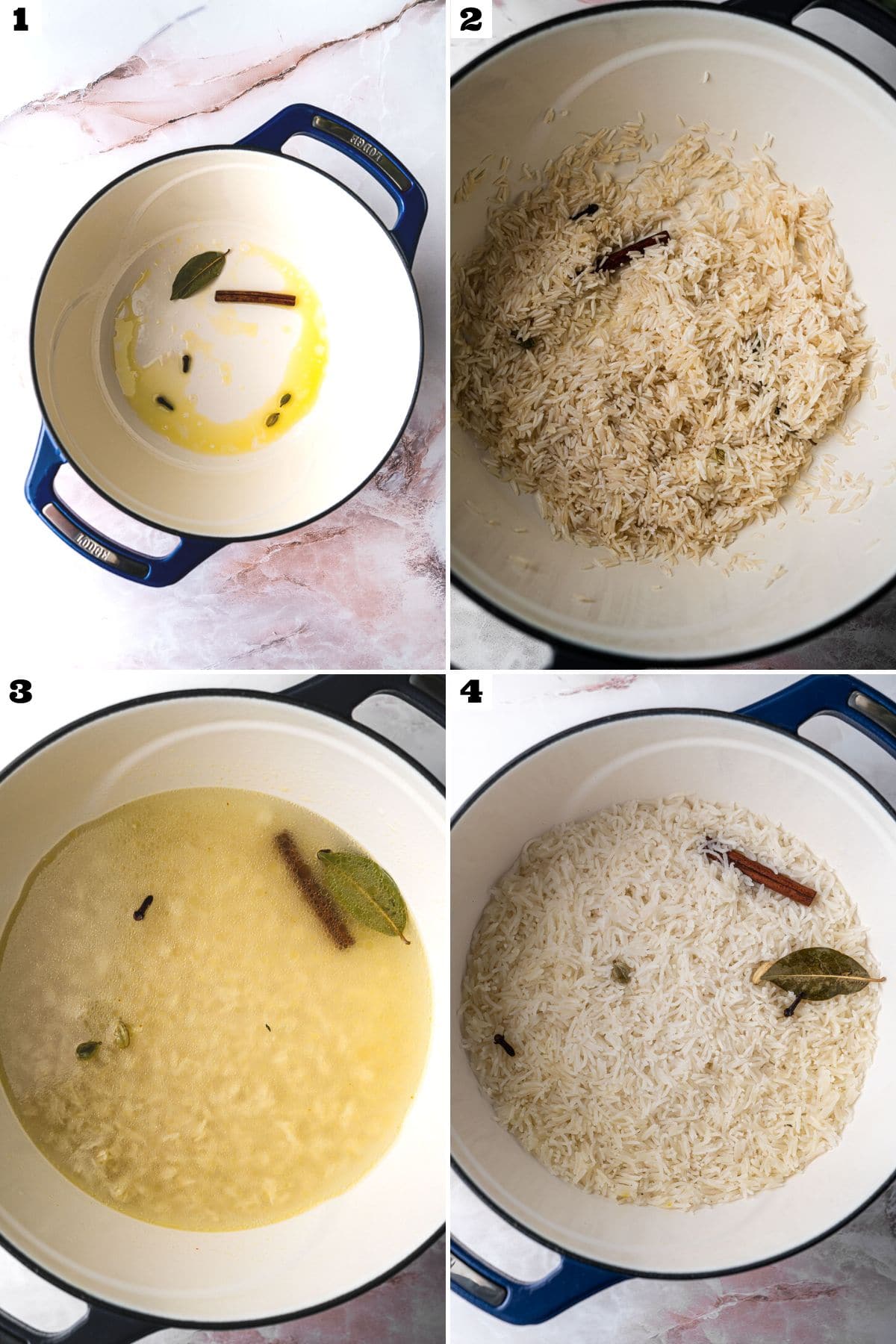 The next four steps are ridiculously easy to make rice, you really cannot go wrong here.
Start with the heat on medium to high. Melt ghee or add neutral oil in a heavy bottom pot. Once hot, add the cloves, cardamom, cinnamon, and bay leaf into to ghee. Let the spices bloom for a minute.
Next, add the rice into the pot with the spices. Toast the rice for 2-3 minutes, being sure to stir frequently so nothing burns.
Add the rice and water into a pot or sauce pan. Bring the water to a boil. Once it's at a boil, turn the heat down to low and cover the pot with a lid. Let it simmer undisturbed. Do not stir.
Let the rice cook for 8-10 minutes. The key to fluffy rice is covering it with a lid to produce steam. So seriously, leave it alone for this duration. I listen for the water bubbling in the pot while I do other things in the kitchen. Once it sounds dry and the water is fully absorbed, turn off the stove. Allow the rice to sit and finish steaming for another 5 minutes with the lid on.
Pro Tip: (Optional) When the rice comes up to a boil, add a ¼ teaspoon of turmeric and stir the water. The rice will soak up the colored water and every grain of rice will be evenly colored.
While the rice cooks, it's time to bloom the saffron. Ground saffron works the best in terms of getting a deep golden color. Whole saffron tends to be more fragrant and continues to bloom when exposed to the heat of the rice.
For this reason, I grind half of the saffron strands in a mortar and pestle and keep the other half as whole strands. Whatever you choose, place the saffron in a small jar and add two tablespoons of boiling hot water over the saffron.
Note: Grind the saffron with a pestle in a smooth bowl so that the powdered spice can easily transfer. If you do it in a mortar with all those grooves, you'll lose a lot of the ground saffron.
Give the jar a shake and let the saffron bloom for a minimum of 15 minutes. This will result in a concentrated flavor and fragrance of saffron.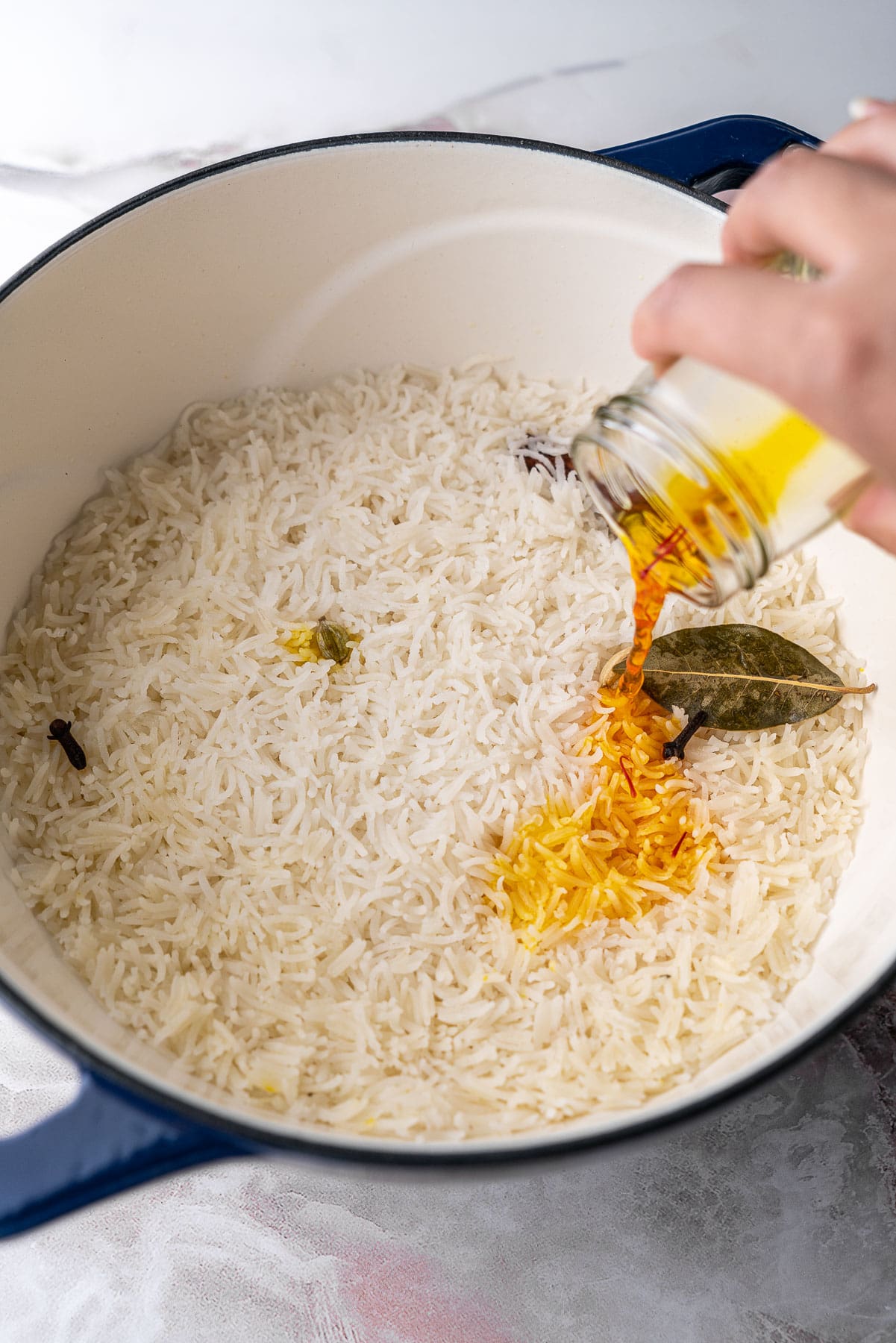 Remove the lid. Fluff the rice with a fork to break up the compacted rice. You can also make small holes in portions of the rice so the saffron water evenly reaches all areas.
Then, take that freshly bloomed saffron liquid gold and pour it all over the rice.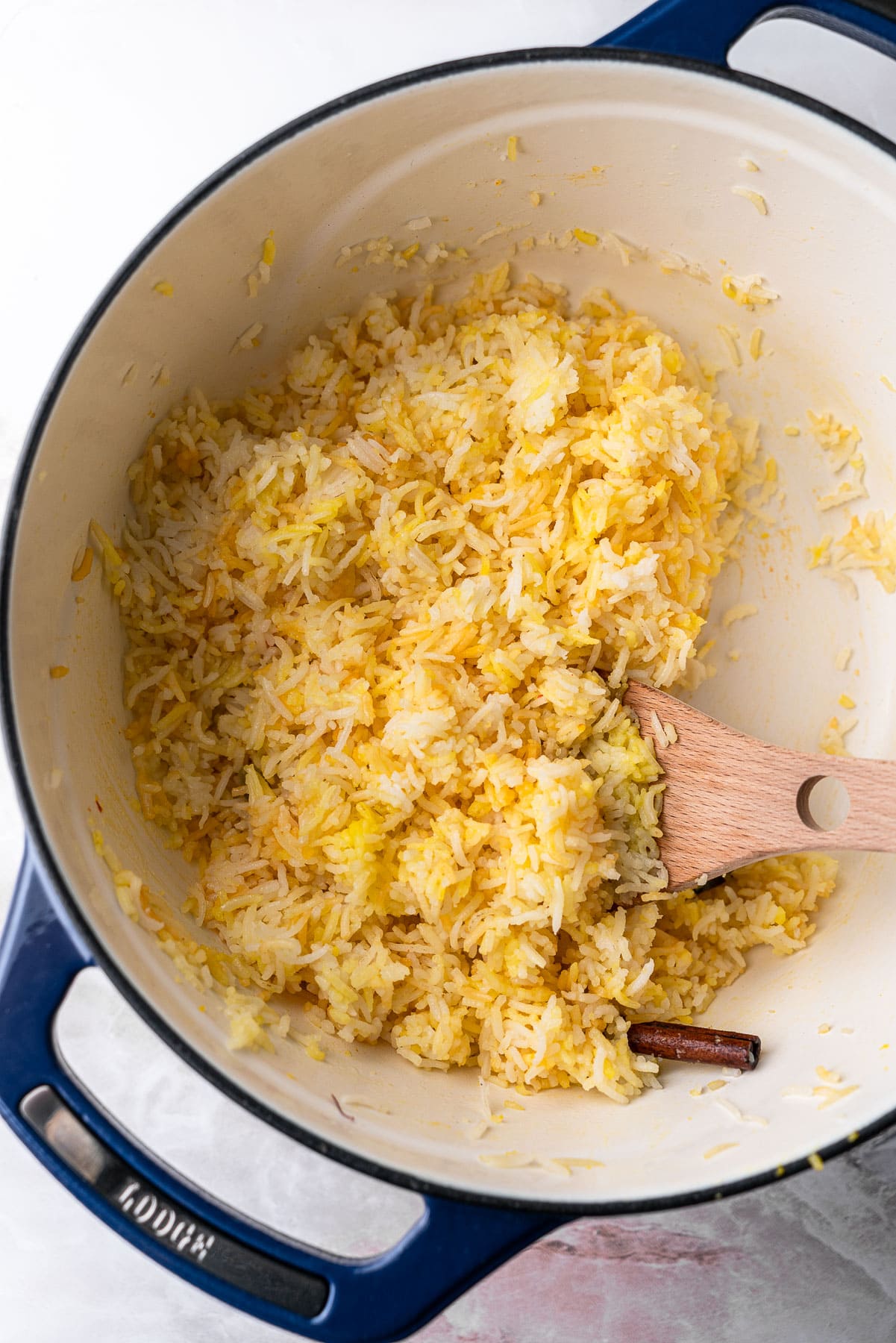 Stir the rice to coat it in the bloomed saffron you just poured in. You'll have the gorgeous restaurant-style golden rice.
Pro Tip: If you want bright orange rice that you get at a lot of Indian and Middle Eastern restaurants, you'll need to add orange food coloring mixed with a tablespoon of water.
Keep it covered with a lid until it's ready to serve.
How to make Basmati Rice in a Rice Cooker
Use an appliance like the Zojirushi Micom Rice Cooker.
Rinse the rice until the water is clear and thoroughly drain it using a fine mesh strainer or colander.
Add the rice, water, and spices into the rice cooker and give it a stir. Choose the correct setting on your rice cooker, i.e. long grain white, brown rice etc. Once the rice is finished cooking, carefully open the rice cooker.
Bloom the saffron according to instructions in the recipe card for 15 minutes. Once bloomed, pour it over the rice and stir.
Fluff the rice with a wooden spatula or fork. Keep the rice cooker covered until the rice is ready to serve.
Equipment
You absolutely do not need a rice cooker to make rice! I haven't owned one in years. All you need is a simple heavy-bottom pot or even a saucepan for a cup of rice will do.
Storage
Rice quickly loses it's moisture and will dry out. Be sure cover the rice with a lid so it doesn't dry out while you're waiting to serve it.
Store leftover saffron rice in an airtight container in the refrigerator for up to 5 days. Rice can also be frozen for up to 6 months in the freezer.
How to Freeze Rice
Allow the rice to fully cool.
Seal the rice in an airtight container. Note the date.
Place it in the freezer.
How to Reheat Rice
Warm it up in the microwave with an additional tablespoon of water and the lid covering the container for a minute so it steams up and is perfectly fluffy again.
Similarly, add the rice into a pot with a tablespoon of water on low to medium heat. Let it reheat for 5 minutes or until fluffy and warmed through.
If it's frozen, simply add a minute or two for defrosting.
1-2 day old rice also makes great fried rice!
Expert Tips
Wash the rice! If you want fluffy rice where the grains don't stick together, washing the rice goes a long way in removing the starches. This step can especially make an impact if you're making a larger batch of rice, because the starch content can start to add up. If you're making a cup or less of rice, it'll hardly be noticeable.
Washing the rice is what makes basmati rice the perfect accompaniment in Indian food.
Water to rice ratio. Use a ratio of 1 cup of basmati rice to 2 cups of water if using aged, long-grain basmati rice grown in India or Pakistan. Some American-grown brands require 1 cup of rice to 1.75 cups of water or even less, so be sure to check the instructions on the back.
Leave the rice alone to cook. Steaming the rice is truly the key to getting fluffy, airy rice. Leave it undisturbed while it's cooking so the grains don't break apart, and for five minutes after it's done cooking.
Dry rice after cooking. Keep the rice covered after cooking it and until it's ready to serve. Rice quickly loses it's moisture.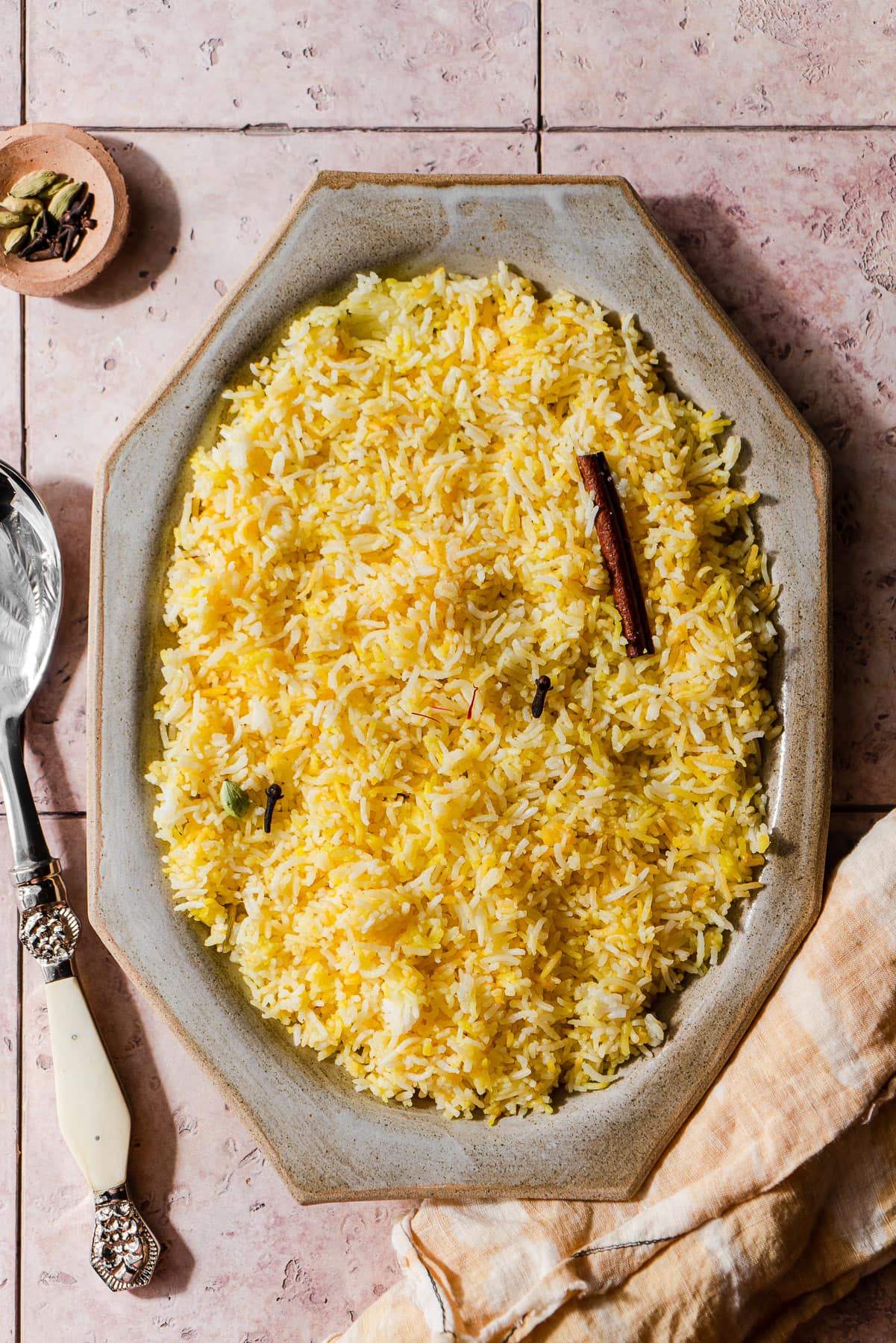 More Side Dish Recipes to try
Pairing Ideas
Recipe