A fan favorite, this Saag Paneer is made with a unique ingredient - Swiss Chard! Enjoy this Indian dish made with lightly-spiced, creamy leafy greens and fried paneer. It's best when served with basmati rice or roti.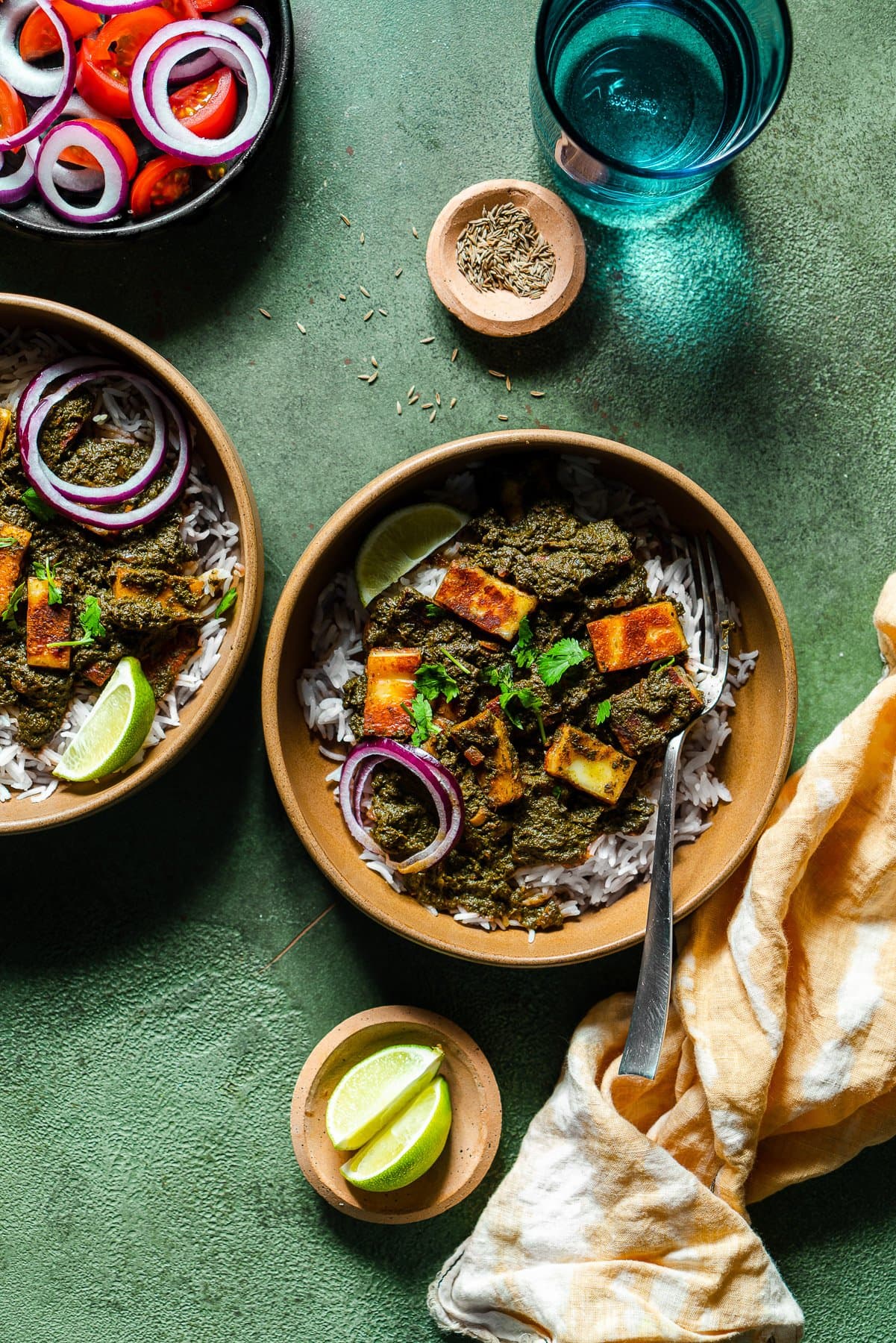 One day, I walked into my parent's home in Phoenix to see a disturbing amount of swiss chard freshly washed and laid out on the long kitchen granite island. The gorgeous deep green and ruby red of the chard were absolutely striking.
My mom explained that a friend had removed all the chard from their garden and given it to her, so I was immediately curious to see what she would do with so. much. chard. I should have taken a picture to share with all of you because it was more than I've ever seen at a grocery store.
Jump to:
She did five main things with all that chard -
A basic, yet delicious sabzi with potatoes, chard, and plenty of cumin seeds
Not my favorite, but a swiss chard green chutney
This Saag Paneer, which I immediately demanded the recipe for
Blend the swiss chard and freeze it in blocks
Lastly, give that ish away. Holy smokes there was a lot.
Admittedly, I don't think I've ever really had chard before but man is it absolutely freaking delicious with Indian flavors! With a bit of fried paneer and the makings of a great saag, this is the only way I'll be eating it from now on.
For me, the major key was using about a teaspoon of cumin seeds and a very few other Indian spices. The pairing is unmatched and brings out so much flavor along with a bit of tomato paste and lemon juice for acidity, then some cream to balance it all out.
If you aren't a fan of leafy greens like me, I promise this dish will convert you. Serve the creamy Saag Paneer with rice or roti and you have a wholesome, healthy, well-rounded meal before you.
What is Saag Paneer?
Saag Paneer is a creamy leafy greens-based dish with lightly fried paneer and spices originating from the Indian subcontinent. Saag refers to the greens used, which can be mustard greens, spinach, chard, or pretty much any other leafy green. Paneer is an Indian cheese made with milk curds which are pressed into a firm block.
This popular dish is easy to make vegan, making it accessible for different diets since it's also already gluten-free. It's enjoyed for lunch or dinner, typically with rice or roti.
The difference between Palak Paneer and authentic Saag Paneer is simply a matter of which leafy greens are used; "saag" refers to any leafy green such mustard greens or even spinach, whereas "palak" directly translates to spinach in Hindi.
Ingredients - Notes and Substitutions
Every household has a different way of making Saag Paneer, and especially varies throughout India. In comparison to mine, some won't use tomatoes and / or less spices.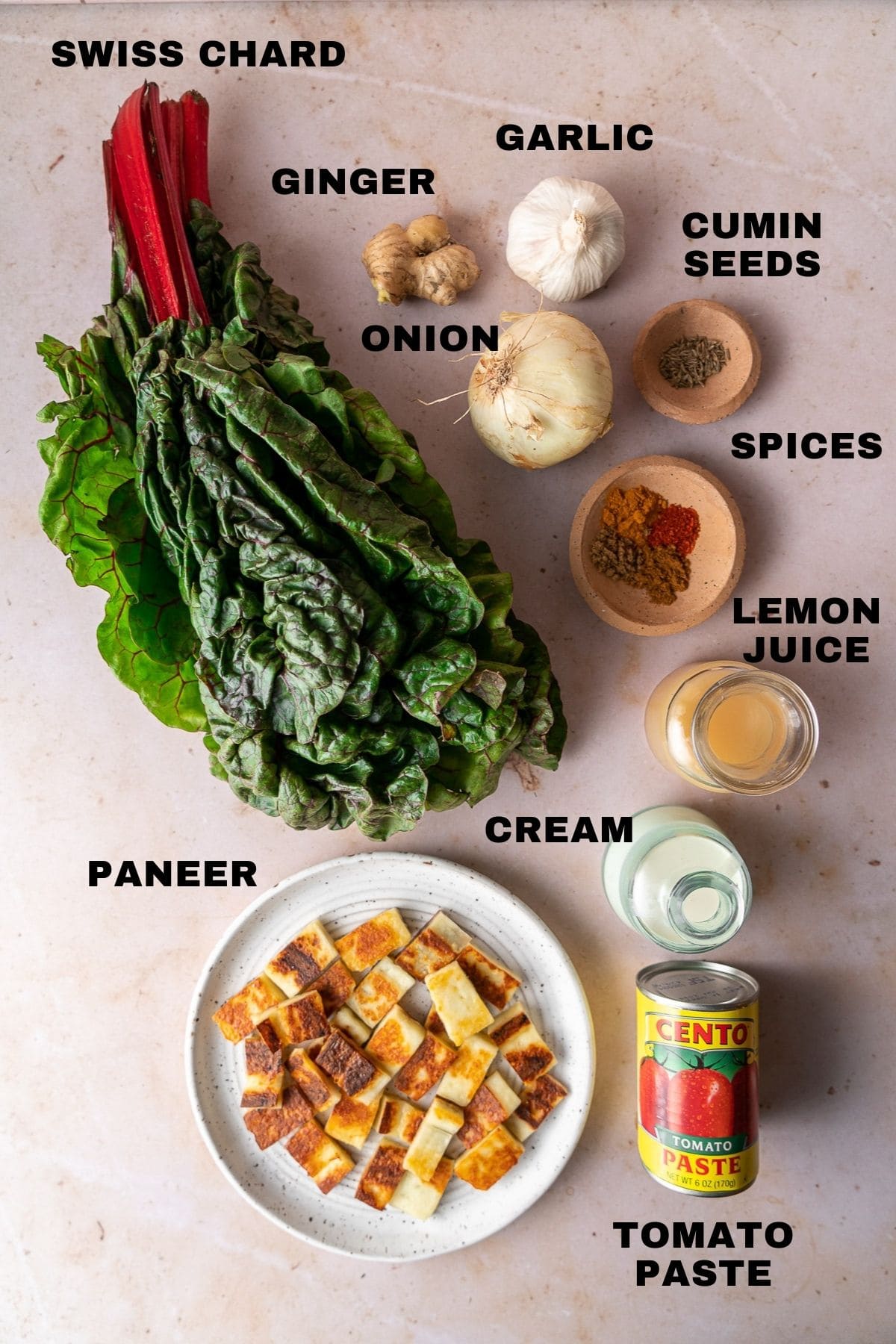 Swiss Chard - Chard is a bit milder than spinach. The leaves are firm, earthy, and the stalks can come in many colors. Saag can be any mixture of leafy greens such as mustard greens, spinach, collard greens, broccoli greens, and many more. You can even do half swiss chard and half spinach, all swiss chard, or all spinach.
Paneer - Paneer is an Indian cheese typically formed into a firm block. It's a soft cheese with a pleasant texture and a mild taste. It's an excellent source of protein for those that follow vegetarian diets. The best part about paneer is that it sops up curry super well which makes it the ultimate cheese for Indian cooking. If you're into making your own fresh paneer, it just requires milk, lemon juice/vinegar, and a cheesecloth! Substitute paneer with halloumi, which is a bit saltier and chewy. For a vegan substitute, use firm tofu.
Ginger garlic paste - Or as I call it, gigi paste! This is simply a 50/50 mix of ginger and garlic that's blended into a paste. You can easily make this at home in a mortar and pestle or blender, or purchase it readymade.
Onion - Use a medium yellow onion and very very finely chop it so that that the saag doesn't have large pieces. The only texture should really be from the blended leafy greens. If your knife skills are lacking, quarter the onion and run it through a food processor until it's small pieces but not a paste.
Tomato Paste - Some Saag Paneer recipes use tomatoes, some don't so tomato paste is optional but balances out the swiss chard.
Spices - We use five core spices to Indian cooking - cumin seeds, turmeric, chili powder, ground coriander, and garam masala. You can also use a bit of kasuri methi at the end.
Cream - Saag Paneer or Palak Paneer is made of creamed spinach. Use heavy cream or whole milk for a creamy thick curry. For a vegan option, use coconut milk or cashew cream. My mother also uses sour cream as a substitute to both cream and lemon juice.
Lemon Juice - We don't blanch the swiss chard so lemon juice keeps it light and fresh with a bit of tang.
For a little added spice, you can blend a few serrano peppers with the swiss chard.
How to make Saag Paneer
The Paneer
To start off, the paneer needs a bit of preparation.
You can optionally make your own paneer at home! Refer to this recipe for homemade paneer. I sincerely prefer it homemade as opposed to store-bought for Saag Paneer because the texture is much more appealing and it'll soak in a lot more flavor.
All you need to make paneer at home is lemon juice or vinegar, whole milk, and a cheese cloth! It's super accessible, but as I mentioned above Saag Paneer with halloumi or tofu work just as well.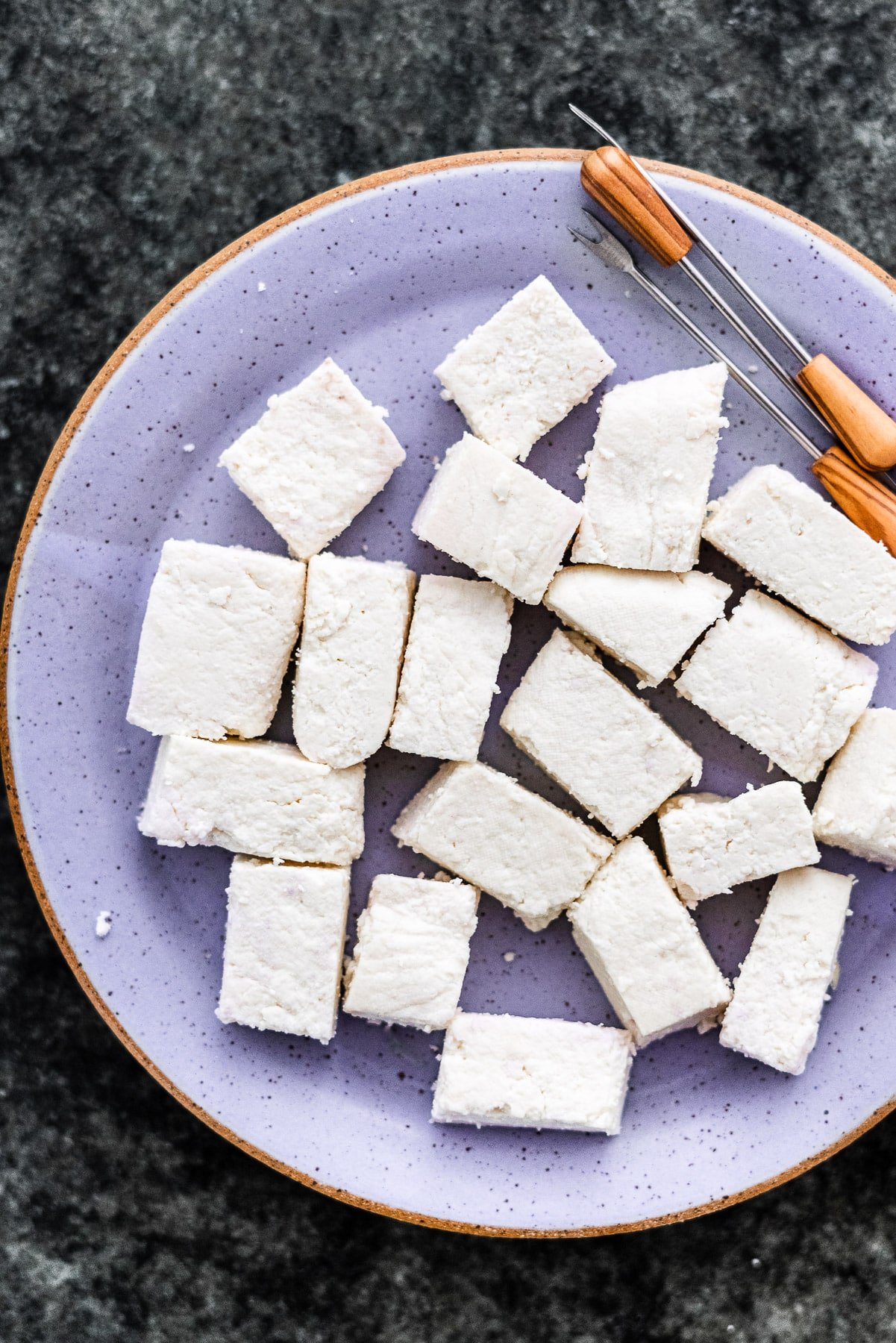 Whether you use fresh or store-bought paneer, you'll want to cut the paneer into thin-ish rectangles, not so thin that they dry out but they shouldn't be a thick cube. Use a fork to poke holes in the paneer (this is the way my mom taught me to avoid bland paneer).
Then, lightly fry the paneer in ghee in a hot pan until it's lightly browned on each side. Sprinkle the paneer with a bit of salt while warm. Set aside until the saag is prepared.
The Saag
While the paneer is frying, start preparing the swiss chard. Remove the thick stalks by starting with your hand at the bottom of the chard where the stalk ends and the leaves start. Clamp your hand around the stalk and pull upwards so that you remove the leaves from the stalk. Discard the stalk.
For swiss chard, you'll want to steam the leaves in a steamer for five minutes before blending them. If you're using a bright leafy green like spinach, you can blanch it to retain it's bright green color.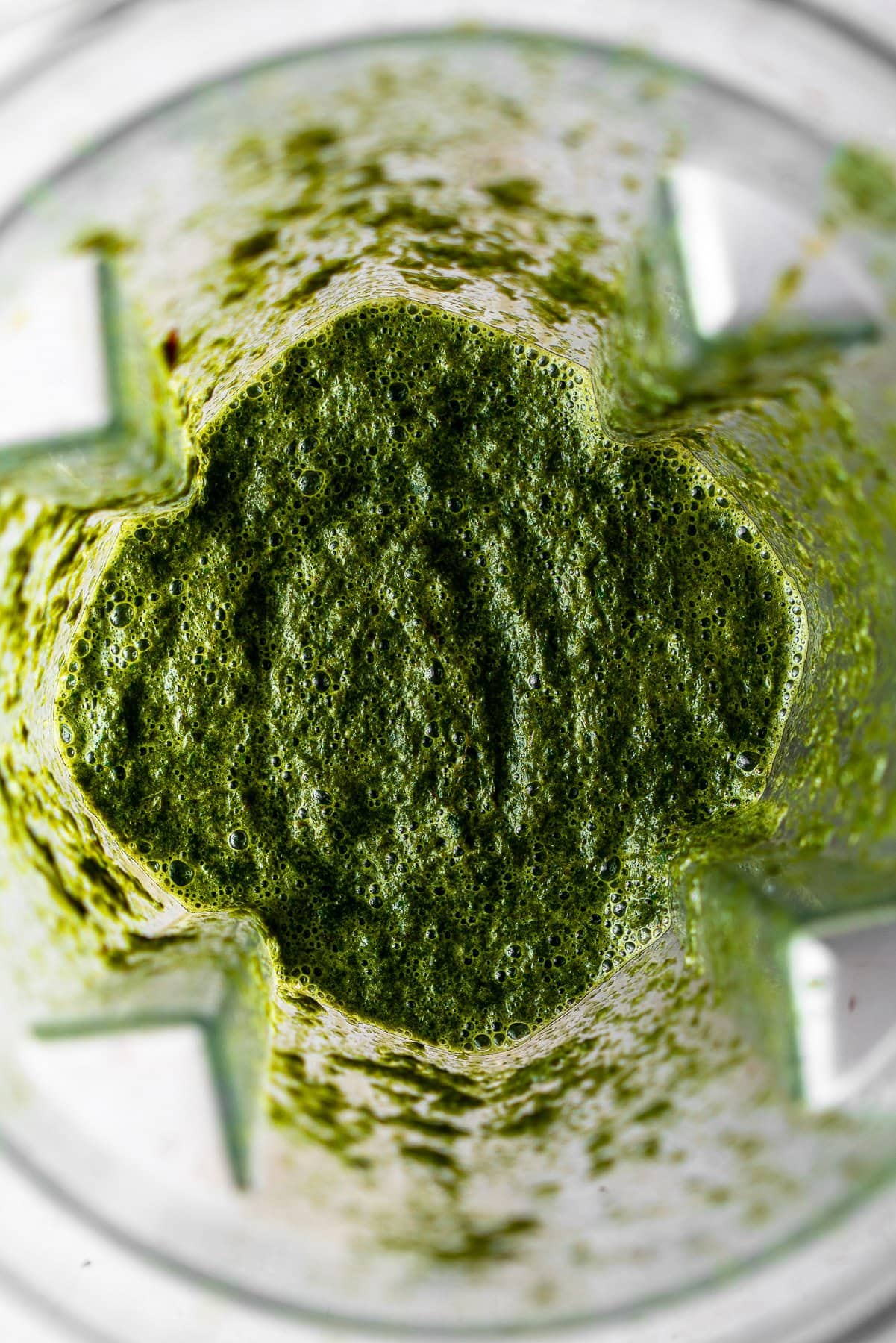 Transfer the leaves to a blender and add water as necessary to get the blender running. It's okay if you add too much water, this can be cooked off later. Puree the chard and any other greens until completely smooth.
Now, getting started on the gravy base is as easy as any other Indian dish. Start with cumin seeds, ginger garlic paste, and finely chopped yellow onion in ghee, emphasis on finely chopped.
Once the onion has browned, you'll add in the spices and tomato paste with a bit of water. The water is to prevent the spices from burning and to thin out the tomato paste to form a bit of a gravy. Simmer the gravy until the ghee pools out and separates on the sides.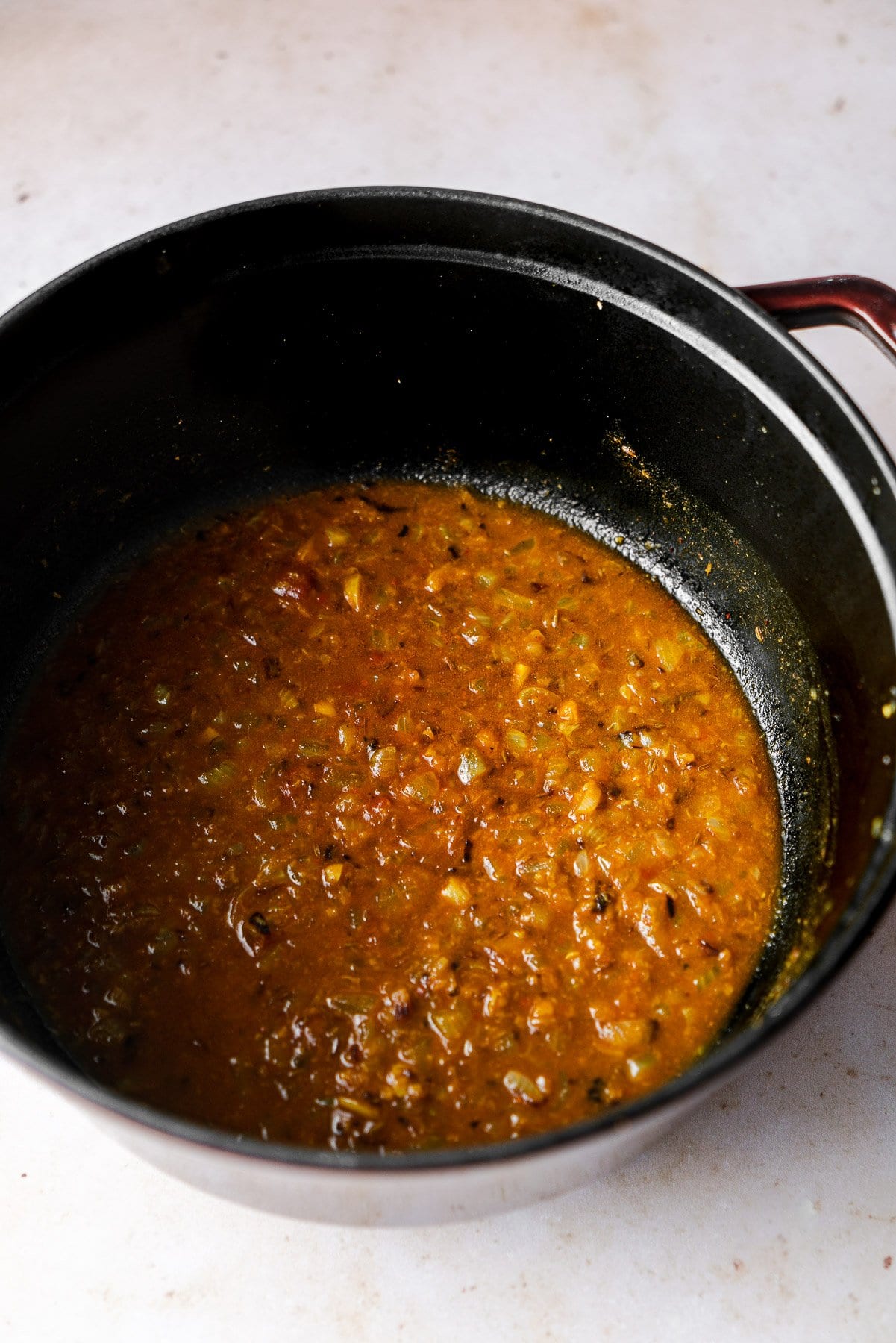 Once the gravy is ready, you can directly pour the blended greens into the dutch oven. If it's too thick, thin it out with a bit of water but remember that we'll add cream in later. Add salt and pepper to taste.
Now bring the saag up to a boil and drop the fried paneer into the dutch oven. Give everything a good stir and then cover the pot for a few minutes. Let the saag simmer for up to five minutes.
Remove the saag from heat and slowly stir in the heavy cream to prevent it from curdling. If you'd like it creamier, you can add more cream or whole milk. Finish it off with a squeeze of lemon juice for freshness and acidity.
Serving Instructions
Finish off the Saag Paneer with a bit of heavy cream, chopped cilantro, raw red onion rings, and a lemon or lime wedge for serving to guests.
Serve hot Saag Paneer for friends and family during lunch or dinner! It pairs best with rice or roti and with a sabzi, such as Aloo Methi or Dahi Wali Arbi. A refreshing salad like raw red onions with a squeeze of lemon juice and fresh tomatoes also cuts through all the greens.
Expert Tips and Tricks
Make it vegan. Vegan Saag Paneer is so easy to make! Substitute the ghee with a neutral oil or vegan butter. Use firm tofu instead of paneer. Instead of heavy cream, coconut milk or cashew cream works super well. This will change the taste a bit but is still just as delicious.
Use halloumi instead of paneer. Can't find paneer or don't have the time to make it at home? Fry up a bit of halloumi instead. It's just a bit saltier and chewier than paneer.
Use any type of leafy greens. Yes, just about any of them will work! Obviously not greens like arugula or lettuce. But spinach, mustard greens, radish greens will all work!
Make Saag Paneer ahead. The swiss chard can be steamed, blended, and frozen for up to 3 months. Just defrost it and make the tomato onion gravy base to add it to. The saag can last in the fridge for up to five days, just lightly fry the paneer and add it in when you're ready to serve.
Add cream to the heart's desire. I only add about 2 tablespoons of heavy cream, but you're welcome to use more. The saag is a bit more fibrous and has texture this way, so adding more cream will make it smoother.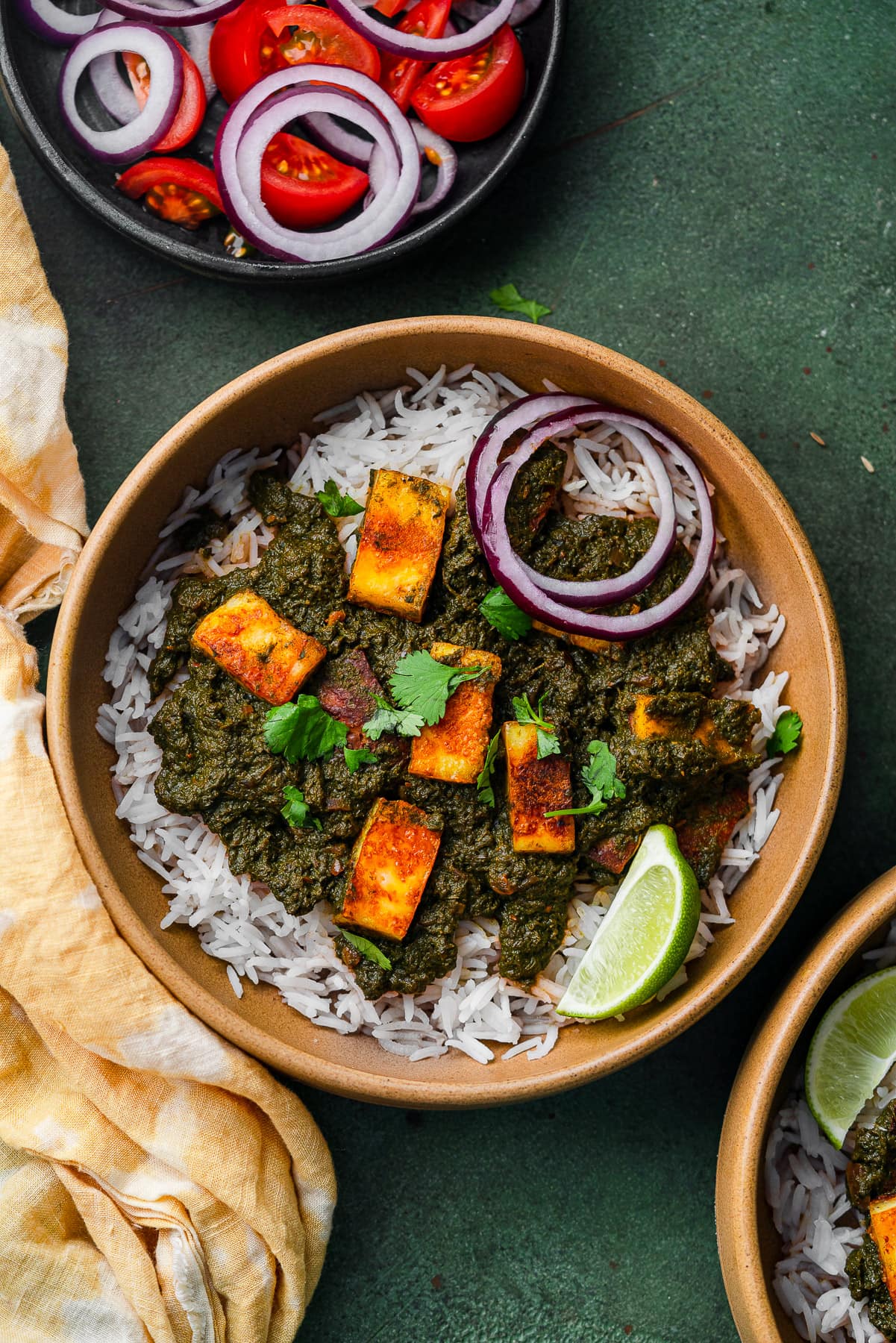 More Paneer Recipes to try
Subscribe to the Masala and Chai Newsletter Community to receive exclusive recipes and updates straight to your inbox.
I love seeing when you share my recipes! Tag me on Instagram @masalaandchai so I can enjoy them virtually with you! You can also find me on Pinterest, Facebook, Tik Tok, YouTube, and Twitter.
I'd love to know what you thought of this recipe! Don't forget to leave a comment and ⭐️ star rating below!
Recipe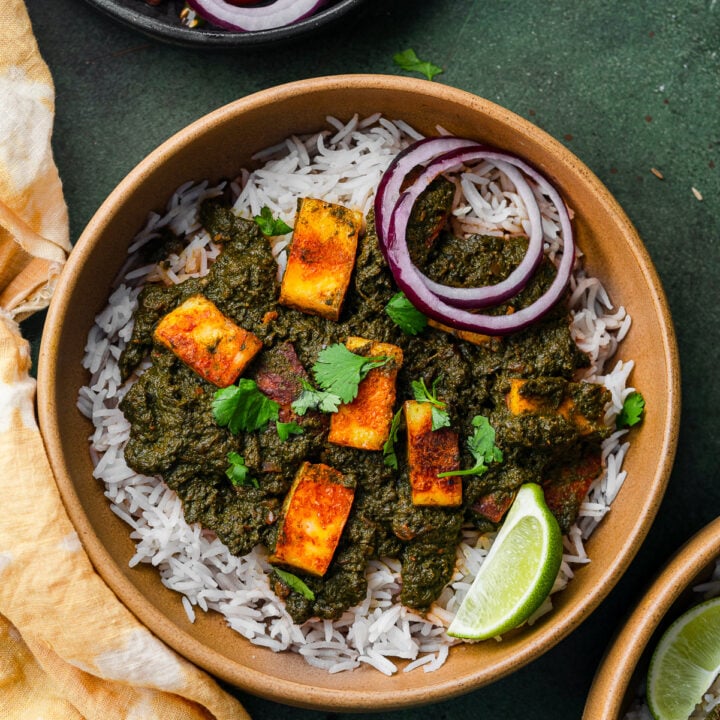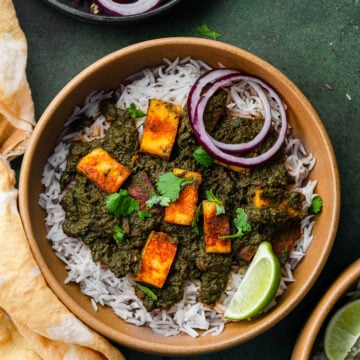 Saag Paneer
A fan favorite, this Saag Paneer is made with a unique ingredient - Swiss Chard! Enjoy this Indian dish made with lightly-spiced, creamy leafy greens and fried paneer. It's best when served with basmati rice or roti.
Print
Rate
Text Ingredients
Instructions
Remove thick stalk from the leaves of the swiss chard. Add the leafy greens to a steamer and steam for about 5 minutes, or until it smells earthy.

Once the chard has cooled down a bit, transfer the steamed chard to a blender and puree the leaves with about ¼ cup of water, or just enough water until the blender is able to run.

Cut the block of paneer into ¼ - ½ inch thick rectangles. Poke holes in each piece with a fork.

Heat a pan and melt half the ghee. Once it's hot, add the paneer and shallow fry on each side for ~2 minutes, or until each side is a light golden brown. Sprinkle a bit of salt on the paneer.

Very finely chop the onion. In the Dutch Oven on low to medium heat, melt the rest of the ghee. Add in the cumin seeds. Once they start to pop, add the finely chopped diced onions along with the ginger garlic paste and sauté until browned.

Next, add in all of the spices - the turmeric, red chili powder, ground coriander, and garam masala. Stir in the tomato paste with 2 teaspoons of hot water, or until the tomato paste with the spices and onions creates a gravy.

Once the ghee separates on the sides of the gravy, add in the blended chard. If it's too thick, add a bit of hot water until desired consistency. Once it comes to a boil, add salt and pepper to taste.

Add the paneer into the saag and cover the pot. Simmer for 2-3 minutes to allow the paneer to soak up the flavor.

Turn off the stove and slowly pour in the heavy cream. Give the saag a stir and finish it off with freshly squeezed lemon juice.

Serve saag hot with rice or roti.
Notes
Vegan Saag Paneer. Use neutral oil or vegan butter instead of ghee. Substitute firm tofu instead of paneer. Instead of heavy cream, coconut milk or cashew cream works super well. This will change the taste a bit but is still just as delicious.
Nutrition
Serving:
1
serving
|
Calories:
197
kcal
|
Carbohydrates:
11
g
|
Protein:
10
g
|
Fat:
14
g
|
Saturated Fat:
8
g
|
Polyunsaturated Fat:
1
g
|
Monounsaturated Fat:
1
g
|
Cholesterol:
37
mg
|
Sodium:
368
mg
|
Potassium:
678
mg
|
Fiber:
3
g
|
Sugar:
4
g
|
Vitamin A:
9389
IU
|
Vitamin C:
49
mg
|
Calcium:
301
mg
|
Iron:
3
mg