Cheese on cheese? YES. Paneer cheese is tossed in a spicy vegetable mixture, served on a hero and topped with a cheese sauce! This Paneer Masala Cheesesteak-style roll is the perfect, spicy vegetarian option.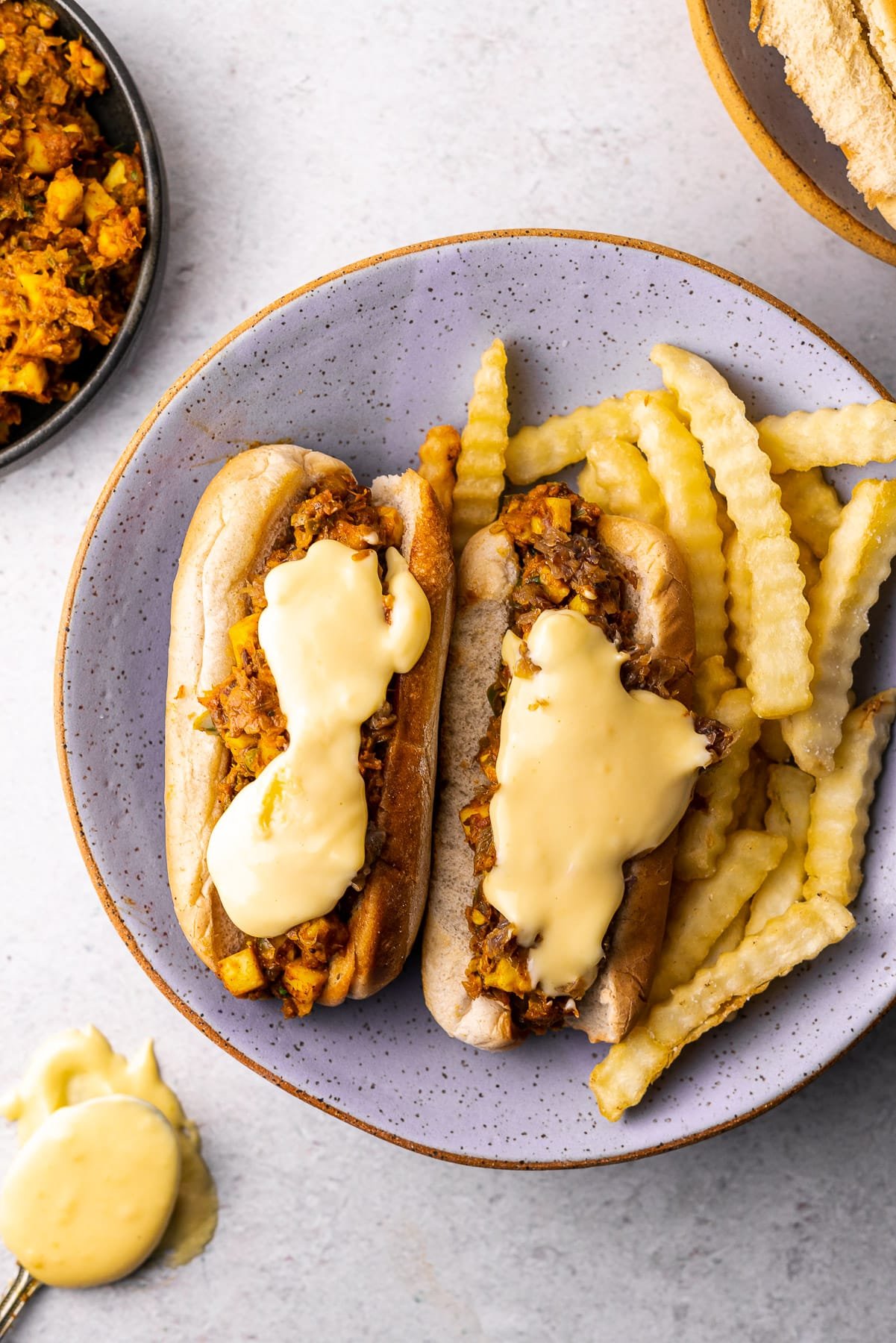 This recipe is born out of pure jealousy. As a Hindu, I don't eat steak and therefore have never had a proper cheesesteak. Of course, I've tried chicken cheesesteaks and even vegetarian cheesesteaks while in Philly and they were a bit bland... I can't imagine they're nearly as good as a regular 'ol cheesesteak!
This is my fusion rendition of the famous cheesesteak using paneer! The paneer filling is spicy and savory, and balanced out by a rich cheese sauce and caramelized onions. I'll definitely be cooking this up for the next family barbecue.
What is Paneer?
Paneer is an Indian cheese typically formed into a firm block. It's a soft cheese with a pleasant texture and a mild taste. It's an excellent source of protein for those that follow vegetarian diets. The best part about paneer is that it sops up curry super well which makes it the ultimate cheese for Indian cooking.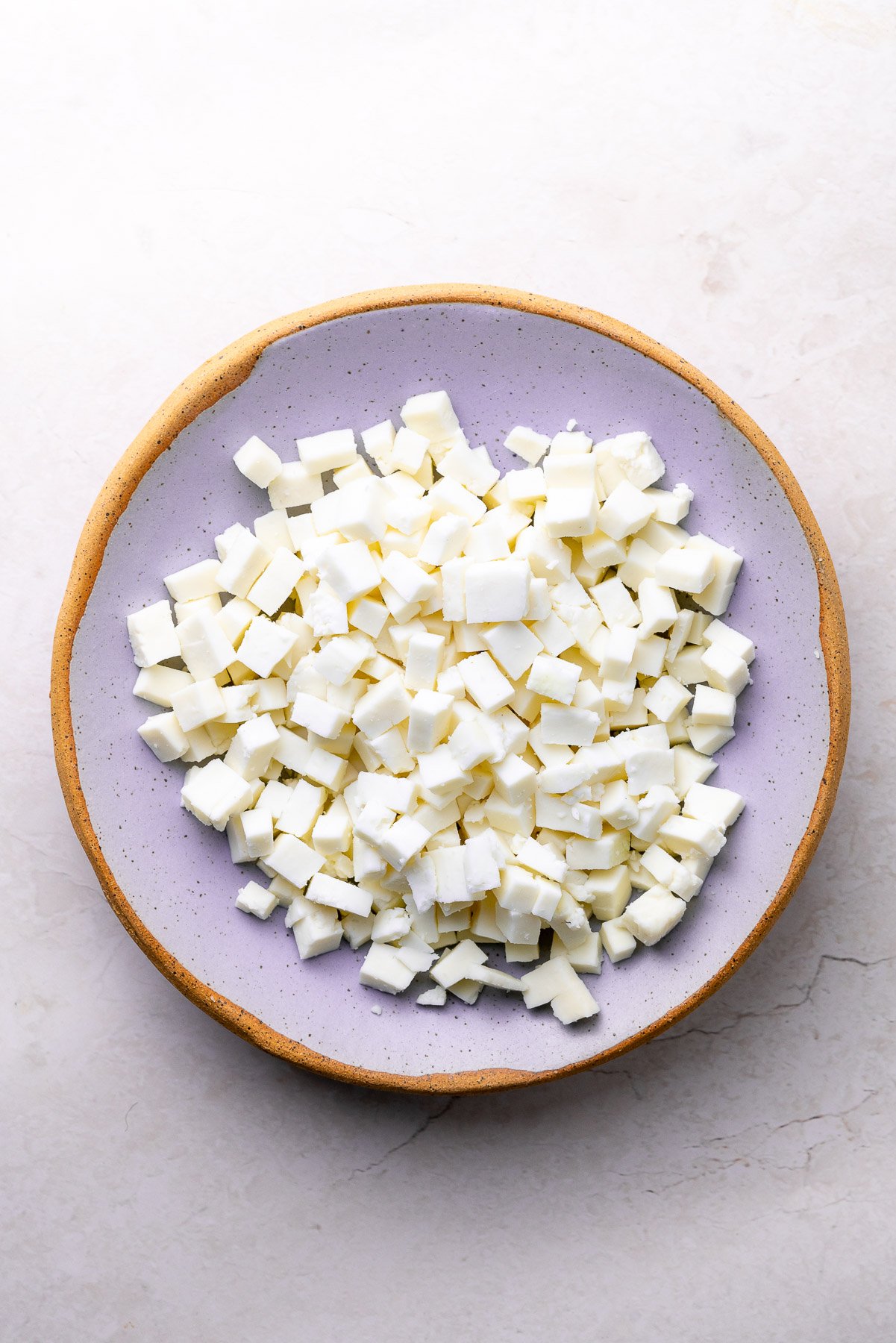 Paneer is frequently described as "Indian cottage cheese." Same same, but different? Cottage cheese is drained and salted. The curds are loosey goosey with a strong tinge of whey. I can't imagine ever putting cottage cheese in curry. Paneer is unsalted and pressed until all the whey is removed. It is a very mild cheese which is why it's the ideal cheese to mix with spices and curry.
Where to find Paneer
I once had a brand ask me not to use paneer for a recipe I was working on with them because they thought it was an inaccessible ingredient. I really think they were just ignorant to how widely available paneer is... Here are a few options on where to source paneer:
Make it fresh. If you're into making your own fresh paneer, it just requires milk, lemon juice/vinegar, and a cheesecloth!
Support local businesses. You can support an awesome first-generation Indo-American business and order online at Sach Foods. Your local Indian grocer has a 9.5/10 chance of carrying paneer. Another option is to go to your favorite Indian restaurant and ask them if you can buy their paneer. They most likely make it fresh.
Find it at the grocery stores. You can actually get paneer at all Whole Foods! They carry a brand called Gopi.
Tips to make Paneer Cheesesteaks
There's four moving parts to paneer cheesesteaks that makes it a bit involved:
Paneer Filling - the paneer is tossed into a blend of finely chopped veggies and spices. Make your life easier by using a vegetable dicer or a food processor and finely chopping one ingredient at a time. The vegetables quickly cook down with the spices to make a thick filling to coat the paneer.
Cheese Sauce - a must for all cheesesteaks! This is a simple mixture of your favorite melted cheddar cheese thinned out with milk. It's also perfect for scooping on to your side of french fries!
Caramelized Onions - the sweetness of the caramelized onions balances out the savory paneer filling. Take half of your diced onion and let it caramelize in a pan - it should only take about 15-20 minutes while you work on other things.
Buns and Sides - buttery, toasted buns with a side of crinkle fries is the yummiest way to eat this!
How to Serve
To serve - All four parts need to be ready to go at the same-ish time to eat while warm. Make the caramelized onions first, and while that is going prep the ingredients for the paneer filling and begin sautéing everything together. Cover the filling and onions and set it aside. Toast the heros/buns in butter as you begin to make the cheese sauce. The buns should be toasted by the time the cheese sauce is done. Then, you can begin layering the ingredients.
While the cheese is going, I also like to begin deep frying french fries in oil or baking them in oven. Then I hit them with a sprinkle of salt. You can also make masala fries or sprinkle a bit of chaat masala, but I think the paneer filling already has enough going on so I keep the fries as plain as possible.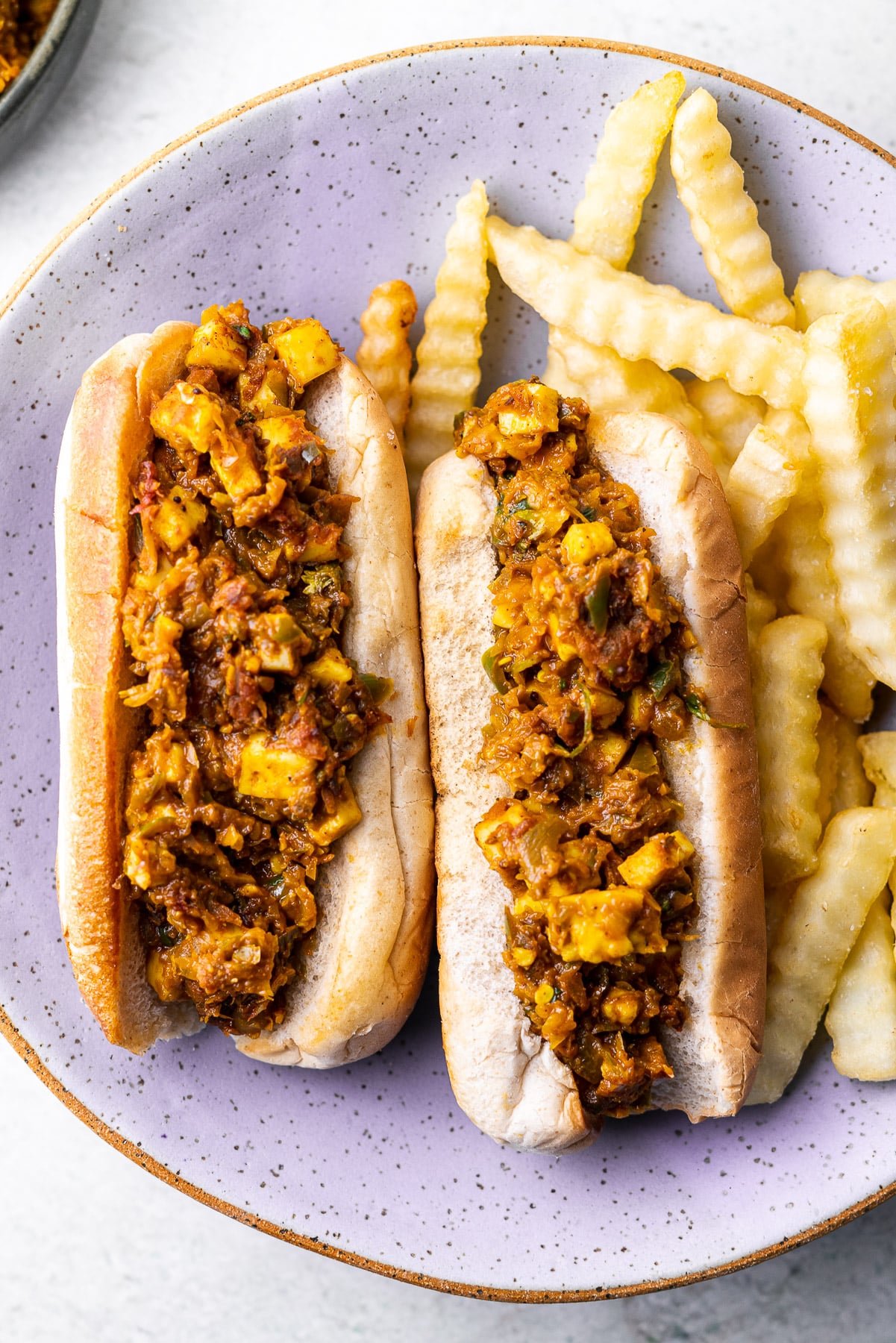 How to Store
I actually meal prepped these cheesesteaks for the week since I cook for one!
Keep the heros/buns separately at room temperature on the counter or in a bread box. You'll need three airtight containers, one large and two smaller containers. In the large container, store the paneer filling. In the two smaller containers, store the cheese sauce in one and the caramelized onions in the other.
To build the cheesesteak, toast the buns on both sides in butter either in a countertop microwave oven or in a frying pan. Pop the paneer filling and caramelized onions in the microwave for 1 minute, and the cheese sauce for two minutes until it thins and is melty. Stir the cheese until it's nice and saucy. Then you can start layering the ingredients on to the bun!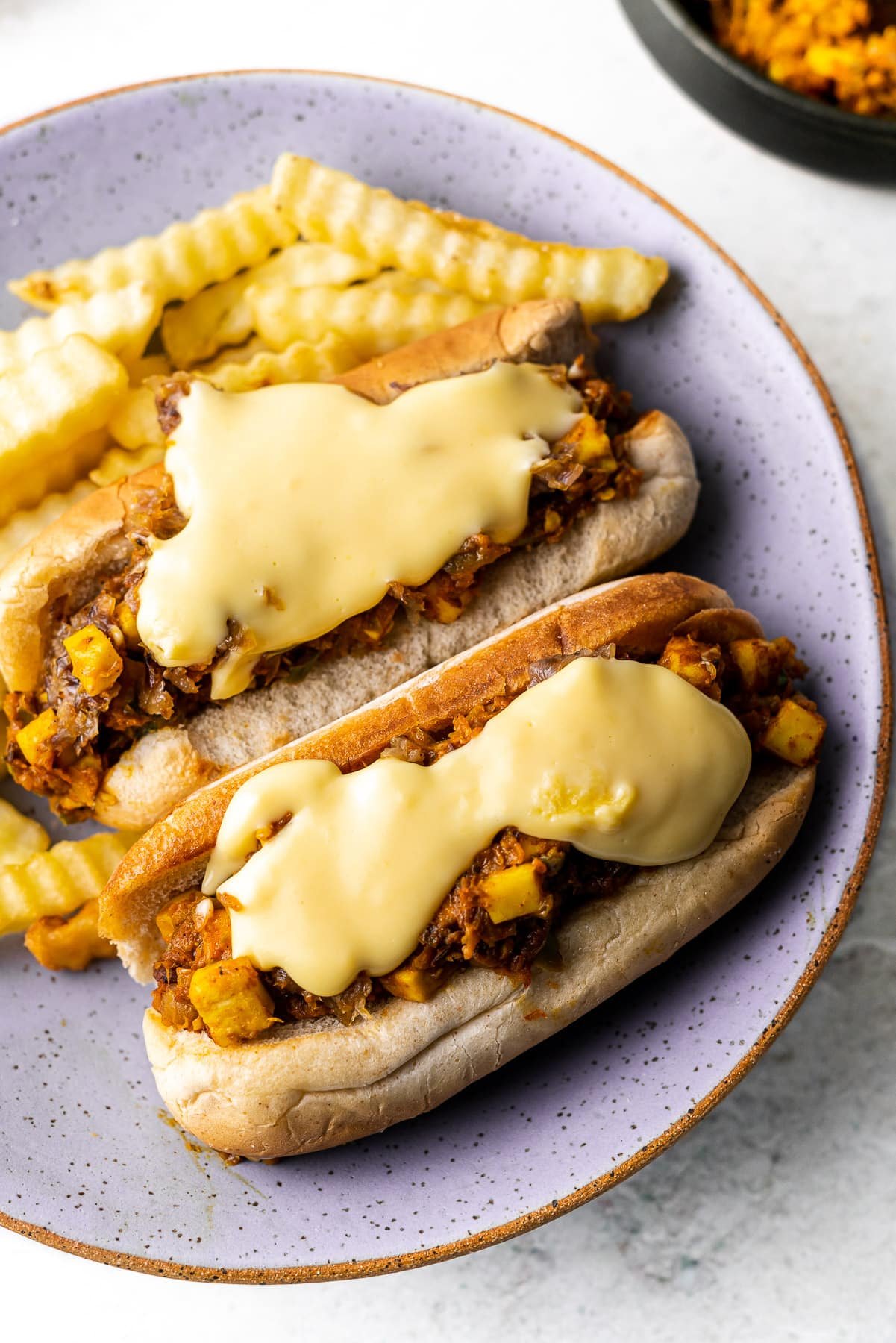 More Indian Dinner Recipes to try
Looking for more flavorful Indian recipes to try out for dinner? I gotchu!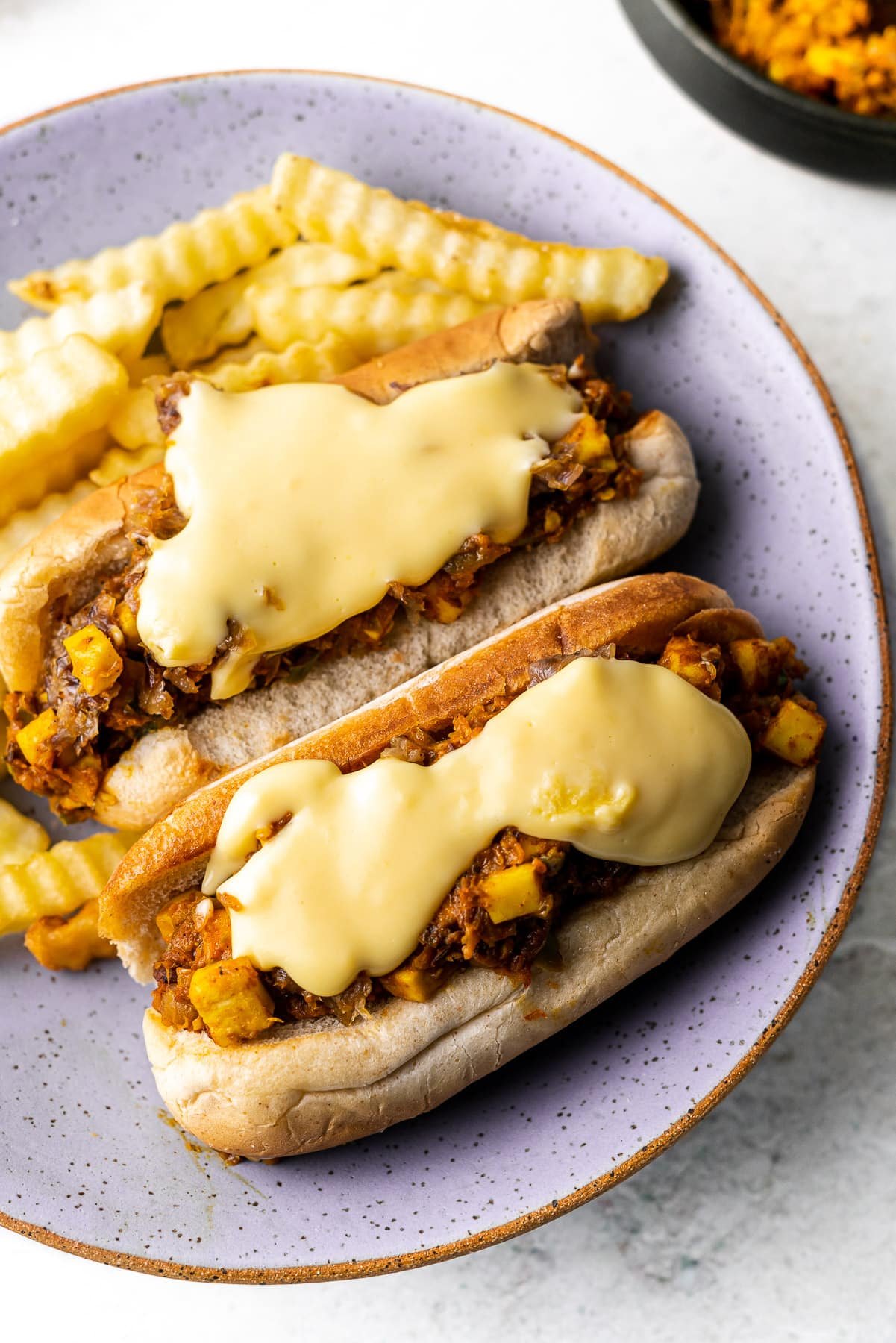 Print Recipe
Paneer Masala Cheesesteaks
Cheese on cheese? YES. Paneer cheese is tossed in a spicy vegetable mixture, served on a hero and topped with a cheese sauce! This Paneer Masala Cheesesteak-style roll is the perfect, spicy vegetarian option.
Ingredients
Caramelized Onions
½

onion

finely diced

1

tbsp

olive oil

1

tbsp

butter

pinch of salt

¼

tsp

sugar
Cheese Sauce
4

oz

cheddar cheese

shredded

2

tbsp

butter

⅓

cup

milk
Instructions
Caramelize the Onions
In a pan, pour in the olive oil and melt the butter on low to medium heat. Add in the diced onions, salt, and sugar. Stir the mixture together. Allow the onions to cook until they are browned and caramelized, about 15 minutes, stirring in intervals to prevent sticking and burning.
Make The Paneer Filling
In a large frying pan, heat 1-2 tablespoons of olive oil on medium heat. Add in the cumin and mustard seeds. Once they start dancing in the oil, add in the ginger garlic paste and serrano peppers. Fry them until they become aromatic.

Add the other half of the diced onions and cook until translucent. Once the onions are translucent, add the diced green pepper and cook until soft and tender and any water content has evaporated.

Sprinkle in the spices - the turmeric, red chili powder, coriander, cardamom, salt and garam masala. Thoroughly stir them into the vegetables. Toss in the diced tomatoes, and cook it until they're soft and break down into the mixture. Lastly, add the gochujang into the mixture.

Mix in the paneer and thoroughly stir together until the paneer is fully coated. Cook for another 3-5 minutes. Remove from heat and top with freshly chopped cilantro.
Make the Cheese Sauce
Fill a pot with water and bring it to a boil. Place a heat safe bowl over the pot and add the cheese, milk, and butter. Continue to stir until the cheese fully melts and turns into a runny mixture for a cheese sauce.
Assemble
In a pan, melt butter and toast the heros/hot dog buns.

Divide the paneer filling into 8, and fill each hero. Layer it with the caramelized onions, and then with plenty of cheese sauce. Serve with crinkle fries.
NUTRITION
Nutrition Facts
Paneer Masala Cheesesteaks
Serving Size
1 cheesesteak
Amount per Serving
% Daily Value*
* Percent Daily Values are based on a 2000 calorie diet.
Did you make this recipe?
Tag @masalaandchai in your post and stories on Instagram!
I'd love to know what you thought of this recipe! Leave a comment and rating below! You can also find me on Pinterest and Facebook, or stay in touch with me via my Newsletter!