These crispy cauliflower wings are baked to golden brown perfection and tossed with a simple slightly sweet, slightly spicy homemade mango-tamarind sauce. Serve these Mango-Tamarind Cauliflower Wings with cilantro-mint chutney for an easy vegan appetizer at the next football game.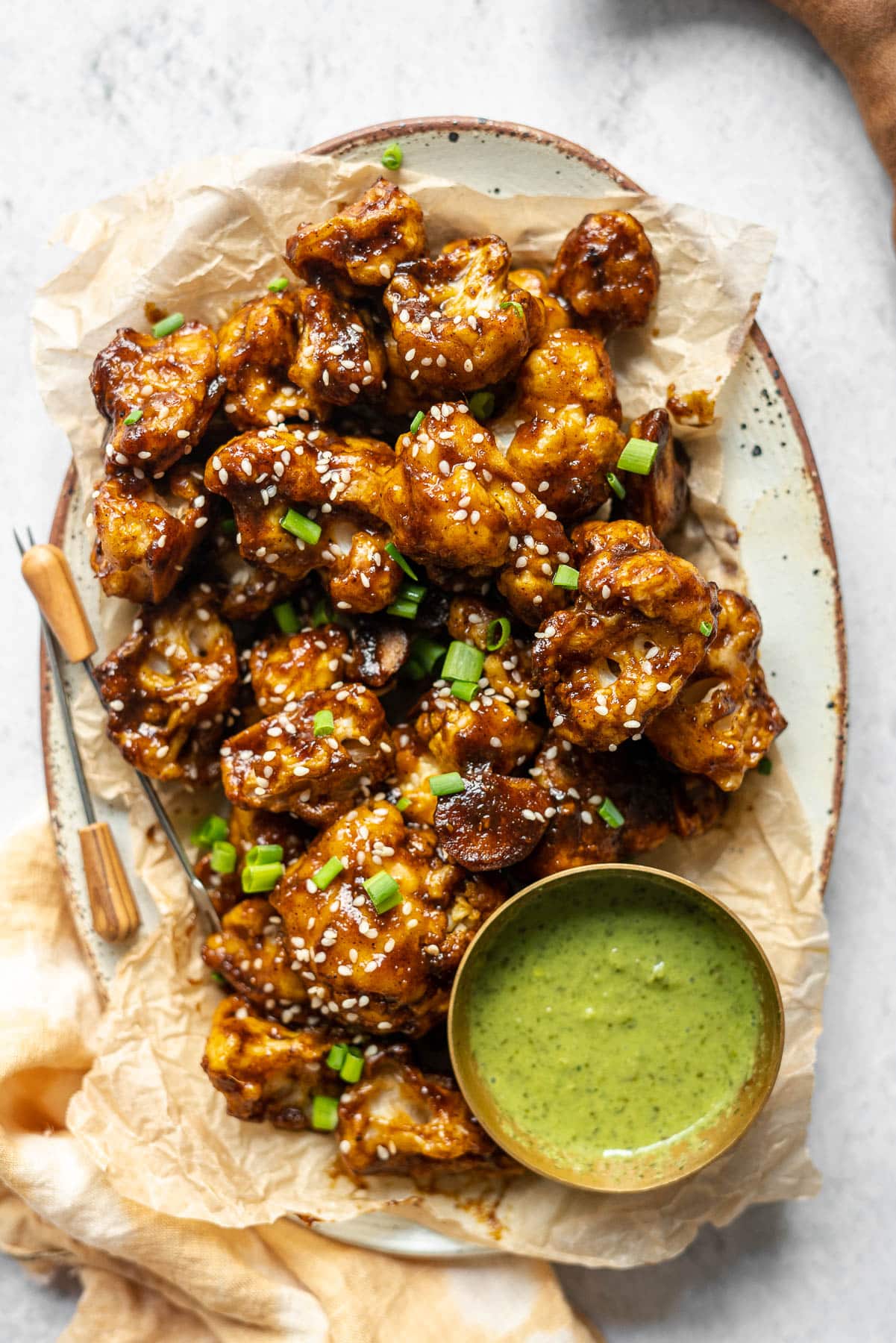 These cauliflower wings are perfect for entertaining or for a game day appetizer in lieu of classic buffalo wings! I promise your guests will be impressed by this something new.
Jump to:
Admittedly, I would classify "cauliflower wings" as more of cauliflower fritters than anything. But Americans have said NO. These are WANGGSS. The mango-tamarind sauce is inspired by many of my favorite chutneys and achaars (pickles) growing up that use mangoes and tamarinds as their base ingredients!
I recently posted them in my Instagram stories and a couple of my friends definitely thought they look like chicken wings, so I totally get it. I always crack up when I think of that meme that says, "did anyone ever ask cauliflower if it wants to be all of these things?"
Ingredients - Notes and Substitutions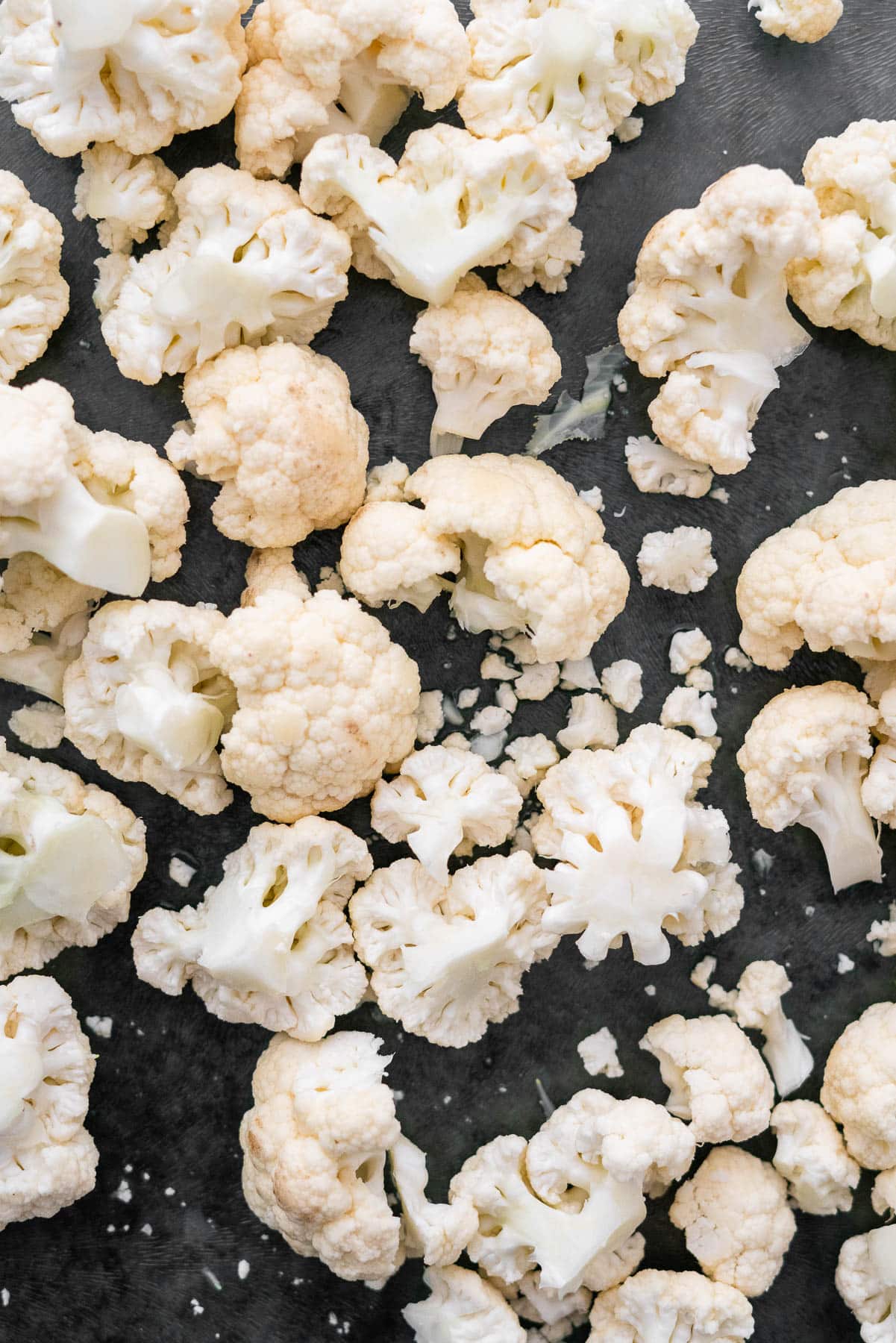 Cauliflower: It's best to work with a head of cauliflower instead of precut florets, but you can certainly opt for precut. Do not use frozen florets.
Flour: I recommend using all-purpose flour, but for a gluten-free option you can use chickpea flour (besan) which is a traditional ingredient in Indian cooking.
Mango Puree: It's important to note that if you're buying a puree, do not purchase a syrup or drink mix unless the only ingredient is mangoes, preferably with no added sugar if possible. My preferred canned puree is alphonso mango pulp

which is a variety of mangoes found in India.

Tamarind Paste: If you know how to make your own paste, you can definitely do that. I pre-purchased mine from Whole Foods so that it's completely smooth. Avoid pulpy tamarind mixtures or pastes
Dark Brown Sugar: Pleaaase try not to use white granulated or light brown sugar if possible. You can also add sugar towards the end so that you can test whether the sugar content will be too much from the mango. I personally used jaggery and loved the rich deep caramel hints it added.
Spice level: I only added ½ teaspoon of chili powder for this recipe but you can omit this is you don't want something spicy, or add more if you love spicy wings. I think it's necessary to offset the sweetness from the mango.
How to Bake Crispy Cauliflower Wings
I'm 100% here for this cauliflower everything trend, sorry not sorry! There are many times when I've been fooled by a crispy crunchy cauliflower wing and I can't be mad at it. It's also such an amazing vegan/vegetarian alternative if you get that perfect crisp to it.
These are the step-by-step instructions with a few tips -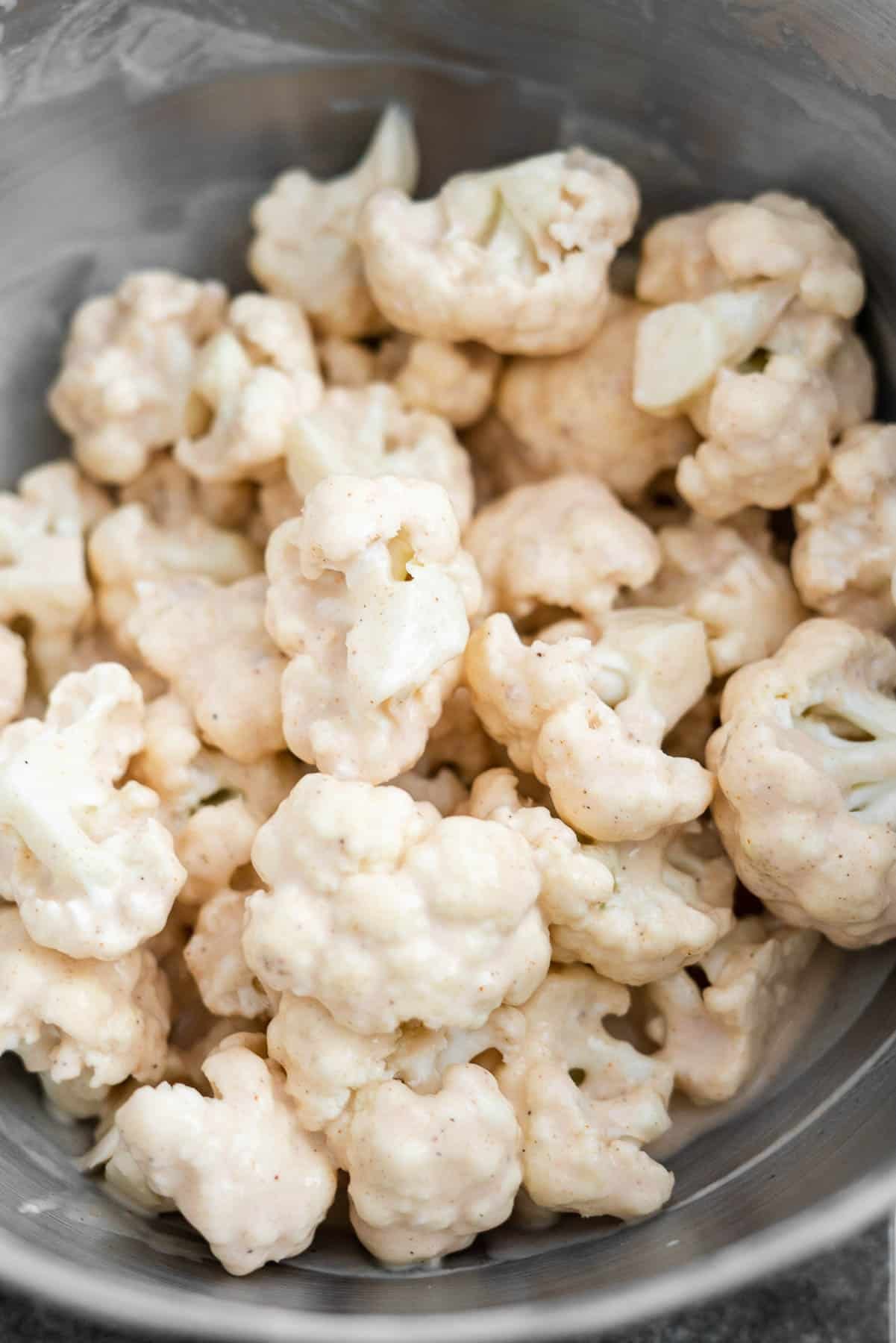 Preheat the oven to 425°F for maximum crisp.
Cut cauliflower florets. Start with a head of cauliflower and wash it really well. I like to remove all the leafy material with my hands and then use a large knife to cut off the stem. Carefully cut all the florets while trying to minimize the small pieces that break off. Cut any larger pieces into bite sized (think chicken wing size!) pieces so they're all around the same size. Smaller pieces will most likely burn and should be removed and used for something else.
Make the batter. Mix together the all-purpose flour and spices which gives the cauliflower alone plenty of flavor. Slowly pour in the water while whisking, using only as much as you need to until you get a consistency which can easily coat all the nooks and crannies of the cauliflower without running off. If the batter is too runny, add more flour. If it's too thick, add water a tablespoon at a time. Instead of water, you can also use a plant-based or regular milk.
Coat the cauliflower. You can either dip each floret into the batter, shake off excess, and place it on the sheet tray. Or you can toss all the cauliflower into the bowl and give it a good toss. Use a slotted spoon to shake off the excess batter and transfer to the sheet tray, leaving plenty of space in between each floret so they don't stick together. If there's too much extra batter, it'll crisp up around the cauliflower and potentially burn.
Bake. Transfer the baking sheet to the oven. Bake for about 10-12 minutes, and then remove them from the oven to give them a good toss. Place it back in the oven and bake until golden brown. I like to run a fork over a piece and see if you can hear the satisfying sound that indicates it's indeed crispy and ready to go.
Alternative Frying Instructions
Not going to lie, I love anything deep fried. But I hate the mess, the excess oil, and the heat which is why I'll also opt for baking. But deep frying can be SOOO GOOD. At this point, I'd consider these as more of fritters to be honest. Delicious greasy golden brown fritters!
Deep frying instructions - prepare the cauliflower according to step 2 above. Add a ½ teaspoon of baking soda to the batter so that the coating comes out lighter when fried. Continue with coating the cauliflower in the batter. In a deep pan, pour in about two cups of neutral oil and heat on a low to medium heat. Test a piece of batter to see if it begins to bubble. If it does, wait another minute or two to ensure the oil is fully heated, and then add in 6-7 florets at a time to allow them ample space. Fry until golden for 1-2 minutes. Remove from oil using a slotted spoon and place it on a cooling rack over a baking sheet or in a plate lined with a paper towel.
Making the Mango-Tamarind Sauce
The mango-tamarind sauce is kind of a sweet and sour deal and will be unlike anything you've ever had if tamarind isn't familiar to your palate! It's tangy with a a slight touch of spicy.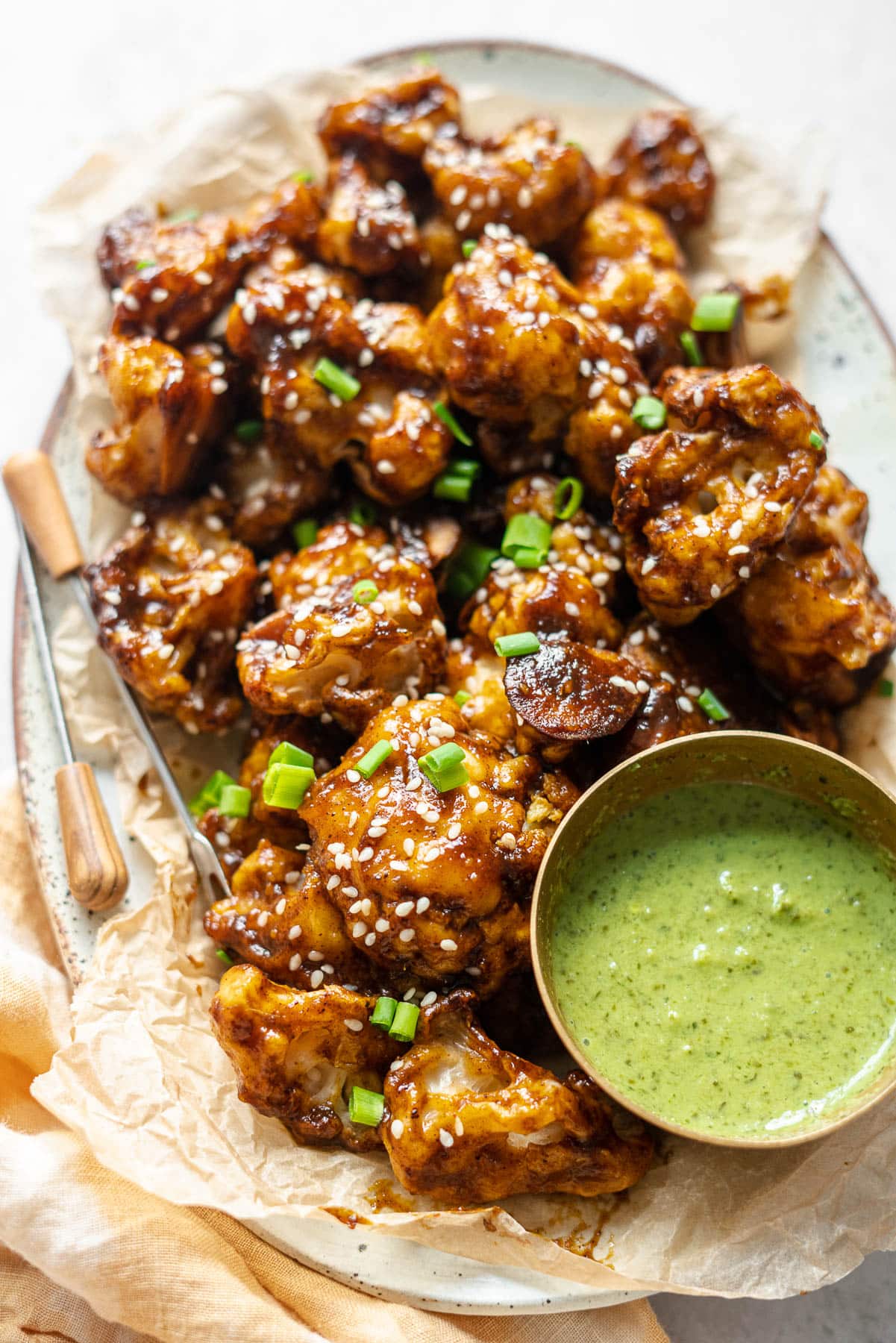 If you're starting with fresh mango, puree it in a blender and strain any of the pulp out so you have a smooth consistency. I recommend using two ripe champagne mangoes. Pour the mango puree into a sauce pan on low to medium heat. Add the tamarind paste and whisk until fully combined.
Bring the sauce to a simmer and add the brown sugar, ginger, oil, soy sauce, vinegar, and chili powder to the sauce. Stir again until fully combined and continue to simmer until the sauce thickens to where it coats the back of a spatula. Note that it'll continue to thicken as it cools so don't let it go too far. Thin it out with water if needed.
If you're not looking to make this dish vegan, I recommend using butter over oil. You can also use this sauce to make chicken wings!
How to Serve
Once your cauliflower is crispy golden brown perfection and our sauce is ready, you can combine them in two ways:
If your sauce and cauliflower needs a little rewarming, I recommend adding the cauliflower directly to your pan if it's large enough and tossing with a spatula or tongs to coat.
Add the cauliflower to a large bowl and pour the sauce over it. Toss until the cauliflower is completely coated.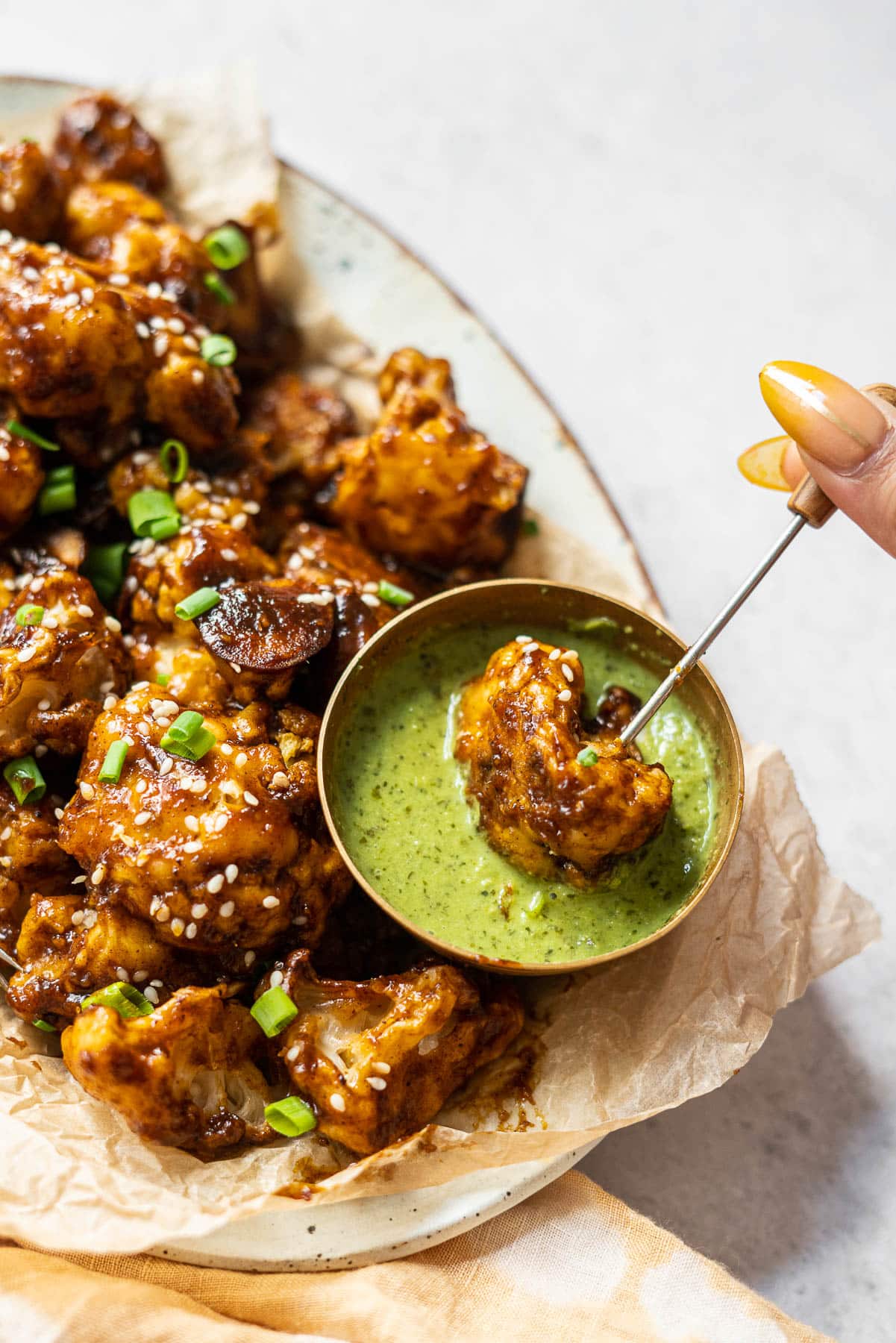 Transfer the cauliflower to a large serving platter. Garnish it with sesame seeds and chopped scallions.
I like to serve it with an herby spicy sauce like my mom's cilantro-mint chutney with a little added yogurt for creaminess but I think classics like ranch or chipotle aioli would also be delicious.
Make Ahead Instructions
Plan ahead and bring this as an appetizer to game day! You can prep it the night before or the morning of to have ready.
Prepare and bake the cauliflower according to instructuions.
Prepare the mango-tamarind sauce.
Store the cauliflower in an oven-safe aluminum serving tray and the sauce in an airtight jar. Use small containers for the sesame seeds, scallions, and the chutney as well if transporting elsewhere.
When you're ready to serve, bake the cauliflower in the oven at 375°F for five minutes, or until it gets crispy again. In the meantime, submerge the jar of sauce in a bowl full of hot water. Once the cauliflower is done, remove it from the oven. Pour the warmed sauce over the cauliflower and toss it together using tongs.
Serve immediately with the garnishes and chutney.
Store and Reheat Instructions
Store the cauliflower wings in an airtight container in the fridge for up to 5 days. Bake the cauliflower in the oven at 375°F for five minutes, or until it gets crispy again.
Freezing instructions: To enjoy later, place the mango-tamarind cauliflower wings in a single layer on a baking sheet and transfer to the freezer for 2-3 hours. Once the cauliflower has mostly frozen, transfer them to a freezer bag. When you're ready to consume, spray a baking sheet with oil and bake the cauliflower in the oven at 375°F for 10-15 minutes, or until it's warmed through and gets crispy again.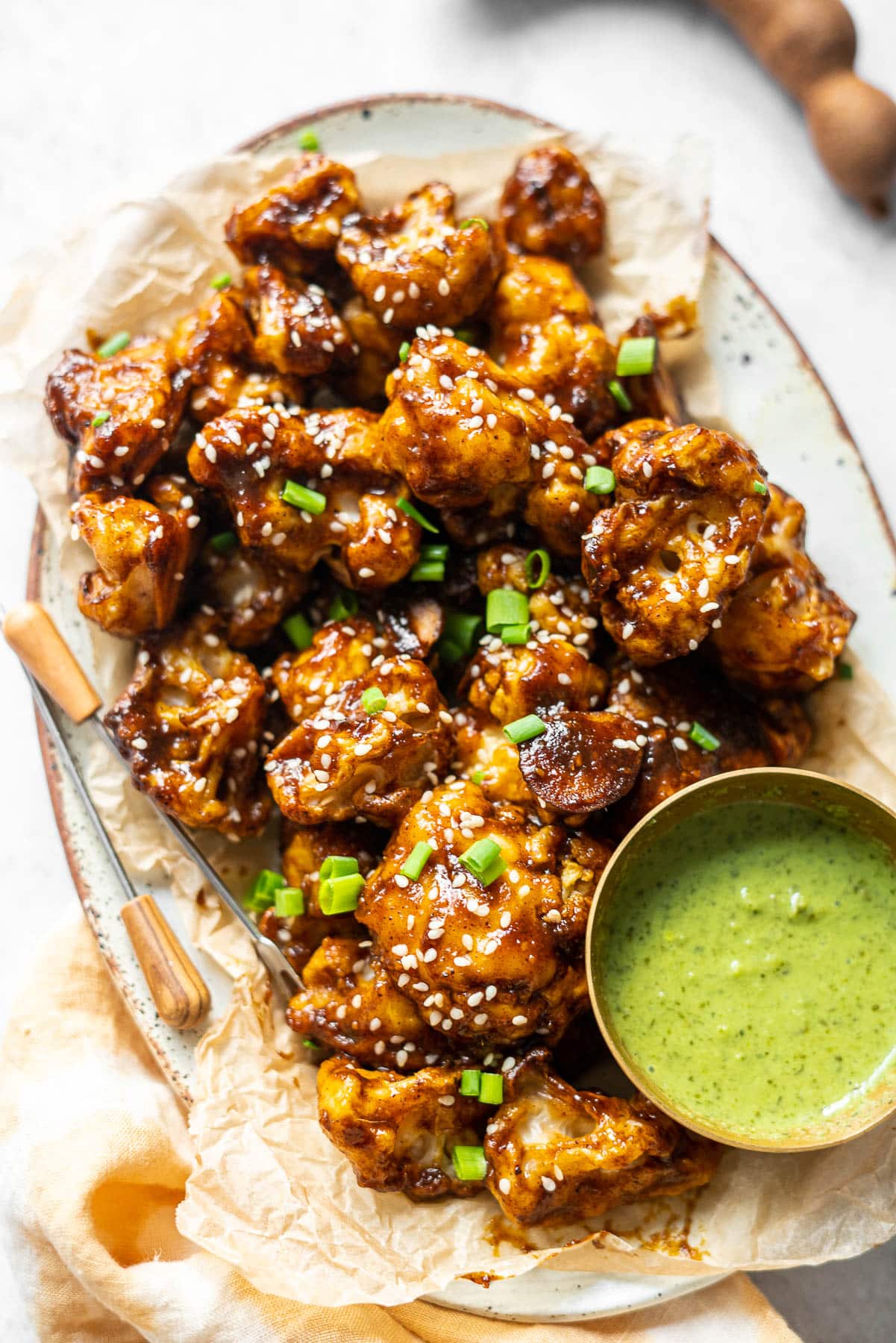 More Appetizer Recipes to try
If you love mangoes, try out these beverages - Restaurant-Style Mango Lassi, Fresh Mango Juice, and Homemade Mango Iced Tea.
Recipe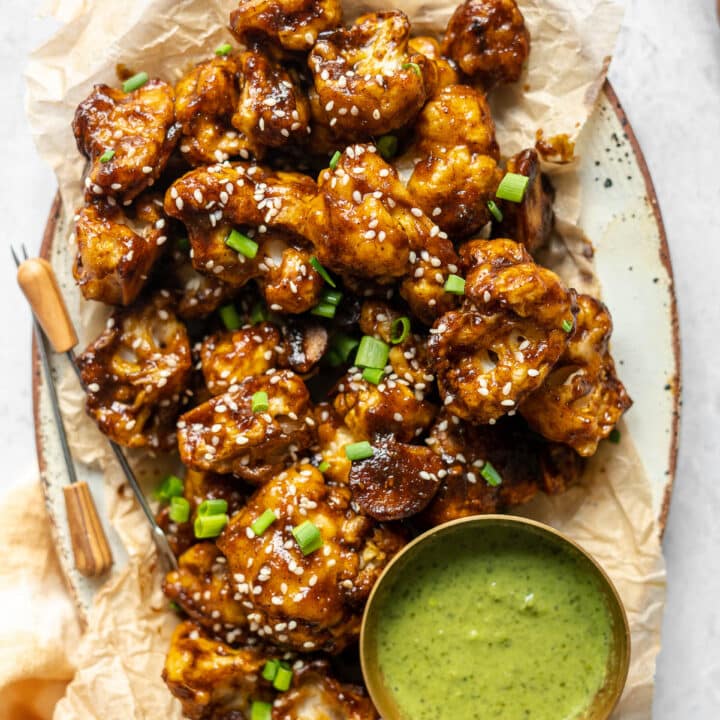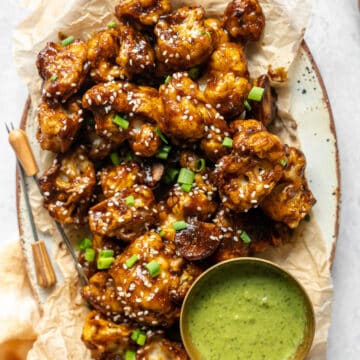 Baked Mango-Tamarind Cauliflower Wings
These crispy cauliflower wings are baked to golden brown perfection and tossed with a slightly sweet simple homemade mango-tamarind sauce. Serve these vegan Mango-Tamarind Cauliflower Wings with cilantro-mint chutney for an easy appetizer.
Print
Rate
Ingredients
1

head

cauliflower

1

cup

all-purpose flour

,

(or chickpea flour)

½

teaspoon

chili powder

¼

teaspoon

paprika

½

teaspoon

salt

⅛

teaspoon

ginger powder

¼

teaspoon

ground pepper

¾

cup

water

½

cup

mango puree

1

tablespoon

tamarind paste

¼

cup

dark brown sugar,

(or jaggery)

2

teaspoon

ginger

,

minced

1

tablespoon

neutral oil

,

(or butter)

2

teaspoon

soy sauce

½

teaspoon

vinegar

sesame seeds, scallions

,

for garnish

cilantro-mint chutney,

for serving
Text Ingredients
Instructions
Preheat the oven to 425°F.

Prepare the head of cauliflower. Begin by peeling away the leaves, and then use a large knife to cut off the stem. Thoroughly wash the cauliflower head. Cut the head into small to medium bite sized florets.

In a large bowl, add the all purpose flour, ¼ teaspoon chili powder, paprika, salt, ginger powder, and ground pepper. Whisk it together until fully combined. Slowly begin to add in the water as you whisk the mixture. The batter should be thick enough to coat the cauliflower florets and run through and crevices but not runny.

Pour the cauliflower florets into the wet mixture. Use tongs to toss the florets until they're thoroughly coated with the batter.

Spread the florets out on a large baking sheet, leaving a bit of space in between each one. Bake in the oven for 20 minutes, pulling them out in the middle to flip them to the other side. They're done when they're golden brown and crispy.

While the cauliflower bakes in the oven, begin preparing the mango-tamarind sauce. In a saucepan on low to medium heat, pour the mango puree and tamarind paste. Whisk together until combined. Then, the ¼ teaspoon of chili powder, brown sugar, ginger, oil, soy sauce, and vinegar and whisk again until combined. Simmer the sauce for 3-5 minutes until it thickens.

Add the cauliflower wings into the pan with the sauce and toss thoroughly to coat. Remove the pan from heat and serve in a platter with sesame seeds, scallions, and a cilantro-mint chutney.
Notes
If you're not vegan, substitute the oil in the mango-tamarind sauce for the same amount in butter.
Alternatively, you can deep fry the florets.
Substitute the all-purpose flour for chickpea flour (besan) for gluten-free option.
Nutrition
Serving:
1
serving
|
Calories:
264
kcal
|
Carbohydrates:
52
g
|
Protein:
7
g
|
Fat:
4
g
|
Saturated Fat:
3
g
|
Sodium:
512
mg
|
Potassium:
576
mg
|
Fiber:
5
g
|
Sugar:
23
g
|
Vitamin A:
393
IU
|
Vitamin C:
81
mg
|
Calcium:
58
mg
|
Iron:
2
mg
Subscribe to the Masala and Chai Newsletter Community to receive exclusive recipes and updates straight to your inbox.
I love seeing when you share my recipes! Tag me on Instagram @masalaandchai so I can enjoy them virtually with you! You can also find me on Pinterest, Facebook, Tik Tok, YouTube, and Twitter.
I'd love to know what you thought of this recipe! Don't forget to leave a comment and ⭐️ star rating below!