Simmer down this summer with this mango nectar juice made from fresh mangoes! Fresh mangoes are pureed and mixed with simple syrup to make a vibrant, delicious juice. It can be used in cocktails, iced tea, or enjoyed on it's own!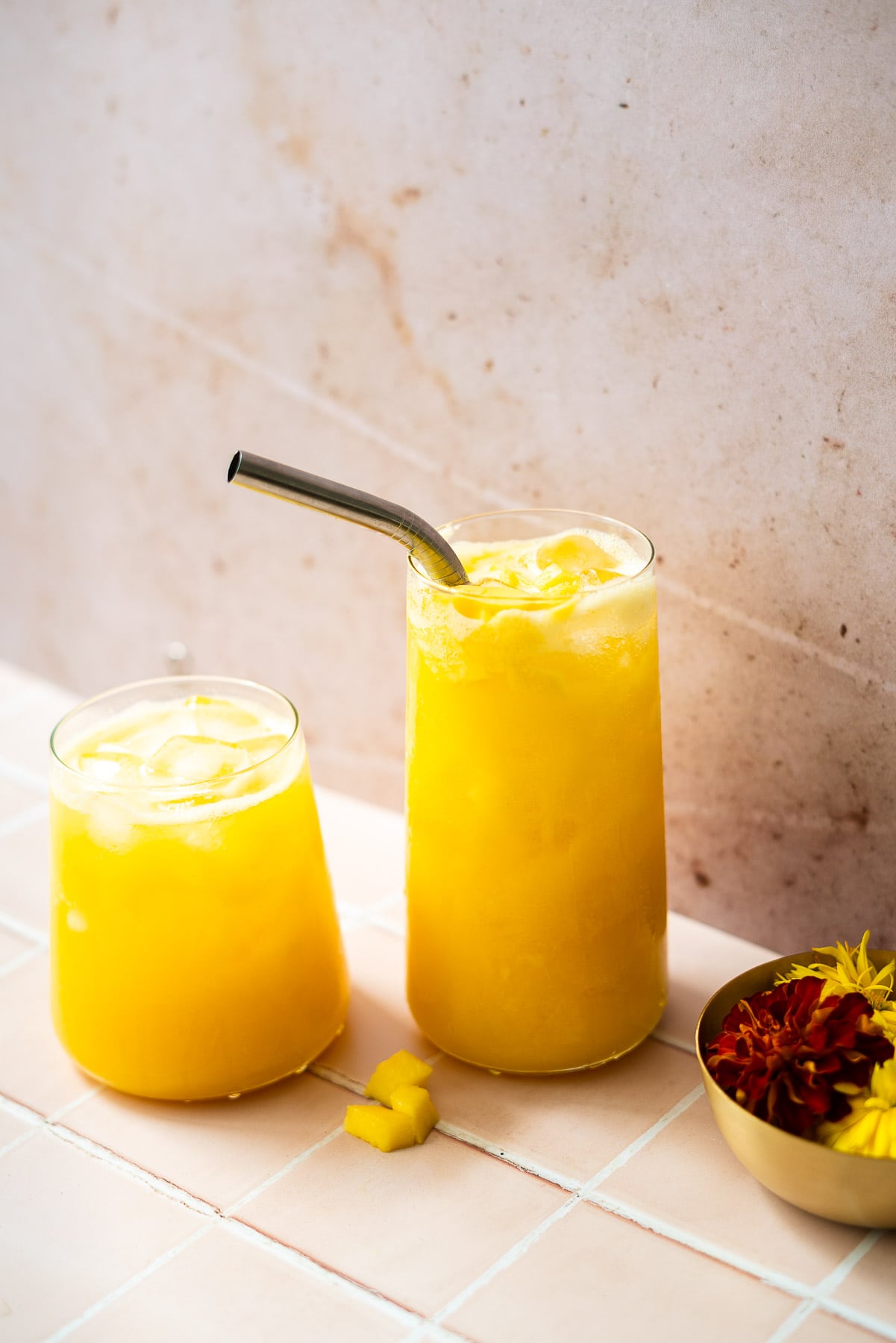 Maaza Mango Juice or Frooti? To be honest, I don't care. If it's mango juice, I'll drink it.
Jump to:
There really is nothing better than fresh mango juice while mangoes are in season! Whether you buy them in bulk, find them on sale at the grocery store, or you're blessed with a friend that has a mango tree, if you have a bunch of mangoes this is a great way to use them up!
The juice can be frozen and enjoyed over several months. It can be enjoyed on its own or used for cocktails, bubble tea, and iced tea.
Ingredients - Notes and Substitutions
This four ingredient recipe could not get any easier! You'll have this juice whipped up and ready to serve in no time.
Mangoes - The star ingredient!! Mangoes can't be juiced like oranges. They're not quite like watermelon either which has so much water content that it can be blended, strained and served outright. Instead, mangoes are pulpy and vary in taste and texture between varieties, so they require just a bit more treatment. Using a ripe, sweet mango like champagne, alphonso, or kesar mangoes are the best for making mango juice.
Water - The water thins out the consistency of the pureed mangoes. It is also used to make a syrup to sweeten the mangoes.
Sugar - Usually simple syrup is a 1:1 ratio of sugar to water, but mangoes are already really sweet as it is. The sugar sweetens the juice and balances out any tang in the mangoes.
Lemon juice - The acidity adds a bit of freshness to the juice. You can also use citric acid instead, which is a naturally occurring acid found in citrus which acts as a preservative to keep the mango juice fresh for longer.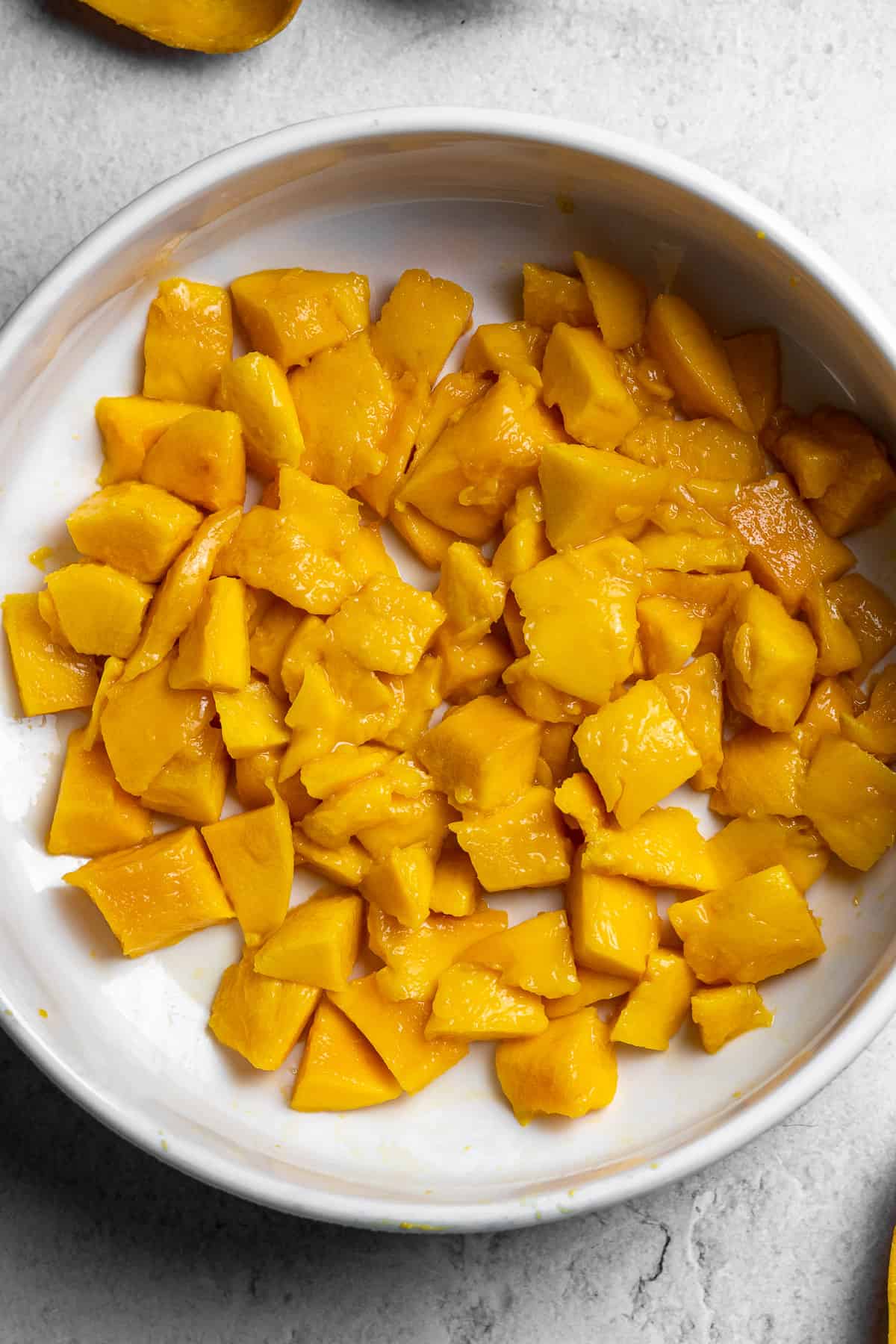 Instead of using water to thin out the mango puree, you can also use any type of juice you'd like! Using water gives a pure mango juice flavor. Freshly squeezed fruit juice or store-bought juice will work. I recommend orange juice, coconut water, or pineapple juice.
You may need to still add some simple syrup if you're using freshly squeezed juice. If you're using store-bought, there may be some sugar content already added so you can omit it entirely.
After blending and straining the mangoes, add the mangoes back into the blender with your juice of choice and blend again until fully combined.
🥭 How to make Fresh Mango Juice
If you have a ton of mangoes, making juice is a great way to preserve them and use them for other drinks. All it involves is pureeing mangoes and mixing them with a homemade simple syrup.
You can also purchase simple syrup, but this recipe doesn't use a 1:1 ratio of sugar to water to account for the sweetness from the mangoes.
Make the simple syrup. Bring the water to a boil in a medium-sized pot and pour in the sugar. Stir the water until the sugar dissolves and add the lemon juice. Simmer the syrup until it's about half the volume and it becomes sticky and syrupy. A good way to test this is by dipping your finger into the cooled syrup, pressing it between your thumb, and slowly separating your fingers to see if it reveals one strand. Remove the pot from heat.
Remove the pulp. While the syrup simmers, cut the mango in half around the seed in the middle, and then cut the other half. Scoop out all the pulp from the halves and remove as much as possible from the seed. Discard the seed and skin. Transfer the mangoes to a blender.
Blend the mangoes. Puree the mangoes in a blender for 3-5 minutes until it's completely smooth. You may need to add a bit of water into the blender or shake the blender around if you don't have enough mangoes. Strain the puree to remove any chunks or fibrous bits of mango.
Combine the mango puree with the syrup. Pour the mango puree into the simple syrup and whisk it together very well. It's okay if it's still warm. The mango juice should be a bit thicker than orange juice. Thin it out with additional water if needed.
Chill and serve. Transfer the mango juice into a pitcher and chill in the fridge for at least an hour. Serve in a tall glass over ice.
Expert Tips
Add orange juice to the mango puree instead of simple syrup to thin it out and for additional flavor. You can also use spices like ground ginger, ginger, or saffron for added fragrance and flavor.
For added fiber, serve the mango juice with 1-2 tablespoons of chia seeds! Reduce or add more sugar according to your preferred sweetness and based on how ripe / sweet the mangoes are.
Use canned or preserved mango pulp while mangoes aren't in season. You can also use frozen mango chunks from the frozen aisle of a grocery store.
Frequently Asked Questions
What are the best mangoes to use?
The best mangoes for fresh mango juice are ripened, sweet non-fibrous mangoes. I recommend champagne, alphonso, or kesar mangoes.
Am I able to mix the mangoes with other fruit juice?
Yes! You can mix the fresh mango juice with just about any other fruit you'd like. I particularly love orange juice, pineapple juice, and coconut water.
Can I reduce the added sugar?
You can add or reduce as much sugar as you'd like to for this mango juice, depending on how sweet your mangoes are and your sweetness preference.
Can I put mangoes in a juicer?
Mangoes aren't like other fruits where they can be juiced. Unlike citrus membranes, mangoes aren't plump but instead pulpy with a skin and seed that needs to be removed as well. Putting them in a juicer will yield very little juice once they're pressed.
How long does the juice last?
Store the mango juice in your fridge for up to a week. Just stir it together again because it may settle as the mango settle on the bottom. You can also transfer it to sterilized mason jars and keep it in the freezer for up to six months.

You can also use citric acid instead of the lemon juice, which acts as a preservative due to the high acidity making it difficult for bacteria or mold to survive. If you choose to use citric acid, the mango juice will keep for 6 months in a sterilized airtight container. Use 1 teaspoon of citric acid per quart of juice.
What's the difference between mango juice and mango nectar?
Mango juice is extracted from the pulp of fresh mangoes and is 100% mangoes, while mango nectar is mango pulp blended with water and sweetener and is a percentage of mangoes.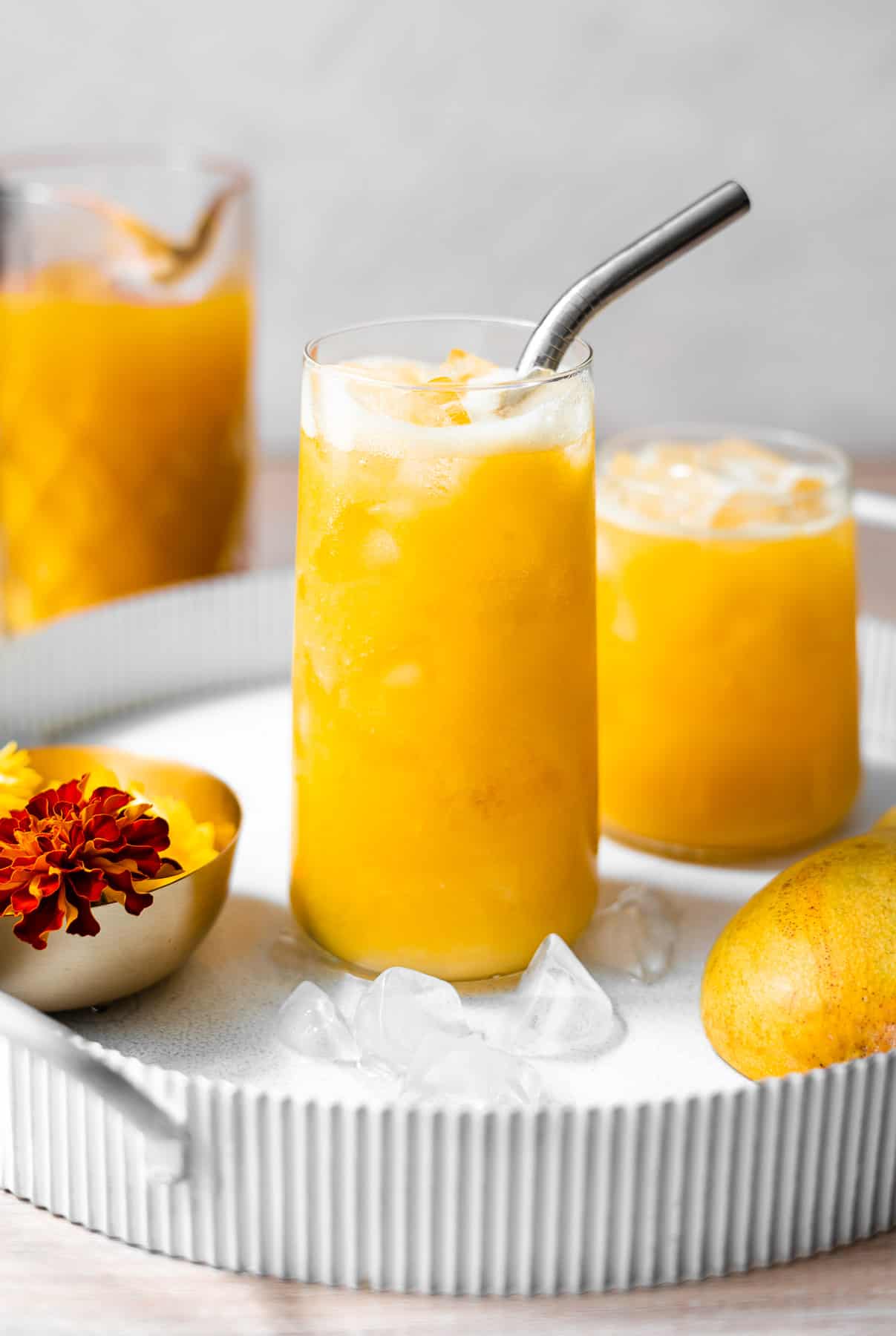 More Summer Drinks to try
If you love mango beverages, try this authentic restaurant-style Mango Lassi, Mango Iced Tea and these Mango-Tamarind Cauliflower Wings to go with it!
Recipe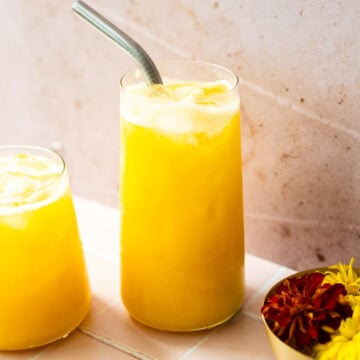 Mango Juice
Simmer down this summer with this mango nectar juice made from fresh mangoes! Fresh mangoes are pureed and mixed with simple syrup to make a vibrant, delicious juice. It can be used in cocktails, iced tea, or enjoyed on it's own!
Print
Rate
Ingredients
2-3

medium

mangoes

2

cups

water

½

cup

sugar

½

tablespoon

lemon juice
Text Ingredients
Instructions
Pour water into a medium sized sauce pan and bring it to a boil. Once the water has started boiling, add the sugar and stir until fully dissolved. Pour in the lemon juice as the sugar starts to dissolve.

Continue simmering the sugar water until it's about half of the original starting volume. It should start to become syrupy but should be more of a simple syrup, not thick like maple syrup.

Dice fresh mangoes and add the chunks to a blender. Blend until it's completely smooth. Pass the pureed mangoes through a sieve into a bowl to remove any chunks or fibers.

Remove the simple syrup from heat and add in the pureed mangoes. Whisk it together really well until fully combined. Adjust the desired juice consistency with additional water, if necessary.

Serve the juice in a tall glass over ice.
Notes
Use ripened sweet, non-fibrous mangoes.
Substitute the fresh mangoes with two cups of canned pureed mangoes or two cups of frozen mango chunks.
Nutrition
Calories:
159
kcal
|
Carbohydrates:
41
g
|
Protein:
1
g
|
Fat:
1
g
|
Saturated Fat:
1
g
|
Polyunsaturated Fat:
1
g
|
Monounsaturated Fat:
1
g
|
Sodium:
7
mg
|
Potassium:
176
mg
|
Fiber:
2
g
|
Sugar:
39
g
|
Vitamin A:
1120
IU
|
Vitamin C:
38
mg
|
Calcium:
15
mg
|
Iron:
1
mg
Subscribe to the Masala and Chai Newsletter Community to receive exclusive recipes and updates straight to your inbox.
I love seeing when you share my recipes! Tag me on Instagram @masalaandchai so I can enjoy them virtually with you! You can also find me on Pinterest, Facebook, Tik Tok, YouTube, and Twitter.
I'd love to know what you thought of this recipe! Don't forget to leave a comment and ⭐️ star rating below!