There's absolutely no way to go wrong with this soft, buttery brioche bread filled with cilantro-mint chutney and cheese! Chutney Cheese Brioche Rolls are about to be the fams new favorite!
While everyone baked sourdough throughout 2020, I FaceTimed my mom once or twice a week to learn how to cook some of my favorite Indian dishes the exact way she does. I was cooking up bhindi and chole in a hack-y way without proper technique or spices and ended up disappointed with the results. The months we spent at home was the perfect time to pick up some new skills.
Jump to:
And with these new skills in Indian cooking under my belt, I was ready to delve into bread that everyone was baking. Brioche has always been a favorite, so these Cheesy Chutney Brioche Rolls were a must!
The rolls are fluffy, buttery, and incredibly soft. They're filled with a green chutney made with a base of cilantro and mint that's tangy, spicy, and super herby. The brioche dough has cheese mixed into it, and is topped with even more cheese! These rolls are absolutely delicious and super savory!
Mom's Green Chutney
One of my favorite things in our household was always her Green Chutney, a spicy-citrusy herbaceous condiment that paired well with pretty much anything. There were complaints if there wasn't a jar of it available in the fridge at all times. I'm proving that it is AMAZING with anything through these Chutney Cheese Brioche Rolls!
It's also such an easy recipe! It just requires some prep with the herbs, and then everything else just goes into a blender and it's done!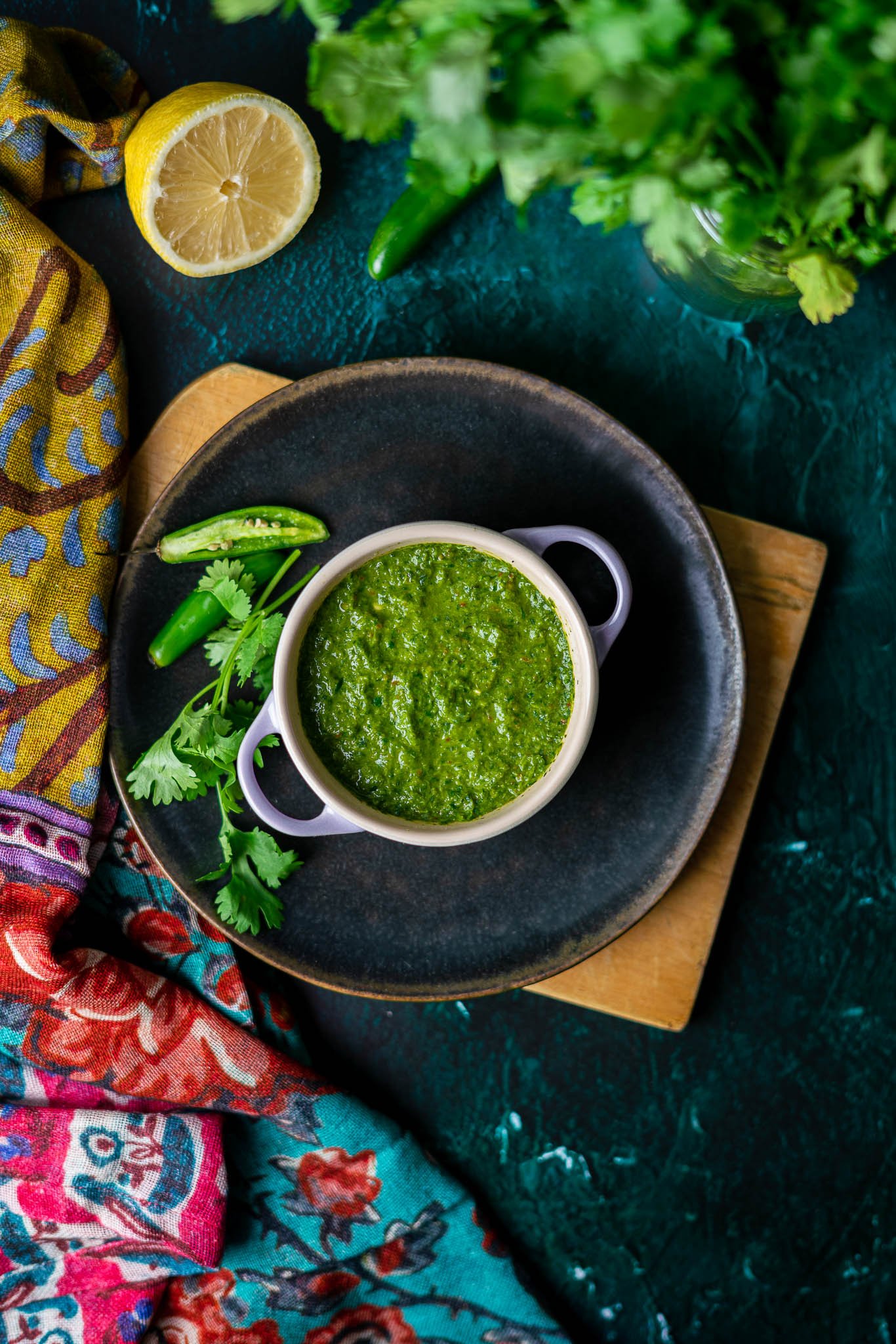 Mom's Green Chutney uses cilantro and mint as a base for the chutney, and a bit of avocado to make it extra creamy. For this recipe, you'll need to use little to no water to blend the chutney together - the lemon juice should be enough - so that the dough isn't soggy when spreading the chutney.
A lot of the water content may also evaporate during baking, making it feel like there's nothing left post-bake! I was disappointed after my first trial, so this is something for you to be mindful of. I use about half the jar that the recipe yields for the rolls and keep the other half for dipping.
If you've got leftover chutney, you've got to try these Chutney Grilled Cheese Sandwiches!
Baking Brioche Bread
I used this fantastic brioche recipe by the Flavor Bender as a base for understanding brioche bread, the technique to baking it, and how to troubleshoot.
Note: I used instant yeast. If you're using active dry yeast, be sure to activate it first. You can do this by combining the warm milk, honey, and yeast and allowing it to activate for 15 minutes until it's bubbly.
Form the Shaggy Dough
Outfit a stand mixer with a dough hook. Ensure all the ingredients are at room temperature. In the bowl of a stand mixer, add in the all purpose flour, instant yeast, sugar, grated parmesan, and salt. Whisk together all the dry ingredients.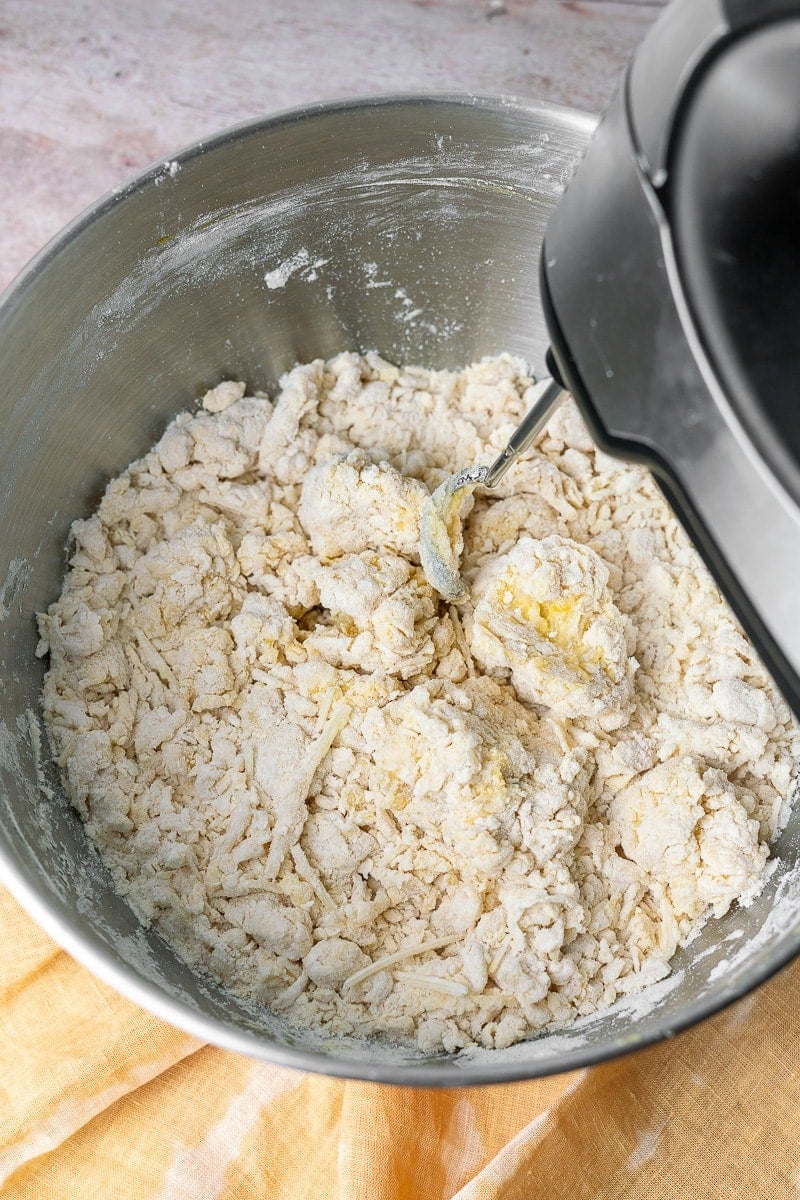 Turn on the dough hook at low to medium speed and add in the warm milk, honey, 3 eggs, and egg yolk one by one. You should have a shaggy dough at this point. Knead for an additional 1-2 minutes until the ingredients start to combine.
Incorporate the Butter
Leave the butter out to soften before making this recipe. Split the softened butter into four portions. Once the shaggy dough forms, begin to add one portion of butter at a time and knead for about 2-3 minutes until the butter is fully incorporated. After the four portions have been added (about 8+ minutes of kneading), the dough will be very sticky and almost look like cake batter.
Continue to knead the dough for an additional 7-10 minutes at medium speed until the gluten forms. You're looking for a dough that's completely smooth and not sticky. Keep in mind, the dough has parmesan in it so it may not look completely smooth but you should be able to tell when it looks satiny. You'll be able to lift it with the dough hook and none of it sticks to the bowl.
Shape Dough and Proof Round 1
Turn out the dough on to a lightly floured surface. Flour your hands as well since the dough will be very soft. Fold each corner of the dough into the center and pat it together. Repeat this 2-3 times. Flip the dough and you'll have a very smooth ball of dough ready for proofing!
Put the dough back into the bowl and cover it with plastic wrap or a towel and allow it to rest in a warm place for an hour. It should double or triple in size.
Make the Chutney
While the dough proofs, wash the cilantro and remove the mint leaves from it's stems. Toss the cilantro, mint leaves, roughly chopped serrano chili peppers, cayenne pepper, ginger garlic paste, salt, kala namak, cumin seeds, and avocado into a blender. Pulse several times and slowly add in the lemon juice until the herbs start to break down. Run the blender on high speed for 5-7 minutes, stopping to scrape down the sides. Taste for salt, lemon, and spice levels and adjust according to taste.
Form the Brioche Rolls
After the dough has doubled in size, punch it down and turn out the dough on to a lightly floured surface. Roll it out to about 12" x 18" rectangle. Spread half of the chutney thickly across the dough, all the way to the edges. Cover the chutney with shredded cheese of your choice. I went with a sharp cheddar cheese. Roll the dough to form a log and pinch together the edges to seal. Cut the log into 8 rolls.
If you don't want spiral brioche rolls, you can also make chutney brioche buns. Just pinch together the ends of each rolls to form a little ball.
Proof Round 2 and Bake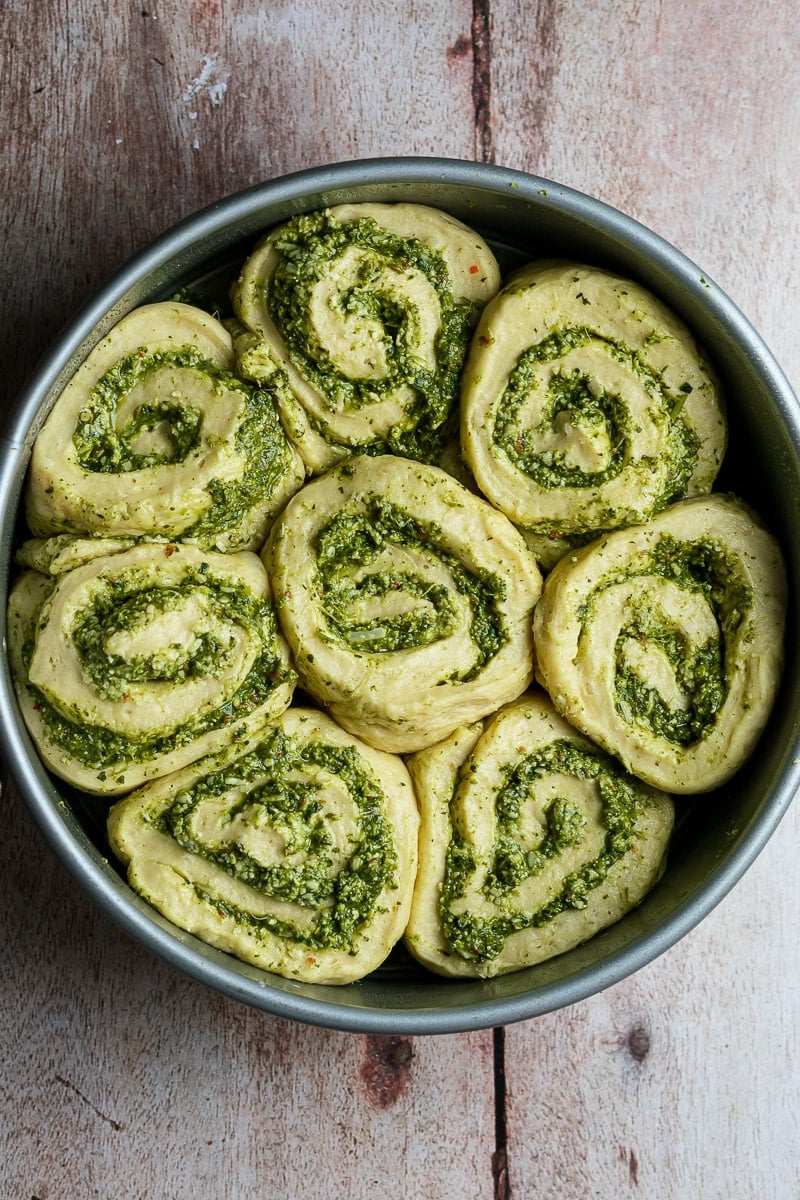 I highly recommend using a 10" spring form pan or a large cast iron for baking to give the dough space to double in size. Line it with parchment paper so that 2" hangs off the sides and grease it with butter. Transfer the chutney rolls into the cast iron. Cover and proof in a warm place until it has doubled in size, about 1-2 hours. You'll know it's ready when you poke it with your finger and it leaves an indentation or just ever so slightly bounces back. If it bounces back, allow it to proof for longer.
Preheat the oven to 450°F. Use the remaining egg to brush egg wash on the top of the rolls and bake for 25 minutes or until golden brown. Lower the temperature to 350°F and bake for an additional 30-35 minutes until the internal temperature reaches 180°F. Remove from the oven and allow it to cool on a wire rack.
Which Cheese to use
Pleaseeee freshly grate whichever cheese you choose to use!!
I highly recommend using only freshly grated parmesan or pecorino cheese for the actual dough.
For layering with the chutney before rolling the dough into the log, I really love the contrast a sharp cheddar provides with the chutney. But any melty cheese, especially like mozzarella, would be amazing too.
How to Serve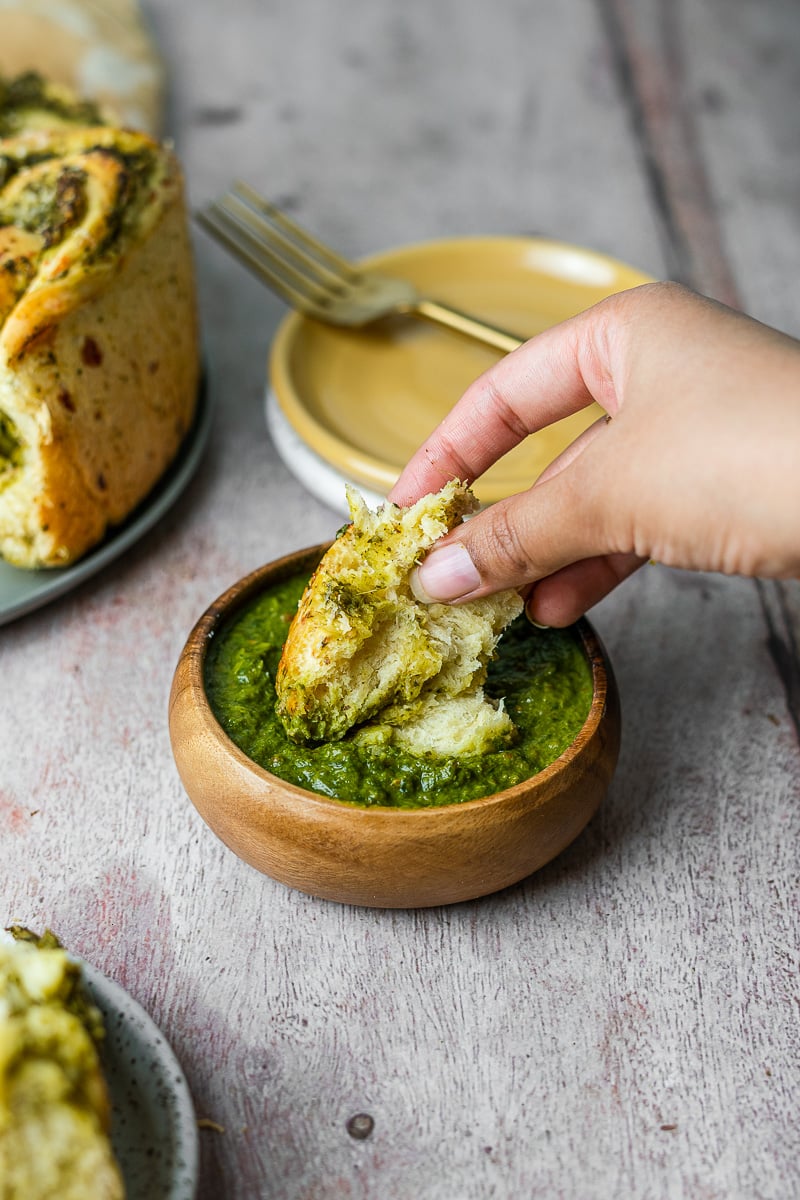 Sprinkle some additional cheese on top and let the residual heat melt it. Serve warm with additional Green Chutney for dipping.
Frequently Asked Questions
Can I knead the dough by hand? Or do I need a stand mixer?
You can certainly hand knead the dough but it will take you ages to develop the gluten you need in brioche to get it smooth. Not to mention the enriched dough starts off as very sticky and it'll create a huge mess. It'll be your upper body workout for the week!

You can also use a hand mixer with a dough hook, but be sure to look out for the physical signs of when the kneading process is done rather than basing it off of time. This also strains the motor of a hand mixer. I wasn't sure mine could handle it any longer.
Can I freeze these rolls?
You certainly can freeze it in an airtight container for up to two months, the chutney included. For leftover chutney, you can freeze it in an ice cube tray and then transfer into a freezer bag when solid.

When ready to eat, thaw the brioche at room temperature on a countertop. When reheating, begin with 15 second intervals in the microwave until you reach the desired softness.

Keep the brioche rolls in an airtight container on your countertop for up to 3 days, or in the fridge for up to a week.
Why didn't the dough rise?
1.) Your yeast is expired or it wasn't properly activated
2.) The dough didn't have enough warmth during the two rises or time (if overnight in fridge) to rise.
How do I know when the dough is ready?
Use the windowpane test to check for gluten development. Poke the dough after the second proof to see if it bounces back. If it does, it needs to be proofed for longer.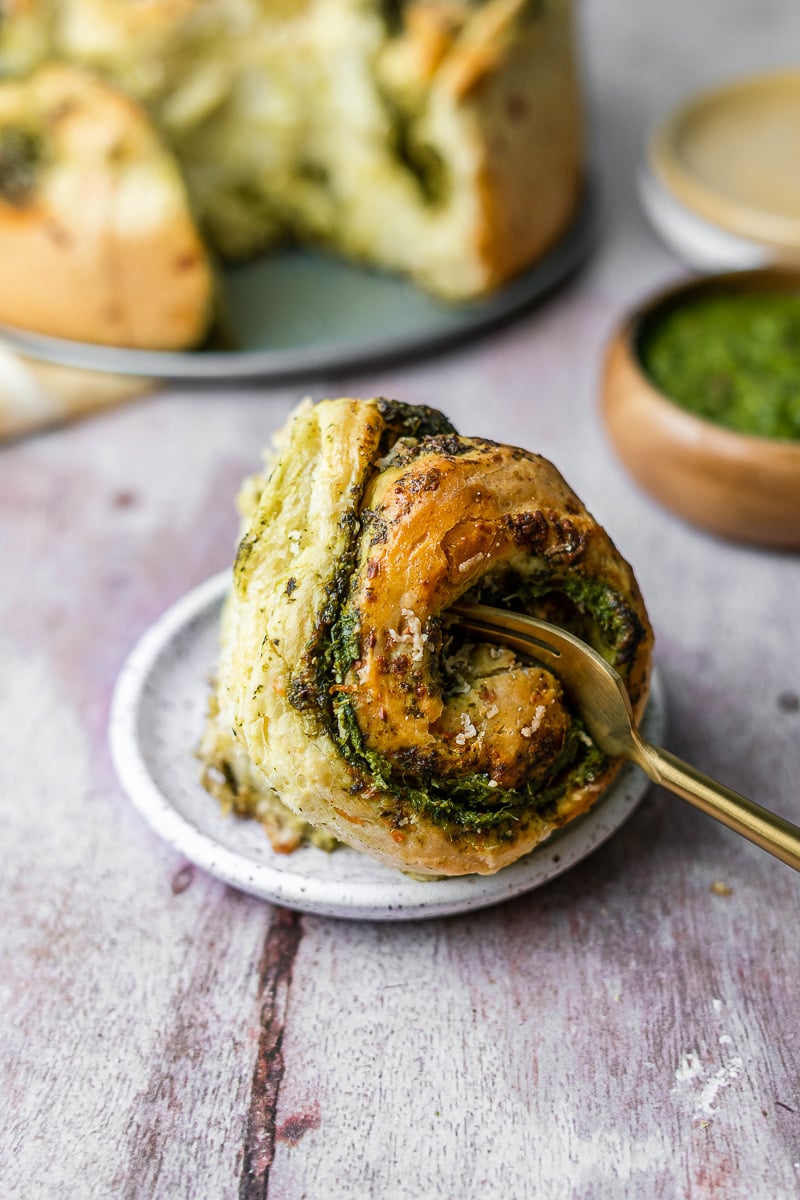 More Indian Recipes to try
Looking to cook up more Indian dishes? Here's a few you'll love!
Recipe
Chutney Cheese Brioche Rolls
Soft and buttery brioche dinner rolls filled with cilantro-mint chutney and cheese make these Chutney Cheese Brioche Rolls a hit at the table!
Print
Rate
Ingredients
3

cups

all-purpose flour

2¼

teaspoon

instant yeast

1

tablespoon

sugar

1

cup

grated parmesan cheese

½

teaspoon

salt

⅓

cup

warm whole milk

1

teaspoon

honey

4

eggs

1

yolk

4

oz

unsalted butter

1

jar

Mom's Green Chutney,

(remove the water)

4

oz

grated sharp cheddar cheese
Text Ingredients
Instructions
In a bowl, whisk together the flour, instant yeast, sugar, parmesan, and salt. Add the warm milk, honey, 3 eggs, and yolk. Using a dough hook on a stand mixer, mix together at a low to medium speed until a shaggy dough forms. Mix the dough together for another minute or so until the dough is combined.

Split the butter into four portions. Add the first portion into the dough, and knead for about two minutes until fully incorporated. Scrape down the sides of the bowl, and add in the second portion. Continue this for the next few portions. The batter will resemble cake batter at this point. Increase the mixer speed to medium and knead for an additional 8-10 minutes, or until the dough is completely smooth and velvety. It'll come off the sides of the bowl cleanly when done.

Turn the dough out on to a lightly floured surface. Fold each side into the center and repeat 3 times. Flip the dough over and you'll have a smooth surface. Transfer the dough to a bowl for the first proofing. Cover the bowl and allow it to proof for about an hour, or until it doubles in size.

While the dough rests, toss together all the ingredients for Mom's Green Chutney into the blender, removing the water from the recipe, until a thick chutney forms.

Layer parchment paper in a 10-inch cast iron or spring form pan and butter it. Once the dough has risen, punch it down and turn out the dough onto a lightly floured surface. Roll the dough out into a 12 x 18 inches rectangle. Spread the chutney all over the dough, being sure to go all the way up to the edges. Top with shredded cheese.

Roll the edge of the dough into itself and continue rolling to form a log. Pinch the seals together. Cut the log into 8 rolls. Carefully transfer the rolls into the cast iron. Cover and let rise for another 1-2 hours. Check if the dough is done proofing by poking it. If it leaves an indentation, it's done. Preheat the oven to 450°F.

Brush the top of the rolls with a beaten egg. Bake for 25 minutes until the top begins to brown. Then, reduce the oven temperature to 350°F and bake for another 30-35 minutes until the internal temperature reaches 180°F. Sprinkle additional cheese on warm rolls and serve with additional chutney.
Nutrition
Calories:
448
kcal
|
Carbohydrates:
41
g
|
Protein:
18
g
|
Fat:
24
g
|
Saturated Fat:
14
g
|
Cholesterol:
164
mg
|
Sodium:
467
mg
|
Potassium:
155
mg
|
Fiber:
2
g
|
Sugar:
3
g
|
Vitamin A:
772
IU
|
Calcium:
278
mg
|
Iron:
3
mg
Subscribe to the Masala and Chai Newsletter Community to receive exclusive recipes and updates straight to your inbox.
I love seeing when you share my recipes! Tag me on Instagram @masalaandchai so I can enjoy them virtually with you! You can also find me on Pinterest, Facebook, Tik Tok, YouTube, and Twitter.
I'd love to know what you thought of this recipe! Don't forget to leave a comment and ⭐️ star rating below!