Celebrate special occasions and festivals with this simple and quick Rice Kheer, a fragrant Indian rice pudding made with a base of basmati rice, whole milk, and sugar! This is a one pot no bake dessert recipe ready in under 30 minutes and inexpensive to make for a large crowd.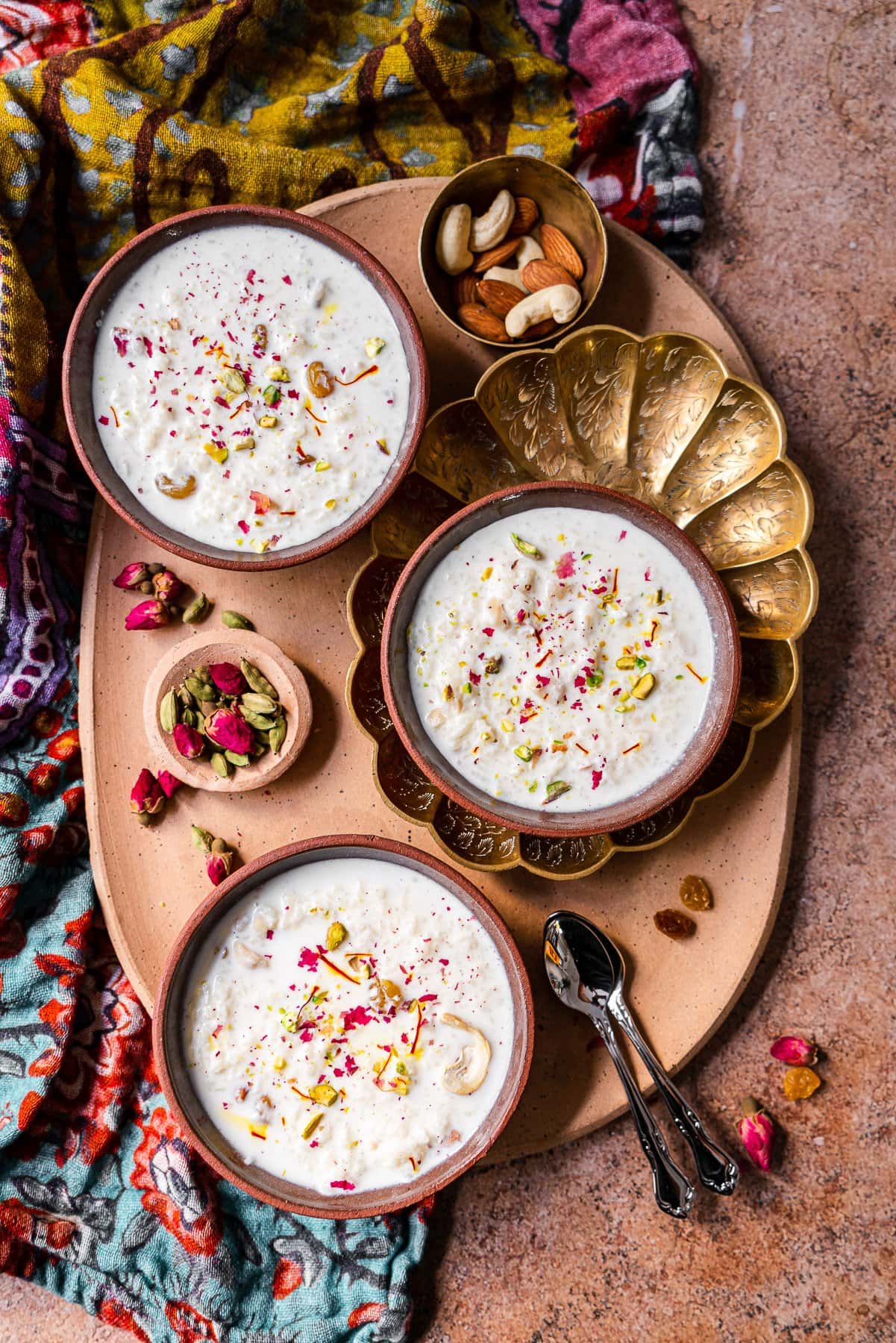 One of my favorite timeless Indian desserts, kheer! It's not too sweet and incredibly easy to make. For my birthday every year, we would order a large cheese pizza and my mom would make me rice kheer specially for dessert so this recipe has a special place in my heart.
Kheer is often seen as part of the dessert spread at weddings due to the ease of making large batches with a few inexpensive ingredients. The best part is when the kheer mixes with all the other desserts, like jalebi, gajar ka halwa, and gulab jamun in the bowl.
Almost every culture has their own version of a sweet rice pudding recipe. Kheer can be found throughout India under different names across regions and varies significantly in terms of grains and ingredients.
Jump to:
Why this Recipe Works
Like most rice puddings, there's nothing complicated to making kheer. However, here's a few notes on why you should make this rice pudding -
A lot of rice puddings involve making a custard with egg yolks. A majority of Indian desserts are completely eggless, so this doesn't require making a custard and will still result in a rich, creamy pudding.
In the same strain, this recipe also doesn't require any cream like a lot of rice puddings.
Indian Rice Pudding mostly relies on the sweetness from whole milk and mix-ins, so the added sugar can be adjusted.
It easy to scale this recipe to make it for a dinner party!
We all love an easy, one pot recipe! The only work you have to do is stir.
What is Kheer?
Kheer is a pudding-like dessert in the Indian subcontinent, usually made by simmering milk, sugar, and rice. There are several versions of kheer, some using jaggery instead of sugar or substituting rice with bulgur wheat, millet, tapioca, or vermicelli. Another name for Indian rice puddings is Pasayam, which is more common to South India.
Other types of kheer are Daliya with broken wheat, Seviya with vermicelli, Poha Kheer with flattened rice, and more.
Kheer can be found at weddings or at festivals like Diwali. It's especially cooling after a spicy meal and isn't too heavy or sweet like many other Indian desserts.
🍚 Ingredients - Notes and Substitutions
Rice Kheer will vary from family to family in terms of ingredients. They all have a base of milk, rice, and sugar but the additions past that may be a little different. The additions of cardamom and nuts are what differentiates it from rice puddings found in other cultures.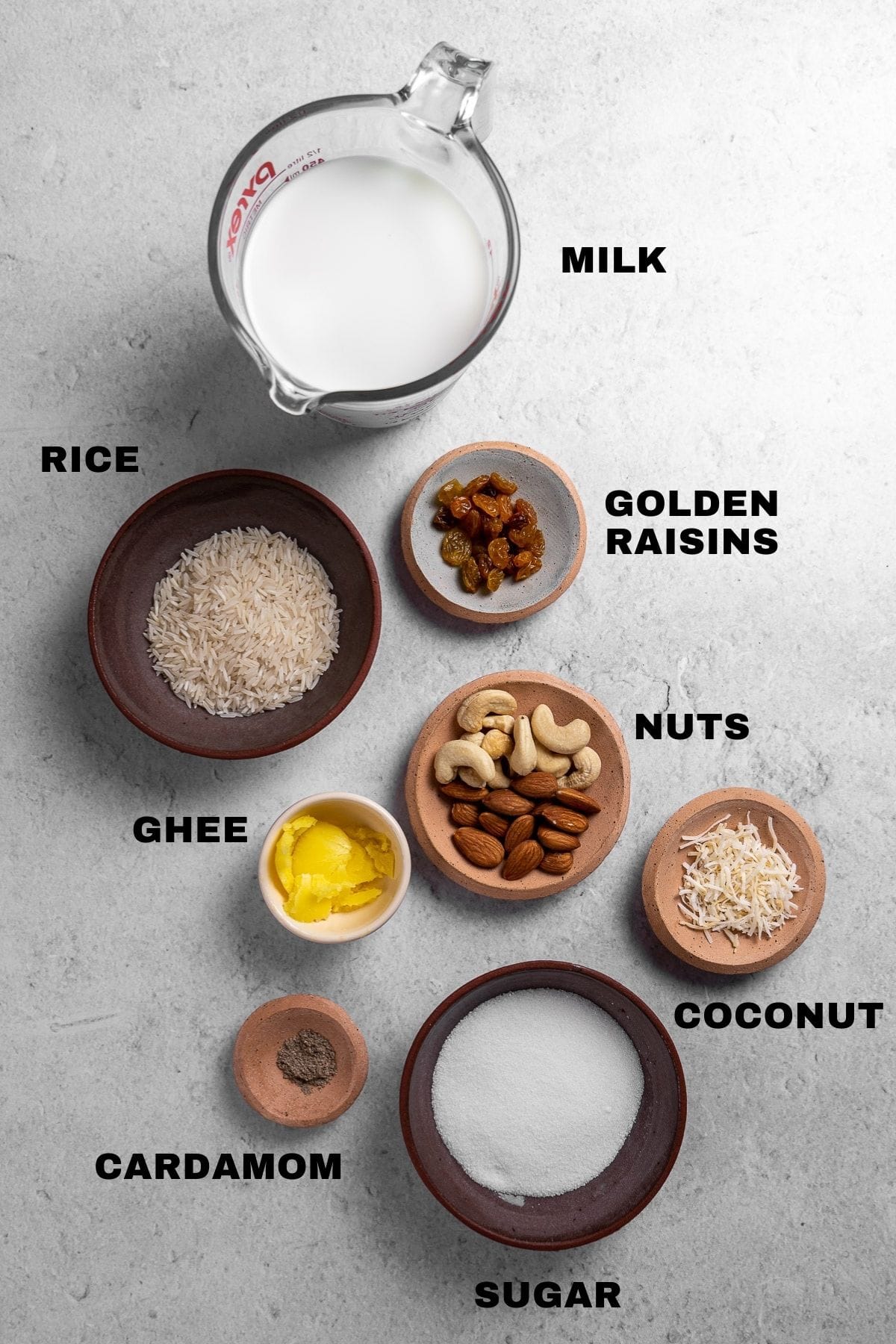 Rice - For the rice, long-grain is best. Specifically, basmati rice. I use Royal. If you're using a short grain rice, reduce the amount of milk used.
Ghee - Ghee is optional but brings several benefits to kheer! First, it lightly coats the pot to prevent the milk from burning. Toasting the rice in a bit of ghee before adding the milk keeps it from getting mushy. It also adds a bit of richness to the pudding.
Milk - Whole milk is the best to use due to the fat content which makes the pudding really creamy. You can also add a bit of light cream to make it especially luxurious. Other milks are totally acceptable, but it won't result in the same creaminess and mouthfeel. For a vegan option, use almond milk.
Assorted Nuts - Cashews, almonds, and pistachios are best in kheer. Crush unsalted nuts in a mortar and pestle. Pistachio is usually a garnish, instead of simmering it with the milk.
Sweetener - Plain granulated sugar is all you need for kheer, but you can use honey or 0 calorie sweeteners.
Raisins - The only acceptable raisins are golden raisins!! They're sweet, versus red raisins that are a bit sour. If you don't like raisins, you can omit them but they get plump and delicious!
Coconut - Use very finely shredded coconut, it should be around the size of the grains of rice. Shredded coconut is also optional and is something a bit different that my mother adds. Toasted coconut would also make a great garnish.
Cardamom - Adding cardamom is deliciously fragrant and sweet. I use powdered cardamom, but whole cardamom can be lightly crushed and added when the rice is toasted in ghee. This allows the flavor to bloom. Remove the pods at the end.
Other additions that would be great are saffron, cinnamon, or rosewater.
How to make Rice Kheer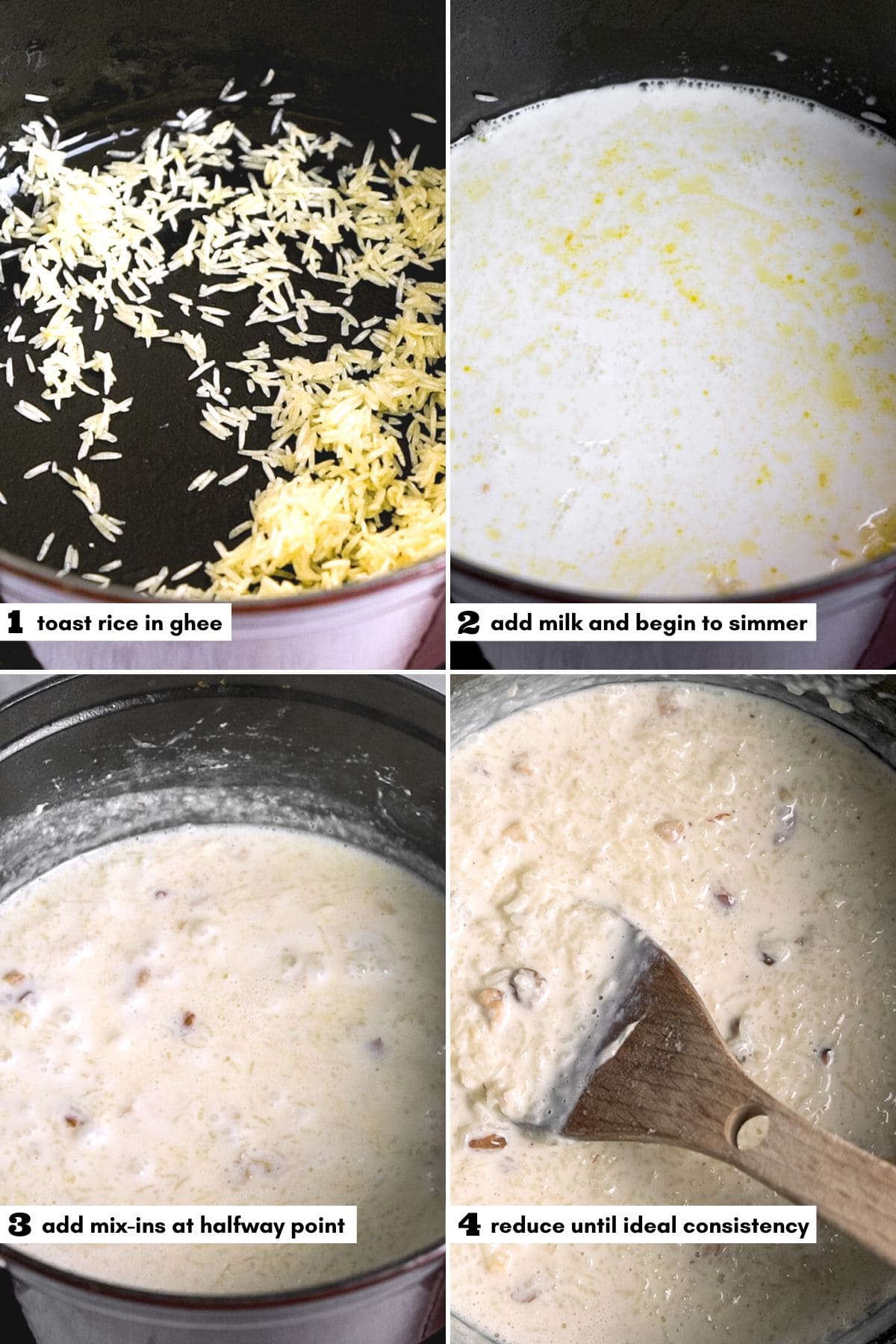 Toast the rice in ghee. This step is optional, but toasting the rice in ghee for 2 minutes before adding the milk keeps the long rice grains from breaking apart too much. Skip toasting the rice if you don't want prevalent grains in the rice pudding or to make this a vegan option.
Simmer and stir. After adding the milk, continue to stir in intervals to keep it from burning. Make sure to scrape down the sides and bottom. Simmer the milk until it's reduced by about half before adding any mix-ins. Continue to simmer and stir after each mix-in is added until the desired consistency is reached. I like mine to be a bit watery with the rice grains intact, but if you like it thick then continue to simmer until the rice is mushy and the milk has been mostly absorbed. Some people even simmer the kheer for over an hour so it's super creamy.
Add mix-ins. The mix-ins have specific timings for when they should be added. Once the milk has reduced by half, add the crushed nuts and raisins to allow the nuts to impart some flavor and the raisins to plump up. When the rice grains will look like they're on their last leg and may break apart, add the sugar and shredded coconut.
Continue simmering. Once the sugar has melted in and the kheer is at the desired consistency, remove the pot from heat and add the cardamom powder. Give it a last stir and it's ready to serve.
Keep in mind the kheer will continue to release steam and the rice keep absorbing the milk, so it will thicken a bit more after removing it from heat. To stop the cooking process, transfer the kheer to a bowl and put that in a bath of ice cold water. Add more milk if necessary.
Instant Pot Kheer
To make kheer in an Instant Pot - add all the ingredients to the Instant Pot and cook for 20 minutes on the porridge mode. If necessary, use the sauté mode to continue reducing the milk to the desired consistency.
Serving Suggestions
The great thing about kheer is that you can serve it warm or chilled, it's all personal preference.
I personally prefer it chilled because all the flavors have time to mingle. Cover the kheer with a lid and transfer it to a fridge for at least half an hour to chill before serving.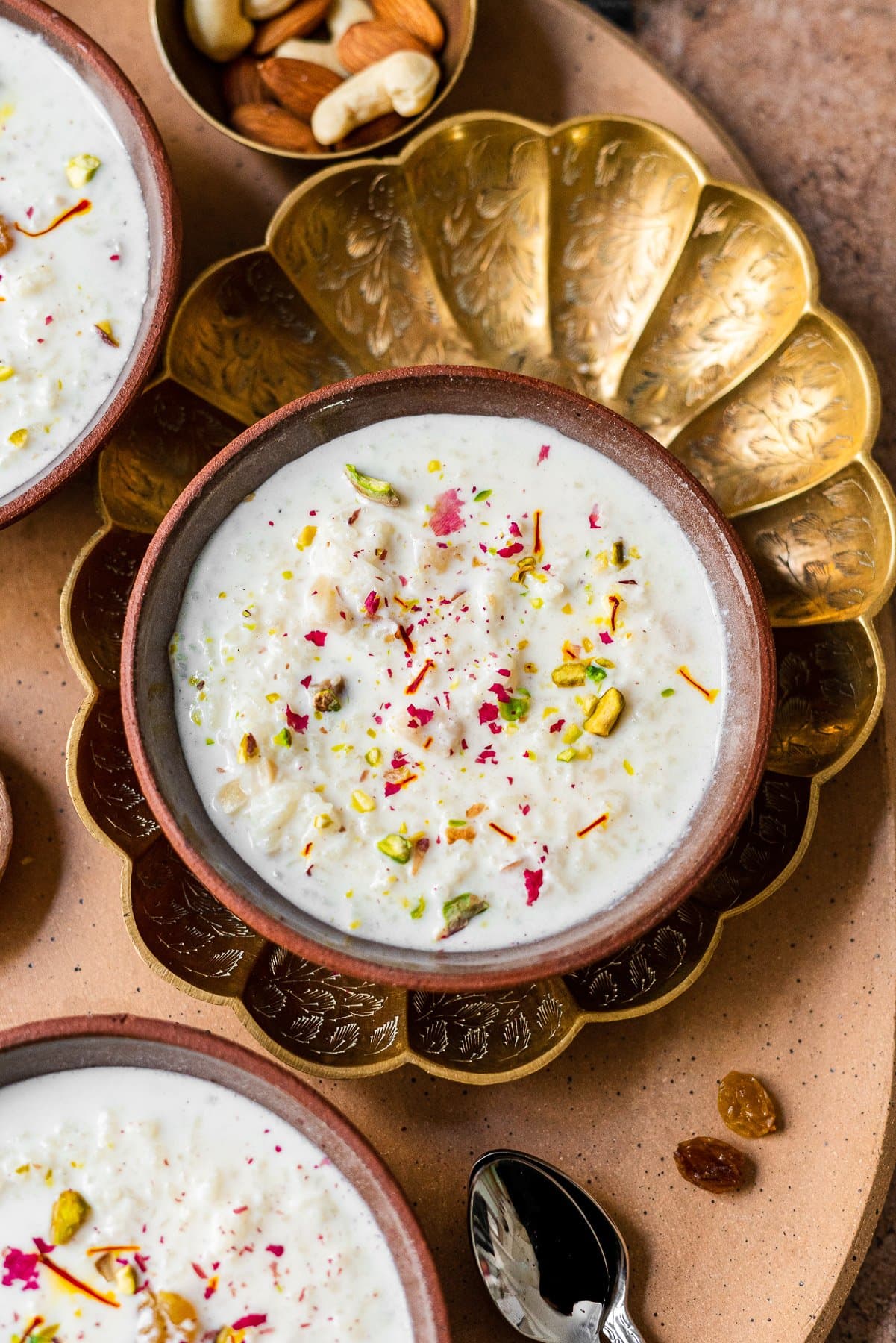 Serve it with a sprinkle of toasted coconut, dried edible rose petals, crushed pistachio, and if it's an extra special occasion then a bit of saffron too! The residual heat will bloom the saffron.
Expert Tips
Scaling - To scale this recipe, use a ¼ cup of rice per 4 cups of milk and 1 tablespoon of sugar per cup of milk.
Preventing burnt milk - Brush melted ghee on your heavy bottom pot to prevent the milk from sticking and burning. Make sure to give the pudding a stir and scrape down the bottoms and sides every 2-3 minutes.
Powdered vs whole cardamom - Use whatever you have on hand! I prefer freshly ground cardamom so that the whole dessert gets an even dose of cardamom. If you use whole pods, very lightly crush them in a mortar and pestle, not so much that the seeds will fall out. Add them into the pot when toasting the rice in ghee so that the flavor blooms. Remove the cardamom pods at the end.
Rice Texture - If you don't like the texture of long grain rice in kheer, skip the step where the rice is toasted in the ghee. Once the rice has softened, mash them a little with your wooden spoon so that the grains break apart. You can also use short grain rice instead.
Simmer and stir - Making kheer requires a bit of patience, it's not something you can leave on the stove and walk away because the milk may burn. While the milk reduces and the rice softens, you'll need to stir the pudding and scrape down the pot to prevent burning. Then go back to simmering to let more liquid evaporate, and stir again. Keep going until you get to your ideal consistency.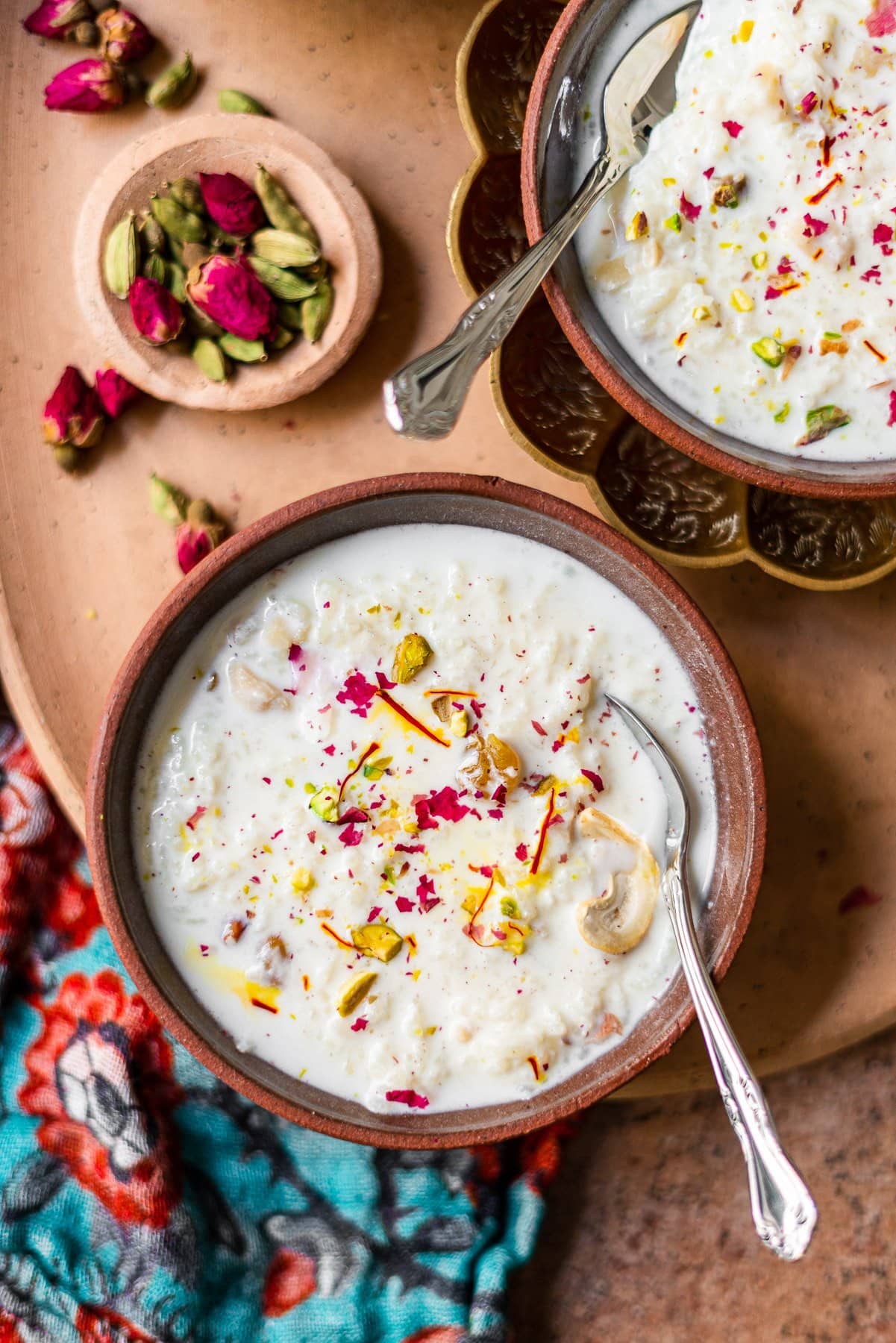 More Indian Dessert Recipes to try
Recipe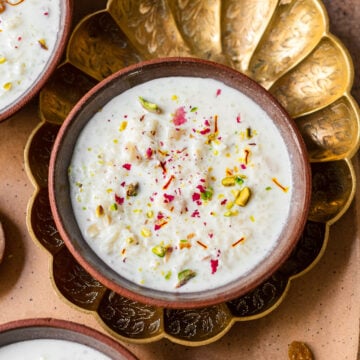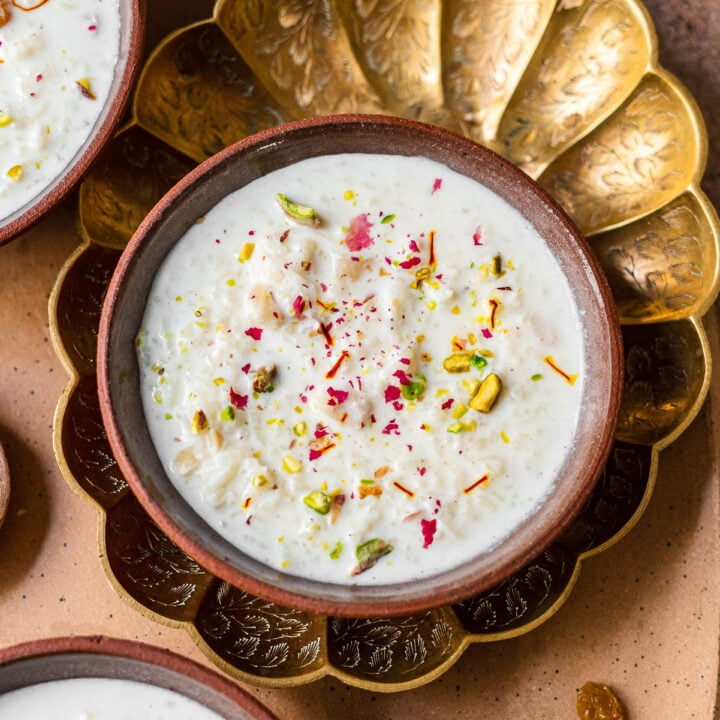 Rice Kheer
Celebrate special occasions and festivals with this simple Rice Kheer, a fragrant Indian rice pudding made with a base of basmati rice, whole milk, and sugar!
Print
Pin
Rate
Ingredients
¼

cup

basmati rice

1

tablespoon

ghee

4

cups

whole milk

2

tablespoon

assorted nuts

,

almonds and cashews

1

oz

golden raisins

¼

cup

sugar

1

tablespoon

thin unsweetened shredded coconut

¼

teaspoon

ground cardamom

saffron, crushed pistachios, dried edible rose petals

,

for garnish
Instructions
Rinse the rice until the water runs clear. Then soak the rice for 20 minutes. Once this time is up, drain the rice using a colander.

In a heavy bottom pot, melt the ghee and add the rice. Roast the rice for 1-2 minutes until it's aromatic. This prevents it from turning into mush.

Pour the milk into the same heavy bottom pot. Bring it to a boil and then reduce the heat to low. Simmer the milk for 15-20 minutes, being sure to stir every 2 minutes to prevent the milk from burning.

Once the milk has reduced by about half, crush the nuts in a mortar and pestle into small chunks and add them into the kheer along with the golden raisins.

The kheer should have thickened up and the rice grains should be long, a bit puffy, and look like they're just barely hanging together. The raisins will be plump. At this point, stir in the sugar and shredded coconut. Remove the pot from heat. Lastly, add the cardamom powder and stir to combine.

Serve warm or cold with a sprinkle of crushed pistachios, rose petals, and saffron.
Notes
Instant Pot - add all the ingredients to the Instant Pot and cook for 20 minutes on the porridge mode. If necessary, use the sauté mode to continue reducing the milk to the desired consistency.
Nutrition
Serving:
1
cup
|
Calories:
272
kcal
|
Carbohydrates:
39
g
|
Protein:
9
g
|
Fat:
9
g
|
Saturated Fat:
5
g
|
Polyunsaturated Fat:
1
g
|
Monounsaturated Fat:
2
g
|
Cholesterol:
28
mg
|
Sodium:
107
mg
|
Potassium:
390
mg
|
Fiber:
1
g
|
Sugar:
29
g
|
Vitamin A:
395
IU
|
Vitamin C:
1
mg
|
Calcium:
283
mg
|
Iron:
1
mg