Gajar ka halwa - also known as carrot pudding - is made of grated carrots slow cooked in milk and mixed with ghee, sugar, and cardamom. This super simple 5-ingredient recipe results in a luscious, aromatic rich dessert that is incredibly popular in India for any occasion!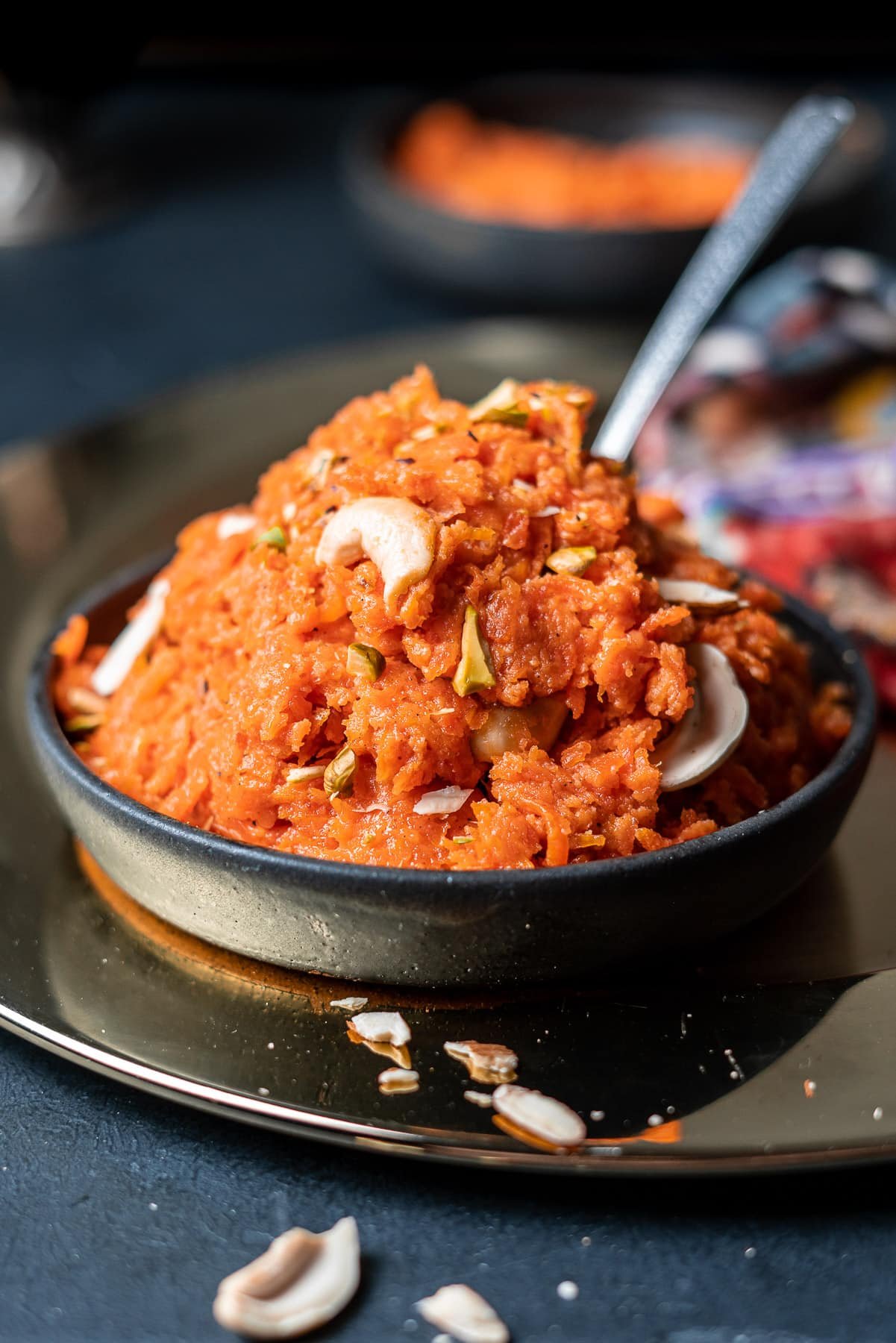 Growing up, my mom was and is the QUEEN of Indian stovetop desserts - no baking necessary. In fact, most Indian desserts are cooked or fried stovetop.
Now that I think about it, my mom only uses the oven for storage! She was recently inspired by me to start using it to roast vegetables haha. Her gajar ka halwa is my absolute favorite.
Gajar, meaning carrots in Hindi, are simmered for around 20-30 minutes with milk until it's a pudding-like consistency, hence "halwa" which is a broad term for pudding-ish desserts.
It's served for just about any occasion in India and I have fond memories of eating it at the temple on Sundays. The dish is so popular for several reasons - the ingredients are simple and easy to come by, it requires almost no work, it's vegetarian in nature, and easy to make in large batches.
Jump to:
3 different ways to make Carrot Halwa
There are three different ways to make gajar ka halwa at home. I'm sharing the simplest way in this recipe where you're more likely to already have the ingredients at home to satiate your cravings.
Traditionally with milk. The carrots are simmered in whole milk.
In a pinch with sweetened condensed milk. This doesn't allow as much control of the sweetness of the halwa, which is definitely an advantage with the traditional method. But it does enable making this in 10-15 minutes.
During festivals with khoya. Khoya is dried milk solids, made from simmering milk until all the water has evaporated. It's used in many desserts, especially around when Hindu festivals are because it's so rich. Gajar ka halwa with khoya is quicker and rich. However, khoya is quite difficult to find in the U.S. and takes time to make at home.
Five Simple Ingredients - Notes and Substitutions
I was shocked at how easy it is to make halwa! I was FaceTiming my mom and honestly thought it would be way more complicated to make it. Admittedly, I'm frequently intimidated by Indian cooking. But it turns out that it takes five simple ingredients that you may already have on hand to make an incredible gajar ka halwa.
Carrots: I fully recommend shredding your own carrots so that you can get the proper size and prevent mushy halwa.
Milk/milk powder: The carrots soften in boiling milk to make the pudding-like texture.
Ghee: By far my favorite golden ingredient for making desserts. Ghee is clarified butter and a fan favorite for Indians. There's really no similar vegan substitute, but you can use vegan butter.
Sugar: To sweeten per your desire.
Cardamom: Adds a sweet taste and aroma.
The base of the halwa is so so easy. You can also mix in nuts and raisins, which is incredibly common but optional.
Step-by-step Instructions
The only thing you'll need to prep are the carrots - otherwise all this recipe requires is a lot of simmering!
Grate the carrots. Use the medium-sized hole of a grater to shred the carrots. Avoid Purchasing the pre-shredded carrots. They're typically too large and won't work to get a pudding-like consistency.
Simmer the carrots in milk. Add the carrots to a heavy-bottomed pan to avoid the milk burning. Immediately add the milk. It should be enough to just cover the carrots. Bring the milk to a low simmer and cook the carrots until they've softened.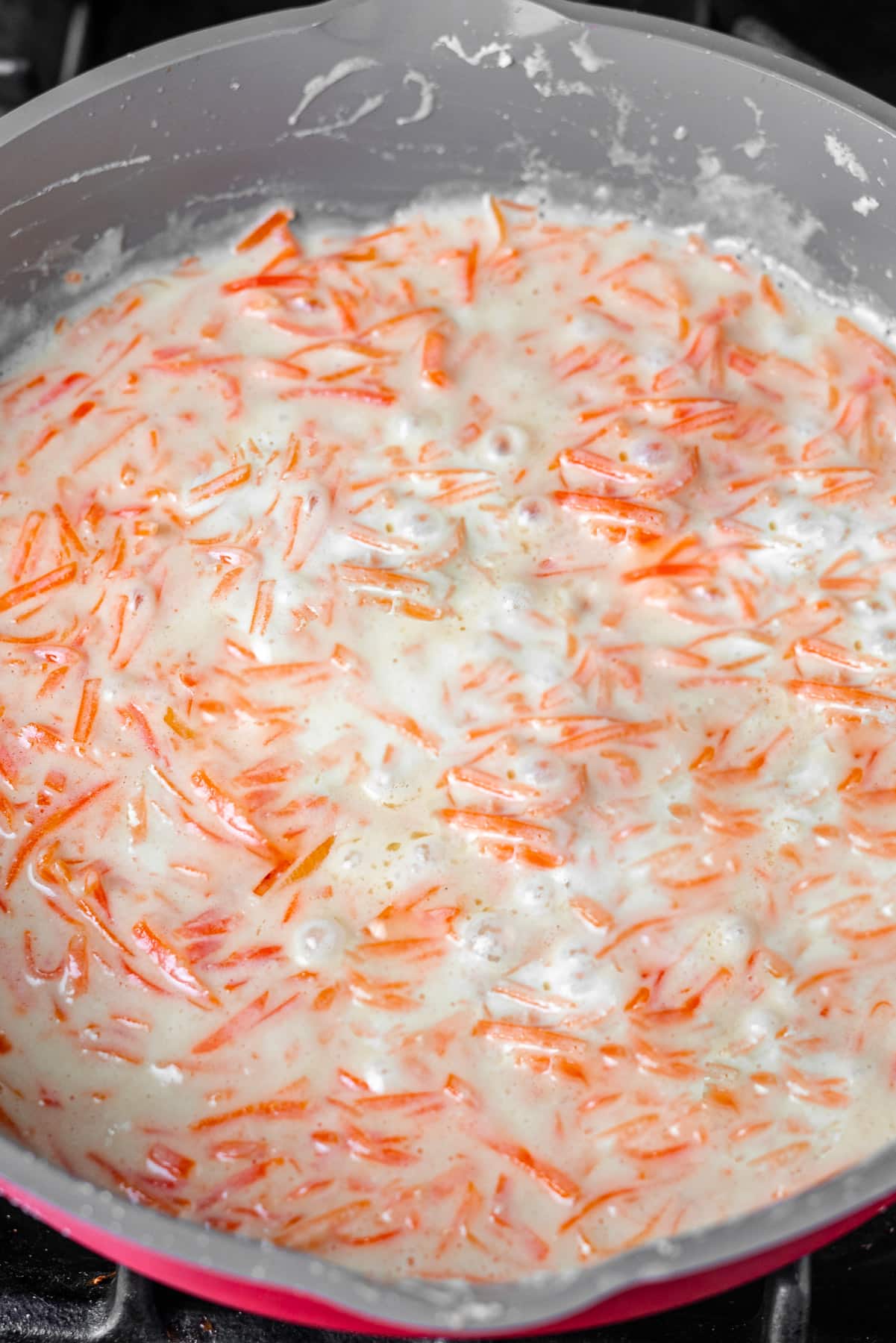 Add in the rest of the ingredients. Once the carrots have softened, you can add the ghee and continue to simmer. The carrots will change in color, to a deepened orange that almost looks translucent. By this point, the milk should be starting to evaporate, but adding the milk powder helps thicken it up to the perfect pudding-like consistency. Once the mixture has thickened to its end state where you can no longer see any of the milk, stir in the sugar and cardamom and mix well. You don't need the sugar to caramelize and you want to retain the fragrance of the cardamom.
Garnish and serve. Optionally, you can stir in golden raisins and chopped nuts like pistachios, almonds, and cashews. Serve warm.
Expert Tips
Here's a few tips to get the perfect halwa!
Use dark orange/red carrots: If you can find farm-fresh carrots that are a bit red, these are the perfect carrots to use for halwa. This is what lends a gorgeous color to the dessert, but can be hard to find outside of a farmer's market.
Using shredded carrots: Don't buy pre-shredded carrots if possible. You'll want to shred them yourself with a grater, using the medium-sized holes. Too large, and the texture will be more like thickened mushy milk. Too small, and the halwa will be mushy and watery but just a slight notch up can result in halwa that melts in your mouth. You'll also want to choose carrots that are less fibrous.
The best milk to use: I recommend whole milk, but have seen some aunties use sweetened condensed milk and omit the sugar. I've also seen a 50/50 mix of whole milk and heavy cream used to make it extra rich. The milk powder helps thicken the consistency of the halwa, but too much can also ruin the texture. If you're unsure, omit the milk powder and use an extra quarter cup of milk. You may need to continue simmering for a longer period in this case.
Milk-to-carrot ratio: This is so important, I cannot stress it enough! Having too much milk in your halwa will leave you with a weird thickened milk mushy texture at the end. You want just enough milk to cover the carrots and nothing more than that. Don't be tempted to add more. If you get to this mushy state, simply add more shredded carrots and a quarter cup of water at a time until the carrots are tender.
Checking the doneness: You'll know when the halwa is done when the fat (in this case, the ghee) starts separating on the sides. The halwa will be thick and pudding-like, the carrots will slightly mush into each other, but the individual shreds of carrots will still be there.
Don't leave the halwa unattended. You don't want the carrots to brown from the hot pan or burn the milk. Using a heavy bottom pan is preferred for simmering/boiling milk.
Frequently Asked Questions
How do I store gajar ka halwa?
You can store gajar ka halwa in an airtight container in the fridge for up to 5 days.
Can I make this recipe vegan?
Substitute milk in gajar ka halwa with coconut milk for a vegan version. Substitute the milk powder with coconut milk powder or omit entirely and add a ¼ cup more of coconut milk. Substitute the ghee with a vegan butter.
If I don't have ghee, can I use butter?
Yes! Ghee is simply clarified butter, meaning the butter has been simmered until the milk solids and impurities separate and are then removed.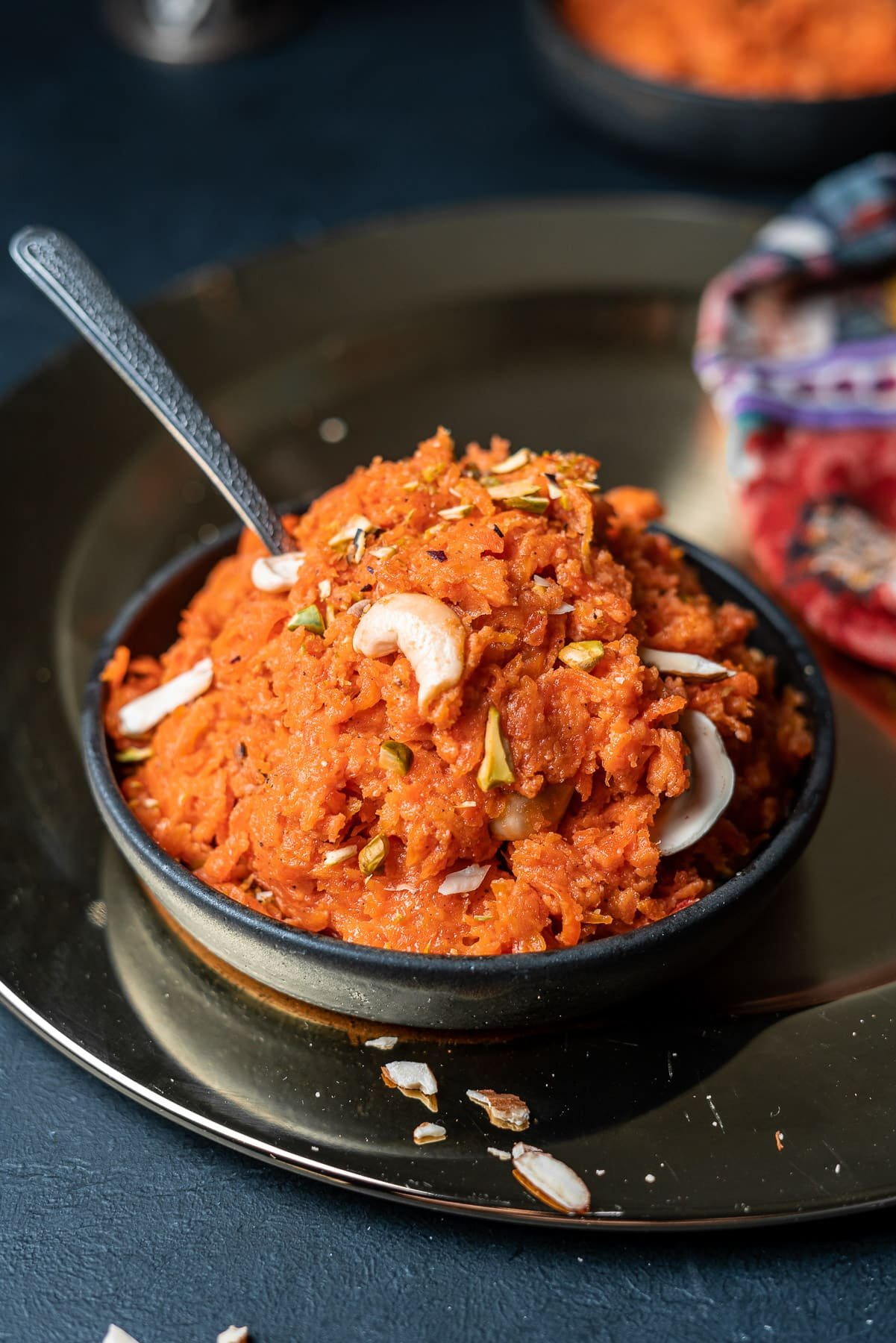 More Indian-Inspired Desserts to try
Recipe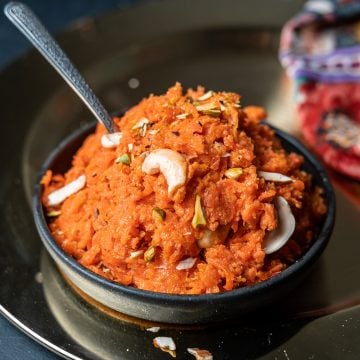 Gajar Ka Halwa
Gajar ka halwa consists of grated carrots that are slow cooked in milk and mixed with ghee, sugar, and cardamom to create this pudding-like dessert that's popular in India for any occasion!
Print
Pin
Rate
Instructions
Grate 4-5 carrots in the medium sized holes on a grater. Toss them into a large heavy-bottom pan on medium heat and immediately add the milk. Allow the milk to boil until the carrots are softened. Continuously mix the carrots so that the milk does not stick to the bottom.

Once the carrots have softened, melt in the ghee and continue to allow the mixture to simmer and thicken. Once the carrots have darkened in color, slowly mix in the milk powder, which will thicken up the last of the remaining milk.

Stir in the sugar and the cardamom powder towards the end of the cook time. The milk will be fully incorporated, and the carrots should be soft and darkened in color.

Remove the halwa from heat, and stir in chopped almonds, pistachios, halved cashews, and golden raisins. Serve.
Notes
Don't buy pre-shredded carrots. Buy whole carrots and shred them at a small to medium size in a grater.
Use only enough milk to cover the carrots.
Nutrition
Calories:
293
kcal
|
Carbohydrates:
29
g
|
Protein:
7
g
|
Fat:
18
g
|
Saturated Fat:
11
g
|
Cholesterol:
50
mg
|
Sodium:
134
mg
|
Potassium:
525
mg
|
Fiber:
2
g
|
Sugar:
25
g
|
Vitamin A:
12085
IU
|
Vitamin C:
6
mg
|
Calcium:
239
mg
|
Iron:
1
mg