Thanksgiving is so soon and I CANNOT WAIT TO STUFF MY FACE WITH PIE. We are definitely adding these Pumpkin Pie Samosas to our dessert line up in the Garg household! With delicious, crispy fried samosa crust and an easy pumpkin pie filling... I mean, how can you not impress??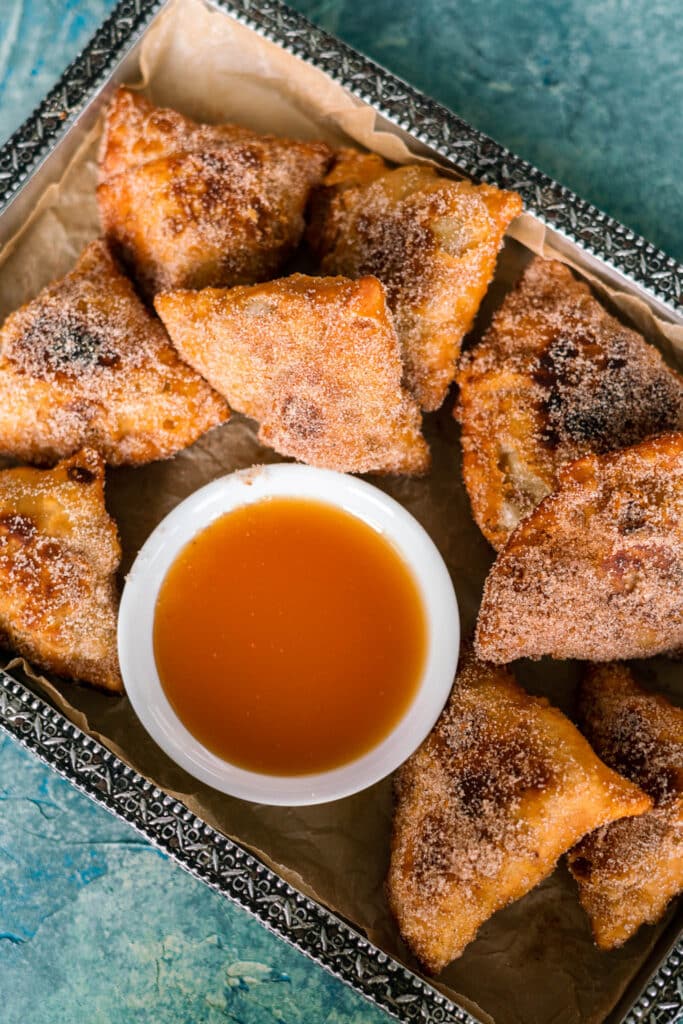 Hear me out! Our Thanksgiving dinner tables are going to look a little different this year. So, I'm saying let's try something new? Skip the pain of making a perfectly flaky crust with gorgeous crimped edges... We're talking DEEP FRIED pumpkin pie. Covered in cinnamon sugar. Dipped in caramel and topped with whipped cream. Wowowowow!
Jump to:
And just a disclaimer... these are NOT anything like Trader Joe's Mini Spicy Pumpkin Samosas. While their samosas do have pumpkin, the Trader Joe's samosas are savory with paneer and warm spices. These are the exact opposite!
What are Samosas?
Every non-desi that has tried Indian food has undoubtedly had samosas. Whether you're the samosa crust or the potato filling person (I'm a crust gal!), you're going to want the whole thing to yourself.
Samosas are served as an appetizer or snack. It's fried or baked pastry with a savory filling made up of spicy potatoes, peas, and onions as the base. There's also a lot of variations on fillings, such as with pumpkin, chicken/beef/paneer keema, etc. It's folded into a cone or triangular shape. It's typically served with imli chutney and cilantro chutney.
If you love samosas, try these classic Paneer Aloo Samosas!
How to make Dessert Samosas
There are 6 main steps to making samosas:
Make the Dough. Whisk together the flour and sugar in a medium sized bowl. Make a well in the middle of the flour and pour in the ghee. Work the ghee into the flour by rubbing your hands together. The texture will be sandy and you'll be able to form clumps in your hand. Slowly add as much water as needed and knead until a ball forms. Cover the dough and rest for a minimum of 20 minutes.
Prep the Filling. In a bowl, whisk together the pumpkin puree, brown sugar, salt, pumpkin pie spice, cinnamon, milk powder, and corn starch. The milk powder lends creaminess to the mixture without adding liquid and the corn starch will thicken it up. Transfer to a pan and heat on low. Simmer for 5 minutes, or until it thickens. Allow it to fully cool in a bowl.
Assemble the Samosas. Split the dough into about 5 equal sized pieces. Roll them out into circles. Cut each circle into half. Flip a half on to your hand with the straight edge at your finger tips and the circle towards the palm of your hand. Wet half of the straight edge with water and bring the edges together to form a cone. Seal the side seam. Fill with the pumpkin pie filling (amount depends on the size of your samosa), being sure to leave a few inches at the top. Use water to wet the exposed edges and seal the top seam. Repeat with the rest of the samosas. Here's a video on how to fold samosas.
Fry the Samosas. Heat neutral oil in a deep frying pan on medium. If it's too shallow, the samosas will hit the bottom and burn a little in places. This doesn't matter much. Carefully lower 2-3 samosas into the oil at a time and fry on each side for about 30 seconds, repeating 2-3 times until golden brown. Place the samosas on a cooling rack above a sheet tray to allow the oil to drain.
Toss in Cinnamon Sugar. Whisk together cinnamon and sugar. While the samosas are still warm, toss them in the cinnamon sugar until fully coated.
Serve. I like them best with some caramel syrup and plenty of whipped cream! They're delicious served warm or cold.
How to Bake or Air Fry Samosas
Although I fully believe deep frying creates the absolute best samosas, especially when indulging for Thanksgiving, you can also bake or air fry them.
Baking Samosas
To bake the samosas, preheat the oven to 400°F and line a baking sheet with parchment paper. After assembling the samosas, brush them lightly with oil and bake for 25 minutes, or until golden brown.
Air Frying Samosas
In my opinion, air frying works but doesn't give the best results unless you're reheating the samosas. To air fry samosas, lightly brush the samosas with oil and air fry for up to 15 minutes. Be sure to keep your eye on them.
Frequently Asked Questions
Can I prepare pumpkin pie samosas beforehand?
Yes!! In addition to being able to make the dough a few hours beforehand, you can also assemble the samosas and refrigerate them for 6-8 hours before frying. You can also freeze the pre-assembled or fried samosas for up to 6 months. Pop them in the oven and bake for 20 minutes when ready to eat.
Can these be made vegan or vegetarian?
Well the good news is that most samosas are vegetarian and this one is too!! To make this recipe vegan, substitute the milk powder with a dairy-free milk powder substitute (potato, coconut, rice, etc). This can potentially change the flavor, but not by too much. Instead of using ghee for the dough, you can use vegetable oil in the same amount. You can also omit the whipped cream or replace it with coconut whipped cream.
Can samosa dough be made in advanced?
Yes! And it does need some time to rest, as most dough does to form the gluten. This helps when rolling out the dough to make the circles so plan ahead. The dough should rest covered and for a minimum of 20 minutes.
More Fall Desserts to try
If you love pumpkin, try this Pumpkin Cream Cold Foam (Starbucks Dupe)!
Pumpkin Pie Samosas
Looking to impress this fall season? Substitute your Thanksgiving pumpkin pie with these pumpkin pie samosas! The rich, flaky, crispy fried dough coated in cinnamon sugar with a delicious and simple pumpkin pie filling is next level!
Print
Rate
Ingredients
Samosa Dough
1½

cups

all purpose flour

⅓

cup

ghee

1

teaspoon

granulated sugar

⅓

cup

water
Text Ingredients
Instructions
Dough Prep
In a medium bowl, whisk together the all purpose flour and sugar. Make a well in the middle and pour in the ghee. Rub the flour and ghee together with the palm of your hands until a sandy texture forms and you're able to form clumps of dough without it falling apart.

Slowly add the water in while kneading the dough. Knead the dough for about 5 minutes. Cover and allow to rest for a minimum of 20 minutes.

After the dough has rested, separate into equal sized pieces. Roll the dough out in a round circle until it's thin but sturdy. Cut the circle in half.
Pumpkin Pie Prep
In a bowl, whisk together the pumpkin puree, brown sugar, salt, pumpkin pie spice, cinnamon, milk powder, and corn starch.

Heat a pan on low to medium and add in the filling. Simmer until the mixture thickens up to pie consistency, about 5 mins. Remove from pan and allow to cool in a bowl.
Assembly
Heat a neutral oil in a deep fryer to about medium heat. In a bowl, whisk together the cinnamon and sugar.

Using a half of a circle you cut, flip the dough on to your hand so that the side that was on the bottom of the surface is facing you. The straight edge should be at the tips of your fingers, and the rounded curve should be in your palm. Use water to wet half of the straight edge. Bring the corners of the straight edge together to form a cone, with the wet edge on the outside. Press the dough together to form a seam on the side.

Hold the cone like an ice cream cone in your hand, with the closed side of the samosa snuggly tucked in your hand and the opening facing out. Add 1-2 tablespoons of filling into the samosa, leaving about an inch at the top. Brush one edge of the exposed dough with water and press it tightly shut so that the filling doesn't ooze out anywhere.

Repeat with the rest of the samosas.

Carefully slip in the samosas into the fryer. Fry on one side for 30 seconds, and then flip. Repeat this 2-3 more times until the samosas are golden brown. Remove the samosas onto a cooling rack placed above a baking sheet.

While the samosas are still hot but can be handled, toss them in the cinnamon sugar to coat them thoroughly. Serve while still warm with whipped cream and caramel dipping sauce.
Nutrition
Calories:
225
kcal
|
Carbohydrates:
37
g
|
Protein:
3
g
|
Fat:
7
g
|
Saturated Fat:
4
g
|
Cholesterol:
19
mg
|
Sodium:
79
mg
|
Potassium:
135
mg
|
Fiber:
1
g
|
Sugar:
20
g
|
Vitamin A:
3349
IU
|
Vitamin C:
1
mg
|
Calcium:
56
mg
|
Iron:
1
mg
Subscribe to the Masala and Chai Newsletter Community to receive exclusive recipes and updates straight to your inbox.
I love seeing when you share my recipes! Tag me on Instagram @masalaandchai so I can enjoy them virtually with you! You can also find me on Pinterest, Facebook, Tik Tok, YouTube, and Twitter.
I'd love to know what you thought of this recipe! Don't forget to leave a comment and ⭐️ star rating below!