Welcome to pumpkin season and enjoy the popular Pumpkin Cream Cold Foam that you can make right at home in 5 minutes! It's the best creamy Starbucks dupe for their Pumpkin Cream Cold Brew and super easy to make with only a few items.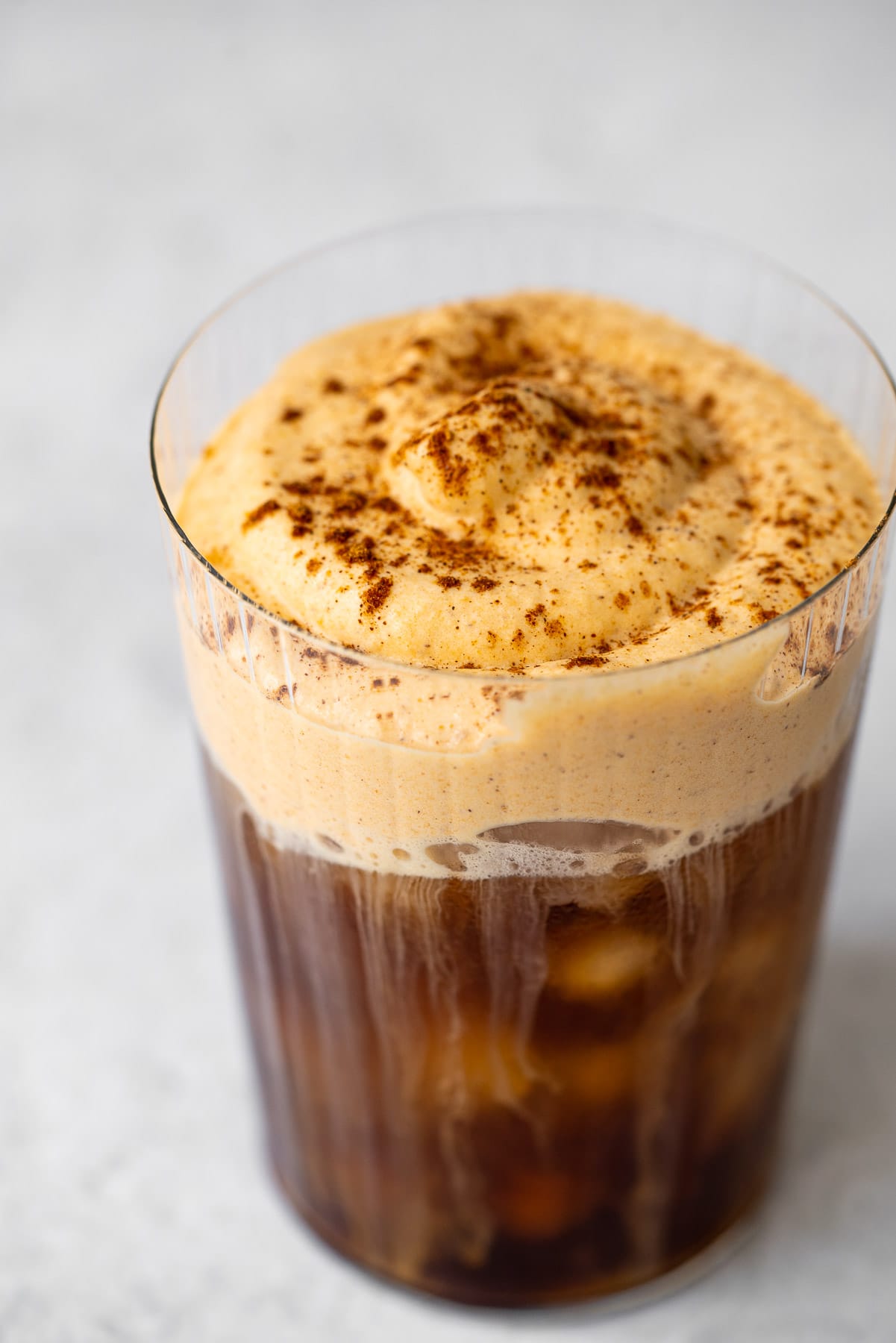 Starbucks and Dunkin' both have their own version of a Pumpkin Cream Cold Brew! The Dunkin' Pumpkin Cream Cold Brew is a cold brew that is steeped for 12 hours and topped with a Pumpkin Cream Cold Foam, which has notes of pumpkin and warm spices like cinnamon, clove and nutmeg. It's then topped cinnamon sugar!
If you love pumpkin, try these Pumpkin Pie Samosas, Pumpkin Butter, and Pumpkin Halwa!
Jump to:
Starbucks Pumpkin Cream Cold Brew
If you are like me and mark the start of fall with all things Starbucks pumpkin spice, then you most likely love the seasonal Pumpkin Cream Cold Brew. The creamy cold foam is swirled in with your coffee with a little extra pumpkin spice topping!
It adds a wonderful fall season spin to the original vanilla sweet cream cold foam. It's my favorite Starbucks seasonal drink by far.
Thankfully, you can make a copycat Starbucks pumpkin cream cold foam recipe with ease right at home with nothing too fancy. The at-home version has no preservatives and is absolutely delicious when freshly whipped.
I love making a batch at the beginning of each week for my morning coffees! I think it would go super well with the Starbucks Iced Brown Sugar Shaken Espresso and an Iced Chai Latte or Dirty Chai Latte.
And now you can make this year round. You're welcome.
What is Cold Foam?
Starbucks serves a luscious cold foam - a chilled foamy dairy-based topping layered on top of it's cold brews. It's made with a non-fat milk and vanilla syrup which is then whipped in special high speed blenders. The bit of cold brew and cold foam makes for the perfect sip with their strawless lids.
If you have an aeroccino from Nespresso, you make a regular foam that is frequently seen in hot drinks like lattes and cappuccinos. For cold drinks, the hot foam simply dissipates which is where the cold foam comes in.
It was popularized by Starbucks in the United States in the recent years and has especially become popular for those who love to brew their own coffees at home.
By 2022, Starbucks has released a series of flavored cream based foams - Vanilla Sweet Cream, Salted Caramel Cream, Chocolate Cream, and the seasonal Pumpkin Cream.
Vanilla Sweet Cream
Vanilla sweet cream and cold foam are not the same. Plain cold foam doesn't contain any cream to get the velvety texture.
Vanilla sweet cream does! It's simply vanilla syrup, 2% milk, and heavy cream. However, it does not come blended. It's almost the texture of melted vanilla ice cream - thick and incredibly creamy. When you order vanilla sweet cream, it'll be fully mixed into the iced drink. This is similar to the base of the Pumpkin Cream Cold Foam we're making.
When you order a sweet cream cold foam, it's whipped in a cold foam blender and poured on top of cold drinks. The milk slowly starts cascading into the drink while the sweetened, foamy cream sits at the top, making each sip absolute perfection.
The Ingredients - Notes and Substitutions
The ingredients in the Starbucks Pumpkin Cream Cold Foam Cold Brew list off as: ice, coffee, pumpkin cream cold foam, vanilla syrup, and pumpkin spice for topping.
The pumpkin cream cold foam itself is made of cream, milk, sugar, condensed skim milk, pumpkin puree, fruit or vegetable juice for color, annatto (also used for dye), preservative, salt, "natural flavors", and vanilla syrup.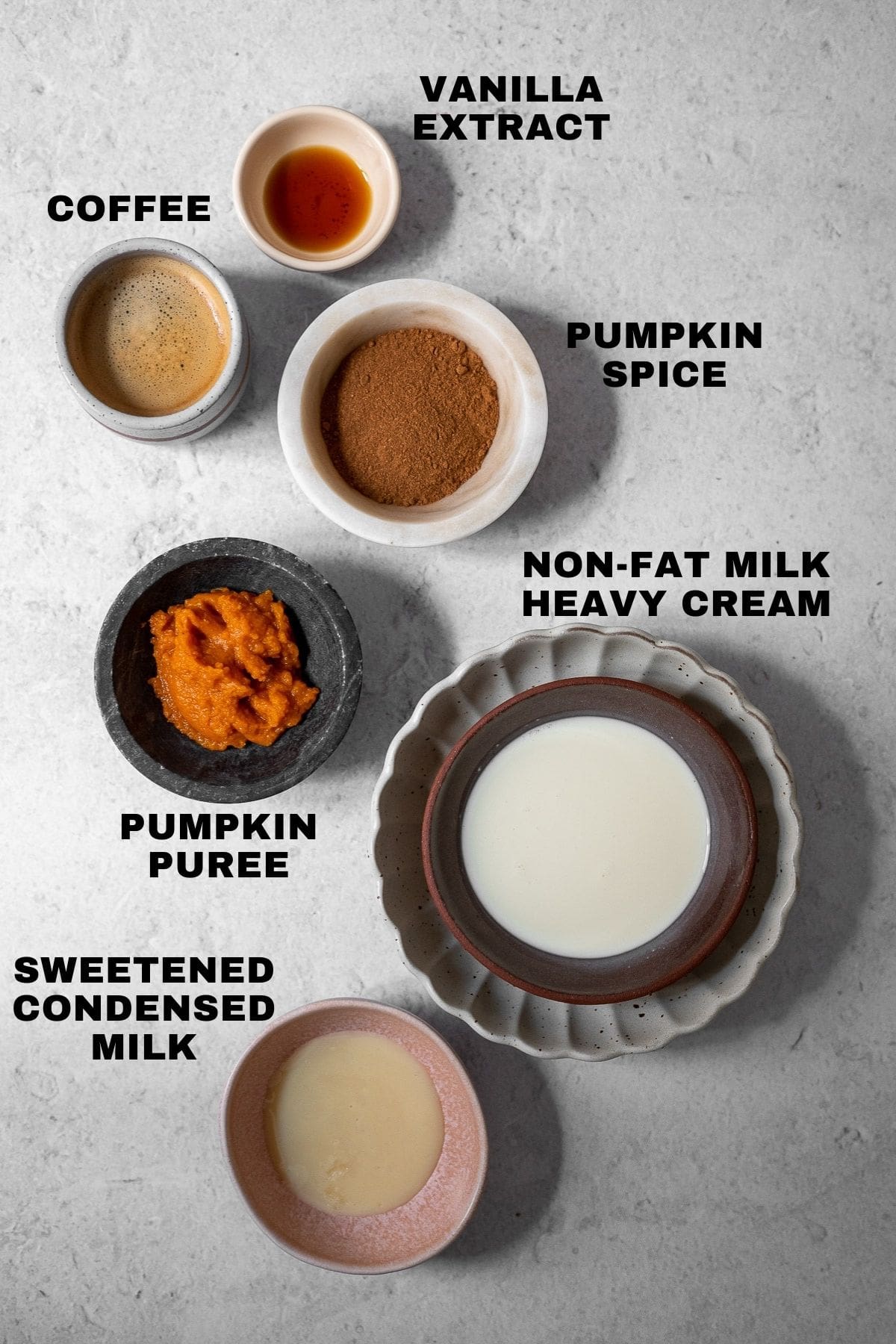 For the at-home version, we're removing the food dye and preservatives. Instead of sugar and condensed skim milk, we're using sweetened condensed milk which is much easier to find at grocery stores.
Cream - Use heavy whipping cream or half and half, but heavy whipping cream will whip up the best.
Milk - Starbucks uses a non-fat milk for their cold foam because it has a larger percentage of protein. The resulting foam is robust with larger bubbles, and holds up better than hot foam with micro-bubbles that we see with lattes. Just about any milk, including plant-based milks, will work but not as well as a non-fat dairy-based milk. We also use heavy cream so it has the structure to sit at the top of the drink
Sweetened Condensed Milk - Instead of using condensed skim milk, something which I've never seen in a grocery store, we're using sweetened condensed milk. You can also use plain condensed milk and add more or less sugar based off of preference.
Pumpkin Puree - Don't purchase pumpkin pie filling, you'll want plain canned pumpkin puree. You can also make your own pumpkin puree from fresh pumpkin. I personally think this is a great recipe if you have some leftover canned pumpkin puree from other recipes.
Pumpkin spice - Use a store-bought pumpkin spice blend or make your own. Starbucks makes their pumpkin spice with cinnamon, ginger, nutmeg, and cloves.
Vanilla Extract / Vanilla Syrup - For the cold brew, use any bottled brand of vanilla syrup, i.e. Starbucks, Torani, Monin, etc. It's also really easy to make vanilla syrup at home with vanilla extract, sugar, and water. For this recipe, mix 1 teaspoon of both sugar and hot water and a dash of high quality vanilla extract. For the cold foam, since we're using sweetened condensed milk it doesn't need extra sugar. I recommend using vanilla extract instead.
Recommended Kitchen Items
How to make Pumpkin Cream Cold Foam
Break up making the cold foam into two steps - first whipping the heavy cream, milk, sweetened condensed milk, and vanilla extract which makes a version of the Starbucks sweet cream cold foam without using a pre-bought vanilla syrup.
From this point, add in flavorings to make any type of cold foam.
1. How to make Sweet Cream Cold Foam
Start by pouring the non-fat milk, or milk of choice, and heavy cream into a large mixing bowl or mason jar along with the sweetened condensed milk and vanilla extract. This is the sweet cream cold foam base, which is used for Starbucks cold brews but can be added to any drink.
Use a frother, whisk, electric mixer, french press, blender bottle, blender, etc to make the cold foam. Keep whipping it until it forms large bubbles, and then continue whipping until it's smoother and thickens significantly.
2. Add in the Flavoring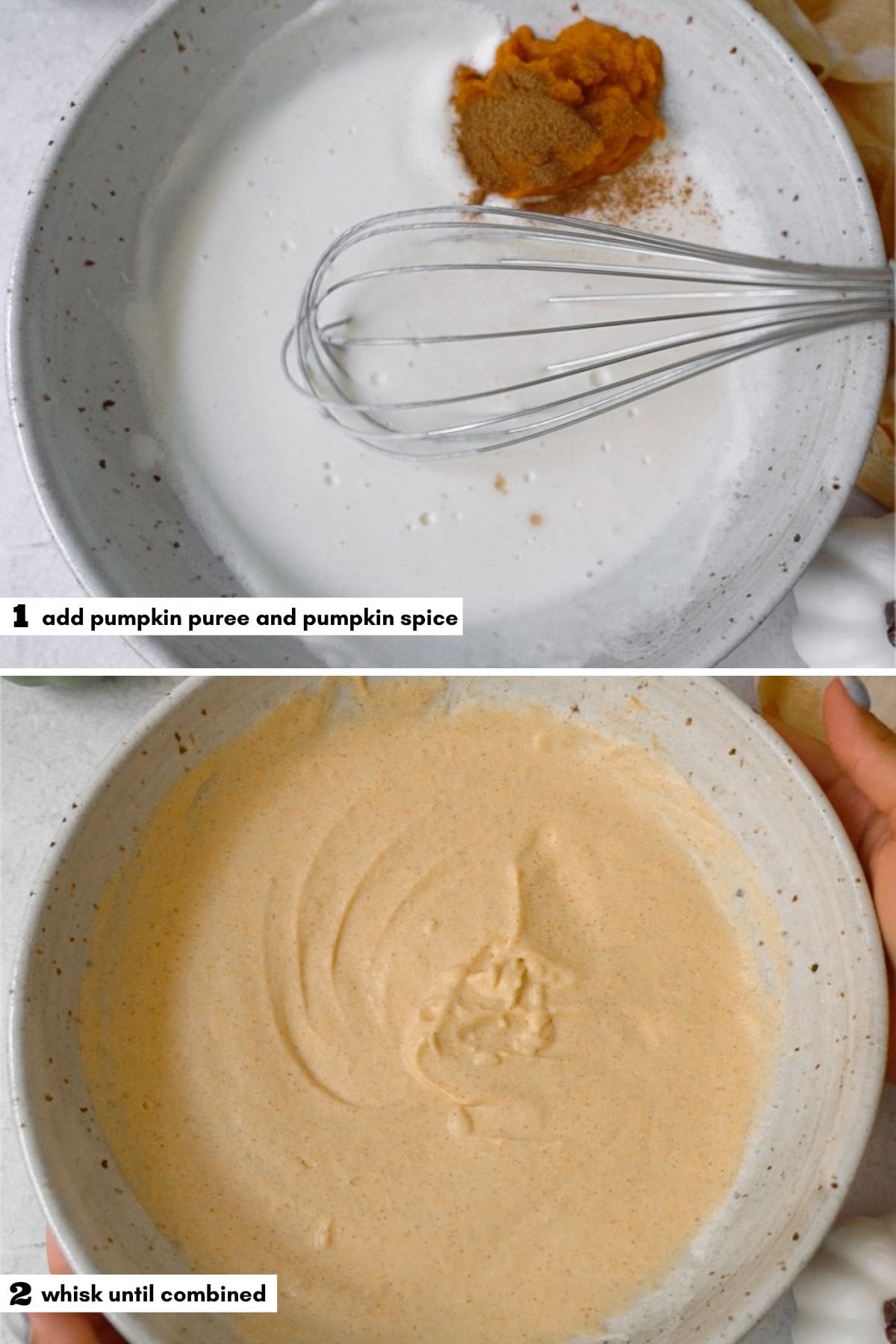 To make the Pumpkin Cream Cold Foam, add the pumpkin puree and pumpkin spice on to the side of the bowl with the cold foam so it doesn't deflate. Continue whisking until fully combined.
And it's done!
Serving and Storing
Pour ice into a cup, and your choice of cold coffee (cold brew, espresso, chilled coffee).
Serve about a ¼ - ½ cup of the cold foam per cup of iced coffee or cold brew. The recipe makes 1-2 servings depending on desired amount. Transfer the cold foam to a pourer to pour it over iced coffee, or spoon it on to the top. Sprinkle a bit of additional pumpkin spice.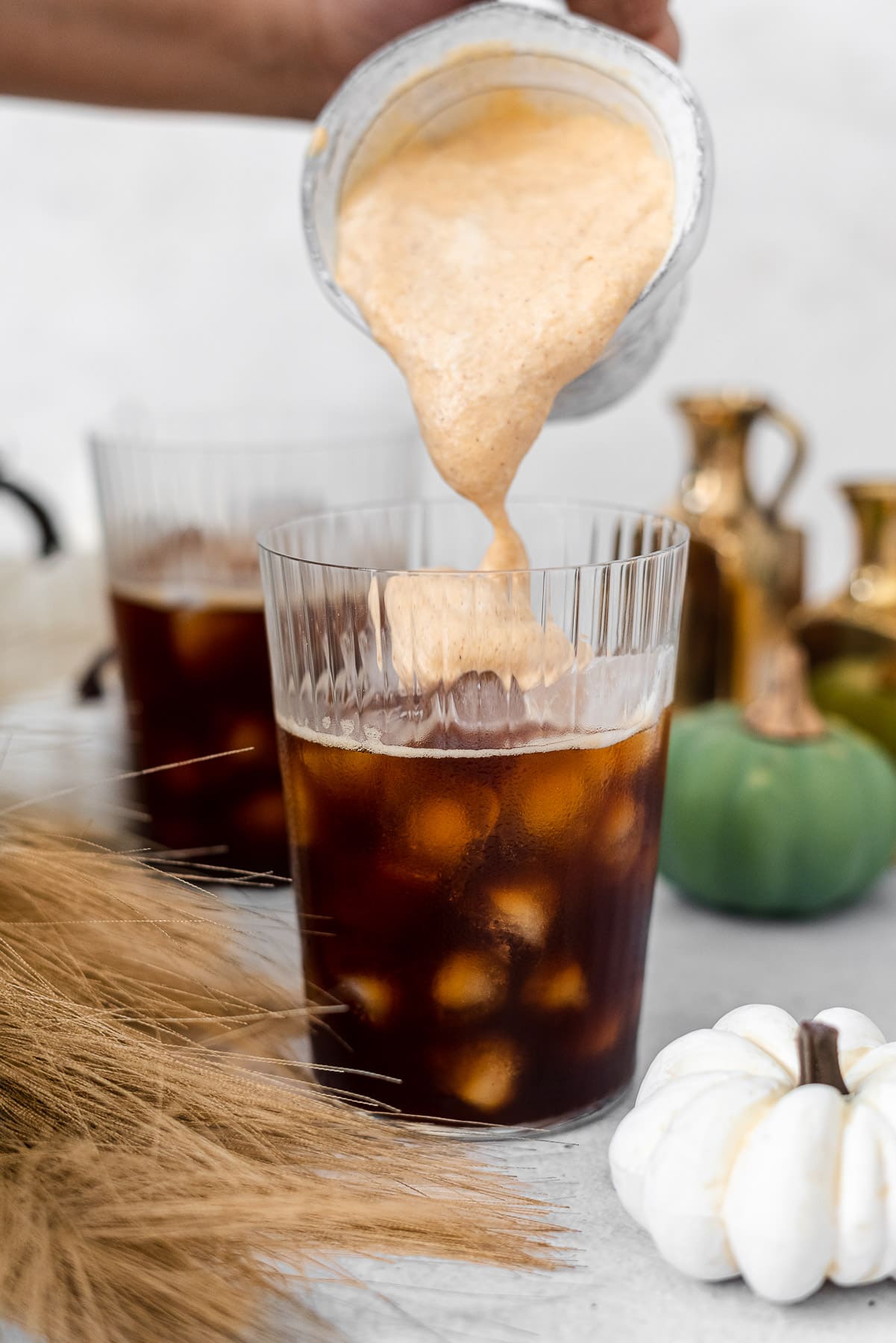 To store leftover cold foam, keep it in a mason jar with an airtight lid. When ready to use again, you can shake the mason vigorously, use an electric frother, a mini whisk, etc.
Which Coffee to use
Cold foam is best used on iced coffees - and is specifically really great with cold brews. Fresh brewed coffees or espresso shots over ice work just as well, but cold brew is really the preferred drink when it comes to cold foam.
It's also delicious in a Iced Pumpkin Cream Chai Latte.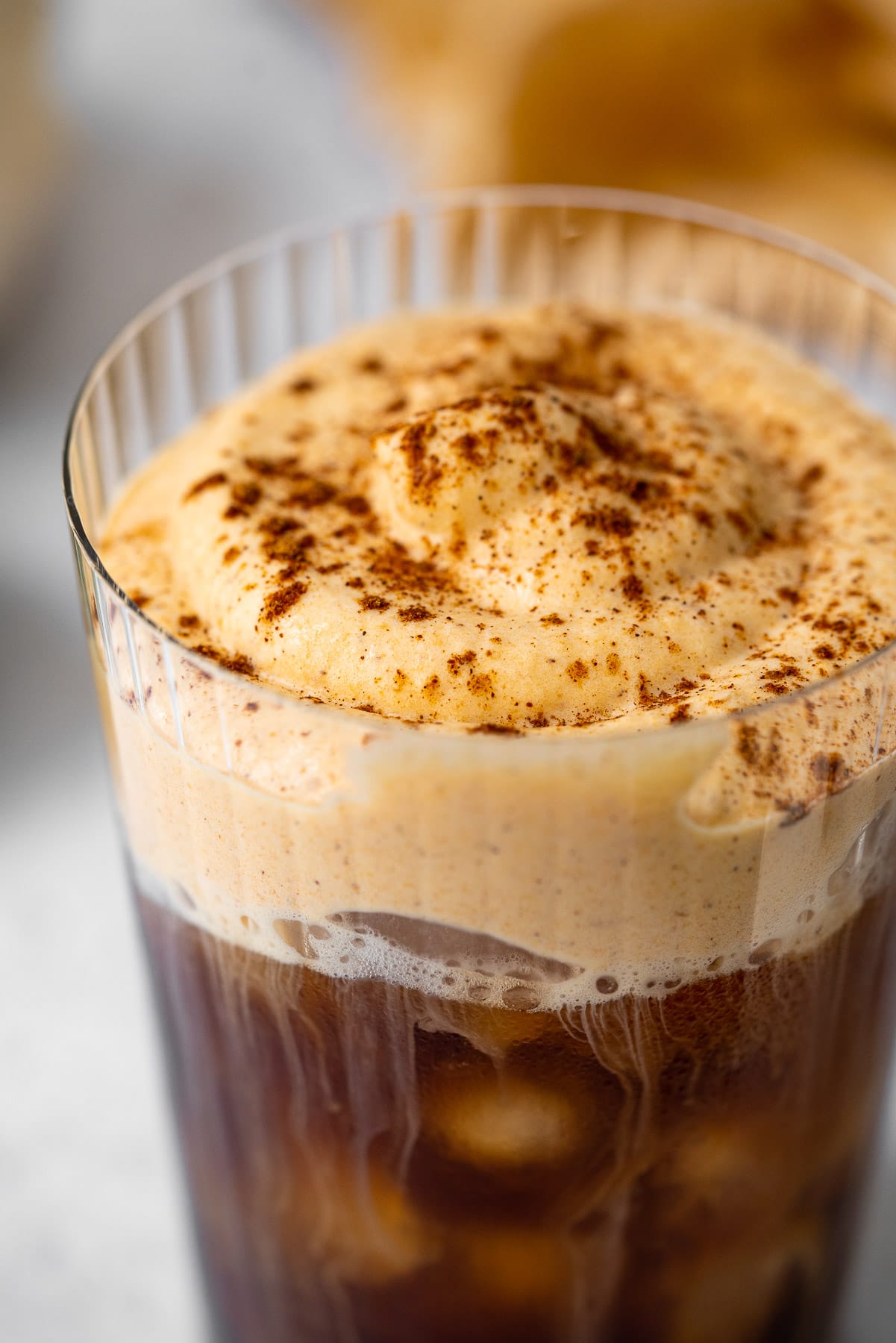 More Starbucks Copycats to try
Recipe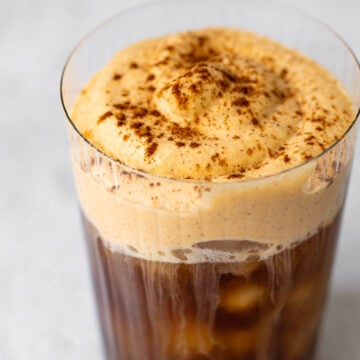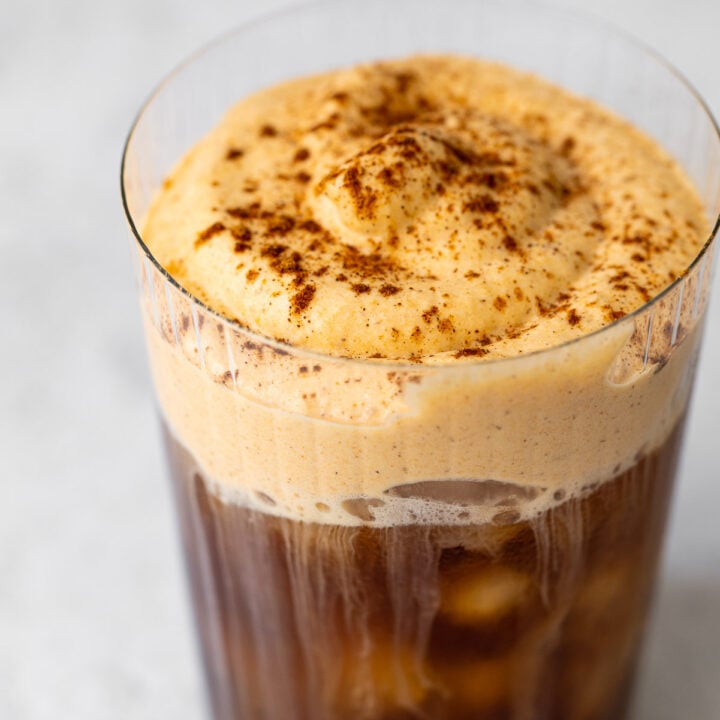 Pumpkin Cream Cold Foam (Starbucks Dupe)
Upgrade your coffee with this Pumpkin Cream Cold Foam that you can make right at home! It's the best creamy Starbucks dupe and super easy to make with only a few items. It's the perfect way to celebrate pumpkin season and use up leftover canned pumpkin puree.
Print
Pin
Rate
Ingredients
Pumpkin Cream Cold Foam (1-2 servings)
Instructions
In a medium sized mixing bowl or mason jar, pour in the non-fat milk, heavy cream, vanilla extract, and sweetened condensed milk. Using a whisk or electric whisk, whip the mixture until it has large bubbles, and then becomes thick and smooth.

Add the pumpkin puree, pumpkin spice, and a pinch of salt into the bowl or mason jar. Optionally, add more sugar per taste and orange food coloring if desired. Continue to whip until fully combined and the foam has thickened, just before it forms soft peaks.

Fill a cup with ice and pour in 8 ounces of cold brew. Add a pump of vanilla syrup.

Slowly pour or spoon in the pumpkin cream cold foam over the cold brew. Sprinkle additional pumpkin spice over the cold foam and enjoy!

Troubleshooting: If the mixture isn't getting thick and frothy, it's likely that the heavy cream got a little too warm or the tool isn't strong enough to add air. Put the mixture back in the fridge and try again once it chills. Alternatively, add 1-2 tablespoons of additional chilled heavy cream.
Notes
WHICH COFFEE TO USE
The best coffee to use is cold brew, but espresso or fresh brewed coffee over ice work as well
STORAGE
Store additional pumpkin cream cold foam in the fridge for up to 4 days. Rewhip with a whisk when ready to use, if necessary.
TOOLS FOR WHIPPING
Use any household item to whip the milk, i.e. frother, aeroccino, food processor, whisk, coffee press, blender, electric mixer.
If you're using a Nespresso Aeroccino, mix all of the ingredients in a mason jar or bowl first, then pour it into the Aeroccino, up to the max line or with the desired amount. Turn it on the cold foam setting (press down and hold).
Nutrition
Serving:
1
serving
|
Calories:
172
kcal
|
Carbohydrates:
28
g
|
Protein:
7
g
|
Fat:
4
g
|
Saturated Fat:
2
g
|
Polyunsaturated Fat:
1
g
|
Monounsaturated Fat:
1
g
|
Cholesterol:
15
mg
|
Sodium:
107
mg
|
Potassium:
440
mg
|
Fiber:
1
g
|
Sugar:
27
g
|
Vitamin A:
2669
IU
|
Vitamin C:
2
mg
|
Calcium:
260
mg
|
Iron:
1
mg
*Note: The video skips showing the addition of heavy cream in with the milk, vanilla extract, and sweetened condensed milk. However, it does make it in there.