Making the switch to DIYing your Starbucks coffee order at home to save some $$$? Here's a quick guide on how to make the Starbucks Cold Foam in just 2 minutes with 2 ingredients - perfect for any iced coffee or cold brew.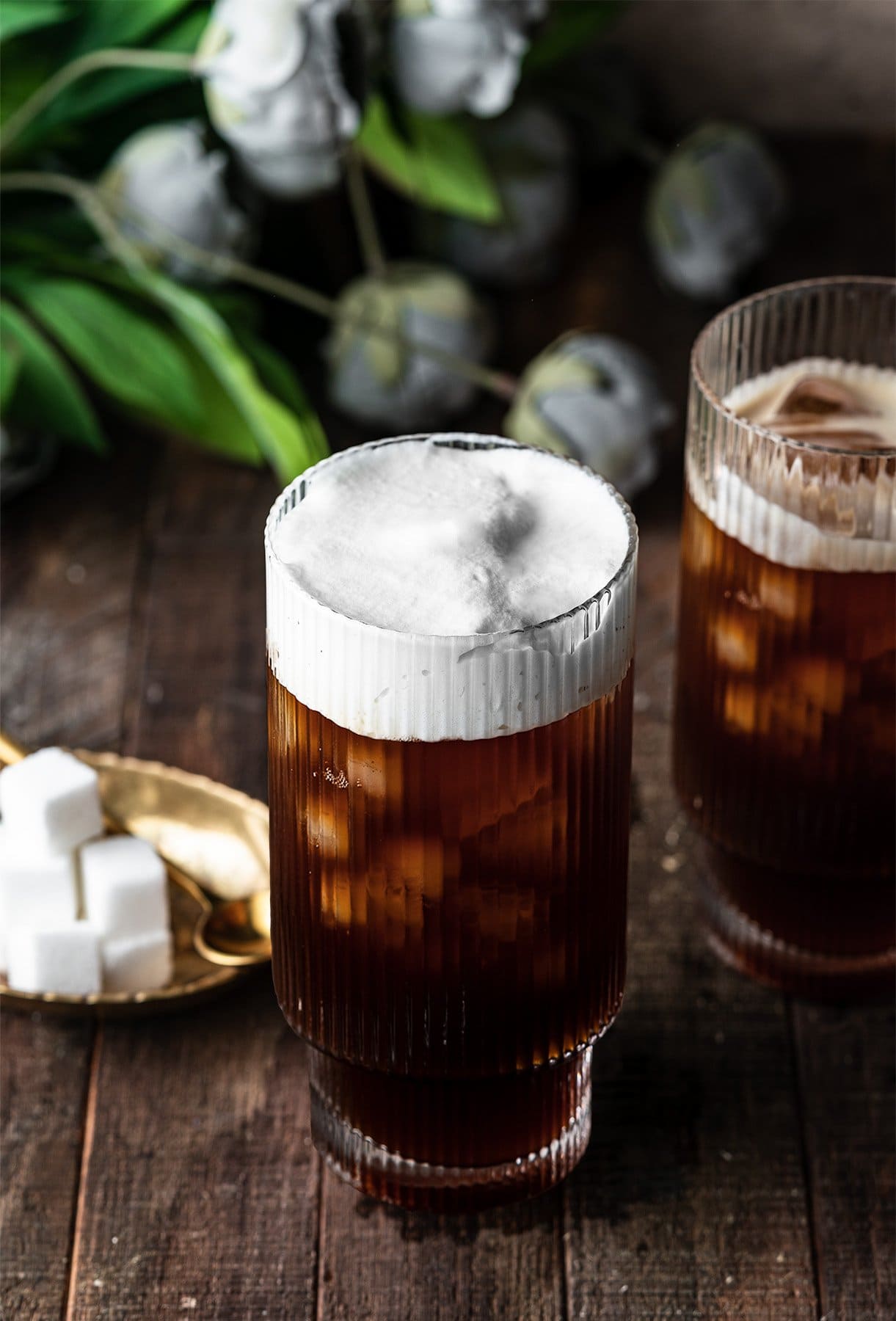 I don't know about you, but I literally cannot have an iced coffee without cold foam anymore. It's an addiction at this point and my mornings are incomplete without it.
Enter: the Starbucks Cold Foam! It was released nationwide in 2018 which arguably popularized cold foam in the United States in the recent years. It's spun off into creamy chilled foams as well, such as the Vanilla Sweet Cream Cold Foam and it's popular seasonal version Pumpkin Cream Cold Foam.
Cold Foam is made with just 2 ingredients - skim milk and vanilla syrup. You can add your preferred syrup here, a caramel or brown sugar syrup perhaps? This topping is generally low in calorie and makes a great addition to iced drinks.
You'll be shocked by how easy it is to make at home. No need to pay for an upgrade at Starbucks! It takes, honestly, not even 2 minutes. You just need an electric frother, but I'll provide you with a few other options to make the foam without one.
Jump to:
What is Cold Foam?
Starbucks serves a luscious cold foam - a chilled foamy dairy-based topping layered on top of it's cold brews. It's made with a non-fat milk and vanilla syrup which is then whipped in special high speed blenders until creamy and frothy. The bit of cold brew and cold foam makes for the perfect sip with their strawless lids.
If you've joined the trend of whipping milk until frothy for your coffee, you make a regular foam that is comparable to the steamed milk seen in hot drinks like lattes and cappuccinos. For cold drinks, the hot foam simply dissipates which is where the cold foam comes in.
Cold Foam was released by Starbucks in 2014 at its Starbucks Reserve Roastery in Seattle. It has especially become popular for those who love to brew their own coffees at home.
Something to note here is that cold foam is not the same as whipped cream. Cold Foam does not contain any cream, it's simply milk and a flavored sweetener like vanilla syrup. The Starbucks vanilla sweet cream is made to whip into a sweet cream cold foam similar to a homemade whipped cream.
Ingredients - Notes and Substitutions
Starbucks lists its ingredients for Cold Brew with Cold Foam as: Ice, Brewed Coffee, Cold Foam [Milk, Vanilla Syrup (Sugar, Water, Natural Flavors, Potassium Sorbate, Citric Acid)]. For this dupe, we use the exact same ingredients!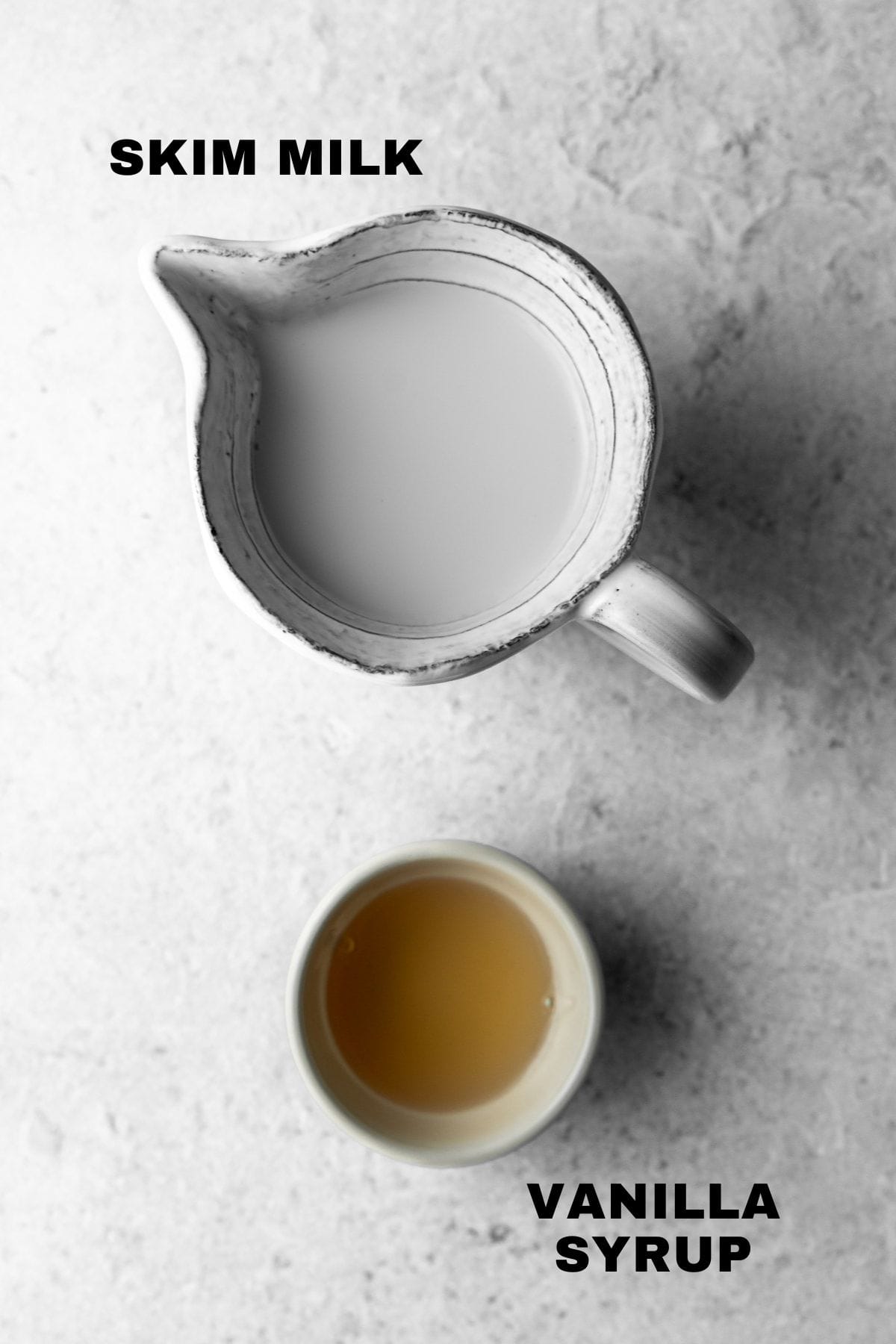 Milk - Use the milk of your choice, whether it's plant based or not, but skim milk froths the absolute best. This is because it has a larger percentage of protein compared to other milks, so it has a sturdy structure that keeps it sitting at the top of your cold brew.
I also tried Lactaid and whole milk and didn't get the same results as using a non-fat milk. The milk should be cold to start.
Vanilla Syrup - Use any bottled brand of vanilla syrup, i.e. Starbucks, Torani, Monin, etc. It's also really easy to make vanilla syrup at home with vanilla extract, sugar, and water. For this recipe, mix 1 teaspoon of both sugar and hot water and a dash of high quality vanilla extract.
Coffee - Of course, you'll also need your favorite coffee. I recommend using your favorite store-bought or homemade cold brew concentrate. The cold foam will work with any iced drink!
How to Make Starbucks Cold Foam
You won't believe how easy it is to make Cold Foam at home! It genuinely takes 2 ingredients and 2 minutes of your time. You won't be paying for those upgrades at Starbucks anymore.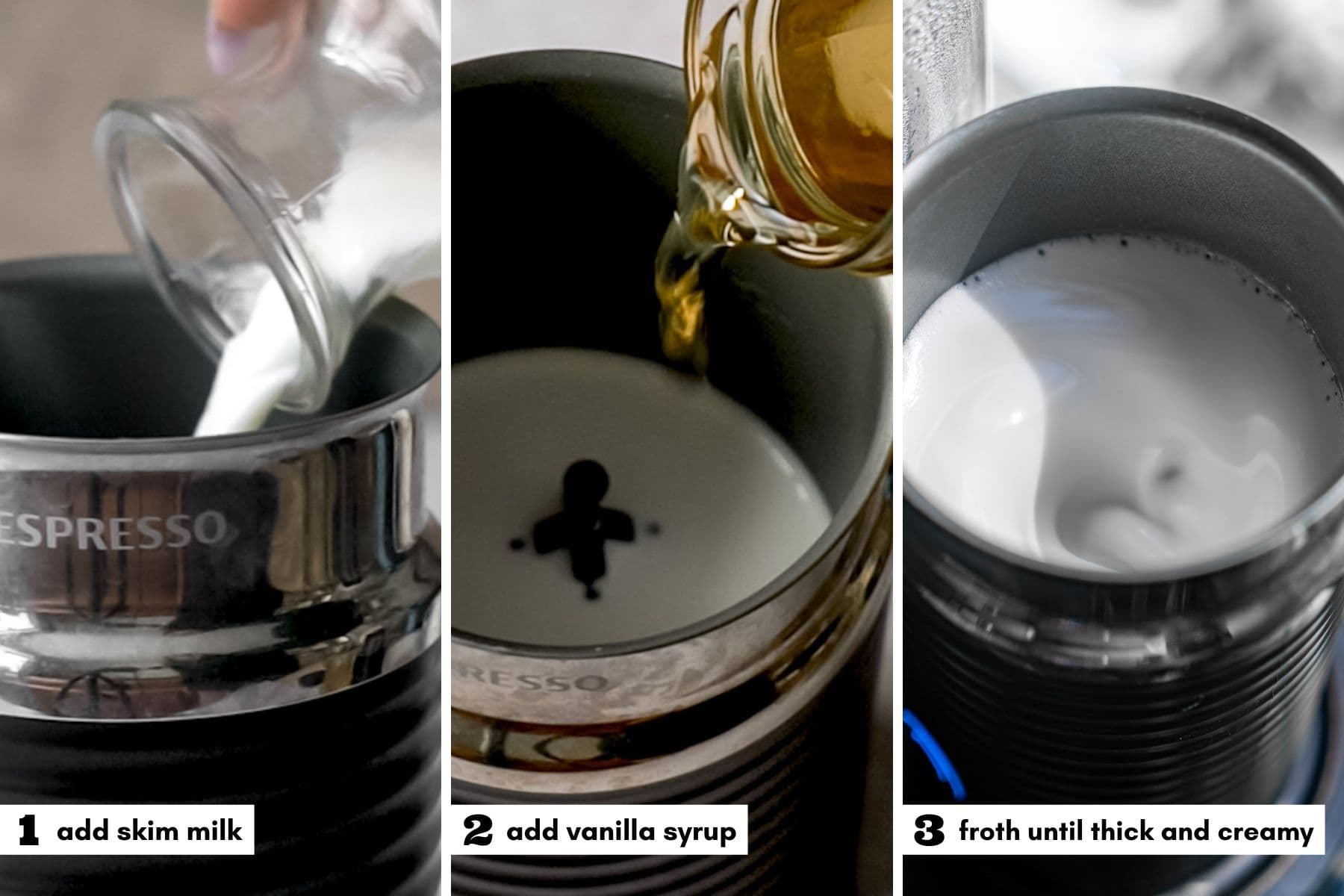 Add the skim milk and vanilla syrup into a mason jar or frother. Turn on the frother, or insert an electric frother into the mason jar.
Start with the frother at the base of the mason jar and moving in circular motions. As it starts to get thicker and double in volume, start to bring your frother closer and closer to the surface.
Turn the frother off once the milk is thick, creamy, and frothy. Carefully remove it from the mason jar. The cold foam is ready to spoon or pour over any iced coffee or cold brew.
Tips and Tricks
You don't have to make Cold Foam with an electric frother. Here are some other methods:
Frequently Asked Questions
Can I use other sweeteners?
You don't have to use vanilla syrup for cold foam. You can use any syrup you'd like, and even honey or maple!
What's the best kind of coffee to use with cold foam?
Always use a cold coffee with cold foam. I recommend cold brew or icing any freshly brewed coffee beforehand. It's also delicious with Chai Concentrate.
My cold foam didn't get super frothy! What did I do wrong?
I tried several different types of milk with cold foam, none of them compare to using skim milk! Skim milk has more protein and can therefore hold a bubbly structure better.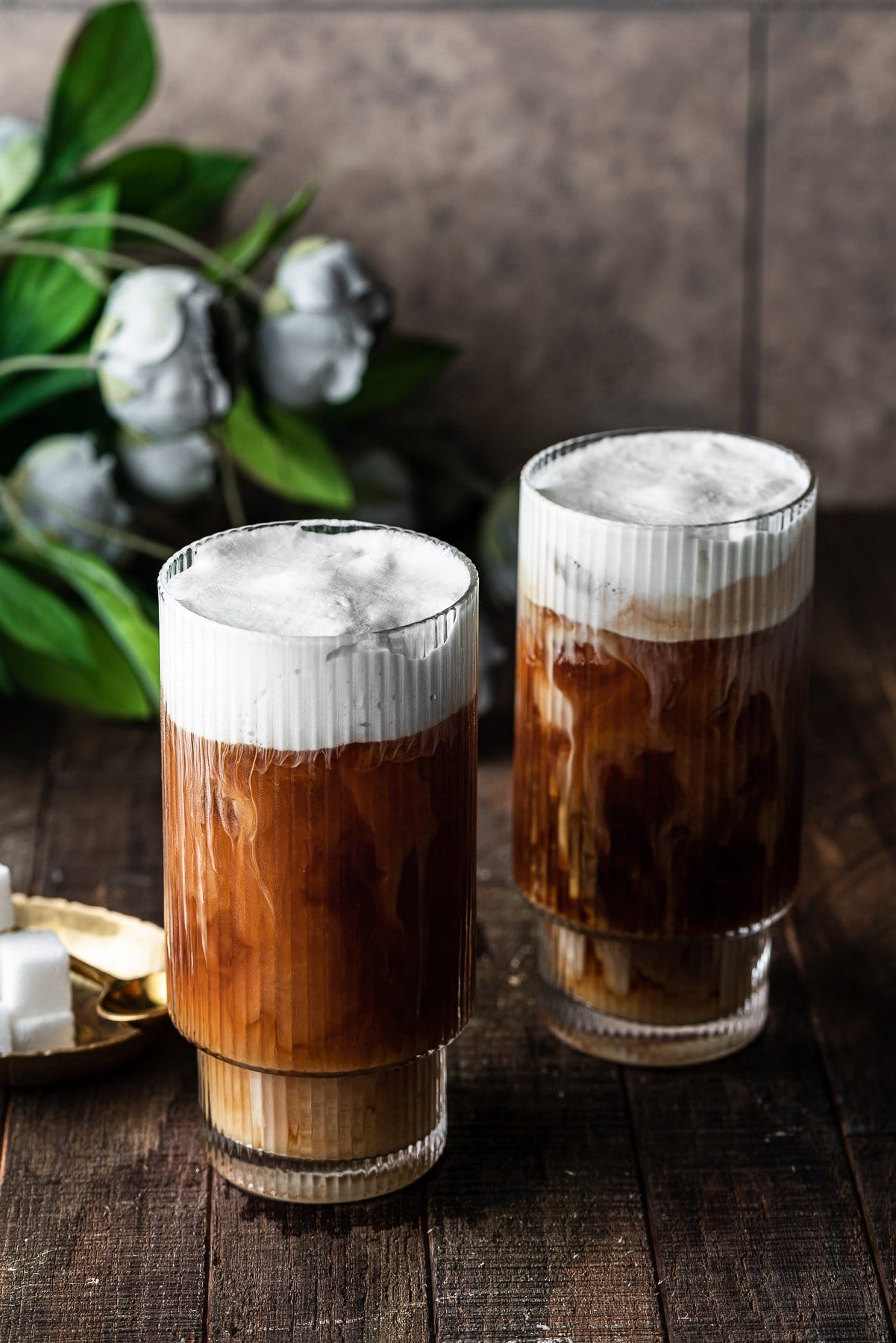 More Starbucks Copycat Recipes
Recipe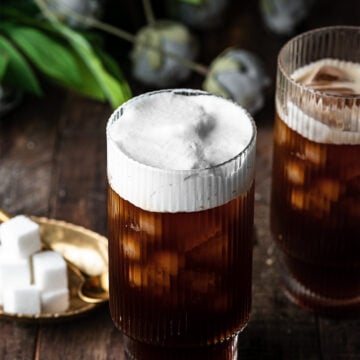 Cold Foam
Making the switch to DIYing your Starbucks coffee order at home to save some $$$? Here's a quick guide on how to make the Starbucks Cold Foam in just 2 minutes with 2 ingredients - perfect for any iced coffee or cold brew.
Print
Pin
Rate
Instructions
Add skim milk and vanilla syrup into a mason jar. Insert the electric frother into the mixture, close to the base of the mason jar.

Whisk the mixture for 1-2 minutes in circles. The milk will double in volume. Start to pull the frother towards the top of the froth. It'll be thick and creamy when done.

Pour the cold brew over ice in a tall glass. Spoon or pour the cold foam over the top.
Notes
You don't have to make Cold Foam with an electric frother. Here are some other methods:
Nutrition
Serving:
1
serving
|
Calories:
50
kcal
|
Carbohydrates:
10
g
|
Protein:
2
g
|
Fat:
0.1
g
|
Saturated Fat:
0.03
g
|
Monounsaturated Fat:
0.04
g
|
Cholesterol:
2
mg
|
Sodium:
35
mg
|
Potassium:
220
mg
|
Sugar:
10
g
|
Vitamin A:
125
IU
|
Calcium:
87
mg
|
Iron:
0.4
mg