A delicious dupe of the Starbucks Iced Brown Sugar Oatmilk Shaken Espresso recipe - this cold coffee with a sweet brown sugar syrup and tinge of cinnamon is not overly sweet but packs in a lot of flavor, caffeine, and comfort to boost your day.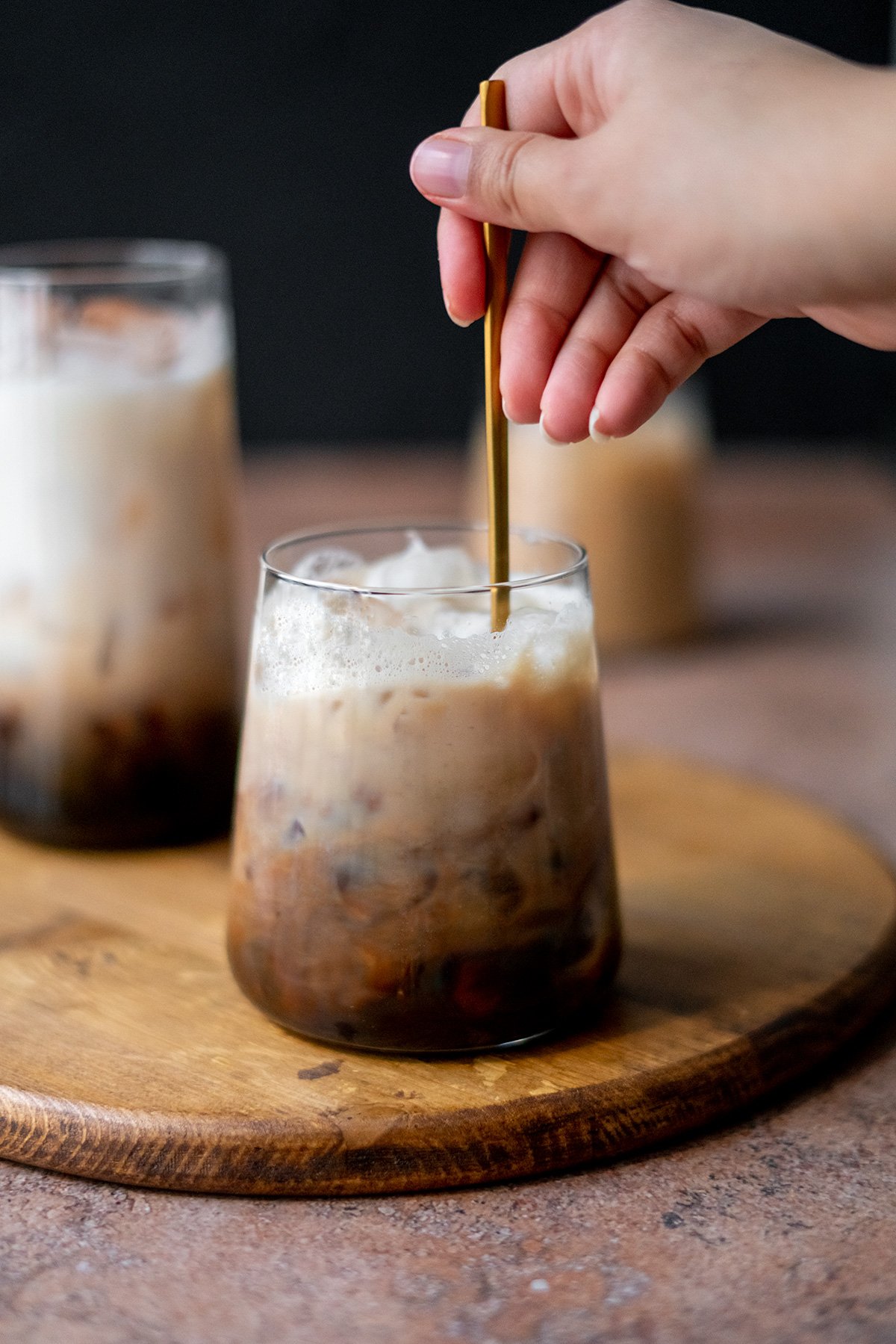 I hate to say it... but I'm once again underwhelmed by yet another Starbucks drink. The Iced Brown Sugar Shaken Espresso is a new addition to the Starbucks line up (as of March 2021) as an expansion into the non-dairy drink space. It's made with Starbucks Blonde Espresso which is shaken with brown sugar syrup, cinnamon, and ice and then topped with oat milk.
Jump to:
To be honest, Starbucks coffee tastes like burnt espresso to me. I probably haven't had Starbucks since October 2018. BUT TIK TOK MADE ME THINK IT WOULD BE WORTH TRYING!!
This drink works because the brown sugar with the cinnamon are warm and comforting, reminding me of fall flavors. But it's so good iced when shaken with the espresso!
Because of Tik Tok
This is somewhat of a Tik Tok Starbucks drink - usually I see insane combinations of drinks that someone orders, tries on camera, and then recommends to everyone. Then, I'll see everyone post their reactions to that combo. Well, I woke up on a Friday morning to an influx of videos on my FYP (for you page) raving about the Iced Brown Sugar Shaken Espresso and even more complaining about the price. Also, a few funny ones by unhappy baristas that were tired of shaking the drink.
The drink cost me a whopping $6.50 for a grande at Starbucks in Manhattan. This is not a normal price to pay for coffee?? Why have we normalized this? I saw a Tik Toker who figured out how to get the drink for half the price (watch here)... and another one who said the drink was sold out at their nearest location but ordered a custom drink with all the same ingredients.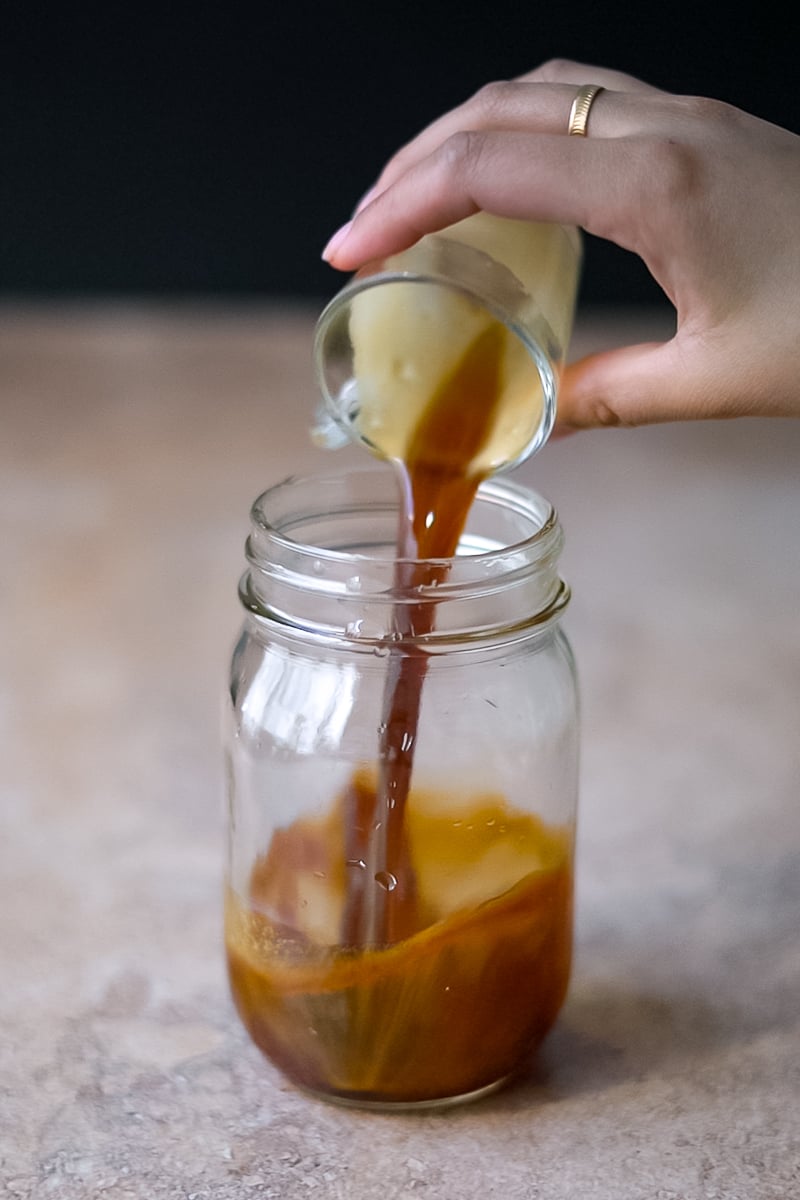 I finally decided to make my own... But first, I had to try it to see what the hype was about. I sauntered across the street in my pajamas to the nearest Starbucks thinking it was going to be the first drink I like at Starbucks in years. Maybe it was a play on the brown sugar bubble tea that's been trending for the past year or so? I walked home, eyes cast shamefully downwards as I complained to my doorman about how cold I was. All with an iced coffee in hand. I ripped off my mask as soon as I stepped in my apartment and took a sip.
Disappointment.
What am I missing here that I don't see the Starbucks hype? Am I missing some gene, just like how there are psychopaths out there that don't like cilantro?
What is Iced Shaken Espresso?
Think of iced shaken espresso like shaking a cocktail, but with no alcohol.
In this case, the homemade brown sugar simple syrup is shaken with the shots of freshly brewed espresso first to allow the brown sugar to blend in properly as opposed to stirring it. It's then shaken with ice to cool the coffee. As a bonus, it gets a little frothy at the top!
Starbucks says the benefit to shaking the espresso with the brown sugar "adds another dimension to the beverage", "creates a rich texture on your palate – by just adding air", and "mellows" it.
You don't need a cocktail shaker for this! You can use anything with a lid on it like a mason jar.
How to make Brown Sugar Syrup
Simple syrup is easily made at home by mixing a 1:1 ratio of hot water to sugar so that the sugar dissolves into beverages. The syrup is frequently used in cocktails and iced coffees instead of plain granulated sugar, which results in a grainy texture. The liquid form of sugar blends better to sweeten drinks!
To make the brown sugar syrup, it's the same case of equal amounts of brown sugar and water, which is then infused with cinnamon. It's simmered until the syrup thickens and almost tastes like caramel.
You can use a cinnamon stick instead of ground cinnamon, but the longer you leave it the stronger the flavor will be.
Making your own is better - Tips and Tricks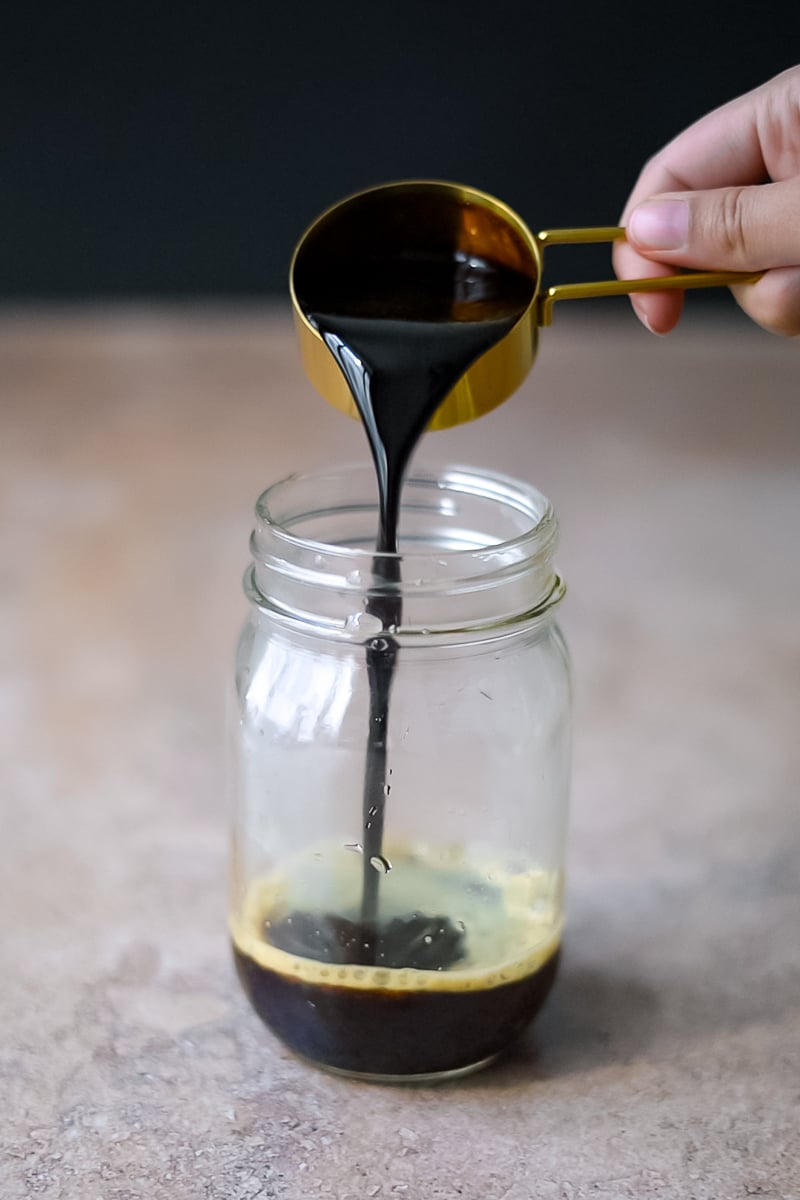 Look at that thicc brown sugar syrup!
If you're like me, you're either not a fan of Starbucks espresso or you refuse to pay the outrageous price for a coffee. I swear on my life that making it at home is so much better!!
I used my favorite Nespresso pod to improve on the flavor of burnt Starbucks espresso. Use your favorite coffee!
Freshly ground cinnamon was also a key ingredient, but you can use pre-ground. It blooms nicely when directly infused into the brown sugar syrup.
I actually used jaggery instead of plain brown sugar for this! I thought it was so so delicious - I recommend trying it if you have some on you! It helps that you can control how much sugar you're adding.
The ingredients for the brown sugar syrup on Starbucks' site mentions a flavor extract, so I used a bit of vanilla extract.
Shake it vigorously for a minute or two in a mason jar while the espresso is still warm so that the brown sugar melts into the coffee. Add a few ice cubes and shake again before pouring it over ice.
Use your favorite brand/type of milk!
Add a little sprinkle of cinnamon on the top, or some Vanilla Sweet Cream Cold Foam.
Which Milk to use
All the articles I read online highly recommended to get the drink with Oatly - a popular oat milk brand. That's exactly what I did when I went to Starbucks - convenient since I'm lactose intolerant - and it just tasted like regular ol' burnt espresso to me.
I do agree with using oat milk for this particular drink. At home I tried it with my lactose free milk, as well as oat milk and almond milk. Overall, I preferred oat milk and I'm not usually the biggest fan of oat milk.
Frequently Asked Questions
What's the best milk to use for shaken espresso?
This is ultimately up to you, but I recommend oat milk.
What if I don't have espresso or an espresso maker?
If you don't have a stovetop or an automatic machine, you can also use instant espresso or a very strong cup of freshly brewed coffee.
How many ounces are in a shot of espresso?
A single shot of espresso is one ounce.
How many ounces is a pump of Starbucks syrup?
It varies but it's about half an ounce or 1 tablespoon.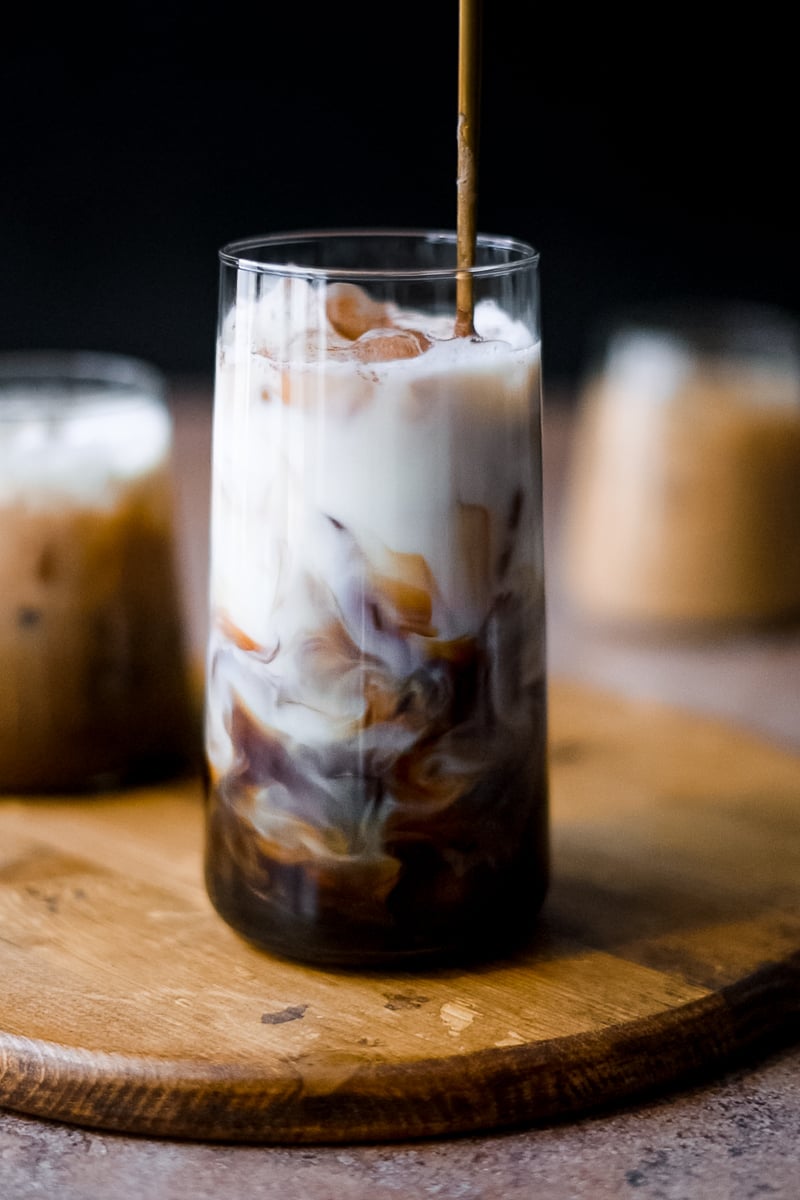 If you love the cups in these photos, here are the links to the short glass and the tall glass from CB2.
More Starbucks Copycat Recipes to try
If you love all things Starbucks, try these dupes!
Recipe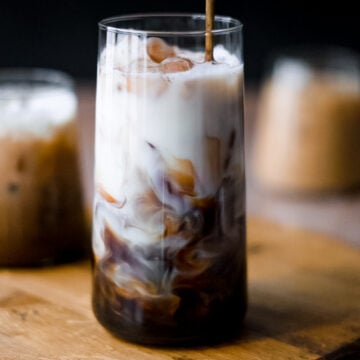 Iced Brown Sugar Shaken Espresso
A delicious dupe of the Starbucks Iced Brown Sugar Shaken Espresso - this cold coffee with a sweet brown sugar syrup and tinge of cinnamon will keep you cool throughout the day.
Print
Pin
Rate
Ingredients
Coffee
2

espresso shots

½

cup

milk

,

of choice

1

cup

ice
Instructions
In a small sauce pan, add the ingredients for the brown sugar syrup on a medium to low heat. Allow the syrup to come to a simmer, mixing with a whisk every 30 or so seconds. Continue simmering for 5 minutes until the syrup thickens so that it covers the back of a spoon. Remove from heat.

Pour in the espresso shots while warm and brown sugar syrup into a mason jar or cocktail shaker. Shake for a minute until it is foamy on the top. Add in a few cubes of ice and continue shaking for another minute.

Fill two glasses half way with ice. Pour in half of the coffee and brown sugar syrup mixture in one glass, and half in the other. Top off with the milk of your choice and a sprinkle of cinnamon.
Notes
Use oatmilk for a dairy-free version.
Use a cinnamon stick in the brown sugar syrup instead of ground cinnamon. 
Nutrition
Calories:
114
kcal
|
Carbohydrates:
27
g
|
Protein:
1
g
|
Fat:
1
g
|
Sodium:
42
mg
|
Potassium:
60
mg
|
Fiber:
1
g
|
Sugar:
25
g
|
Vitamin A:
124
IU
|
Vitamin C:
1
mg
|
Calcium:
111
mg
|
Iron:
1
mg