A deliciously sweet, Kahlúa-style, chai liqueur made with rum, sugar, black tea, and chai spices that's perfect for cocktails and a Chai White Russian.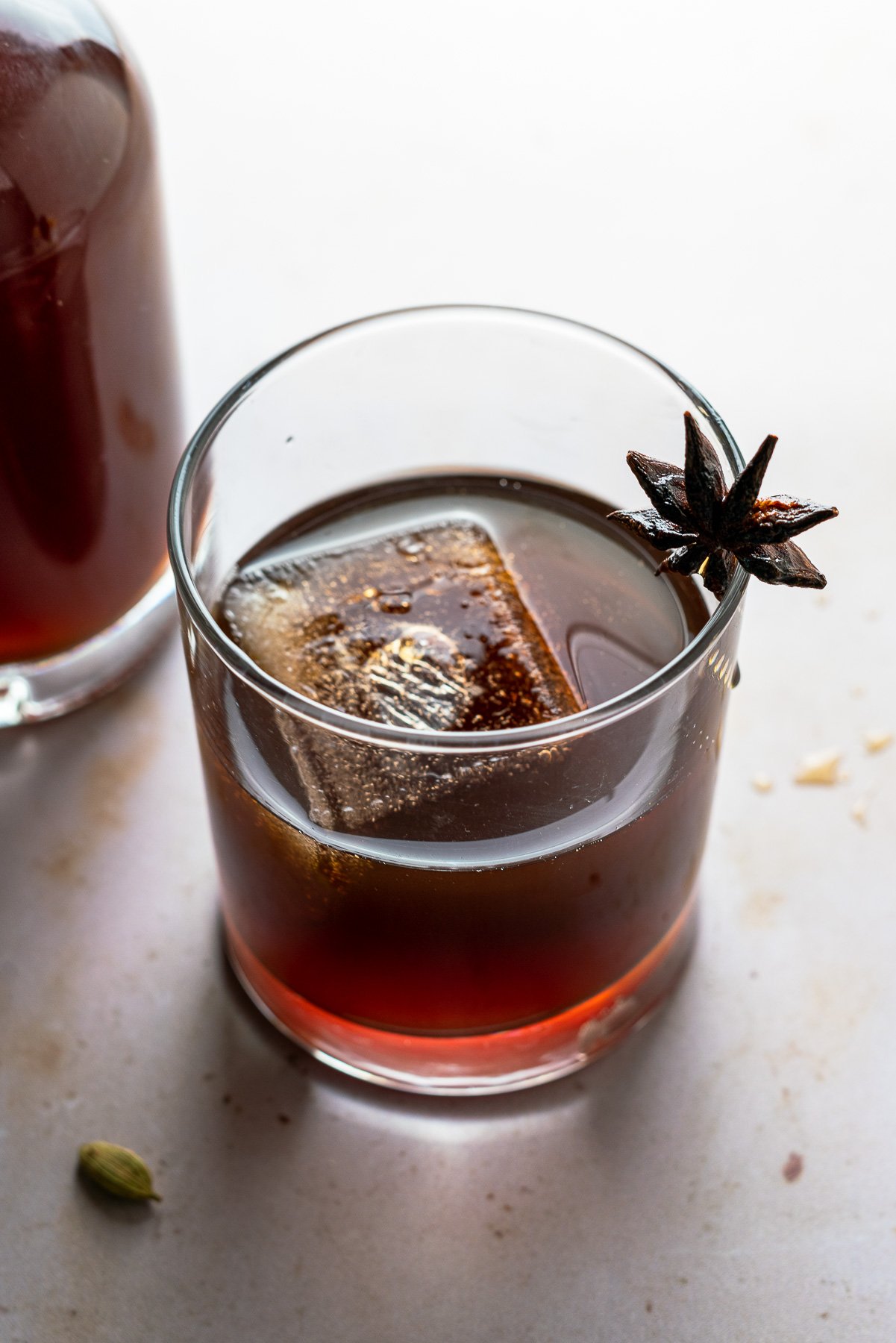 Jump to:
As a huge chai lover (obviously), I was racking my head for chai-based cocktails when I was like helloooooo, Kahlúa-style chai liqueur!! Kahlua is a super sweet coffee liqueur that's one of my favorites for cocktails. It perfectly translates over to masala chai.
It's been a HIT so far and it only takes half an hour to put together. The outcome is a spicy, fragrant, sweet chai liqueur that's great to drink alone or in a cocktail. This would be such a cute handmade holiday gift for family members and friends.
What is Chai Liqueur
Chai liqueur is a sweetened black tea with chai spices and rum. It's inspired by Kahlúa, which is a sweet coffee liqueur. It's surprisingly way too easy to make! All it requires is boiling some tea with spices and you're ready to go. The best part is that it's completely customizable to your taste!
Tips and Tricks
This recipe has the potential to vary depending on how you make the masala chai, which alcohol you use, and ultimately your flavor preferences.
Getting the Perfect Chai
The Tea
First, let's talk about the kind of tea you use. You're going to want to use plain, black tea. This means no earl grey or anything of the sorts with additives. The brand of tea you use also matters. For the recipe, I based it off of Tetley British Blend tea bags which is a Kenyan and Assam blend and the brand my father usually goes with. I used five of them for four cups of water to make a strong tea. I also really like Danedar! Pick a brand of pure black tea you know and trust!
You can also use masala chai readymade mixes! There are reputable brands like The Chai Box, Madhu Chocolate, and One Stripe Chai Co. Measure out the instructed amount for 4-5 cups of tea and omit the spices in the recipe, unless you'd like to add more.
Check out this Masala Chai for more information!
I made Chai Liqueur labels for you for easy labeling!! These are super cute for gifting or if you're planning on storing a few. Download them and print them on Avery Round Labels (22856).
The Spices
Next, let's talk spices. It's always better to use the highest quality spices you can find that are single-origin. I would never buy cardamom pods from McCormick for example. Some brands to check out would be Diaspora Co or Burlap & Barrel, amongst many others!
You're going to use whole cardamom pods which I slightly crack open, cloves, a partial cinnamon stick, freshly cracked black pepper, and ginger (or ginger powder). Some people use nutmeg and allspice for their chai which is wild to me. Maybe it's regional. Maybe it's colonization lol. But in the end, what's important is you're making chai (without the milk!) that you like!!
The Method
Fill four mugs full of water (or measure out 4 cups) and pour it into a large pot. Bring the water to a boil and then add the tea bags. Leave on boil for about a minute, and then bring it down to a simmer and add the spices. Allow the spices and tea to simmer on low for 20 minutes, stirring every now and then. Taste for strength of spices and tea, and add more if necessary. Take the pot off of heat and add in the sugar. Stir the tea until the sugar has fully dissolved. Allow the tea to cool before adding the alcohol and straining into a bottle.
I essentially make chai exactly as I would for 4-5 people! I just omit the milk and add an absurd amount of sugar.
Choosing the right Alcohol
I tested the chai with Our New York Vodka, Bacardi Rum, and Bacardi Spiced Rum. I think all of them work depending on what you're looking for.
The vodka lets the flavor of the tea and spices shine through, but it didn't cut all the sugar so it's sweet to the point where you may pucker up if you don't have a sweet tooth. It's also dangerously delicious. I would add about 3 cups of vodka to the chai and but pay attention to the alcohol content you're adding. Make some calculations and jot it down on the label for reference.
The rum unsurprisingly gave that Kahlua-style taste to the chai liqueur which is really strong (well for me it is). I would also add about three cups of rum to the chai.
The homie at my local liquor shop really insisted on trying spiced rum. I was super hesitant to even give this a shot, because I didn't want it to overpower the chai spices. If you use spiced rum, make sure you take a look at which spices are used. If it's really strong, I'd stray away from it because it'll dilute the spices you worked so hard to steep. 2 cups is more than enough.
You can also use Everclear. I'd recommend the 190 proof if you're able to find it. However, it is illegal in many states so check this beforehand. It really lets the chai shine through but it's not necessary. The best substitute is vodka.
Frequently Asked Questions
Does the chai liqueur have caffeine?
If your black tea bags are caffeinated, then yes. You can also use decaffeinated black tea bags for this recipe.
How do I store the liqueur?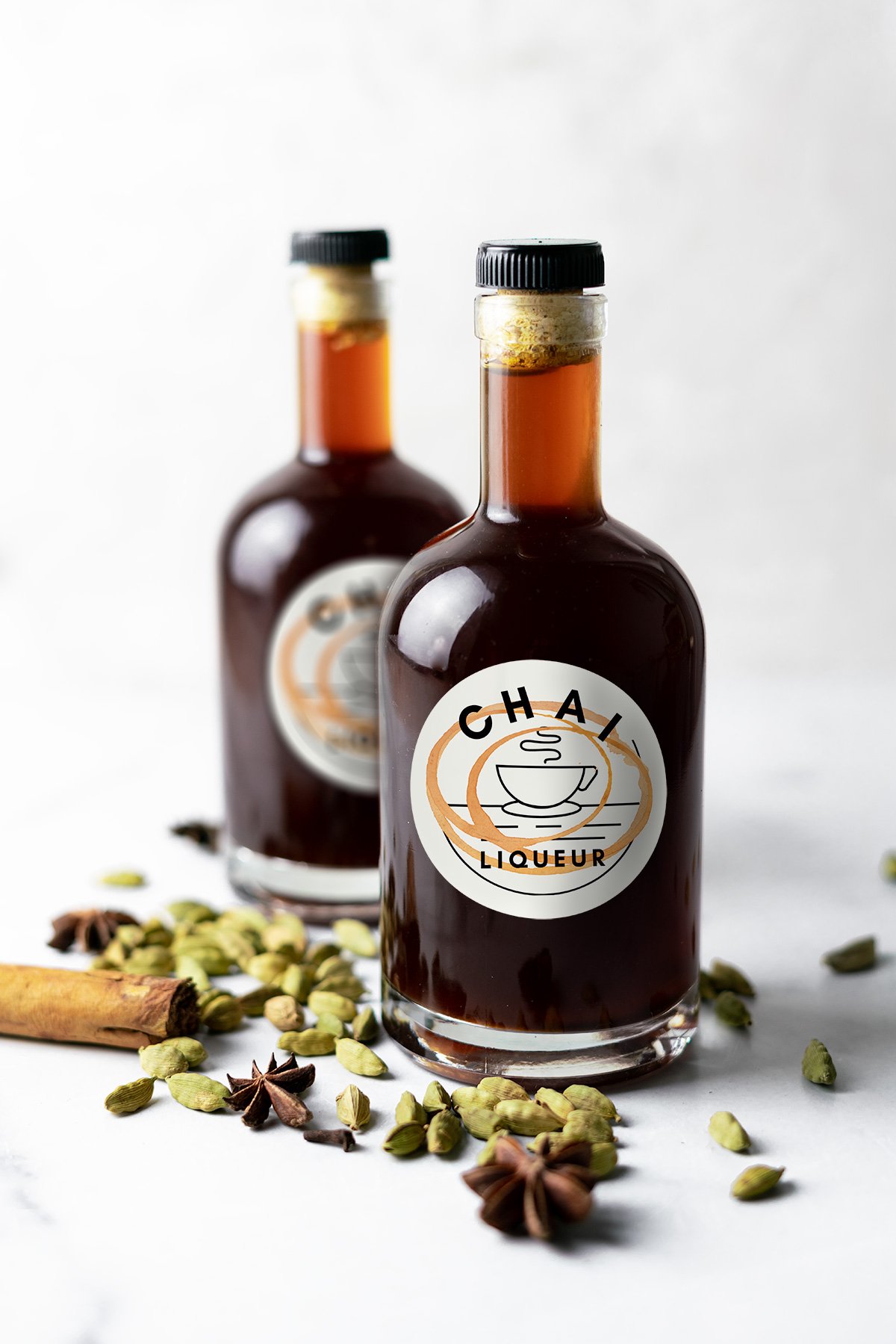 This mostly depends on the alcohol you use. Alcohol and sugar is a pretty decent preservative, but you'd need a high proof alcohol to prevent microbial growth. In general, keep the liqueur in a sanitized liquor bottle out of sunlight and it can last years which makes it an amazing gift.

If you're planning to use it soon, keep it in the fridge to chill before adding to cocktails.
Why so much sugar?
Kahlúa is crazy sweet! It has 33g of sugar per serving, which is 2.5 fluid ounces.
The recipe originally was 4 cups of sugar, and that was too much for a big sweet tooth like me. I reduced it to 3.5 cups, but that's per my taste. Please reduce it as much as you'd like!
How strong is the chai liqueur?
This totally depends on the alcohol you're using and how much of it you use, so it's hard to say.
Can I drink it straight?
Yes! Tea, spices, sugar, and alcohol? Say less! It's really great alone, but potentially a bit too sweet for some palates. It's almost like a chai syrup!
What can I mix the liqueur with?
The best way to use it is as a Chai White Russian!
If you come up with any other fun cocktails, be sure to let me know in the comments!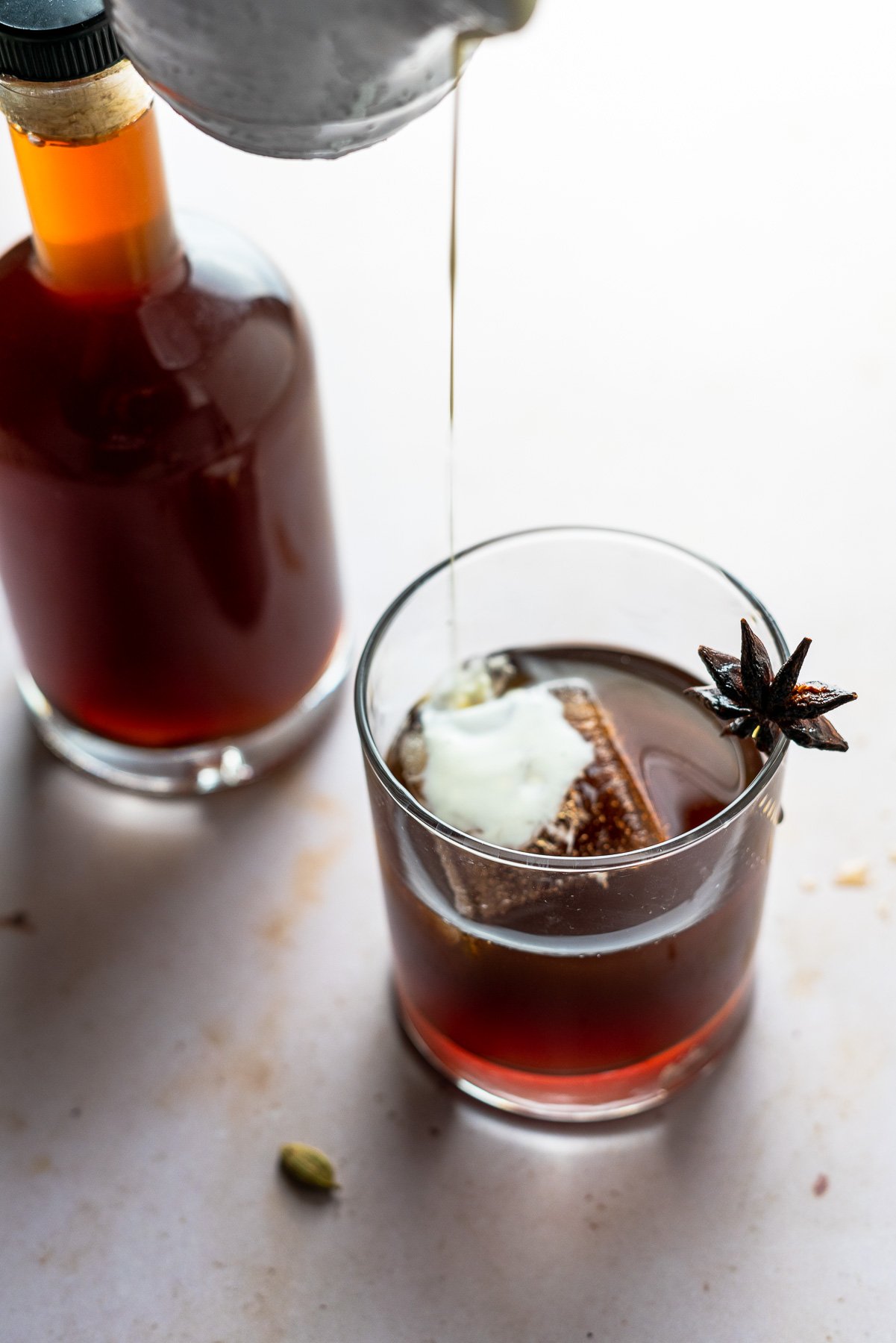 More Cocktail Recipes to try
Recipe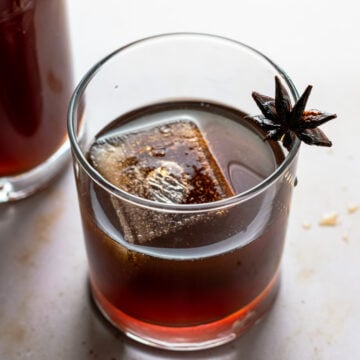 Chai Liqueur
A deliciously sweet, Kahlúa-style, chai liqueur made of rum, sugar, black tea, and chai spices that's perfect for cocktails.
Print
Rate
Ingredients
4

cups

water

5

bags

black tea

3

cups

granulated sugar

½

cup

light brown sugar

5

cardamom pods,

cracked open

8

cloves

½

teaspoon

black pepper

,

freshly cracked

¼

teaspoon

ginger powder

2

cups

rum or vodka

,

see notes
Instructions
In a large pot, boil 4 cups of water. Add the tea bags, cardamom pods, cinnamon stick, cloves, black pepper, and ginger powder. Bring the water to a simmer for 20 minutes, stirring in intervals. Add the granulated sugar and light brown sugar and remove the pot off heat. Stir until the sugar has fully dissolved.

Allow the tea to cool. Add in the rum. Strain the liqueur into sanitized liquor bottles. Slap on a label and store.
Notes
If you're using clear rum or vodka, feel free to use more than 2 cups. Calculate the alcohol content and drink safely.
For spiced rum, use a maximum 2 cups to prevent overpowering the chai spice.
For Everclear, 190 proof is the best. They may not be legal in your state, so check beforehand. Calculate the alcohol content and drink safely. Vodka is the next best substitute.
Kahlúa is VERY sweet. You can use up to 4 cups of sugar, or reduce it according to preference.
To test this recipe, I used 5 Tetley British Blend tea bags. Strength of the tea depends on the brand of black tea used.
This recipe makes 6 cups of Chai Liqueur, which is great for large gatherings or storing for later use. To reduce it, use the slider over the Serving Size.
Nutrition
Serving:
0.5
cup
|
Calories:
324
kcal
|
Carbohydrates:
60
g
|
Protein:
1
g
|
Fat:
1
g
|
Saturated Fat:
1
g
|
Sodium:
4
mg
|
Potassium:
22
mg
|
Fiber:
1
g
|
Sugar:
59
g
|
Vitamin C:
1
mg
|
Calcium:
12
mg
|
Iron:
1
mg