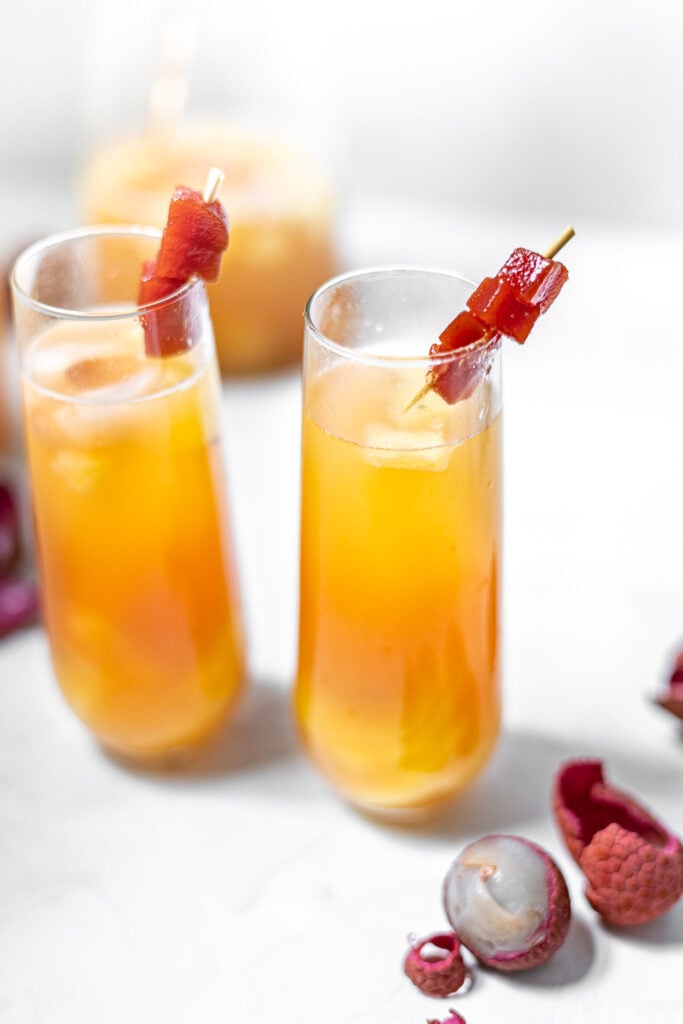 Happy Sunday! What better way to end the weekend than a tropical inspired sangria?! This gorgeous drink has a base of moscato with aaaall the guava juice and tropical things I could find before summer ends! My spring/summer obsession has been everything and anything guava and I'm definitely carrying that into the rest of the year #guavagang!
My go to choice of wine is always a moscato. Neha, my best friend, first introduced me to the Cupcake moscato a few years ago and I was HOOKED. Before that, if a server asked me for what type of wine I wanted, me, an absolute pleb when it comes to wine, would say "just give me something that tastes like juice." *face palm* It was like moscato is what I was searching for this whole time??
I could tell you about how my trip to Spain in January 2018 was life changing and I fell in love with sangria there, but you don't need that, do you?
WHAT MAKES A SANGRIA?
A majority of sangrias are made of a few components:
Wine, preferably a fruity Spanish wine that's dry
Fruit juice
Fresh fruits
Optionally, a hard liquor like brandy
Sangria originally came to the US during the World's Fair in 1964 in NYC (Source)! It has become sooo popularized in the US since then with a boom in brunch and cocktail culture that sangria has become almost unrecognizable. There are a ton of variations to what Spaniards consider "traditional" sangria (Source). Some are incredible, some not so much... Yes, there's bad sangria out there!! A good sangria to me is a sweetened dry wine that has chilled for a few hours so the fruits absorb some of the alcohol and fruit juice. I want to be able to scoop those suckers out! They're the best part!
But let's be honest, no one does it like they do it in Spain. Ooooh the THINGS I would do for a socially acceptable afternoon siesta with tapas and wine to look forward to after work.
TROPICAL SANGRIA? IN THE FALL?
Since we are now getting close to exiting summer and entering fall, I wanted to find ingredients that would be accessible as it gets colder. The Vitasoy Guava (or any guava juice) and guava passionfruit nectar are both boxed/canned so they're available year round. The nectar is key to getting a gorgeous orangey-pinkish color to your sangria.
I kept my fruit selection minimal since the juices are already sweet. I found fresh lychees while they were still in season, but canned lychees without the juice is totally acceptable. Golden kiwis are the (imo, more delicious) sister of the regular green kiwis we see and they're a bit sweeter. I didn't want to sour my sangria so these were perfect! They're in season from May - January, jackpot!!
If these aren't fruits that you vibe with, go with any tropical fruit! Think mangoes, pineapples, orange slices, etc. I'd avoid berries altogether for this one.
And there you have it! Tropical sangria! Feel free to spike it with some brandy or rum if you want to increase the alcohol percentage.
There's really nothing difficult to making this sangria. However, it does require 2 hours minimum of chilling time, so be sure to incorporate that into your planning.
Please drink responsibly!
---
NEED MORE GUAVA IN YOUR LIFE? CHECK OUT THESE RECIPES:
Print Recipe
Tropical Guava Sangria Bianca
A tropical sangria-inspired cocktail that'll transport you to a beach! It's made with all the best things - moscato, Vitasoy Guava, guava passionfruit nectar, and fruits!
Instructions
Prep the Fruit - Dice 1 golden kiwi and slice the other kiwi into circles. Peel the lychees. Slice half of the lychee and carefully remove the pit. Dice guava paste into small cubes and skewer them on to toothpicks.

Mix the Liquids - Pour the bottle of moscato, the Vitasoy Guava, and the guava passionfruit nectar into the pitcher. Stir it well.

Add in the diced kiwi, half of the sliced kiwi, and the lychees. Chill the sangria in the fridge for a minimum of 2 hours. Refrigerate the rest of the sliced kiwis and guava paste skewers.

Stir the sangria before serving. Add a slice or two of the kiwi into each glass. Strain the sangria as you pour it into a glass, and then spoon out some of the fruit. Top with a guava paste skewer.
NUTRITION
Nutrition Facts
Tropical Guava Sangria Bianca
Amount per Serving
% Daily Value*
* Percent Daily Values are based on a 2000 calorie diet.
Did you make this recipe?
Tag @masalaandchai in your post and stories on Instagram!
I'd love to know what you thought of this recipe! Leave a comment and rating below! You can also find me on Pinterest and Facebook, or stay in touch with me via my Newsletter!