Enjoy this easy nostalgic, semi-homemade Guava Cheese Pop Tarts for breakfast served with a strong cup of coffee! Pre-made pie crust is filled with guava paste, topped with a guava cheese glaze. Best enjoyed next to a pool or the ocean on a summer day!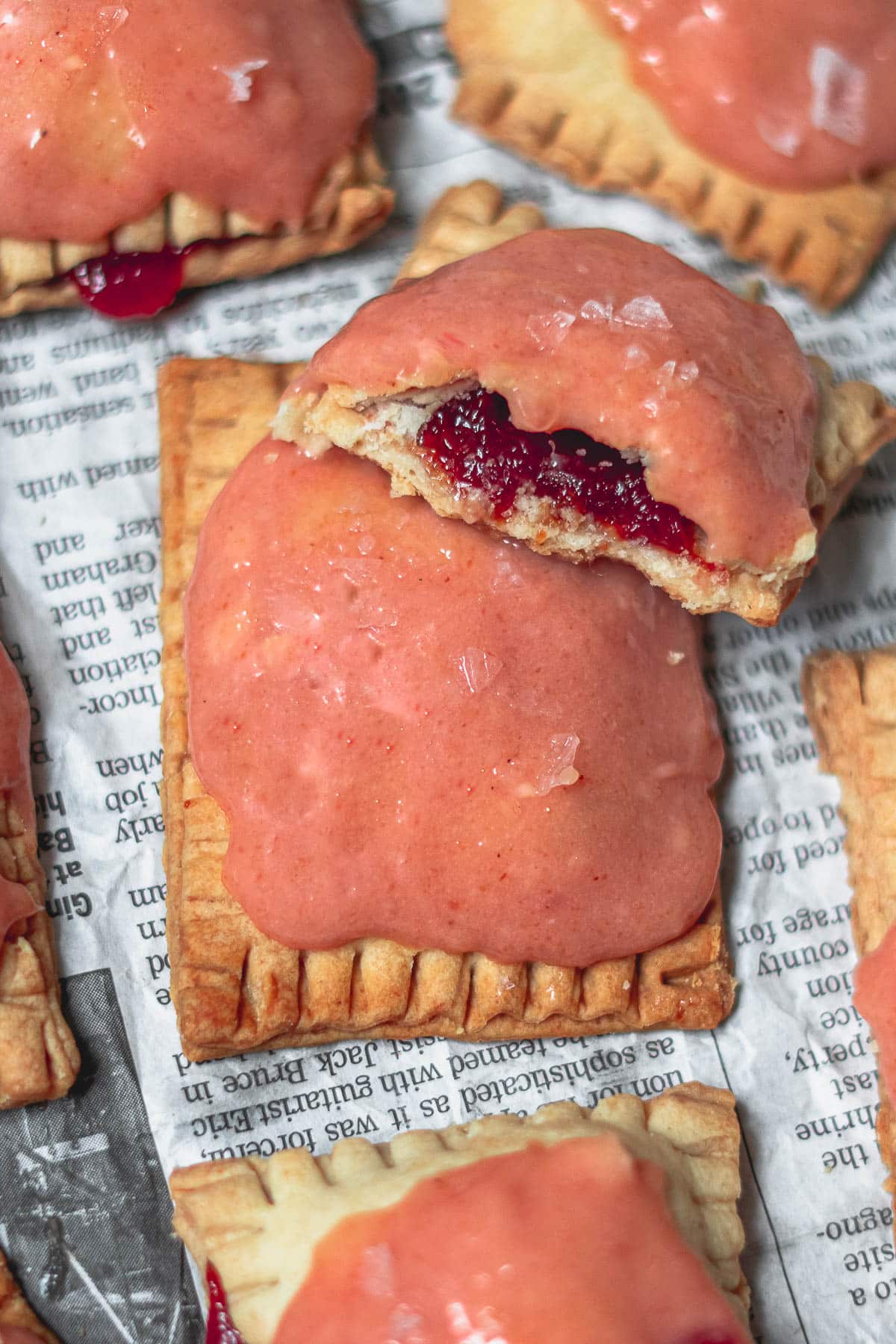 I'm huge on trying to recreate memories at home through food. I think pop tarts have to be everyone's favorite nostalgic breakfast (my favorite were the chocolate fudge!). It was only natural that I gravitated towards combining some of my favorite memories into this homemade pop tarts recipe!
These semi-homemade pop tarts are best for breakfast with freshly brewed coffee, but honestly I snack on them all day long. The guava gives me all the best tropical vibes and is available year round thanks to pre-packaged guava paste.
Jump to:
Why this Recipe Works
This recipe is so effortless and quick! You only need a total of 5 ingredients, most of which you'll already have or are easily accessible.
It's family friendly, fun to make with your kids, and a bit nostalgic! It's also the perfect breakfast treat during the summer.
What is Guava Cheese?
Guava and cheese is a popular combo of guava paste and white cheese in Florida, Caribbean countries, and Latin American countries. It's usually found in the form of a pastelito de guayaba, a flaky pastry filled with guava paste and cheese. Most recipes use a white cheese like cream cheese, mozzarella, queso fresco, or feta.
I've become obsessed with making some recipes at home in different forms! So far, I've cooked up guava cheese pancakes, buttermilk biscuits, and these poptarts. If you've had guava cheese in another form that I should try, let me know in the comments!
You can also find Guava Cream Cheese Cookies if you're loving the combo!
Five Ingredients
Making pop tarts at home only requires a whopping five ingredients! The only thing that may be a little difficult to come by is the guava paste.
Guava: Using guava paste is the best for this recipe. You can also substitute it with guava jam or make your own homemade jam if you can find guava in season.
Cheese: To honor the guava cheese combo, we're using a cream cheese for the glaze. You can also add cream cheese into the filling.
Pie crust: Pre-made pie crust dough makes this a quick and easy recipe. It can be easily found at the any grocery store! Please note you need to get the dough which may come frozen or refrigerated aisle. You can also use puff pastry, but it'll result in a different texture. You can also make your own at home.
Powdered sugar and milk: This is for making the sweet glaze that goes over the top and getting the right consistency.
How to make Homemade Pop Tarts
To simplify the process, you can buy pre-made pastry dough or pie crust depending on the texture you're looking for.
1. Roll out the pie dough and cut into rectangles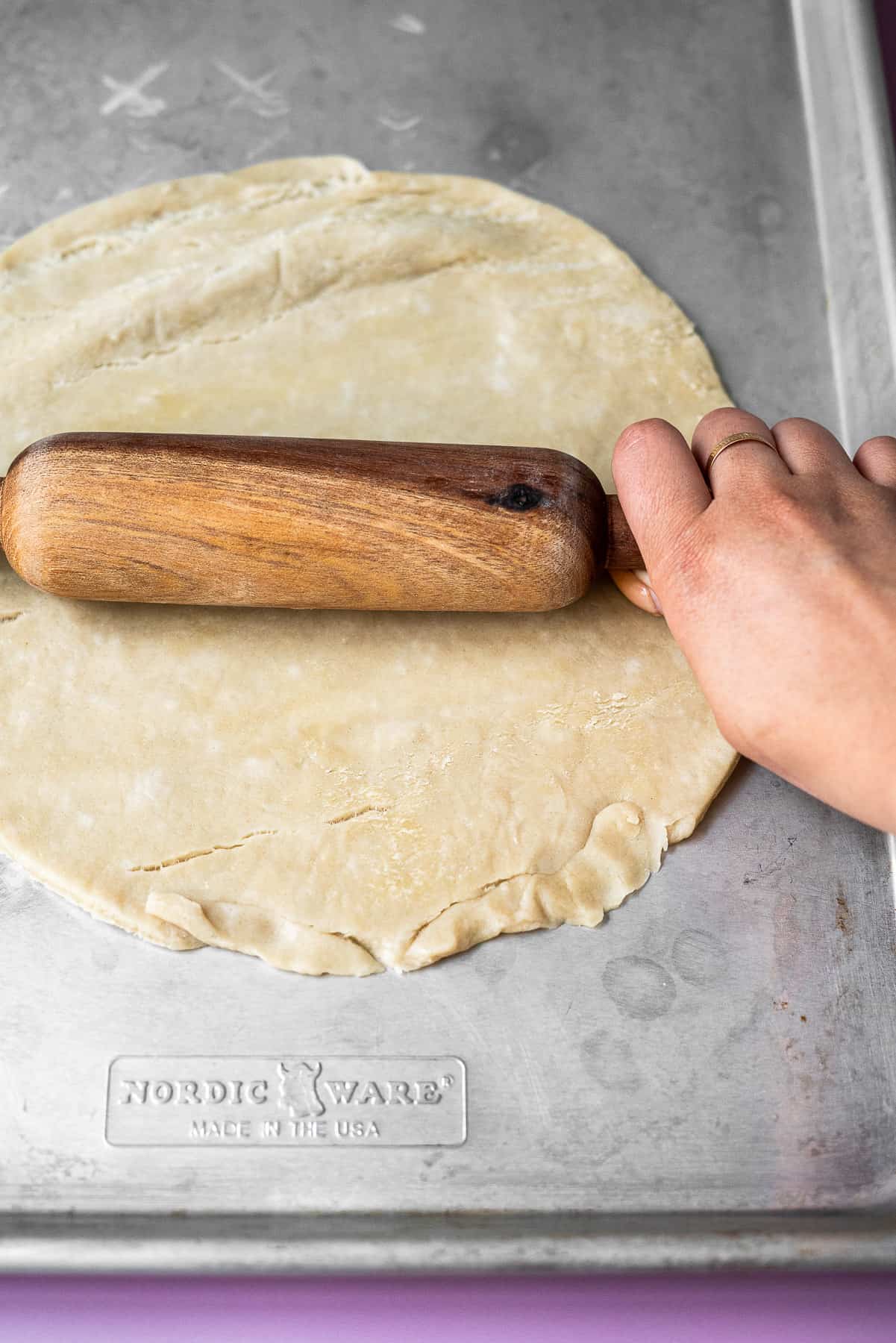 Follow the instructions on the box of the pie crust. Most of them have thawing instructions to prevent breakage. Also double check the box to see if it includes 2 sheets, or just 1 because you'll need 2. Unroll the first sheet of pie dough. Use a rolling pin to roll out the dough into a rectangle until it's ⅛ inch thin.
Use a ruler or a straight edge to cut out 6 symmetrical rectangles of the desired size to make 6 pastries. Mine are about 3 x 4.5in. Place these rectangular-cuts in a baking sheet.
Pro Tip: They don't need to be perfect! I think they're kind of ~ cute and rustic ~ when they're imperfect.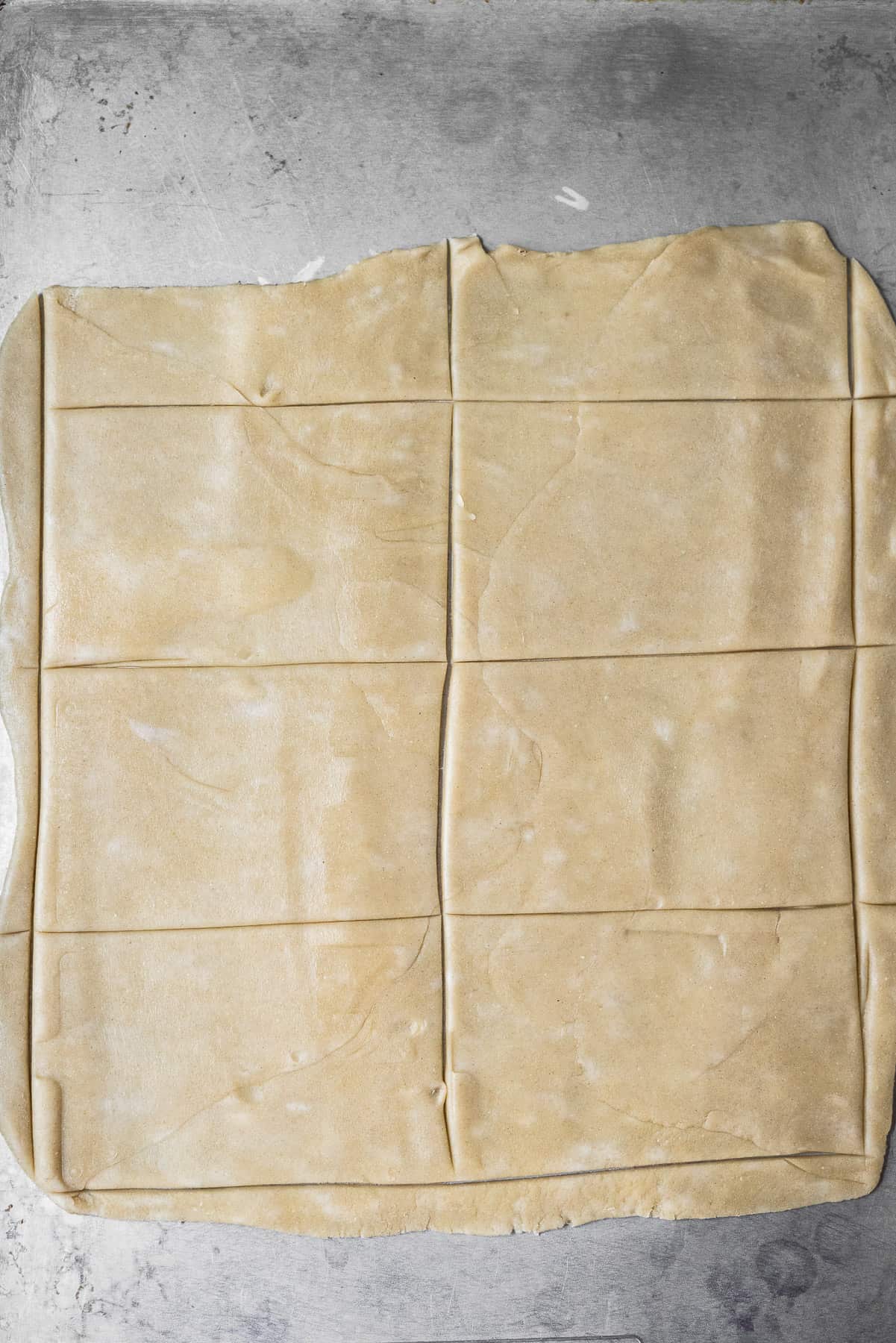 Repeat this process with the second sheet of pie crust. Set aside the second set of rectangular-cut pie crust.
Pro Tip: If you have extra pie dough, you can lightly knead the dough back together and roll it out again to make more pop tarts. Or you can save it for another project.
2. Add guava and seal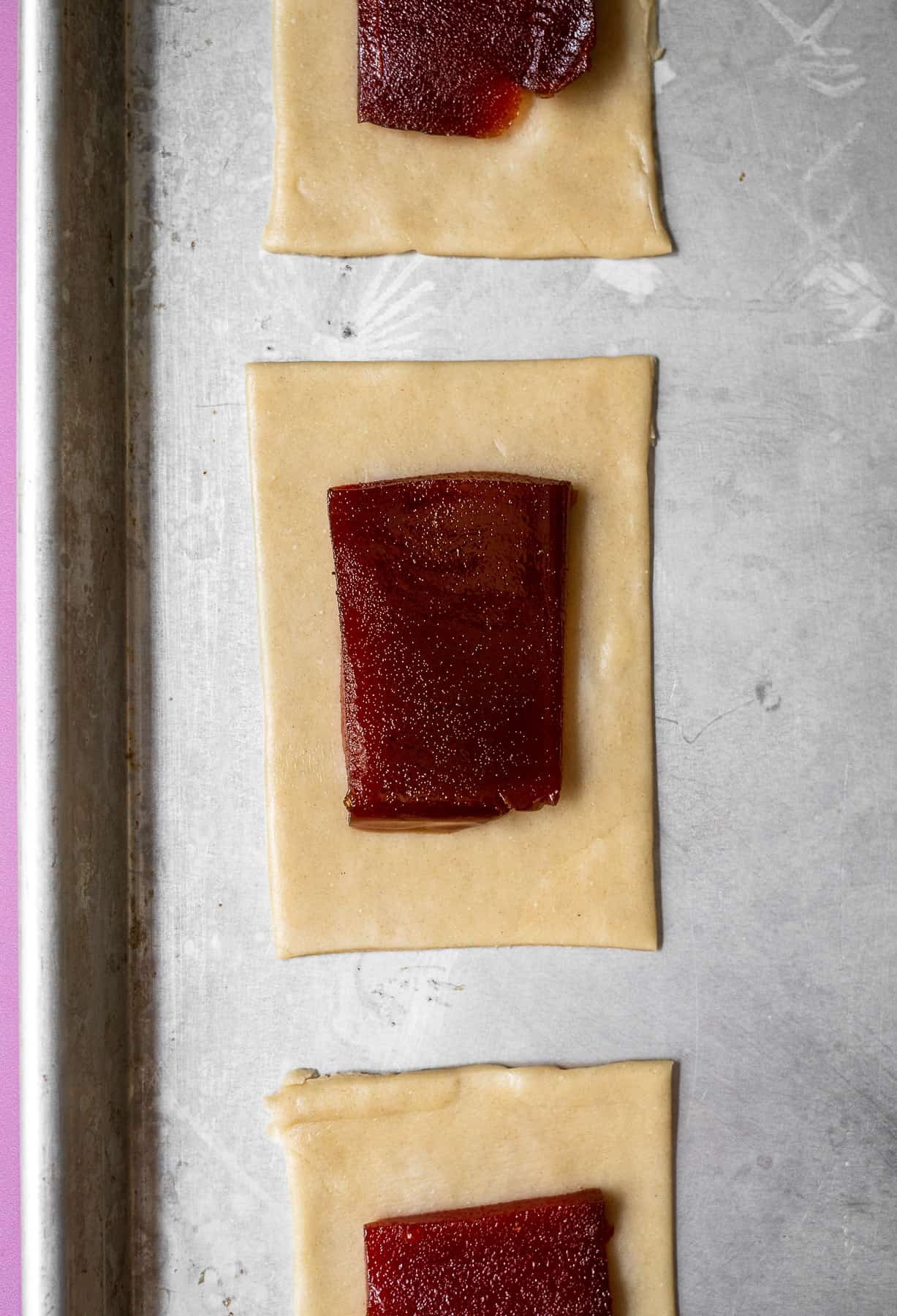 Guava paste usually comes in large blocks. Cut it into six ¼ inch thick slices that are about 2 x 3 in to allow space for sealing the pop tart on all sides. They should be about 30 grams each if you're following my measurements.
Place the pieces of guava paste in the center of the first set of rectangular cut pie dough. You can also add slivers of cream cheese if you'd like to at this point.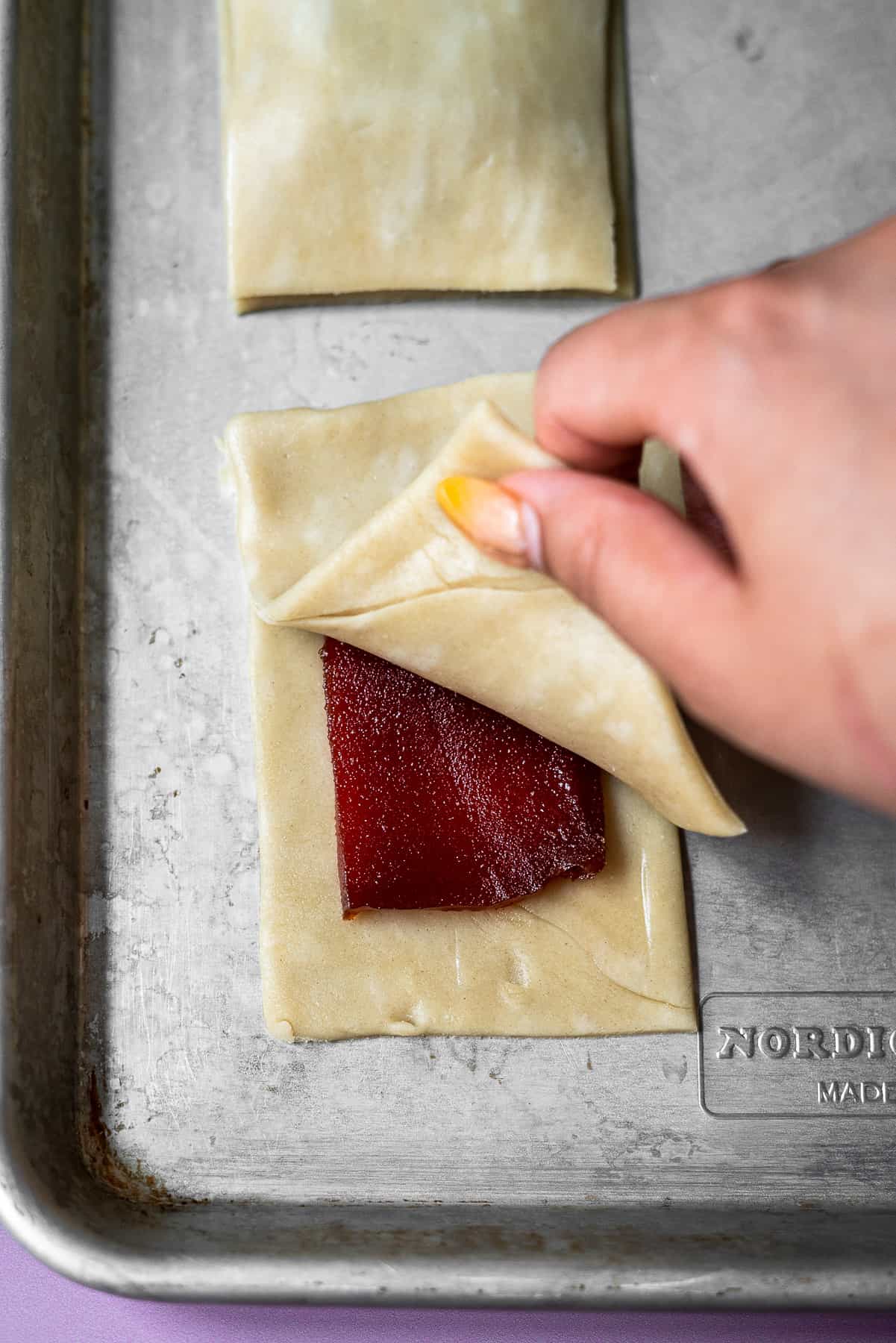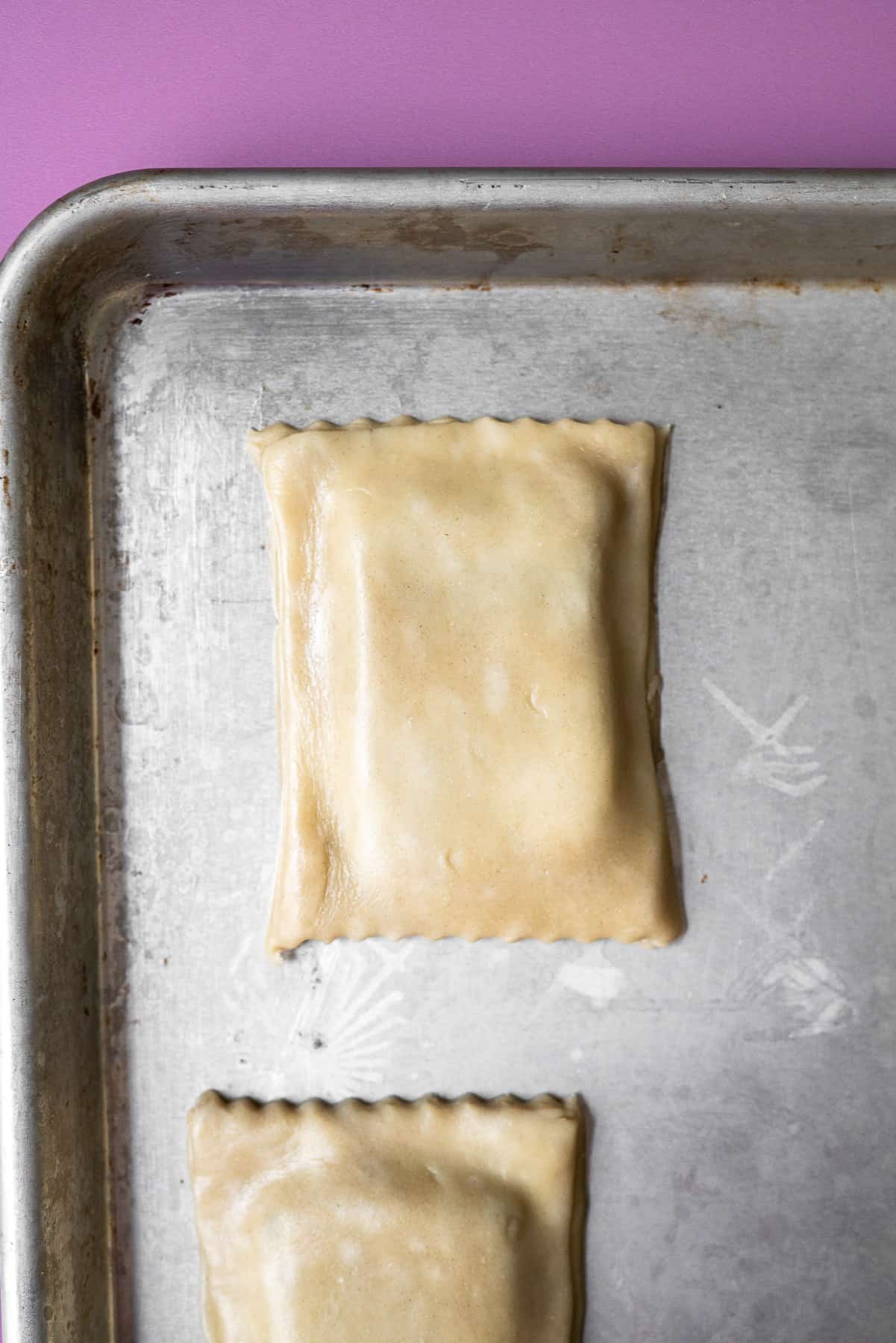 Lay the second set of rectangular pie crust dough that you cut out on top of the guava paste. It'll seem smaller than the first set due to the added height from the paste, so you may need to stretch it to line up the sides of the dough.
Use your fingers to seal the edges as much as you can. Use a crimp to seal it on all sides, or a fork to get that classic homemade look.
3. Bake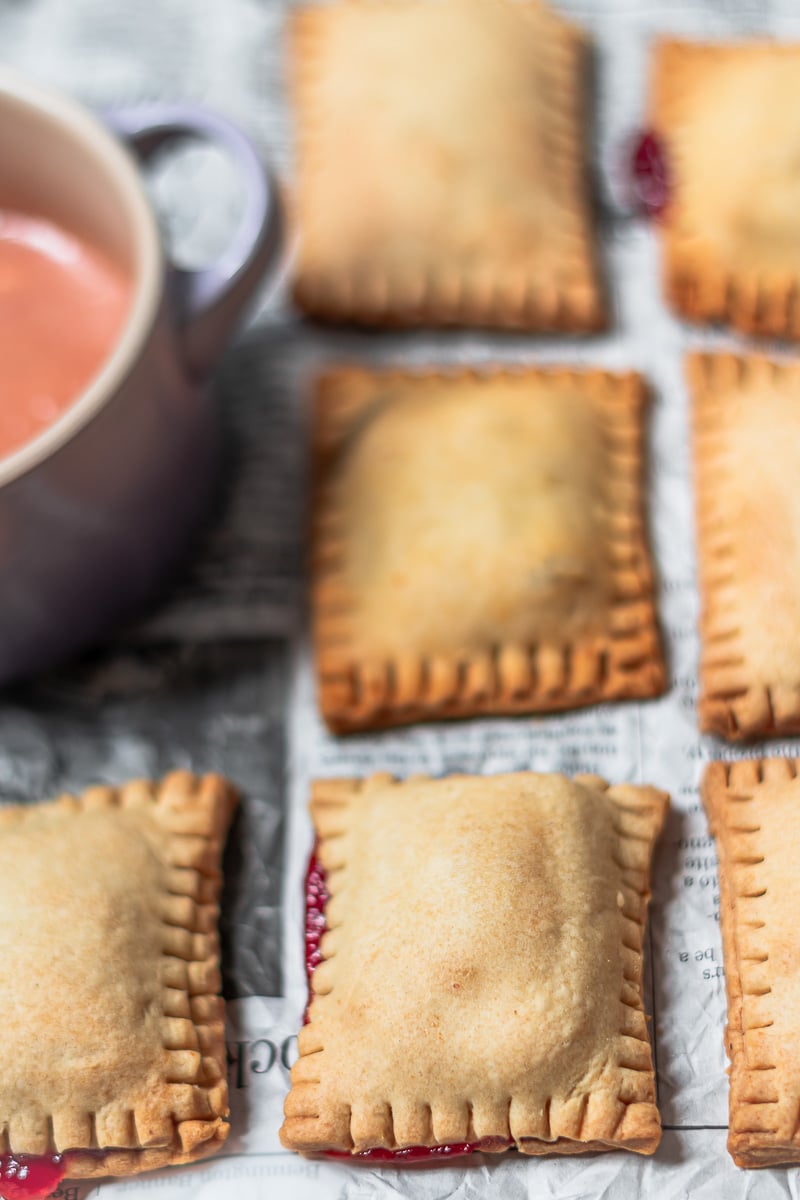 Bake the pop tarts in the oven at 350°F. Depending on how large you made them, it may take them 20-30 minutes so monitor for when they're golden brown.
How to make the Guava Cheese Glaze
While the pop tarts are baking in the oven, it's time to make the guava glaze AKA the pop tart icing.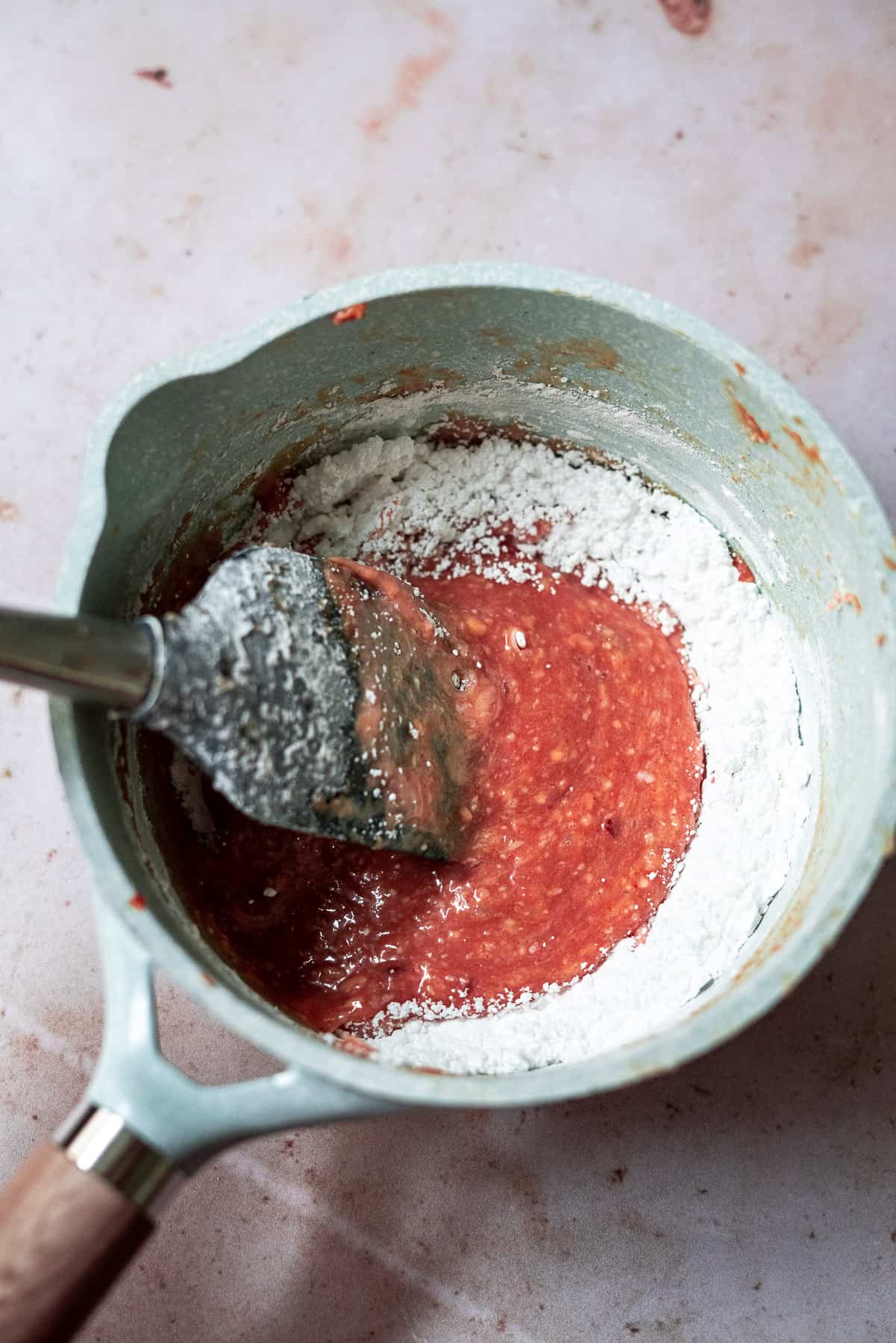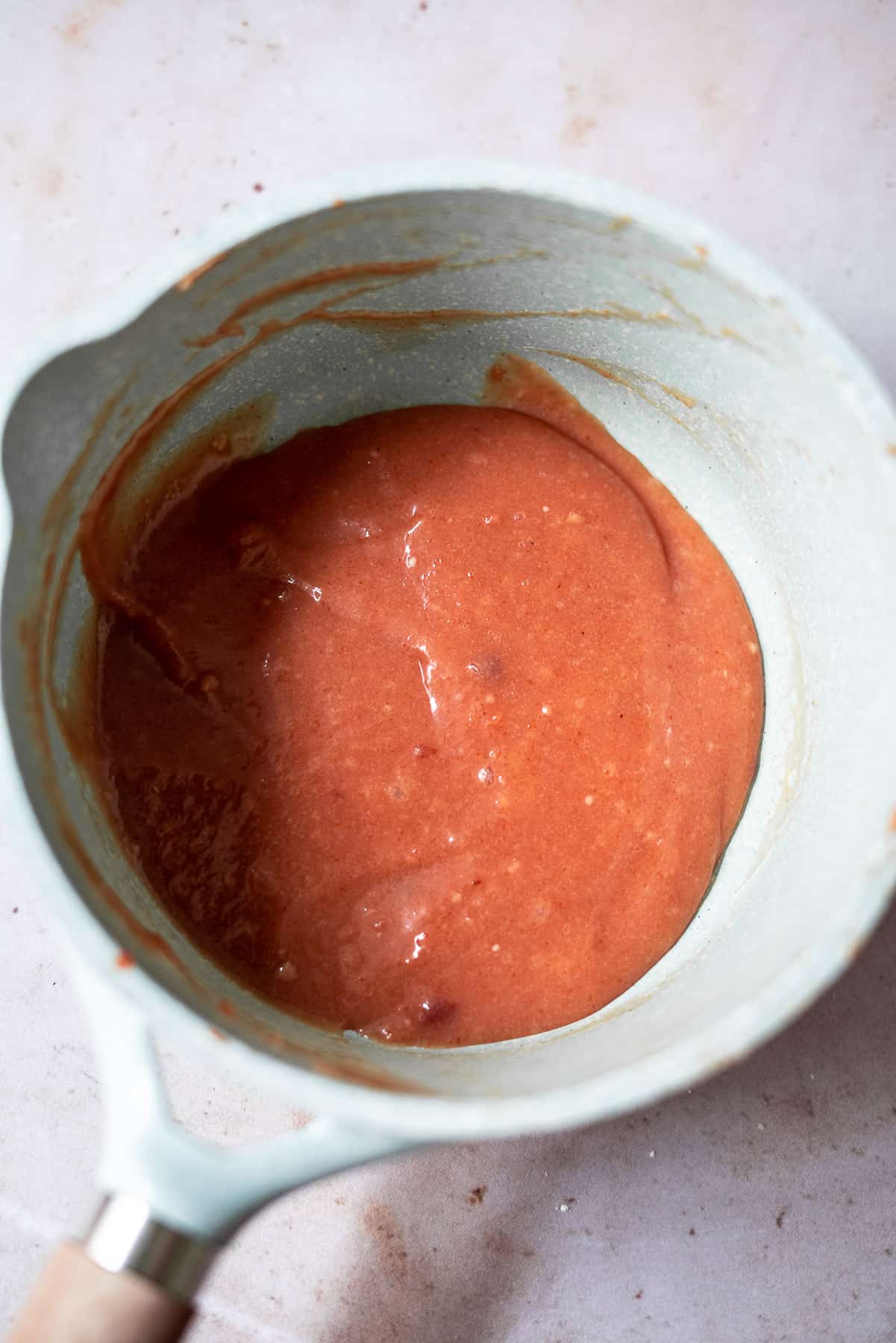 Cut the guava and cream cheese into cubes. Add them into a small sauce pan and heat it on low. Use a spatula to mix together the guava and cream cheese until it melts together to form a paste consistency.
Take it off the heat and thin out the paste with the milk. Whisk in the powdered sugar until you have a glaze. Once the pop tarts are baked, allow them to cool for ten minutes and drizzle the glaze on top.
Pro Tip: The glaze will become less sticky as it cools. Top with sprinkles, flaky sea salt... whatever your heart desires.
Serve them with an Iced Ube Latte, Mango Lassi, or Brown Sugar Shaken Espresso!
Expert Tips
Here are some tips I've found super helpful from when I've made these pop tarts!
Pie Crust: All packaged pie crusts are a little different but in general they need to be fully thawed and then placed in the microwave for 10-15 seconds. If it's not fully thawed it'll break apart as you unroll it.
Most package pie crusts are already perfectly circular when unrolled. I like to fold in four edges into the center and re-roll them so that I get a perfect rectangle.
The glaze: Use room temperature cream cheese when making the glaze. Cube the guava paste so it melts down faster.
Frequently Asked Questions
Can I use guava jam?
Yes! Use guava jam, homemade jam, or guava paste. Any of them will work.
Should I use pre-made pie crust or puff pastry dough?
Either will work and will result in different textures! The pie crust will result in a more solid crust that's similar to actual poptarts. The puff pastry dough will be flaky, fluffy, and thicker.
What kind of cream cheese should I use?
Plain or low fat cream cheese will work. I wouldn't recommend whipped cream cheese, especially for the glaze.
Where can I find guava paste?
Guava paste can be a bit hard to come by in the US if you're not familiar with it. I found mine with Southeast Asian Food Group (IG: @southeastnyc) that's local to NYC, and I believe the Goya brand carries some. I've also seen guava paste at Target and Amazon so be sure to check online.
How do I reheat them?
If you like pop tarts warm, you can reheat them in a toaster oven for 7 minutes.
What if the guava glaze leaks out of the poptart?
That's totally okay! If you're still making the glaze, you can scoop up the leakage and pop it right into your glaze. It's unlikely that it'll burn if it oozes out but if it does then carefully remove it and toss it.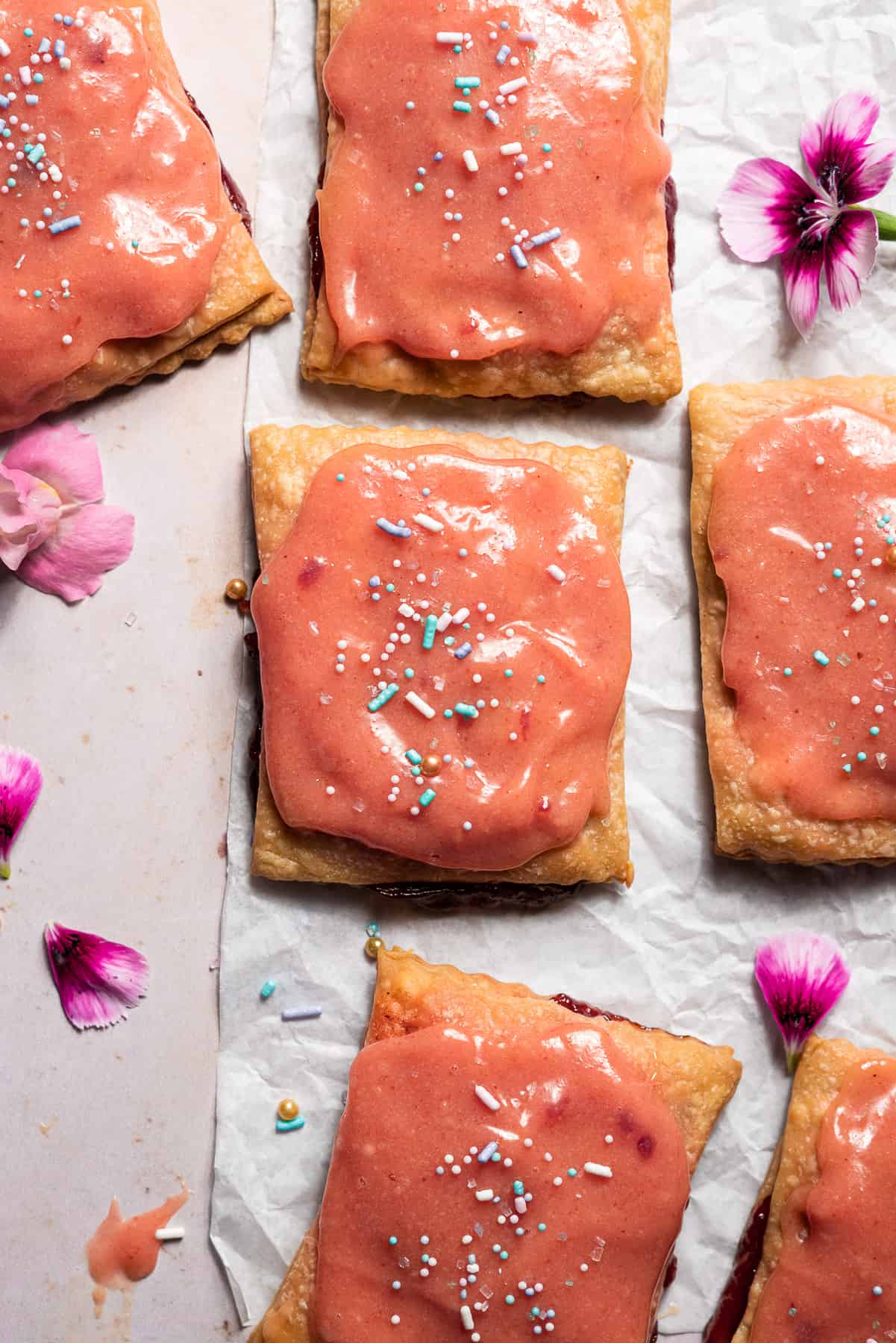 More Breakfast Recipes to try
Recipe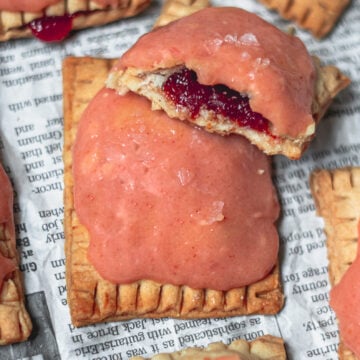 Guava Cheese Pop Tarts
Enjoy this easy nostalgic, semi-homemade Guava Cheese Pop Tart treat for breakfast served with a strong cup of coffee! Pre-made pie crust is filled with guava paste, topped with a guava cheese glaze. Best enjoyed next to a pool or the ocean!
Print
Rate
Instructions
Preheat the oven to 350°F.

Roll out your chilled pie crust so that it's a bit thinner than it comes in the container. Cut it into 12 rectangles that are around 3x4in.

Cut the guava paste into 6 thin rectangles that are roughly 2x3in.

Fill half of the rectangles with the guava paste, making sure to leave some space on each of the edges to allow for seals.

Lay the remaining 6 rectangles on top of the guava, stretching the dough a little to reach the edges. Close the pastry up with your fingers and crimp the edges with a fork.

Transfer the pop tarts to a baking sheet and bake for about 20 minutes or until golden. Let them cool completely before glazing.

While the tarts bake, heat a sauce pan on low and add the guava paste and cream cheese. Whisk it until the guava paste melts and combines smoothly with the cream cheese. Take it off the heat and whisk in the powdered sugar and milk.

Spoon the glaze over the pop tarts and allow it to set at room temperature. Sprinkle with flaky sea salt (or don't) and enjoy!
Notes
Pie crust vs. Puff Pastry: This recipe calls for pie crust but you can totally use puff pastry. Pie crust will give you a harder crust whereas puff pastry will be soft and flaky.
Cream Cheese: While the recipe uses cream cheese in the glaze, you can also add a sliver of cream cheese on top of the guava paste rectangles before you seal the filling in.
Guava Paste: If you can't find guava paste, guava jam will work just as well as the paste for this recipe! Feel free to substitute.
You'll most likely have some leftover pie crust so feel free to make more than the servings or use the scraps for something else!
Nutrition
Serving:
1
poptarts
|
Calories:
353
kcal
|
Carbohydrates:
49
g
|
Protein:
4
g
|
Fat:
16
g
|
Saturated Fat:
6
g
|
Cholesterol:
10
mg
|
Sodium:
227
mg
|
Potassium:
206
mg
|
Fiber:
3
g
|
Sugar:
23
g
|
Vitamin A:
355
IU
|
Vitamin C:
79
mg
|
Calcium:
32
mg
|
Iron:
1
mg
This recipe was updated on 5/24/2021 to include more detailed steps, updated metric measurements, and new photos.