The fluffiest, softest Guava Cream Cheese Cookies made in a thumbprint style! These cuties aren't overly sweet and melt in your mouth. The base is a soft, fluffy cream cheese cookie and it's topped with a sweet fruity guava paste. Dust it in powdered sugar and you're ready to munch on these addicting cookies.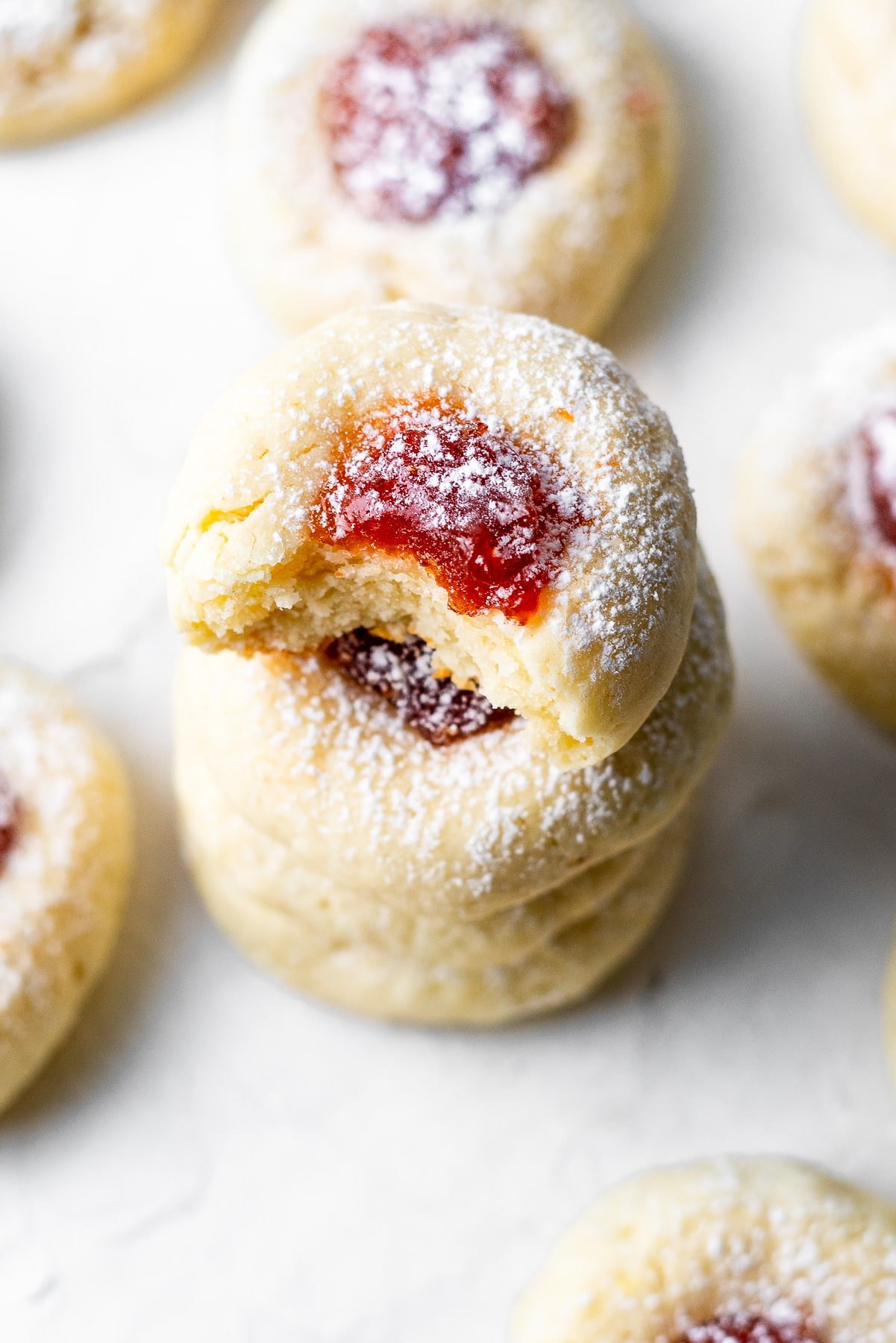 I'm not sure what it is with winter months but I cannot stop eating cream cheese! I've been using it for enchiladas, tea sandwiches, pumpkin butter cream cheese toasts... and now these Guava Cream Cheese Cookies!
I love that these cookies are as my best friend said, "surprisingly very soft, I was not expecting that." Flavor wise, they aren't too sweet and the hints of cream cheese really come through. The guava paste adds that bit of sweetness and texture to otherwise pillow-soft cookies which makes these ridiculously addicting.
The cookie is absolutely scrumptious, you won't be able to stop reaching for the next one!
Jump to:
What is the Guava Cheese Combo?
My intense love for guava stems from Maaza Guava Juice my parents always picked up at the Indian store, along with the mango and lychee juice. That stuff was gone within a few hours to be quite frank. And then I discovered the guava and cheese combo while in Miami a few years ago.
Simply put... Guava and cheese is life. If you don't already know this combo, you're seriously missing out. It's usually guava paste combined with a white cheese, like mozzarella or cream cheese in baked goods.
It's very common to find guava cheese products in Caribbean and Latin American countries. Check out my Guava Cheese Pop Tarts for more on the iconic guayaba y queso duo!
You can also pair these cookies with a tropical Guava Sangria!
Step-by-step Instructions for Cream Cheese Cookies
To make this recipe, start with room temperature ingredients. This recipe has a chill time of 2 hours minimum, so plan accordingly.
Combine the dry ingredients. You'll need all-purpose flour, salt, and baking powder.
Beat together the wet ingredients. Use room temperature ingredients. You'll need cream cheese, butter, egg, almond extract, and vanilla extract. Combine the dry ingredients with the wet ingredients.
Chill the dough. The cookie dough needs to chill for a minimum of two hours. This makes the dough easier to work with and prevents spreading.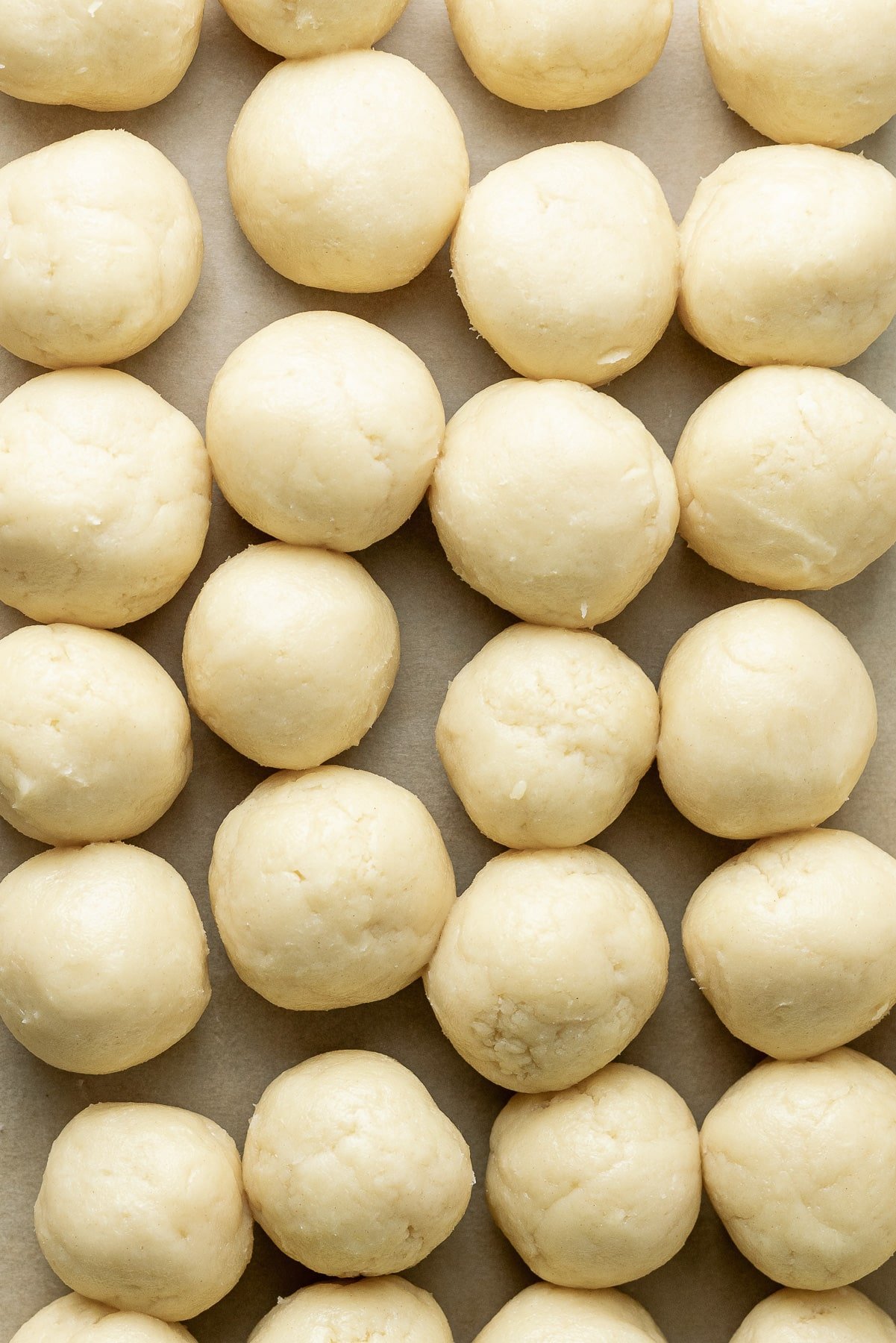 Roll and indent the cookies. Roll about one tablespoon of dough into a ball. If the dough is too soft, lightly coat your hands in powdered sugar or dampen your hands. Use the back of a spoon or your thumb to create an indent in the middle.
Spoon in guava. You'll need guava paste. Warm it up to loosen the paste (add some water and mix if necessary) or directly spoon about half a teaspoon of paste into the center of the cookie.
Chill the cookie in the freezer for about 10 minutes if the dough is too soft. (Optional) for plain cream cheese cookies, leave out the guava and skip the indent.
Bake. Leave a few inches between the cookies on the parchment paper. They shouldn't really spread. Bake them at 350°F for about 15 minutes, but monitor for when they are lightly brown on the edges and browned on the bottom.
Serve. Allow the cookies to cool before serving them. The guava paste will be gooey and scorching hot, but will eventually set. Dust them with powdered sugar or make a cream cheese glaze to drizzle.
Tips for this Recipe
Spoon and level flour. It's so important to spoon and level your flour for this recipe instead of packing it in. Too much flour and you'll end up with cookies that taste like straight flour. To do this, spoon your flour into your measuring cup and then use a knife to level it off.
Moist cookies. Use room temperature cream cheese and butter to get started with. Scrape down the sides of the bowl so you don't have any streaks.
Almond vs. vanilla extract. I recommend using a majority of almond extract with only a fraction of vanilla extract in this recipe because I love how it tastes with the guava. Feel free to play around with your favorite extracts or even add some lemon zest.
Sticky dough. The dough is very sticky to work with. Take into account the chilling period which helps roll the dough between your hands. If it's too wet, you can cover your hands with powdered sugar or dampen them to ease the rolling. If the cookies soften too much, throw them in the freezer for a short burst.
Working with thick guava paste. Guava paste is quite thick to work with. You can spoon it into the center of the cookie and let it melt from the heat of the oven. You can also warm it up in the microwave so that it soften and is easier to spoon. You can also use guava marmalade or jam instead.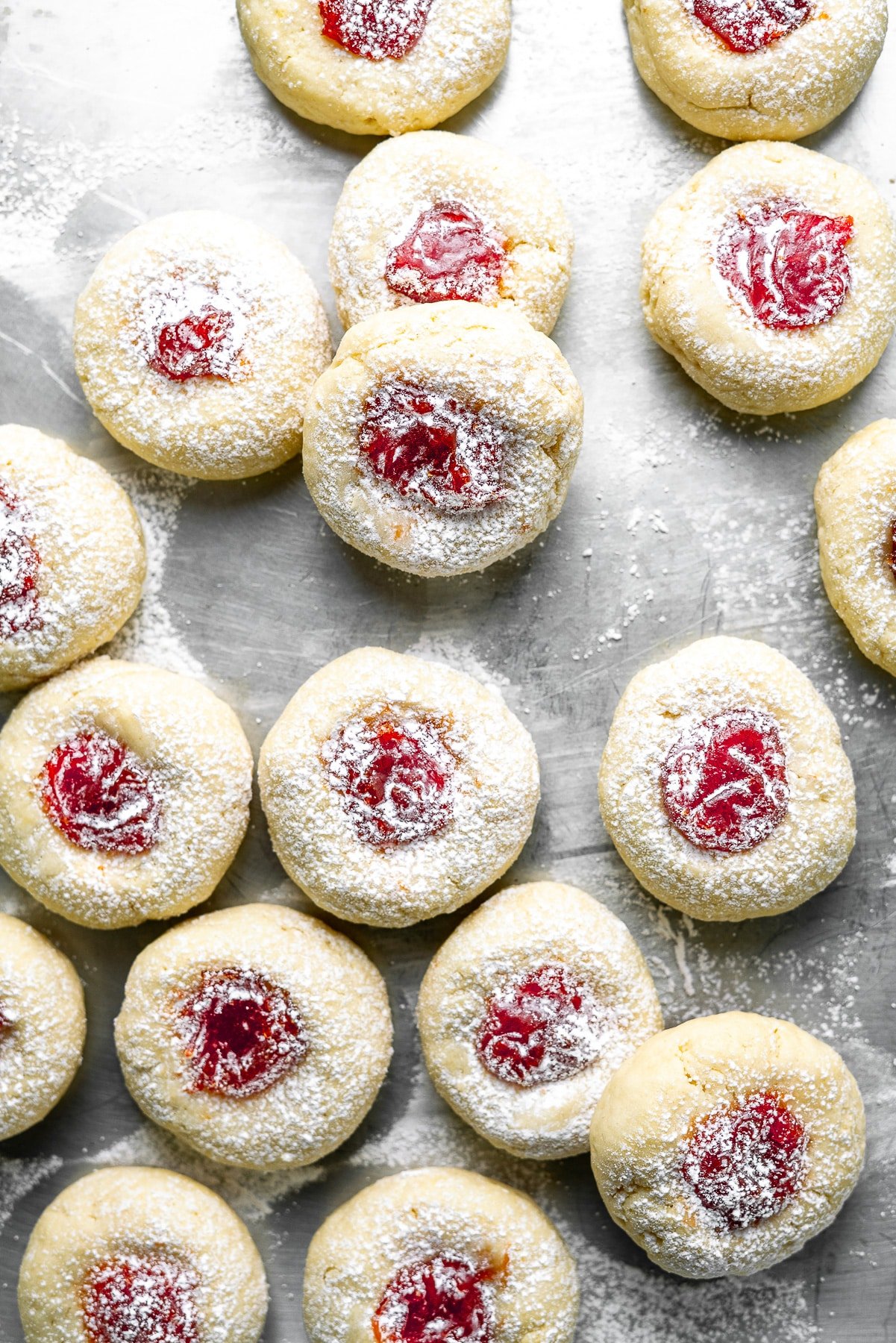 Frequently Asked Questions
How do I store these cookies?
Any products with cream cheese should be stored in the refrigerator in an airtight container. You can store these cookies in a container on the counter at room temperature for up to three days.
Can I freeze cream cheese cookies?
These cookies are best fresh and warm.
But you can freeze them! To freeze the cookie dough, it's best to do them when they're at the indented cookie stage. Lay them out on a sheet tray with no overlap to begin with and freeze them. Then transfer them into a freezer bag and freeze for up to 3 months. When ready to consume, spoon in the guava and bake according to instructions.

To freeze the baked cookies, transfer them to a freezer bag and freeze for up to 3 months. Allow them to thaw in the fridge overnight.
Can I substitute guava jam for the guava paste?
Honestly, you don't even need to use guava. You can use any jam, like peach or strawberry, and make cream cheese thumbprint cookies.
Do I have to use full fat cream cheese?
I highly recommend using full fat cream cheese. Please do not use low fat or whipped cream cheese.

If you really want to, I also tested these cookies with 6oz of full fat cream cheese and this works as well! I preferred a full block of cream cheese for a stronger taste to compliment the guava in the spirit of the guava cheese combo I rave about.
Can I replace the butter with cream cheese?
A lot of people replace butter with cream cheese to get cloud-like texture so I don't see why not! I haven't tested this, so if you do then pay attention to bake times and look for visual cues of doneness.
What is guava paste?
Guava paste is a dense mixture of guava and sugar that's formed into a jelly-like block.
Where can I find guava paste?
You can find guava paste on Amazon, or in the ethnic section of grocery stores.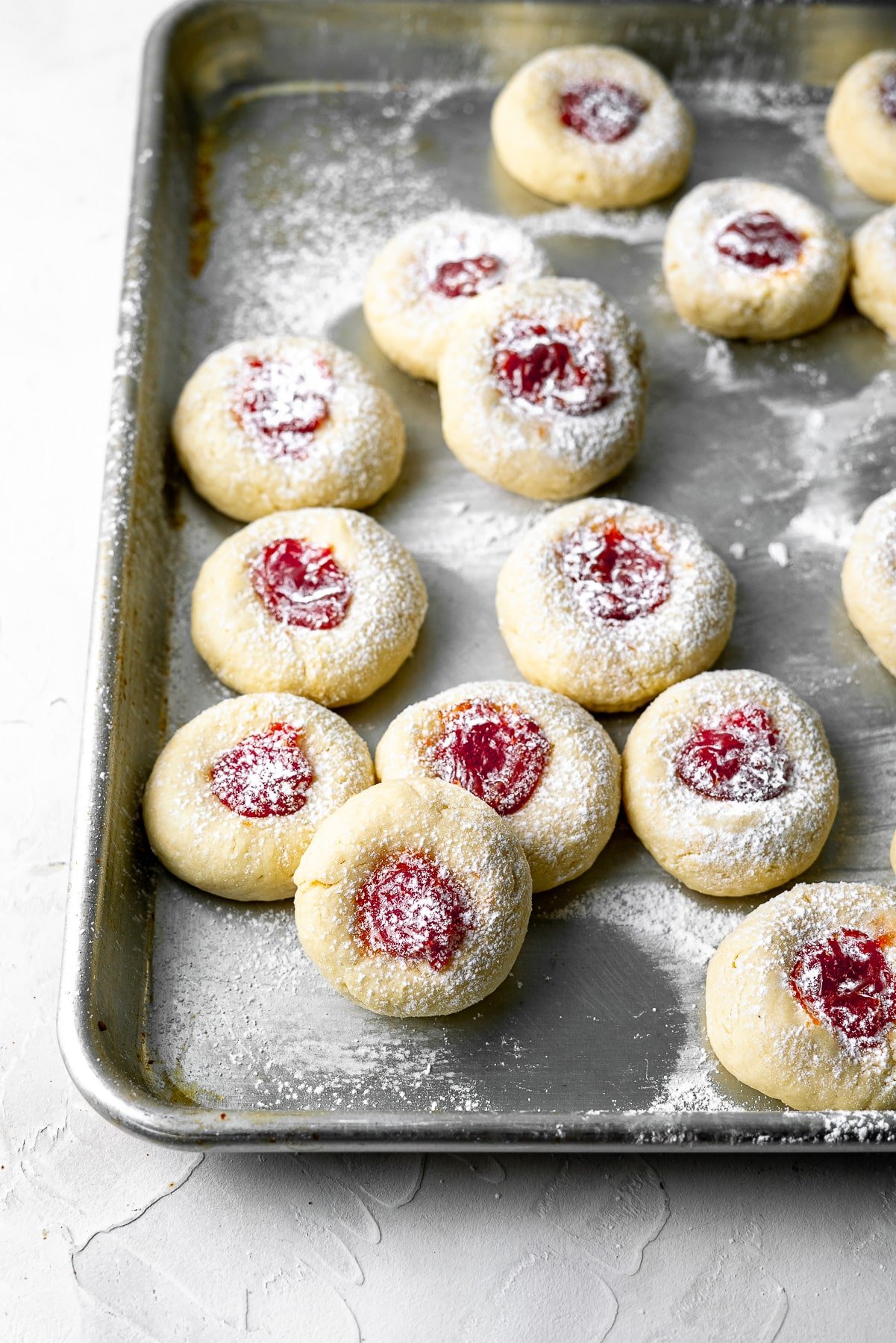 More Cookie Recipes to try
Recipe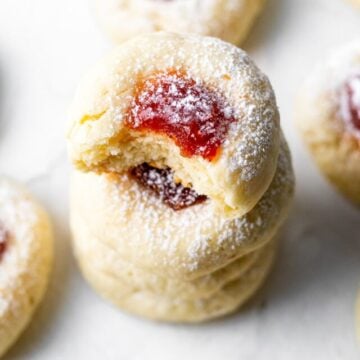 Guava Cream Cheese Thumbprint Cookies
The softest cream cheese cookies that melt in your mouth! They're topped with guava with an added touch of delicious sweetness.
Print
Rate
Instructions
Whisk together the all purpose flour, baking powder, and salt in a small bowl. Set aside.

In a large bowl, beat the softened cream cheese until it's smooth. Add the butter and beat until it's fully combined. Add in the sugar and continue to beat until the mixture is creamy. Beat in the egg, vanilla extract, and almond extract.

Add in the dry ingredients into the wet ingredients and continue to beat until the cookie dough comes together. Cover and chill the dough for up to 2 hours.

After the dough has chilled, preheat the oven to 350°F and prep a baking sheet with parchment paper.

Remove the dough from the fridge and roll it into balls that are about 1-1.5 tablespoons large between the palm of your hands. Arrange the dough on the baking sheet so there are a few inches in between each cookie. With the back of a spoon or using your thumb, create an indent in the middle. At this point, put the cookies in the freezer for 10 minutes to chill them.

While the cookies are chilling, put the guava paste in a bowl and warm it up at 20 seconds intervals in the microwave until it's loose and gooey.

Take the cookies out of the freezer and spoon ½ teaspoon of guava paste into the center of the cookies. Bake for 13-16 minutes until the cookies lightly brown on the sides and have browned on the bottom. Allow the cookies to cool on a rack. Serve with a sprinkle of powdered sugar.
Notes
Almond Extract & Vanilla Extract: I think almond extract perfectly compliments the sweetness of the guava, but feel free to use more vanilla than almond, or completely omit the almond and substitute with vanilla.
Nutrition
Calories:
103
kcal
|
Carbohydrates:
13
g
|
Protein:
2
g
|
Fat:
5
g
|
Saturated Fat:
3
g
|
Cholesterol:
19
mg
|
Sodium:
54
mg
|
Potassium:
27
mg
|
Fiber:
1
g
|
Sugar:
6
g
|
Vitamin A:
185
IU
|
Vitamin C:
4
mg
|
Calcium:
17
mg
|
Iron:
1
mg