Scrumptiously soft, gorgeously purple Ube Crinkle Cookies are the perfect Filipino-American twist on crinkles for any Christmas cookie tin! The coconut marshmallow filling takes these purple yam cookies to the next level for a decadent, colorful treat.
Lets just say - Santa WILL NOT be leaving coal behind at your house if you leave some of the ube crinkle cookies for him! And if he does... good! More cookies for you.
Jump to:
Gosh, I love that chewy center of a good crinkle cookie!
What is Ube?
Ube (pronounced ooh-beh) is a purple yam from the Philippines with an exterior that is similar to a sweet potato. When you cut inside, it reveals a striking deep purple or a shade of purple. Ube is a staple dessert ingredient in the Philippines.
Ube itself tastes like a subtle mix of pistachio and vanilla. It's almost earthy like a sweet potato. I say that a lot of ube flavored treats using halaya and extract almost taste like the cereal Fruity Pebbles to me. Because the flavor of ube is so subtle by itself, you'll frequently see it paired with ube extract to boost the flavor and color.
The purple yam, ube, is not to be confused with taro, which is also a light purple. The flavor profiles are completely different, although there are also several taro desserts.
Read more about ube, ube halaya, and ube extract in my recipe for Ube Rice Krispie Treats. Try out this Iced Ube Latte!
Christmas Crinkle Cookies
Every Christmas, I go hunting for chocolate crinkle cookies to inhale. And I don't even celebrate Christmas. I just reap the benefits of all the cookies being baked during the holiday season.
Crinkle cookies are so striking due to the deep cracks revealing the cookie contrasted with the whiteness of the powdered sugar. They're perfectly small, plump cookies that are scrumptiously soft and sweet.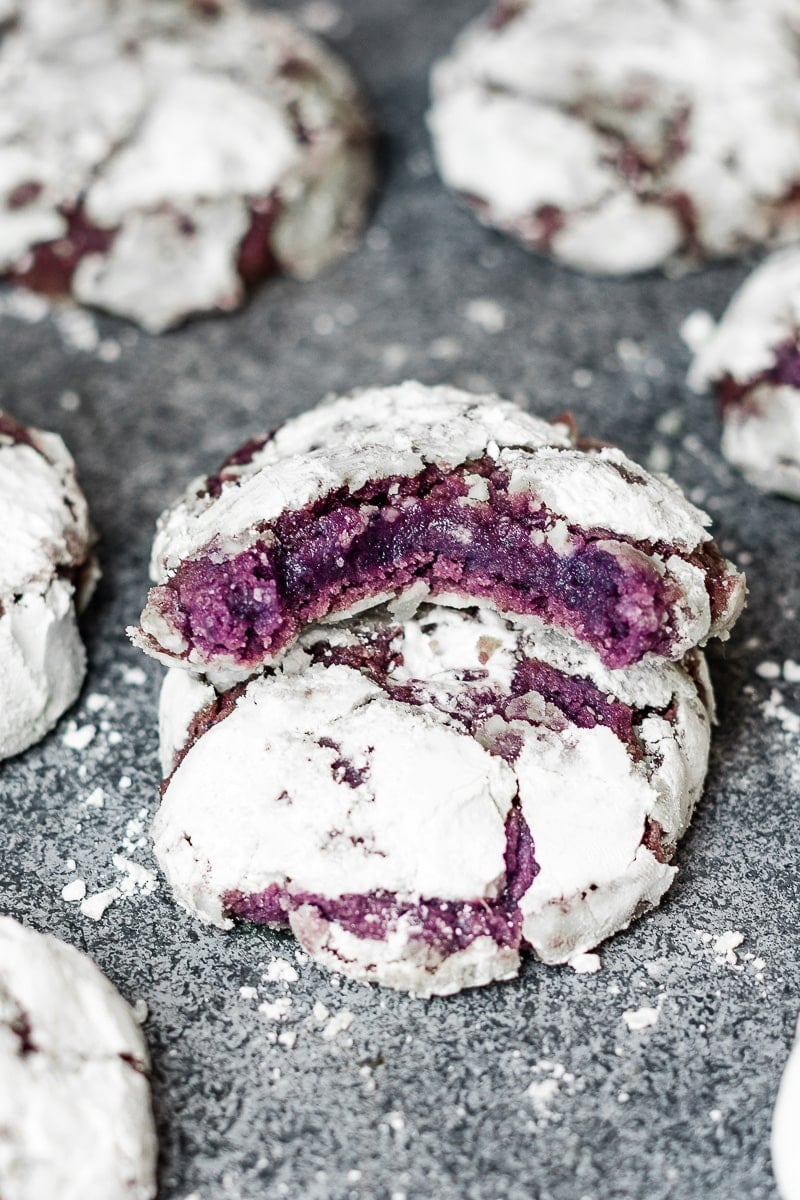 I love to make crinkle cookies towards the end of summer when I'm dreaming of the holidays, but the confectioners' sugar always melt due to the high humidity in New York City. The cookies are still delicious, but I'd end up with glassy melted sugar on top of my cookies. That's why they're a great winter treat!
Ube crinkle cookies are a Filipino-American twist on the classic crinkle cookie. It uses two forms of ube - ube halaya made from fresh ube which gives it a mix of pistachio and vanilla flavor and some color, and ube extract which is artificial ube flavoring and makes the cookie a deep, striking purple.
The vibrant purple color due to the ube is absolutely gorgeous against the powdered sugar. Coconut (specifically macapuno) + ube is a very popular and delicious pairing, but making the meringue is an entirely optional addition.
This crinkle cookie is truly a showerstopper and your guests or cookie box recipients would be so lucky to receive them!
How to Make Ube Crinkle Cookies
Start with room temperature ingredients. If you're opting into making the coconut marshmallow filling, you'll need something to inject the cookies with.
Mix the dry ingredients together. You need all-purpose flour, baking soda, baking powder, and salt.
Combine the wet ingredients. You need butter, granulated sugar, light brown sugar, egg, ube extract, and ube halaya. Whip together the butter, granulated sugar, and brown sugar until light and fluffy. Then add the egg, ube halaya, and ube extract.
Combine all ingredients. Fold the dry ingredients into the wet ingredients.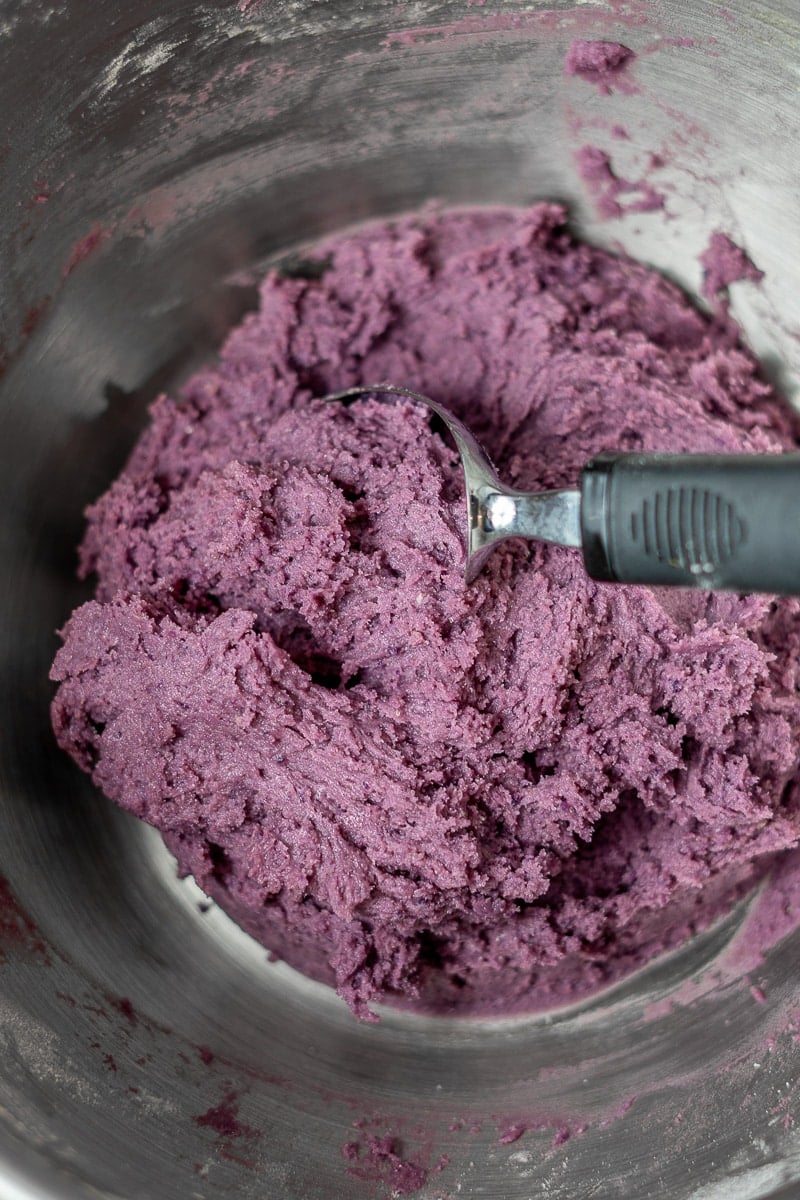 Make the cookie dough balls and chill. The cookie dough is sticky, so chill it in the freezer for about 10 minutes or until it's manageable. If it's still too sticky, you can dampen your hands or coat them with powdered sugar. After they've chilled, use a 2 tablespoon scoop to make the dough balls. Chill the cookie dough for at least 2 hours. This will result in dough balls that are easier to roll as well as thicker cookies.
Coat in sugar. Pour out granulated sugar and powdered sugar in two separate bowls. Roll the cookie dough balls into granulated sugar first, then follow with a thick coating of confectioners' sugar.
Bake. Bake the cookies, one sheet at a time, for 11-13 minutes on the top rack of the oven at 325°F.
Make the coconut marshmallow filling (optional). If you have a meringue/marshmallow filling you love to make, this is your chance to shine! Be sure to add the coconut extract and shredded coconut.
Inject the filling. Use an injector to fill the cookies from the bottom with the coconut marshmallow filling.
How to get the Perfect Crinkles
Getting the signature crinkles relies on so many different moving parts and SCIENCE!! It depends on:
The heat inside and outside the oven. Too high of a heat in the oven may dissolve the powdered sugar, which is why the first roll of granulated sugar is so helpful. Always make sure your oven temperature is accurate. You shouldn't need more than 13 minutes to bake the cookies. If it's hot and humid outside, it'll also melt the sugar post bake leaving you with crunchy glassy sugar on the top.
Refrigerating the dough. Some people insist on skipping this step but it's essential for getting the cute plump cookies. Otherwise, you'll end up with cookies that spread too much with wide fissures instead of deep, thin cracks.
Leavening. It's the reasons cookies rise and spread in the oven. But it also helps create the fissures for crinkle cookies when bubbles rise to the surface and cause it to crack. I use a mix of baking soda and baking powder, because I find that it lends the necessary leavening for the deep fissures. Too much of one created that gross soapy taste.
Sugar. This is why the granulated sugar layer is so important before the confectioners' sugar layer. Have you noticed how rolling gingersnaps in granulated sugar before baking results in gorgeous cracks as well? The moisture from the sugar dissolves and releases, drying out the cookies and leaving the cracks. The granulated sugar acts as somewhat of a barrier for the powdered sugar to stay.
Why use Granulated and Powdered Sugar?
Valid question! When you roll it in just confectioners' sugar (which is perfectly acceptable), it can dissolve a bit while in the oven resulting in crinkle cookies that don't have the striking deep fissures and powdery goodness on the outside.
Rolling it in a bit of granulated sugar first and then in powdered sugar helps get that signature crinkle as the cookies bake in the oven.
How to Store
Store the cookies in an airtight container on the counter. If it's hot or humid, store them in the refrigerator.
How to freeze baked ube crinkle cookies:
You can freeze ube crinkle cookies before or after baking them. To freeze the cookies after they're baked, allow them to completely cool. Freeze in a single layer on a sheet tray and then transfer to an airtight freezer bag for up to 3 months. Thaw in the refrigerator or on the counter.
How to freeze ube crinkle cookie dough:
After the cookie dough chills according to the recipe below, roll the dough into balls. Chill the cookie dough balls in the refrigerator or freezer for an hour. Place the cookie dough in a freezer bag and freeze for up to three months. When you're ready to bake the cookies, allow them to thaw on the counter top for 30 minutes. Then continue with the recipe - rolling in granulated sugar and then confectioner's sugar and baking as instructed.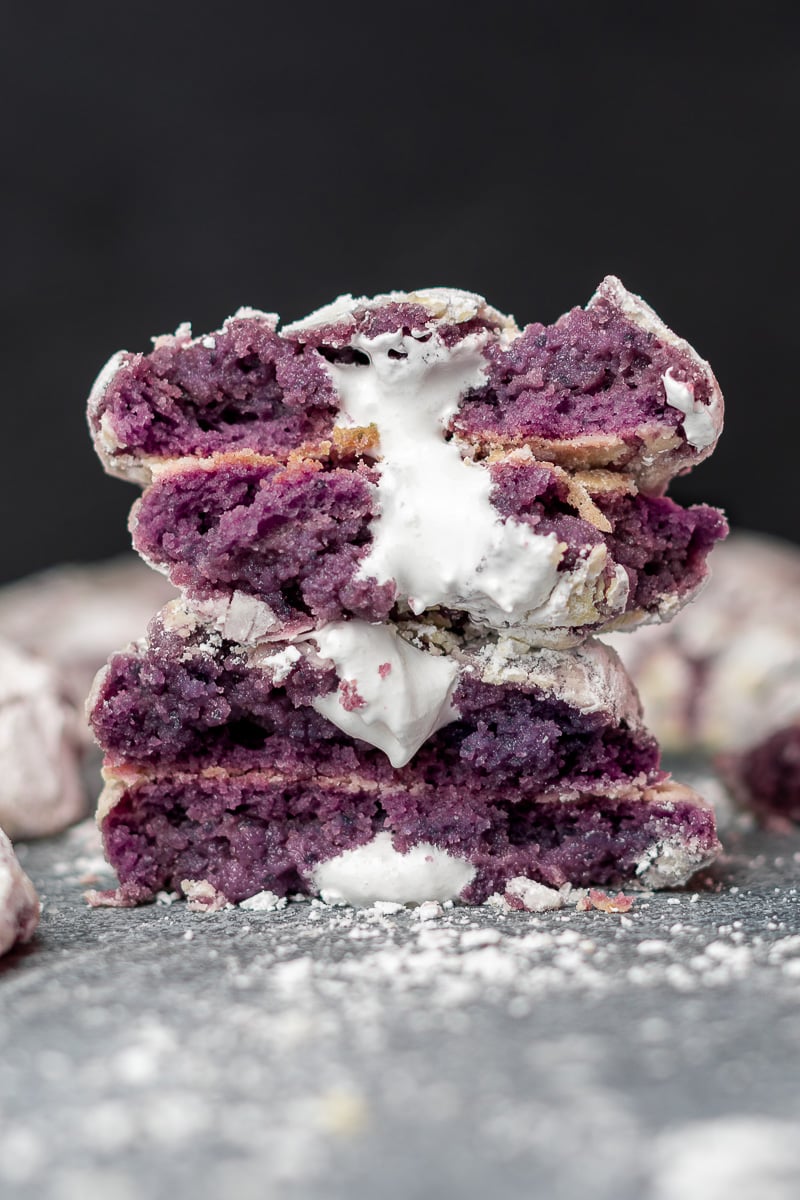 Frequently Asked Questions
Where can I find ube extract and ube halaya?
You can buy ube halaya and ube extract in the Filipino aisle of just about any Asian supermarket. You'll find the halaya jam near other canned or jarred goods like macapuno. Ube extract can be found in the same aisle, and it's readily available online from the brand Butterfly and even McCormick. For New Yorkers, you can find it at the Marketline in the Lowest East Side. Powdered ube is not a good substitute.
What if I can't find ube extract?
I would honestly recommend not making this recipe. Like I mentioned, ube is really subtle in flavor so the extract helps boost the color and flavor.
My cookie dough was too sticky. Did I do something wrong?
The dough can be really difficult to work with if it's at room temperature or too warm. It can be really difficult to assemble, but you didn't do anything wrong. I'd recommend flash freezing the dough for 10 minutes in the freezer to make it workable again. Another trick is to lightly coat your hands with powdered sugar.
Why are the crinkles so patchy? I didn't get defined cracks!
Take a look at the section "How to Get the Perfect Crinkles"! It'll give you all the best tips and tricks for the perfect crinkle cookies. It relies on a ton of moving parts and ultimately comes down to the science behind the cookies.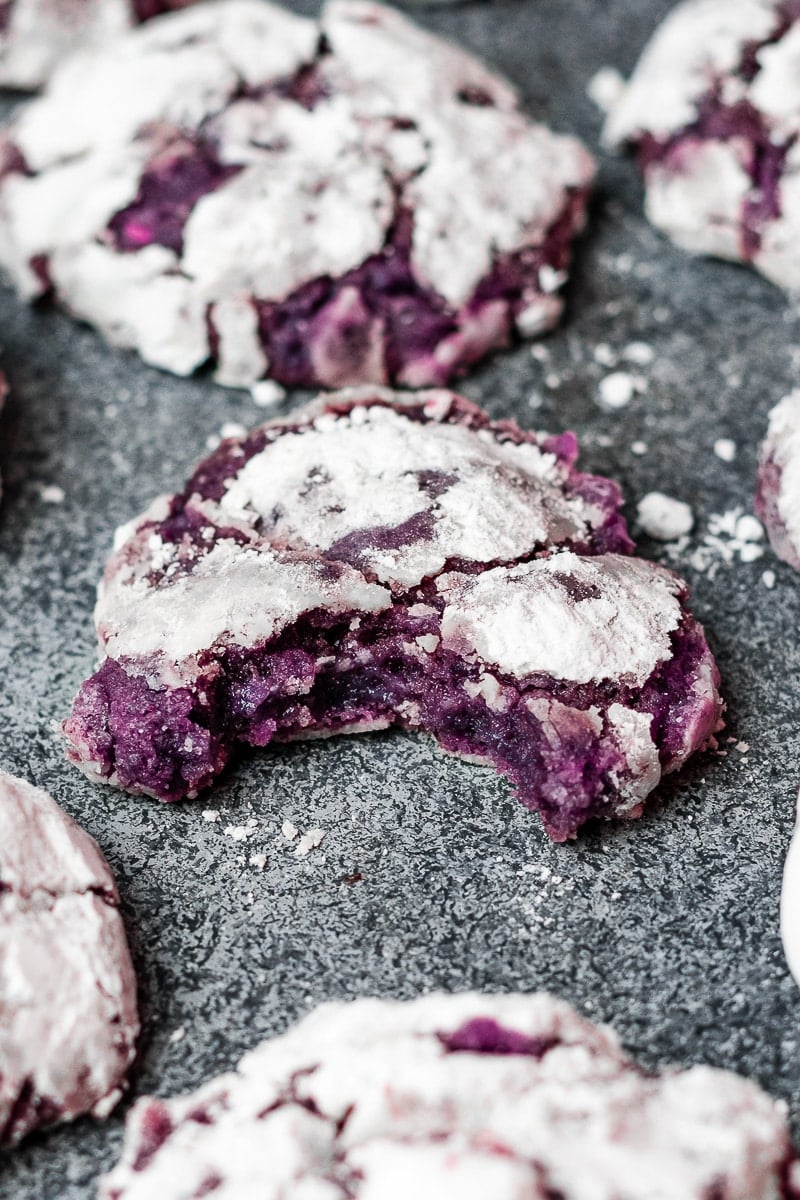 More Dessert Recipes to try
Recipe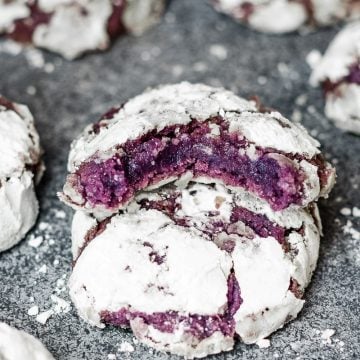 Ube Crinkle Cookies with Coconut Marshmallow Filling
Ube crinkles are a great twist to the popular chocolate crinkle cookies around Christmas time. They are soft, fluffy, and colorful with delicious ube and filled with fluffy coconut marshmallow. They are perfect for holiday baking!
Print
Rate
Ingredients
Crinkle Cookies
½

cup

unsalted butter

½

cup

granulated sugar

¼

cup

light brown sugar

1

egg

1

cup

ube jam

1

teaspoon

ube extract

1

teaspoon

baking powder

¼

teaspoon

baking soda

1.5

cups

all-purpose flour

granulated sugar

,

for rolling

sifting powder sugar

,

for rolling
Instructions
Preheat the oven to 325°F and move a rack to the very top of the oven. In a bowl, whisk together the all purpose flour, baking soda, baking powder, and salt.

Cream together the unsalted butter, granulated sugar, and light brown sugar until light and fluffy. Then add the egg, ube jam, and ube extract and mix together. Gently fold in the dry ingredients half a cup at a time. Freeze the dough for 10 minutes.

Use a 2 tablespoon cookie scoop to create balls of dough. Chill in the fridge for 2 hours. After chilling, coat each ball in granulated sugar, and then heavily coat it in powdered sugar.

Line two sheet trays with parchment paper. Bake one sheet at a time on the top rack for 13 minutes. Remove the tray from the oven and allow the cookies to set and cool completely for 20 minutes. Make the meringue.
Italian Meringue
Combine the sugar and water in a small saucepan over high heat. Allow the mixture to boil until the temperature reads 240°F using a thermometer.

On medium speed with a stand mixer, add the eggs into the bowl and beat until it begins to froth. Add in the cream of tartar until soft peaks begin to form, about 3 minutes. At this point, slowly add in the sugar syrup in portions and continue to whip until stiff peaks form and a marshmallow consistency is achieved. Pour in the coconut extract right before the mixing is done. Gently fold in the shaved coconut.

Transfer the meringue into an injector. Inject about a teaspoon of meringue into the middle of each cookie.
Nutrition
Calories:
293
kcal
|
Carbohydrates:
47
g
|
Protein:
4
g
|
Fat:
10
g
|
Saturated Fat:
6
g
|
Cholesterol:
80
mg
|
Sodium:
101
mg
|
Potassium:
173
mg
|
Fiber:
1
g
|
Sugar:
32
g
|
Vitamin A:
4808
IU
|
Vitamin C:
5
mg
|
Calcium:
46
mg
|
Iron:
1
mg