Ready in 10 minutes, without even looking at the oven! We've all eaten Rice Krispies Treats since we were 5 years old. This Ube Rice Krispies Treats recipe introduces a popular dessert trend twist to it, ube! It's the perfect spooky treat for a Halloween party!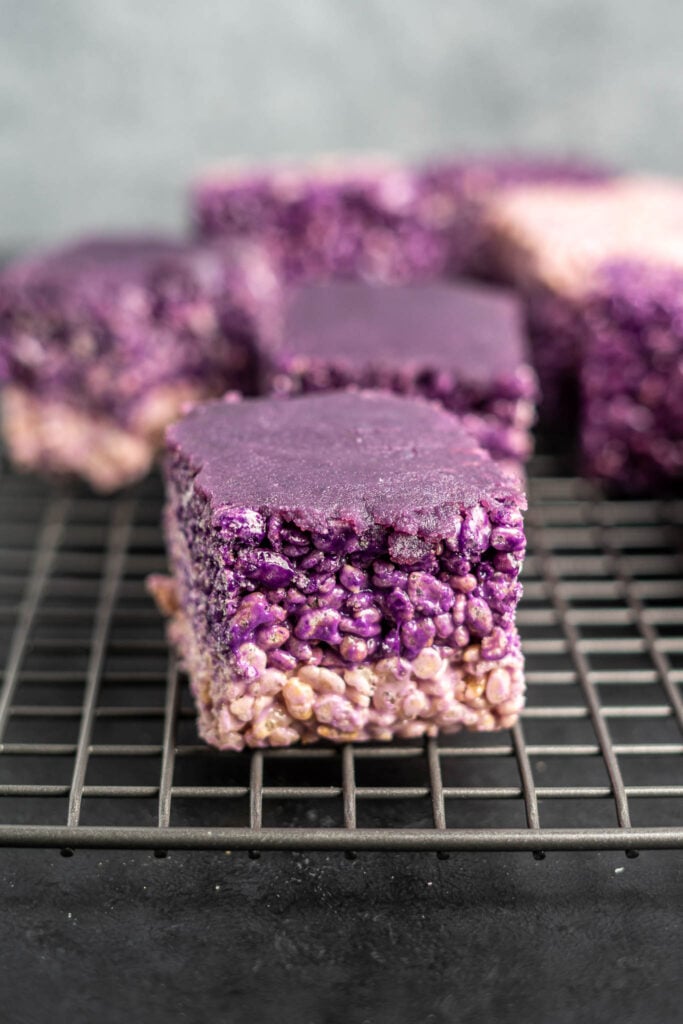 Ahhh I'm so excited for fall season and all the baking it entails! I'll be eating all the treats.
My mom has never been a baker so the easiest stove top, no bake treat we enjoyed were homemade rice krispie treats! It was one of my favorite things growing up and there was always one in my lunchbox. At some point, it fell off as my go-to snack and I became complacent about the dessert. I couldn't remember the last time I had one.
I'm really excited about these Ube Rice Krispies Treats because it combines my favorite things - ube and childhood treats! Also throwback to when ombré was a popular trend in the 2000s lol.
Jump to: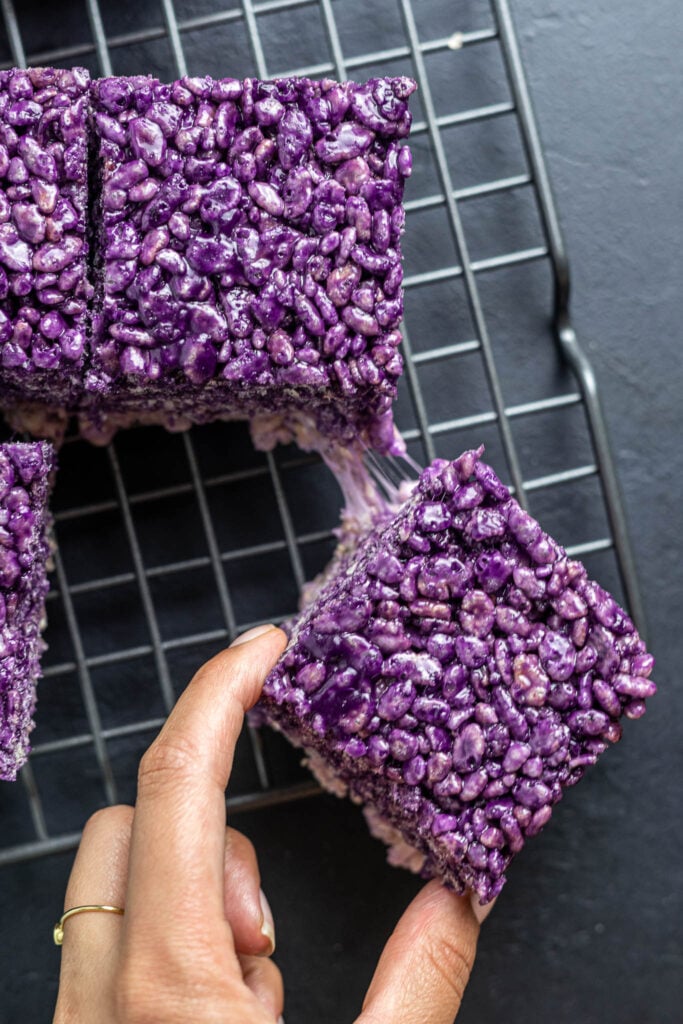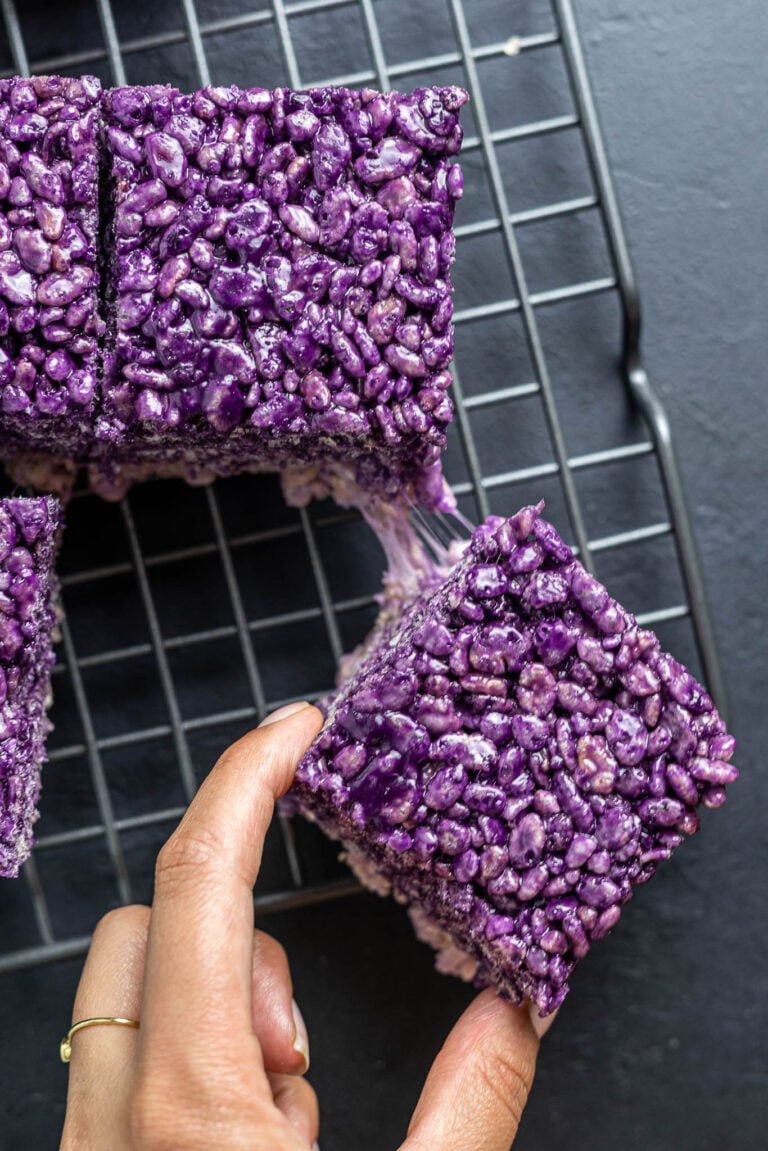 What is Ube?
Rice Krispie Treats have to be the easiest dessert to make so I decided to kick it up a notch with ube. All you'll need is ube extract and ube halaya. Also, hello? Perfect for Halloween-themed party snacks!! How cute would these be with some googly eyes or chocolate witch hats??
Ube (pronounced ooh-beh) is a purple yam from the Philippines with an exterior that is similar to a sweet potato. When you cut inside, it reveals a striking deep purple or a shade of purple. Ube is a staple dessert ingredient in the Philippines. It's boiled and mashed before cooking down with condensed milk (and other ingredients depending on the recipe) to form halaya.
The smooth, slightly sweet halaya is then added to sweet treats like cakes, ice cream, breads, and halo-halo. Sometimes, I just eat it out of the jar.
Ube treats only became a trend in the U.S. food scene around 2016/2017 for the gorgeous purple color it lends to dessert and drinks (Source). I've happily leaned into it as you can see on my Instagram.
For more ube recipes, check out Iced Ube Latte, Ube Crinkle Cookies, and Cereal Milk Cinnamon Rolls with Ube Cream Cheese Frosting.
How to make Rice Krispie Treats
You'll need a puffed rice cereal, marshmallows, butter, ube extract, and ube halaya. That's it. The recipe itself has been printed on the back of a box since 1940. If it ain't broke, don't fix it.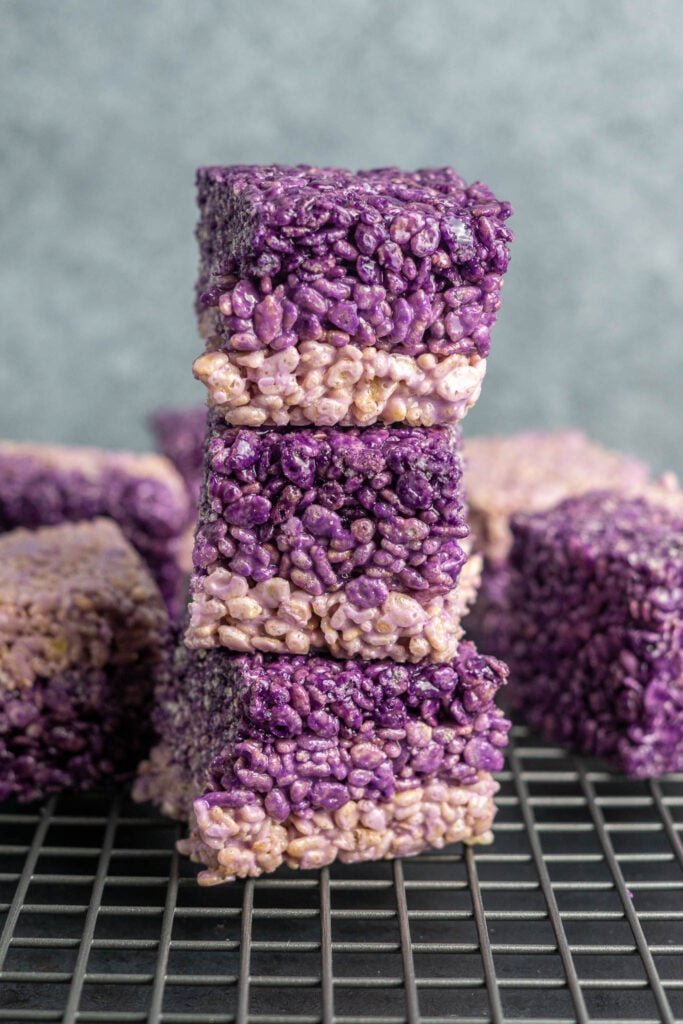 Step 1. Measure and split out the marshmallows, butter, and cereal so that you have three batches. Spread a thin layer of butter all over a 8.25" W x 5" D baking dish.
Step 2. Heat a pot on low. This is essential, otherwise the treats will come out hard. You're in this for the gooey marshmallows, so don't miss this step. Melt the third of butter. Once it's fully melted, stir in the marshmallows and allow it to melt while stirring the mixture.
Step 3. Just as the marshmallows are completely melted down, turn off the stove and remove from heat. Working quickly, add 3 or so drops of ube extract and mix it well. You're looking for a pastel purple color.
Step 4. Dump in 2 cups of rice krispies and stir it until well combined. It should turn one shade lighter, so add any extract drops of ube extract here while the mixture is still warm, as necessary.
Step 5: Scoop the mixture out of the pan and into the baking dish. Spread it to each edge of the dish with a spatula and press down to ensure it's tightly packed in.
Step 6: Repeat steps 2-5 for the other two batches, adding a few more drops of ube extract to achieve the ombré effect (ex: 6 drops in batch 2, 9 drops in batch 3).
Step 7: Allow the rice krispies treats to cool and set for a minimum of 20 minutes. If serving immediately, use a butter knife to spread ube halaya on the top. If storing, spread the halaya later so it doesn't dry out. Cut into 8 pieces and serve.
Easy peasy lemon squeezy 🙂
Frequently Asked Questions
Why did my Rice Krispies Treats come out rock hard?
While it's tempting to turn the heat up to melt the butter and marshmallow faster, this is something you should avoid. It will result in rock hard treats because the sugars harden to make the marshmallows like candy. Take the extra few minutes to melt them over very low heat. Remove the butter and marshmallows from heat as soon as they've melted and stir in the puffed rice cereal.
Why didn't my marshmallows melt down to be gooey?
How old were your marshmallows? Were they sitting in a deep dark corner of your pantry? Are they past their expiration date? If so, they won't melt well and the resulting treats will be hard with an unappealing texture.
Can I cut the amount of butter or marshmallows in the recipe?
But... why? Like I said, if it ain't broke, don't fix it! Reducing the butter or marshmallows will result in rice krispies treats that fall apart. If they're too sticky, add a small amount of cereal at a time.
How long can I store my Rice Krispies Treats?
They'll last to about a week before they become stale. Store them in an airtight container on the counter, not in the fridge. You can pop them in the microwave for 5-10 second intervals to soften them. If you've already spread the ube halaya, the halaya will dry out within a day or two. I recommend spreading halaya only when you're ready to eat.
You can also freeze the treats (without the halaya) in an airtight container for up to 3 months. Allow it to sit at room temperature before serving.
Life Hack: Make Rice Krispie Treats in the Microwave
In a mug or bowl, add in a tablespoon of butter and a handful of marshmallows. Melt in the microwave in 10 second intervals, and stir in between to make sure the marshmallows don't overflow. Once fully melted, add in three drops of ube extract and ½ cup of cereal. Mix together well and enjoy!!
Tag me on Instagram if you make it and I'll share it in my stories!
More Dessert Recipes to try
Looking for more dessert recipes? Here's a few to try!
Recipe
Ombré Ube Rice Krispies Treats
Make these classic ooey treats a little more fun as Ube Rice Krispies Treats! Ube extracts makes for the ombré layers with ube halaya on the top! They're the perfect snack for kids... or yourself!
Print
Rate
Instructions
Evenly split the butter, marshmallows, and rice krispies into three batches and work with one batch at a time. Spread a thin layer of butter all over a 8.25" W x 5" D baking dish.

For the first batch - melt the butter in a pot on low heat, and then add in 1 batch of the marshmallows. Once fully melted, add in 3-4 drops of the ube extract and stir until the mixture is a pastel purple. Pour in 2 cups of the rice krispies and mix together. Dump out the mixture into the baking dish and press firmly to create a flat layer.

For the second and third batch - repeat as step 2, adding a few more drops of ube extract for each batch (i.e. second batch has 6 drops of ube extract, third batch has 10 drops of ube extract).

Allow the rice krispie treats to fully cool and set. Spread the ube halaya on the top and cut into 8 pieces.
Notes
Start with adding less ube extract (depends on the extract used) and add more if needed to darken after the cereal is mixed in. Once the cereal is mixed in, it'll become a shade lighter.
Make sure each layer is tightly pressed and packed in so the whole treat doesn't fall apart.
Nutrition
Calories:
326
kcal
|
Carbohydrates:
54
g
|
Protein:
3
g
|
Fat:
12
g
|
Saturated Fat:
7
g
|
Cholesterol:
31
mg
|
Sodium:
153
mg
|
Potassium:
193
mg
|
Fiber:
1
g
|
Sugar:
25
g
|
Vitamin A:
8478
IU
|
Vitamin C:
20
mg
|
Calcium:
17
mg
|
Iron:
7
mg