This sweet, creamy Iced Ube (purple yam) Latte is the perfect, colorful summer drink to add to your repertoire of homemade coffees. It uses ube extract for sweet ube-flavoring which is paired with deliciously refreshing coconut milk. Then it's topped off with a strong frothy shot of espresso.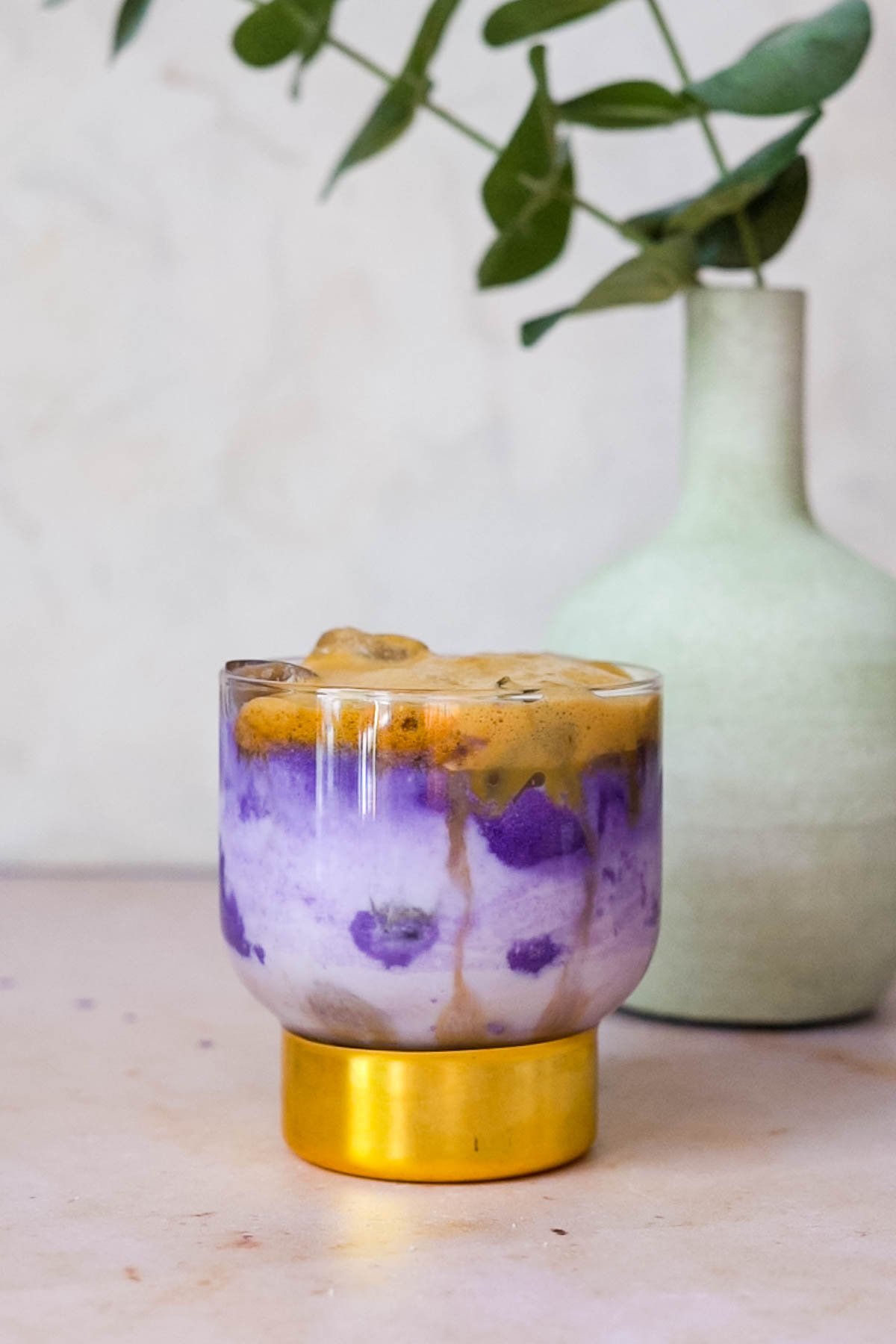 If don't reside in a metropolitan city, it can be super hard to find ube-flavored treats. But here in NYC, it's ube galore and I am thriving off trying new treats from the awesome small businesses here!
This latte is inspired by one of my favorites, from what used to be a pop up in the Lower East Side called Cafe Phin by Vietnamese coffee company, Nguyen Coffee Supply. It had strong Vietnamese coffee, ube, and milk and was absolutely divine.
It's quick to throw together before starting your day for a vibrant drink that's a little different from your regular morning coffee. It's creamy, full of that caffeine boost, and has that distinct ube taste we love!
Jump to:
What is Ube?
Ube is a purple yam (not a sweet potato) originally from the Philippines. It's a staple ingredient in desserts - it's usually boiled, mashed, and mixed with sweetener and sometimes condensed milk into halaya or jam. Once it's in jam form, it can be incorporated into anything you can imagine like cakes, breads, cupcakes, frosting, ice cream etc.
I feel like I'm the only one to ever say this but ube tastes like cereal to me... maybe like a Fruity Pebbles. Some people say it tastes like a mix of pistachio and vanilla and white chocolate. Bottomline, it's sweet, delicious, colorful and makes for some of my favorite desserts!
For more ube recipes, check out Ube Rice Krispie Treats and Ube Crinkle Cookies.
Ingredients - Notes and Substitutions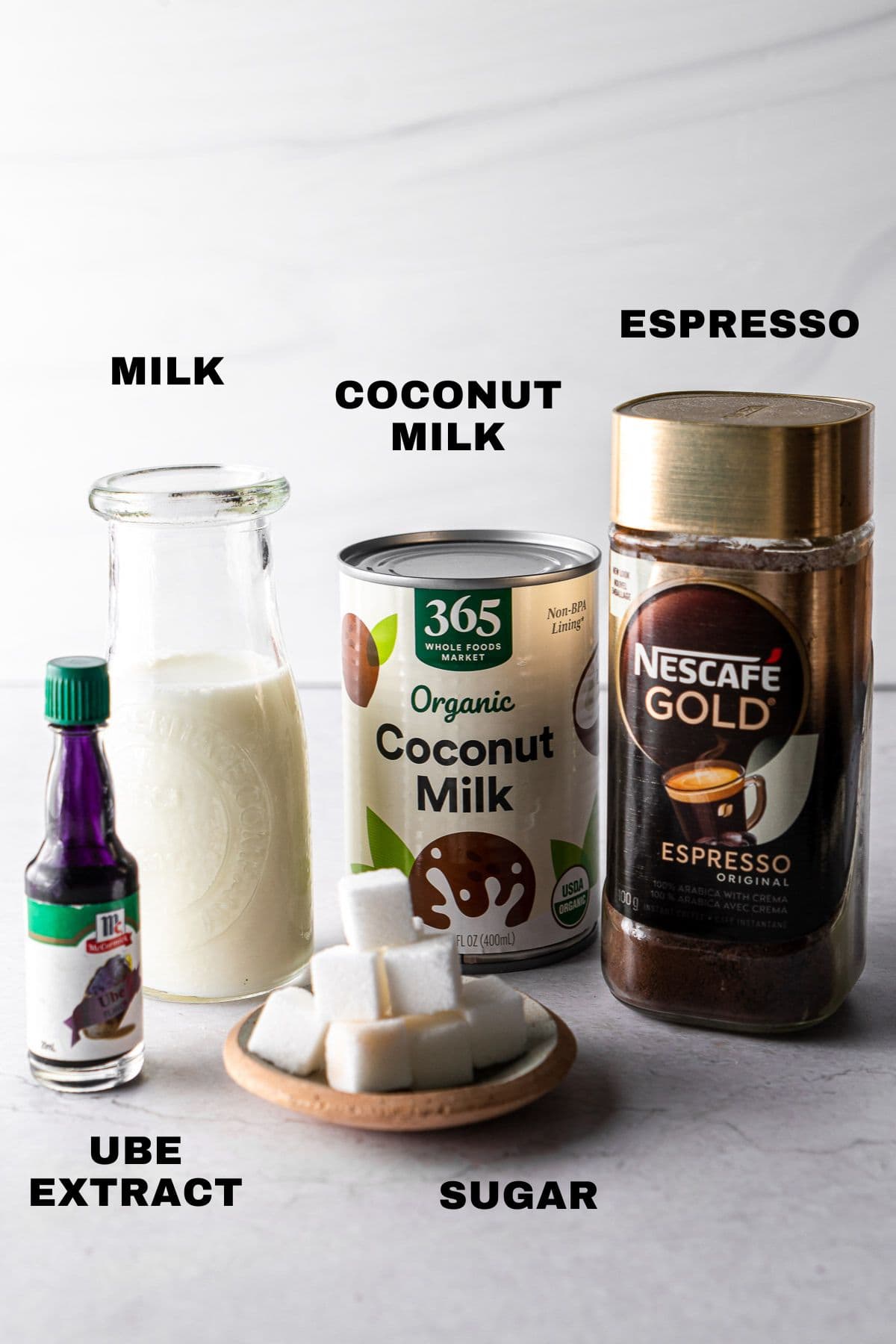 Ube Extract - This recipe uses extract which is typically artificial ube flavoring that is deeply purple. However, ube powder will work as well. Follow the package instructions for "activating" about a tablespoon of powder, usually adding equal amounts of water and powder.
Espresso - I used the Nescafe instant espresso. It doesn't get quite as frothy and thick as the crystallized instant coffee like the Nescafe Clasico. The coconut milk I used was already quite thick so I wasn't looking for whipped coffee with stiff peaks, but you can certainly make it that thick if your coconut milk is thinner. You can also use a freshly brewed double shot of espresso.
Coconut Milk - You can also use sweetened condensed milk or sweetened condensed coconut milk for a vegan option instead of the coconut milk and simple syrup.
Milk - In addition to the ube + coconut mixture, add whole milk or a plant-based milk of your choice.
Simple Syrup - Always sweeten iced lattes with simple syrup! The espresso is bitter so it needs a bit of sweetener. Use the desired amount of sugar dissolved into an equal amount of water to make a simple syrup. Honey or maple syrup will work as well.
How to make an Ube Latte
1. Prepare the Espresso
It's honestly totally up to you on what you decide to use for the coffee portion, but I loved the dalgona-style instant espresso to top this particular latte instead of a freshly brewed shot of espresso. The whipped espresso mixed into the coconut milk + ube mixture results in a thick and creamy cool latte.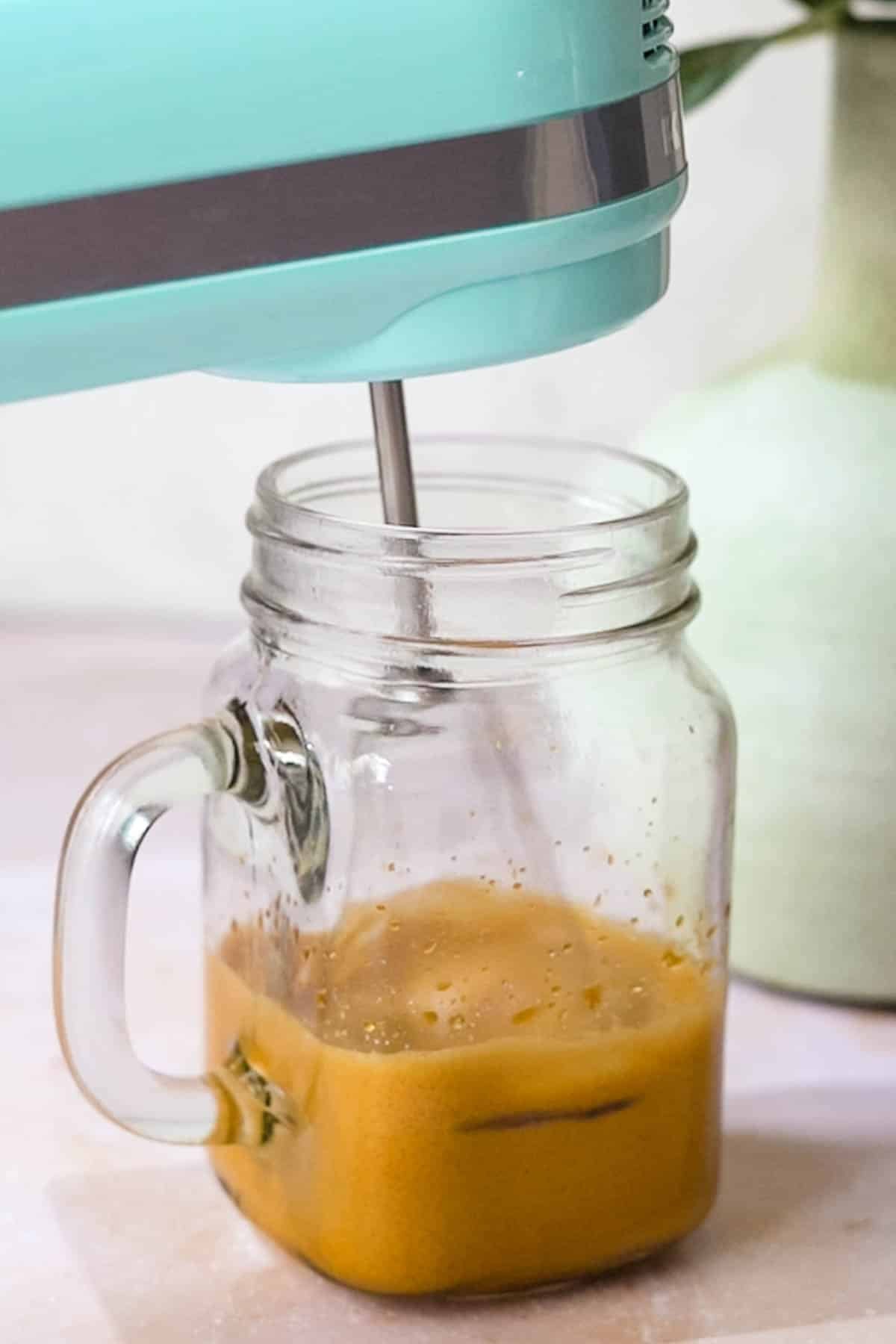 In a mason jar, add equal amounts of coffee, hot water, and sugar. Use an electric whisk to froth it until it's thick and has tripled, even quadrupled in volume. Set it aside while you prepare the rest of the drink.
2. Pairing Ube Extract and Coconut Milk
A popular pairing I love with ube is macapuno, also originally from the Philippines. It's coconut sport that is bottled with a thick syrup. They're essentially jelly-like slivers found in mutated coconuts.
This latte mixes the ube extract with unsweetened coconut milk. The coconut milk is very mild - so it just adds a nice layer of flavor to the latte. Mix the ube extract and coconut milk together in the cup.
Pro Tip: Some canned coconut milks are really thick at the top with the cream. Give the can a really good whisk and thin it out with water if need be. Strain it if it's still a bit chunky.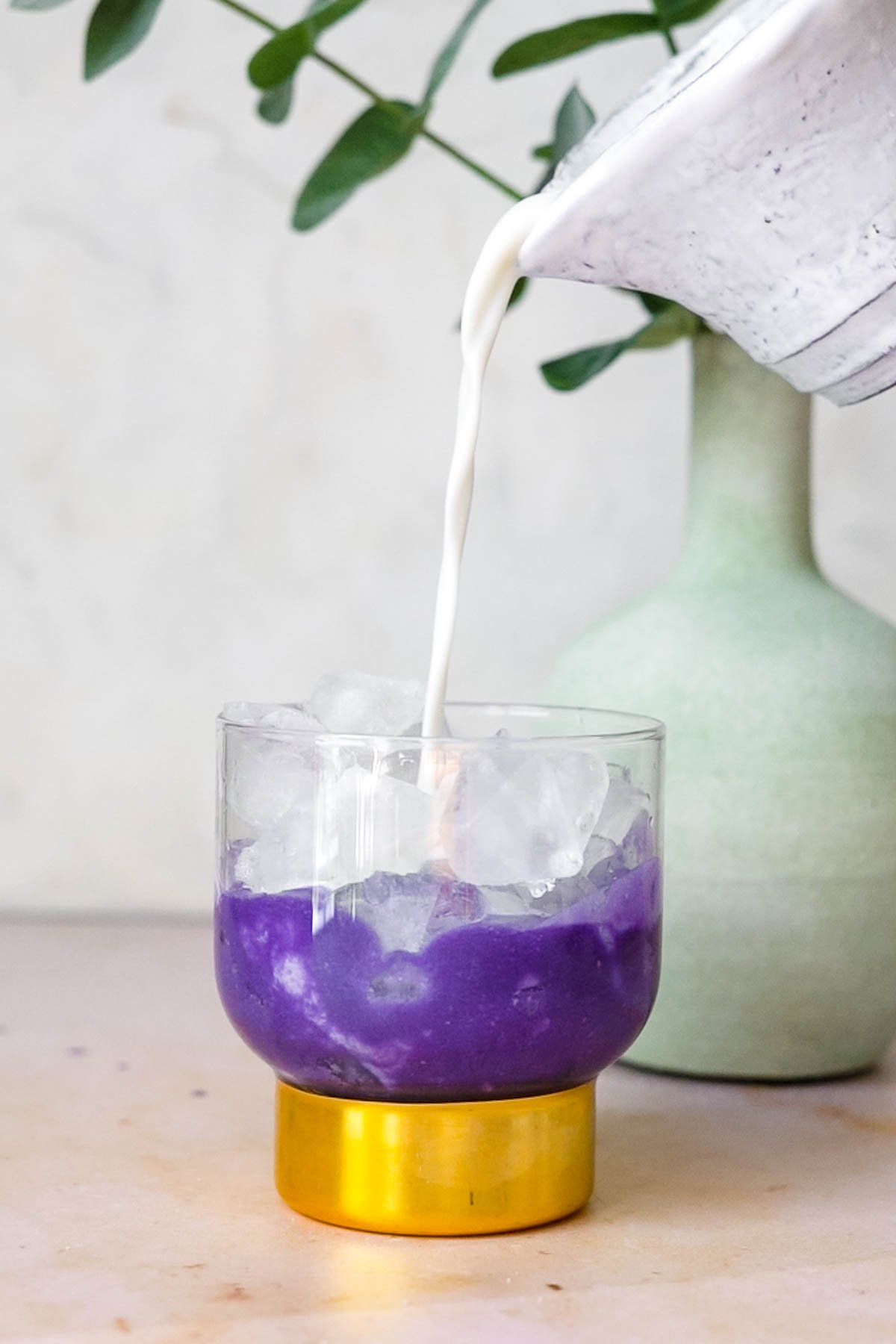 Then, add a bit of simple syrup to sweeten as much as you'd like since the espresso is fairly bitter. Stir together the ube extract, coconut milk, and simple syrup. Add ice and top it off with your favorite milk or plant-based substitute before adding the frothy instant espresso!
Pro Tip: To make simple syrup, use equal parts of hot water and sugar and stir it until the sugar has fully melted.
Give it a really good stir and you're ready to enjoy.
Making Larger Batches
If you'd like to keep more of the ube mixture at hand for ube lattes throughout the week, increase the serving size toggles in the recipe card and mix enough of the ube extract, coconut milk, and simple syrup for several coffees.
Keep the ube mixture in a mason jar in the fridge. When you're ready to use it, add an ounce of it to a cup. Top it off with ice, your milk of choice, and freshly made espresso.
Tips and Tricks
To get a layered look for the latte, make sure you follow the order of operations in the recipe. So, first start with mixing the coconut milk with the ube extract and simple syrup so it's thick and sits at the bottom. Fill the cup with ice and slowly pour the milk over the ice and it'll stay separated. The whipped coffee is thick and will set at the top.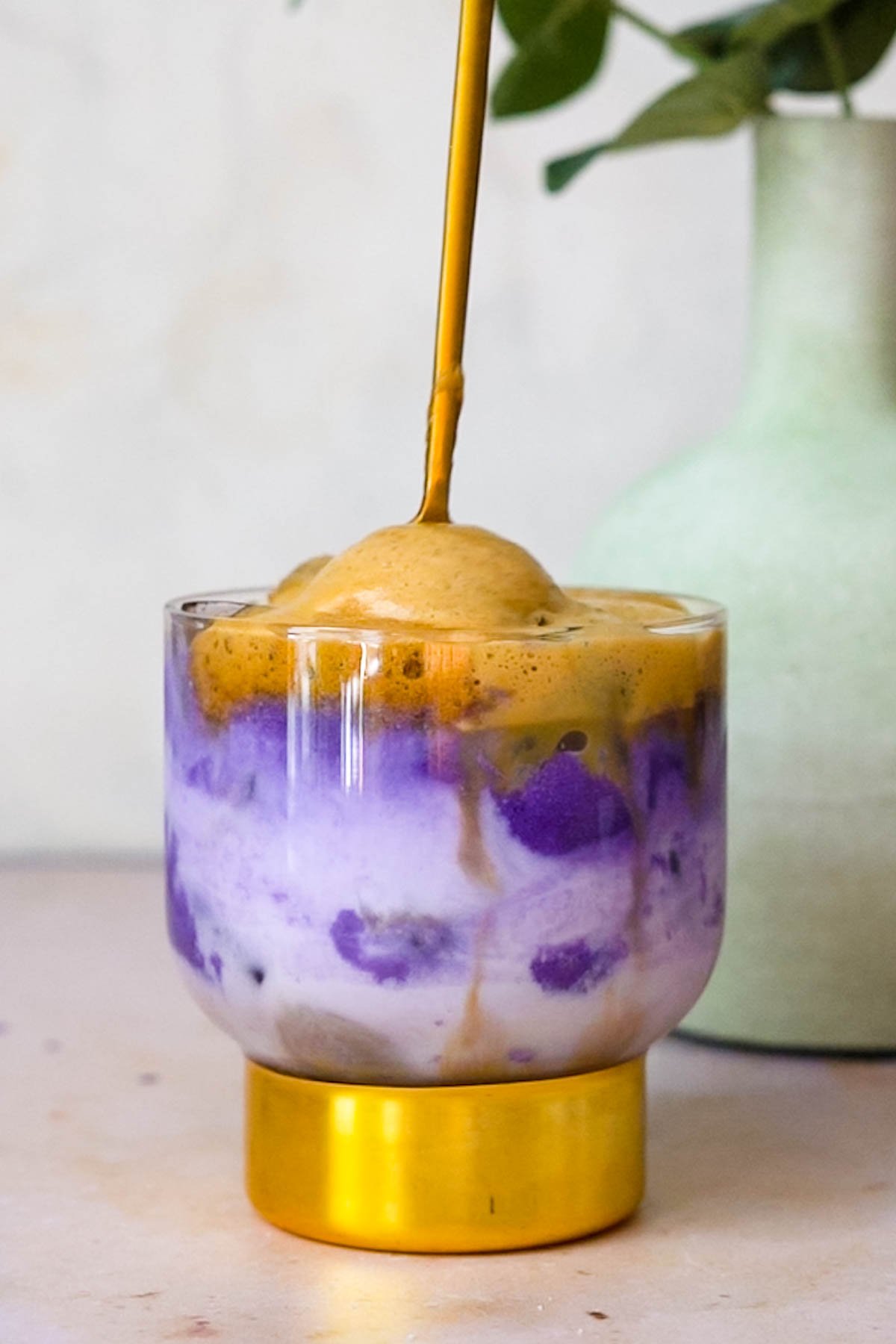 More Coffee Recipes to try
Recipe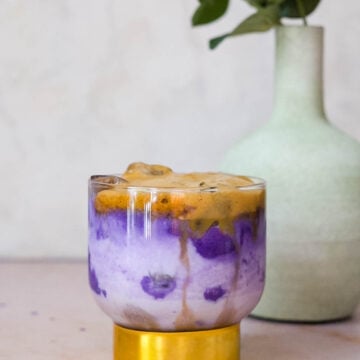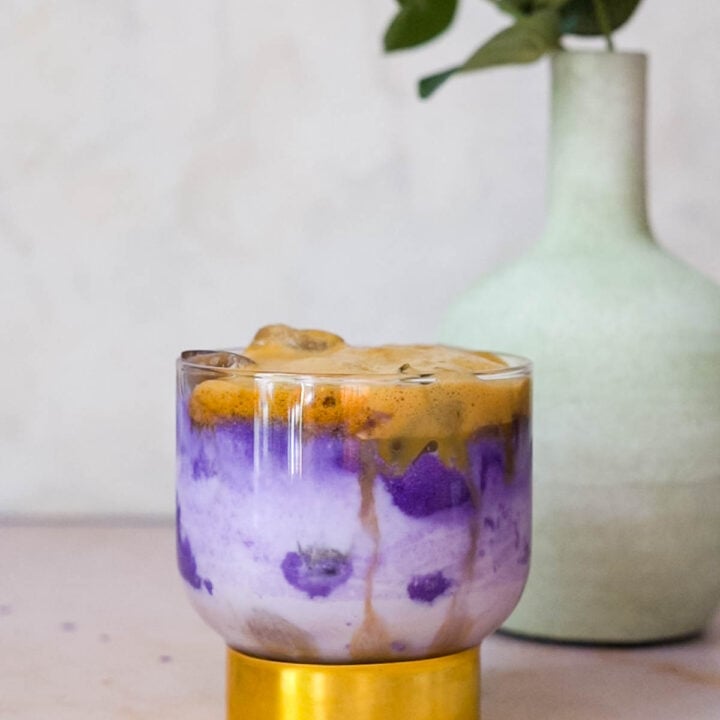 Iced Ube Latte
This sweet, creamy Iced Ube (purple yam) Latte is the perfect, colorful summer drink to add to your repertoire of homemade coffees.
Print
Pin
Rate
Instructions
In a cup or a deep bowl, add the instant espresso, 2 teaspoons of sugar, and 2 teaspoons of hot water. Turn an electric whisk on medium speed and whip the coffee until it triples in volume and is frothy, about 2-3 minutes. Set aside.

Add the remaining 2 teaspoons of sugar to the 2 teaspoons of hot water to make a simple syrup. The water should be hot enough so that the sugar fully melts.

In your coffee cup, add the ube extract, coconut milk, and simple syrup. Stir it well with a spoon.

Fill the cup with ice. Pour the milk over the ice. Then, pour the frothy espresso over the milk. Give it a really good stir. Enjoy!
Notes
Substitute the coconut milk and simple syrup with sweetened condensed milk.
Use any milk of your choice.
Nutrition
Serving:
1
latte
|
Calories:
189
kcal
|
Carbohydrates:
30
g
|
Protein:
3
g
|
Fat:
7
g
|
Saturated Fat:
5
g
|
Sodium:
61
mg
|
Potassium:
193
mg
|
Fiber:
1
g
|
Sugar:
25
g
|
Vitamin A:
246
IU
|
Vitamin C:
1
mg
|
Calcium:
181
mg
|
Iron:
2
mg