Celebrate summer cocktail season with a refreshing Amaretto Sour - a sweet, citrusy, almondy cocktail. It takes 5 minutes to make with no odd ingredients. You'll be sipping it poolside in no time!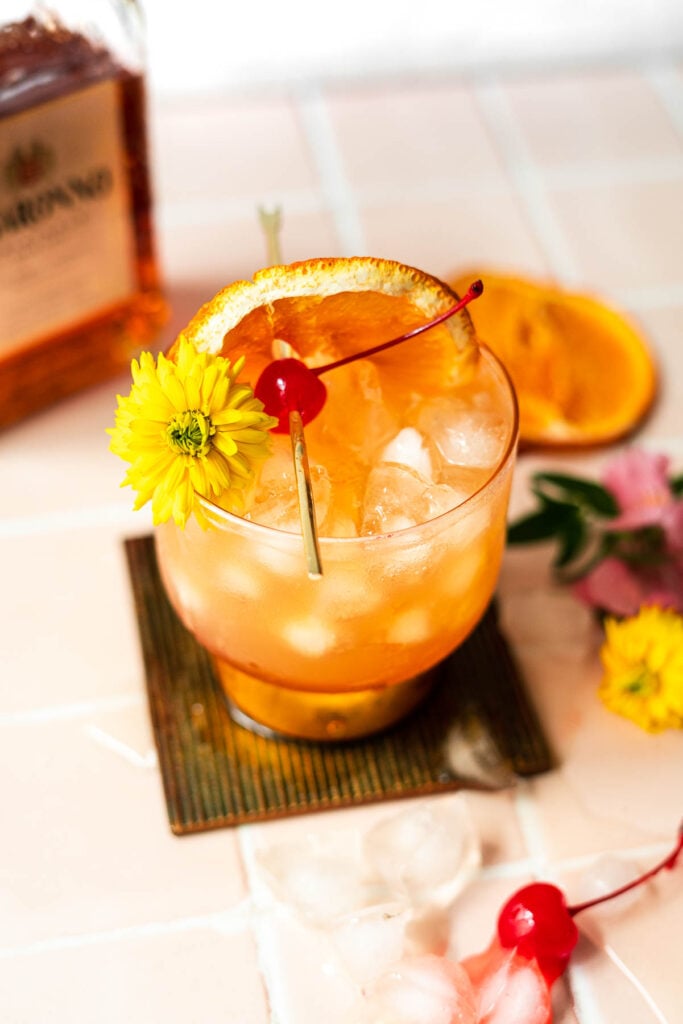 An Amaretto Sour is a cocktail with a sweet almond flavored liqueur with lemon juice, lemon-lime soda, bourbon, and a bit of simple syrup. It's my go-to drink at a bar! Two cherries on top, please!
I also add a bit of bourbon - something a bartender here in NYC let me in on since he made the best amaretto sour I've ever had. I can only assume it's inspired by Jeffrey Morgenthaler, a bartending and cocktail expert who says it amplifies the amaretto and allows it to shine with the citrus.
If you enjoy things like Shirley Temples, Italian rainbow cookies, or just enjoy sweeter drinks - then amaretto sour cocktail recipe is definitely for you.
Jump to:
What is Amaretto Liqueur
Maybe you bought a bottle of Disaronno for a particular baking recipe that called for amaretto and you're like... now what I do with this?? Well, Disaronno sours galore!
Amaretto is a sweet Italian liqueur often made from apricot pits or almonds, depending on the brand. This gives it a sweet almond-like flavor that's ever so slightly bitter. Due to its sweet nutty taste, it's often found in baked goods.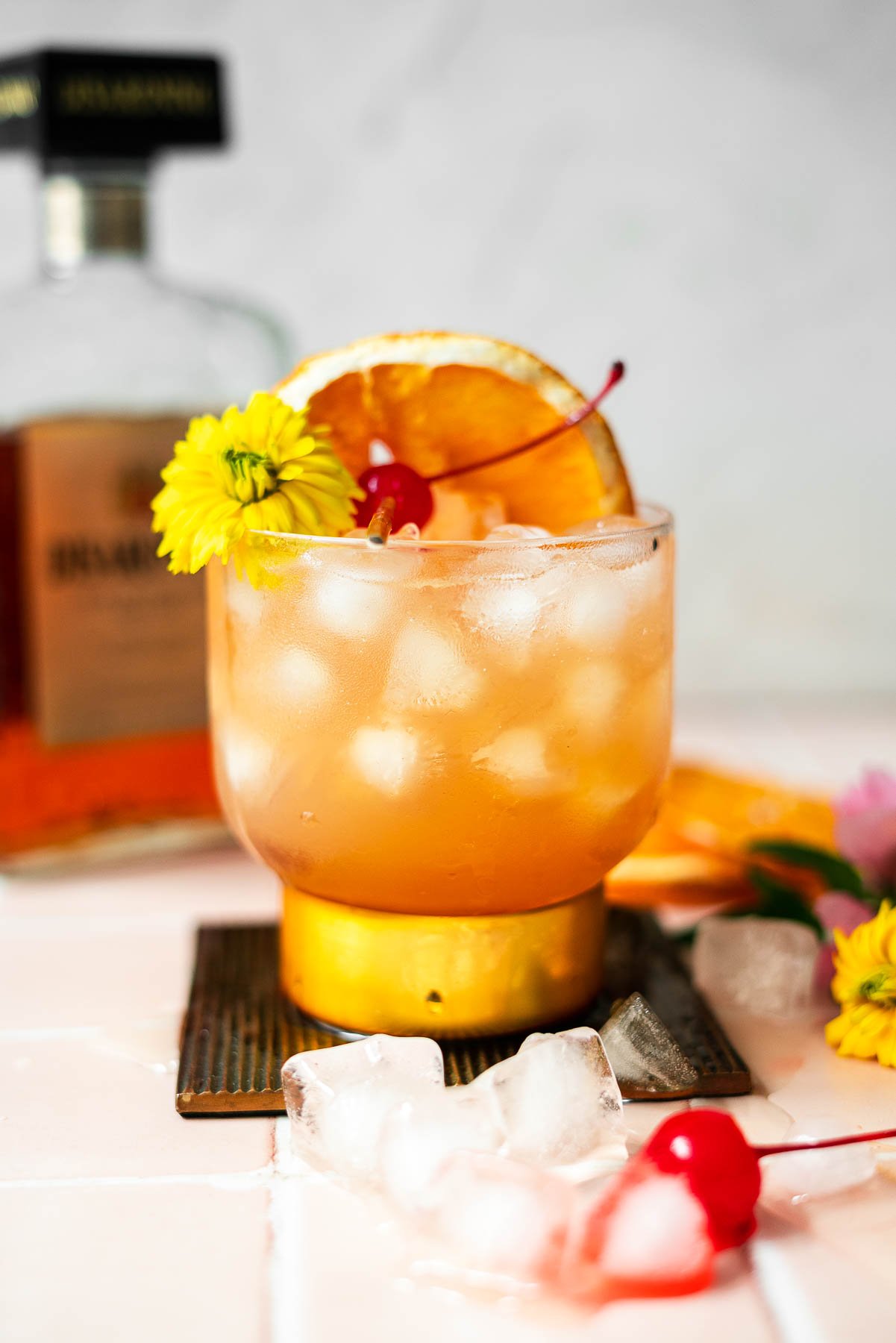 The flavor profile of amaretto - sweet and bitter - is why a sour makes perfect sense to get that sweet and sour combination. You either hate it in cocktails or you absolutely love it.
Read more on the history of Amaretto Liqueur from the Spruce Eats.
The Ingredients
Amaretto: A sweet, almond-flavored Italian liqueur. This is, of course, the star ingredient of the cocktail. I used Disaronno for this amaretto sour.
Bourbon: The amaretto isn't quite as bold as something like whiskey, in a whiskey sour. The bourbon magnifies the amaretto and balances the drink.
Lemon juice and simple syrup: This is opposed to using a sweet and sour mix, where you can't control how sweet/sour it is. You can purchase simple syrup or make it with ½ cup of water and ½ cup of sugar. Simmer it until the sugar fully dissolves and let it cool.
Lemon-lime soda: Amaretto sours with Sprite (or 7UP) adds a satisfying fizz and compliments the sweet sour combination. Substitute with sparkling water.
Garnishes: An orange slice for additional citrus and garnish and a maraschino or luxardo cherry
Egg White: This is what adds the classic foam on top of sours.
When to add an Egg White
While using an egg white in drinks may be gross to germaphobes - knowing how and when to use it opens up a whole world of cocktails. The thought of consuming raw egg used to make me shudder (unless it's in the form of cookie dough!). The egg white adds a luxurious silky smooth drink with a rich, foamy texture at the top. Personally, I think sours need the egg white to offset.. well, the sour.
So this amaretto sour is with egg whites but it's completely optional. If the smell of the egg throws you off, this is a great cocktail to use bitters or citrus essence.
You'll want to make sure you're using quality eggs if you choose to use egg whites. Choose small to medium sized pasteurized organic eggs. Don't consume the egg if it smells foul or you feel unsure.
Dry Shaking
The dry shake means shaking a cocktail that uses egg whites or cream without ice first, and then shaking it a second time with ice before straining. This allows the egg white to emulsify at a higher temperature, and the aeration creates a creamier foam that sits at the top of the cocktail.
You can skip the dry shake and shake directly with ice. But the foam is weak and presents like dirty soap water to me without the dry shake.
How to make a Large Batch
The recipe card provides the measurements for a single cocktail. Multiply the ounces of ingredients by the amount of drinks you'd like to make, weigh it out, and add the ingredients to a chilled pitcher. Use a large stirrer to mix everything together well. Add a few orange slices and cherries.
Allow the guests to add their ice to a cup so the amaretto sour doesn't get watery in the pitcher, and then let them top it off with lemon-lime soda.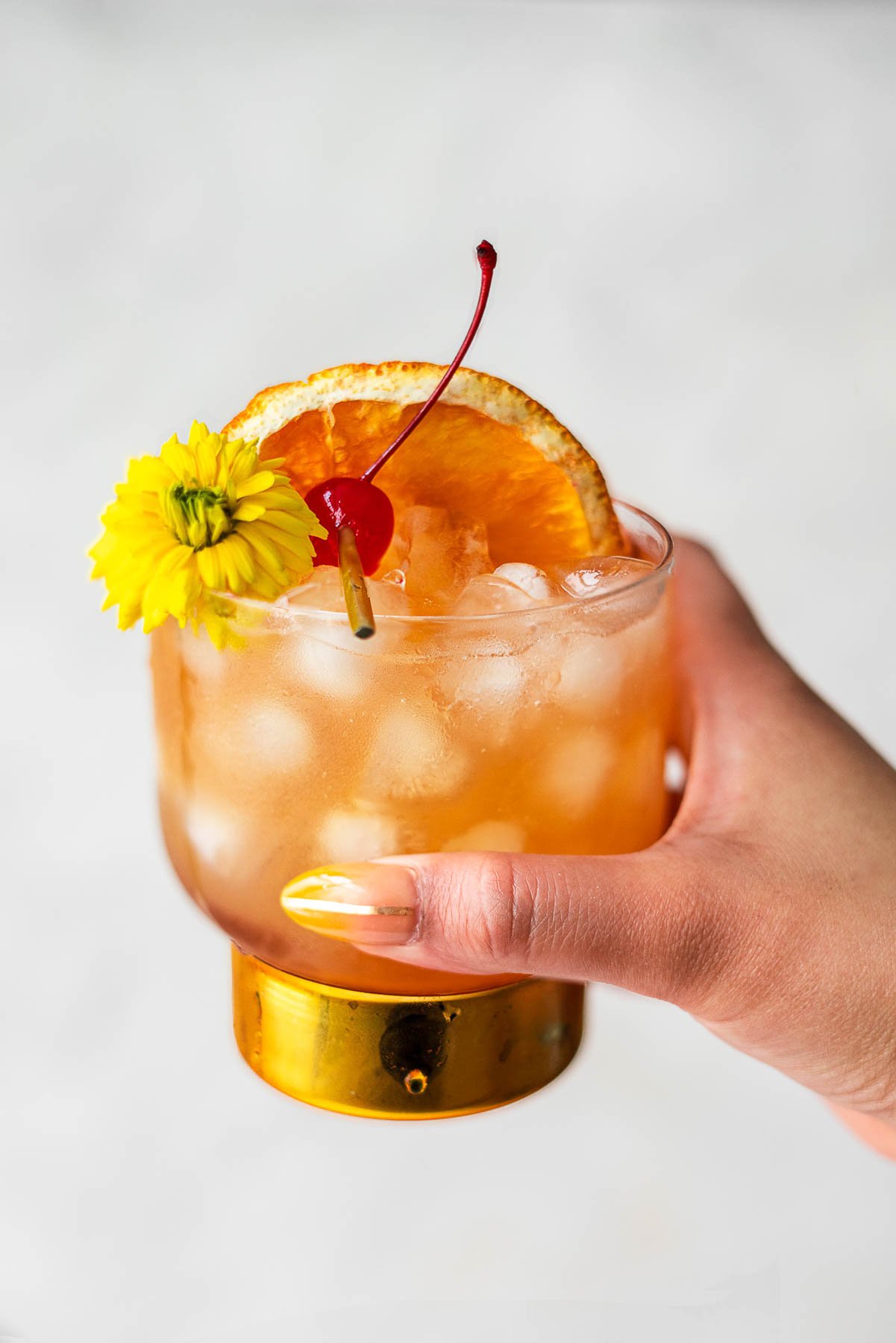 More Cocktail Recipes
If you have more Amaretto, give this Flourless Nutella Cake or Amaretto Cherry Almond Cake a try!
Recipe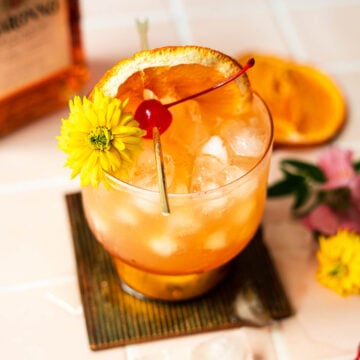 Amaretto Sour
Celebrate summer cocktail season with a refreshing Amaretto Sour - a sweet, citrusy, almondy cocktail. It takes 5 minutes to make with no odd ingredients. You'll be sipping it poolside in no time!
Print
Pin
Rate
Ingredients
1.5

oz

amaretto

0.5

oz

bourbon

1

oz

lemon juice

0.25

oz

simple syrup

½

egg white

,

optional

orange slice and maraschino cherries

,

for garnish
Instructions
Add the amaretto, bourbon, lemon juice, simple syrup, and egg white to a shaker. Dry shake (shake without ice) for a minute. Open the shaker and add ice, and shake again for another minute.

Strain the mixture into a highball glass over ice. Top with lemon-lime soda.

Garnish with an orange slice and a maraschino cherry.
Notes
Only dry shake if using an egg white. If not, skip to shaking directly with ice.
Omit the bourbon if you'd like.
Nutrition
Serving:
1
drink
|
Calories:
205
kcal
|
Carbohydrates:
23
g
|
Protein:
2
g
|
Fat:
1
g
|
Saturated Fat:
1
g
|
Sodium:
34
mg
|
Potassium:
92
mg
|
Fiber:
1
g
|
Sugar:
21
g
|
Vitamin A:
2
IU
|
Vitamin C:
11
mg
|
Calcium:
6
mg
|
Iron:
1
mg