Sip on this dangerously addicting Chai White Russian cocktail, made with vodka, homemade Chai Liqueur, and cream! Serve it with ice in an old fashioned glass for a holiday look!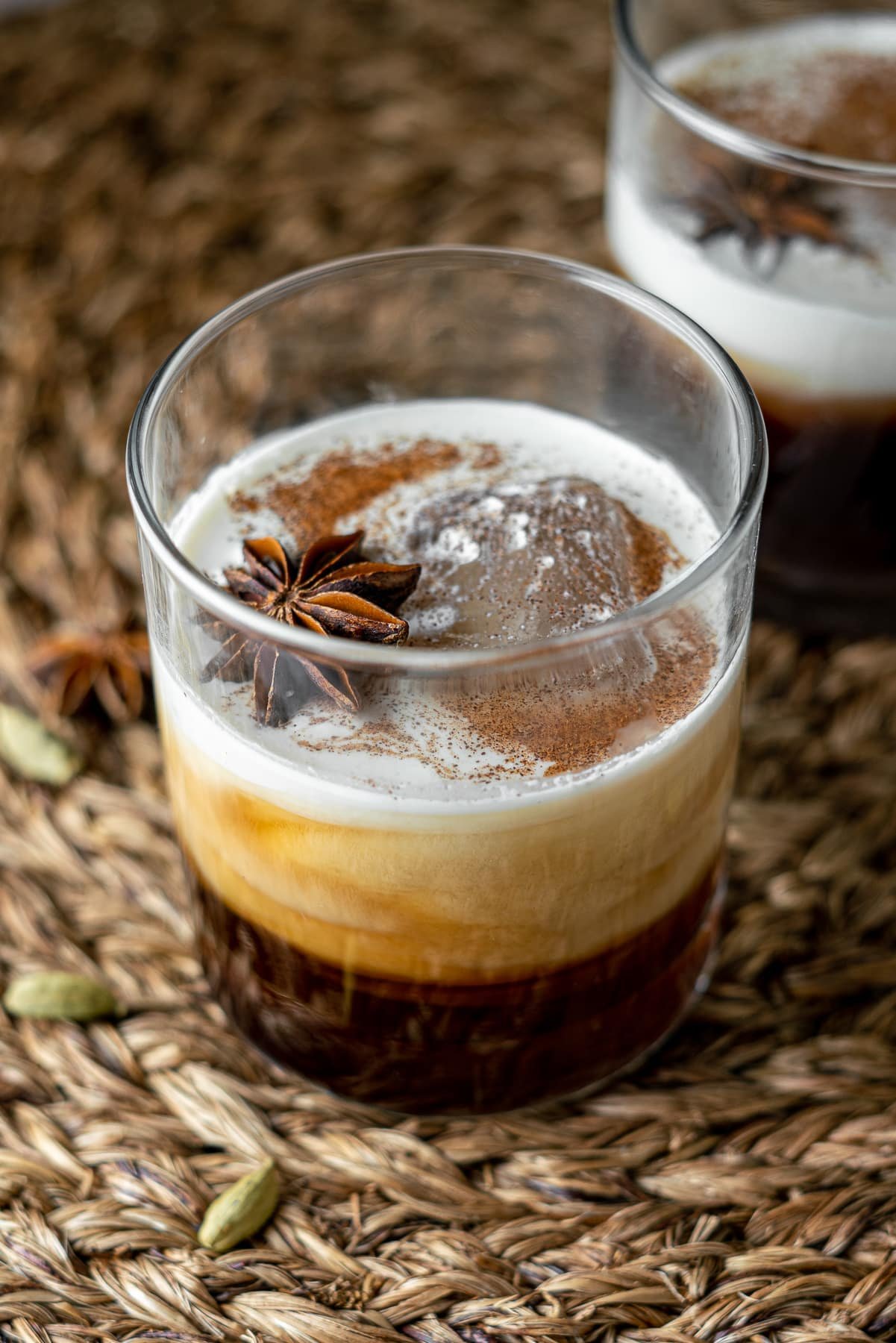 Making this vodka cocktail recipe is one of the easiest things to add to your bartending skills and only requires three ingredients - chai liqueur, vodka, and cream!
That too, it gives you a buy one get one free type of deal because it'll also add Black Russians to your arsenal if you omit the cream. Everything is simply poured in the glass over ice and mixed together and it's ready to go.
Jump to:
This cocktail is SO addicting - so much so that I drank a whole bottle in one night by myself. You can barely notice the alcohol in this creamy drink which makes it perfect for sipping on throughout the night. The caffeine helps keep a good night going!
If you're here because you love Masala Chai, let me assure you you're in the right place.
What is a Chai White Russian?
The name "White Russian" refers to one of the cocktail's main ingredient, vodka, and the color from mixing the cocktail with milk or cream. It's a variation of the Black Russian, which is dark because it only uses coffee liqueur, like Kahlúa, and vodka.
Does your mind go to Moscow mules here? That makes sense if it does! Russia was the #1 exporter of vodka, so the cocktails took on Russian-inspired names in the U.S.
If you love White Russians, give this RumChata White Russian a try!
Instead of using a sweet coffee liqueur, a Chai White Russian uses homemade Chai Liqueur which is a sweetened chai spiced black tea with rum. The Chai Liqueur takes under 30 minutes to make and bottle, and before you know it you'll have Chai White Russians in hand! Using cream or milk as part of the ingredients is very reminiscent of masala chai.
You end up with a creamy alcoholic iced chai! Who wouldn't love that?!
Tips for this Recipe
Choose a high quality vodka for making the best White Russian. A lot of people recommend using Absolut.
The main ingredient to a White Russian is the cream! There are a few options here with what to use:
Heavy cream is a popular choice because it is thick and rich and sits nicely at the top of the cocktails. It dilutes a bit as the ice melts, but it's still heavy and therefore calorie dense. Some people only add a splash.
Light cream and half-and-half - which is half milk and half cream - are also great substitutes to heavy cream that aren't going to be as heavy.
Whipped cream is another great option! If you make it by yourself, it's essentially whipped heavy cream and if you want to make it sweeter, add in a bit of powdered sugar. You can also by Reddi Wip or a coconut whipped cream as a vegan option.
Most bars I've gone to use whole milk since it's easier to keep at the bar and probably less expensive. Most people have milk in their fridge, so why not? It does produce a thinner drink.
For a vegan White Russian, dairy-free milk like oat, almond, soy, or any of the other nut- or grain-based milks work. For a thicker consistency like heavy cream, use coconut cream!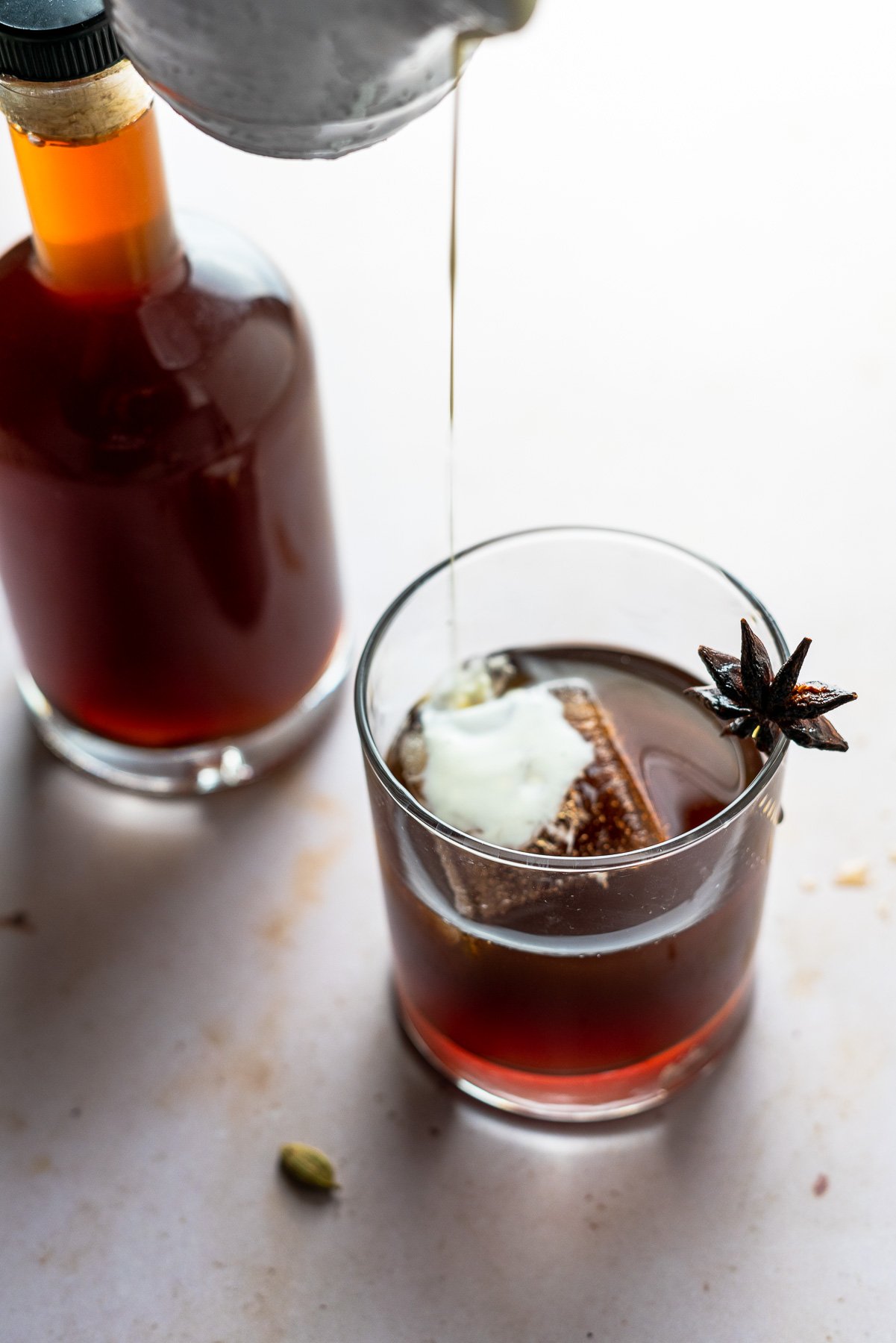 More Cocktail Recipes to try
Recipe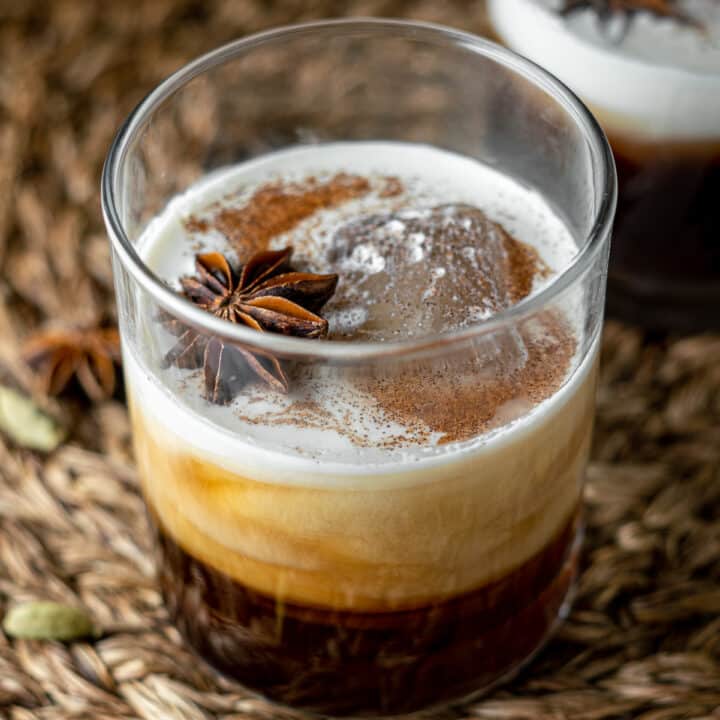 Chai White Russian
Sip on this dangerously addicting Chai White Russian cocktail, made with vodka, homemade Chai Liqueur, and cream! Serve it with ice in an old fashioned glass for a holiday look!
Print
Rate
Text Ingredients
Instructions
Add one part vodka and one part Chai Liqueur to a rocks glass filled with ice. Top with one part heavy cream.
Nutrition
Serving:
6
oz
|
Calories:
546
kcal
|
Carbohydrates:
29
g
|
Protein:
1
g
|
Fat:
22
g
|
Saturated Fat:
14
g
|
Polyunsaturated Fat:
1
g
|
Monounsaturated Fat:
6
g
|
Cholesterol:
82
mg
|
Sodium:
28
mg
|
Potassium:
45
mg
|
Sugar:
28
g
|
Vitamin A:
875
IU
|
Vitamin C:
1
mg
|
Calcium:
39
mg
|
Iron:
1
mg
Subscribe to the Masala and Chai Newsletter Community to receive exclusive recipes and updates straight to your inbox.
I love seeing when you share my recipes! Tag me on Instagram @masalaandchai so I can enjoy them virtually with you! You can also find me on Pinterest, Facebook, Tik Tok, YouTube, and Twitter.
I'd love to know what you thought of this recipe! Don't forget to leave a comment and ⭐️ star rating below!