Make this spooky Halloween cocktail inspired by Natasha Romanoff, A.K.A Black Widow! It's a delicious creamy RumChata White Russian with coffee liqueur and marshmallow cob webs.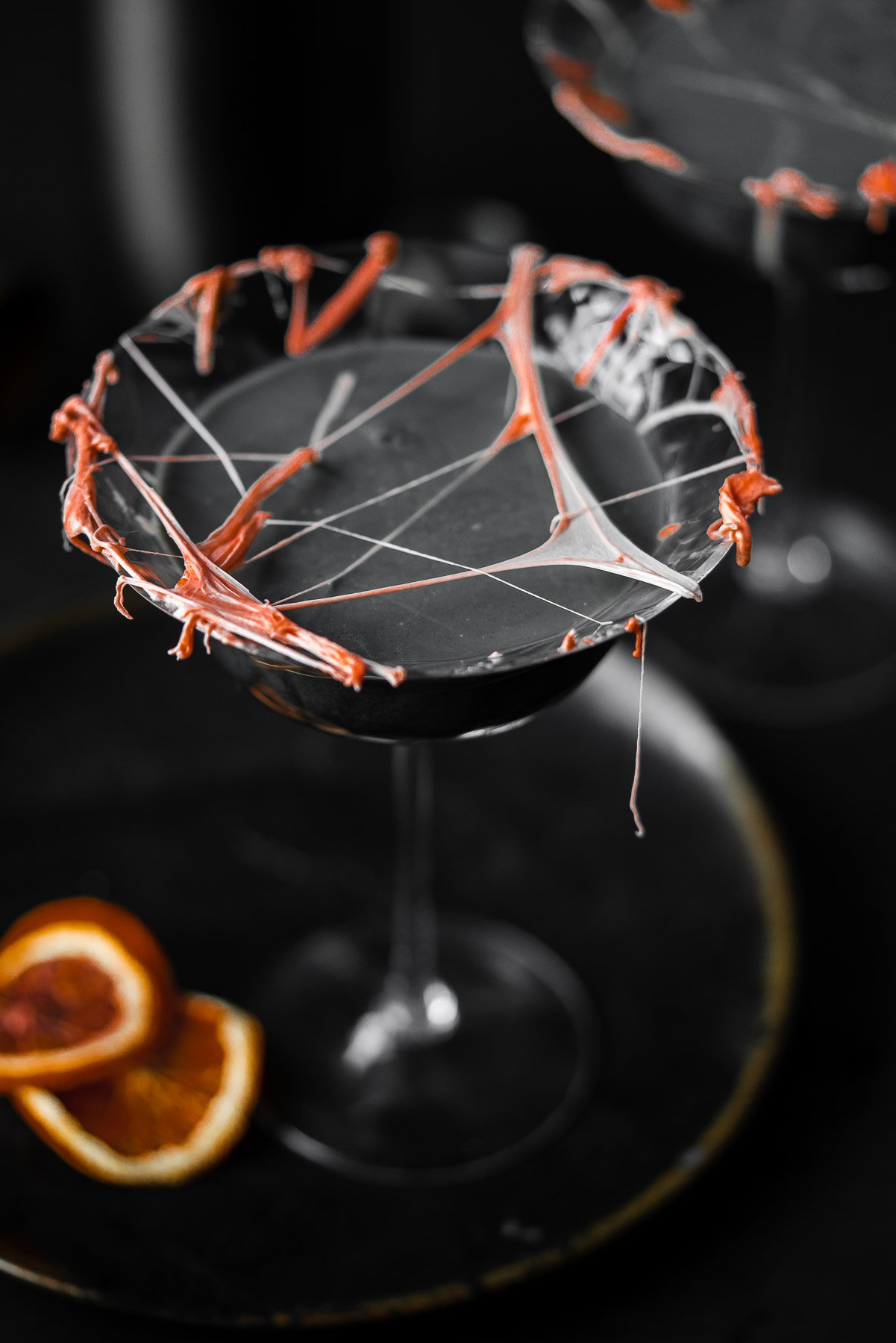 Okay, this may be my creative peak lol.
This is the ultimate spooky Halloween cocktail!! The marshmallow and the creamy White Russian makes for an absolutely delicious drink. Add on the orange cob webs and the charcoal powder to turn the cocktail black and we're in business, baby.
Not to mention, Black Widow? A creepy poisonous spider? And an Avenger. A Russian spy. A White RUSSIAN. C'mooon! I'm obsessed!
A White Russian is one of my favorite drinks to make with Rumchata. Rumchata goes super well with coffee and vodka, which inevitably leaves to a creamy White Russian.
Jump to:
What is a White Russian?
The name "White Russian" refers to one of the cocktail's main ingredient, vodka, and the color from mixing the cocktail with milk or cream. It's a variation of the Black Russian, which is dark because it only uses coffee liqueur, like Kahlúa, and vodka. Does your mind go to Moscow mules here? That makes sense if it does! Russia was the #1 exporter of vodka, so the cocktails took on Russian-inspired names in the U.S.
If you love 'em, try out this Chai White Russian, made with a homemade Chai Liqueur!
The Ingredients - Notes and Substitutions
In addition to the basic White Russian ingredients of vodka, coffee liqueur, and milk, we also use a few extra to make this on theme for Halloween!
Vodka - To make this ultra special, use a Russian vodka!
Coffee liqueur - Kahlúa is the time-old classic coffee liqueur using arabica coffee beans and Mexican sugar, but there are other options for white russians as well! Mr. Black Cold Brew Coffee Liqueur is an Australian brand that uses wheat vodka and arabica coffee with cane sugar so it's got quite the kick. Lastly, I'd recommend Tia Maria Liqueur for any and all White Russian cocktails!
RumChata - A cream liqueur that uses a blend of rum, cream, vanilla and cinnamon and tastes like an alcoholic horchata. Substitute with a cream liqueur like Bailey's.
Milk - Use any milk of choice, or even heavy cream. For a vegan option, I recommend NutPods Toasted Marshmallow Creamer which is a heavenly, creamy match with the melted marshmallows!
Activated charcoal powder - To make this more spooky and give it a Halloween vibe, use some food-grade activated charcoal powder. It's incredibly important that the label says it's food grade. Charcoal powder is odorless and flavorless.
Marshmallows - This recipe doesn't require too many marshmallows so I recommend the mini marshmallows for quick melting.
Food coloring - I used Wilton gel food coloring in copper and a bit of red food coloring to get a bit of a darker orange to match Natasha Romanoff's hair. Keep in mind the marshmallow will lighten the orange a bit when mixed. You can also use purple or green food coloring to keep on theme with Halloween, or omit it entirely and keep it white!
How to Decorate with Marshmallow Cob Webs
Decorate the coupes with marshmallow cob webs before or after pouring in the cocktail! However, keep in mind the liquid from the cocktail will melt the spider webs.
I found this video for decorating cake with marshmallow spider webs on YouTube to be super helpful with achieving the right consistency! The key is to use a glass bowl or cup when melting the marshmallows. I tried using a few other bowls and none of them worked as well, they all hardened really fast.
Add the marshmallows into a glass bowl and pop it into the microwave for about 20 seconds. This is a small batch so any longer and the marshmallows will overflow or burn. Carefully remove the bowl and add the food coloring. Give it a quick stir until the food coloring is evenly mixed.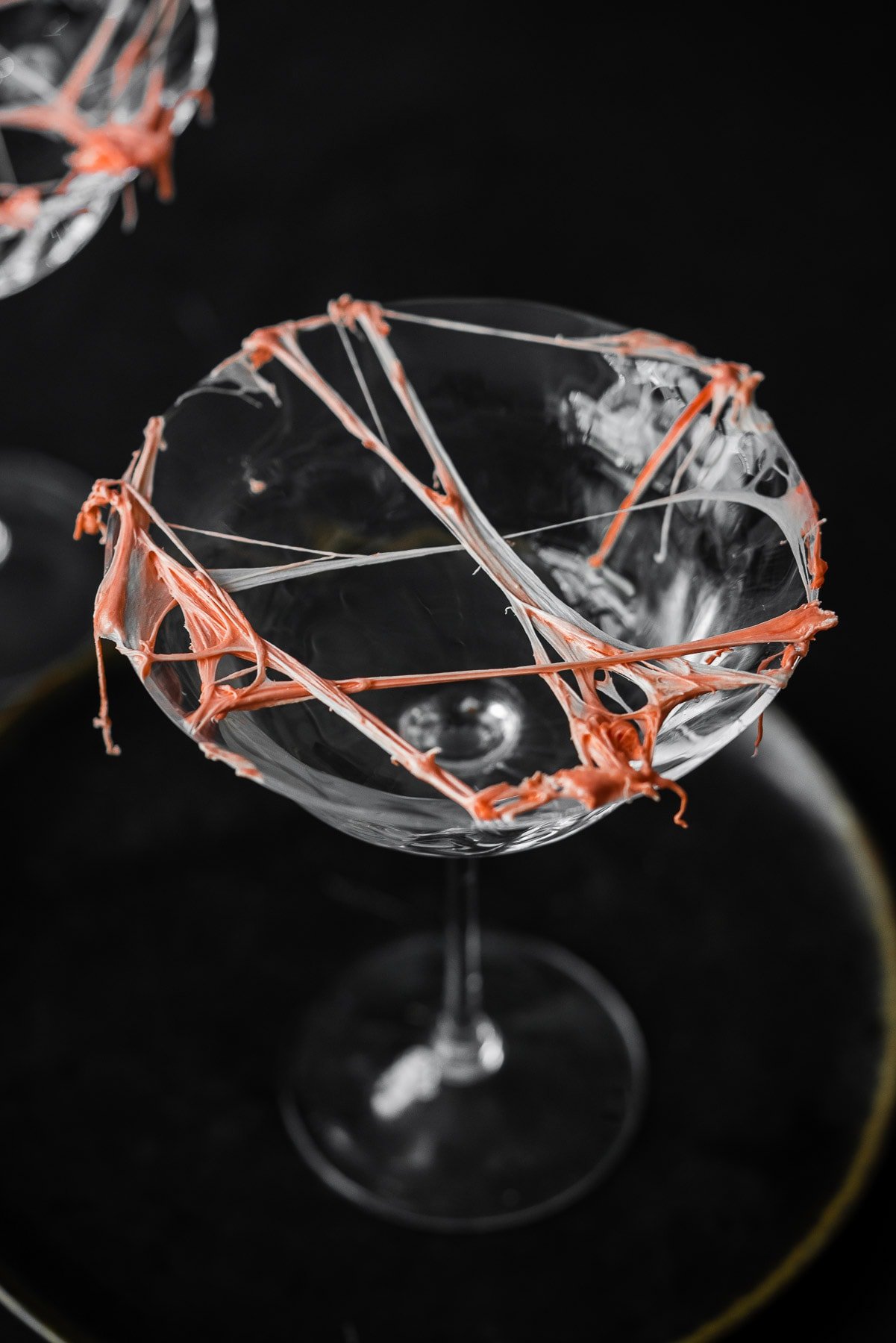 Be very careful, the marshmallows may be incredibly hot! I definitely burned my fingers a few times. Use gloves if necessary. Grab a small gob of marshmallows with your fingertips and slowly stretch out your fingers over the cup so that the strands are taut and don't concave downwards into the cup. You'll want to almost wipe your fingertips at the edge of the cup to transfer the marshmallow over and secure it to the edges. It'll dry and harden a bit as the sugar cools.
If the marshmallow cools too much to get the thin stretches of marshmallow, pop it back into the microwave for 10-15 seconds or until it's liquid again. Just be sure not to heat it too much, otherwise it'll harden and you'll need to start over.
You can get as creative and messy as you'd like with the cob webs!! If you don't like it, it's easy to start again by rinsing everything off with hot water.
How to make a RumChata White Russian
Making a RumChata White Russian is simply one part vodka, one part coffee liqueur, one part milk, and one part RumChata. Start with 1 ounce for everything, and make adjustments from there to your liking. This ratio makes it really easy to scale the recipe for hosting your Halloween party!!
The charcoal makes it so that the mixture isn't brown caca liquid. You only need a very small amount of charcoal. Too much and the texture will have an unappealing mouthfeel and the excess will sit at the bottom of the glass.
Add everything, plus the powdered charcoal into a cocktail shaker with ice. Shake for 30 seconds to a minute. Strain when pouring.
Serving Instructions
As I mentioned, you can prep the marshmallow cob webs before or after pouring in the cocktail. However, as soon as the marshmallows touch the liquid, it'll soften and disintegrate. While it's absolutely delicious and sweetens the drink, it definitely dampers the aesthetic a bit.
I recommend prepping the glasses with the marshmallow spider webs. They'll harden a bit as they cool, but they'll be easy to snap if touched or moved. When you're ready to serve, pour the RumChata White Russian into the cup and allow the marshmallow to disintegrate as a * magic trick *!
Or be extra careful and avoid pouring the liquid directly on to the marshmallow.
Serve the White Russian chilled in a coupe cocktail glass. I love these Tulip Coupe glasses!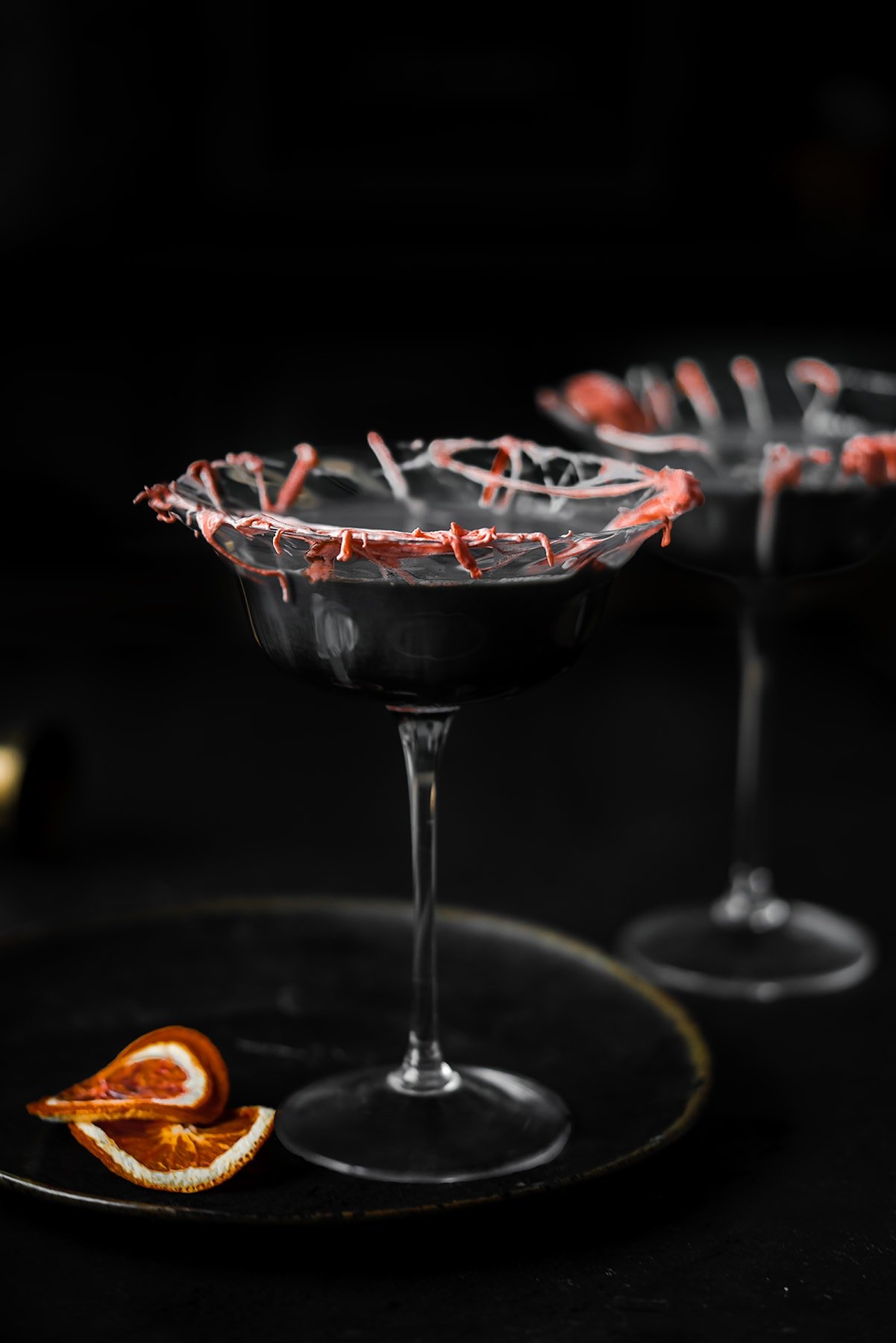 More Cocktails to try
Recipe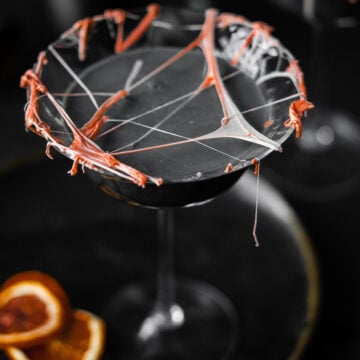 Black Widow RumChata White Russian
Make this spooky Halloween cocktail inspired by Natasha Romanoff, A.K.A Black Widow! It's a delicious creamy RumChata White Russian with coffee liqueur and marshmallow cob webs that's the ultimate nod to the Avenger.
Print
Pin
Rate
Ingredients
1

oz

vodka

1

oz

coffee liqueur

1

oz

RumChata

1

oz

milk

,

of choice

¼

teaspoon

activated charcoal powder,

food-grade

15

mini marshmallows
Instructions
Pour the marshmallows into a small glass mixing bowl. Pop it into the microwave for 20 seconds or until it's a liquid consistency.

Add a drop or two of the orange food coloring gel and mix it into the marshmallows.

Be careful, the marshmallows may be very hot! Use gloves if necessary. Grab a dollop of the marshmallows with your fingertips from both hands and stretch it out over the top of the coupe glass so the marshmallows are stringy. This will create a cobweb type aesthetic. Repeat on the other glass. Allow the marshmallows to cool harden.

Add the vodka, coffee liqueur, RumChata, milk, and charcoal to a cocktail shaker with ice and shake for 30 seconds to a minute.

Strain the white russian into the coupe glass, avoiding pouring over the marshmallow webs.

Serve chilled and enjoy immediately!
Nutrition
Serving:
1
cocktail
|
Calories:
287
kcal
|
Carbohydrates:
20
g
|
Protein:
1
g
|
Fat:
11
g
|
Saturated Fat:
7
g
|
Polyunsaturated Fat:
1
g
|
Monounsaturated Fat:
3
g
|
Cholesterol:
39
mg
|
Sodium:
30
mg
|
Potassium:
36
mg
|
Fiber:
1
g
|
Sugar:
18
g
|
Vitamin A:
476
IU
|
Vitamin C:
1
mg
|
Calcium:
60
mg
|
Iron:
1
mg