This creamy Pumpkin Halwa, or kaddu ka halwa, is the perfect fall dessert for celebrating Indian festivals. Fresh pumpkin is simmered down into a pudding-like consistency and topped with toasted cashews and golden raisins. It's incredibly rich in flavor and suitable to enjoy for breakfast or a light evening dessert.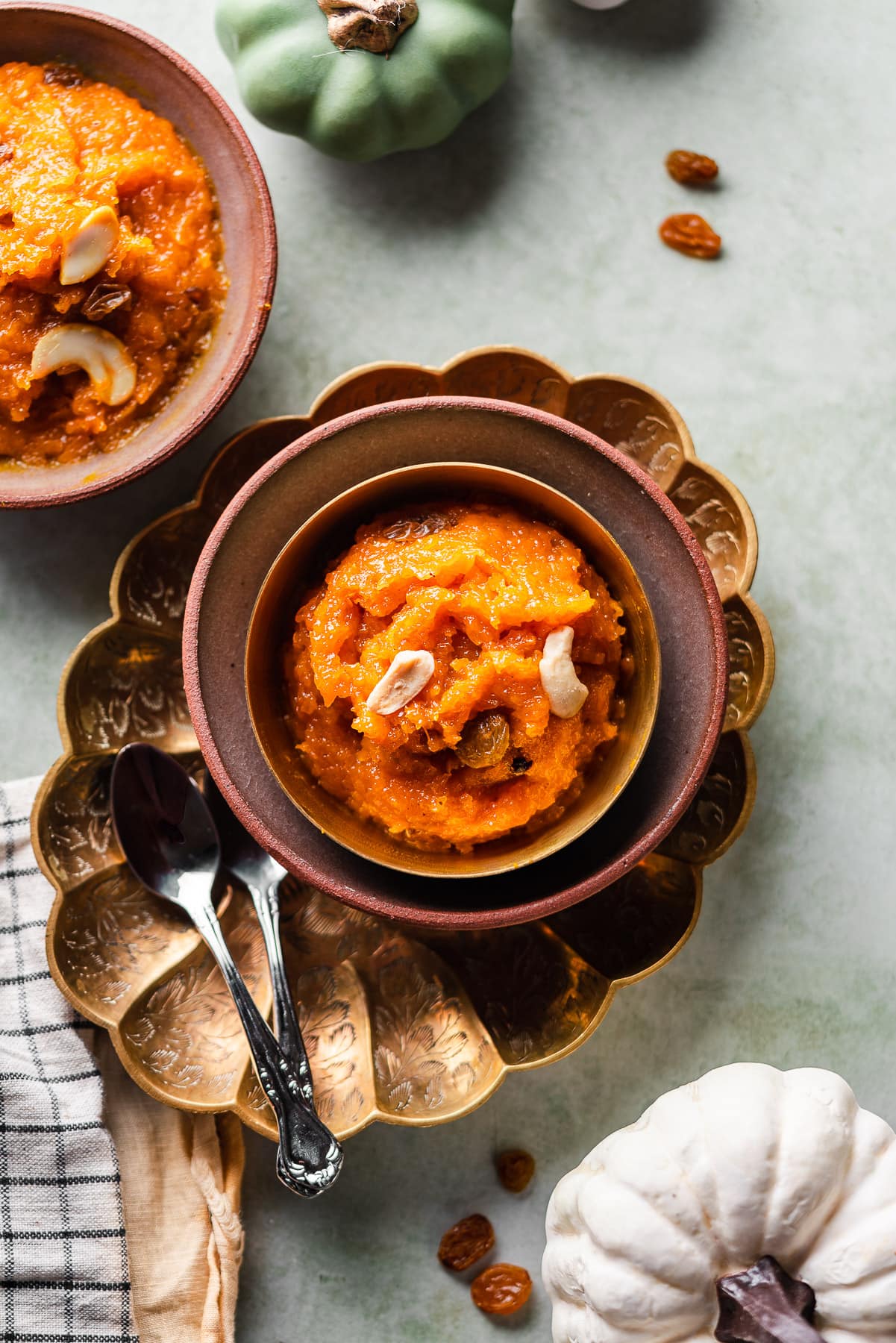 Pumpkin season collides with Hindu festival season, where we celebrate Navratri, Karwa Chauth, Diwali, Bhaiya Dooj, and so many more! For me, it means all my favorite desserts are in circulation, and especially all my favorite pumpkin-flavored things.
A dessert that I especially love is halwa, in all the forms it comes in, during celebrations. It's one of the desserts that my mom makes best! In Indian cuisine, halwa is loaded with butter and sugar. The more ghee, the richer it is. If you've got a sweet tooth like I do, then the soft, pudding-like yet flaky texture of halwa is so appealing and comforting.
This Pumpkin Halwa is not actually a traditional dessert, but it's certainly a popular one during the fall. It's great for using up leftover fresh pumpkin for a light, sweet treat that's easy to make and can serve a whole family.
You can also make kasi halwa, or white pumpkin halwa / ash gourd halwa, using the same method and ingredients. Simply omit the milk and add a few strands of saffron.
If you love pumpkin, check out Pumpkin Cream Cold Foam, Pumpkin Butter, and Pumpkin Samosas.
Jump to:
What is Halwa?
Halwa, or halva, is a dessert that takes on various forms in several cultures. It is derived from the Arabic word for "sweet", halwa, with the transliterated root letters being h-l-w. It's said to have come to India during the Delhi Sultanate from Persia.
When I think of halwa in Indian cuisine, I instantly think of Suji ka Halwa. It's a semolina-based dessert, where the semolina is toasted in ghee and simmered with a sugar syrup until it's a pudding-like consistency.
Halwa is also prepared without grains! It can be replaced with other fruits and vegetables - like potatoes, yams, gourds, squashes, and everything in between. The fruits or vegetables are typically grated, then cooked in ghee with a sweetener. It's simmered until it thickens, which is when additional mix-ins are added for more flavor and texture.
One of the most popular varieties of halwa is Gajar ka Halwa, which is made out of carrots.
Ingredients - Notes and Substitutions
The main ingredient for this fall dessert is fresh pumpkin! The rest of the ingredients are easy-to-find pantry staples.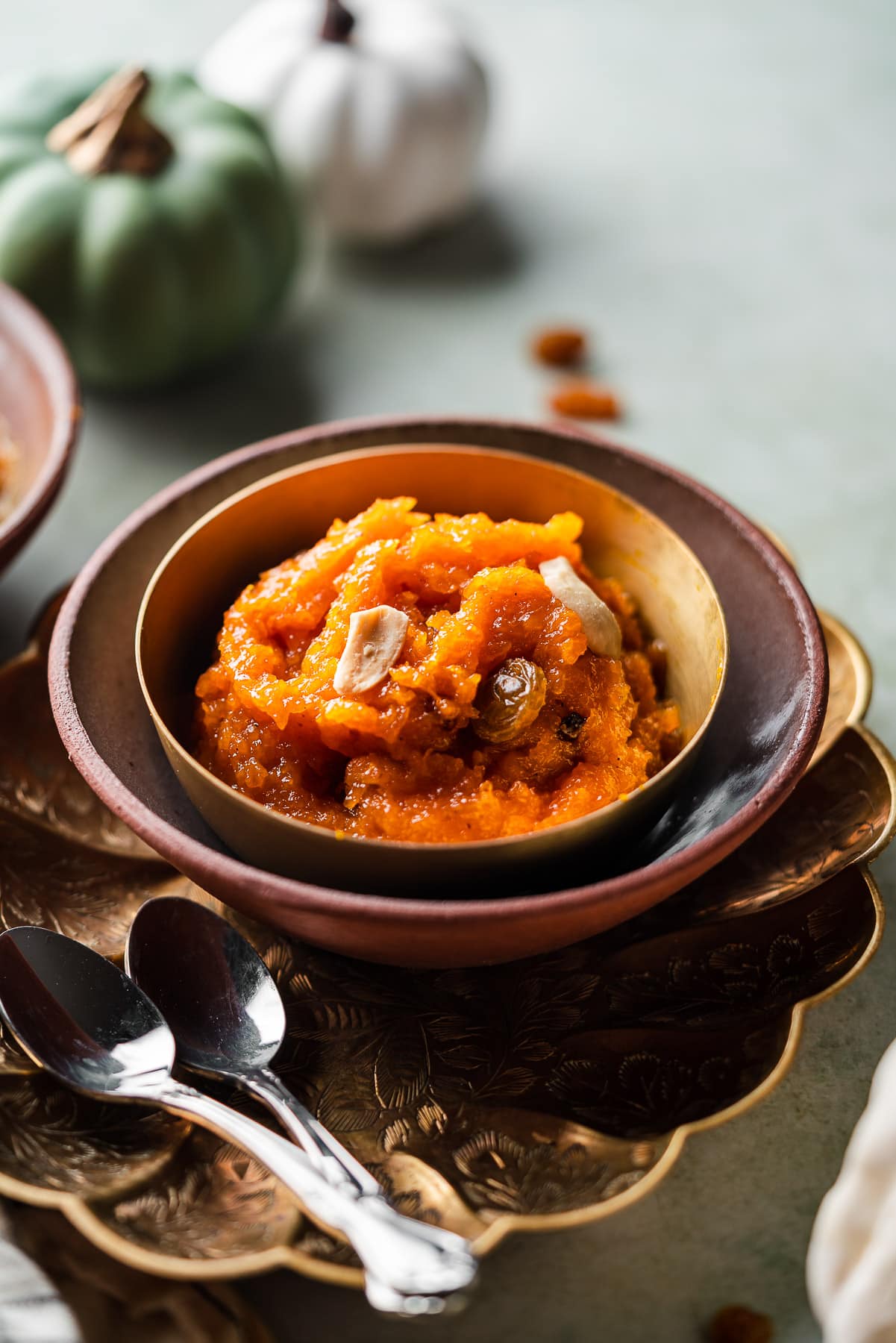 Pumpkin - Ensure that the pumpkin you purchase is edible, and not meant only for carving or decoration. Yellow pumpkin is especially delicious for halwa. Freshly grated pumpkin works best! Canned puree will not have the same texture and quality.
Ghee - Ghee is clarified butter and a fan favorite for Indians. It makes desserts super rich with its fat content.
Sugar - Any type of sugar or sweetener will work. I recommend brown sugar or jaggery to get a deeper caramel flavor, but plain granulated sugar will work too. Maple syrup or honey are also good substitutes.
Milk - Pumpkin Halwa is ever so slightly creamy. Whole milk or whole milk powder works best, but almond milk is a great plant-based substitute.
Coconut - The bit of shredded coconut adds some varying flavor to the pumpkin.
Cardamom - Adds sweetness and fragrance.
Nuts - Use a combination of slivered cashews, almonds, and pistachios or just your favorite. Any of them will work.
Raisins - Golden raisins, only. Omit the raisins if necessary, instead of using red raisins. They add sweetness and texture after they are fried in ghee.
How to Grate a Pumpkin
Admittedly, the hardest part of making pumpkin halwa is just grating the pumpkin. Here are some tips and tricks along the way.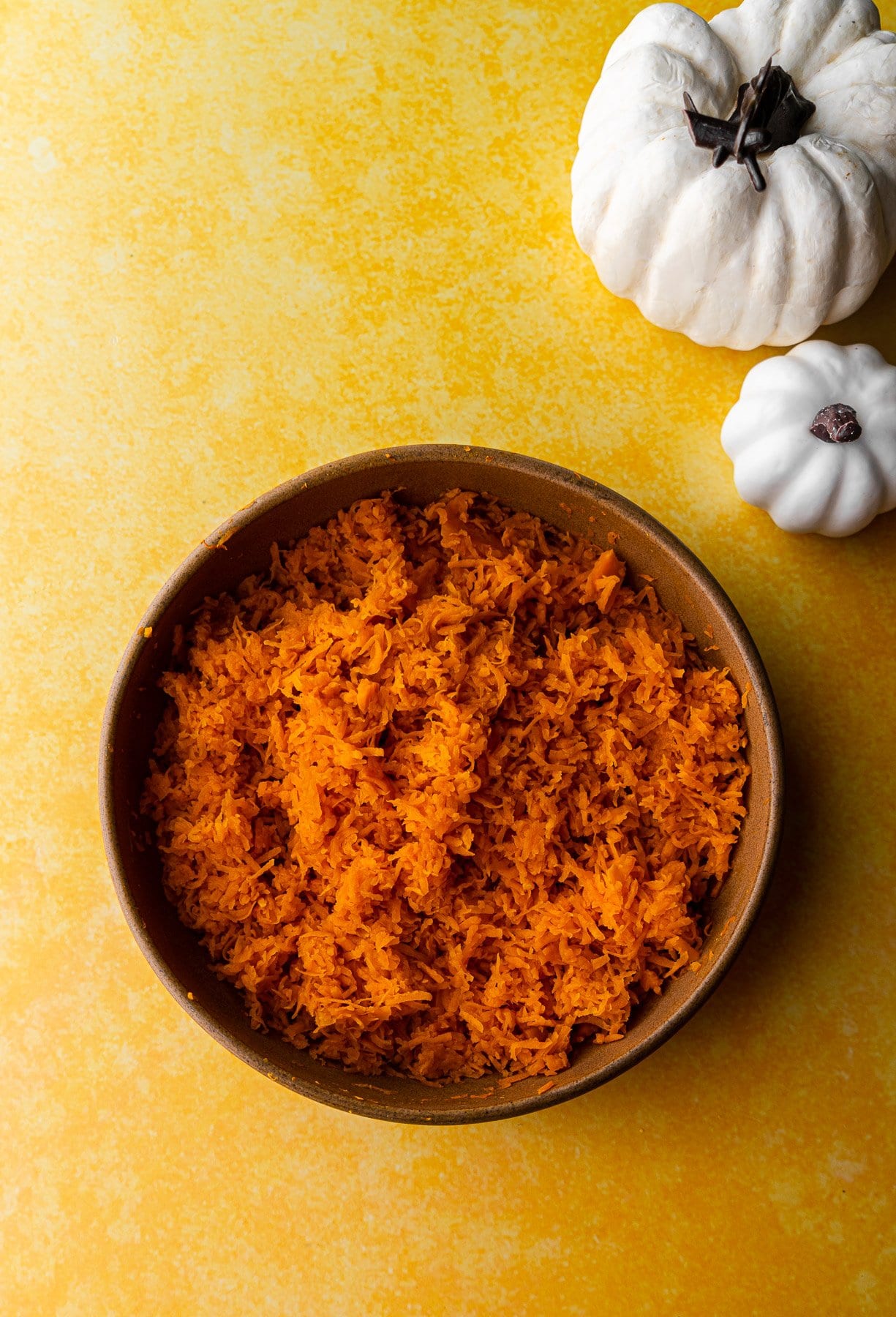 Pumpkins can be purchased whole, or some grocers sell it cut into fourths. I recommend buying the one that's pre-cut, because that's all you'll need. You'll still probably have some leftover after purchasing it pre-cut.
If you've purchased a whole pumpkin, start by cutting it in half to the side of the stem. Remove the pulp and the seeds from the middle. Save the seeds! Wash them off, dry them, and they make a great salad topper or snack.
Then, cut the pumpkin into quarters. Use a vegetable peeler to remove the peel. If the peel is too tough, use a paring knife to carefully remove the peel in small sections. Wrap the leftover pumpkin tightly in plastic wrap and refrigerate it for up to 7 days.
Then, cut the pumpkin into workable sections that'll make it easier to grate. Use medium-sized holes to grate the pumpkin into a bowl.
How to make Pumpkin Halwa
The blueprint for making halwa is very similar across different types. It typically starts off with cooking the base - whether it's carrots, pumpkin, semolina, etc - in ghee. Once softened, a sweetener and milk are mixed in. The halwa is simmered until it reaches a thick pudding-like consistency. Lastly, it's topped off with additional mix-ins, such as nuts or spices.
This pumpkin halwa is really no different from the blueprint.
Roast the nuts and raisins in ghee. In a pan on low to medium heat, melt ghee and add in the nuts and golden raisins. Sauté them in the ghee for a couple of minutes. You're looking for the cashews to become a toasty golden brown, and the raisins will plump up. Raisins lightly fried in butter will be sweeter and soft due to absorbing the liquid. Remove the nuts and raisins from the pan and keep them to the side, leaving the excess ghee in the pan for cooking the pumpkin in.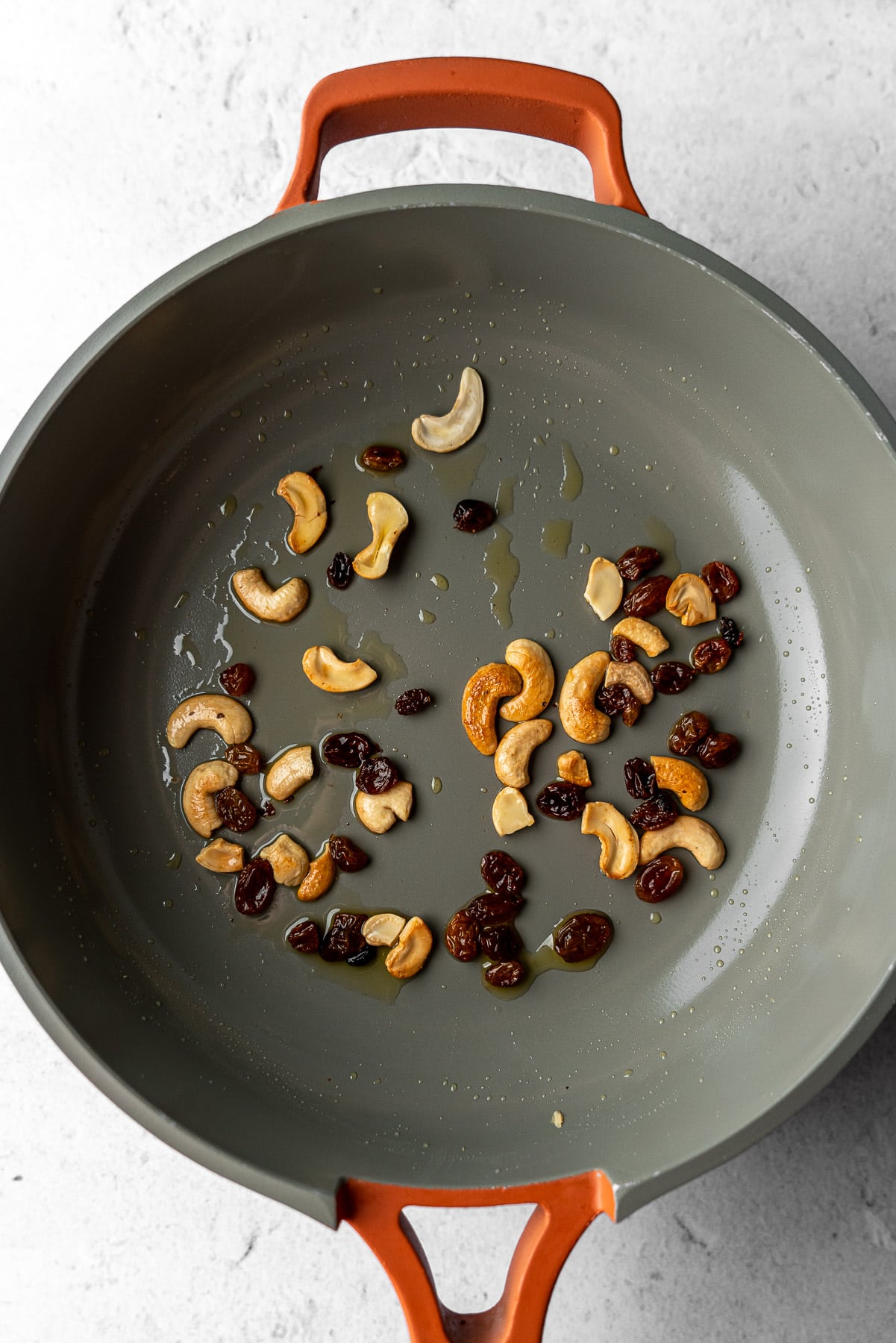 Sauté the pumpkin. Add about 2 more tablespoons of ghee. Once it has melted, add in the grated pumpkin. Sauté the pumpkin for a few minutes, being sure to stir it around so it doesn't brown too fast, until it's glassy or transparent. The raw pumpkin smell will also mellow significantly.
Simmer until the pumpkin thickens. Next, add in the sugar. As the sugar melts, it'll become a liquid and caramelize around the pumpkin as it simmers. The mixture will be really watery. Keep simmering until all the liquid evaporates. Then, pour in the milk and add the desiccated coconut. Continue to simmer the pumpkin until it is creamy and the excess milk has evaporated. You'll notice the pumpkin looks mushy, but the strands are still decipherable so it's not quite a pumpkin puree. The consistency will be very pudding-like with no residual liquid. Remove it from heat at this point.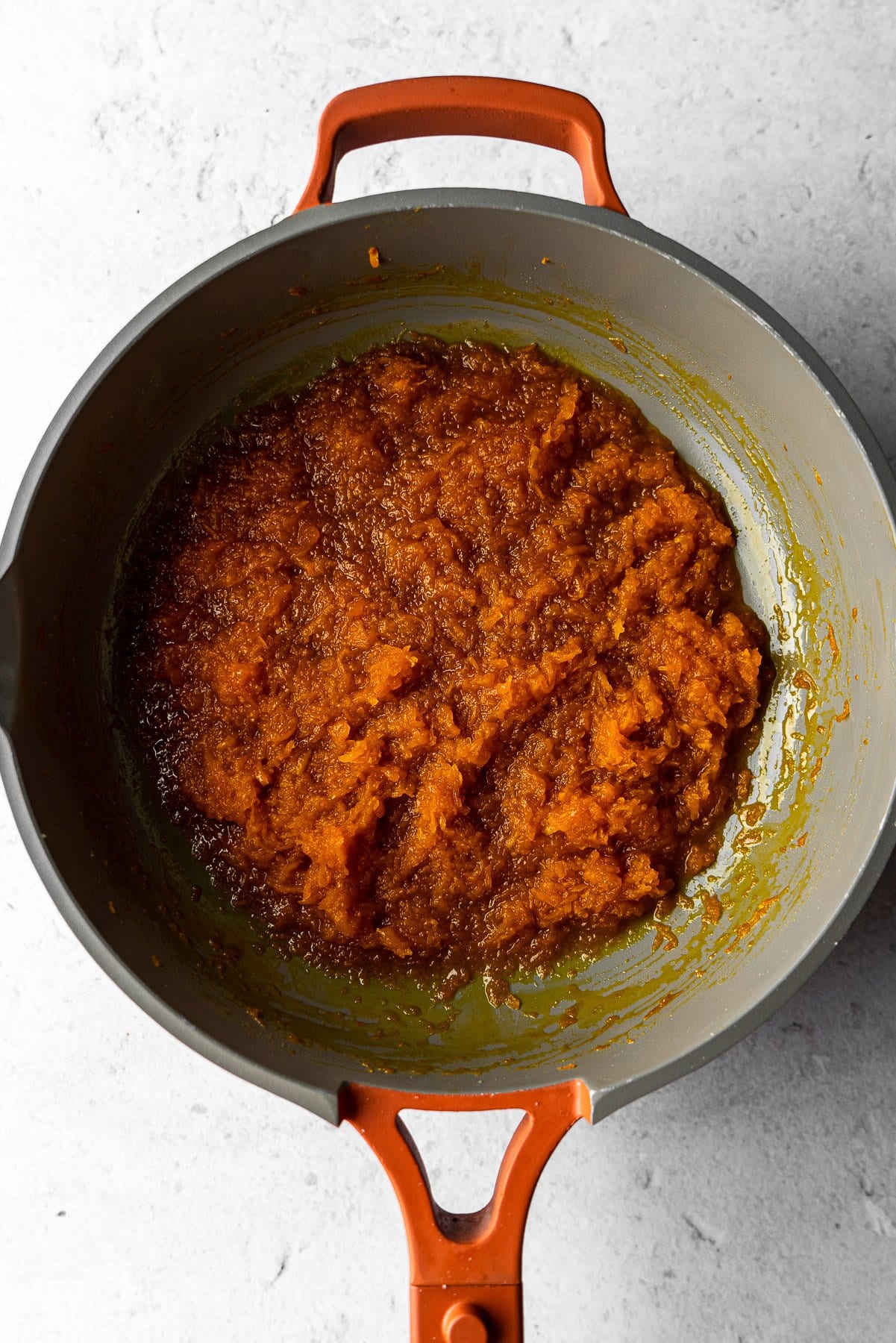 Finish off with mix-ins. Once the pudding is done cooking, add the cardamom powder and the toasted nuts and raisins. Give it a really good stir, and it's ready to be served.
Serving Instructions
Pumpkin Halwa can be served either warm or chilled. Halwa is typically enjoyed for breakfast or along with lunch. Garnish the halwa with chopped nuts, such as pistachios, cashews, or almonds.
In terms of serving size, my mom always says to eat no more than the size of your fist. It is, after all, quite a bit of sugar and ghee.
Serve halwa while warm with a scoop of ice cream for an especially delicious dessert.
Storage Instructions
Store Pumpkin Halwa in an airtight container in the fridge for up to 5 days. To reheat, sauté it in a pan on low to medium heat for 5 minutes, or simply warm it up in the microwave for 30-45 seconds. Add a teaspoon of melted ghee to refresh it.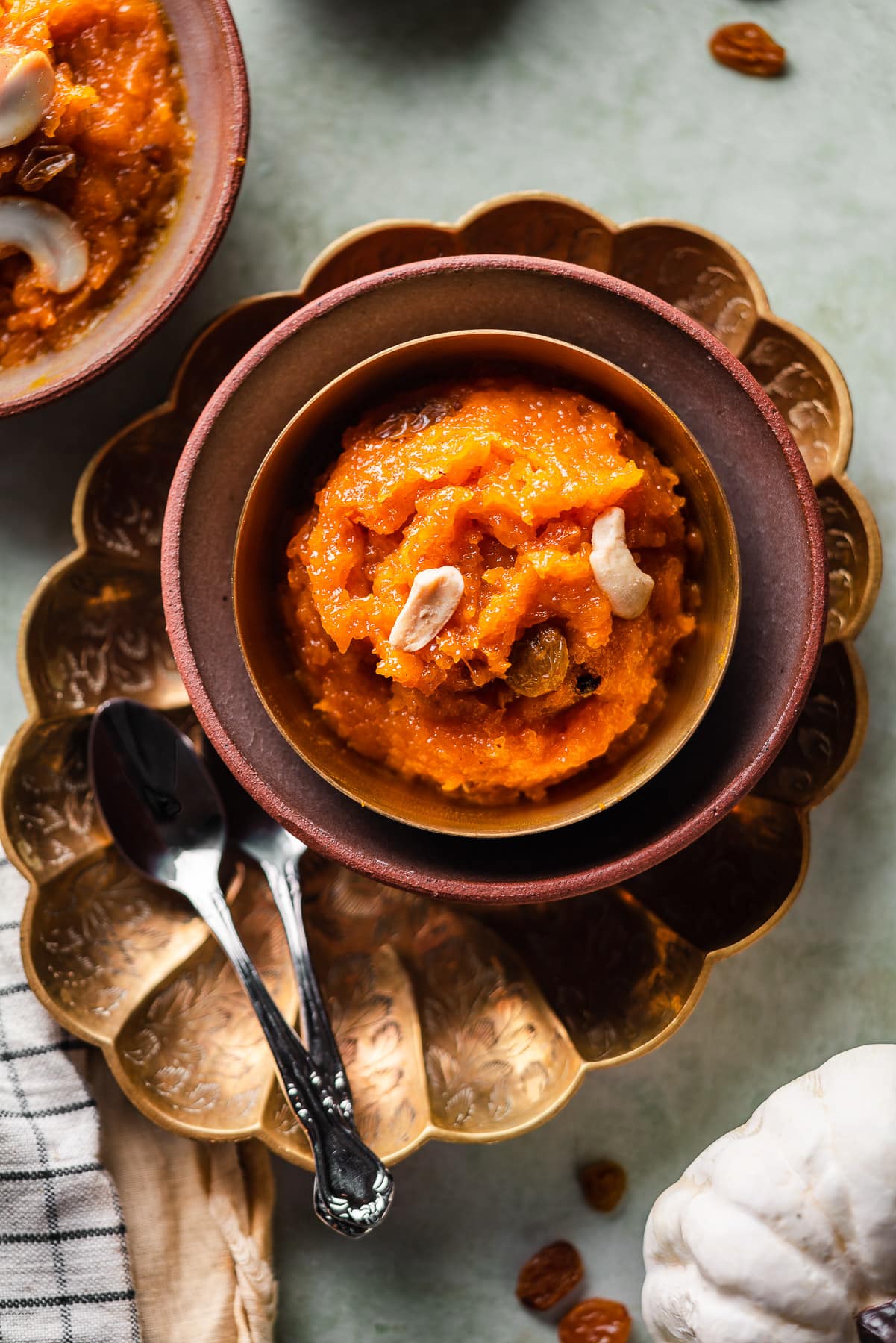 More Indian Dessert Recipes to try
Recipe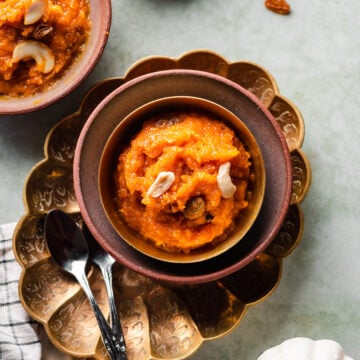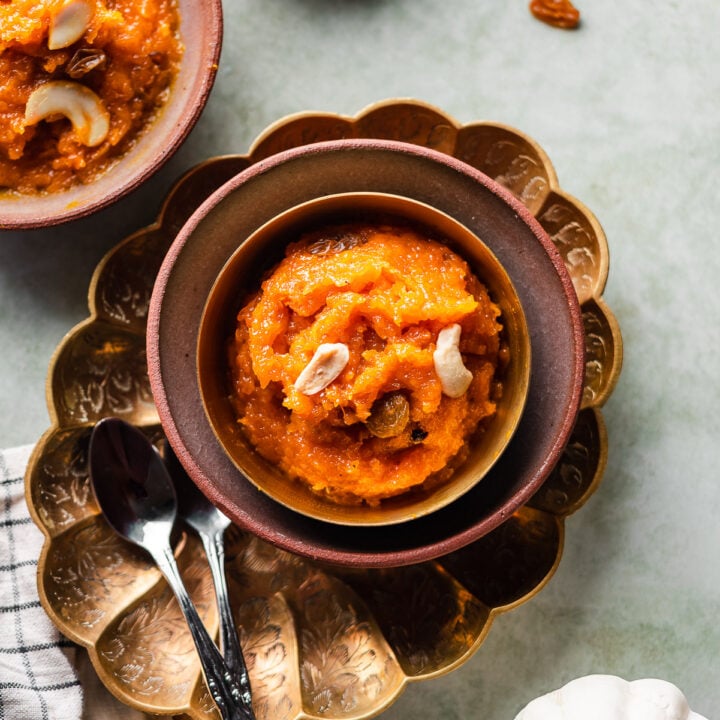 Pumpkin Halwa
This creamy Pumpkin Halwa, or kaddu ka halwa, is the perfect fall dessert for celebrating Indian festivals. Fresh pumpkin is simmered down into a pudding-like consistency and topped with toasted cashews and golden raisins. It's incredibly rich in flavor and suitable to enjoy for breakfast or a light evening dessert.
Print
Pin
Rate
Ingredients
3

cups

yellow pumpkin

,

grated

3

tablespoon

ghee,

divided

½

cup

light brown sugar

½

cup

milk

1

tablespoon

desiccated coconut

,

finely shredded

¼

teaspoon

ground green cardamom

10

cashews

,

unroasted, unsalted

½

ounce

golden raisins
Instructions
In a large pan on low to medium heat, add a tablespoon of ghee. Once it has melted, toss in halved cashews and golden raisins. Sauté them for about 2 minutes, or until the raisins are plump and the cashews are golden. Remove them from the pan and set aside.

Add two more tablespoons of ghee to the remaining ghee in the pan. Then, transfer the grated pumpkin to the pan. Sauté the pumpkin in the ghee until the strands are glassy, and the smell of raw pumpkin has significantly reduced, about 3-4 minutes.

Add the sugar into the pan and stir it into the pumpkin. The mixture will become very watery. Simmer it until the excess moisture has evaporated, about 2 minutes.

Next, add the milk and desiccated coconut. Continue to simmer until the milk has evaporated and the pumpkin takes on a bit of a mushy, creamy texture. The ghee will release on the side and the halwa should be completely thickened, with no excess moisture.

Remove the pan from heat and stir in the cardamom powder and the roasted cashews and raisins.

(Optional) Drizzle additional ghee on top. Serve warm or chilled.
Nutrition
Serving:
1
serving
|
Calories:
284
kcal
|
Carbohydrates:
38
g
|
Protein:
3
g
|
Fat:
15
g
|
Saturated Fat:
9
g
|
Polyunsaturated Fat:
1
g
|
Monounsaturated Fat:
4
g
|
Cholesterol:
32
mg
|
Sodium:
23
mg
|
Potassium:
432
mg
|
Fiber:
1
g
|
Sugar:
33
g
|
Vitamin A:
7456
IU
|
Vitamin C:
8
mg
|
Calcium:
80
mg
|
Iron:
1
mg