Plain milk powder barfi is one of the most popular Indian mithais that melts in your mouth! It's perfect for celebrating special occasions, like Rakshabandhan and Diwali! This sweet milk dessert has texture that is similar to a fudge with luxurious saffron and cardamom.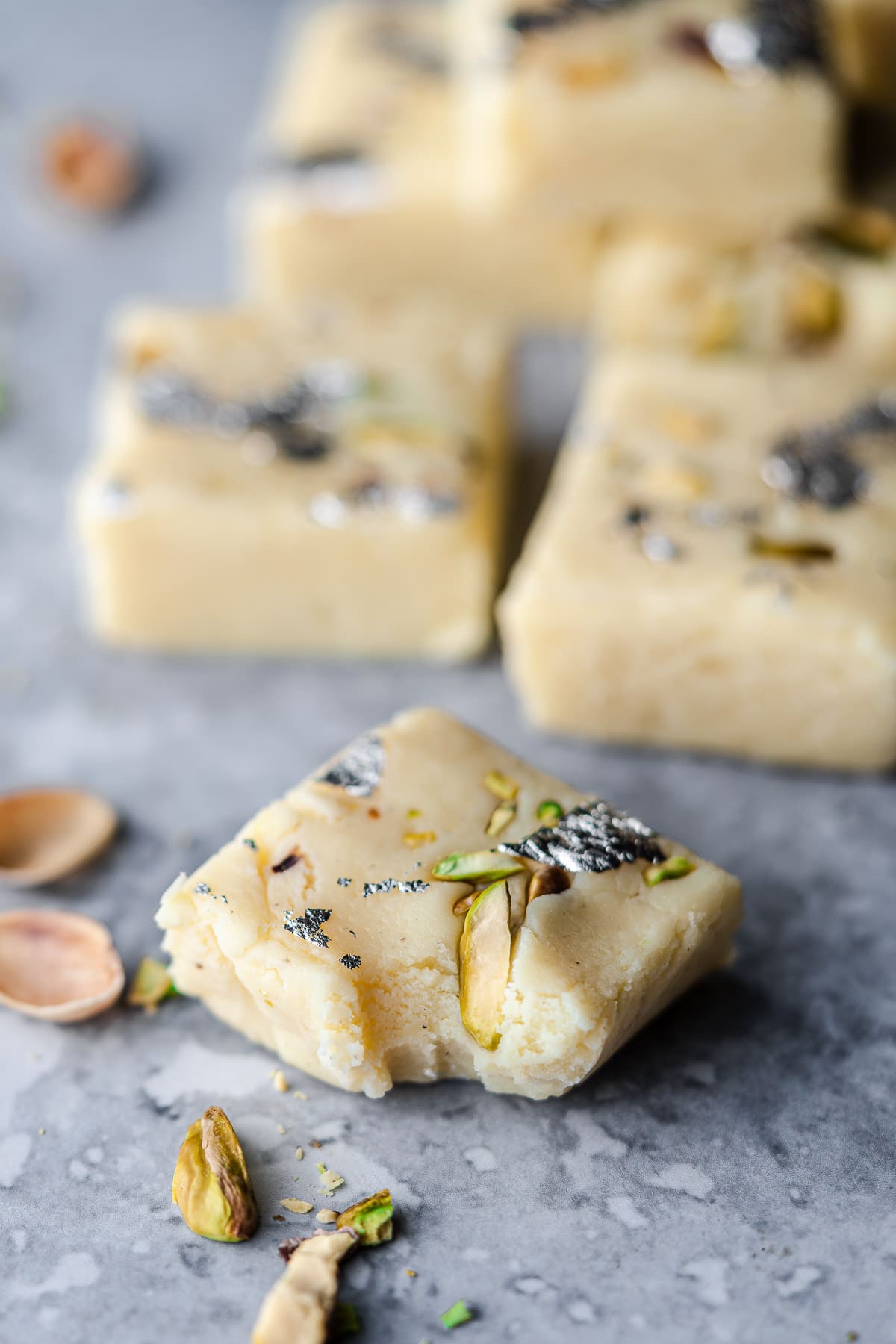 Milk Barfi is one of my favorite desserts to enjoy while watching TV with my dad! We are the major sweet tooths in my family and he's always pulling something out of the fridge. I attribute it to the fact that his family in India owns sweet shops out of Aligarh! I had the chance to visit and see how they made huge vats of mithai and smell the ghee permeating the air.
This particular Indian sweet is traditionally made with khoya or mawa, which are dehydrated milk solids. Unfortunately, it's difficult to find khoya in the U.S. and it's time consuming to make it at home.
Milk powder is the next best substitute and is just as good! You can even make homemade Gulab Jamun with whole milk powder.
Jump to:
Plain white milk powder barfi is pretty much the universal base recipe to all kinds of barfis that you'll see in Indian mithai shops. With this homemade milk barfi as a base, add in other flavor enhancers like extracts, gulkand, pistachio butter, or layer it with fudgey chocolate barfi!
The texture of barfi makes it wonderful to bite into! It's compact, yet soft and crumbly and brimming with flavor from the cardamom and saffron.
The pistachio on top adds a little crunch as the dessert melts in your mouth. It's an easy stovetop dessert to make at a moments notice.
What is Barfi?
Barfi, or burfi, is one of the most popular mithais (sweets) in India. Barf literally translates to ice in Hindi, so it's named barfi for its white appearance and cooling properties from the milk base. It has a base of milk powder or khoya (milk solids), milk, ghee, and sugar.
It's then flavored with other mix-ins like cardamom, pistachio, gulkand, etc, and then cooked down into a fudgey consistency. Once it sets, it's like a milky, crumbly fudge!
This Indian dessert is especially popular during festivals like Diwali or Eid, and is given as a gift between families and friends during special occasions. There are many types of barfi, such as Pista Barfi, Rose Barfi, Chocolate Burfi, etc.
Ingredients - Notes and Substitutions
This recipe is measured in grams, so it does require a kitchen scale. I found that even a small change in the amount of milk powder or ghee changed the consistency significantly.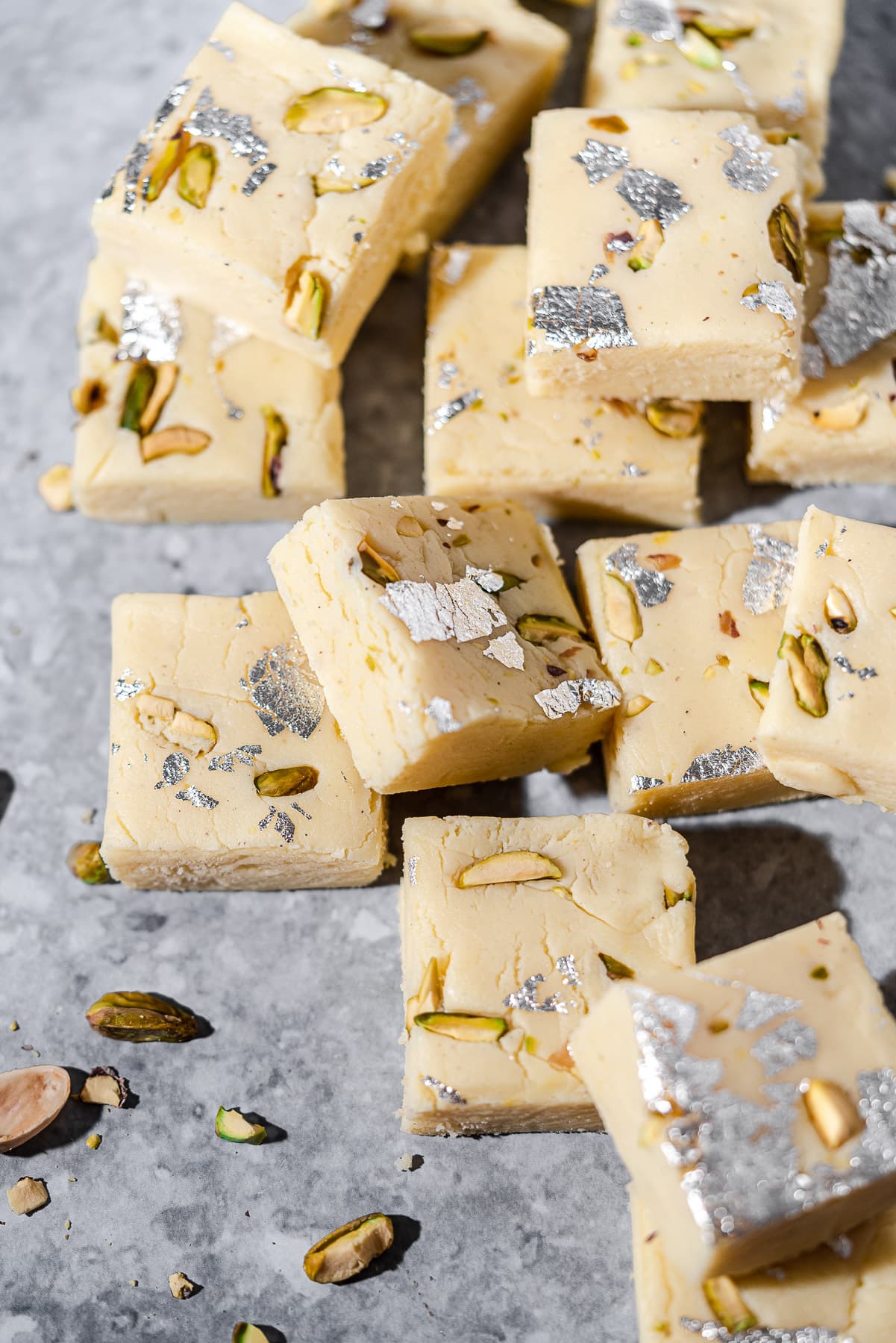 Ghee - It's easy to make ghee at home by simmering butter and skimming off the milk solids until you're left with clarified butter. I personally keep Nanak ghee on hand at home, but salted or unsalted butter works as well. Just omit the pinch of salt in the recipe if you use salted butter.

Whole milk

- This is the best option for barfi because the milk has a touch of sweetness from the natural sugars.
Sugar - Granulated white sugar is the most common to use but jaggery or powdered sugar work just as well. Some people also use sweetened condensed milk instead of sugar and whole milk.
Milk Powder - Use whole milk, full-fat powder for the best substitute for khoya. You can also use skim milk powder if that's all you can find, but you'll want to add full-fat cream for creamy barfi.
Cardamom powder, saffron - Adds fragrance and flavor
Lemon juice - The small amount of acidity from the lemon juice curdles the hot milk which gives the barfi the soft crumbly texture that's characteristic of good barfi from a mithai shop
Nuts - The barfi is so soft, it requires nuts to offset it and add a bit of crunch. Add sliced cashews, almonds, and / or pistachios
Silver Foil - This is common to Indian desserts to add a bit of flair. You only need one sheet of silver foil. Ensure it's edible, food safe silver foil.
How to make Barfi
Making barfi will essentially go through three different stages until it's ready to eat -
A soupy batter similar to pancake batter
A thick, fudgey consistency that combines into what looks like a dough ball
A thick block that sets into a solid dessert when chilled
The key is to really keep stirring and folding the barfi into the middle from all sides. Constantly. Without a break. It's definitely a bit of an arm workout but you don't want any of those milk bits to stick to the bottom and burn.
If you start to see small brown bits in the batter, this is from the milk being exposed to heat for too long. I think it add a bit of depth and deliciousness to the barfi, but you can also remove them with food tweezers as you see them. If this is happening too often, reduce the heat or remove it from heat for a minute or two to let the pan cool.
Around the halfway point, at about five minutes, is where the barfi is starting to come together but isn't pulling away from the sides. This is when you'll want to add your mix ins.
For plain barfi, this is usually cardamom, a bit of salt, and occasionally saffron. Give it a good stir, and continue on your way for another five minutes.
IMPORTANT: Once the barfi has thickened, it'll pull away from the pan and melt into the rest of the batter, similar to kneading a dough in a stand mixer. If it's still sticky, it may need a bit more fat in the form of ghee or butter or it may have too much sugar. If it isn't pulling away from the pan, the barfi will not set.
It must be properly thickened in order to set in the fridge. It'll also have quite a bit of texture to it from the rehydrated milk powder. If you're not seeing a grainy texture, it needs more milk powder.
Once the barfi is done, remove the pan from heat.
How to Set and Decorate Barfi
Line an 8-inch square pan with parchment paper that hangs over the sides. This is so the barfi doesn't stick to the pan. Brush it with a bit of melted ghee or butter for easy removal.
As soon as the barfi is removed from heat, pour the batter into the pan. Spread it as evenly as possible to all four corners, pressing it down with the spatula until it's level and smooth.
Gently press in the chopped nuts on the top of the barfi before transferring it to the fridge to chill. Allow the dessert to chill for a minimum of 30 minutes.
If your barfi isn't setting, then it hasn't been reduced enough and needs more time to thicken. During the cooking process, you'll notice the barfi no longer sticks to the sides of the pan and easily forms a ball. This is when it's thick enough to set in the fridge.
Once it has chilled, lift the barfi out of the pan using the parchment paper. Gently apply the silver foil in patches all over. Cut the barfi into 16 equal sized square pieces and it's ready to serve!
Variations of Barfi
There are hundreds of variations when it comes to barfi. I especially love the playful twists I continue to see from other Indian food bloggers.
You can virtually add any paste, extract, fresh or dry fruit, or powder to this base recipe and make your own unique barfi. Traditional ones you'll see are generally nut-based like kaju barfi (cashew), pista barfi (pistachio), and badam barfi (almond).
For example, to make chocolate barfi, set half of the plain barfi in the square pan. Then, mix cocoa powder into the other half and pour it over the plain barfi to form two layers.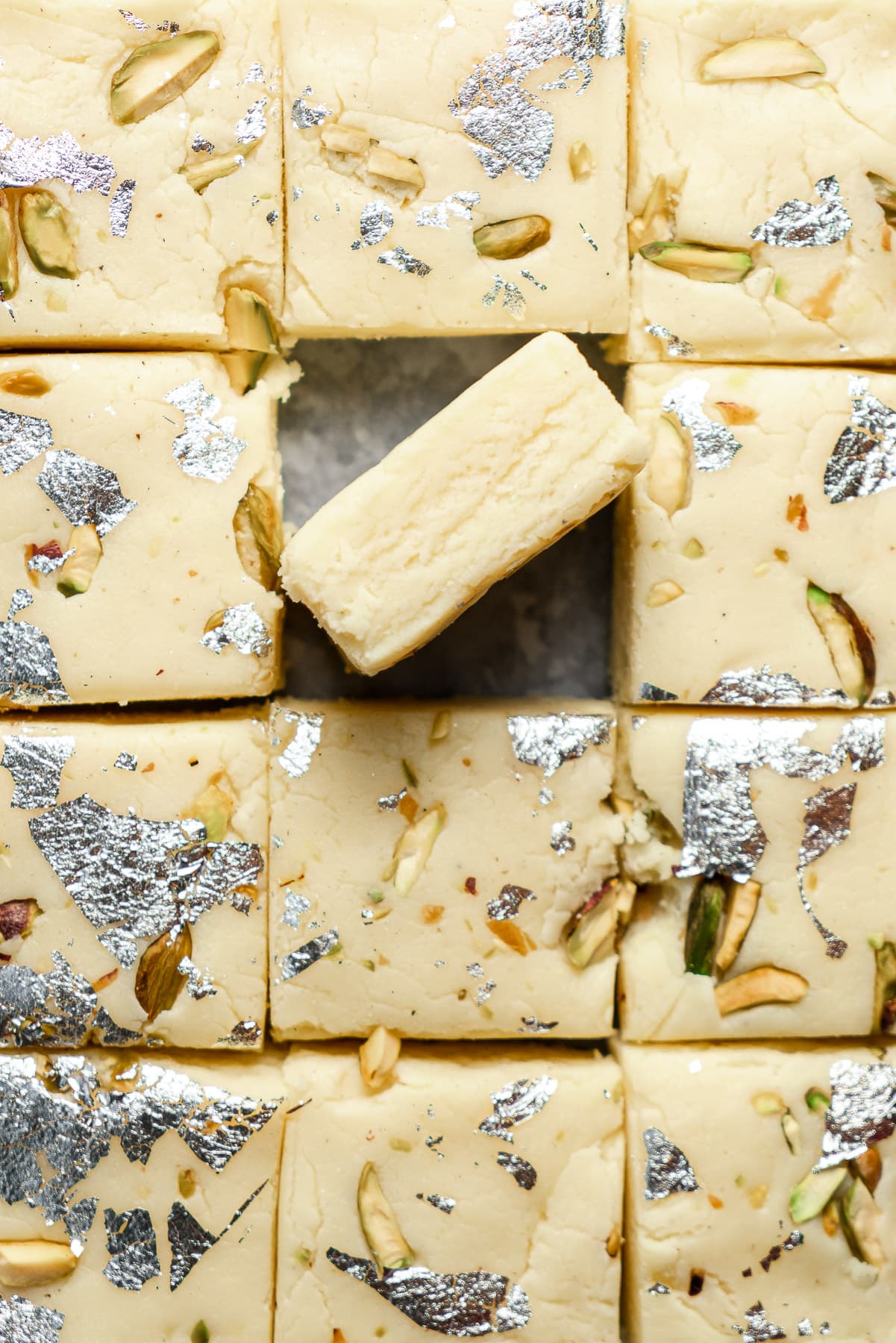 More Indian Desserts to try
Recipe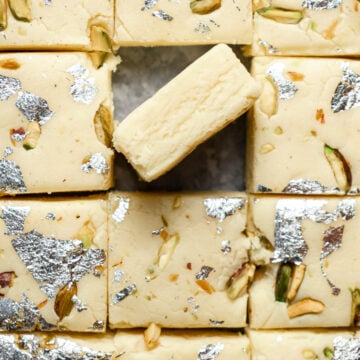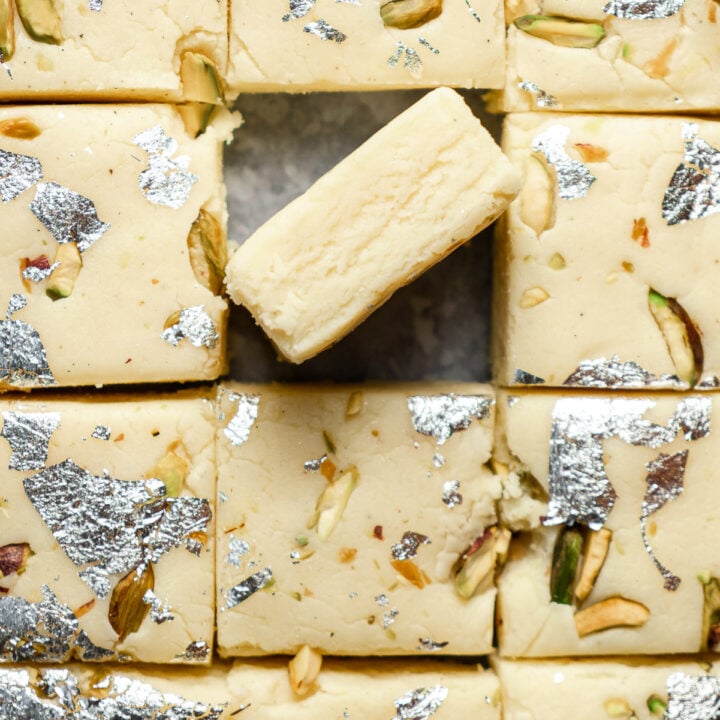 Milk Barfi
Plain milk powder barfi is one of the most popular Indian mithais that melts into your mouth! It's perfect for celebrating special occasions, like Rakshabandhan and Diwali! This sweet milk dessert has texture that is similar to a fudge with luxurious saffron and cardamom.
Print
Rate
Ingredients
70

grams

ghee

250

grams

whole milk

200

grams

sugar

310

grams

whole milk powder

1

teaspoon

cardamom powder

1

teaspoon

lemon juice

pinch of salt

7

pistachios

,

chopped
Text Ingredients
Instructions
Line an 8" square pan with parchment paper so that it hangs over two opposite sides of the pan.

In a nonstick pan on medium heat, pour in the milk and then add the ghee. Let the ghee melt and stir with a rubber spatula until the ghee is mostly combined with the milk.

Pour the sugar into the pan and stir until it's fully melted.

Turn the heat to low and add in the milk powder. Stir until the milk rehydrates the milk powder. Continue to stir with no breaks on low heat for the next 4-5 minutes, being sure to scrape the bottom and sides to prevent burning.

At this point, the mixture should have reduced by about half and is thickening up. Add the cardamom powder, lemon juice, and salt. Crush the saffron in a back and forth motion between your hands over the pan. Stir the mix-ins well.

Continue to mix the barfi batter for another 4-5 minutes until it starts to pull away from the sides.

Remove the pan from heat, and use the silicone spatula to scoop the batter into the square pan. Spread the batter across the pan, getting it as level as possible. Spread and press the chopped pistachio evenly across the top.

Cover the pan. Transfer the pan to the refrigerator and allow it to chill for at least 30 minutes, or until fully set.

Once the barfi has set, use the parchment paper to lift it out of the square pan. Apply the silver foil sporadically on the barfi.

Cut the barfi into 16 even squares and serve.
Notes
To freeze: Freeze the barfi in an airtight container for up to 3 months. Defrost it at room temperature and store it in the fridge.
Nutrition
Serving:
1
barfi
|
Calories:
195
kcal
|
Carbohydrates:
21
g
|
Protein:
6
g
|
Fat:
10
g
|
Saturated Fat:
6
g
|
Polyunsaturated Fat:
1
g
|
Monounsaturated Fat:
3
g
|
Cholesterol:
32
mg
|
Sodium:
79
mg
|
Potassium:
285
mg
|
Fiber:
1
g
|
Sugar:
21
g
|
Vitamin A:
208
IU
|
Vitamin C:
2
mg
|
Calcium:
195
mg
|
Iron:
1
mg