An Indian kitchen is more than just the masala dabba you see a desi mom use as she cooks. It's actually full of unique tools, cookware, serveware, and drinkware that makes cooking and enjoying Indian food so much easier.
You may recognize several tools or notice slight modifications to something that's already in your kitchen that improves on the design for a specific purpose. There may also be several items you've never seen before but will find it handy for Indian cooking and even other cuisines!
So welcome to Kitchen Tools for an Indian Kitchen! You'll find that I have provided an incredibly comprehensive list of tools used in most Indian homes to cook and serve food. The essentials will help you make the best flatbreads, curries, desserts, and fried foods.
If you've always wondered what some of the serveware was that you saw at a restaurant or someone's home, which wok to get, or you're ready to upgrade some of your kitchen tools then you've come to the right place!
You can directly click some of the photos and links to check out exact items I recommend and have in my own kitchen. You can also shop my Amazon Storefront's Desi Kitchen List!
Jump to:
Kadhai / Karahi (Indian Wok)
A Kadhai is often referred to an Indian wok, because it's much deeper, has a flat bottom, and is typically wide. It's traditionally made with cast iron, although there are now stainless steel and nonstick versions that are available. However, cast iron is much better if you can maintain the seasoning.
You'll want to keep your kadhai handy if you're boiling, steaming, frying, or cooking for an extended period of time over heat. It's especially perfect for deep frying Indian snacks and desserts like samosas, jalebi, gulab jamun, etc.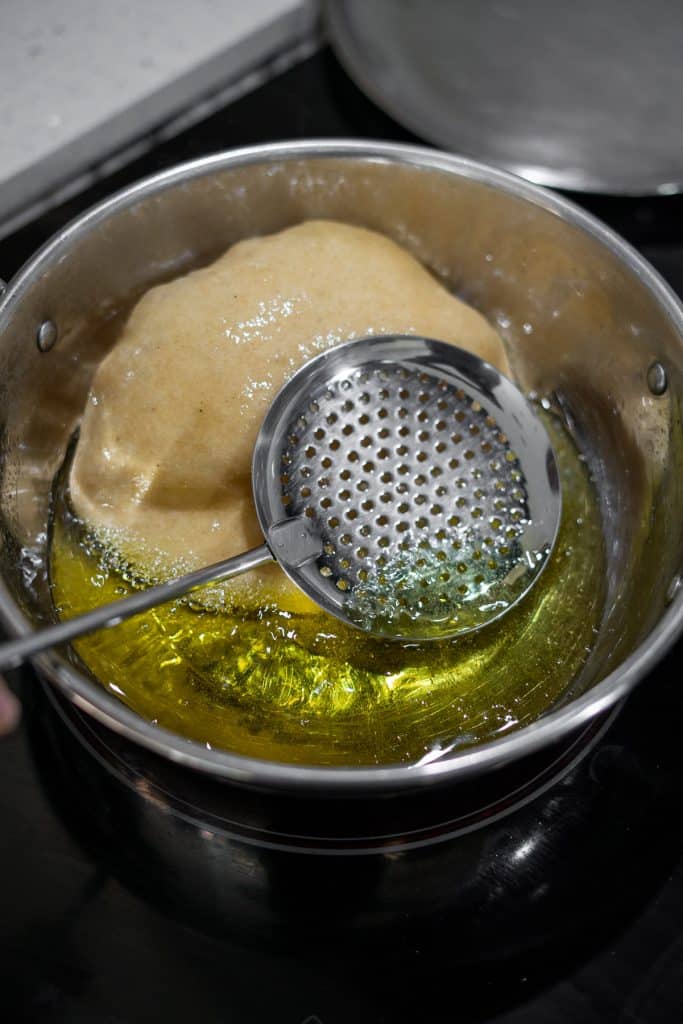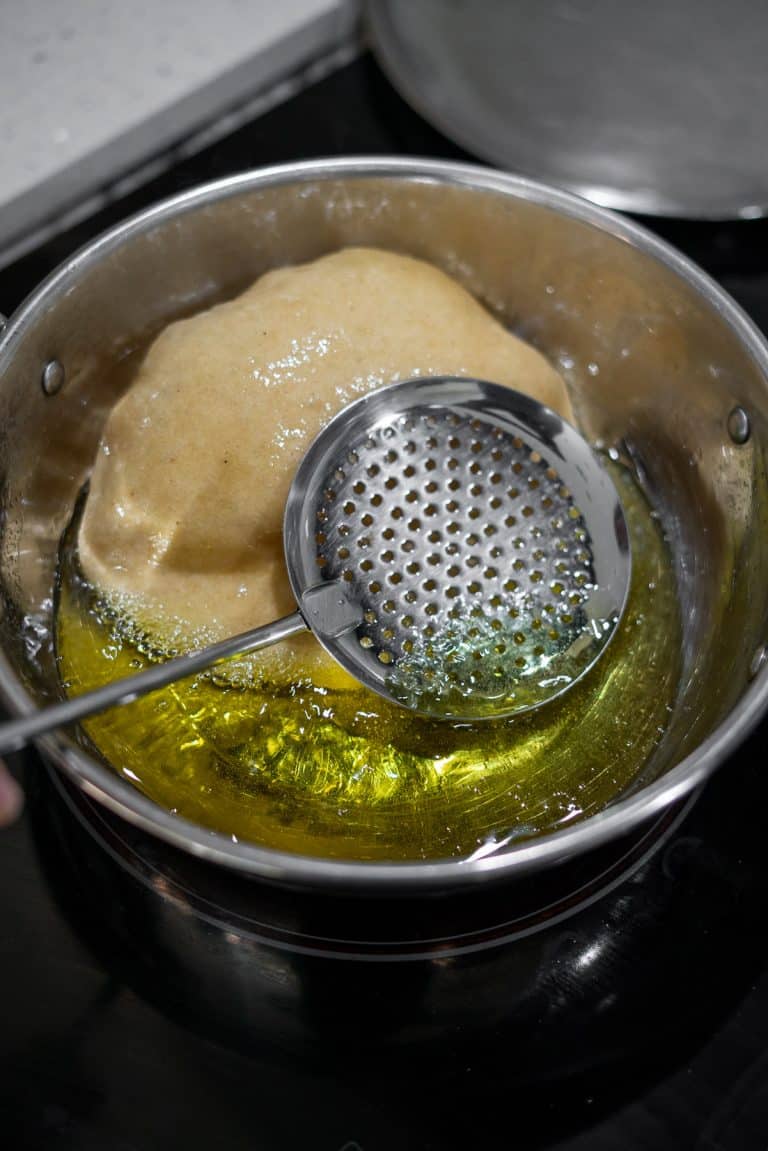 My mother keeps her kadhai full of oil in the oven, which she never uses. She's owned her woks for several decades at this point, so it's a worthy investment.
Jhaara (Frying Utensil)
Indian food includes a lot of frying. We fry bhatures, gulab jamuns, jalebis, kachori, pakoras, papad, boondi, and so so so much more. A jhaara is a metal spoon with perforated holes that allows for the oil to move through it while frying savory snacks and desserts in a kadhai.
The ideal shape for a skimmer is a slight concave to allow for holding bhature under the oil to allow it to puff up or for scooping up gulab jamuns and transferring it into syrup.
Wok
A Chinese wok is also a great addition to the kitchen for stir frys, but especially for a whole class of food called Indo-Chinese. A wok is shallow compared to an Indian wok but still dome-shaped. It gets incredibly hot over a flame which gives food an indescribable flavor called wok hay.
Because woks are used at high heat, I'd avoid non-stick woks. Yes, you'll have to season it and put in some love and care but a wok will last you a lifetime in the kitchen. The best wok will be made of carbon steel.
Keep in mind, if you purchase a rounded wok, you may also want a wok ring to keep it stable on your stove top. This is especially if you have an electric stove.
A large strainer is also ideal for rinsing rice or lentils.
Chimta (Tongs)
A chimta is a flat pair of tongs usually made with stainless steel or iron. In my home, they come in a two different sizes - one of them long and thin that's used for cooking and the other is smaller for cracking seeds or picking out rocks in dals. A chimta is perfect for flipping Indian flatbreads over a tawa, or cooking it over an open flame on the stove for a slight char.
Tadka Pan
A tadka is blooming, or tempering, spices in fat like ghee or oil in a very small pan, called a tadka pan. It's also known as chhonk or phodni in various regions of India, but is commonly known as tadka to most. Adding spices to hot oil or ghee is a popular technique in Indian cooking that extracts flavor that can be seen with dals, curd rice, chutneys, etc.
The small tadka pan is round and deep to allow the spices to be completely covered by the wickedly hot oil.
Rice Cooker
What do we serve all the dals and curries with? If it's not a flatbread, it's rice! A rice cooker is an absolute must, since rice is made at least 3-5 times a week.
Pressure Cooker or Instant Pot
I don't know of a single Indian kitchen without a pressure cooker or Instant Pot. While dry lentils and beans can be cooked in a regular pot, it takes much longer than a pressure cooker would. It makes it easier to feed a family in less time while making several dishes.
A pressure cooker is more traditional, but ultimately requires manually monitoring the seethi, or the whistle. I cannot tell you the amount of times my mom left me in a panic when she left for a few hours and asked me to take the pressure cooker off the stove after monitoring for two whistles.
An Instant Pot offers an electric pressure cooker option with a timer that has become incredibly popular. However, a lot of people have said it doesn't develop the same flavor as a pressure cooker.
Tawa
A tawa is a flat or concaved disc frying pan used for making rotis, parathas, and other flatbreads. They're typically made with cast iron, carbon steel, or aluminum. If you find yourself with rotis or parathas that are frequently undercooked on the edges, you'll want to get yourself a tawa.
The shape of a tawa allows for even distribution of heat from the center to the edges. It can also be turned upside down over a flame to create the effect of a tandoor.
Dutch Oven
If the curry doesn't need to be pressure cooked, then Dutch ovens are the next best option! They're great at retaining and circulating heat. I use mine frequently for making curries, sabjis, dahi, paneer, and for frying. I find that the 4qt is a great size for 4 or so servings.
A High Speed Blender
A must for Indian kitchens! A good blender makes a big difference in the texture of chutneys and even curries that may need to be blended. An immersion blender is also super helpful with curries.
Garlic Press
A lot of garlic and ginger is key to good Indian food! Use a garlic press for finely minced fresh garlic to add to sabjis or curries instead of buying bottled minced garlic or ginger garlic paste.
Fine Mesh Strainer
My mom's kitchen has 5+ fine mesh strainers. Why? Innumerable cups of chai throughout the day.
A fine mesh strainer is used for straining grinded spices or seeds in many dishes, such as Masala Chai or Thandai.
Cutting Board
You'll need a good cutting board that will last you for years! A lot of Indian cuisine is vegetarian, so a wooden board is best instead of plastic or glass. Just be sure to take care of it!
Colander
Colanders are especially helpful for rinsing dals and beans, rice, and vegetables. Additional for straining the whey out of cheese to make paneer!
Box Grater
A box grater with several size holes is ideal for many things in Indian cooking. Sometimes the grated vegetable or cheese needs to be a certain size and length to cook properly, i.e. like carrot halwa!
Food Processor
A food processor does a quick job chopping loads of vegetables or even making chutneys and other sauces.
Thermometer for Deep Frying
Whether it's boiling milk to make dahi or paneer or getting ready to fry loads of snacks and desserts, a kitchen thermometer ensures the correct temperature for the best outcome.
Charni (Sifter)
A lot of homemade Indian breads are made fresh on a daily basis. A charni is a circular metal sifter with small strings weaved on the bottom that allows for larger amounts of flour to be sifted before making dough for breads like naan or bhature.
Sancha Machine
A sancha machine is a more commonly known as a manual pasta maker, but it's also used to make Indian snacks like chakri, sev, gathiya, etc. It's typically made out of brass or stainless steel. There's a handle on the top that can be churned to extrude the dough in a certain shape using interchangeable molds that go on the bottom of the machine.
Jalebi Cloth
Modern day jalebi-makers now use a squeeze bottle to make jalebis, but the OG were jalebi cloths. They're thick, canvas cloths that slightly concave with a hole in the middle. Add the jalebi batter in the middle while plugging the hole with your finger, then wrap the edges of the cloth towards the middle. Simply remove your finger over the hot ghee to make the circular jalebi shapes!
They're quite difficult to find online, except in India!
Kitchen Aid Stand Mixer
Fresh breads are made on a daily basis in most households. There's nothing quite like making them by hand, but for modern households it's much faster to make them in a Kitchen Aid mixer as opposed to a Rotimatic.
Mortar and Pestle
Whole spices are key to an Indian kitchen. Grinding them fresh gives us the best flavor! A mortar and pestle is pretty typical to every kitchen for grinding whole spices or mashing up gingers or pepper. Indian kitchens usually use a stainless steel mortar and pestle as opposed to the traditional molcajete.
Belan (Rolling Pin)
A belan, or Indian rolling pin, is a thinner wood rolling pin that tapers out towards the ends. It allows for more control when rolling dough for chapatis, rotis, puris, etc. It's used along with a chakla, or rolling board.
It's especially great for thinly rolled doughs that may easily tear with a heavy rolling pin.
Chakla (Rolling Board)
A chakla is a circular wooden rolling board that provides an elevated platform for rolling out dough with a belan. This is because in India, rotis and breads are typically rolled out while sitting on the floor. The chakla provides an easy to clean surface and it's also a guideline for getting the roundest rotis.
A chakla is typically sold along with a belan, they're very rarely found outside of a pairing.
Tandoor
If you have the ability to have a tandoor in your backyard, please invite me over.
I've found that most Indian households don't really use their oven! Most things are cooked stovetop. However, tandoors are clay ovens that are lit with charcoal or wood and used for cooking or baking. Their temperature can sometimes reach 900°F and will stay pretty consistent for hours.
Tandoors can be used to cook meat like tandoori chicken or kebabs. It's also used to make naan by sticking the naan to the side of the tandoor. The absolute best part is with the food gets a little charred on the edges while they're also slightly smoked from the juices dripping.
Masala Dabba
A masala dabba translates to a spice box. It's usually a round stainless steel tin with 6 smaller katoris, or cups, that hold our most commonly used spices. It typically sits on the counter next to the stove or in a drawer nearby for easy access. This differs from dabba to dabba depending on the cooks favorites spices.
Many dabbas also have the owners initials or full name engraved into it. Dabbas can be passed on from generation to generation.
My brass masala dabba is from Diaspora Co, and it was a gift from my best friends! It contains asafoetida, mustard seeds, cumin seeds, aamchur, garam masala, chili powder, and turmeric.
Spice Jars
While masala dabbas hold our most frequently used spices, we still have a lot of spices. Stay as organized as possible using spice jars and grab these minimal aesthetic labels from Etsy!
Mason Jars for Dry Ingredients
There are a ton of dry ingredients in Indian cooking. We're talking lentils, beans, rice, poha, multiple types of flours, and more. The list goes on and on. I'm frequently overwhelmed by the ingredients in my pantry. Stay sane by storing them in mason jars with labels.
Kulhad
A kulhad is a small handle-less clay cup that's used in the Indian subcontinent. It's unpainted and unglazed, so it can be reused or disposed of. They are typically used at bazaars, food stalls, and railways to serve chai and other hot drinks, or even yogurt and desserts. They're then disposed of.
Lassi Glass
A lassi glass is a tall decorative tumbler, usually made of glass or brass, to serve lassis (yogurt-based drinks) or cold drinks. I've found some gorgeous vintage cups via Etsy.
Karahi Serving Dish
A smaller karahi, or wok, is used as a serving dish for curries or sabjis. It's usually made of metal to keep the food warm. This is typically seen in Indian restaurants to serve food and makes them easily shareable.